A shaker bottle is a staple gym accessory. Shaker bottles are used to mix up all kinds of supplements, whether that be pre-workout and post-workout protein shakes, or anything in between. It can be overwhelming when searching for the best one online because there are so many designs, makers, and sizes to sort through.
Luckily, we've shaken up quite a few bottles on the web to help with the shopping process. After paying attention to grip, functionality, and price, we've carefully curated a list of our best picks from the web.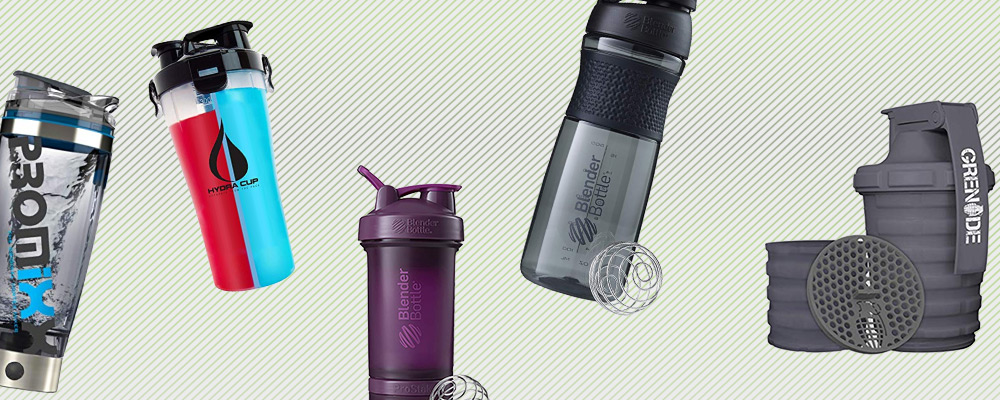 Editor's Choice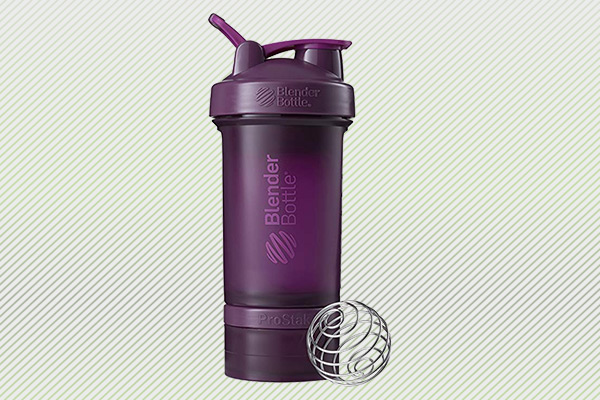 ProStak System 22-oz Blender Bottle
The ProStak System 22-oz Blender Bottle has a leak-proof seal, can hold 22-oz of liquids, and even goes so far to include a unique storage compartment for supplements. This shaker bottle is offered in several colors, and is one of the most affordable we've seen in the market. 
Pros:
Design.

This shaker bottle has a simple design, but also stands out with its supplement storage compartment at the base of the bottle. It checks off all the boxes when considering use, efficiency, and appearance. 

Price.

Even with the supplement storage piece to this bottle, it's still incredibly affordable when comparing to other shaker bottles on the web.

Maintenance

. This shaker bottle is easy to clean and is dishwasher safe. 
Cons:
Blender Ball.

The blender ball is a signature to these shaker bottles, however not everyone is a fan of the little wire ball. Although it is completely unnoticeable in taste and is really there to maximize mixing, it's not for everyone. 

Colors.

While the prices don't spike up much, there are certain colors that cost slightly more than others. 
Best Performance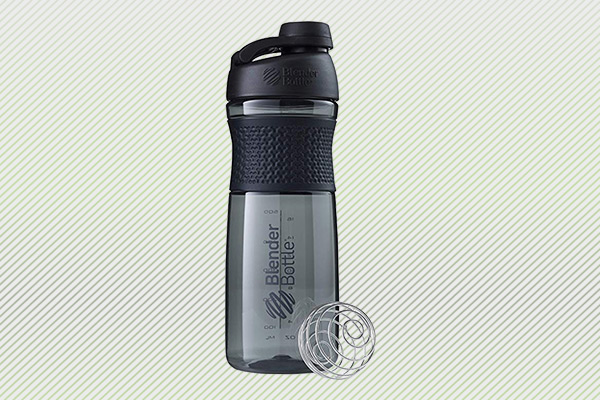 BlenderBottle SportMixer Tritan Grip Shaker Bottle
The BlenderBottle SportMixer Tritan Grip Shaker Bottle stays true to the BlenderBottle design with a blender ball, but is made with performance in mind with a special grip. The grip is made of tritan and makes the shaker bottle easy to hold and is no slip in sweaty or more difficult weather conditions. 
Pros:
Design.

The tritan grip takes the shaker bottle to the next level. It has a comfortable feel, no slip, and also gives it a unique appearance. 

Variety.

This bottle is offered in five different colors: Black, navy, plum, teal, and white.

Price.

Despite the more advanced grip and all the capabilities that other shaker bottles have, this one is affordable. The price also stays relatively consistent no matter the color selected. 
Cons:
Size.

This shaker bottle is offered in two different sizes, 20-oz and 28-oz. Make sure to select the correct size because the prices do vary depending on which size selected.

Blender Ball.

There is a blender ball in this shaker bottle, so this is something to keep in mind if something either automatic or free from a ball is preferred.
Best Value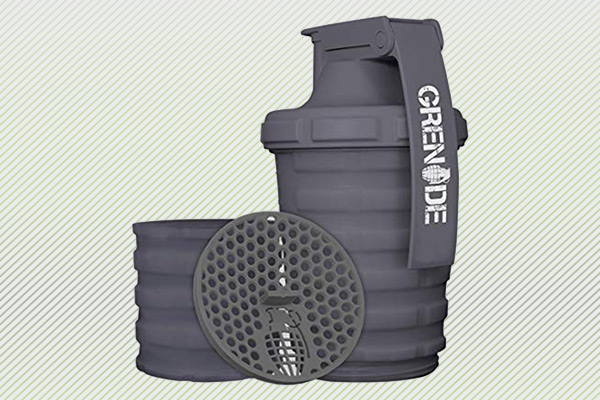 Grenade Shaker Bottle
The Grenade Shaker Bottle is durable, affordable, and has a compartment for the mixing, but also a capsule storage in the lid for other supplements. The design is sleek, unique, and the shaker bottle comes in four colors: Army green, black, gun metal grey, and desert tan.
Pros:
Design.

This product stands out with its color scheme and matte appearance. It is durable and made to last being microwave, dishwasher, and freezer friendly. 

Price.

One of the most affordable shaker bottles on the market, that isn't compromised in its quality. 

Use.

This shaker bottle is safe to wash in the dishwasher and is also easy to clean! Although it has two separate compartments, the capsule compartment is removable. 
Cons:
Shipping.

This product is only available to select countries for international shipping. 

Appearance.

This design is fairly bulky with the grip design, and although there are a few color options, all of the colors stay true to an earthy tone. 
Best Design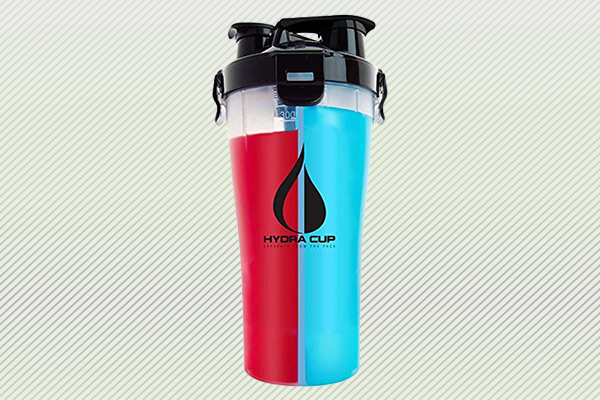 Hydra Cup Dual Threat Shaker Bottle
This shaker bottle is dual threat meaning it has separate compartments designed for different supplements. One part of the bottle can mix up pre-workout supplements and the other one can mix up post-workout protein shakes. The design is clever and unique in the side-by-side storage.
Pros:
Performance.

This product was designed for the gym-goers or organized folks. The dual compartments are unique and made with preparation and recovery in mind. 

Time.

This bottle considers the users' time by having both the pre and post supplements ready to go. 

Space.

In total this bottle can hold 30-oz. It is designed for 15-oz on one side and another 15-oz in the other. 
Cons:
Design.

This shaker bottle might not be necessary if you're looking for a one purpose bottle.

Cap.

This bottle has two openings on the cap which makes sense because of the dual compartments, but spatially there is a lot going on for one cap.  
Best Protein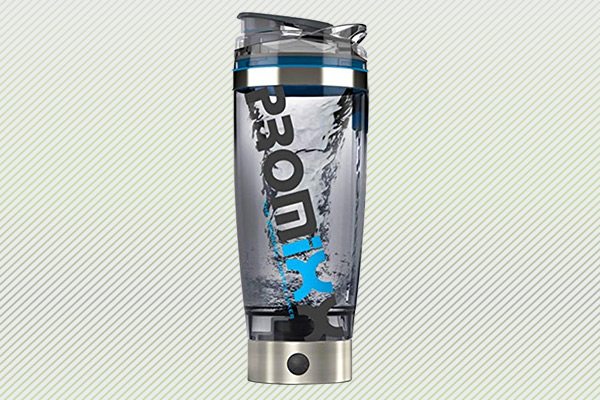 PROMiXX iX-R Rechargeable Shaker Bottle
The POMiXX iX-R Rechargeable Shaker Bottle uses advanced technology to deliver top mixing power. It has a high speed motor which can mix up supplements in a matter of seconds. This bottle is also charged using a long lasting battery that is designed to last through long workouts. The charging process is simple and the bottle itself is easy to clean.
Pros:
Use.

This is one of the best we've seen on the market in terms of being able to shake up all different supplements. The high speed motor prepares shakes in seconds and makes sure it is thoroughly blended. It is also easy to clean which makes the entire process a great on-the-go option.

Design.

This shaker bottle includes a separate storage compartment for supplements. It also has a usb-charger cable included which is a necessity given it will need to be charged.

Detail.

The flip cap makes this bottle easy to drink, and the seals are leak-proof. Also the detachable base (used for mixing and charging) is a unique design. 
Cons:
Technology.

The premium mixing capability may be advanced for someone looking for a simple shake and go bottle.

Price.

The advanced technology and all of the detachable parts and compartments in this shaker bottle makes it more expensive than other shaker bottles on the market. 
How We Picked
The methodology we used to select our favorite shaker bottles included a lot of shaking and attention to design details. We looked for shaker bottles that were affordable, durable, and had good mixing ability. We kept a few things in mind when selecting our favorites.
Price.

With the expected high cost of supplements, we looked for shaker bottles that wouldn't break the bank. We carefully selected products that didn't lack quality and were affordable.

Design.

We tried out different designs on the market. Some were more advanced than others in terms of high-tech blending functions. In general we chose shaker bottles that high-tech or not had stellar mixing capabilities above all else.

Appearance.

Since a shaker bottle is typically an everyday staple item, we looked for products that were aesthetically pleasing. We opted for simple designs and products with different color and sizing options.

Safety.

In terms of safety we carefully looked at the sealing, the closing functionality, and the grip. We looked at flip-off tops and twist-off tops and paid close attention to what was the easiest and cleanest. When shaking a bottle filled with liquids having a proper seal is very important.
BarBend Tips
At BarBend, we always have a shaker bottle around the office, if not several. While a shaker bottle's main purpose is to sufficiently mix up supplements, most of them make for a solid water bottle too. When choosing a shaker bottle we would always suggest actually shaking it. This may go without saying, but some are easier to shake than others. Also a proper cap and leak free seal is essential. Along with being secure and easy to use, we also have a few more suggestions when searching the market.
Use.

The first question we would push you to ask is what are you using this shaker bottle for? Some shaker bottles are designed with heavy protein powders and meal replacement shakes in mind. Often these bottles are equipped with high-tech blending capabilities and different removable blending options.

Price.

There is a range in pricing options for shaker bottles. The more high-tech and high-functioning the shaker bottle is, the more expensive it will be. We would suggest looking at shaker bottles with multiple capabilities that are also affordable, because there are several out there!

Design.

Shaker bottles can vary significantly in design. We've seen ones specifically for performance with more than one compartment (for a pre-workout drink and a post-workout shake.) There are also plenty on the market that have a simple straight structure, but there are also the ones with curvy designs and unique grips. The design of the cap/seal is very important and usually based on preference so keep an eye out for ones with flip-off tops vs. twist off.

Capacity

. Keep an eye out for how much liquid the shaker bottle can hold. A lot of the makers sell different sizes so this is something to look out for depending on your desired portion. Chances are there is a size out on the market that
Wrapping Up
Now that we've gone over five of our favorite shaker bottles on the web, we hope you're feeling ready to get shopping. Whether it is an automatic shaker or a simple blender ball design, there are plenty of solid choices on the web to take your pre-workout and post-workout fueling game to the next level.