We receive free products and receive commissions through our links. See
disclosures page
.
Muscle Milk, made by CytoSport, is a hugely popular protein supplement company that's well known for their lactose free, high fructose corn syrup-free, trans fat-free, high protein products.
Founded in 1998, the company burst onto the scene with their ready-to-drink protein shakes that line grocery store shelves to this day. Now, the company produces several varieties of drinks, bars, mass gainers, and more, so for those wondering what the best Muscle Milk products are, here's our list.
Best Muscle Milk Products
Editor's note: The content on BarBend is meant to be informative in nature, but it should not be taken as medical advice. The opinions and articles on this site are not intended for use as diagnosis, prevention, and/or treatment of health problems. It's always a good idea to talk to your doctor before beginning a new fitness, nutritional, and/or supplement routine. Individual needs for vitamins and minerals will vary.
Best Ready-To-Drink
Of all the ready-to-drink shakes, the Pro Series is probably the best pick for most people. For starters, of the six shakes on offer, this is the second lowest in calories with 160 per serving. Compared to the lowest calorie "Lite" shake, the Pro Series has the same amount of fiber, fewer carbs, and more protein. It also has far more vitamins and minerals, with 20 to 50 percent of the recommended daily intake of 20 micronutrients.
Muscle Milk Pro Series Protein Shake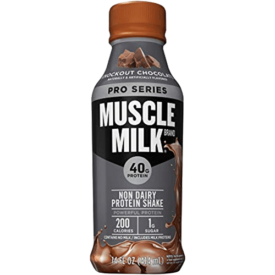 Muscle Milk Pro Series Protein Shake
High in protein, low in carbs, and full of vitamins and minerals, this is a terrific protein shake to drink on the go.
The Pro Series being unusually low calories and carbohydrates set it apart from the field. It has more protein than any other option from Muscle Milk, hence it gets the top nod.
Who Should Buy Muscle Milk Pro Series Protein Shake
Anyone looking to keep their calorie and carbohydrate intake low.
Those on the lookout for a vitamin and mineral potent ready-to-drink shake.
People who want the highest protein yielding offer from Muscle Milk.
Who Shouldn't Buy Muscle Milk Pro Series Protein Shake
Folks looking to put on weight — this drink is low in calories compared to other options on the market.
Those who need a high source of carbohydrates and calories.
People looking to avoid artificial sugar and sweeteners.
This is a good pick for weight loss, but it's not ideal for those looking to gain weight. If you're currently in a bulking phase or plan to do one, this may not be for you. However, we didn't deduct any points in our review as that is going to vary on a case-by-case basis.
The ingredients list includes the artificial sweeteners sucralose and acesulfame potassium, as well as seed oils like canola and sunflower oil, which some prefer to avoid. If you fall into that category then it is okay to look elsewhere. For everyone else, it would do you well to put heavy consideration into this option.
Best Powder
One of the most common complaints about Muscle Milk protein powders is the preponderance of unusual ingredients like corn, canola oil, non-dairy creamers, and soluble vegetable fiber. That's why we prefer the whey protein blend — it has none of these ingredients and it includes a billion probiotic bacteria, which might improve gut health.
Muscle Milk 100% Whey Protein Blend With Probiotics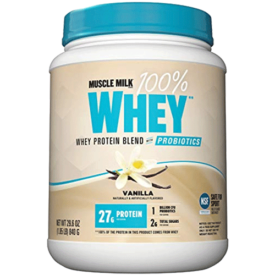 Muscle Milk 100% Whey Protein Blend With Probiotics
A low carb, high protein bar that includes probiotic bacteria, which may help with digestive health.
This is much lower in ingredients like corn and seed oils than most other Muscle Milk products, which is great for the ingredient purists out there. This whey is very low in carbohydrates and fat, making it a versatile pick for low carb or low fat diets. The addition of probiotic bacteria may have a beneficial effect for gut health, which we took into account.
Who Should Buy Muscle Milk 100% Whey Protein Blend With Probiotics
Those who are happy to avoid corn and seed oils.
Anyone trying to maintain a diet low in carbohydrates and/or fat.
People who want to improve their gut health.
Competitive athletes who need to stay clear of banned substances.
Who Shouldn't Buy Muscle Milk 100% Whey Protein Blend With Probiotics
Anyone looking to steer clear of artificial flavors and sweeteners or soy.
People who want a boost in vitamins and minerals.
As a product certified by NSF Sport, a company that does third party testing for banned substances, this is a great option for strength athletes who compete. This product still contains soy and artificial flavors and sweeteners, which some try to limit, but, on the whole, the ingredient list is pretty light by comparison to a lot of competitive options out there. Be aware, this whey is lower in vitamins and minerals than other Muscle Milk powders, but if that isn't your focus, then this is an excellent choice.
Best Bar
The company just offers two bars, one with 15 grams of protein and 190 calories and another with 20 grams of protein and 250 calories each. Some research suggests that given the amino acid composition of whey, it's ideal to get at least 20 grams of protein in a serving to best stimulate muscle protein synthesis. Plus, the 20-gram bars have almost twice as much fiber (nine grams) and, somehow, half the sugar.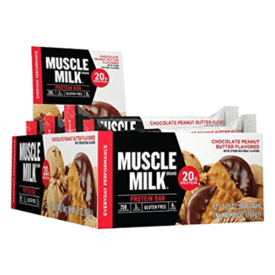 A tasty protein bar that's low in sugar and high in fiber to boot.
Put the research and the macro breakdown into view and it was clear that the bar with 20 grams of protein was the better choice, hence it locked out top spot.
Who Should Buy 20-Gram Protein Bars
Those who want a high protein, low sugar bar as a post workout snack.
Anyone who is trying to add fiber to their diet.
People who appreciate a variety of flavors (Muscle Milk offers four flavors).
Who Shouldn't Buy 20-Gram Protein Bars
Anyone looking to cut weight.
Those who want to avoid artificial sweeteners, such as sucralose.
Folks trying to dodge sunflower oil or fractionated palm kernel oil.
These bars probably shouldn't be what you gravitate towards if your goal is to cut weight. These are likely going to pay more dividends after a workout consisting of heavy lifts — think squats, deadlifts, overhead presses, etc. We weren't a fan of the use of sucralose and fractionated palm kernel oil, but a lot of options on the market do the same. We didn't grade on a curve or anything, but we did take that into account.
All-in-all, this bar has some good flavors, a decent calorie range, and a solid macro breakdown that falls within the protein range that research suggests as effective for building muscle. Put all that together and you get a great the top protein bar Muscle Milk offers.
Best Pre Workout
This is our favorite Muscle Milk when we're heading to the gym. Available in handy, portable, and recyclable packs, the Coffee House drinks deliver 20 grams of muscle-building protein and 30 percent of the daily Vitamin D and magnesium — important nutrients that are tough to get from whole foods. The cherry on top: each serving has 120 milligrams of caffeine, a little more than is present in a cup of coffee.
Muscle Milk Coffee House Protein Shake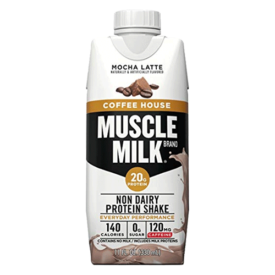 Muscle Milk Coffee House Protein Shake
High in protein, providing several micronutrients, and delivering about as much caffeine as a big cup of coffee, this is a solid pre workout shake.
This delivers a nice dose of caffeine that's not too high, not too low, ideal for athletes of all weights. (Depending on your sensitivity, that is.) Additionally, research suggests whey protein before a workout can be useful for preserving muscle and improving performance. The drink is surprisingly nutritious, delivering a remarkable amount of calcium, and Vitamin A and Vitamin C in addition to the magnesium and Vitamin D.
Who Should Buy Muscle Milk Coffee House Protein Shake
Those who want a strong kick of caffeine for their workouts.
People who need help preserving muscle.
Folks who want to boost their magnesium, calcium, and Vitamins A, D, and C intake.
Who Shouldn't Buy Muscle Milk Coffee House Protein Shake
Anyone opposed to having artificial sweetners in their diet.
Those looking to avoid cellulose gum. carrageenan, and seed oils.
Coffee House drinks do contain the artificial sweeteners sucralose and acesulfame potassium, which is unfortunate, but par for the course when it comes to protein drinks on the market. Although it's less than one percent of the total content, the beverage contains cellulose gum, carrageenan, and seed oils from sunflower and canola, which some try to minimize in their diets. Taking everything into account, this is a shake that provides energy via caffeine before training and can help build muscle by providing a decent amount of protein.
Best for Muscle Gain
Interestingly, on a per gram basis, Muscle Milk's Collegiate powder has roughly as many calories, vitamins, and minerals as the company's Mass Gainer. But the Collegiate product — on a per gram basis — costs less and delivers more protein, plus it's extraordinarily low in sugar.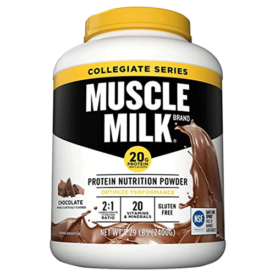 A high carb protein powder that contains so many vitamins and minerals it might double as a low fat meal replacement shake.
This powder is nutritious, providing a good amount of over 20 vitamins and minerals — meaning it could potentially double for a low fat meal replacement. This has a solid one:two ratio of protein to carbs, meaning it may be more useful for improving post workout recovery and muscle growth than lower carb, lower calorie shakes. Despite 45 grams of carbs per serving, there are just two grams of sugar.
Who Should Buy Muscle Milk Collegiate
Those looking to add more vitamins and minerals to their diet.
Anyone who is looking for a low fat meal replacement.
People in need of a post workout recovery shake that is low in calories.
Folks looking to keep their sugar intake low.
Who Shouldn't Buy Muscle Milk Collegiate
People who want to keep their carbohydrate intake low.
Anyone who wants to avoid sunflower oil or canola oil.
Those looking to increase their fiber intake.
This is slightly lower in carbs (and higher in protein) than Muscle Milk's Mass Gainer, which has a one:three ratio of protein to carbs. If carbs are your priority, this may not be the best product. Like most Muscle Milk products, the Collegiate Series contains artificial flavors and sweeteners as well as sunflower oil and canola oil, which could be an issue for certain consumers.
There's no fiber at all in this shake.
BarBend Tips
All of Muscle Milk's powder products are NSF Certified for Sport, which means they've been tested to ensure they contain no banned substances. This isn't the case for their bars and ready-to-drink shakes, except for the flagship Genuine Ready-to-Drink shakes.
While Muscle Milk used to contain IGF-1 precursors — which caused the National Collegiate Athletic Association (NCAA) to ban it and Muscle Milk to create their Collegiate product instead — it no longer contains this ingredient.
Muscle Milk proudly advertises that they use milk from cows that haven't been treated with the growth hormone rBST, but it's worth remembering (as Muscle Milk also advertises) that "no significant difference has been shown between milk derived from rBST treated and non-rBST treated cows."
The products are advertised as "non-dairy" because it's had the lactose and fat filtered from the proteins. That said, it does contain protein derived from milk, whey, and casein, so if you have allergies to dairy that aren't related to the lactose content, it may be off limits. Speak with your doctor before trying it out.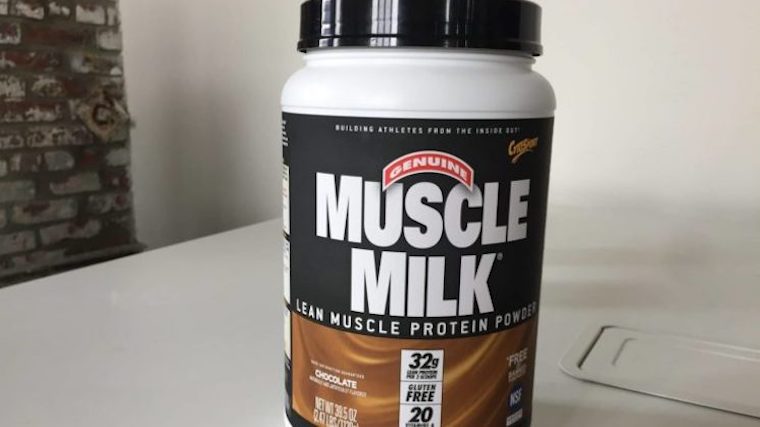 Wrapping Up
Muscle Milk remains one of the most ubiquitous protein products and now there are more ways than ever to enjoy it. Any time a company gets this kind of popularity, they expand their product line and it can get tough to figure out the ideal product, but we're confident that our list above will help anybody to pick their protein, from elite athletes to the regular person who just wants a little more protein in their day.