If you want to improve your body composition — that means build muscle and lost fat — then getting enough protein is a key part of the equation. A stumbling block that one encounters pretty quickly is that short of carrying beef jerky or baggies of chicken breast everywhere, it's hard to find convenient forms of protein. (Plus, it's typically pricier per serving than the other two macronutrients, carbs and fat.)
And since a lot of people are looking to minimize their animal protein intake, we decided to put together a list of our favorite plant-based protein powders you can choose from. All of the products on this list provide all the same essential amino acids as whey protein, without the cow.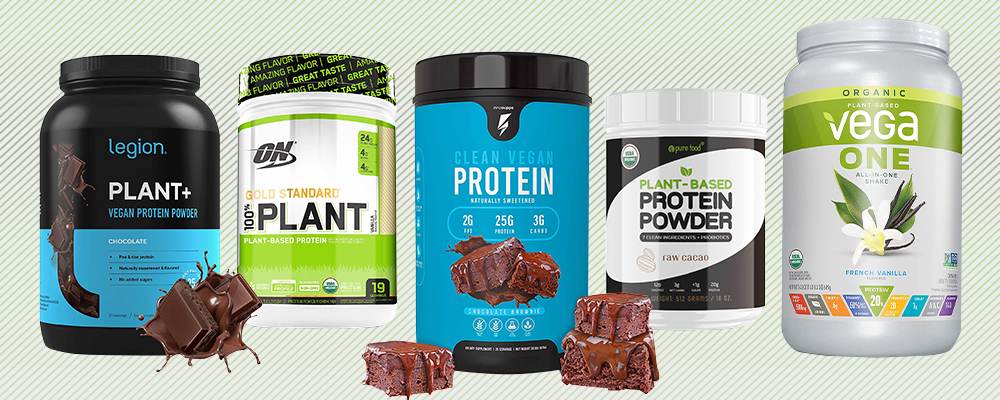 Best Overall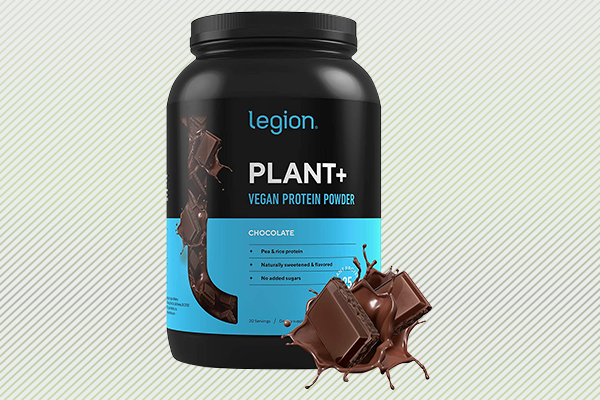 All Natural With Vegan-Friendly Nutrients
Legion made good with their pea, rice, quinoa, and hemp based protein powder. This combination produced a terrific amino acid profile, plus they've added "ten additional nutrients that vegan diets tend to lack" like beta-alanine, creatine, and Vitamin B12. There's also a lot of Vitamin D, Vitamin C, and iron added to the mix.
Pros
It contains extra nutrients that some plant-based diets tend to lack.
The product is completely free of artificial ingredients and GMOs.
Plant+ includes four digestive enzymes
Cons
With 14 grams of carbs for every 25 grams of protein, it's not the most low carb protein powder available.
Some may find the "all natural" taste to be a little too… natural tasting.
Best for Athletes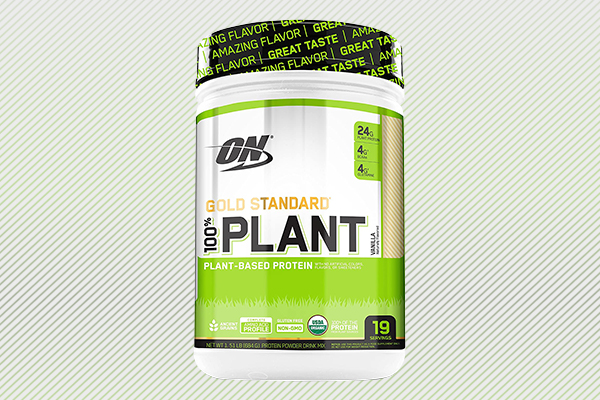 Tested for Banned Substances
The main reason we like Gold Standard for athletes is because it's one of the rare protein powders that's been certified by Informed Choice, so the facility has been swabbed for banned substances. But it's also surprisingly low carb for a vegan protein powder, it's soy free, naturally flavored, and it helps to add B12 and iron to your diet — nutrients that can be tricky to get among the plant based.
Pros
With 4 grams of net carbs per 24 grams of protein, it's relatively low carb for a vegan protein.
It contains a good dose of Vitamin C, iron, and B12.
This product has ben certified by Informed Choice, meaning the facility has been tested for banned substances.
Gold Standard Plant-Based Protein is USDA-certified organic.
Cons
The flavor is quite nutty.
There are three kinds of gum, which might cause digestive issues for some.
Most Protein Per Calorie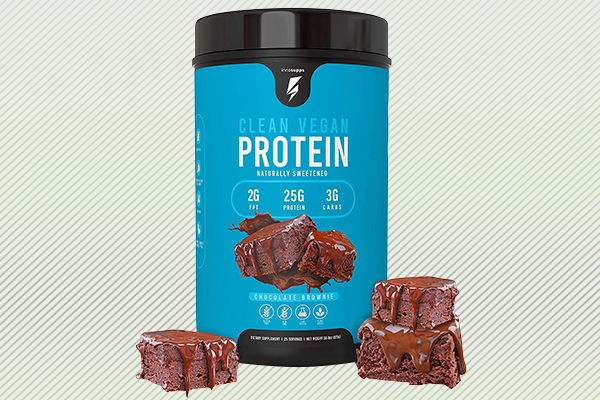 High Protein, Low Carb, Plus Enzymes
With 25 grams of protein per scoop and just 2 grams each of fat and carbs, this offers about the same amount of protein per calorie as your average whey protein powder — a very rare feat. Add to that the fact that there are no artificial sweeteners, and it contains antioxidants and digestive enzymes, and you've got a remarkable plant based powder.
Pros
Each scoop contains 100 calories of protein and just 25 calories from carbs and fat, which is unusual for (typically high carb) vegan protein powders.
It includes digestive enzymes, which may enhance protein absorption.
The ingredients also have a variety of powdered fruits and vegetables to add antioxidants.
Cons
On a per serving basis, this is one of the pricier protein powders.
Some find the flavor more savory than they were expecting, though this could make it a good pick for those who are tired of overly sweet protein.
Best Tasting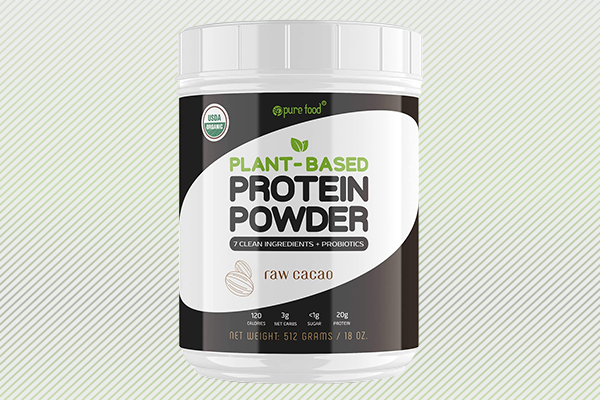 Protein With Just 7 Ingredients
It's notoriously tough to get a good vanilla vegan protein powder: they're often made from grains and legumes, and while that earthiness can work well with cocoa it often overpowers vanilla.
Not so with Pure Food Company, which uses innovative flavorings like lucuma and mesquite that produces a thoroughly enjoyable, richly flavored protein powder that provides about 20 grams of protein for every 5 grams of net carbs.
Pros
Pure Food Company has just seven all natural ingredients.
The ingredients include probiotic bacteria, which may improve digestive health.
Cons
There's no information regarding how much probiotic bacteria it contains.
The product is manufactured in a facility that processes common allergens like eggs, tree nuts, and wheat.
Most Antioxidants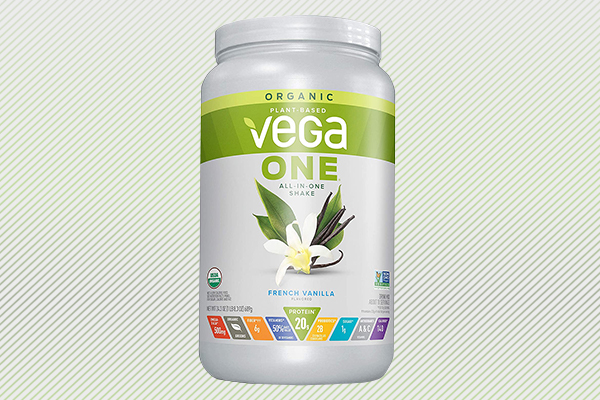 Protein Plus Probiotics
This shake sits somewhere between a meal replacement and a protein powder. It's still pretty low in calories and has more protein than carbs or fat, but it also provides probiotic bacteria and about half a day's worth of Vitamins B, C, and K. Add all that to the fact that it's got antioxidant-dense additions like spirulina and spinach powder and you've a great way to get your protein.
Pros
This is one of the few vegan protein powders that tastes pretty great with water.
Each serving has about half a day's intake of Vitamins B, C, and K.
The product is high in ingredients known for their antioxidant density.
Cons
It has plenty of vitamins, but the shake isn't very high in minerals.
This is on the pricier side for a vegan protein powder.
BarBend Tips
None of these protein powders contain soy. That said, the reason many avoid soy is because of fears that it may increase your body's estrogen or decrease your testosterone. Dozens of studies have failed to find this effect when consuming up to 70 grams of soy protein a day. (1)(2)
If you have a sensitive stomach, it may be better to stick with a protein powder with added digestive enzymes, like Legion Plant+ or Inno Supps.
Note that all of these protein powders contain plenty of branched chain amino acids, most closely linked to muscle protein synthesis. While some vegan proteins (like many nuts) are low in these amino acids, it's untrue that high quality vegan proteins don't exist.
Wrapping Up
We all need protein, and there's no reason not to pick a plant-based one to supplement your diet. Just makes sure you speak to a physician before making any big changes to your diet or exercise regimen.
References
1. Hamilton-Reeves, J et al. Clinical Studies Show No Effects of Soy Protein or Isoflavones on Reproductive Hormones in Men: Results of a Meta-Analysis. Fertil Steril . 2010 Aug;94(3):997-1007.
2. Kalman, D et al. Effect of Protein Source and Resistance Training on Body Composition and Sex Hormones. J Int Soc Sports Nutr . 2007 Jul 23;4:4.