Meat-eaters and plant-based dieters don't have much in common when it comes to what's on their plate, but one fact remains — both need protein. If you're a serious strength athlete, who is looking to push yourself on the platform or in a box, you need ample protein to help your muscles recover and fuel tough workouts.
However, vegans and vegetarians can't drink whey protein, so they need a plant-based formula that also boasts nutrients that they may not be getting from their regular diet. The good news is that it's 2021, and so plenty of companies put out top-notch vegan protein powders. On the list below, we present to you the six best vegan protein powder — broken down into unique categories — to help you choose your ideal vegan protein powder.
Best Vegan Protein Powders
Editor's note: The content on BarBend is meant to be informative in nature, but it shouldn't take the place of advice and/or supervision from a medical professional. The opinions and articles on this site are not intended for use as diagnosis, prevention, and/or treatment of health problems. Speak with your physician if you have any concerns.
Best Vegan Protein Powder Overall
Overall, the best vegan protein has a robust formula that boasts ample protein, nutrients specific to plant-based eaters, and relatively low carbs and fats. Plantein hits all the marks.
Kaged Muscle Plantein
What truly sets Plantein apart from other vegan proteins is its macronutrient breakdown. Typically, plant-based powders contain more carbs since the protein comes from sources like hemp or oats. Kaged Muscle has managed to reduce those numbers down, so a single serving delivers 26 grams of protein, five grams of carbs, and just four grams of fat. It's a lean protein comparable to whey protein powder. It's made from pea protein, organic quinoa, and peanut flour mainly.
Get 10% Off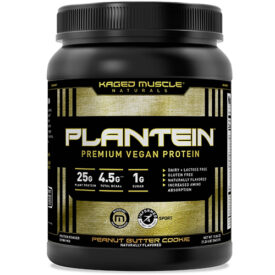 This plant-based formula is made from pea protein and boasts a macronutrient profile similar to whey — 26 grams of protein, four grams of carbs, and five grams of fat. Use code BARBEND10 for 10% off your purchase. 
Who Should Buy Kaged Muscle Plantein
Who Shouldn't Buy Kaged Muscle Plantein
People who like basic flavors. Plantein comes in Peanut Butt Cooke, Cinnamon Roll, and Banana Bread.
Lifters who like to buy in bulk. Kaged Muscle only offers 15 servings at a time (though you can opt "subscribe and save).
With three delicious flavors, 26 grams of protein, and plenty of branched-chain amino acids, Plantein isn't just the best vegan protein — it can go head to head with any formula on the market.
Best Vegan Protein Powder for Athletes
Athletes require a balanced intake of both protein and carbs to facilitate intense training sessions, as well as a complete formula that covers their micronutrient needs.
Legion Plant+
Legion made good with their pea, rice, quinoa, and hemp-based protein powder. This combination produced a terrific amino acid profile, plus they've added "10 additional nutrients that vegan diets tend to lack" like beta-alanine, creatine, and Vitamin B12. There's also a lot of Vitamin D, Vitamin C, and iron added to the mix. These nutrients are vital as vegetarians and vegans don't get iron and B vitamins from natural red meat sources. Each serving packs 25 grams of protein with only four grams of carbohydrates.
Save 20%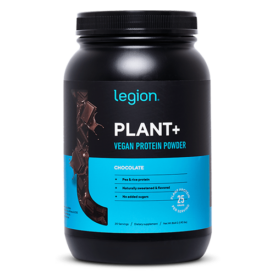 Legion's Plant+ has 25 grams of protein per serving, just four grams of carbs, and is packed with vitamins and minerals that plant-based eaters may want more of. Use code "BARBEND" for 20% off!
Who Should Buy Legion Plant+
Plant-based dieters who want a nutrient-dense protein powder.
Bodybuilders (or anyone on a fat-loss diet), as Legion has just four grams of carbs.
Those with prefer a protein derived from a blend. Legion uses pea, rice, quinoa, and hemp to make their formula.
Who Shouldn't Buy Legion Plant+
Penny pinchers. With 20 servings per container, Legion's cost per serving is about two dollars.
Legion Plant+ is a lower-carb formula with plenty of protein to help athletes recover from tough training sessions. It also has a host of vitamins and other supplements to facilitate performance.
Best Tasting Vegan Protein Powder
If you're drinking protein powder every day, then you want to enjoy it. Here's our pick for the tastiest vegan protein powder available.
Transparent Labs Organic Vegan Protein
There are many reasons to love Transparent Labs vegan protein powder, and its incredible taste is what landed it on this list. This formula only comes in two flavors — chocolate and French vanilla — but Transparent Labs gives meaning to the saying "quality over quantity." Neither flavor has the distinct earthiness and grittiness that is obvious in a lot of vegan powders.
Save 10%
Transparent Labs Organic Vegan Protein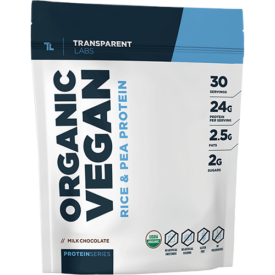 Transparent Labs Organic Vegan Protein
A surprisingly delicious vegan protein powder that's totally free from artificial ingredients and soy. Use the code BARBEND10 to get 10% off!
Who Should Buy Transparent Labs Organic Vegan Protein
Frequent protein drinkers. You want to enjoy what you're using, and Transparent Labs offers two delicious flavors.
Bulk buyers. Transparent Labs allows you to buy two or three tubs at once for a discounted rate. It's more money upfront, but you can save $24 by buying three tubs, which is helpful if you regularly take this formula.
Who Shouldn't Buy Transparent Labs Organic Vegan Protein
Folks who don't like chocolate or vanilla. You'll need to look elsewhere for more flavors.
People who don't necessarily care about artificial flavorings, colorings, and sweeteners. Though this formula is free of those things, you are paying for them.
Also, this vegan powder — which boasts 150 calories, 2.5 grams of fat, seven grams of carbs, and 24 grams of protein per serving — doesn't contain artificial sweeteners, preservatives, or coloring, and is free of both gluten and GMOs.
Best Vegan Protein Powder for Probiotics
A more recent trend, probiotics are thought to help revitalize your gut health for better digestion and nutrient absorption.
Pure Food Plant-Based Protein Powder
In terms of its protein content, Pure Food's formula has only 20 grams of protein. While that's not a low amount, it is relatively less than other options on this list — so that's something to keep in mind. It also contains nine grams of carbs. However, this plant-based powder has far more redeeming qualities. That is four grams of branch chain amino acids — the building blocks of protein — four grams of glutamine and fiber, and one billion colony forming units (or CFUs) of probiotics.
Best for Probiotics
Pure Food Plant Based Protein Powder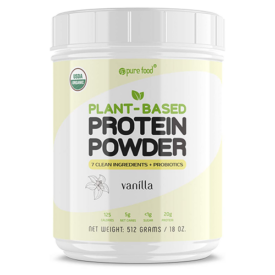 Pure Food Plant Based Protein Powder
With one billion colony forming units (CFUs) of probiotics, Pure Food's vegan protein powder should be your pick for more optimal gut health.
Who Should Buy Pure Food Plant-Based Protein Powder
People who want a protein powder with probiotics.
People with digestive issues. The probiotics may help improve your digestion.
Who Shouldn't Buy Pure Food Plant-Based Protein Powder
Athletes who need lots of protein. Other vegan protein options on this list dole out more protein at a similar cost.
Diet-focused folks. Depending on the type of diet you're following, the nine grams of carbs may be unwanted.
A healthier gut can mean improved digestion, performance, and maybe even overall health. If that's a concern for you, then this formula — packed with probiotics — is what you'll want to buy.
Best Vegan Protein Powder to Replicate Whey
Whey protein powders are notorious for being lower in fat and carbs, making them one of the purest protein forms. We found a vegan formula that is low in both fat and carbs while staying relatively high in protein.
Performance Lab Protein
This formula uses brown rice protein called Oryzatein®, which, according to Performance Lab, is as effective as whey for building muscle. Macro-wise, it's on par or even better formulated than other traditional whey powder. Each serving contains just 100 calories, one gram of fat, two grams of carbs, and 20 grams of protein. While that's less protein than other picks on this list, it has the best ratio of fats and carbs to protein. For those who care about how their protein is sweetened, Performance Lab opts for organic cocoa, vanilla bean, cinnamon, yacon root, monk fruit, and stevia.
Best Vegan Whey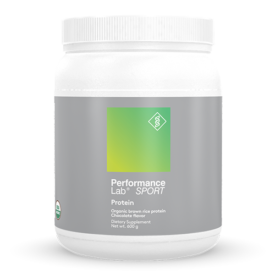 A patented organic brown rice protein designed to build muscle as effectively as whey. Comes in a complex, appealing chocolate flavor with notes of cinnamon and is naturally sweetened. Includes probiotics to improve absorption. 
Who Should Buy Performance Lab Protein
Plant-based athletes who want the low-fat, low-carb macros typically found in whey protein powders.
Folks who want a naturally sweetened product.
Who Shouldn't Buy Performance Lab Protein
This is the lowest-fat, lowest-carb formula on our list. This is a perfect pick for the person — plant-based eater or not — who wants to consume fewer animal products but maintain the macros that a whey protein powder provides.
Best Vegan Protein Powder for Antioxidants
Antioxidants can help battle inflammation and protect against free radicals. If you're concerned about either of those things, then you want a vegan protein that's packed with nutrients and antioxidant vitamins.
Vega One Organic: All-in-One Shake
Vega One Organic is an absolute nutrient powerhouse. It has 18 vitamins and minerals, nine of which offer half or more of your daily recommended intake. As far as Antioxidants go, it offers vitamins A, C, and D, which help boost your immune system to help protect against illness and ward off inflammation. Also, it boasts a hefty dose of probiotics for more optimal gut health. One thing to note, this is marketed as an "all-in-one" formula. While it does offer 20 grams of protein, it also has five grams of fat and 10 grams of carbs at 150 calories per serving.
Best for Antioxidants
Vega One Organic All-in-One Shake
Vega One Organic All-in-One Shake
This plant-based shake boasts 140 calories, 20 grams of protein, and an ample amount of the antioxidants Vitamins A, C, and D — which help boost your immune system and fight inflammation.
Who Should Buy Vega One Organic: All-in-One Shake
People who are hyper-focused on overall vitamin and nutrient intake. This is by far the most robust vitamin and mineral formula on the list.
Those who want more probiotics.
People who like flavor options. Vega offers seven different flavors — berry, chocolate mint, plain, coconut almond, mocha, chocolate, and French vanilla.
Who Shouldn't Buy Vega One Organic: All-in-One Shake
Athletes who want fewer grams of fat and carbs. This formula is similar to a meal replacement shake compared to other protein powders on this list.
Budget-conscious shoppers. This is the most expensive option on this list.
Also, it boasts a hefty dose of probiotics for more optimal gut health. One thing to note, this is marketed as an "all-in-one" formula. While it does offer 20 grams of protein, it also has five grams of fat and 10 grams of carbs at 150 calories per serving.
Why Protein is Important for Vegans
If you eat a plant-based diet, you need to be extra conscious of your protein intake. One article published in the Journal of the International Society of Sports Nutrition claimed that "veganism creates challenges that need to be accounted for when designing a nutritious diet." The article states that plant-based sources are typically lower in protein, B12, iron, iodine, zinc, calcium, vitamin D, and long-chain fatty acids such as EPA and DHA (both of which are found in fish oils). That same study also noted that creatine supplements and beta-alanine might be of particular use to vegan dieters, too. (1)
These specific nutrients are important for both your health and to help build muscle. Protein — and the nine essential amino acids that makeup protein — are vital in your quest to gain muscle and preserve it as you lose fat.
This isn't to say that vegans can't get protein from whole foods. Plenty of plant-based foods contain protein — tempeh, quinoa, lentil, chia seeds, tofu, and beans are all decent sources. The problem is, however, that these sources 1) aren't complete proteins, and 2) are also accompanied by more grams of carbs and fats compared to lean animal proteins. This may not be an issue for some people, but bodybuilders and strength athletes who are attempting to adhere to a strict high-protein, moderate-carb, low-fat diet won't want to eat these particular protein sources.
For example, four ounces (or half a cup) of chicken breast contains about 110 calories, 23 grams of protein, two grams of fat, and zero carbs. By comparison, four ounces of lentils contain roughly the same calories from 10 grams of protein, 23 grams of carbs, and zero grams of fat. Before we continue, though, it's important to figure out…
How Much Protein Do You Need
Whether you're a vegan or meat-eater, strength athletes need the same amount of protein — .072 to one gram per pound of bodyweight. For a 180 pound man, that comes out to between 123-180 grams of protein. Even a meat-eater will most likely need to supplement with protein powder to meet their intake. Now, consider that most vegan protein sources pack even less protein per serving than animal protein, and a protein supplement is looking even more like a necessity. Want to know how much protein you need? Use our protein calculator below:
Protein Intake Calculator
Age
Sex
Height
Weight
Goal
Activity Level
Do you know your body fat percentage?
Part of what makes a protein powder so great is the convenience factor. This is particularly helpful if you're in a bulking phase and are sick of choking down whole foods. You can mix your protein powder of choice in some water, chug it down, and you just ingested 20 to 25 extra grams of protein. Of course, you want to ensure you're consuming many of your nutrients from whole foods and supplementing with the ones you may be missing. The good news is that many vegan protein powders contain those missing nutrients (mentioned above).
[Related: What You Need to Know About How to Increase Strength]
What to Look For in a Vegan Protein Powder
When choosing which vegan protein powder to buy, here are the three factors you should heavily consider.
Protein Content
Sounds obvious, right? Of course, how much protein you need depends on your goals. As we stated above, athletes will want up to one gram of protein per pound of body weight. They'll most likely rely on a protein powder to help them reach their goal, and so that powder shouldn't skimp on protein content. On the other hand, a less intense gym-goer may just want to be a bit healthier and keep their protein intake a tad higher. In this case, 0.54 grams per pound of protein is all someone really needs, and therefore they don't need a powder packed with protein.
It's also worth noting that the recommended daily allowance (RDA) for protein, according to the U.S. Food and Drug Administration, is 50 grams per 2,000 calories. A study found that this specific amount of protein may lead to muscle loss in older folks. (2)
On this list, none of the picks dipped below 20 grams of protein per serving. Some go up to 25 grams.
A Balanced Macronutrient Profile
Your caloric intake matters the most when trying to gain or lose weight, but macros matter, too. There are three main macros — protein (which we've already covered), carbohydrates, and fat. Carbs essentially give you the energy to work out (though the carbs you don't burn are stored as fat, so you need to balance these well). Fats generally regulate your hormones like testosterone and leptin. When it comes to carving out a more impressive physique, you want your macros dialed in. Otherwise, you may be lacking in one macro, like protein, while eating too much of another, such as fat (which has nine calories of fat per gram).
One key to managing your macro intake is choosing foods that are made of predominately one macro. This way, you can better manage your overall intake and create more balanced meals. For example, one Big Mac has 540 calories and 30 grams of fat, 45 grams of carbs, and 25 grams of protein. Also, it's not filling. For 100 fewer calories, you can have a cup of rice and half a pound of chicken with spinach — a meal that packs 55 grams of protein, 40 grams of carbs, and four grams of fat.
For this reason, we chose vegan protein shakes that had minimal grams of carbs and fat to ensure you were getting mainly protein.
Vitamins and Nutrients that Vegans Need
The fact is, there are specific vitamins and nutrients in meat that vegans don't get enough of. To recap, those are B12, iron, iodine, zinc, calcium, vitamin D, and long-chain fatty acids such as EPA and DHA. One study says that vegetarians are at risk of being deficient in vitamin B12, and the long-term effects — though not fully understood — can be "adverse effects on pregnancy outcomes, vascular, cognitive, bone, and eye health." (3)
The protein powders on this list contain most of the recommended nutrients and vitamins that plant-based eaters want.
Different Types of Vegan Protein Powder Sources
Vegan protein powders aren't all made from the same sources. Here's a breakdown of the four most common vegan protein powder sources.
Pea Protein
This protein source derived from peas is one of the newer ones to hit the market. Its appeal is that it contains all nine essential amino acids and is considered relatively easy to digest. It's also effective. One study showed that supplementing with pea protein while on a strength training program significantly increased biceps muscle size as effectively as whey protein. (4)
Hemp Protein
In addition to containing the nine essential amino acids, hemp protein — which is the product of ground-up hemp seeds — also has more fiber and healthy fats.
Brown Rice Protein
Though it's not a complete protein, brown rice protein is void of allergens such as gluten, soy, eggs, and nuts. So it's agreeable for folks who are allergic to any of those ingredients. Ita also digests very quickly, especially compared to a whey product that is derived from dairy.
Soy Protein
First, if you have a soy allergy, pick another option from this list. That said, for anyone else, soy is a fine protein option. And don't think it affects your testosterone levels; more recent studies have shown that not to be true.
Wrapping Up
Any strength athlete will need more protein compared to folks who don't train. And if you're a plant-based eater, then you'll need to choose your protein with more careful consideration. For one, to ensure it fits your dietary restrictions, and two because vegans typically have a tougher time upping their protein intake since they don't eat meat. Review this list of best vegan protein powders carefully, make your selection, and then get to training!
References
Rogerson D. Vegan diets: practical advice for athletes and exercisers. J Int Soc Sports Nutr. 2017;14:36. Published 2017 Sep 13. doi:10.1186/s12970-017-0192-9

Campbell WW, Trappe TA, Jozsi AC, Kruskall LJ, Wolfe RR, Evans WJ. Dietary protein adequacy and lower body versus whole body resistive training in older humans. J Physiol. 2002 Jul 15;542(Pt 2):631-42. doi: 10.1113/jphysiol.2002.020685. PMID: 12122158; PMCID: PMC2290421.

O'Leary F, Samman S. Vitamin B12 in health and disease. Nutrients. 2010;2(3):299-316. doi:10.3390/nu2030299

Babault N, Païzis C, Deley G, Guérin-Deremaux L, Saniez MH, Lefranc-Millot C, Allaert FA. Pea proteins oral supplementation promotes muscle thickness gains during resistance training: a double-blind, randomized, Placebo-controlled clinical trial vs. Whey protein. J Int Soc Sports Nutr. 2015 Jan 21;12(1):3. doi: 10.1186/s12970-014-0064-5. PMID: 25628520; PMCID: PMC4307635.