We receive free products and receive commissions through our links. See
disclosures page
.
Let's get this out of the way: No supplement can replace a good diet and an effective workout program. But if you are already eating right and training consistently, a fat burner can help you lean out more, or a greens powder can fill in nutritional gaps. And when it comes to supplements for men specifically, you may look for ingredients like vitamin B12 (which men tend to lack), or zinc and magnesium, which may help boost testosterone.
From pre-workouts and creatine to electrolytes and BCAAs, there's a supplement for just about any goal a man could want to achieve and a lot of different companies claiming that theirs are the best. So we did the work to separate the hype from the hypertrophy and dug up some of the best supplements for men on the market.
The Best Supplements for Men
How We Tested
Our team at BarBend has been testing supplements (and everything else gym-related) for years. For this article, we evaluated supplements based on price, taste, and effectiveness, among other things. We considered each one's claims, then put them to the test. For instance, with pre-workouts, we'd take a dose and monitor our energy levels throughout a workout. For supplements like protein, we'd see how well the powder mixed and taste-test them.
Best Pre-Workout for Men: Transparent Labs Bulk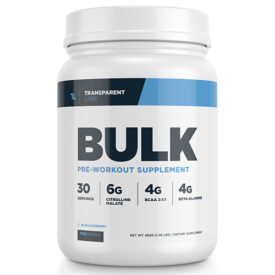 Caffeine: 200mg
Key Ingredients: 8,000mg of citrulline malate, 4,000mg of beta-alanine, and 300mg of alpha GPC
Flavors: Strawberry Kiwi, Piña Colada, Blue Raspberry, Black Cherry, Peach Mango, Tropical Punch, Watermelon, Sour Grape, Green Apple, Orange, Strawberry Lemonade, Lemon Lime
Price Per Serving: $1.67
Specs
Form: Powder
Highlights: 8,000mg of citrulline malate, 4,000mg of beta-alanine, 2,500mg of betaine, 180mg of caffeine
Flavors: Strawberry Kiwi, Piña Colada, Blue Raspberry, Black Cherry, Peach Mango, Tropical Punch, Watermelon, Sour Grape, Green Apple, Orange, Strawberry Lemonade, Lemon Lime
Servings: 30
Price: $44.99
Pros
The vitamin D, zinc, and boron in this pre may help boost testosterone levels.
There's only 180mg of caffeine, which is great for those who only want a moderate caffeine kick.
This supplement contains all-natural flavoring with zero artificial ingredients.
Cons
If you want creatine in your pre-workout, you'll have to look elsewhere.
The 180mg of caffeine may not be enough for men who want a big jolt of energy.
If you don't like skin tingles, the 4,000mg of beta-alanine may not be right for you.
First and foremost, a good pre-workout is meant to give you a boost of energy and focus for your workouts. Usually, this comes in the form of caffeine, beta-alanine, and other ingredients that can help you ramp up the intensity of your workouts. This pre from Transparent Labs goes above and beyond with its inclusion of nutrients that may serve to boost your testosterone levels. The vitamin D3, zinc, and boron included here may not give you superhuman strength, but they have been linked to optimal testosterone levels. (1)
Of course, it also has the standard pre-workout ingredients as well, including solid doses of citrulline malate and beta-alanine, which gave our tester a solid pump during their workout. The 180mg of caffeine is in the middle of the pack as far as pre-workouts go — our tester felt a surge of energy, with zero crashing after the workout.
Also, as the name suggests, this product's label is transparent, so you'll know exactly what you're taking, which can be useful if you're stacking it with other supplements. The flavors are on point as well, tasting pleasantly sweet without being too saccharine.
Read our full Transparent Labs BULK review.
Best Protein Powder for Men: Jacked Factory Authentic ISO
Jacked Factory Authentic ISO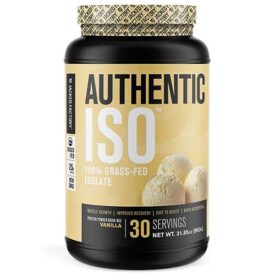 Jacked Factory Authentic ISO
Dig into this easily digesting grass-fed whey isolate that provides 25 grams of protein with each lean 110 calorie scoop. It comes in three tasty flavors at a cost-effective price making it a solid choice for nearly anyone.
Specs
Form: Powder
Highlights: 25g whey protein isolate, 1g carbohydrates, 0.5g fat
Flavors: Unflavored, Vanilla Oatmeal Cookie, Vanilla, Chocolate Peanut Butter, Cinnamon French Toast
Servings: 30
Price: $34.99
Pros
The low fat and carbs are ideal for men who want to add lean muscle mass.
There's an unflavored option, which is great for mixing into smoothies.
At under $40 for a month's supply, this is a reasonable price for whey isolate.
Cons
This is a milk-based protein, so vegan athletes should try a different protein.
There are artificial flavors in this protein, so if you're looking for an all-natural option, look elsewhere.
Protein is the main building block for muscle, and protein powder is perfect for men who want to pile on more muscle without accumulating more body fat. The high protein and low fat and carbs in this protein powder may be just the thing. Authentic ISO has 25 grams of protein but only one gram of carbohydrates and half a gram of fat for a total of 110 calories per serving.
And the protein here comes in the form of whey isolate, which may be easier to digest for men who may experience issues with drinking protein shakes. This is because whey isolate is processed more than whey concentrate, which removes a lot of the lactose and fat. Plus, the five flavors include some creative options, particularly Vanilla Oatmeal Cookie and Cinnamon French Toast.
Best Multivitamin for Men: Momentous Essential Multi
Momentous Essential Multi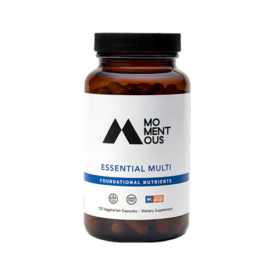 Momentous Essential Multi
This multivitamin provides all the daily essentials, including vitamin A, vitamin C, calcium, and folate, among others. You can even subscribe to monthly deliveries. 
Specs
Form: Capsule
Highlights: Provides more than 100 percent of your daily value for vitamins and minerals like vitamin C, vitamin D, vitamin B12, Calcium, Zinc, Magnesium, among many others.
Flavors: Unflavored
Servings: 30
Price: $54.95
Pros
These multivitamin capsules help fill practically any gap in your day-to-day diet with key vitamins and minerals, like vitamin A, vitamin C, vitamin D, and Zinc, among others.
This supplement provides 136 percent of your daily zinc needs, which is a micronutrient that's important for athletes, helping with testosterone production and absorption.
You can subscribe to a monthly delivery for a discounted price of $46.71 per bottle.
Cons
You have to take four capsules per serving, which can be tedious.
This product costs about $1.83 per serving, which is a bit on the pricey side.
You don't get any sodium in this supplement, which is another nutrient many athletes need and lack (especially if you sweat a lot).
When your daily diet falls short of some essential vitamins and nutrients, a multivitamin supplement is a great solution. And the Momentous Essential Multi is sure to fill those gaps — and then some.
This product packs pretty much all the essentials, like folate. Although this is a nutrient often recommended for pregnant people, men need plenty, too. Folate helps prevent a build-up of homocysteine, which can lead to heart and blood disease, according to Community Health Network. Momentous provides magnesium, too, to support healthy bones, joints, and muscles.
Unlike other multivitamins, Momentous' product also provides phytonutrients like lutein, which can help promote good eye health, according to the University of Rochester Medical Center. You also get resveratrol, which is an antioxidant with anti-inflammatory properties. (15)
Unfortunately, one serving is four capsules, which isn't the most convenient, especially for those who don't love to swallow pills. But you do get a whole month's worth in one bottle, so you'll be covered if you subscribe monthly.
Best Creatine for Men: Transparent Labs Creatine HMB
Transparent Labs Creatine HMB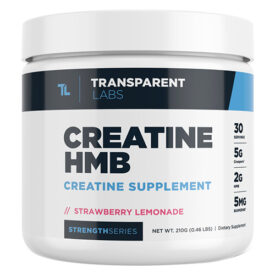 Transparent Labs Creatine HMB
We like that this product includes hydroxymethyl butyrate, the main metabolite in leucine that prevents muscle protein breakdown. Plus, the blue raspberry flavor is tasty, and the blend contains no artificial sweeteners.
Specs
Form: Powder
Highlights: 5,000mg of creatine monohydrate, 1,500mg of HMB
Flavors: Unflavored, Blue Raspberry, Sour Grape, Tropical Punch, Fruit Punch, Watermelon, Black Cherry, Orange Hawaiian Splash, Peach Mango, Strawberry Lemonade
Servings: 30
Price: $49.99
Pros
5,000mg of creatine monohydrate has been shown to be the effective dosage.
The included HMB may help men retain muscle.
There are 11 different flavors to choose from, which is handy for those with finicky taste buds.
Cons
If you are looking for a creatine other than monohydrate, this isn't the supplement for you.
The $1.66 per serving price may be out of some men's price range.
This has 5mg of black pepper, so if you're allergic, go with a different creatine.
Put simply, creatine is the fuel that your muscles use for anaerobic movements like you see in weightlifting. Having more creatine in your system can help you move more weight, which can lead to gains in strength and size. This creatine stands out for the inclusion of HMB in its formula. HMB stands for hydroxymethly butyrate, which is the main component in leucine, the amino acid that prevents muscle breakdown. This means that this creatine powder may help you retain the muscle that you already have while you work to add more.
The creatine in this supplement is in the form of creatine monohydrate, the most researched and vetted form. Studies have shown that the 5,000mg of creatine provided here is the ideal dosage for those who want to increase muscle strength and size. (2) As an added bonus, there's an unflavored option, so you can stack it with your favorite pre-workout without messing up the taste.
Read our full Transparent Labs Creatine HMB review.
Best Electrolyte Supplement for Men: Momentous Fuel
This electrolyte supplement helps keep you hydrated during the toughest workouts. Plus, it even has fast-digesting carbs for a quick energy boost. 
Specs
Form: Powder
Highlights: 120 calories per serving, 28g of carbs,
Flavors: Unflavored
Servings: 30
Price: $54.95
Pros
This supplement is packed with electrolyte ingredients, including potassium, magnesium, and zinc.
The carbs in this formula are fast-digesting, so you get some extra energy.
You can buy this product in single-serving packets for on-the-go hydration.
Cons
You only get two flavor options.
Those who want a calorie-free electrolyte supplement may need to look elsewhere.
Whether your training is strength- or endurance-focused, having a good electrolyte supplement is a must. And Momentous Fuel is one that deserves a spot in your supplement stash.
Unlike most electrolyte supplements, Momentous' doesn't have a ton of unwanted ingredients. You do get about 28 grams of added sugar (depending on the flavor), but these quick-digesting carbs may provide just the boost of energy you need in the middle of a tough training session.
This powder also supplies key electrolytes, including potassium, magnesium, and zinc, all of which can help you stay hydrated and promote good muscle function, according to the National Library of Medicine
You can choose from two refreshing flavors, including Cherry Berry and Strawberry Lime. You can buy this product in a 15-serving bag or 12 single-serving packets, perfect for hydration on-the-go.
Best Omega-3 Supplement for Men: Swolverine Krill Oil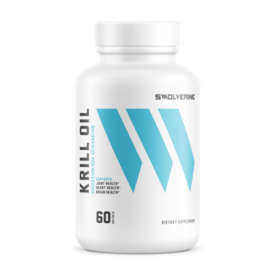 Swolverine's Krill Oil delivers 500mg of krill oil, omega-3s in the form of EPA and DHA, and astaxanthin. This supp only requires one pill per serving and has the addition of Vanilla flavor to potentially combat a fishy aftertaste. 
Specs
Form: Capsule
Highlights: 500mg of krill oil, 100mg of EPA/DHA
Flavors: Vanilla
Servings: 60
Price: $29.99
Pros
The 500mg dose of krill oil is a higher dose than other krill oils provide.
The vanilla flavoring cuts down on the fishy flavor.
At roughly $0.50 a serving, this is a solid price point for an omega-3 supplement.
Cons
The capsules are gelatin, so pescatarians should steer clear.
This only comes in vanilla flavor, so if you dislike vanilla, you're out of luck.
Omega-3 fatty acids are common in fish and seafood. Their positive benefits on the cardiovascular system are well-documented, but it can be hard to eat enough to get those benefits (especially if you don't like seafood). That's where supplementation comes in.This krill oil is our favorite for men because it's loaded with 500mg of omega-3 fatty acids, which is more than the more common 300 to 400mg dose you'll find in other supplements. This is good news for men, because omega-3s may reduce the risk of heart attacks and strokes, particularly in those with elevated cardiovascular risk. (3)
More good news: The 500mg typically contains 100mg of EPA/DHA, which may reduce the risk of nonfatal heart syndromes, as well as lower inflammation (in other words, your knees will thank you). (4)(5) And while many krill oil capsules tend to have a fishy taste, Swolverine has added a vanilla flavoring to help with the flavor.
Best Fat Burner for Men: Instant Knockout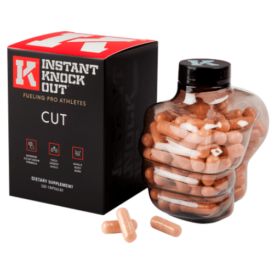 Instant Knockout is a comprehensive fat burner that contains green tea extract, as well as cayenne pepper seeds and glucomannan. Plus, this supplement also includes caffeine, theanine, and black pepper extract.  
Specs
Form: Capsule
Highlights: 1,800mg of glucomannan, 300mg of caffeine, vitamin D3, vitamin B6, vitamin B12
Flavor: N/A
Servings: 30 servings
Price: $65
Pros
This fat burner contains vitamins D3, B6, and B12, all of which men tend to lack.
The high dose of caffeine can help men push hard through workouts, even when in a calorie deficit.
The green tea extract may help reduce bloating.
Cons
300mg might be too much for those with a sensitivity to caffeine.
This has black pepper extract in it, so if you're allergic, try a different fat burner.
While it won't replace a good diet and consistent exercise, fat burners can help speed up your metabolism, helping your body burn more fat, even when it's at rest. Instant Knockout may not only help burn fat, but it can also help you eat less and push harder in the gym. The fiber from the 1,800mg of glucomannan can help men feel fuller, making them less likely to overeat, while the caffeine and cayenne pepper may help increase thermogenesis. (6)
It was also developed specifically for men, as seen by the inclusion of vitamins D3, which may help boost testosterone, B6, and B12, all of which are vitamins that are commonly deficient in men. (1)(7)
Read our full Instant Knockout review.
Best BCAAs for Men: Huge Supplements Huge BCAA
Huge Supplements Huge BCAA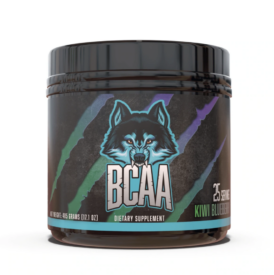 Huge Supplements Huge BCAA
Huge Supplements contains 8,000mg of BCAAs in a 2:1:1 ratio. This supp also includes an added dose of calcium, potassium, and sodium, as well as coconut water powder for a potential boost in hydration.
Specs
Form: Powder
Highlights: 8,000mg of BCAAs, 5,000mg of l-glutamine, 80mg of calcium, 40mg of potassium
Flavors: Kiwi Blueberry, Bomb Popsicle, Watermelon Lemonade, Sour Grape
Servings: 25
Price: $39.99
Pros
The large dose of glutamine may help reduce muscle breakdown.
There's coconut water in this formula, which can help men rehydrate after a hard workout.
Huge Supplements offers four different flavors to choose from.
Cons
This has artificial ingredients, so if you're looking to avoid those, this product isn't for you.
At over $1 a serving, this may not work for men on a tight budget.
Branched-chain amino acids can help your body build muscle, reduce soreness, and even stave off fatigue during workouts. Huge Supplements Huge BCAA is our favorite BCAA for men because of its high doses of BCAAs and its four tasty flavors. It has a whopping 8,000mg of BCAAs in it, which can go a long way in reducing soreness and speeding up recovery after hard workouts. (8) In addition, the 5,000mg of l-glutamine may help decrease muscle breakdown, which is great for men who are looking to pack on lean muscle.
Now, none of that will do you any good if it's too gross for you to choke down, which is why this supplement comes in four flavors including the nostalgia-inducing Bomb Popsicle, which can bring to mind memories of the ice cream truck rolling down your street. Huge BCAA is over a buck per serving, however, which might bump it out of some men's price range.
Best Greens Powder for Men: Athletic Greens AG1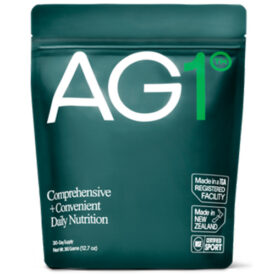 This nutritious greens powder is NSF certified for sport and includes 75 absorbable ingredients and is free of gluten, sugar, dairy, eggs, and peanuts. It is compatible with vegan, keto, and paleo diets. 
Specs
Form: Powder
Highlights: 555mcg vitamin A, 420mg of vitamin C, 22mcg of vitamin B12, 118mg of calcium, 300mg of potassium, 154mg of digestive enzymes, 38mg probiotics
Flavors: Pineapple Vanilla
Servings: 30
Price: $99
Pros
The probiotics and digestive enzymes may help to improve gut health.
There are ingredients, like rhodiola rosea and ashwagandha, which may help with stress and anxiety.
This product doesn't taste half bad, especially for a greens powder.
Cons
$99 for a month's worth of product is a tough pill to swallow.
There's no vitamin D in this formula, which is odd, considering how many nutrients it already has.
A lot of the ingredients come in proprietary blends, so it's hard to say how much of everything you're getting.
It can be hard for men to get everything they need just from the food they eat, which is where greens powders come in. Basically a selection of vegetables that are dehydrated and powdered for easy consumption, greens powders are intended to boost your vegetable intake and fill in your nutritional gaps.
We love Athletic Greens' AG1 exhaustingly long list of vitamins, minerals, prebiotics, digestive enzymes, and nootropics. Among the heaviest hitters in this group are 700 percent of your daily requirement for vitamin C, 100 percent or more of the B vitamins that men usually don't get enough of, and 100 percent of your daily requirement for zinc, which can help keep your testosterone levels healthy.
In addition, AG1 has 7.2 billion probiotic bacteria and digestive enzymes to keep your morning "appointment" on schedule, as well as rhodiola rosea and ashwagandha, which can help reduce anxiety. It is lacking vitamin D though, which is an important vitamin for men, but the company does offer a separate D3 product to supplement.
Read our full Athletic Greens AG1 review.
Best Testosterone Supplement for Men: Hunter Test Testosterone Booster
Hunter Test Testosterone Booster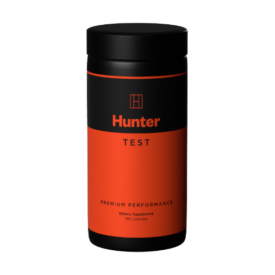 Hunter Test Testosterone Booster
Hunter Test Testosterone Booster is an all-natural supplement manufactured in high-quality facilities and formulated with premium ingredients designed to help improve mood, energy, and performance.
Specs
Form: Capsules
Highlights: D-aspartic acid (DAA), vitamin K2, vitamin D3, 300mg ginseng, 10mg boron, 30mg zinc, 200mg magnesium
Flavors: N/A
Servings: 30
Price: $90
Pros
The DAA may increase testosterone production.
Indole-3-carbinol (I3C) may suppress an enzyme that lowers testosterone levels.
It's made in FDA-registered, cGMP-certified facilities.
Cons
The capsules contain gelatin, so this is a no-go for vegans.
You have to take six pills daily, which may be a hard pill to swallow for some.
One big concern for men, especially as they get older, is dropping testosterone levels. One way to combat this is with a testosterone booster, and Hunter Test is the best of the bunch. What makes it stand out from other over-the-counter test boosters is its 3,000mg dosage of DAA, an amino acid that studies suggest may help increase levels of testosterone. (9) It also has I3C, an aromatase inhibitor, which may prevent the degradation of testosterone into estrogen. (10)
Hunter Test also contains magnesium, zinc, and boron, all of which can play a part in increasing testosterone levels, inhibiting estrogen levels, and keeping the immune system healthy. One thing to note before you buy it: The daily serving is six pills, which could be a problem for men who don't like swallowing pills.
Best Gut Health Supplement for Men: Transparent Labs Gut Health Probiotic
Transparent Labs Gut Health Probiotic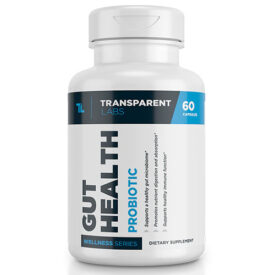 Transparent Labs Gut Health Probiotic
Transparent Labs Gut Health probiotic contains 1,000mg of probiotics (100 billion CFU) — one of the highest doses on the market. This supplement is also vegan since the capsules are made from plant-based hypromellose. 
Specs
Form: Capsules
Highlights: 1,000mg probiotics
Servings: 30
Price: $45.99
Pros
This supplement has 100 billion probiotics in it, which is more than you'll find in most probiotic supplements.
The 10 different strains of probiotics in these capsules, which can provide more well-rounded gut support than the typical two or three strains you'd see in other probiotics.
The capsules are made from hypromellose, which is vegan-friendly.
Cons
If you don't like swallowing pills, you'd be better off with a greens powder.
High levels of probiotics can cause bloating, gas, and nausea in people who are sensitive to them.
Gut health can be an overlooked aspect of fitness, but when you're having digestive issues, you'll wish you'd taken better care of your microbiome. Gut health supplements are generally made up of probiotics, a selection of beneficial bacteria, and yeast that live in your stomach that can help you digest your food and keep you healthy.
Some men prefer to get their probiotics in a greens drink or a multivitamin, but if you already have a favorite green drink or multi, Transparent Labs Gut Health is a perfect addition to the mix. This is because while most supplements offer probiotics in the low billions, this one has a whopping 100 billion probiotics in each serving.
These probiotics come in ten different strains, which may provide you with a more well-rounded range of gut health benefits. Plus, the capsules are plant-based instead of the usual gelatin, so it's vegan-friendly as well.
How We Choose the Best Supplements for Men
The category of best supplements for men is a far-reaching one. To prevent ourselves from casting too wide a net, we focused primarily on categories that are commonly sought out, like creatine and protein powder. Once we had our categories down, we looked at factors like ingredients, dosage, and price to determine which ones were the best in each category.
Ingredients
For a lot of supplements, the ingredient list should be fairly straightforward. For example, if you're buying a protein supplement, its first ingredient should be (you guessed it) protein. But even with protein, there are nuances — different types of proteins, additives, etc. To narrow down the options, we tried to stick with ingredients that had scientific backing to their claims of effectiveness.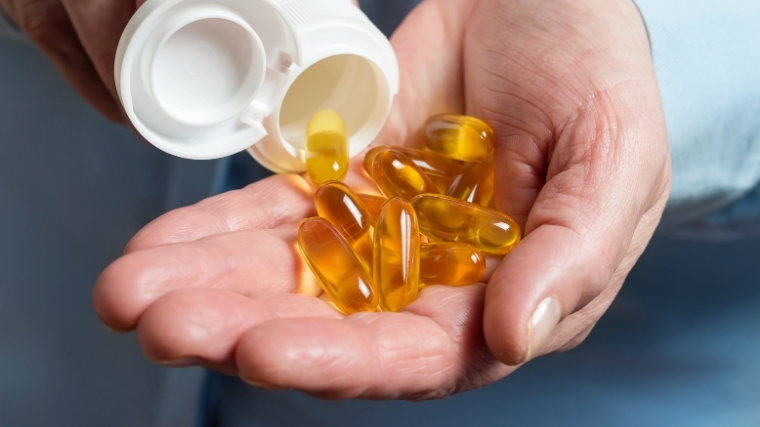 When possible, we also gave preference to supplements that included ingredients that are potentially beneficial specifically to men, like vitamin D, vitamin B, zinc, and magnesium.
Dosage
Having the right ingredients doesn't mean much if you don't have an effective dosage, however. So, in addition to what was in each supplement, we also checked to make sure there were effective amounts of those ingredients. For example, studies show that 5,000mg of creatine can be effective in amplifying athletic performance and muscle hypertrophy, so we chose a creatine supplement that had 5,000mg of creatine. (2)
For supplements like protein powder that are designed to boost your macronutrient intake, we looked for supplements that had higher doses. A protein supplement that had 20 to 25 grams of protein per scoop received more consideration than, say, a protein powder with 10 to 15 grams of protein.
Price
No matter how effective a supplement is, it won't do you any good if you can't afford it, but a lot of the cut-rate supplements on the market may not have high-quality ingredients or a high enough dosage to be effective. We tried to choose picks that sat in the median price range for their categories, and when products had similar specs, we would give preference to the less expensive option. There are some higher-end supplements on this list, though; we chose to include them because they had ingredients and/or dosages that made them worth the extra cost.
Supplement Certifications
Since the FDA does not approve dietary supplements, anyone can create and market a supplement without passing a vetting process. This puts consumers at risk of taking supplements that are, at best, ineffective or, at worst, potentially dangerous. Luckily, there are third-party organizations that test supplements for quality and potency.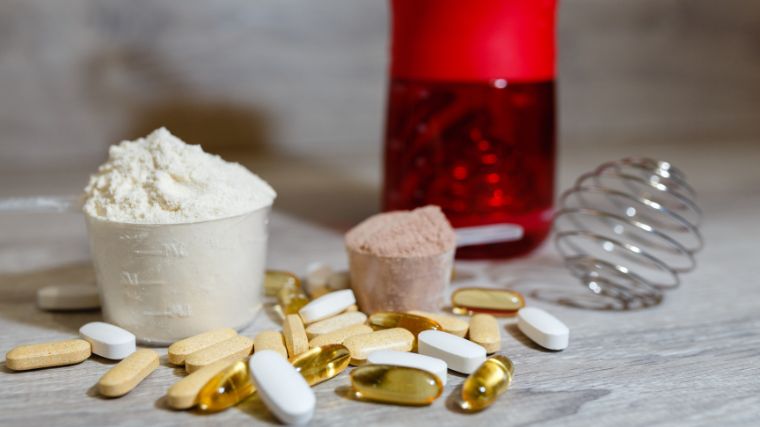 We gave preference to products that are certified by reputable organizations like U.S. Pharmacopia (USP) or the National Sanitation Foundation (NSF), as well as the NSF International Certification for Sport, which certifies that a product does not contain any prohibited substances.
Benefits of Supplements for Men
As the name suggests, supplements are intended to supplement a healthy diet and a consistent, effective workout regimen. Nothing on this list is going to get you to your goals if you're not eating right and putting the hours in at the gym. But, if you're taking care of the essentials, supplements can help you in many areas of health and fitness. Some of the biggest ways supplements can benefit men are by filling in gaps in your nutrition, providing nutrients that men are commonly deficient in, and helping to bolster your performance in the gym.
Pre-Workout
Designed to be taken before your workouts, pre-workouts are meant to give you an energy boost and improve your focus during exercise. This can help you get in a more intense workout and push you through days where you're feeling sluggish. Most often, these supplements use caffeine and other stimulants like beta-alanine, which not only delivers those fun skin tingles, but can also stave off fatigue during long sets. (11)
Protein Powder
One of the more simple supplements, protein powder is for people who want to add protein to their diet without adding a lot of fat and carbohydrates to their daily macros. As the main building block for muscle, adding protein powder to one's diet can help speed up the recovery process, helping men pack on muscle and get back in the gym sooner after a tough workout. (12)
Creatine
One of the most studied and vetted supplements available, creatine provides fuel for your muscles in the form of adenosine triphosphate (ATP). Studies have shown that adding a creatine supplement can not only help build strength, but may also help the body increase muscle mass as well. (2)
Omega-3s
Found commonly in fatty fish and other seafoods, omega-3 fatty acids can reduce the risk of negative cardiac events like strokes and heart attacks. (3) But it can be hard to get enough omega-3s to have this effect. A good omega-3 supplement can help bolster your intake.
Fat Burners
Fat burners aren't magic pills, but they can help you lose that extra bit of fat when combined with a good diet and consistent exercise. Generally, these supplements will use ingredients like cayenne pepper and caffeine — two ingredients that studies show may increase thermogenesis, or your body's ability to burn calories while at rest. (6)
BCAAs
Branched-chain amino acids (BCAAs) are essential amino acids that can help your body build muscle, reduce soreness, and speed up recovery after exercise. (8) While you can get some BCAAs through your diet, supplementing with BCAAs may increase their effect.
Greens Powders
At their most basic, a greens powder is a selection of nutrient-rich vegetables that have been dehydrated and ground into a powder. This concentrates the micronutrients in those vegetables, so you can get a solid dose of them by mixing the powder in water and slugging it down.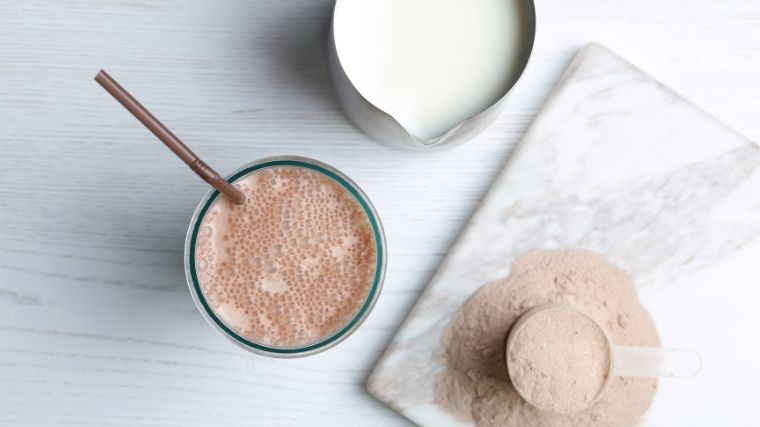 Studies have suggested that supplementing with a greens powder for 90 days can significantly lower your blood pressure. (13)
Testosterone Boosters
Increasing your testosterone can have positive effects on a man's energy, strength, muscle growth, and even sex drive. A test booster may help with that, especially in older men. Often, they'll use ingredients like vitamin D, which studies suggest can help increase testosterone levels. (1)
Probiotics
Made up of beneficial bacteria and yeast that resides in your digestive tract, probiotics can be taken to bolster your microbiome. Increasing the amount of good bacteria may help your body digest food better and fight off illness. Studies have also suggested that probiotics may even help lactose-sensitive people digest milk products (which can come in handy if you're taking in a lot of whey protein). (14)
Final Word
Supplements can't replace a good diet and exercise, but they can be a helpful tool for men who want to round out their nutrition or boost their performance in the gym. While there's not one supplement that can do everything, there is a supplement in just about every category, so it's best to know why you're taking a supplement before you start shopping.
When looking for the right supplement for you, think about what needs you want the supplement to fulfill, then look for supplements in that category that have ingredients that are proven to be effective and are priced within your budget. You can use this list to help you get started.
FAQs
What is the best supplement for men? 
Supplements come in many different categories, so it really depends on what effect you're looking for. But right now, our current favorite is Transparent Labs BULK pre-workout. In addition to being an effective way to boost energy before a workout, it's loaded with a good amount of ingredients that may help boost testosterone levels.
What vitamins actually work for men?
While all of the supplements on this list have scientific research backing their effectiveness, some men may not need creatine or extra protein. However, studies have shown that men tend to lack certain vitamins, like vitamins B and D, so it could be beneficial to find a multivitamin or greens powder that contains those vitamins.
Are supplements for men safe? 
The FDA doesn't approve dietary supplements, so you'll have to look for other certifications like a USP or ISF certification to ensure a supplement's quality. Even then, you should check with a physician when considering a supplement to make sure that it doesn't contain anything that you may have a bad reaction to.
Resources
Pilz, S., Frisch, S., et al. Effect of vitamin D supplementation on testosterone levels in men (2010). Hormone and Metabolic Research. 2011 Mar;43(3):223-5. doi: 10.1055/s-0030-1269854. Epub 2010 Dec 10.
Cooper, R., Naclerio, F., et al. Creatine supplementation with specific view to exercise/sports performance: an update (2012). Journal of the International Society of Sports Nutrition. 2012; 9: 33. Published online 2012 Jul 20. doi: 10.1186/1550-2783-9-33
https://www.health.harvard.edu/blog/omega-3-fatty-acids-and-the-heart-new-evidence-more-questions-2021032422213
Moxaffarian, D., Wu, J. (n-3) fatty acids and cardiovascular health: are effects of EPA and DHA shared or complementary? (2012). Journal of Nutrition. 2012 Mar;142(3):614S-625S. doi: 10.3945/jn.111.149633. Epub 2012 Jan 25.
Calder, P. Omega-3 Fatty Acids and Inflammatory Processes (2010). Nutrients. 2010 Mar; 2(3): 355–374. Published online 2010 Mar 18. doi: 10.3390/nu2030355
Chaiyata, P., Puttadechakum, S., et al. Effect of chili pepper (Capsicum frutescens) ingestion on plasma glucose response and metabolic rate in Thai women (2003). Journal of the Medical Association of Thailand. 2003 Sep;86(9):854-60.
Margalit, I., Cohen, E., et al. Vitamin B12 Deficiency and the Role of Gender: A Cross-Sectional Study of a Large Cohort (2018). Annals of Nutrition & Metabolics. 2018;72(4):265-271. doi: 10.1159/000488326. Epub 2018 Mar 29.
Martinho, D., Nobari H., et al. Oral Branched-Chain Amino Acids Supplementation in Athletes: A Systematic Review (2022). Nutrients. 2022 Oct; 14(19): 4002
Topo, E., Soricelli, A., et al. The role and molecular mechanism of D-aspartic acid in the release and synthesis of LH and testosterone in humans and rats (2009). Reproductive Biology and Endocrinology. 7, Article number: 120 (2009)
De Santi, M., Carloni, E., et al. Inhibition of Testosterone Aromatization by the Indole-3-carbinol Derivative CTet in CYP19A1-overexpressing MCF-7 Breast Cancer Cells (2015). Anticancer Agents in Medical Chemistry. 2015;15(7):896-904. doi: 10.2174/1871520615666150121123053.
Trexler, E., Smith-Ryan, A., et al. International society of sports nutrition position stand: Beta-Alanine (2015). Journal of the International Society of Sports Nutrition.Published online 2015 Jul 15. doi: 10.1186/s12970-015-0090-y
Cintineo, H., Arent, M., et al. Effects of Protein Supplementation on Performance and Recovery in Resistance and Endurance Training (2018). Front Nutr. 2018; 5: 83.
Zhang, J., Oxinos, G., et al. The effect of fruit and vegetable powder mix on hypertensive subjects: a pilot study (2009). J Chiropr Med. 2009 Sep; 8(3): 101–106
Tegegne, B., Kebede, B. Probiotics, their prophylactic and therapeutic applications in human health development: A review of the literature. (2022). Heliyon. 2022 Jun; 8(6): e09725.