Athletic Greens launched in 2010 and quickly grew into one of the best known green superfood powders on the market; if you spend time as much time reading content from internet fitness gurus as we do, there's a good chance you've already heard of them or even read an Athletic Greens Ultimate Daily review.
The product is particularly well known for being the favorite supplement of entrepreneur god-king Tim Ferriss who has called it his "all-in-one nutritional insurance." It describes itself as such on the packaging itself, saying it supports energy, immunity, gut health, liver function, hormone function, brain function, and the body's natural detoxification process. Phew.
Of all the greens powders on the market, Athletic Greens — available in both bags of 30 servings and single-serve pouches — is probably the most talked about, the most beloved, and one of the most expensive.
It's got a solid reputation and a lot of big names behind it, plus Athletic Greens' reddit fanbase is pretty serious. But while many greens powders have a reputation for making big claims without the science to back them up, Athletic Greens goes a lot further than its competition. They've got a detailed nutrition label, a whopping serving of probiotic bacteria, and more transparency than many of its competitors. Here's our take.
Get FREE Whey Protein!
Athletic Greens Ultimate Daily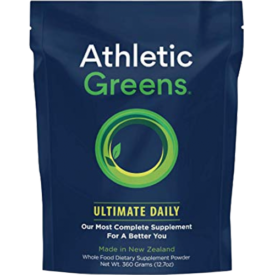 Athletic Greens Ultimate Daily
Extraordinarily nutritious greens powder with quantified health benefits. Also one of the best-tasting greens powders on the market. Get a FREE container of Whey Protein with your first purchase.
Athletic Greens Ultimate Daily Nutrition
One heaped tablespoon contains forty calories, 4.8 grams of carbs, 1.9 grams of fiber and 4 grams of protein.
When looking at the micronutrients, there's an awful lot to talk about. Besides a day's worth of zinc, 20 percent of your daily manganese and chromium, and 35 percent of your selenium, it doesn't have a ton of minerals. But the vitamins are another story: 700 percent of your daily Vitamin C, about 100 percent of most B-vitamins, 80 percent of Vitamin A, and over 300 percent of your Vitamin E.
But with greens powders, the real focus tends to be on the ingredients.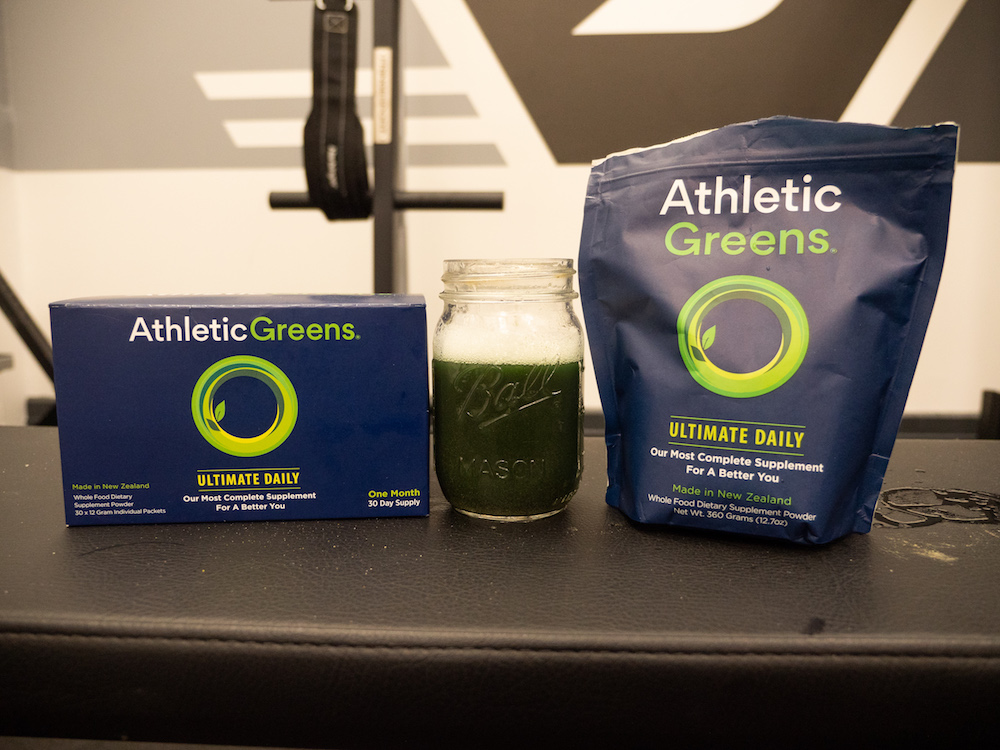 Athletic Greens Ingredients
With seventy-five of them, Athletic Greens Ultimate Daily's ingredients pack in more than any other greens powder I've seen. They're broken down into four categories:
"Alkaline, Nutrient-Dense, Raw Superfood Complex"
Organic spirulina, lecithin, organic apple powder, inulin, organic wheatgrass juice powder (leaf), organic alfalfa powder (leaf), organic chlorella powder, organic barley leaf powder, carica papaya powder (fruit), pineapple concentrate, bilberry fruit extract, beet root powder, rosehip powder, carrot root powder, spinach leaf powder, cocoa bean polyphenol extract, grapeseed extract, green tea leaf extract, licorice root powder, goji extract, ginger rhizome powder, slippery elm bark powder, kelp powder.
Nutrient Dense Natural Extracts, Herbs, and Antioxidants
Alkaline pea protein isolate, citrus bioflavonoids extract, globe artichoke extract, citric acid, rhodiola rosea extract, eleutherococcus senticosus root extract, gotu kola extract, rosemary extract, milk thistle seed extract, alpha-lipoic acid, ashwaganda root extract, dandelion root extract, hawthorn root extract, beta glucans, policosanol, co-enzyme Q-10, stevia.
Digestive Enzyme & Super Mushroom Complex
Astragalus root extract, bromelain, burdock root powder, reishi mushroom powder, shiitake mushroom powder.
Dairy Free Probiotics
Lactobacillus Acidophilus, Bifidobacterium Bifidum.
Athletic Greens and keto fans should get on just fine, as should vegans, paleo folks, and people with sensitive allergies — there's no gluten, dairy, corn, egg, peanuts, animal byproducts, lactose, sucrose, dextrose, herbicides, pesticides, GMOs, preservatives, or artificial colors or flavors or sweeteners. There is technically some soy, but they note that it doesn't contain any trypsin inhibitor or other soy proteins.
(We tried 47 brands: check out our best green superfood powder picks!)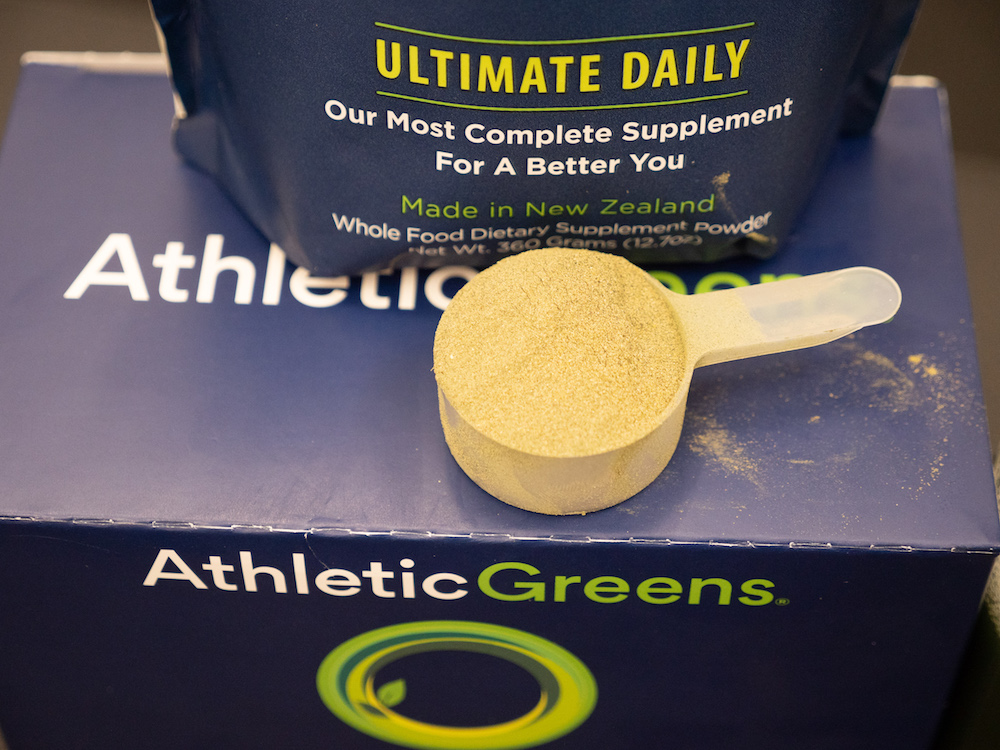 Athletic Greens Health Benefits
So what can you expect all these ingredients to do? As a relatively new kind of supplement, there aren't a ton of studies that have been performed on their potential benefits, though a couple of small studies published in the Journal of Chiropractic Medicine did find that green superfood products similar to Athletic Greens resulted in reduced blood pressure among their participants.(1)(2) When looking at the product's claims for it to be able to support "energy, immunity, gut health, liver function, hormone function, brain function, and detoxification," it's worth remembering that the vitamins and minerals can carry out many of those functions independent of where they originate.
But the ingredients themselves are still pretty interesting and can mostly be broken down into three main categories.
First, let's talk antioxidants. Probably the main benefit associated with green superfood powders, antioxidants can help to slow certain kinds of cellular damage, meaning that in some respects they can slow the onset of aging.
Some vitamins (A, C, and E) act as antioxidants but many of these ingredients are known for their antioxidant content, particularly the wheatgrass, spirulina, barley leaf, chlorella, cocoa bean polyphenol (think of all those antioxidants dark chocolate is meant to have), green tea leaf extract, and grapeseed extract.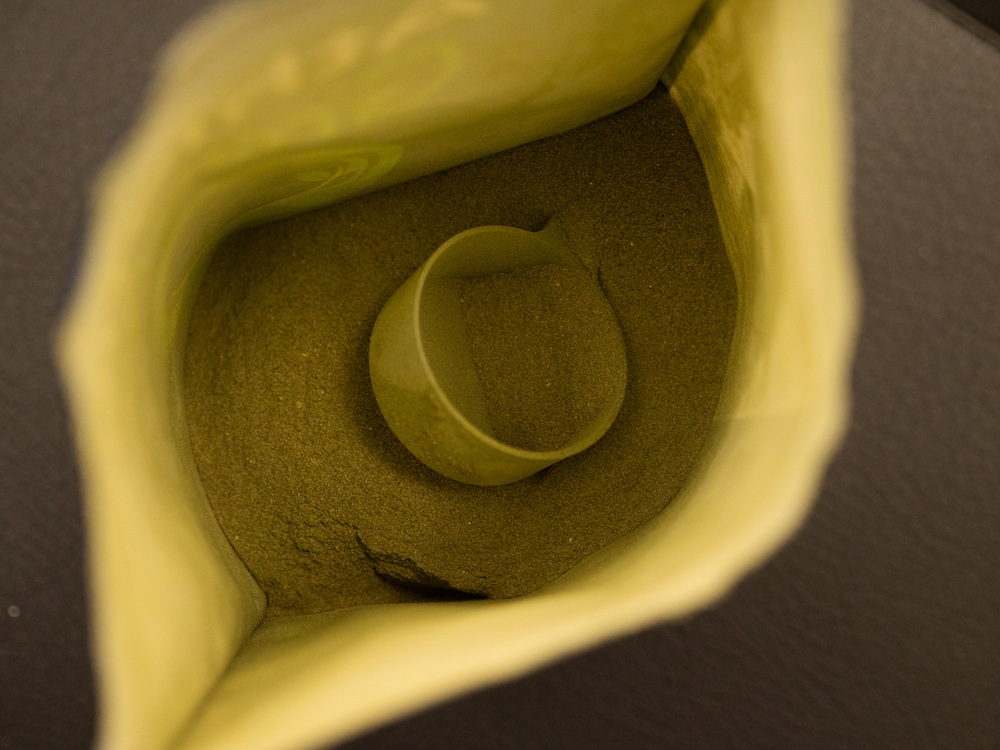 Note that despite the good reputation of the ingredients, Athletic Greens hasn't actually quantified its antioxidant content relative to, say, a cup of blueberries, which you can do with something called the ORAC score, which isn't perfect but it's more useful than nothing. I would have liked to see that here.
[Get 20 Free Travel Packs of Athletic Greens!]
The digestive health aspect is also really interesting. The most remarkable component here is the probiotic bacteria, which have been linked to everything from better immunity to lower anxiety. But there's also prebiotic fiber in the inulin, burdock root, and artichoke leaf, which acts as food for the probiotic bacteria and has also been linked to better digestive health and immunity. Finally there are some digestive enzymes here like bromelain, which may improve nutrient absorption.
Then there are the adaptogens, which may help the body to respond to stress. What's interesting is that adaptogens help you respond to the stress of a tough day at the office and to the stress of a tough workout and some of the adaptogens here include rhodiola rosea, which may improve endurance and recovery, and reishi mushrooms which have been linked to everything from subjective wellbeing to better immunity, both things that stress can affect. Other adaptogens here include astragalus and ashwaganda, but I should emphasize that these are all proprietary blends — you don't know how much of each ingredient it contains.
This is the biggest potential issue with the product. Are these ingredients impressive? Yes, but we don't know the dosages. How strong is the antioxidant effect? How much prebiotic fiber is there? Do the adaptogens reach the doses used in studies?
A common recommendation for astragalus extract, for example, is about 250 milligrams and for reishi mushroom it's over a gram, but in a scoop of Athletic Greens both of those ingredients are both in the 125-milligram Digestive Enzyme & Super Mushroom Complex, along with several other ingredients. There's always a chance they work synergistically with all the other adaptogens, but there's just not enough transparency here for me to know for sure.
With all that said, this remains one of the most nutritious green super food powders I've seen as far as micronutrients and probiotics go. For a lot of greens powders, the probiotics and the antioxidant levels are the primary selling point, but Athletic Greens is also a solid replacement for vitamins A, B, C, K2, and zinc supplements. It's certainly got more bang for your buck than other greens powders I've tried.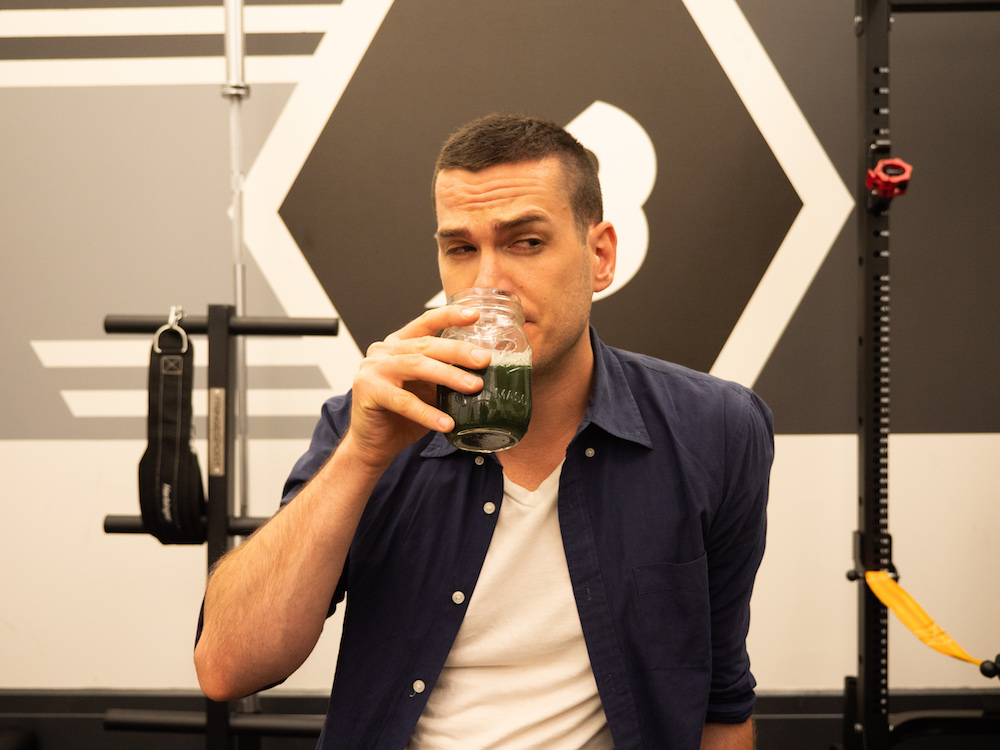 Athletic Greens Taste
Most greens powders are terrible, some are OK, but this is the first I've ever had where I truly enjoyed it, savoring each sip instead of feeling a need to shotgun it like a freshman drinking beer. The main flavors that come through are pineapple, vanilla, and papaya, though the base of added flavorings also includes cherry powder, carrot, and broccoli.
Unlike a lot of powders, Athletic Greens doesn't try to smother the bitterness of its ingredients with sweeteners; it also contains notes of ginger, which work alongside the bitterness to make a slightly sweet and spicy beverage that's actually pretty pleasant.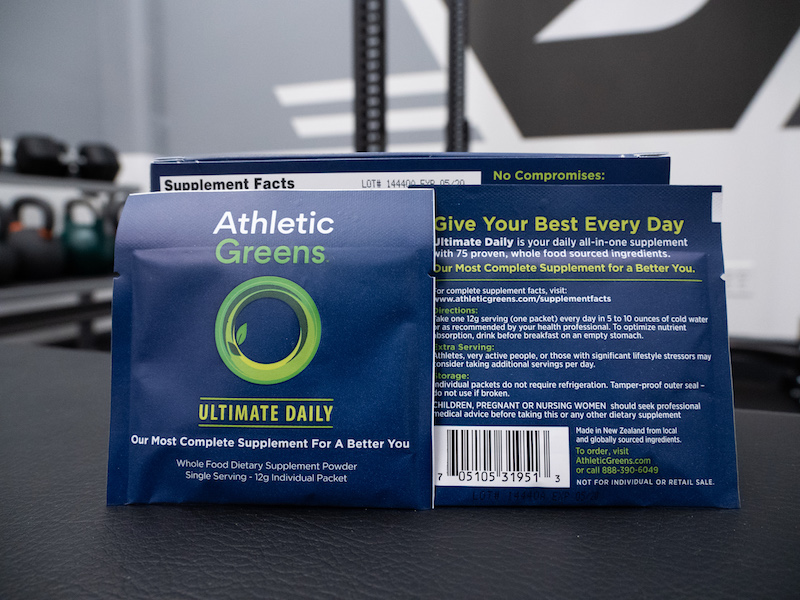 Athletic Greens Price
Athletic Greens is known for their subscription model — you get a discount if you sign up for a monthly shipment. If you do that, you're looking at between $70 and $80 per bag, or roughly $2.50 per scoop. That's a pretty serious discount compared to a one-off purchase, which will cost you between $90 and $100, so over $3 per scoop. In either case you get a money back guarantee, which is unusual for a product like this.
Get FREE Whey Protein!
Athletic Greens Ultimate Daily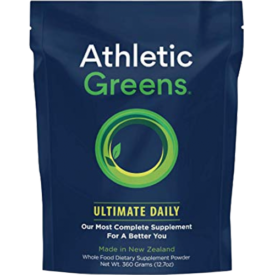 Athletic Greens Ultimate Daily
Extraordinarily nutritious greens powder with quantified health benefits. Also one of the best-tasting greens powders on the market. Get a FREE container of Whey Protein with your first purchase.
Compare that with $35 for fifteen servings of Onnit's Earth Grown Nutrients ($2.30/serve), $30 for 30 servings of Pharma Freak's Greens Freak ($1/serve), Sunwarrior's Ormus Super Greens at $50 for ninety servings ($0.55/serve), and $52 for a hundred serves Amazing Grass's Green Superfood ($0.52/serve).
But none of those products have anywhere near as many vitamins and minerals as Athletic Greens, and they typically contain less than a third as many probiotics. Athletic Greens does indeed function as a supplement for probiotics, antioxidants, vitamin C, B-vitamins, zinc, and K2.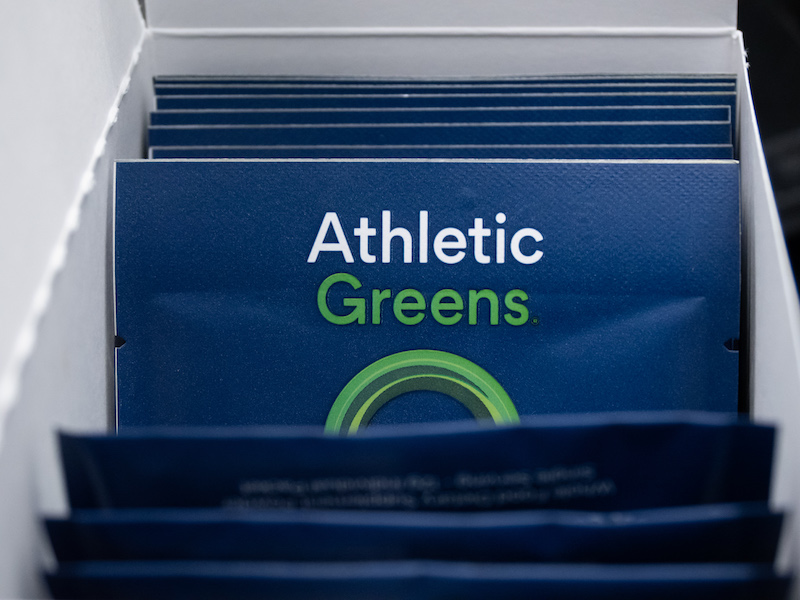 One thing we also really liked about this product is that in addition to the bag of 30 servings you can keep in your fridge, it's now available in single serve pouches that provide 12 grams of the product. This makes it easy to not just travel with, but also to keep one or two of the baggies stashed in your backpack, handbag, or desk drawer, so that if you're in the middle of a busy day and feel like you aren't hitting your nutritional requirements, you've got a secret weapon to add to your intake — and they're all individually sealed (you tear them open) so that there's less risk of a purse full of powder.
You can buy them in boxes of 20 or 30 baggies, though note they're a tad pricier than getting a big sack of scoopable greens, with the pouches costing between $3.50 and $4 per serving.
The Takeaway
This is one of the most nutrient-dense greens powders I've tried. It's not crazy high in minerals like calcium and magnesium, so this shouldn't replace green vegetables in your diet, but it's super high in vitamins, seems to contain plenty of antioxidants, and could well have a big impact on digestive health.
I would have really preferred Athletic Greens Ultimate Daily to have done a better job of quantifying its benefits and stating the doses it uses, plus it's four times the price of many other greens powders, which could be prohibitive for some consumers.
But if the price is no issue, it could definitely be a convenient source of a lot of essential nutrients, adaptogens, and ingredients for digestive health.
References
1. Zhang, J et al. Taking nutritional supplements for three months reduced blood pressure but not blood lipid levels in students. J Chiropr Med. 2006 Summer; 5(2): 53–59.
2. Zhang, J et al. The effect of fruit and vegetable powder mix on hypertensive subjects: a pilot study. J Chiropr Med. 2009 Sep; 8(3): 101–106.