We receive free products and receive commissions through our links. See
disclosures page
.
Bacteria get a bad rap, but not all bacteria are actually bad for you. Your gut microbiome consists of trillions of beneficial bacteria called probiotics. Probiotics are involved in everything from helping you digest your food to absorbing nutrients. Having a healthy, balanced gut biome is key to having a strong immune system, maintaining a healthy metabolism, and regulating your mood and energy levels. (1) You can bolster your body's probiotics by eating fermented foods, like yogurt and sauerkraut, but a probiotic supplement can give you the extra boost your gut might need.
Probiotic supplements can come in many forms, from probiotic capsules to greens powders. And they can also include additional ingredients like prebiotics (the foods probiotics eat), micronutrients, and digestive enzymes. If you're looking for a probiotic to help solve digestive issues, boost your immunity, or just improve your overall wellness, the options can be overwhelming. To help you out, we looked for and tested a wide range of options to find the best probiotic supplements for various needs — these are our favorites.
The Best Probiotic Supplements
Best Probiotic Supplement Overall: Transparent Labs Gut Health Probiotic
Transparent Labs Gut Health Probiotic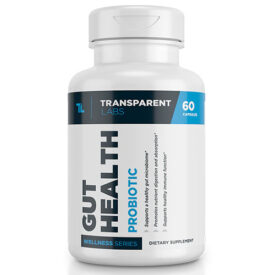 Transparent Labs Gut Health Probiotic
Transparent Labs Gut Health probiotic contains 1,000mg of probiotics (100 billion CFU) — one of the highest doses on the market. This supplement is also vegan since the capsules are made from plant-based hypromellose. 
Specs
Probiotic Amount: 100 billion CFU
Form: Capsule
Flavor: N/A
Price Per Serving: $1.53
Pros
This pick has a huge probiotic count of 100 billion CFU.
The capsule form makes it easy to take this probiotic on the go.
People who avoid animal products will appreciate that this supplement uses vegan hypromellose capsules.
Cons
100 billion CFU may cause gas and bloating in people who are new to probiotics.
You can find cheaper probiotics on the market.
If you want your probiotics in the form of a greens powder, you'll have to look elsewhere.
If you're looking for the most bang for your buck, Transparent Labs' Gut Health Probiotics is the way to go. With 100 billion colony-forming units (CFU) per dose, you'll be hard-pressed to find a more potent dose. And it doesn't just have a huge dose, Gut Health also offers various different strains — there are 10 different strains of probiotics here, offering a variety of potential benefits that range from improving gut health to strengthening immunity. (2)(3)
While most supplements provide CFU counts in the low billions, the 100 billion that Transparent Labs Gut Health Probiotics provides is the largest dose we've seen. Plus, it comes in capsule form, which makes it easy to take or stack with other supplements. The capsules are vegan, so no worries if you are avoiding animal products (besides the bacteria, of course). And at about $1.50 per serving, it's a bargain, especially when you consider the dosage.
Related: Best Probiotic Supplements for Women
Best Probiotic Supplement for the Money: Swolverine Probiotix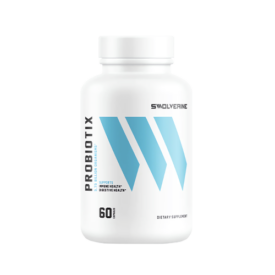 This probiotic from Swolverine offers 5.75 billion CFU of probiotics in seven different strains with no fillers, GMOs, pesticides, or gluten. Plus, it's one of the most affordable probiotic supplements on the market. 
Specs
Probiotic Amount: 5.75 billion CFU
Form: Capsule
Flavor: N/A
Price Per Serving: $0.55
Pros
At just over fifty cents per serving, this is a quarter of what some probiotics cost.
Vegans will like that the capsules are made from vegetable cellulose and not gelatin.
The mild 5.75 billion CFU is less likely to cause gut discomfort than some of the higher-dosed options.
Cons
Those looking for higher doses of probiotics may be disappointed with the 5.75 billion CFU here.
This only has probiotics, so if you want prebiotics as well, you'll have to find a different supplement.
Many probiotic supplements can cost two dollars or more per serving, but that doesn't mean you can't get a solid probiotic at a decent price. Swolverine Probiotic gives you a two-month supply for $32.99, which comes to just over fifty cents per serving. Its affordability doesn't mean it's an inferior product, though — Probiotix offers seven different probiotic strains that may help boost your immune system, strengthen your gut biome, and aid your digestion.
And you won't find any fillers, soy, GMOs, pesticides or gluten, ensuring that every dose is just the 5.75 CFU of probiotics that you paid for. Plus, the servings come in a single vegan capsule, which makes it easy to take on the go. And the single capsule serving size can make it easier to take for people who aren't fans of swallowing pills.
Best Probiotic Supplement for Digestion: Onnit Gut Health with Probiotics
Onnit Gut Health with Probiotics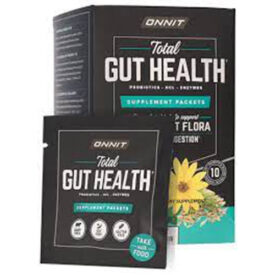 Onnit Gut Health with Probiotics
Onnit Gut Health with Probiotics includes a digestive enzyme supplement, five strains of probiotics, two types of prebiotics, and a dose of betaine HCI. If you subscribe, you can save $10 per month on this supplement. 
Specs
Probiotic Amount: 10 billion CFU
Form: Capsule
Flavor: N/A
Price Per Serving: $2.53
Pros
In addition to probiotics, this supplement has prebiotics and digestive enzymes as well, both of which can also help with digestion.
The capsule is vegetarian, which is ideal for people who are avoiding animal products.
These come in individual serving packets, making it easy to grab a serving to take later when you're heading out the door.
Cons
$76 for a month's supply might put this out of some people's budgets.
If you don't like taking pills, you're better off looking for a powdered blend.
While probiotics on their own can help improve digestive health, some people may be looking for some extra help. In addition to five different probiotic strains to potentially help with digestion, Onnit Total Gut Health also packs 900mg of Jerusalem artichoke and 600mg of dandelion root, both of which are soluble fibers that can help move food through the digestive system. (4) These fibers also act as prebiotics, helping to feed the 10 billion CFU of probiotics that Onnit delivers to your system.
Total Gut Health also offers a digestive enzyme blend that includes betaine, which can help your body break down food. (5) It should be noted that while these do come in convenient packets, each serving is seven pills. And while you can take them throughout the day, Onnit recommends taking them all at once, which might be a problem for people who don't like taking pills.
Best Probiotic Greens Supplement: Athletic Greens AG1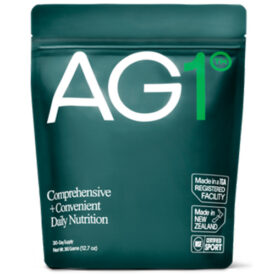 This nutritious greens powder is NSF certified for sport and includes 75 absorbable ingredients and is free of gluten, sugar, dairy, eggs, and peanuts. It is compatible with vegan, keto, and paleo diets. 
Specs
Probiotic Amount: 7.2 billion CFU
Form: Powder
Flavor: Vanilla and pineapple
Price Per Serving: $2.63
Pros
In addition to probiotics, this greens powder also contains 75 different vitamins and minerals.
The digestive enzyme blend may help bolster the probiotics' contribution to gut health.
The vanilla and pineapple flavoring is effective in tamping down the lawn-trimmings taste that greens powders often have.
Cons
At over $2.50 per serving, this is one of the pricier options.
If you prefer a capsule to a powder, this isn't the supplement for you.
If you want to get in your probiotics, your vitamins, and your greens all in one fell swoop, Athletic Greens AG1 has you covered. In addition to 7.2 billion CFU of probiotics, this greens powder contains 75 different vitamins and minerals, including B vitamins, vitamin C, vitamin A, folate, and zinc. AG1 also includes a superfood blend, an antioxidant blend, and a digestive enzyme blend as well.
And while most greens powders have that "freshly-mowed lawn" taste to them, AG1 has a vanilla and pineapple flavor that adds some sweetness and definitely cuts down on the grassy taste. "I've never been a fan of greens powders because the taste is awful," our tester says. "But this is kind of sweet. I actually looked forward to waking up and starting my day with this one." At over $2.50 per serving, this is on the higher end of the price spectrum, but with such a packed ingredients list, you're getting a lot for your money.
Read our full Athletic Greens AG1 Review.
Best Probiotic Supplement for Bloating: Ritual Synbiotic+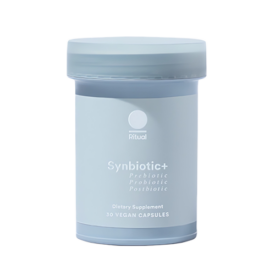 Ritual Synbiotic+ offers pre-, pro-, and postbiotics in a fiber capsule that keeps the probiotic tablet intact until it reaches the colon, where the probiotics can do the most good. 
Specs
Probiotic Amount: 11 billion CFU
Form: Capsule
Flavor: N/A
Price Per Serving: $1.80
Pros
Ritual's unique gel capsule form is designed to release the probiotics in the colon, not the stomach, which may reduce the odds of abdominal bloating.
In addition to pre- and probiotics, this also includes tributyrin, which may help minimize bloating.
Purchases come with a money-back guarantee.
Cons
At $1.80 per serving, this is approaching the more expensive end of probiotic supplements.
This only comes in capsule form, so if you're looking for a powdered supplement, you should consider something else.
Ritual's offering stands out for its three-in-one approach to maintaining gut health. The outer casing of the capsule is made up of prebiotic fibers, which not only help the probiotic tablet inside stay intact until it can reach the colon, but also provide a food supply for them when they get there. The probiotic tablet inside contains 11 billion CFU that include the strains Lacticaseibacillus rhamnosus, which, among other potential benefits, may reduce the occurrence of bloating. (6) Finally, the probiotic tablet is surrounded by a short-chain fatty acid called tributyrin, which can also help keep bloating to a minimum. (7)
Tributyrin is also what's known as a postbiotic, a naturally occurring metabolic result of a healthy gut biome, and it can help support the growth of beneficial gut bacteria. (8) Ritual's website is very transparent, tracing all of its ingredients back to the source, and while this isn't one of the cheaper probiotic supplements out there, they do offer a money-back guarantee if you're not satisfied with your results.
Best Probiotic for Weight Loss: Naked Gut Health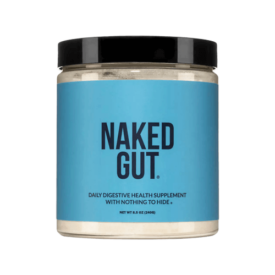 Naked Gut Health provides five billion CFU of probiotics and two grams of fiber to help keep your digestive system healthy. Plus, it's unflavored, which makes it easy to blend into a smoothie or stack with other supplements. 
Specs
Probiotic Amount: 5 billion CFU
Form: Powder
Flavor: Unflavored
Price Per Serving: $0.50
Pros
The soluble fiber in this helps you feel full, so you're less likely to overeat.
There are zero sweeteners, only two net carbs, and 15 calories per serving.
It's unflavored, so you can mix it with a greens powder or smoothie without messing up the taste.
Cons
This comes in powder form, which may not be as convenient as capsules or tablets.
Five billion CFU is on the lower end of doses for probiotics.
If you're looking for a probiotic that may help with weight loss, Naked Gut might be the perfect option. It offers two grams of soluble fiber in the form of pectin, inulin, and acacia. Soluble fiber absorbs water in the stomach, causing it to take up more space and helping you feel fuller for a longer period of time. This can help prevent you from snacking between meals or overeating, plus it can also help regulate your blood sugar. (9)
The inulin is also associated with increased levels of increased Bifidobacterium, a probiotic that can help support digestion. (10) The fiber also serves as a food source for the five billion CFU blend of probiotics, which can help them thrive in your gut to help you maintain a healthy digestive system. Also, at $0.50 per serving, it's one of the least expensive probiotic supplements you'll find.
Benefits of Probiotic Supplements
Most people tend to focus on how probiotics can help with digestive issues, which makes sense because they do their work in your digestive tract. But the potential benefits of probiotics go far beyond digestion — it may also help reduce inflammation, improve your mental health, and even help keep your energy levels up.
Aid in Digestion
Adding a probiotic supplement may help improve your body's ability to absorb nutrients as well as reduce digestive problems, like gas and bloating. Having an abundance of healthy bacteria in your system can help fend off any harmful bacteria that you may consume with your food and help maintain a healthy gut microbiome. (11)
Reducing Inflammation
Chronic inflammation can lead to a wide range of health issues like heart disease, cancer, and Alzheimer's disease, and it's so prevalent that the World Health Organization lists chronic inflammatory diseases as the most common cause of death in the world. Studies have suggested that probiotics may reduce inflammation in subjects. (12)
Improving Mental Health
As counterintuitive as it may seem, there is evidence that higher levels of unhealthy bacteria in the gut may increase individuals' levels of stress. Some studies have found that probiotics, as they can help lower the amount of unhealthy bacteria in the gut, may also help improve mental health in the process. (13)
Higher Energy Levels
Another issue that may arise when unhealthy bacteria thrive in the gut microbiome is higher levels of fatigue. Studies on endurance athletes suggest that probiotics can help stave off fatigue and raise energy levels by maintaining a healthy gut biome. (14)
How We Chose The Best Probiotic Supplements
There's no shortage of probiotic supplements on the market, and the right one for each person can vary depending on your needs and goals. So we looked at a few factors that are common across a broad range of needs, like dosage, ingredients, and price.
Dosage
Finding the right dosage of probiotics is key. For most people (especially beginners), you'll want somewhere between five and 10 billion CFU, so we included quite a few with that dosage. Other people may want or need more, so we added supplements with higher amounts, up to 100 billion CFU.
But if you're new to probiotics, you may not want to go right to the higher-dosed supplements. Taking high doses of probiotics may lead to gastric issues like bloating or gas, so be sure to start on the lower end and then work your way up if need be.
Ingredients
Many probiotic supplements are stand-alone supplements, but others come in the form of multivitamins, greens powders, and even fiber supplements. If you already have a greens powder or multivitamin that you like, a standalone supplement may be the right option.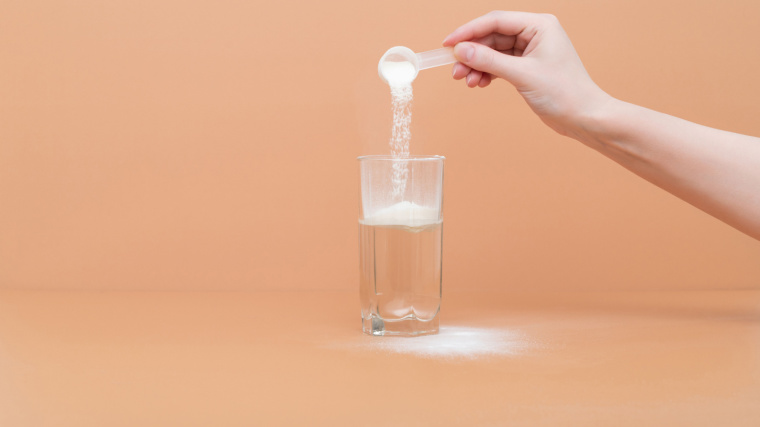 But if you're looking to combine your supplements, you may want to check out some of the probiotics on this list that have added fiber, vitamins, or minerals.
Price
We won't sugar-coat it — probiotics can be expensive. Some of the higher-dosed supplements can cost up to $3 per serving. But if you're looking for a more moderate (yet still effective) dose, you can pay anywhere from $0.50 to $1.50 per serving. We included probiotics on all ends of the pricing spectrum to help you find one that will fit your budget.
How Much Do Probiotic Supplements Cost?
Long story short: Probiotics can cost a lot. If you're looking for a supplement that has a more robust ingredients list, you may be looking at $2-$2.50 or more per serving. But you don't have to spend a ton to find an effective probiotic supplement. There are options on this list that cost under a dollar but still have effective dosages. Most often, these less expensive options will be on the more basic side — essentially a capsule that contains several billion CFU. If you're willing to shell out a little more, you'll usually find some with unique features that will help the probiotics pass through the stomach intact or with added vitamins, minerals, or enzymes.
What to Consider Before Buying a Probiotic Supplement
From how much to take to what additional ingredients you want, there are a lot of factors to consider when deciding on the right probiotic supplement for you. We've laid out some of the most important ones below.
Dosage
Figuring out how many CFUs are right for you can be tricky. Too little, and you may not notice any effects. Too much, and you may experience gastrointestinal discomfort. For most people, 10 to 20 billion CFUs is plenty, but those who have never tried probiotics should probably stay closer to five. (15) If you have serious stomach issues or 10 to 20 CFU doesn't seem to be helping, a higher dose might be a good idea.
Form
Probiotic supplements are most commonly found in either powder or capsule form. Powders are ideal for people who are averse to taking pills and they mix easily with smoothies or water, but they can be a pain to take with you if you travel.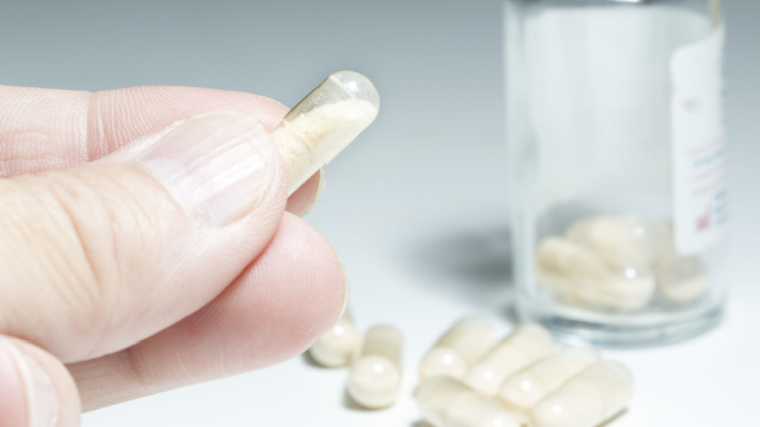 If you don't have any problems with swallowing pills, the capsule can be more convenient since you don't need to do any mixing or shaking, and they can go pretty much anywhere you go.
Price
A supplement won't do you any good if you can't afford it. Fortunately, probiotics vary widely in price — you can find effective supplements for well under a dollar per serving, while probiotics with additional ingredients or mixed in green powders can be on the middle to higher end of the price spectrum. Be sure to align your needs with your budget, and you'll find the right one for you.
Added Ingredients
If you're looking for a probiotic to solve a specific issue like bloating or bad digestion, it may be worth it to seek out a supplement that has additional ingredients like digestive enzymes or added fiber. Also, if you'd like an all-in-one supplement, you may want to seek out a greens powder that mixes probiotics with vitamins and minerals, so you can take care of your daily supplements all at once.
Final Word
Having a well-balanced gut biome can provide you with a plethora of health benefits, including better digestion, reduced inflammation, and even more energy. But it's important to remember that probiotic supplements don't take the place of healthy lifestyle habits like eating enough fiber, exercising, and getting proper sleep.
If you've developed healthy habits but still need some help with your gut biome, a probiotic supplement may be able to help you out. If you're considering a probiotic supplement, decide what ingredients you want, set your budget, and then use this list to help you find the right one for you.
FAQs
What is the best probiotic supplement?
The best probiotic supplement can vary for every individual person, but for our money, Transparent Labs Gut Health is the best option overall because of its high 100 billion CFU dosage, 10 different strains, and affordable price.
Can you take too many probiotics?
You can't overdose on probiotics, but taking too much can cause gastric discomfort, like gas and bloating. (16) If you're not sure how much to take, start with a smaller dose, like 5 billion CFU, then work your way up if you need to.
Is a probiotic good for your stomach?
Yes, a probiotic can be helpful in maintaining a healthy gut biome. Probiotics consist of healthy bacteria that reside in your digestive system and can aid in digestion, nutrient absorption, and nutrient synthesis. (1)
Resources
Thursby E, Juge N. Introduction to the human gut microbiota. Biochem J. 2017 May 16;474(11):1823-1836. doi: 10.1042/BCJ20160510. PMID: 28512250; PMCID: PMC5433529.
Dempsey E, Corr SC. Lactobacillus spp. for Gastrointestinal Health: Current and Future Perspectives. Front Immunol. 2022 Apr 6;13:840245. doi: 10.3389/fimmu.2022.840245. PMID: 35464397; PMCID: PMC9019120.
Yan F, Polk DB. Probiotics and immune health. Curr Opin Gastroenterol. 2011 Oct;27(6):496-501. doi: 10.1097/MOG.0b013e32834baa4d. PMID: 21897224; PMCID: PMC4006993.
Sawicka B, Skiba D, Pszczółkowski P, Aslan I, Sharifi-Rad J, Krochmal-Marczak B. Jerusalem artichoke (Helianthus tuberosus L.) as a medicinal plant and its natural products. Cell Mol Biol (Noisy-le-grand). 2020 Jun 25;66(4):160-177. PMID: 32583794.
Wang, H., Li, S., Fang, S., Yang, X., & Feng, J. (2018). Betaine Improves Intestinal Functions by Enhancing Digestive Enzymes, Ameliorating Intestinal Morphology, and Enriching Intestinal Microbiota in High-salt stressed Rats. Nutrients, 10(7). https://doi.org/10.3390/nu10070907
Ceccherini C, Daniotti S, Bearzi C, Re I. Evaluating the Efficacy of Probiotics in IBS Treatment Using a Systematic Review of Clinical Trials and Multi-Criteria Decision Analysis. Nutrients. 2022 Jun 28;14(13):2689. doi: 10.3390/nu14132689. PMID: 35807868; PMCID: PMC9268703.

Mocanu V, Park H, Dang J, Hotte N, Thiesen A, Laffin M, Wang H, Birch D, Madsen K. Timing of Tributyrin Supplementation Differentially Modulates Gastrointestinal Inflammation and Gut Microbial Recolonization Following Murine Ileocecal Resection. Nutrients. 2021 Jun 17;13(6):2069. doi: 10.3390/nu13062069. PMID: 34204288; PMCID: PMC8233937.

Cresci G, Nagy LE, Ganapathy V. Lactobacillus GG and tributyrin supplementation reduce antibiotic-induced intestinal injury. JPEN J Parenter Enteral Nutr. 2013 Nov;37(6):763-74. doi: 10.1177/0148607113486809. Epub 2013 Apr 29. PMID: 23630018; PMCID: PMC3818407.
Del Piano M, Carmagnola S, Anderloni A, Andorno S, Ballarè M, Balzarini M, Montino F, Orsello M, Pagliarulo M, Sartori M, Tari R, Sforza F, Capurso L. The use of probiotics in healthy volunteers with evacuation disorders and hard stools: a double-blind, randomized, placebo-controlled study. J Clin Gastroenterol. 2010 Sep;44 Suppl 1:S30-4. doi: 10.1097/MCG.0b013e3181ee31c3. PMID: 20697291.
Kechagia M, Basoulis D, Konstantopoulou S, Dimitriadi D, Gyftopoulou K, Skarmoutsou N, Fakiri EM. Health benefits of probiotics: a review. ISRN Nutr. 2013 Jan 2;2013:481651. doi: 10.5402/2013/481651. PMID: 24959545; PMCID: PMC4045285.
Carvalho BM, Saad MJ. Influence of gut microbiota on subclinical inflammation and insulin resistance. Mediators Inflamm. 2013;2013:986734. doi: 10.1155/2013/986734. Epub 2013 Jun 12. PMID: 23840101; PMCID: PMC3694527.
Messaoudi M, Lalonde R, Violle N, Javelot H, Desor D, Nejdi A, Bisson JF, Rougeot C, Pichelin M, Cazaubiel M, Cazaubiel JM. Assessment of psychotropic-like properties of a probiotic formulation (Lactobacillus helveticus R0052 and Bifidobacterium longum R0175) in rats and human subjects. Br J Nutr. 2011 Mar;105(5):755-64. doi: 10.1017/S0007114510004319. Epub 2010 Oct 26. PMID: 20974015.
Mach N, Fuster-Botella D. Endurance exercise and gut microbiota: A review. J Sport Health Sci. 2017 Jun;6(2):179-197. doi: 10.1016/j.jshs.2016.05.001. Epub 2016 May 10. PMID: 30356594; PMCID: PMC6188999.
Figueroa-González I, Cruz-Guerrero A, Quijano G (2011) The Benefits of Probiotics on Human Health. J Microbial Biochem Technol S1:003. doi:10.4172/1948-5948.S1-003