Transparent Labs is a Utah-based supplement company with a big dedication to, well, transparency. None of their products have proprietary blends. That means the consumer is privy to the exact quantity of every ingredient in a serving. Not only does Transparent Labs implement third-party testing, they actually provide certificates of analysis and composition on their site.
They have two pre-workouts, "LEAN" and "BULK," with BULK focused on muscle gain. It claims to do that through increasing testosterone.
Save 10%

Transparent Labs BULK is a well-dosed pre-workout supplement for endurance, power, and focus. It is offered in six flavors and provides doses of Vitamin D3, Vitamin B6, Vitamin B12, zinc, potassium, and more. Use code BARBEND10 to save 10%.
Editor's note: The content on BarBend is meant to be informative in nature, but it should not be taken as medical advice. The opinions and articles on this site are not intended for diagnosis, prevention, and/or treatment of health problems. It's always a good idea to talk to your doctor before beginning a new fitness, nutritional, and/or supplement routine. Individual needs for vitamins and minerals will vary.
Transparent Labs BULK Ingredients
The Transparent Labs BULK ingredient list starts with what they call a Testosterone Support Complex. It consists of 3,000 IU of Vitamin D3 (750 percent of the recommended daily intake (RDI)), 200 percent of the RDI for zinc, and five milligrams of boron (no RDI established).
There's also a 180-milligram dose of caffeine, about as much as you'll find in a small Starbucks coffee. The rest of the ingredients are:
Citrulline malate — six grams
Beta-alanine — four grams
Branched-chain amino acids (BCAA) — four grams
Betaine — 2.5 grams
Taurine — 1.3 grams
Tyrosine — 600 milligrams
Choline bitartrate — 500 milligrams
Theanine — 360 milligrams
Mucuna Pruriens (velvet bean extract) — 70 milligrams
L-norvaline — 60 milligrams
Synephrine HCl (bitter orange extract) — 50 milligrams
Hordenine — 25 milligrams
Bioperine® (black pepper extract) — five milligrams
Note there are no artificial ingredients or flavorings aside from stevia, a natural flavor, and some anti-caking agents.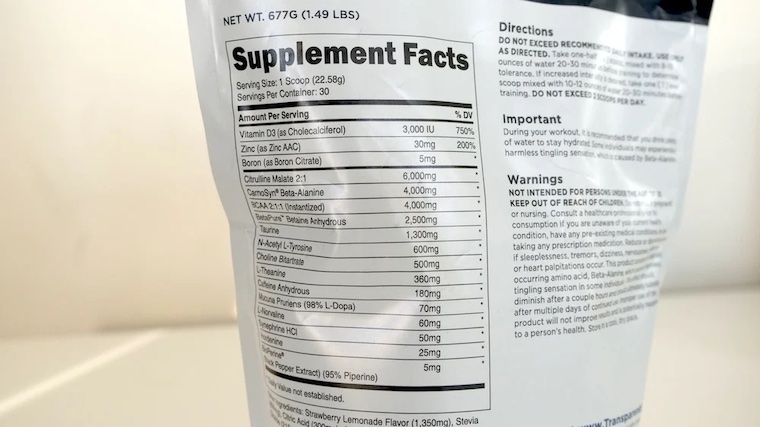 [Related: Could Baking Soda Be The Best Workout Supplement You've Never Tried?]
Transparent Labs BULK Benefits
So what do all those ingredients do? It's helpful to break them down by effect. Unless otherwise noted, the doses here are pretty much in line with what's suggested by studies.
Focus
The theanine, taurine, and tyrosine have links to focus. Theanine and taurine are often used alongside caffeine because they may help reduce its attendant jitteriness. Taurine may also improve recovery by helping to draw more water and minerals into cells.
Endurance
The beta-alanine has the strongest link with endurance, and while Transparent Labs' "LEAN" pre-workout has a pretty standard 1.5 grams. Conversely, there's a huge four-gram dose in BULK. Beta-alanine tends to cause a harmless tingly sensation on the skin, and four grams of it may be a bit much for those who dislike that sensation. The citrulline, norvaline, and BCAAs may also have a positive effect on endurance.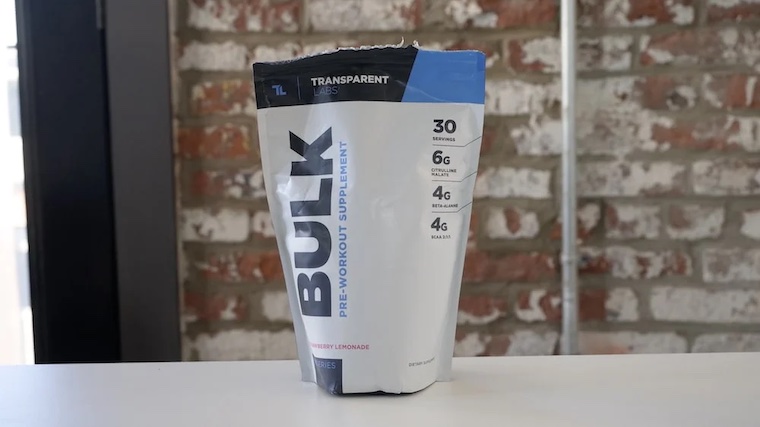 [Related: The Best Types Of Supplements For Performance, Weight Loss, And Health]
Power
Several studies conducted with powerlifting movements — squat, bench press, and deadlift — have found that betaine can improve power output. There's also some evidence that citrulline can increase power — those studies were done on cyclists and tennis players — and the choline bitartrate could also help in that it appears to increase anaerobic capacity.
Digestion
The black pepper extract is intended to help food absorb more effectively, which is why it's sometimes included in medications as well. The velvet bean and the hordenine could have adrenaline-like effects, but the evidence is pretty shaky.
[Related: Intermittent Fasting 101: A Guide To Benefits, Muscle Gain, And More]
Testosterone
The main event. What about testosterone (T)?
While this isn't as strong as steroids, there actually is some interesting evidence. Vitamin D and zinc are both strongly linked with optimal testosterone levels. One study found that over a year of consuming about 3,000 IU per day of Vitamin D (the amount found in a serving of BULK), subjects increased their testosterone levels by 20 percent. (1) Adequate zinc intake also has a link with testosterone, but it's important to note that neither of these nutrients will increase your T to superhuman levels.
Deficiencies in these nutrients may result in a deficiency in T. However, getting adequate amounts of these nutrients may help bring you to baseline. Studies are much more limited on boron, but it does appear to increase testosterone production and free testosterone in both men and women. (2) (3)
[Related: Best Macros Calculator For Tracking Muscle Gain And Fat Loss]
What To Consider Before Buying
Beyond understanding the ins and outs of what Transparent Labs BULK's ingredients can offer, the product itself has some additional qualities to consider before adding it to your cart.
Price
It's $49 for 30 servings, which is $1.63 per scoop. That's pretty expensive, given most pre-workouts are between 80 cents and a dollar per scoop. However, this product is far more potent than most pre-workouts on the market. The average pre-workout gives about half as much citrulline, betaine, and beta-alanine. BULK also skips other ingredients altogether. The steeper price here is seems justified, so if your bank account can swing it, it may still be the best choice.
Taste
The Strawberry Lemonade flavor tastes pretty good, albeit very sour. It's not farfetched to be wary of naturally-sweetened pre-workouts, but the lemon-flavored ones are usually pretty tasty. Strawberry Lemonade, in particular, was a lot more lemon than strawberry, but if you mix one scoop with two cups of water, it goes down pretty easily.
[Related: Nutrition For Bulking: 10 Tips For Intelligent Muscle Gain]
Dose
It's difficult to find fault with this pre-workout. It's well-dosed for endurance, power, and focus. It's got black pepper extract to help ingredient absorption and is reasonably priced. The zinc and Vitamin D3 make it pretty nutritious and potentially beneficial for your testosterone.
For a muscle-building pre-workout that can provide a decent pump, one might expect to find other ingredients like epicatechin or l-carnitinel-tartrate. Most people don't get enough Vitamin D, and it has a more significant and well-researched effect on testosterone than many other "muscle-building" supplements have on muscle.
There's not much evidence for the adrenaline-like effects; it's not the highest-caffeine pre-workout around, and it might be a bit high in beta-alanine, but that doesn't mean it isn't worth a buy, particularly if you're a fan of a nice sour taste.
References
S. Pilz, et al. Effect of vitamin D supplementation on testosterone levels in men. 2011. Hormone and Metabolic Research. DOI: 10.1055/s-0030-1269854.
F H Nielsen, et al. Effect of dietary boron on mineral, estrogen, and testosterone metabolism in postmenopausal women. 1987. Federation of American Societies for Experimental Biology. Nov;1(5):394-7.
Mohammad Reza Naghii, et al. Comparative effects of daily and weekly boron supplementation on plasma steroid hormones and proinflammatory cytokines. 2011. Journal of Trace Elements in Medicine and Biology. DOI: 10.1016/j.jtemb.2010.10.001.