It's hard to discount the benefits of omega-3 supplements — be it from fish oil, krill oil, or mussels. These healthy fats help lower inflammation, bolster brain function, and even help with fat loss. However, there are a handful of factors to consider — dosage, fats, and sourcing ratio. It's a lot to consider for such a straightforward supplement.
To help streamline your decision-making process, we've analyzed dozens of products to take the guesswork out of choosing an omega-3 supplement. We've tried dozens of fish oil supplements and narrowed down our picks based on lifestyle, types of diet, and sustainability. We also break down the benefits of omega-3s and answers some common questions.
Best Omega-3 Supplements
Editor's note: The content on BarBend is meant to be informative in nature, but it should not be taken as medical advice. The opinions and articles on this site are not intended for use as diagnosis, prevention, and/or treatment of health problems. It's's always a good idea to talk to your doctor before beginning a new fitness, nutritional, and/or supplement routine. None of these supplements are meant to treat or cure any disease. If you feel you may be deficient in a particular nutrient or nutrients, please seek out a medical professional.
Best Omega-3 Supplement Overall
Krill oil contains natural preservatives and some unusual phospholipids you don't find in fish oil, so some prefer to take it for their omega-3s.
Transparent Labs Krill Oil
Compared to fish oil, krill oil contains more phospholipids (molecules that regulate cellular processes) and astaxanthin, a natural antioxidant that helps protect the oil from oxidation. This particular krill oil is also tested to ensure there are no heavy metals in it. With those benefits comes a heftier price tag, though. Also, if you're concerned about sustainability, this product is not certified.
Save 10%
Transparent Labs Krill Oil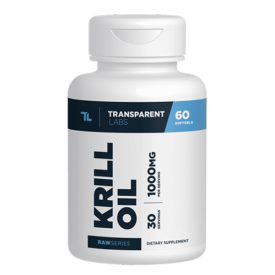 Transparent Labs Krill Oil
Transparent Labs Krill Oil is sourced from Antarctic krill. A high concentration of phospholipids may help the body better absorb the supplement's omega-3 fatty acids compared to fish oil. Also contains the antioxidant astaxanthin and natural vanilla flavor. Save 10% with code BARBEND10.
Who Should Buy Transparent Labs Krill Oil
Those who want extra antioxidants in their omega-3 supplement.
Anyone concerned about the longevity of fish oil may prefer the fact that krill oil has natural preservatives.
If you're worried about heavy metals, you'll be glad to know this is 100% free from them.
Who Shouldn't Buy Transparent Labs Krill Oil
Folks who only buy krill oil that's certified for sustainability. There are no certifications on this product.
Budget-conscious consumers. Krill oil supplements, including this one, tend to be pricier than fish oil.
Omega-3 supplements aren't fanciful. Still, this formula boasts extra antioxidants, a longer-lasting formula, and zero heavy metals. It's also made from krill oil, which is high in phospholipids.
Best Omega-3 Fish Oil Supplement
If you're looking for a fish oil supplement that meets high purity standards, is sustainably sourced, transparent in sourcing, and goes down well — then this is your best bet.
Kaged Muscle Omega-3
Each two-pill serving has a total of 2,000 milligrams of EPA and DHA fats — specifically, 1,100mg of EPA and 900mg of DHA. Kaged Muscle boasts an absorption rate of 90% rate compared to 60% of their competitors. They also have certifications from Friend of the Sea, Informed Sport, and Safe.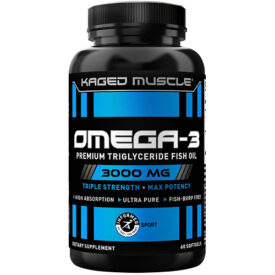 Kaged Muscle delivers 3,000 milligrams of omega-3 fats (1,100mg of EPA and 900mg of DHA), which is quick-absorbing and doesn't produce fish burps.
Who Should Buy Kaged Muscle Omega-3
Customers who value quality insurance. This product boasts a litany of certifications.
Folks who want a high dosage of omega-3 fatty acids.
People who want a quick-absorbing formula.
Who Shouldn't Buy Kaged Muscle Omega-3
Pescatarians. This capsule is made from fish gelatin.
Kaged Muscle offers up a high-quality, high-dose fish oil that is backed by multiple certifications and produced from wild-caught fish.
Best No-Burp Fish Oil Supplement
What goes down usually comes up. Anyone who has taken an omega-3 supplement, specifically a fish oil pill, has probably experienced those horrible fishy burps. They're gross, and so we sought out the best burp-friendly omega-3 pill.
Performance Lab Omega-3
Performance Lab has sourced their omega-3 supplement from algae, which is often seen as a safer and more sustainable version of the common omega-3 supplement. Their supplement is also vegan-friendly and carrageenan-free, which is highly uncommon (but often desired) in soft gel form.
Best No-Burp Omega-3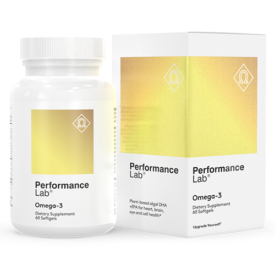 An algae-sourced alternative to traditional fish-based omega-3. Provides a 2:1 ratio of DHA to EPA and is designed to reduce the likelihood of unpleasant aftertaste or "fish burps" that some omega-3 supplements can cause.
Who Should Buy Performance Lab Omega-3
People who are looking for an omega-3 supplement with a greatly reduced likelihood of unpleasant smells and burps.
Customers who want to opt for a more sustainable source for omega-3 fatty acids.
Plant-based eaters.
Who Shouldn't Buy Performance Lab Omega-3
While we liked this supplement's nutritional profile, it isn't the most potent omega-3 supplement on the market per pill.
People who want additional ingredients or nutrients in their fish oil pills may want to look elsewhere.
Assuming you don't like fish burps (we won't judge you if you do), you'll love this formula that was designed to tamp down a fish after taste.
Best Sustainably-Sourced Omega-3
If you're concerned about sustainable fishing, some supplements are transparent about their sourcing.
Utzy Naturals U Omega-3
Utzy Natural uses fish that are sustainably sourced from Chile to make their Omega-3 supplement. According to Utzy, Chile's coastline is one of the least industrialized in the world. Also, the fish selected for use undergo processing to guarantee consumer safety. Utzy also uses a micro-distilling process to test for hundreds of contaminates, and their streamlined "ocean-to-capsule" process delivers a fresher product. All that aside, this is pretty standard fish oil, offering up 800mg of EPA, 430mg of DHA, and an additional 80mg of omega-3 fatty acids. You get just what you need, and quality.
Best Sustainably-Sourced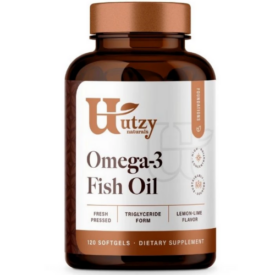 For those concerned with sustainable sourcing, Utzy Naturals' formula is derived from fish that are sustainably harvested in Chile.
Who Should Buy Utzy U Omega-3
People concerned with sustainability. Utzy sources their fish from Chile.
Those who don't want unnecessary extras. Utzy micro distills their product to look for hundreds of possible contaminants.
Who Shouldn't Buy Utzy U Omega-3
People on a budget. For a fish oil product, you can find more affordable options.
For those concerned with sustainability, this omega-3 supplement is sourced from a specific region that isn't very industrialized.
Best Krill Oil
Compared to fish, healthy fats are more bioavailable in krill oil to better support brain function and muscle growth.
Natural Stacks Antarctic Krill Oil
Natural Stacks puts some serious work into sourcing their krill oil. They use sustainably harvested krill from the Antarctic Ocean and ensure that it's cold-pressed on the ship so that the biological properties are intact. Then the krill is tested for impurities. According to Natural Stacks, the EPA and DHA found in krill oil is more bioavailable, meaning your body absorbs it and uses it more effectively.
Best Krill Oil
Natural Stacks Antarctic Krill Oil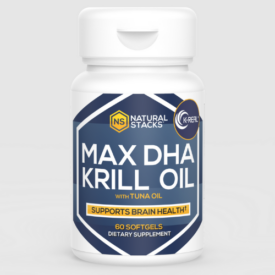 Natural Stacks Antarctic Krill Oil
Natural Stacks offers a third-party tested krill oil with 300 micrograms of Astaxanthin, a powerful antioxidant that improves blood flow. 
Who Should Buy Natural Stacks Antarctic Krill Oil
Those who want their EPA and DHA from krill oil, which is thought to be more bioavailable.
People who care about third-party testing to ensure product quality.
Who Shouldn't Buy Natural Stacks Antarctic Krill Oil
Those who would rather take an omega-3 supplement sourced from fish.
AS a nice bonus, this formula also includes seven-times the normal amount of an antioxidant called Astaxanthin, which is thought to improve blood flow and improve skin quality.
Best Vegan Omega-3 Supplement
Yes, you can get Omega-3s from plants, but the only way to get the important (and absorbable) EPA and DHA fatty acids are to go to the same source the fish get theirs: algae.
NuTru Vegan Omega-3
What makes this product stand out is that it's vegan and contains EPA and DHA, which are sourced from algae. Most vegan omega-3 pills don't. The fact that it's vegan also means there's no risk of contamination from mercury, which is primarily found in fish. One downside is that this product contains only 450mg of omega-3s, which is on the lower end of the dosage scale.
Best Vegan Option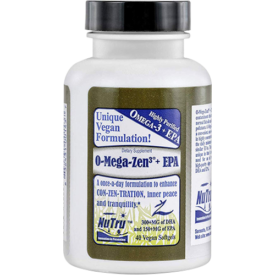 Unlike many plant-based Omega-3 products, NuTru's offering provides both EPA and DHA, plus they're grown sustainably and have the highest ranking from third party tester Labdoor.
Who Should Buy NuTru Vegan Omega-3
For those who want a vegan omega-3 with both EPA and DHA. It's remarkably rare.
Anyone concerned about mercury and heavy metals in animal-based omega-3s.
Who Shouldn't Buy NuTru Vegan Omega-3
For folks who want a higher dose of omega-3. There are only 450 milligrams per dose, which is more than most competing vegan products but not as high as most fish oils.
The capsules used to deliver heart-healthy omega-3s are usually made from fish or meat-based gelatin. this product has a plant-based capsule and the oil is derived from plants — not fish.
Best Green Lipped Mussel Supplement
If you've spent hours combing the internet for the best omega-3 supplements, then there's a good chance you've come across green lipped mussel. If you haven't, it's worth knowing about its potential advantages.
Swanson Green Lipped Mussel
Many prefer green lipped mussel oil because it's's seen as more sustainable, and it usually contains a rare kind of omega-3 called eicosapentaenoic acid or ETA, which may help with inflammation (1). Swanson grinds up the animal, freeze-drys it on-site to preserve freshness, and then sends its supplement out to be third-party tested and made following FDA and FTC guidelines. It's important to note that Green Lipped Mussel does produce a strong smell and doesn't quantify an actual omega-3 dose, which some may find, ahem, fishy.
Best Green Lipped Mussel
Swanson Green Lipped Mussel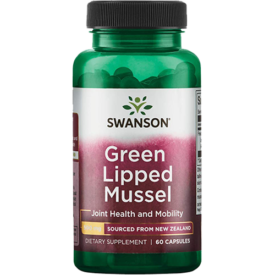 Swanson Green Lipped Mussel
Third party tested, freeze dried onsite to preserve freshness and a source of the rare Omega-3 called eicosapentaenoic acid, Swanson's Green Lipped Mussel Oil topped this category of Omega-3.
Who Should Buy Swanson Green Lipped Mussel
The extra omega-3 fatty acid ETA may alleviate inflammation.
People who value third party testing of their supplements.
Folks who are concerned about the freshness of their products. This product is freeze-dried on-site for freshness.
Who Shouldn't Buy Swanson Green Lipped Mussel
Those who like to avoid "fishy" smells — Swansons is made from ground-up mussels, and it smells like it.
Folks looking for a huge dose of omega-3. Green Lipped Mussel only reveals the mussel content, not the grams of omega-3.
If you can get past the smell, this product may lower inflammation. It's also produced strictly following FDA and FTC guidelines and is third-party tested to ensure quality.
Why Take Omega-3 Supplements?
A wide variety of effects have been ascribed to omega-3 fatty acids, specifically eicosapentaenoic acid (EPA) and docosahexaenoic acid (DHA). Here's a break down of their core benefits.
Inflammation
Taking in plenty of EPA and DHA appears to be a way to help reduce inflammation. Some research suggests that fish oil supplements can be valuable for reducing joint pain associated with inflammatory conditions like arthritis. One study published in The Journal of the American College of Nutrition found that fish oil supplements helped reduce (though not eliminate) the need for anti-inflammatory drugs among people with inflammatory and autoimmune diseases. (2)(3)
Managing inflammation isn't just for people with chronic conditions, though. Chronic inflammation has been linked to everything from heart disease to diabetes to cancer. Reducing it where possible could be in everyone's interest. Folks who work out regularly experience more inflammation than the average person. Some research suggests that one to two grams of omega-3s per day helped to "counteract exercise-induced inflammation" following strength training. (4)(5)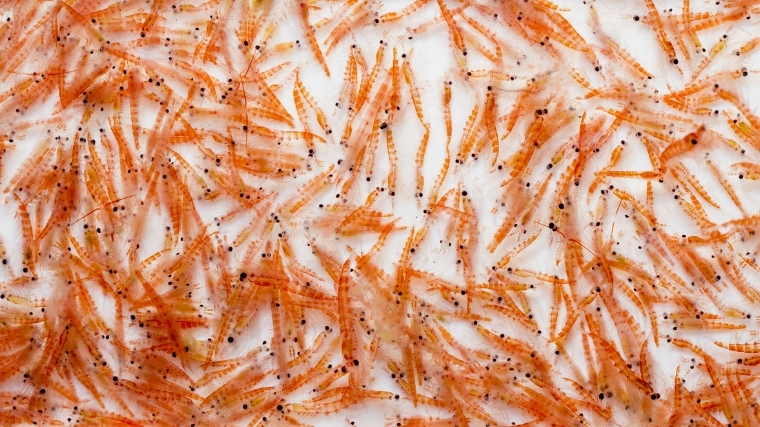 [Related: Does the Ketogenic Diet Work for Strength Training?]
Mental Health
There's decent evidence to suggest that keeping your omega-3 intake relatively high can help reduce the risk of Alzheimer's disease and improve cognition among those already suffering from some forms of cognitive impairment. (6)(7)
Some contest these links — it's a little less concrete than the anti-inflammation effects — but there's even an argument to be made that the anti-inflammatory effects can play a role in treating depression. (8)(9) More research is needed, but fish oil, especially fish oil that's made up of over 60% EPA, has been seen to reduce both depression and anxiety in some research. (10)(11)
Heart Health
Evidence is a little mixed, but a few studies have shown omega-3s (especially DHA) to reduce triglycerides. (12)(13)(14)(15) Positive effects have also been seen in patients with high blood pressure, though it doesn't seem to be as effective at lowering the pressure of folks with regular blood pressure. (16)(17)(18)(19)(20)
It's equally as important to keep your omega-6 intake low as it is to keep your omega-3 up. While the latter is usually found in naturally raised fish and meat, the former is high in processed seed oils and fried foods and more natural foods like chicken and nuts. Research suggests that a 1:4 or even 1:2 ratio is ideal for reducing the risk of heart disease and some cancers, but the average person eats closer to 1:10 or even 1:25 in some studies. (21)
Unless your diet is very Paleo (which we mean to say natural) and loaded with fish, you should take omega-3 supplements and reduce your consumption of fried and processed food to improve your omega-3 to -6 ratio.
[Related: Should You Eat Fat After a Workout?]
How We Decided the Best Omega-3 Supplements
So how did we land on this list? Below are the criteria we used to make sure we're landing on the cream (or oil) of the crop.
Dosage
There's no official recommended intake, but the World Health Organization and the US Department of Health and Human Services suggest a minimum of 250 to 500 milligrams of omega-3s per day. It's important to note that many of these studies used two to four grams per day to achieve their effects. Studies vary a lot in the dosages — one found that 14 grams of fish oil per day for five weeks helped improve some inflammation markers among post-menopausal women. (22) But as mentioned, the closest thing to a recommendation we've got is 250 to 500 milligrams per day of a combination of EPA and DHA. Our favorite supplement delivered a solid 2.5 grams, but we didn't penalize too harshly for lower amounts.
EPA/DHA Ratio
EPA is a little more closely linked with inflammation, and DHA has a closer tie with mental health. They're usually dosed on par. That said, we didn't penalize if the dosages weren't the same. While some limited research suggests going heavier on EPA if you want to tamp down inflammation, we suggest determining your individual preferences when choosing an EPA and DHA balance. (23)
Third-Party Testing
There are several third-party testers and regulatory bodies that producers of omega-3 supplements can employ.
The most popular is probably The International Fish Oil Standards™ (IFOSS), which awarded five stars to our best overall pick. The Ontario-based organization focuses on three main categories: the label accuracy or the number of active ingredients claimed on the label. The presence of contaminants like mercury and radiation, which they state can outweigh the beneficial health effects of fish oil. Lastly, stability or how quickly the product is likely to degrade. IFOS is the only organization that tests fish oil products by batch and lot number to make sure they have the right components, don't contain contaminants, and are stable and fresh for consumption.
Another prominent organization is the Marine Stewardship Council, a global nonprofit organization that focuses on sustainability. The MSC works with fisheries, grocery stores, restaurants, and supplement companies to improve fishing practices, combat fraud, and promote transparency — to ensure that generations can enjoy seafood. Every fishery is independently assessed to figure out the impact on wild fish populations. They also track the supply chain to ensure all of their certified fish oil can be traced back to an approved fishery.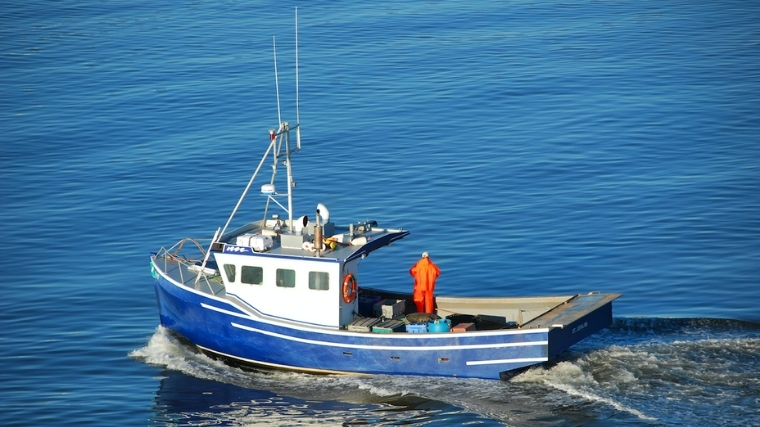 Friend of the Sea also approved some of the supplements we looked at. A project of the World Sustainability Organization, Friend of the Sea carries out yearly audits onsite by independent international certification bodies. Their requirements include waste and energy management, social accountability, no significant impact on the seabed, and not affecting animals deemed "overexploited" by the UN's Food and Agricultural Organization.
Labdoor is another highly regarded company that emphasizes label accuracy. An approval from Labdoor is highly valued in all areas of nutritional supplements — the completely independent company purchases products off of retail shelves and online sites and then send samples to an FDA-registered laboratory for chemical analysis.
Sourcing
Particularly for fish-based omega-3s, responsible sourcing can be a priority for some consumers. This is where the certifications from IFOSS, Marine Stewardship Council, and Friend of the Sea come into play.
Freshness
Nobody wants rancid fish oil. Besides following the guidelines we outline below, we give extra points to products that freeze their product soon after harvesting, helping to maintain freshness.
Additives
We're not of the mind that omega-3 supplements should have only omega-3s and nothing else at all. Some additives can be useful — rosemary or oregano extract, for instance, appears to help inhibit their oxidation. (24) Tocopherols also appear to help protect against contaminants. (25)
Therefore, we prefer fish oils with ingredients like these, water, and glycerin (to maintain the capsules' shape).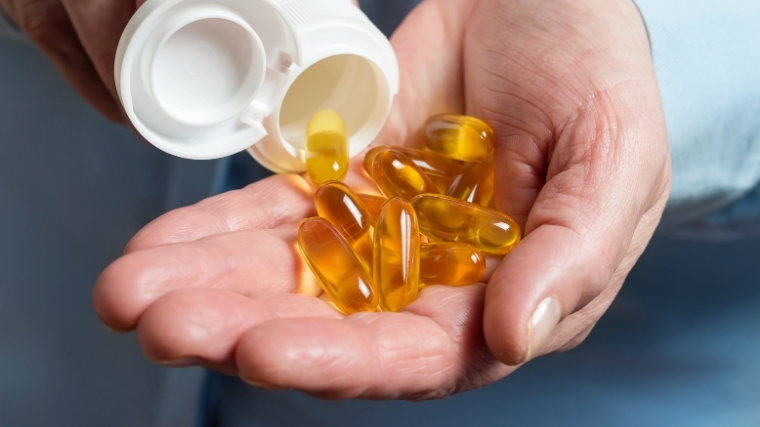 [How to Count Macros for Weight Loss, Muscle Gain, and Maintenance]
Best Omega-3 Food Sources
Outside of fish, algae is another great source — and, excuse us if we're wrong, we doubt you're eating it by the bowlful. So, it's back to fish. That said, not every type of fish has the same amount of omega-3s. Per one hundred grams, these are the animals that are highest in omega-3 according to Nutritiondata:
Mackerel: 5,134 milligrams
Salmon: 2,260 milligrams
Anchovies: 2,113 milligrams
Herring: 1,729 milligrams
Sardines: 1,480 milligrams
Oysters: 672 milligrams
Halibut: 669 milligrams
Do Vegan Omega-3s Work?
Vegans will have a tougher time meeting their omega-3 requirements through food alone. Algae is really the only significant vegan source of EPA and DHA, which is why it's the base of the vegan product we recommend. But all the other plant-based foods that are frequently touted as good sources of omega-3, such as chia, walnuts, and flaxseeds, are not.
Most vegan omega-3s are alpha-linolenic acid or ALA. The problem with ALA is that the body needs to convert it to EPA and DHA, and it's's estimated that about 90% of it is lost in the process. (26) Plus, if you're eating a lot of omega-6, it appears to make it even harder for the body to make this conversion. (27)
Basically, you need to consume 10 times the amount of ALA to get roughly the same amount of EPA and DHA. That said, really high amounts of ALA have been linked to an increased risk of prostate cancer. (28) It's also been linked to lower risks of heart disease and diabetes, but doubling down on ALA might be an iffy strategy. (29)
Does Fish Oil Go Bad?
Fish oil expires. It's animal fat, after all, and it can go rancid and lose its effectiveness. In fact, polyunsaturated fatty acids are highly prone to oxidative degeneration. According to a 2015 paper in the Journal of Nutritional Science, fish oil supplements are the most prone to degradation. (30) One study even looked at 171 supplements from 49 brands in Canada and found that 50% exceeded limits for at least one measure of oxidation. (31)
The risk of oxidation is affected by exposure to oxygen and light, temperature, antioxidant content, and the presence of water and heavy minerals. To minimize risks, it's's smart to keep your fish oil in the fridge. The expiration date should be printed on your bottle, and while that date is meant to undershoot the expiration and take into account that many people might not store them well, it probably refers to when the gels will expire if left unopened.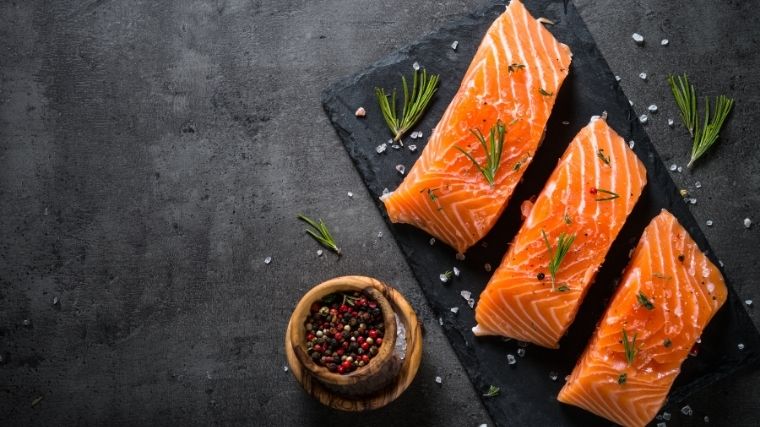 [Related: The 5 Best Men's Multivitamins Reviewed in 2021]
Here some tips to help you keep your omega-3 supplements fresh:
Buy them one month at a time, so you're not stockpiling older supplements.
Once they're open, start taking them every day.
Check to ensure the oil is clear, not cloudy.
The coating should be springy, not soft.
If they smell bad, don't take 'them.
What to Know Before You Buy Omega-3 Supplements
Before you click that 'purchase' button, it's worth running through this quick checklist, so you really know what you're after.
Get the Right Dosage
As we've mentioned, there's no official recommendation for how much omega-3 you should consume in a day, but most aim for at least one gram.
Consider the Rest of Your Diet
Research suggests that the efficacy of taking more omega-3 relies in part on your omega-6 intake, which is prevalent in processed oils, fried foods, and most plant fats. Try to eat more fat from wild-caught seafood, grass-fed beef, pastured chicken, coconut, chia, and olive oil.
Decide If Sustainability Matters
If sustainability is a personal priority, look for one of the aforementioned certifications or choose sources such as krill oil and algae, which have less impact on the environment.
Speak With a Physician
Before making any changes to your diet or supplement regimen, visit a doctor to determine if it's the right move for you and what other measures you could and should be taking for your overall health.
Wrapping Up
It doesn't matter if your priority is purity, the environment, or adhering to a plant-based diet. The best omega-3 supplements are on this list. We've done the hard work of weighing the countless competing supplements on the market — pick one of the best and enjoy. Just remember to keep 'em in the fridge.
FAQS
How much omega-3 should I take?
There's no one definitive answer. Definitely check with your doctor to determine if you should be taking omega-3s and, if so, what dose is right for you. That said, look for a supplement that offers at least one gram.
What organizations should I look for on labels if I'm concerned about sustainability?
The International Fish Oil Standards™
Marine Stewardship Council.
Friends of the Sea.
Labdoor (this isn't a sustainability site, but it's great to reference for purity and quality).
Do omega-3s only come from fish?
Nope. Fish are a fine choice, but omega-2 supplements can also be produce from krill, mussels, and even algae, which is a great choice for vegans.
More BarBend Supplement Reviews
Here are other popular supplement reviews by BarBend.
References
1. Koto T, et al. Eicosapentaenoic acid is anti-inflammatory in preventing choroidal neovascularization in mice. Invest Ophthalmol Vis Sci. 2007 Sep;48(9):4328-34.
2. Maroon JC, et al. Omega-3 fatty acids (fish oil) as an anti-inflammatory: an alternative to nonsteroidal anti-inflammatory drugs for discogenic pain. Surg Neurol. 2006 Apr;65(4):326-31.
3. Rajaei E, et al. The Effect of Omega-3 Fatty Acids in Patients With Active Rheumatoid Arthritis Receiving DMARDs Therapy: Double-Blind Randomized Controlled Trial. Glob J Health Sci. 2015 Nov 3;8(7):18-25.
4. Jouris KB, et al. The Effect of Omega-3 Fatty Acid Supplementation on the Inflammatory Response to eccentric strength exercise. J Sports Sci Med. 2011 Sep 1;10(3):432-8.
5. Shei RJ, et al. Omega-3 polyunsaturated fatty acids in the optimization of physical performance. Mil Med. 2014 Nov;179(11 Suppl):144-56.
6. Mazereeuw G, et al. Effects of ω-3 fatty acids on cognitive performance: a meta-analysis. Neurobiol Aging. 2012 Jul;33(7):1482.e17-29.
7. Cederholm T, et al. ω-3 fatty acids in the prevention of cognitive decline in humans. Adv Nutr. 2013 Nov 6;4(6):672-6.
8. Sarris J, et al. Omega-3 for bipolar disorder: meta-analyses of use in mania and bipolar depression. J Clin Psychiatry. 2012 Jan;73(1):81-6.
9. Grosso G, et al. Omega-3 fatty acids and depression: scientific evidence and biological mechanisms. Oxid Med Cell Longev. 2014;2014:313570.
10. Sublette ME, et al. Meta-analysis of the effects of eicosapentaenoic acid (EPA) in clinical trials in depression. J Clin Psychiatry. 2011 Dec;72(12):1577-84.
11. Kiecolt-Glaser JK, et al. Omega-3 supplementation lowers inflammation and anxiety in medical students: a randomized controlled trial. Brain Behav Immun. 2011 Nov;25(8):1725-34.
12. Wei MY, et al. Effects of eicosapentaenoic acid versus docosahexaenoic acid on serum lipids: a systematic review and meta-analysis. Curr Atheroscler Rep. 2011 Dec;13(6):474-83.
13. Annuzzi G, et al. A controlled study on the effects of n-3 fatty acids on lipid and glucose metabolism in non-insulin-dependent diabetic patients. Atherosclerosis. 1991 Mar;87(1):65-73.
14. Boberg M, et al. Supplementation with n-3 fatty acids reduces triglycerides but increases PAI-1 in non-insulin-dependent diabetes mellitus. Eur J Clin Invest. 1992 Oct;22(10):645-50.
15. Davidson MH, et al. Efficacy and tolerability of adding prescription omega-3 fatty acids 4 g/d to simvastatin 40 mg/d in hypertriglyceridemic patients: an 8-week, randomized, double-blind, placebo-controlled study. Clin Ther. 2007 Jul;29(7):1354-67.
16. Axelrod L, et al. Effects of a small quantity of omega-3 fatty acids on cardiovascular risk factors in NIDDM. A randomized, prospective, double-blind, controlled study. Diabetes Care. 1994 Jan;17(1):37-44.
17. Simão AN, et al. Blood pressure decrease with ingestion of a soya product (kinako) or fish oil in women with the metabolic syndrome: role of adiponectin and nitric oxide. Br J Nutr. 2012 Oct 28;108(8):1435-42.
18. Russo GL. Dietary n-6 and n-3 polyunsaturated fatty acids: from biochemistry to clinical implications in cardiovascular prevention. Biochem Pharmacol. 2009 Mar 15;77(6):937-46.
19. Ramel A, et al. Moderate consumption of fatty fish reduces diastolic blood pressure in overweight and obese European young adults during energy restriction. Nutrition. 2010 Feb;26(2):168-74.
20. Campbell F, et al. A systematic review of fish-oil supplements for the prevention and treatment of hypertension. Eur J Prev Cardiol. 2013 Feb;20(1):107-20.
21. Simopoulos AP. The importance of the ratio of omega-6/omega-3 essential fatty acids. Biomed Pharmacother. 2002 Oct;56(8):365-79.
22. Ciubotaru I, et al. Dietary fish oil decreases C-reactive protein, interleukin-6, and triacylglycerol to HDL-cholesterol ratio in postmenopausal women on HRT. J Nutr Biochem. 2003 Sep;14(9):513-21.
23. Shang T, et al. Protective effects of various ratios of DHA/EPA supplementation on high-fat diet-induced liver damage in mice. Lipids Health Dis. 2017 Mar 29;16(1):65.
24. Bhale SD, et al. Oregano and rosemary extracts inhibit oxidation of long-chain n-3 fatty acids in menhaden oil. J Food Sci. 2007 Nov;72(9):C504-8.
25. Søfteland L, et al. Omega-3 and alpha-tocopherol provide more protection against contaminants in novel feeds for Atlantic salmon (Salmo salar L.) than omega-6 and gamma tocopherol. Toxicol Rep. 2016 Jan 14;3:211-224.
26. Davis BC, et al. Achieving optimal essential fatty acid status in vegetarians: current knowledge and practical implications. Am J Clin Nutr. 2003 Sep;78(3 Suppl):640S-646S.
27. Gerster H. Can adults adequately convert alpha-linolenic acid (18:3n-3) to eicosapentaenoic acid (20:5n-3) and docosahexaenoic acid (22:6n-3)? Int J Vitam Nutr Res. 1998;68(3):159-73.
28. Brouwer IA, et al. Dietary alpha-linolenic acid is associated with reduced risk of fatal coronary heart disease, but increased prostate cancer risk: a meta-analysis. J Nutr. 2004 Apr;134(4):919-22.
29. Mohammadi V, et al. Does Alpha-lipoic Acid Supplementation Modulate Cardiovascular Risk Factors in Patients with Stroke? A Randomized, Double-blind Clinical Trial. Int J Prev Med. 2018 Apr 5;9:34.
30. Cameron-Smith D, et al. Fishing for answers: is oxidation of fish oil supplements a problem? J Nutr Sci. 2015 Nov 23;4:e36.
31. Jackowski SA, et al. Oxidation levels of North American over-the-counter n-3 (omega-3) supplements and the influence of supplement formulation and delivery form on evaluating oxidative safety. J Nutr Sci. 2015 Nov 4;4:e30.