There was a time when low-cost budget equipment meant one of two things: Either it was second hand, or it would break within the first few uses. Thankfully, consumers have more options than ever when it comes to affordable gym equipment, with the competition in the industry pushing fitness manufacturers to produce more durable, high-quality, and innovative products — much of them for under $100.
Don't be fooled into thinking you're only stuck with bodyweight equipment options. There are some great training tools for all modalities like weightlifting, CrossFit, HIIT conditioning and more available to you. With so many affordable options on the market, we aimed to create a list that offers a variety of equipment for an intense full body workout. There's something for everyone here, and at less than $100 per item, you'll probably find you can build out a pretty effective home gym — even on a shoestring budget.
Best Gym Equipment Under $100
Best Resistance Bands
Resistance bands are commonly used for warm ups, but they have some awesome applications for strength training as well. One of our favorites is to add accommodating resistance to exercises. If you want to develop more power, this is a phenomenal training tool, to say nothing of the myriad other applications, from recovery to pillar prep.
Rogue Monster Bands
Very well priced and with a huge range of tension options, we love these Monster Bands from Rogue. Athletes can use them on their own, or combine them with other equipment like a barbell or pull up bar to expand their workout options. Made from natural latex rubber, they are as good as it gets in terms of longevity, and Rogue offers a bunch of different package options for lifters looking to add to their training arsenal.
Rogue Monster Bands Pull-Up Package
Rogue Monster Bands Pull-Up Package
These looped bands come in eight different resistance levels for warming up, full-body workouts, and to add to your barbell lifts for accommodating resistance.
Who Should Buy Rogue Monster Bands
Customers looking for a portable training solution.
Lifters who want a versatile training tool that can help with all phases of their workout; warm up, working sets and cool down.
Athletes who would like to explore accommodating resistance in their lifts.
Who Shouldn't Buy Rogue Monster Bands
Buyers who don't want to deal with the hassle of setting up accommodating resistance.
Trainees who prefer their warm up to mimic their working sets but with lighter weights.
Great in a variety of contexts, resistance bands have become much more widely used over the past few years, and the Monster Bands from Rogue are our favorite option because of their longevity, durability and bang for your buck.
Best Kettlebell for the Money
Kettlebells, or precursor tools similar to them, have been used for centuries. There's a good reason for that, as Kettlebells are one of the most versatile pieces of equipment out there. You can train a vast range of different body parts — from legs to chest to core — and do so quickly and with minimal space, all with one single implement.
Rogue E Coat Kettlebells
Alongside the versatility you get from any kettlebell, we love the added resilience these E Coat Kettlebells sport. Made from ductile iron which is stronger and more corrosion resistant than normal grey iron, they also have the added E coating that offers a durable, grippy surface while ensuring the bell lasts the length of your training career.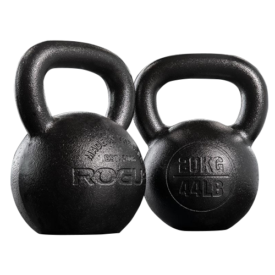 You won't shell out a lot of money for this bell initially, but the high-quality E coat is going to be tough and long-lasting, stretching your dollar far.
Who Should Buy Rogue E Coat Kettlebells
Athletes looking for a full body training tool with excellent versatility.
Buyers who need equipment that has ultra-minimal space requirements.
Trainees who want to keep their training uncomplicated and efficient.
Who Shouldn't Buy Rogue E Coat Kettlebells
Consumers who are looking to compete in kettlebell sport and want competition certified kettlebells.
Lifters who need more adjustable equipment for progression or regression.
Athletes who would prefer to train with a barbell or dumbbells.
For an all-in-one workout option, it's hard to beat kettlebells. These E coat bells from Rogue are great value for the money and are going to resist the wear and tear of weekly, or even daily use, extremely well.
Best Best Dumbbell Under $100
Do we even need to provide justification for dumbbells here? At this point in time we think it's well established that dumbbells are one of the best values on the market, and one of the most effective training tools that cover the full spectrum of athletes. Able to challenge the upper body and lower body alike, dumbbells are so versatile that you'd be foolish not to consider having at least one pair in your gym.
Best Dumbbells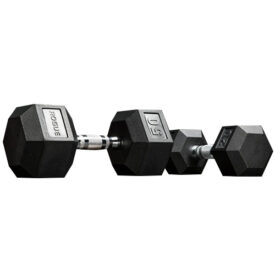 These classic dumbbells are perfect for throwing around the gym with their rubber coating to protect your floor and hex design to keep them from rolling. these dumbbells are available up to 125 pounds for serious strength athletes. 
Rubber Hex Dumbbells
Simple yet effective, these Rubber Hex Dumbbells from Rogue are affordable to the point that you could actually get 2 pairs for under $100 if you want. They're also known for their durability, enduring many a drop from overhead in CrossFit gyms worldwide. The rubber encased heads and chrome plated steel handle give them unprecedented longevity.
Who Should Buy Rubber Hex Dumbbells
Trainees who want time tested training equipment.
Customers looking for very durable, long lasting dumbbells.
Lifters looking to maximize their training options with minimal expenditure.
Who Shouldn't Buy Rubber Hex Dumbbells
Athletes who need more adjustable equipment as their training progresses.
Buyers looking for lightweight equipment that they can travel easily with.
Customers who prefer cylindrical or adjustable dumbbells.
Durable, easy to use, and endlessly versatile, hex dumbbells are one of the first items we counsel everyone to get when building their own equipment lists.
Best Best Ab Roller
Of all the ab workouts out there, very few are more intimidating than ab roller plans. This unassuming tool can be used by any level trainee, but its difficulty ceiling is almost limitless, which distinguishes it from a lot of other equipment when it comes to long-term value.
Vinsguir Ab Roller
Ab rollers aren't always made to be durable. But this model from Vinsguir can support loads up to 440lbs. The wider wheel design allows for greater stability, so there's no need to worry about it wobbling off in an unintended direction, and there is also a mat included to provide comfort for the knees as you take your core training to the next level.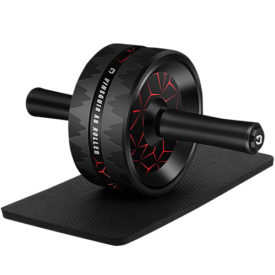 A sturdy ab roller that provides a serious core workout and EVA-coated handles that are soft on hands, the Vinguir Ab Roller can help you target your midsection without breaking the bank. 
Who Should Buy the Vinsguir Ab Roller
Lifters who need to do some extra core work.
Athletes looking for a portable tool that can be taken anywhere easily.
Anyone who wants a smartly designed and durable ab roller.
Who Shouldn't Buy the Vinsguir Ab Roller
Consumers who find that the ab roller puts too much pressure on their lower back.
Buyers who prefer to purchase equipment that is less focused on a single area.
Lifters who want a more cardio or strength based equipment option.
Made with high quality materials and with a smartly updated design, this ab roller is the ideal option to give your abs a new challenge.
Best Best Yoga Mat
You may be surprised to see this on a website all about barbell sports, but we're big proponents of and yoga as a modality to help with mobility, flexibility, recovery, and strength. Obviously a yoga mat can be used for more than just yoga, but the point still stands. Many lifters would do well to spend a little more time in this area of physical and mental fitness.
Rogue Yoga Mat
Lightweight, easy to roll up and printed with phthalate-free inks, this mat is easy to unroll at the start or end of a session. The PVC foam is non-slip and has a nice minimalist texture pattern that won't distract you from your purpose of becoming more supple. All in all, this Rogue yoga mat is a great value for money.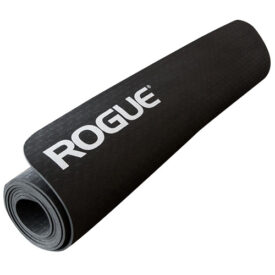 The Rogue Yoga Mat is perfect for those on the hunt for a solid deal, dependable durability and a yoga mat that can hit the road with you when you do. It's non-slip and should hold up session after session. 
Who Should Buy the Rogue Yoga Mat
Trainees who need to get in some extra flexibility work.
Lifters who would like to get started with some meditation or other recovery practices that can aid long term performance.
Buyers looking for a simply designed, yet well performing yoga mat.
Who Shouldn't Buy the Rogue Yoga Mat
Consumers who prefer a more colorfully designed mat.
Lifters who prefer mobility work to be specific to their chosen sport and won't use the mat.
Those who prefer a thicker mat for greater comfort.
Easy to roll out, and useful for much more than just stretching, this yoga mat is great value for money and won't let you down performance wise.
Best Medicine Ball
Medicine balls might be commonly associated with wall balls if you're a CrossFitter, but they are actually a very versatile tool in their own right across a lot of training modalities. These balls are a hugely underutilized asset and can be used in a variety of workouts, especially now that the manufacturing quality is so high and they are much more durable than they used to be.
Titan Fitness Leather Medicine Ball
Available in weights from 6lbs up to 30lbs, this leather medicine ball from Titan Fitness is double stitched and has reinforced seams for extra resilience. Easy to grip onto, it has a 14 inch diameter and is soft enough that you won't have any issues catching it if throwing it at a target or receiving it from a partner.
Titan Fitness Leather Medicine Ball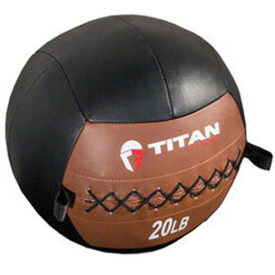 Titan Fitness Leather Medicine Ball
This leather medicine ball from Titan Fitness is perfect for developing explosive power on a budget. In comes in a variety of different weights, and has a classic look to it. 
Who Should Buy the Titan Fitness Leather Medicine Ball
Athletes looking to introduce more explosive and rotational work into their training.
Customers who need a high quality medicine ball.
CrossFitters who need a reliable medicine ball for wall balls.
Who Shouldn't Buy the Titan Fitness Leather Medicine Ball
Consumers who want to do slam ball exercises that medicine balls aren't designed for.
Lifters who need equipment that is easier to take on business trips.
Athletes who need more adjustable equipment for progression or regression.
Hard wearing yet comfortable to use, this medicine ball is the ideal option to add in some explosive upper body work to your training.
Best Jump Rope
A jump rope truly is one of the greatest pieces of fitness equipment around if you're on a budget. They have helped build some of the greatest athletes of massively varied body types throughout history. Just think of the number of boxers alone who use it as a tool daily. It's guaranteed to give you an incredible workout, especially if you're looking to dial up your heart rate.
SR-2 Speed Rope 3.0
Designed and constructed with a level of precision you'd normally see in the aircraft industry, this jump rope is extremely lightweight and can move extremely fast. The handle is made from CNC machined and anodized aluminum and the ball bearing swivel design allows the rope to turn with minimal effort. You even have the option of multiple color choices.
Rogue SR-2 Speed Rope 3.0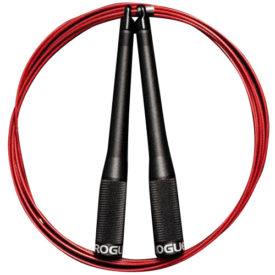 Rogue SR-2 Speed Rope 3.0
A speed rope that's built to spec with exacting detail, the Rogue SR-2 Speed Rope 3.0 is made with durable materials like anodized aluminum to withstand the daily wear and tear of high-intensity training. 
Who Should Buy the SR-2 Speed Rope 3.0
People looking to get in some effective cardio training in a small space.
Athletes who need to train their footwork.
Buyers who want a time tested tool to build incredible fitness.
Who Shouldn't Buy the SR-2 Speed Rope 3.0
Trainees who only have very rough, gritty surfaces to train on that might shred the rope quickly.
Customers living in apartments with noise sensitive neighbors.
Athletes who dislike cardio as a training modality.
Lightweight, precise and very fast, this jump rope is the perfect companion when your workouts regularly include lots of double unders.
Best Wall-Mounted Pull-up Bar
If you want a secure, yet lightweight option that allows for a multitude of options to train pulling, a pull up bar is the way to go. Yes there are the classic chin ups and pull ups, but attach an inexpensive suspension trainer and you can now add in innumerable other exercises that are known to be highly effective.
Rogue Jammer Pull-up Bar
For athletes who want a premium pull up bar, this mounted option from Rogue is versatile in that it can be installed almost anywhere. It is also much more secure and customizable than most other options on the market. You can go with a knurled or smooth bar, and there are many different colors available.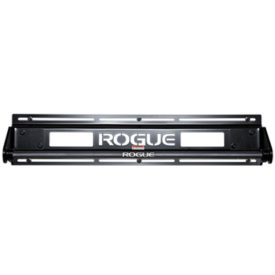 Rogue Fitness is known for making high quality products with solid materials, and the Jammer Pull Up Bar is certainly no exception. It will solidly mount into the studs above a standard door frame so you can hit pull ups whenever you please. 
Who Should Buy the Jammer Pull-up Bar
Lifters who want a secure pull up bar that won't budge once installed.
Athletes looking for a pull up bar that can easily be installed in most places with a door.
Gymgoers who want plenty of customizable options for their equipment.
Who Shouldn't Buy the Jammer Pull-up Bar
People who prefer equipment that doesn't require permanent installation.
Consumers looking for equipment that is more cardio oriented.
Anyone who prefers the use of dumbbells or machines for their pulling days.
For lifters who want a more secure pull up bar, the Jammer Pull-up Bar is really sturdy and can still be installed above just about any doorway.
Best Doorway Pull-up Bar
For the budget conscious who still want to get their pull ups in, a doorway pull up bar should be high on your list. Whilst we wouldn't recommend doing any kind of kipping with this bar, they can and do withstand normal pull ups without any issues. Add in a couple of reps every time you go to the bathroom and within a couple of months you will have a completely different back, all while saving loads of money.
ProFIT Pull Up Bar For Your Doorway
Even if your landlord is strict, you can still install and use this bar. Zero screws or bolts, it is still very secure when installed properly, and able to support up to 440lbs. The non-slip grips are excellent additions and ProFIT backs up their product with a money back guarantee and lifetime warranty.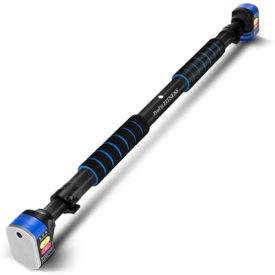 If drilling holes above your doorframe and into your wall doesn't sound appealing to you or your landlord, you might find this pull up bar from ProFIT to be a perfect solution, with no drilling required and a weight capacity of 440 lbs. 
Who Should Buy the ProFIT Pull Up Bar For Your Doorway
Athletes who want to be able to get in upper body workouts at home.
Trainees who want a pull up bar with a comfortable grip.
Customers unable to use nails, screws or bolts to install equipment anywhere.
Who Shouldn't Buy the ProFIT Pull Up Bar For Your Doorway
Lifters who want to perform kipping pull ups.
Consumers who would prefer the added peace of mind from a bar that is installed with bolts or screws.
Those looking for a pull up bar with different grip options.
Incredibly easy to install, very comfortable to use, and surprisingly strong, literally anyone with a doorway can get to training with this pull up bar.
Best Swiss Ball
Swiss balls were dismissed by many as a gimmick when they first came out, but over the years have proven themselves to have some really interesting applications. Especially within the realm of core training, they bring a lot of versatility to the table, which is why you'll find them in physiotherapy clinics and gyms alike for good reason.
Powermax Stability Balls
While some may be concerned about working out and having one of these balls pop, we've sourced this reliable swiss ball from Powermax. Powermax has tested their stability balls with loads up to 500lbs and the high quality vinyl they use for their construction can withstand that amount of weight. Choose from the three different sizes, all very affordably priced and then get training.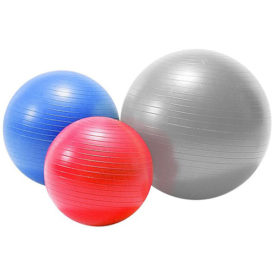 These Swiss balls from Powermax challenge you to stabilize while you exercise. Whether you're performing dumbbell presses, crunches or a movement in between, their construction is durable enough to withstand the roughest training sessions. 
Who Should Buy Powermax Stability Balls
Consumers who are looking for a new and versatile way to train their core.
Athletes who need a ball sturdy enough to support heavy weight.
Lifters who want a choice of different sized balls for different tasks.
Who Shouldn't Buy Powermax Stability Balls
Trainees who are looking for weighted equipment.
Gymgoers who dislike unstable training.
Buyers looking for more cardio based equipment like treadmills or rowing machines.
Stability balls are an excellent way to challenge your proprioception or add some spice to your core workouts and this option from Powermax is sturdy and simple to use.
Best Foam Roller
There's a saying in the gym that goes something to the effect of: "You aren't overtrained, you're under recovered." While that might not be true in every case, there are many athletes out there who need to spend some time using a foam roller to help them recover. It's an essential implement in your gym, and they're often very affordable.
Trigger Point GRID Foam Roller
Able to perform the same functions as more basic rollers, the GRID roller also has smartly designed zones that are designed to mimic the hands of a masseuse. There are two different areas that act like finger or palm massage. You can even perform whole workouts with this roller, and there are dedicated programs that will target training as well as recovery.
Trigger Point GRID Foam Roller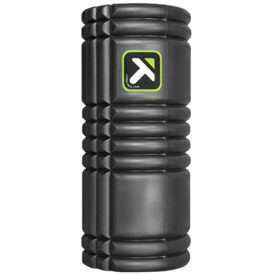 Trigger Point GRID Foam Roller
Trigger Point GRID foam rollers are popular for many reasons. They're affordable, effective, and have a design that works well for loosening up stiff muscles and aiding recovery. 
Who Should Buy the Trigger Point GRID Foam Roller
Lifters who need a tool to help them relax and recover post workout.
Buyers looking for a roller that can also be integrated into workouts.
Consumers looking for some different color options for their roller.
Who Shouldn't Buy the Trigger Point GRID Foam Roller
Athletes who need a softer, less aggressive massage tool.
Trainees who want more targeted muscle rolling with say a lacrosse ball.
Athletes who want a more advanced roller, like a vibrating roller to help them recover.
Who couldn't do with recovering more between workouts? The GRID Foam roller can help you do exactly that and much more at a very affordable price.
Best Gymnastics Rings
As an upper body training tool, we would make the case that rings — while difficult to master — are the best tool under $100 to challenge even the most elite athlete. There are no athletes with a stronger upper body pound for pound than gymnasts. The rings are unparalleled in their ability to develop strong and well muscled arms and shoulders, and for under $100 that sounds like a deal to us.
Rogue Gymnastic Wood Rings
These rings from Rogue really stand out from the competition. They have heavy duty 1.5 inch nylon straps and solid buckles that are not going to let you down mid muscle up. On top of this, you have a surprising number of custom options including strap length, color, and whether to go with thicker or thinner rings.
Rogue Gymnastic Wood Rings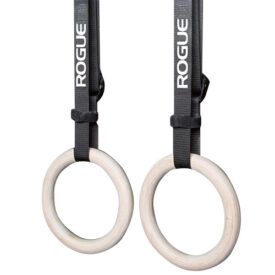 Rogue Gymnastic Wood Rings
These gymnastic rings by Rogue will challenge even the most advanced athletes. From strap length to handle thickness, they're adjustable depending on your training needs and wants. 
Who Should Buy Rogue Gymnastic Wood Rings
Consumers who want an upper body workout tool with unparalleled versatility.
Trainees looking for a portable tool that can be set up quickly and easily.
Gymgoers who want a workout that can scale from beginner to advanced.
Who Shouldn't Buy Rogue Gymnastic Wood Rings
Lifters who prefer barbells, dumbbells or machines for their upper body work.
Buyers who prefer a suspension trainer that can also be used for leg exercises.
Workout enthusiasts who are uncomfortable with lack of stability in a movement.
It's rare that we can point out one piece of equipment that can be used by beginners and the elite alike, yet this is exactly the versatility that you can get from a pair of rings.
Best Parallette Set
Somewhat niche despite their potential, parallettes are another great upper body tool. You may have to look a little harder to find training programs that use them regularly. But you won't need to search hard at all to find evidence of the incredible results that can be achieved using them when performing push ups or other movements from the ground.
Rogue Formed Parallettes
Weighing in at only 7lbs, these parallettes are much lighter than comparable alternatives. The one piece design also means no moving parts to break. Made from 14 gauge steel, they have a black powder coating that means you'll keep a good grip even mid WOD.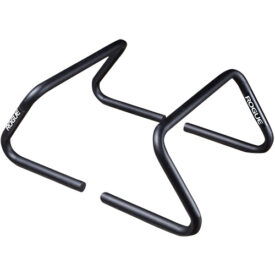 Whether you want to switch up your push ups, or elevate your body for flutter kicks, these Rogue Formed Parallettes are well built, lightweight and portable so you can move them throughout your home gym. 
Who Should Buy Rogue Formed Parallettes
Consumers who want a portable workout tool that can be used virtually anywhere.
Trainees who need a tool to reduce pressure on their wrists when performing push ups or other similar movements.
Anyone who wants to begin training deficit push up or handstand push up movements.
Who Shouldn't Buy Rogue Formed Parallettes
People who aren't interested in training gymnastic movements.
Lifters who need equipment for training their legs.
Yet another fabulous and underutilized upper body tool, these parallettes are lightweight, very portable, and can help you build prodigious strength when used properly.
Best Plyo Box
Jumping is not only a great training exercise, it is also one of the best ways to slow aging by training your fast twitch fibers that disappear as you grow older. Plyo boxes provide a great tool to aid you in this pursuit.
Rogue Wood Plyo Box
This box has made it through the CrossFit Games and beyond. Easy to assemble, they are CNC cut for precision and even have handles cut in for ease of mobility. To top it all off, you get a one year warranty included with the purchase.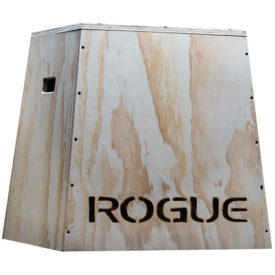 The Rogue Wood Plyo Box is a staple of gyms everywhere. It's perfect for developing explosive power via box jumps, but can also be used as an implement for step ups, box squats and more. 
Who Should Buy the Rogue Wood Plyo Box
Buyers looking for a box that has handles for ease of movement.
Athletes looking for a solid box to start working on jumping.
Trainees who want a great value for money box.
Who Shouldn't Buy the Rogue Wood Plyo Box
Consumers who need boxes with multiple height options.
Lifters who don't enjoy jumping or don't prioritize explosive movements in training.
Buyers who don't have the space to store a box.
Jumping is such a beneficial activity, especially as we age. Having a solid, dependable box around is one way to ensure you rack up those benefits.
What to Consider Before Buying Gym Equipment On A Budget
Often when recommending equipment, we are aware that many people will have to save consciously before purchasing gym equipment for their home. Hopefully this list makes that quest a little easier, but there are still a few things you'll want to consider before you buy.
Your Goals
All of these pieces of equipment are worth buying. Some are more worth it than others depending on personal goals. If you want to be able to do a pull up, then having a pull up bar is going to be a key instrument in your gym. It's a silly example, but you'd be surprised how often people buy gear without thinking through how it can contribute to their training.
Your Budget
As we noted above, price isn't an issue if you only want to buy one or two of these items. However, for many customers, they may feel that it would be beneficial to have more options as they grow in their training. As with any buying decision, work out what your budget is so that you can prioritize the items that are going to have the biggest impact for you.
Your Training Space
If you're living in an apartment building, those living below you are unlikely to be thrilled with your new jump rope purchase. There are plenty of other examples of constraints like this, and it is worth thinking through how your equipment fits into your space before you buy. When you're training, you want to focus on your goals, not if someone else is being bothered by your training regime.
What You Enjoy
Yoga is a great modality for recovery, but if you hate it, then your yoga mat is likely to sit in the corner collecting dust. Don't waste your money buying equipment for a movement or training discipline that you dislike. Instead, focus on purchases that will improve your training and the fulfillment you get from that training.
Versatility
While most of this equipment is relatively affordable, we encourage you to look for equipment options that bring extra versatility to your workouts. All of these picks keep that in mind. Boredom is a real problem and many lifters have fallen off training because of it. Equipment that allows you to switch things up and progress, even just a little, can help stave it off boredom and keep you motivated to train.
Final Word
With so much affordable equipment on the market today, it can be overwhelming to make a buying decision as you grow your home gym. But the key is taking action. There are certainly trade offs to each piece of equipment, and we acknowledge that it's highly unlikely you'll be able to purchase everything on this list. But whatever equipment you choose to buy, be sure to use it often, train with intensity and purpose, and iterate as you go.
FAQs
What's the best affordable gym equipment I can buy?
That really depends on your goals and where / what you'll be working out. You really can't beat a pull up bar, a kettlebell, a set of dumbbells and a jump rope to help you fire up the body from top to bottom.
Do I need a bunch of gym equipment to get fit?
Absolutely not. Our list isn't meant to be exhaustive either. Gym equipment can be affordable, and hopefully gets you training more often. Having even one implement that you really enjoy using while training should drive you to a wide variety of exercises, so don't think you need to go out and buy every piece of equipment on the market.
Is there any gym equipment I don't need to get?
There's always equipment out there that you don't need and won't use; however, it all depends heavily on your training. If you don't like to train cardio, don't buy a treadmill or a jump rope. If you want to train your core, it's probably best to invest in an ab-roller or similar implement that targets your midsection. Take your training into consideration and buy only what you need.