For many, ab rollers come with a love and hate relationship. On one hand, they're loved because they provide an awesome workout for the core and target multiple muscles all at once. Then on the other hand, they're hated because they're incredibly hard to do and can really tax the core. However, after all of the muscle soreness subsides, ab rollers can be considered a necessary evil for building a strong, resilient core.
The core is a lot more complex than what many give it credit for. For example, a lot of beginners think the core is just the rectus abdominis (abs), but it's actually the whole musculature of the torso. Ab rollers force you to move through a range of motion that requires multiple core muscles to engage and promote a strong neutral torso. They might appear simple in design, but not every ab roller is created equally. In this round-up, we dive into the best ab roller for multiple populations.
Editor's Pick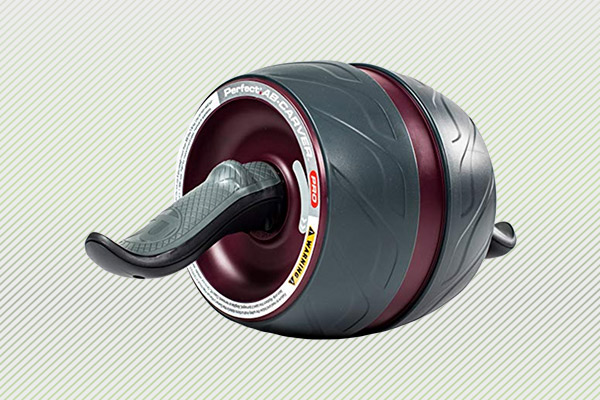 Perfect Fitness Ab Carver Pro Roller
Unlike normal ab rollers, the Perfect Fitness Ab Carver Pro Roller has a couple unique construction traits going for it. For starters, there's an internal spring that provides additional resistance if you want to make your workout harder. Additionally, the wheel is designed to be wider with ergonomic friendly handles for every level user. 
Perfect Fitness Ab Carver Pro Roller Pros
Wider wheel and ergonomic friendly handles are great for every level fitness enthusiast.
Internal spring provides additional resistance if desired. 
Roller comes with additional high-density foam knee pads. 
Perfect Fitness Ab Carver Pro Roller Cons
Not ideal for traveling. 
Slightly more expensive than simple, budget friendly options. 
Best for Everyone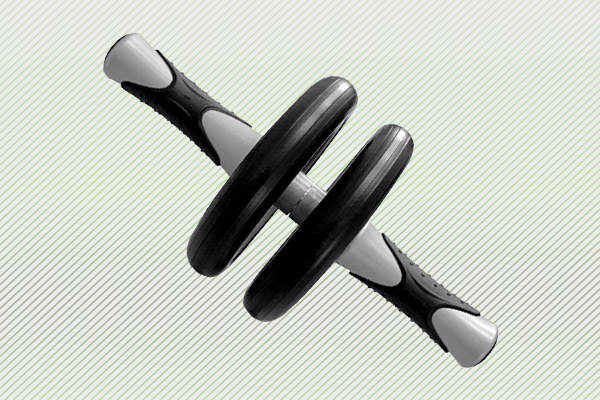 Elite Sportz Equipment Ab Wheel
The Elite Sportz Equipment Ab Wheel is a great option for every level fitness enthusiast. The 2 inch rubber grips all floors well, and the wheel is wide enough for beginners, but also slim enough to challenge advanced fitness enthusiasts. In addition, the 7 inch cushioned handles promote a strong grip, so there are never worries of missing reps due to grip failure or sliding. 
Elite Sportz Equipment Ab Wheel Pros
Durable and strong steel rod construction to prevent handle bending. 
Comfortable cushioned handles promote a strong grip. 
Two inch wheel that grips every surface area with ease. 
Elite Sportz Equipment Ab Wheel Cons
Grips may be slightly too soft for some users. 
Best Value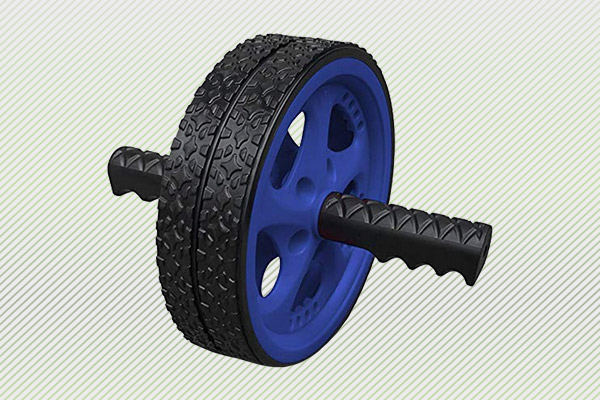 Valeo Ab Roller Wheel
The Valeo Ab Roller Wheel could be considered the gold standard, no frills ab roller. This roller has a strong and durable steel shaft to prevent bending and a textured wheel for gripping multiple surfaces. However, the star player of this ab roller is its cost efficient price. 
Valeo Ab Roller Wheel Pros
Two textured wheels to grip multiple surfaces. 
Handles designed to support grip longevity when performing multiple reps.
Cost efficient price. 
Valeo Ab Roller Wheel Cons
Handle may be slippery in humid and sweaty conditions. 
Wheel doesn't have a firm rubber tread. 
Best for Travel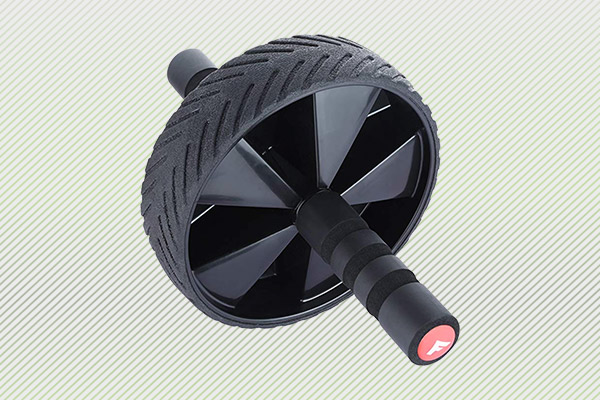 Fitnessery Ab Roller
Travel a lot? The Fitnessery Ab Roller is a great space efficient ab roller that you can bring virtually everywhere. With a maximal width of 11 inches, this is one of the smaller ab rollers on the market. However, besides the size, this roller is also incredibly durable and Fitnessery provides a lifetime money back guarantee for this roller. 
Fitnessery Ab Roller Pros
Travel efficient dimensions with a maximal width of 11 inches. 
Strong and durable steel shaft and textured wheel. 
Lifetime money back guarantee. 
Fitnessery Ab Roller Cons
Wheel isn't the best for consistent and smooth rolling. 
Methodology
Between every ab roller on the market, there are small nuances that make one better than the other. For this reason, we carefully curate our top picks by assessing two characteristics: Construction and performance.
Construction
The first characteristic we assess with ab rollers is their overall construction. More specifically, we look at three components that all need to be high quality to ensure durability and functionality for a roller and these include,
The summation of these three construction components can separate a great ab roller from one that will break down quickly.
For example, you want a shaft that is made of steel and designed to withstand continual stress to ensure there's no bending. Also, wheels should have a sturdy construction, outer texture for grip, and so forth. All of these tiny details factor in to our construction assessment.
Performance
The performance assessment of the ab roller helps us decide which populations would benefit most with the piece of equipment. From a macro view, all ab rollers will perform similarly, but tiny details make them better for certain populations. We've provided a couple examples below on what we look for with an ab roller's performance.
Textured Wheels: Great for every population and setting because there is less slippage on various surfaces, so you can use these wheels nearly everywhere.
Resistance Wheels: Ideal for advanced fitness enthusiasts that need a little extra resistance to work their core.
Larger Wheels: Best for beginners who are learning the movement and easing into the full range of motion.
These are only a few ways we assess the performance of every ab roller. Characteristics like these help us decide which populations will be best suited for certain rollers.
BarBend Tips
Q: I'm a beginner, what type of ab roller should I buy?
BarBend: We'd advise looking for a roller with cushioned handles, a wheel with rubber tread, and a wheel that is slightly larger. All of these construction components can be useful to help you ease into using ab rollers more often!
Q: Is an ab roller bad for the back?
BarBend: Every exercise when done incorrectly can come with inherent risk, and the ab roller is no different. We suggest performing rolls at your pace and judge your range of motion on your strength abilities. If you cannot achieve a full roll out right away, then go at your own pace and built strength accordingly! We have a guide on the ab rollout if you need more information.
Q: Can an ab roller get me a 6-pack?
BarBend: An ab roller, a balanced diet, and consistent workout plan can all help you achieve a 6-pack. Instead of thinking about one piece of equipment [ab roller] getting you to your 6-pack goals, think about the bigger picture and how the roller can be a tool to help you get there.
Wrapping Up
Ab rollers can be a great tool for building a strong and resilient core. Like every piece of equipment, it's always wise to assess what you want and need most with a roller, then compare that hierarchy to all of the options on the market.