Medicine balls are a fantastic dynamic training tool that can be used in nearly every style of workout. Whether you're a true beginner or a weathered gym rat, then more than likely medicine balls can find a way into your program somewhere. For beginners, medicine balls are awesome tools for developing movement mechanics, while advanced athletes can use them to develop power and improve conditioning.
There are multiple ways you can use medicine balls in workouts, and like their diverse uses, there are multiple types of medicine balls on the market. For example, there are firmer medicine balls that have a ton of bounce and are great for slams, then there are softer medicine balls that are useful for conditioning workouts and things like wall balls. In this round-up, we broke down our favorite medicine balls into multiple categories to help you make the best pick for your investment.
Best for Accessory Training
The lightweight option.
Pros:
Burst resistant for added safety.
Dual surface texture of course and marbled can offer a more sustainable grip.
On the more affordable end of the market.
Cons:
No weight options above 12 pounds.
May leave scuff marks on walls.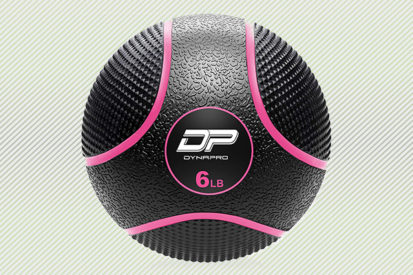 This medicine ball is made with durable rubber construction and range in five weight options from 4 to 12 pounds. It incorporates a dual surface texture to offer a better grip and is burst resistant.
Best for Interval Training
The anti-bounce option.
Pros:
Adjustable air capacity offers the user control of the feel of the ball.
Anti-bounce rubber shell can make for efficient slams.
Textured surface can offer a strong grip even when wet or sweaty.
Cons:
May lose shape over prolonged use.
May not be as durable as other competitive options.
Editor's Choice
For functional fitness training.
Pros:
Durable triple stitched outer construction. 
Great balance between firm and soft inner construction for multiple acitivities. 
Internal structure maintains shape and form with prolonged use. 
Cons:
Not ideal for slams. 
May lose structure over multiple years of slams and throws.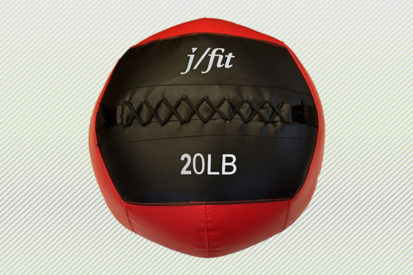 This wall ball has a triple stitched outer construction to promote long-term durability from throws, slams, and other exercises. The inside material is designed to be balanced and promote the ball's overall shape and structure, even with prolonged use. 
Best for Bouncing
The gold standard.
Pros:
Textured outer construction promotes grip, even when sweaty.
Firm outer construction promotes long-term durability. 
Great for slams and other impact-focused exercises. 
Cons:
Not the best for wall balls.
May be a little too hard for apartments and small living spaces. 
AmazonBasics Medicine Ball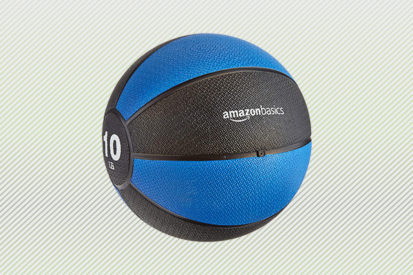 AmazonBasics Medicine Ball
This medicine ball has a firm textured outer construction to promote long-term durability and firm seams to prevent premature breakdown. The rubber material makes this medicine ball a great option for fitness enthusiasts that love to do medicine ball slams. 
Best for Slams
The long-term option.
Pros:
Firm outer rubber construction for long-term durability.
Textured outer layer for grip support. 
One year warranty for premature breakdown. 
Cons:
Not ideal for wall balls and bounce-focused exercises.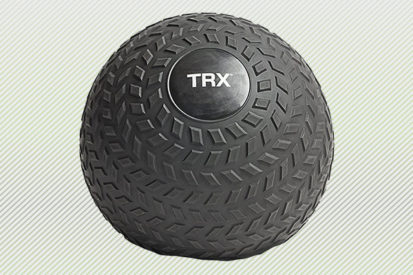 This slam ball is an awesome option for durability and performance. This ball can be slammed multiple times without fear of breakdown or rupturing.
How We Picked
Going with the rationale that every medicine ball isn't created equally, we selected our top picks with two main criteria in mind. First, we assessed the overall construction and build of the ball. Second, we looked at the ball's best uses and how one can excel with the implement in their gym.
Construction
A quality medicine ball can be a huge deal for commercial and home gyms. Why? Well, if you buy a poor quality medicine ball and it breaks open and the insides spew all over the floor, then that is going to be a huge mess to clean up.
Quality medicine balls that should stand the test of time all have three major construction traits in common including:
Solid outer construction.
Durable seams and plugs.
Firm interior build.
Strong outer construction is a must for athletes that want to slam their medicine balls and throw them for power-based activities. On top of the outer construction itself, durable seams are useful for preventing premature breakdown and material leakage from the inside.
A firm interior is great for ensuring medicine balls maintain their overall structure when being used in multiple activities. After all, lopsided medicine ball is not exactly ideal for supporting performance.
Best Uses
On top of a medicine ball's construction, we also consider how it can be used to the best of its abilities. Medicine balls can be filled with sand, air, or other materials designed to decrease impact. All three of these factors will warrant the medicine ball's performance to be different across the board.
Sand Filled Medicine Balls: Great for no bounce slams, static and dynamic lifting, and carrying.
Air Filled Medicine Balls: Great for slams and power-based activities such as overhead throws.
Soft Medicine Balls: Great for wall balls, carrying, dynamic workouts, and overhead throwing.
When it comes to best uses, none of the above medicine balls top their counterparts when it comes to what's best overall. The best way to consider these characteristics are to scale them to your activities. If you consider what type of workouts you perform the most, then you can make an educated decision accordingly.
FAQ
Q: I'm new to medicine ball training, is one ball better for me than another?
BarBend: There really isn't an "ideal" ball for beginners, as every medicine ball can benefit a beginner. However, softer medicine balls can be useful for beginners due to their multi-functionality.
Q: I work out in my home, should I get one medicine ball over another?
BarBend: Yes, we'd say go with a sand-based or soft medicine ball. These balls can help limit impact if dropped, so you won't have to worry too much about damaging floors. Although, if you go sand, be mindful of potential leaks that could cause a mess!
Q: What weight medicine ball is best?
BarBend: That depends fully on how you intend to use the medicine ball and on your overall fitness/strength levels. Generally, 8-12 lb medicine balls will be the most used by beginners, intermediate, and advanced athletes alike. If you only want one ball and want to use it for multiple activities, then those weight can be great starting points.
Wrapping Up
Medicine balls are one of the best dynamic training tools you can use to increase your overall fitness. Medicine balls are great for conditioning and training strength and power. Not every medicine ball is created equal, so take your time to do the research needed to make your best educated investment.