Exercise and stability balls offer a lot of benefits. They can help correct posture, improve balance, or better target stabilizer muscles during a workout. Sitting on an exercise ball can compel an athlete to engage their core in order to maintain a neutral spine as well as offer some flexibility when sitting to help prevent hips getting too tight. All in all, exercise and stability balls are great tools for both active exercise and passive activities.
They come in many sizes, sometimes in a variety of colors and textures, and can even function as a replacement office chair. So let's roll out and find the best exercise ball for you.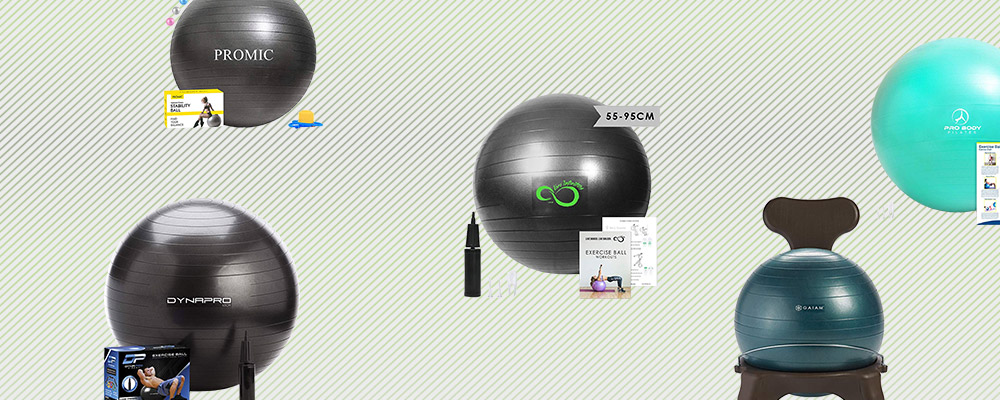 Editor's Pick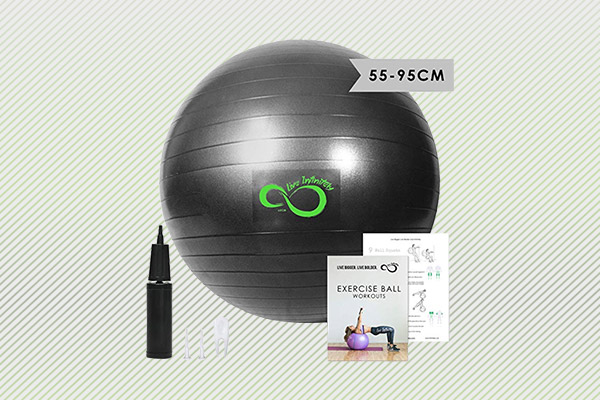 Live Infinitely Exercise Ball
Pros:
3lbs of rubber used is more than most competitors.

Ten different color options.

Able to withstand cuts up to 2cm without bursting.
Cons:
If air pressure is not consistently maintained, it will take on an egg shape.

Not as stiff as some other options on the market.
Live Infinitely Exercise Ball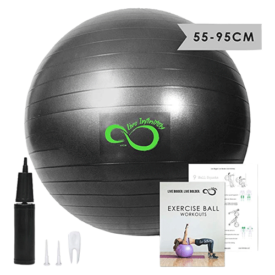 Live Infinitely Exercise Ball
Live Infinitely's Exercise Balls range from 55cm to 95cm and include a hand-pump, two air plugs, a valve remover, and access to a workout guide. Each ball is made from a professional grade PVC material with non-slip ridges.
Contender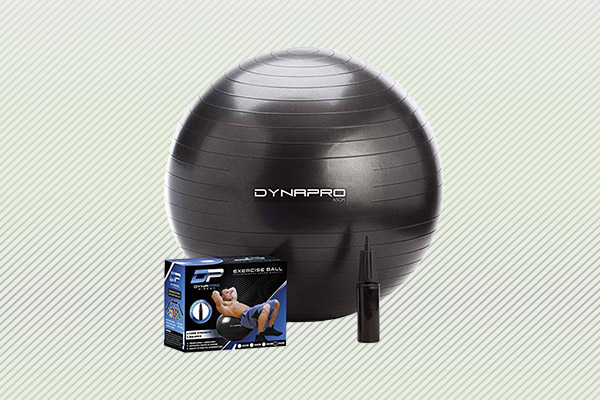 DYNAPRO Exercise Ball
Pros:
1,877 micrometers of thickness is more than most other options.

Seven different color options.

Easy to inflate and maintain.
Cons:
Requires time to expand to full size after initially inflated.

Instruction manual is difficult to follow.
DYNAPRO's Exercise Ball is non-slip and comes in four different sizes from 45cm to 75cm. It has a PVC casing with a ribbed texture to prevent slips and can support up to 2,000lbs of pressure without bursting.  
Best for Yoga/Pilates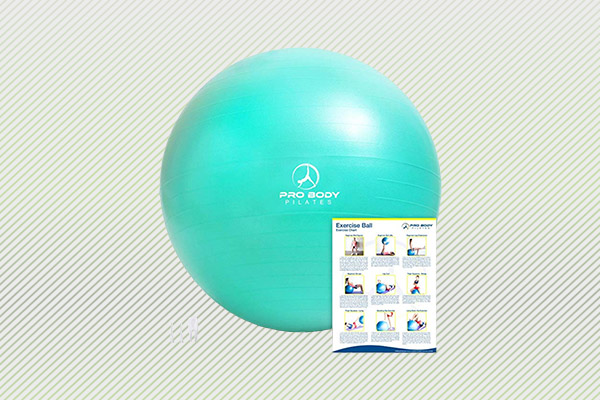 ProBody Pilates Exercise Ball
Pros:
Made of a low odor material.

Less expensive options that do not include a pump for those who already own one.

The larger options are designed to aid pregnant women.

Eleven different color options.
Cons:
Only able to support 600lbs is less than many other options.

Does not include an instruction manual for inflation.
ProBody Pilates Exercise Ball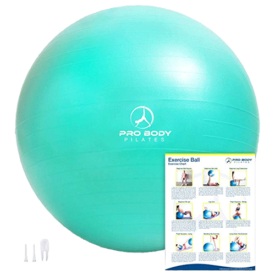 ProBody Pilates Exercise Ball
The ProBody Pilates Exercise Ball is made of non-rubber PVC and can support up to 600lbs. It includes access to a training manual with a variety of exercises and is intended for more athletic uses such as yoga and pilates.
Best Chair Substitute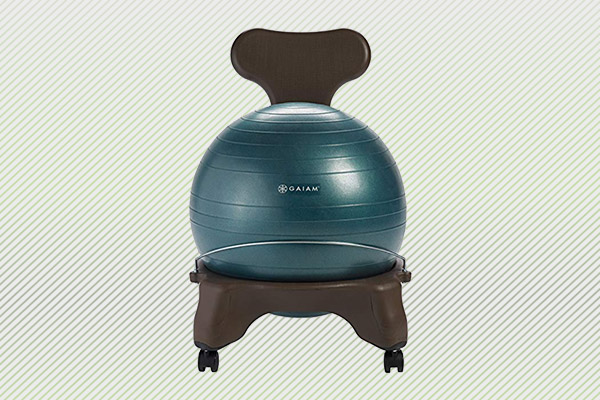 Gaiam Classic Balance Ball Chair
Pros:
The added chair back might make this a better option for people with tighter hips.

The chair has four casters for easier mobility.

Two of the four caster wheels are lockable for steady sitting at the office.
Cons:
More expensive than normal exercise ball options.

Not compatible for people shorter than 5ft or taller than 6ft.
Gaiam Classic Balance Ball Chair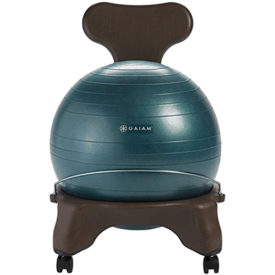 Gaiam Classic Balance Ball Chair
The Gaiam Classic Balance Ball Chair replaces the seat with an exercise ball for use in classrooms and offices. The back of the chair stand 2.5ft tall and can support up to 300lbs. The weight of the chair is 13lbs and the 52cm exercise ball is removable.
Best for Beginners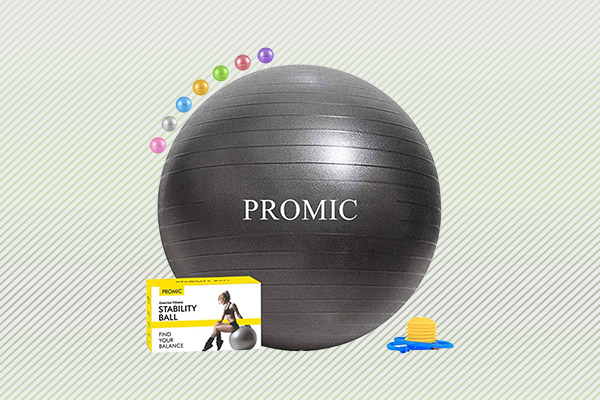 PROMIC Exercise Ball
Pros:
Includes a foot pump for easy inflation.

More affordable than most options on the market.

Can withstand cuts up to 2cm without bursting.
Cons:
Instructions for the foot pump can be confusing.

The texture of the surface feels is reminiscent of a balloon and may feel sticky on skin.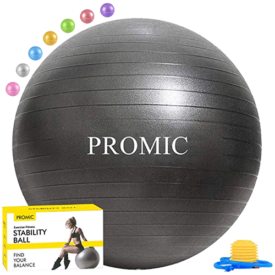 The PROMIC Exercise Ball is made of anti-burst and slip resistant material that has a light ribbing on its surface. There are eight different color options and sizes ranging from 45cm to 75 cm. Each ball is able to support up to 1,100lbs.
Methodology
Firmness
The firmness of an exercise ball is a reasonable way to assess its compatibility with a given athlete. The firmer that exercise ball the more it is likely better fitted for an advanced athlete; a softer exercise ball is likely better for beginners. A firmer exercise ball will demand more tension in your core to stabilize.
Firmness can also be informative of comfort level. A softer ball may be more comfortable for people who intend to sit on it for extended hours. Most exercise balls' firmness can be adjusted via deflation but that might increase the potential for bursts or tears.
Maintenance
Maintenance mostly comes down to two major factors. How often does the exercise ball need to be cleaned? How often will the ball need air? For the former question, some exercise balls are made from material that prevents odor. The balls that don't have a higher potential to smell and require cleaning more routinely.
The frequency of inflation will be influenced by how often the exercise ball is used and the manner with which it is used in. Long bouts of time of constant pressure on the ball will lead to more consistent upkeep. For those who intend to use the exercise ball as an office chair, scout out the options that focus on that.
Texture
Some exercise balls will be smooth while others may have a texture or ribbing. The ribbing is intended to prevent slips for those who are using the exercise ball on surfaces that could lead to slipping such as hardwood or tile. For athletes that plan to use their exercise ball on carpet or rubber, having any kind of additional texture may not be necessary.
Wrapping Up
If you're an athlete looking for passive ways to improve your posture and learn to better engage your core, it might be worthwhile to replace the chair you spend the most time in with an exercise ball.