We receive free products and receive commissions through our links. See
disclosures page
.
Energy gels or endurance gels, these pre-packaged and gooey snacks can give a quick fix when energy is lacking and a long race or ride is ahead. When looking for the best energy gels on the market, it's important to keep in mind the accessibility of the packaging and the nutritional breakdown. Often energy gels are made up of mostly simple sugars, which is the easiest source of fuel during exercise. The best energy gels should be easy to consume on the go, and packed with carbohydrates and electrolytes.
We've looked at the top gels on the web and picked five of the best with taste, accessibility, and nutrient breakdown in mind. Now that we're all properly energized, here are our best picks: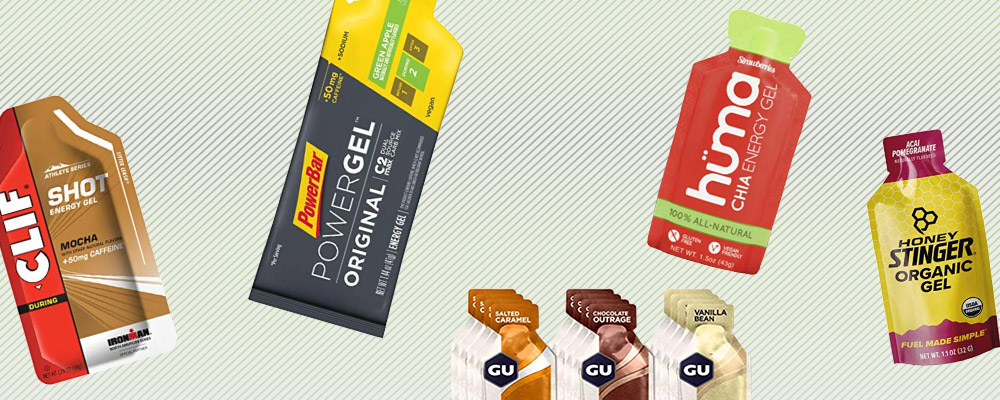 Editor's Choice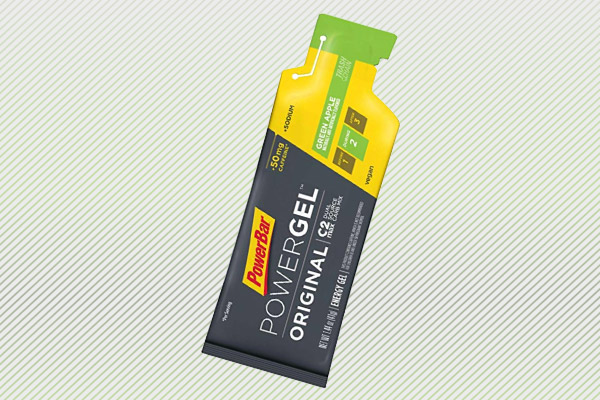 PowerBar PowerGel Original
In a PowerBar PowerGel single-serving gel pack, get ready to be refueled with tangy green apple flavoring, 26 grams of carbs, and a 2:1 glucose to fructose ratio. This energy gel is gluten free and vegan, and is easy to grab and consume on the go.
Pros:
Fuel. These gels are packed with 26 grams of carbohydrates, which means these are the perfect grab and go energy source during long and grueling workouts.

Brand. PowerBar is a familiar and popular brand in the energy bar space, so there's comfort in knowing this company knows a thing or two about energy products.

Taste. The green apple flavor is especially popular. It's sweet, sour, and has just enough tang to feel like a real boost of energy was coming through.
Cons:
Variety. This pack comes with 24 gels all in the green apple flavoring, so make sure that this is a preferred flavor before purchasing. 

Price. This pack is a bit higher than other, similar products, however for 24 gels that are packed with top energy sources, we expected a price tag around this range.
PowerBar PowerGel Original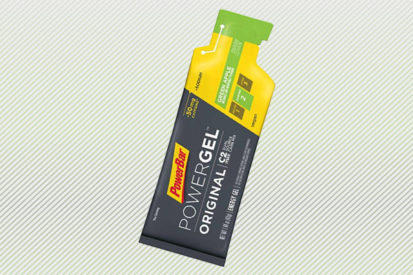 PowerBar PowerGel Original
The PowerBar PowerGel energy gel packs 26 grams of carbohydrates and is a tasty, gluten free and vegan option to grab on the go. 
Best Flavor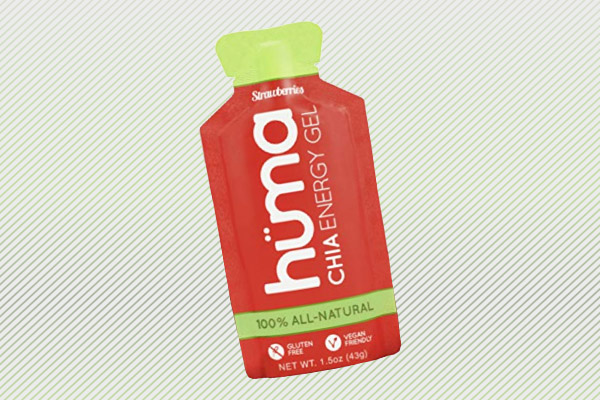 Huma Chia Energy Gel, Variety Pack (12 Gels)
Real fruit, real chia seeds, the Huma Chia Energy Gel is tasty, easy enough to consume on the run, and also comes in a variety of flavor options from fruity to rich and indulgent chocolate. The variety pack also comes with some caffeinated options, and all of them are no-fuss to eat and easily spreadable if consuming as a jam is desired.
Pros: 
Taste. Actually made from fruit, these gels stand out with their real food ingredients. They come in a wide variety of flavors, but all include chia seeds. 

Uniqueness. These gels stand out because of the added ingredient of chia seeds, which isn't common in other energy gel products. 

Appearance. The packaging is sleek, colorful, and unique. The font and labeling is memorable, and the decision to make the top and body of the pouch different colors is different than others we've seen on the market.
Cons:
Ingredients. Since chia seeds are one of the staple ingredients in this gel, be aware that the consistency of them is a personal preference. That being said, they have been finely milled.

Price. The price seriously spikes from a 12-count pack to a 24-pack, so this is something to consider when determining how many gels to purchase.
Huma Chia Energy Gel, Variety Pack (12 Gels)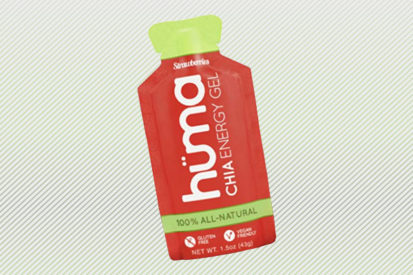 Huma Chia Energy Gel, Variety Pack (12 Gels)
Huma Chia Energy Gels are made with real fruit, real chia seeds, and are tasty and easy to consume on the run.
Best Design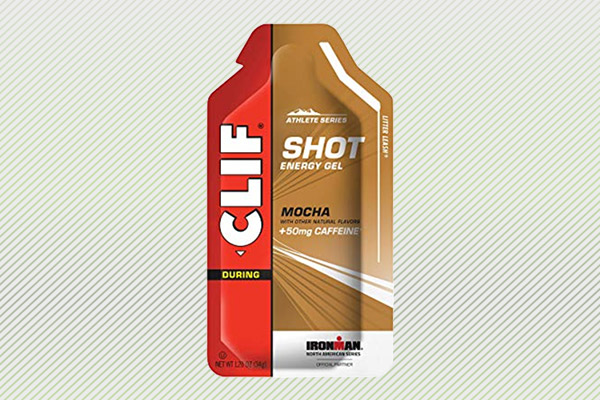 CLIF SHOT – Energy Gel (Mocha Flavor)
In the performance and snacking world, CLIF is a popular player, and the energy gels are an easy way to get a quick fuel-up that also tastes good. The mocha flavoring is different than others on the market that typically go the fruity route, but it isn't too sweet, includes caffeine, and is affordable. 
Pros:
Use. These are designed with an easily tearable top to rip off by hand or teeth, making it ideal for an energy fix on the run.

Taste. These gels stood out from the others with their mocha flavoring. When looking for a satisfying taste that isn't overly sweet and furthest from fruity, this gel is a good move.

Customizable. These gels come in four different caffeine levels ranging from 0-100 mg, and it allows the buyer to choose based on caffeine preference. 
Cons:
Flavor. These gels are only offered in three flavors: mocha, chocolate, and chocolate cherry. 

Price. The price varies depending on the flavor, with mocha being the cheapest, followed by chocolate and chocolate cherry. 
CLIF SHOT - Energy Gel (Mocha Flavor)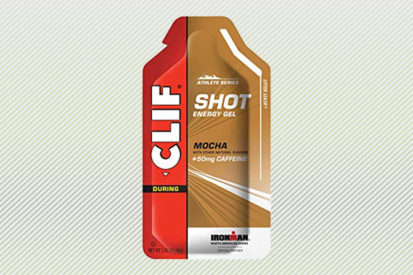 CLIF SHOT - Energy Gel (Mocha Flavor)
CLIF Shot Energy Gel is easy to eat, has a unique flavor, and is an affordable quick energy option.
Best Variety
GU Energy Original Sports Nutrition Energy Gel (24 Gels)
GU Energy Original Sports Nutrition Energy Gel stands out because of the wide variety of fruity and indulgent flavors. There are 22 flavor options, and the bundles all give the buyer the freedom to choose based on preference. These gels are easy to eat, no-fuss to pack, and also taste good. 
Pros:
Variety. There are assorted flavors, fruity flavors, and indulgent flavors. The bundles allow for some freedom in choosing based on flavor preference.

Use. These gels are easily tearable on the go, and are pocket size which is ideal for keeping on hand during long workouts. 

Taste. One of our favorites when it comes to variety of flavors and good taste. Whether it's a sweet craving, or something salty, GU has it all. 
Cons:
Carbs. On the scale of carbohydrates in gels, these ones are on the lower end with 20-23 grams depending on flavor. 

Shipping. These items can currently only be shipped in the United States.
GU Energy Original Sports Nutrition Energy Gel (24 Gels)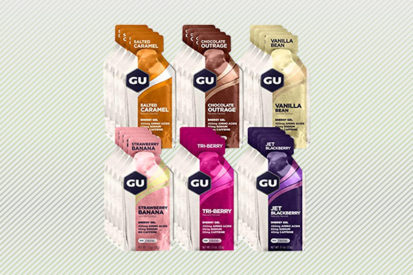 GU Energy Original Sports Nutrition Energy Gel (24 Gels)
The GU Energy Original Sports Nutrition Energy Gel stands out because of its wide variety of both fruity and indulgent flavors.
Best Price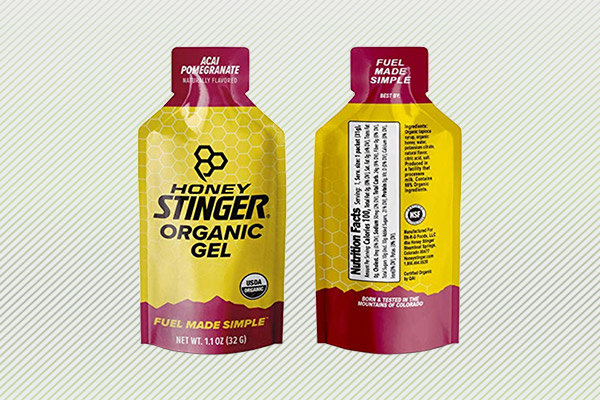 Honey Stinger Organic Energy Gels (Variety Pack)
Being a busy bee just got a lot easier thanks to the Honey Stinger Organic Energy Gels. These gels come in bundles of 2, 4, and 8, and are offered in four different flavors. These gels are easy to consume, and also are good to spread over toast with a jam-like consistency. For an added caffeine boost, the chocolate flavor is made with 32 milligrams of caffeine. 
Pros:
Design. The packaging of these play into the name, "honey stinger" and have a creative beehive graphic on them which stands out from the other more basic energy gel designs on the market. 

Price. These gels come in packs of 2, 4, and 8, and in different flavors and price tags. The 8-pack we found to be a good steal for a variety pack and enough gels to power through a long stretch of workouts.

Transparency. Some of the flavors do have caffeine, and they are very clearly labeled if they have caffeine. We found this refreshing, since it isn't always so obvious which gels have caffeine and how many milligrams.
Cons:
Taste. The variety pack includes different flavors like strawberry kiwi, chocolate, acai pomegranate, and fruit smoothie. While acai pomegranate was divine, we weren't as fond of the strawberry kiwi. This is a preference thing, but something to be mindful of when purchasing a variety pack.

Production. This product was made in a facility that processes milk, so if there are any allergies or intolerances around milk this is something to be aware of from a cross contamination standpoint. 
Honey Stinger Organic Energy Gels (Variety Pack)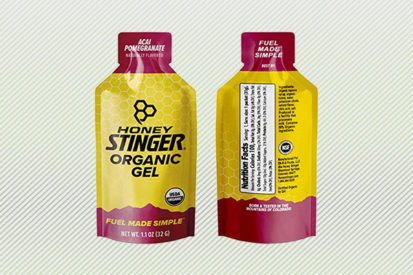 Honey Stinger Organic Energy Gels (Variety Pack)
The Honey Stinger Organic Energy Gels (Variety Pack) include a pack of eight gels that are easy to consume on the go, and make for a nice spreadable jam.
How We Picked
With so many performance enhancing snacks and products on the market, we paid close attention to taste, consistency, design, and value when selecting our favorite energy gels. Energy gels should be a quick fix during a long workout, and shouldn't require any fuss that could get in the way of tackling any fitness goals. We considered several factors when picking our favorites, but also looked for energy gels that include both glucose and fructose, aka sources of carbohydrates.It's also worth noting that what works best for us, may not be the right fit or gel for you, so please keep this in mind when we go over our methodology.
Access. Energy gels typically come in a single-serving and squeezable pouch. They are made to be slurped down on the go and don't always require stopping to consume. Often times cyclists and runners actually consume them while in motion. We picked energy gels that squeeze easily and are not difficult to open when on the move.
Variety. There are so many options when it comes to flavoring of energy gels, so we considered anything from fruity to mocha flavors. This is typically a preference thing, so we chose products that come in all types of flavors to give a diverse range of options.
Energy. Since getting a quick fix of energy is the point here, we also carefully looked at the ingredients in these gels. We looked at the amount of carbohydrates, electrolytes, and caffeine in these single serving pouches to choose the best gels for performance.
Price. Energy gels are typically sold in bundles on the internet so we looked at packages that included 24 pouches, 12, and 8, and considered the best price in relation to number of single-serving gels included.
Facts and Nutritional Breakdown
Energy gels were designed to replenish your body with carbohydrates. Energy gels are most commonly used by marathon runners who burn through fat and carbohydrates during long runs and need a quick burst of simple sugars to spike energy levels. Here are a few facts to keep in mind when buying energy gels.
Carbohydrates. Energy gels can range from 20-26 grams of carbohydrates per gel. We looked at gels as low as 20 grams and as high as 26 grams of carbs per serving.
Electrolytes. Electrolytes are a staple to look for in these gels, as electrolytes are good for replacing lost minerals during workouts.
Caffeine. Caffeine is another ingredient found in some, but not all energy gels. Caffeine is good for vamping up the delivery of energy, but isn't always necessary depending on the athlete. According to Runner's World, it is recommended amount of caffeine is 3 to 6 mg per kilogram of body weight during an activity.
Calories. All of the gels we reviewed were no more than 100 calories.
Protein. Don't expect any of these gels to be a good protein source. These aren't packed with any or possibly just 1 gram of protein per serving.
BarBend Tips
At BarBend, we're always looking for an easy source of energy to grab on the go. Energy gels are an ideal product for long workouts, or to recommend to endurance athletes we work with. When looking to buy energy gels, here are a few things to keep in mind.
Purpose. Energy gels are typically designed for endurance workouts, so be mindful of the duration of your workouts and how much energy you are actually using. Each pack has a different recommended use and details around when to take the gel, so be sure to pay attention to the labeling.
Access. Make sure the gel is easy to tear either with your hands or teeth. These are designed to be consumed on the go, so make sure it's a simple, no-fuss process that won't slow down any workout.
Price. Definitely be aware of how many gels are included in the package. The prices can shift pretty significantly depending on the number of gels, and if you don't plan on using more than one or two every so often it may not be worth investing in a 24-pack.
Functionality. Tap into what your body feels like after taking these gels. The purpose of them is to replenish and offer quick burst of energy, so it's important to listen to your body and see how it reacts. Try out different brands, ones with caffeine and ones without, and figure out what works.
Labels. Don't be afraid to really read the nutrition labels and be picky. Some gels are higher in sugar than others, and some are organic, while others are not. Take into account all of these things and choose which one fits into your nutritional needs.
Wrapping Up
Now that we've squeezed, consumed, and went over five of our favorite energy gels on the internet, the time has come to wrap things up. We hope that our selections and reviews have eased up the energy gel shopping process for you. And now it is up to you to grab one, tear off the top, squeeze it, and go!