More than just an offseason training tool for the crew team, rowing machines offer a full-body cardio workout for all types of athletes. As doctors and gym teachers have noted for ages, regular cardiovascular exercise is an important part of any fitness regimen. Among the many benefits are increased stamina and improved heart health. A rowing workout can be a great supplement or substitute for some of the more commonly used cardio machines you'll find at the local gym.
Designed to replicate the motion of rowing a boat through the water, rowing machines engage your whole body. While they may take a bit of getting used to for some landlubbers, the workout itself can be very effective. Having a machine in your home gym may make it easier to meet your fitness goals on a weekly basis. However, with so many rowing machines on the market, you've got to know what to look for in determining which is best for your needs.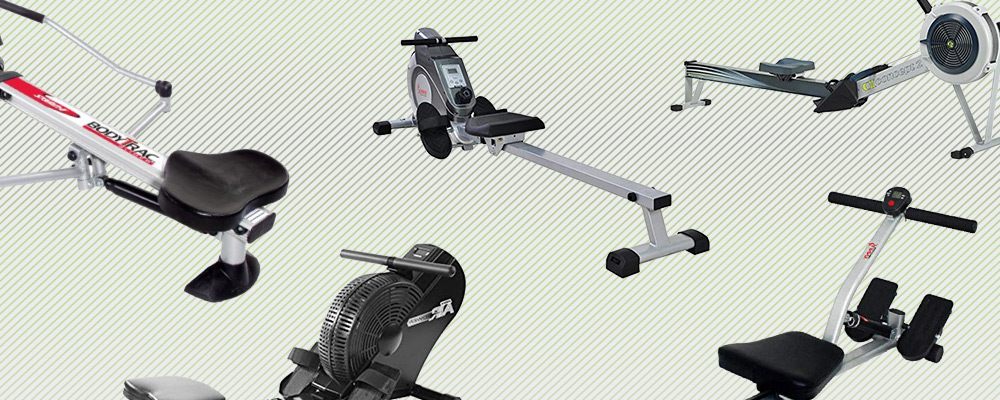 Editors' Choice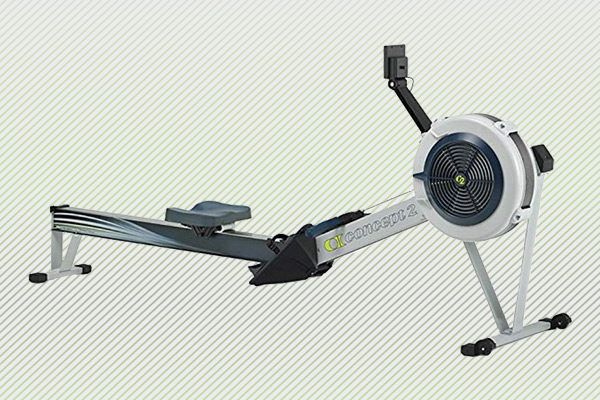 Concept2 Indoor Rowing Machine
Pros:
An easy-to-navigate display tracks every stroke and offers a variety of preset workouts and games to let you vary your workout. 

The air-resistance flywheel has 10 resistance settings, enabling you to switch up the intensity of your workout. 

Designed for  easy set up with only 8 screws needed. This machine also includes limited 2 and 5 year warranties.

The machine sits 14 inches off the ground and includes adjustable footrests.

Includes bluetooth compatibility to allow you to sync up with third-party apps or heart-rate monitoring devices. 
Cons:
You're paying for higher quality, as this machine is at the higher end of our list's price range.

Though it does separate into two pieces for storage, its storage size is still a bit cumbersome, taking up a space of 25 in. x 33 in. 
Contender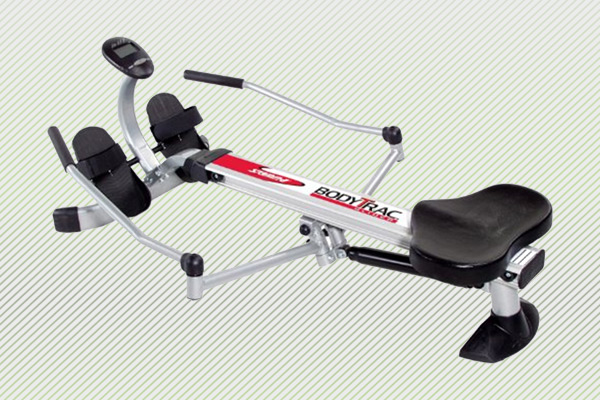 Stamina Body Trac Rowing Machine
Pros:
Rather than a handle attached to a chain found on most models, this machine stands out for the unique "oars" that offer a fuller range of motion for your arms. 

The foldable arms make this a very compact rowing machine, which may be important if your home gym is short on space (or if your home gym is really just your living room).

Equipped with an LCD display that records workout time, stroke count, calories burned and total strokes accumulated, making it easy to track your workouts and your progress.

The hydraulic cylinder system lets you work out at 12 different levels of resistance, allowing you to keep track of your progress and improvement.
Cons:
Though the foot pedals include straps designed to keep your feet in place, some folks complain that they are not sturdy enough.
Best Magnetic Resistance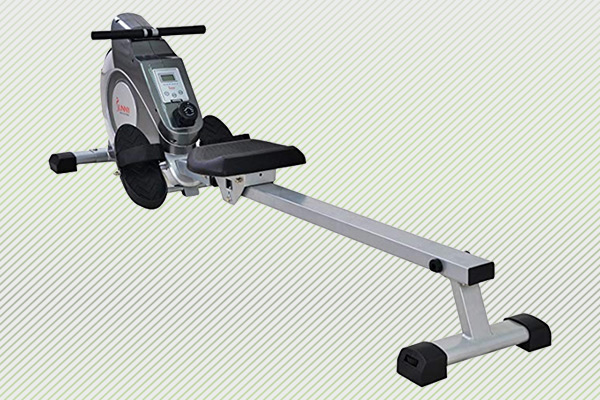 Sunny Health and Fitness Magnetic Rowing Machine
Pros:
A large LCD display shows time, stroke count, calories and the total stroke count, allowing you to easily keep track of your workouts, which is not to say your workouts will be easy. 

Built-in transportation wheels make it very easy to roll this machine away at the end of a workout.

The magnetic resistance makes for relatively quiet operation while providing 8 levels of resistance.
Cons:
A lot of folks reported that the foot straps were not very effective, and became worn out pretty quickly. 

Though this machine may work well for the moderate user, a more advanced athlete may notice it wear out within a few months. 
Value Fan Resistance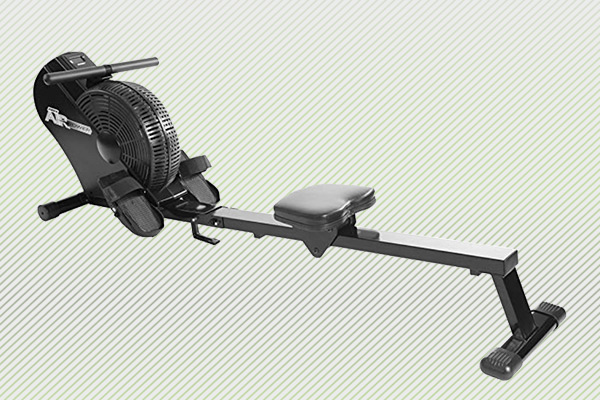 Stamina ATS Air Rower
Pros:
Designed with an air resistance system that is meant to match resistance with the level of output you expend.

The Stamina Air Rower comes with an LCD monitor that displays speed, distance, time and calories burned.

This is designed to be folded up and stored away in a relatively compact fashion. 

A 1 year warranty for parts and a 3 year warranty for the the frame gives you some peace of mind that the machine's pieces will work properly. 
Cons:
A number of folks have mentioned that the seat is rather uncomfortable. 

With a weight capacity of 250 lbs, this machine may not be right for everyone. 
Best Value
Sunny Health and Fitness Machine Rower
Pros:
Sunny's Machine Rower includes 12 levels of adjustable resistance, allowing you to modify your workout as you grow accustomed to rowing. 

A built-in electric monitor displays time, stroke count, calories burned.

The hydraulic resistance system makes for a very quiet operation, making this ideal for folks who want to work out while watching television, listening to a podcast, or just not annoying your neighbors. 

One of the most affordable items on our list, the Machine Rower is very competitively priced.
Cons:
Due to its slight design, this rower is only built to support users up to 220 lbs.

Though it is small and lightweight, it's not foldable, which may not make it ideal for a smaller space.
Methodology
Rowing machines are great for full-body cardiovascular workouts and can serve as an excellent alternative to the treadmill, exercise bike, or elliptical. As these machines have gained popularity in recent years, more and more companies have started producing them. Before choosing a rowing machine for your home gym, it's important to take into account a few distinguishing features.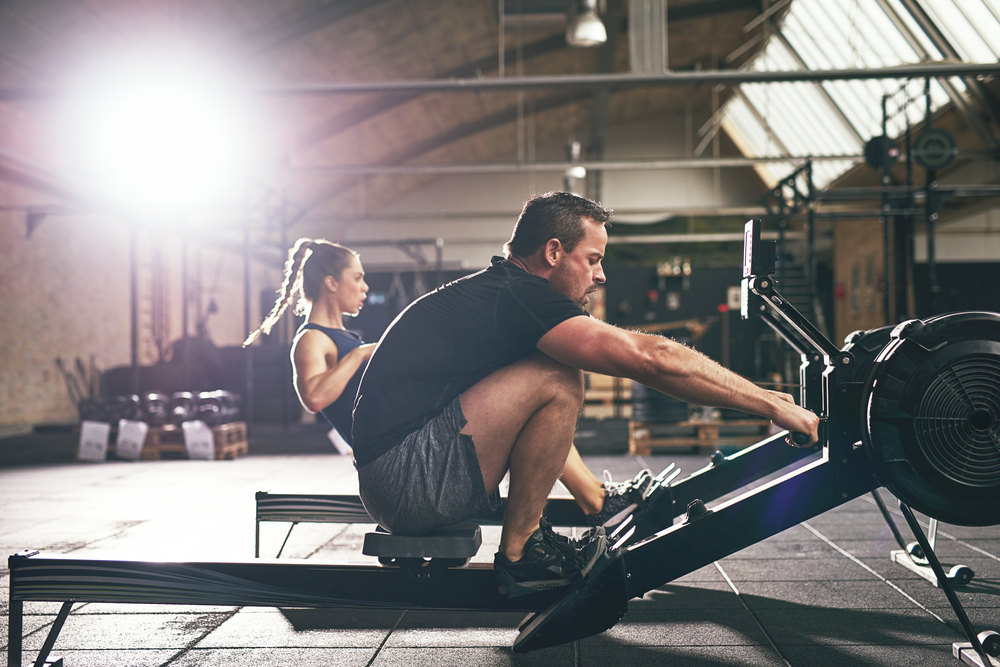 Portability
How much space, or lack thereof, you have available in your home gym may play a huge factor in selecting a rower. Pay attention to the dimensions listed – both when the machine is in use, and when folded up, if applicable – and plan accordingly.
Resistance Type
The main types of resistance available are air, hydraulic, magnetic and water. While air resistance is probably the most popular, other options – particularly hydraulic and magnetic – may prove to be quieter. If possible, try to test out the different types to get a sense for the different style of movement. Pay attention to how smoothly the seat moves, and how the resistance changes based on how much energy you exert.
Display Screen
Most rowers will track basic stats on your workout, including stroke count, time, and distance. More advanced models include built-in workout plans and even games, which may help some folks stay in the boat for longer.
Price
As with any piece of gym equipment, you'll want to buy something that fits within your budget. Try to plan out when and how frequently you'd use a rowing machine; if it's already part of your daily fitness regimen when you go to the gym, it may be worth investing in a more professional-grade model.
Weight Capacity
Not all rowing machines are created equally in terms of weight. Some of the smaller models are not equipped to hold folks over a certain threshold.
BarBend Tips
Before you drop a fortune on a top-of-the-line rowing machine, try one out at the local gym.

Depending on your physical abilities, balance, or knee joints, rowing may not be the ideal exercise for you.
Rowing workouts provide a great full-body cardiovascular exercise for a lot of folks. If you're looking to purchase one for your home, take into account the differences between the models on the market.