The Concept 2 was the first air rower that was created for indoor use, setting the standard for indoor rowers to come. It's one of the more basic rowing machine options out there as many companies have built in more technological features off of the Concept 2's base build, but it's one of the most popular rowers you'll find. You will probably see it in most gyms, and the majority of professional rowers work with the Concept 2. Of course, you'll find most of them referring to it as an "erg" (or ergometer) rather than a rower or rowing machine.
Main Takeaways
The Concept 2 can handle users who weigh up to 500 pounds.

This rower is the same rower some Olympic and CrossFit athletes use for everyday training purposes. 

The Bluetooth connectivity will allow you to transfer your stats to your mobile device for easier viewing post-workout.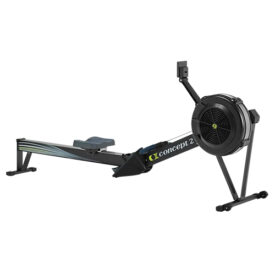 The Concept2 is one of the most tried and true rowers on the market. The "erg" (as it's commonly known) provides a double-dose of conditioning and muscular endurance, and is equipped with Bluetooth connectivity and a nifty monitor to track meters rowed and calories burned. 
Concept 2 Rower Highlights​
The highlight of this machine is definitely its durability — it's used by professionals everyday, so you know it will be able to withstand any workout you throw its way. It's great for heavier users, but it does come with a fairly narrow seat. The Concept 2 is an air resistance rower, so it's going to be loud, but if that's not something that bothers you, it will make a great addition to any home gym.
Who Should Buy the Concept 2
Heavier users looking for a machine that can handle up to 500 pounds.
Consistent trainers who need a machine to withstand lots of daily usage.
Athletes who don't want to be distracted by technological frills.
Who Shouldn't Buy the Concept 2
Users who don't want to use a loud machine for at-home workouts.
Rowers who need a wider seat — this one is pretty narrow.
Anyone who doesn't want to deal with the noise and floppiness of a chain belt.
Price​
The Concept 2 goes for $900, which is a little bit above average. With this machine, you're paying for the reliable build and a piece of equipment revered amongst amature and professional athletes alike, but you won't get any sort of advanced technology for the price.
Overall Build and Quality​
This is a commercial grade rower with aluminum front legs and steel rear legs. Its aluminum monorail and stainless steel track are built to withstand consistent daily use. Outside of its durable build, you'll find all of the basic stat-tracking and workout options you need to increase your strength and endurance, but you won't find any sort of high tech add-ons here.
Features​
If you're looking for a streamlined, reliable rower, then the Concept 2 is a great rowing machine. While you'll have all the basics you need here, outside of stat-tracking, a small display screen, a few included workouts and decent comfort levels, you won't find much else as far as technology goes. This machine does have Bluetooth connectivity though, so you will be able to incorporate fitness trackers like Garmin into your routine.
Stats Tracking and Metrics​
The Concept 2 rower syncs with the Concept 2 ErgData app to track your distance, speed, pace, calories burned and watts, all of which appear on the display screen.
Display​
The display illuminates as soon as you take your first stroke. You'll then be prompted to choose Just Row, Select Workout, Connect, Memory or More Options before you start rowing. Once you select, you'll see your distance, speed, stroke rate (pace), calories burned and watts all on-screen.
Included workouts​
This "erg" has five pre-programmed workouts, which include single distance, single time, intervals for distance, intervals for time and variable intervals. You can also choose from four games — fish game, darts, target training, racing and biathlon.
Workout Apps, Compatibility​ and Subscription Options
This machine doesn't come with any app compatibility, but you can sync your Concept 2 with your phone via Bluetooth and upload your stats to the ErgData app.
Feel
The "erg" has an aluminum I-beam monorail and stainless steel track that creates a smooth drive and recovery. It does have a chain belt though, and if your technique isn't pristine, you'll find the chain bounces on the way in.
Ergonomics and Comfort
The adjustable foot pedals allow for pretty much all foot sizes, but they don't pivot like some more advanced rowers' do. There are contoured areas for your legs and tail bone on the seat, so it's pretty comfortable for users under 300 pounds. However, we recommend that heavier users opt to swap the seat out for a larger size.
Heart Rate Monitoring​
You can sync a heart rate chest strap monitor via Bluetooth and the Concept2 will display that data on screen for you — it's compatible with ANT+, Garmin and Suunto devices.
Product Specs​
The Concept2 is surprisingly lightweight and weighs 57 pounds, but it's a durable and reliable piece of equipment. Its stainless steel track can withstand daily use and its high weight capacity will accommodate pretty much any user. On top of that, you can also fold it up and store it away when it's not in use, saving you ample floor space.
Rower Type
This is an air rower, so the flywheel will generate a lot of noise. Air rowers are the most common, but if you want something quieter, you'll want to opt for a magnetic resistance rower.
Track Length
The track length is 54″ leaving loads of room for rowers of all heights to complete their drive without stopping short.
Weight Capacity​
The weight capacity is 500 pounds, which is both the average and pretty high.
Folding Options and Dimensions
When in use, the Concept 2 is 96" x 24" x 14". This machine folds in half, and you can position it vertically to save floor space. You can also break it down into two segments fairly easily if you really want to store it away.
Max Resistance​
There are 10 levels of resistance on this rowing machine that you can adjust with a damper on the flywheel. This is the average as far as resistance goes. If you're looking to build muscle, set your resistance within the 7-10 range, and if you want to work on your endurance, the 3-5 range should do the trick.
Electrical Requirements
This machine is powered by rowing motion and two D cell batteries, so no need for an outlet here.
Warranties​
With your purchase, you'll get five years of coverage on the frame and 2 years on moving parts and the console.
Noise
This is an air rower, so it's definitely going to be noisy. It does have a "Quiet Cog" system that reduces the sound by damping the chain noise, but regardless, the flywheel is still going to generate a pretty loud whirr. If you're looking to stay quiet, magnetic resistance rowers are a better option for you.
Places to Buy
You can buy the Concept 2 through Concept 2 and Rogue Fitness.
Company Information​
Concept 2 started in 1976 when two Olympic rowers decided to make their own oars. Six years later they built the first indoor rower, which not only became the best-selling rower in the world, but it set the standard for all future indoor rowers to come. Olympic athletes still favor it today, and the company has grown to manufacture Skiergs and Bikeergs as well.
FAQs
Is the Concept 2 Rower good for home use?
It depends on how quiet you want to be. If you're living alone and don't care about noise, it's a fine option. However, if you are living with others and are looking to keep your workouts from disturbing the whole household, the Concept 2 is quite noisy — you may be better off with a magnetic resistance rower.
Is the Concept 2 Rower worth the money?
This depends on what you're looking for in a rower. With the Concept 2, you're paying for quality, durability and reliability. This machine is used by Olympic athletes — it's a great rower, and it won't distract from your workout with any fancy frills. However, if you want more high-tech options, you can find them from other companies in the same price range as the Concept 2. Either way, the Concept 2 is worth the $900 — it's just a matter of if it's worth your $900.
Is the Concept 2 Rower good for beginners?
Yes. Most professional rowers will tell you they learned how to row on a Concept 2. It's basic, gives you all the stat-tracking you need to learn how to row and doesn't distract you with fancy technology. You may have to watch a few YouTube tutorials on technique before hopping in the saddle, but this rower is made for both beginners and advanced rowers alike.