The Hydrow rower is one of the most interactive rowing machines on the market. With a 22" touchscreen display that plays live classes from U.S. National Team athletes, this machine is great for both newbie rowers looking to learn and advanced rowers looking to perfect their form.
If you want a machine that will keep you interested in rowing when the monotony of at-home workouts hits, this is definitely the one for you. However, the machine is an investment, so you'll want to make sure you're buying it for the right reasons.
Main Takeaways
This machine has a 22" HD touchscreen display that plays live and on-demand classes. 

The Hydrow Rower had a solid steel and aluminum build and should last a very long time.

This is an electromagnetic resistance rower, which makes it super quiet for

home gym

usage.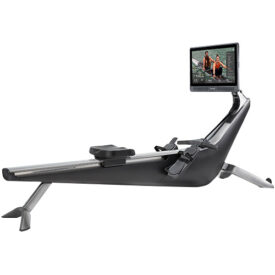 The Hydrow is a high-tech rower with a library full of live and on-demand workouts, a smooth drive and electromagnetic resistance. It's a quiet machine and provides a great full-body workout for both beginning and advanced rowers.
Hydrow Rower Highlights​
The Hydrow rower is considered one of the most high-tech rowers on the market, and for good reason. It features a massive library of virtual classes and has a touchscreen display to take you through them. It's quiet, which makes it great for home use. Before you check yes, make sure these features are the ones you're looking for.
Who Should Buy the Hydrow
Anyone who wants a large touchscreen display for easy viewing throughout their workout.
Rowers looking to glide alongside professional athletes in virtual classes.
People who live in a large household and need a machine that won't disturb the rest of the home.
Who Shouldn't Buy the Hydrow
Customers who want a smaller rower that takes up less space.
Heavier users who need a rower that can handle a lot of weight.
Athletes who aren't interested in virtual classes or high tech features and just want to row.
Price​
The Hydrow comes with a price tag of around $2,300 without any promotional pricing. If you choose, you can pay $63 per month for 36 months to break the cost up over time. In addition, in order to access the classes, there's a monthly membership fee of $38, which brings that price up a little more. But if rowing is going to be your primary mode for burning fat and getting lean, then that price may be worth it.
Overall Build and Quality​
The Hydrow's aluminum and steel frame is certainly solid enough to withstand daily exercise and provide support for rowers up to 375 pounds. It's a quiet, electromagnetic resistance rower and features a 22" touchscreen display with a library full of virtual classes. It's definitely made for people who want to commit to this form of exercise, but it can be a versatile rower for pretty much any user who wants to increase their strength.
Features​
You'll find all the stat-tracking and streamable classes you need within this rower's console, but you'll have to pay a $38 monthly membership fee to access everything. The bottom line here is that this rower has a ton to offer.
Stats Tracking and Metrics​
You'll find your stroke rate, split time, time, distance and calories all displayed on screen. Plus you can also track your class placement on the leaderboard right alongside all these stats.
Display​
The touchscreen display is 22" with a 1920 by 1080 full HD resolution. You can pivot it 25 degrees in each direction, so no matter your height, you'll have a comfortable view throughout all your conditioning work.
Included workouts​
There are over 500 pre-recorded river and studio rowing sessions on the Hydrow rower. You can choose from live rowing, rows on demand, serene river rowing and whole body fitness, depending on your mood.
Bluetooth and Speakers
This machine is bluetooth enabled for both heart-rate monitors and audio, so you can sync your fitness trackers and music for a full workout experience.
Workout Apps, Compatibility​ and Subscription Options
You'll have to pay a $38 monthly membership fee to access the Hydrow in its entirety. Without it, you won't be able to use any of the classes, including both the live and on-demand virtual classes. With the membership though, you'll have access to the full library, which includes classes with instructors and professional athletes, like those on the U.S. National Rowing team. Row along with them as they traverse rivers in actual sculling shells.
Feel
The 10-roller seat system allows for a smooth slide and an industrial-grade webbed strap makes each stroke flop-free and almost silent. The Hydrow's drag mechanism is electromagnetic, and it's one of the closest feelings you'll find to actually being out on the water. This is where the quality build of this rower really impressed us.
Ergonomics and Comfort
The low-stress handle grip has an ergonomic design for optimal comfort. The pedals are adjustable and the seat forms to your body, so you won't get fidgety during long distance rows.
Heart Rate Monitoring​
You can track your heart rate on screen if you sync either the iIncluded heart rate monitor or through your own bluetooth device.
Product Specs​
This 145-pound machine can withstand consistent use and makes a great addition to any home gym with its nearly silent electromagnetic resistance. It can handle a 375-pound person, but it also takes up a good chunk of space. Fortunately you can store it vertically when it's not in use, much like other smaller rowing machines on the market.
Rower Type
The Hyrow is an electromagnetic resistance rower, meaning it's about as quiet as they come and the resistance adjusts 240 times per second. It's an incredibly smooth rower compared to others we've reviewed.
Height Limit
This rower can fit up to a 36" inseam, which is about 6'4" to 6'5" in height, on average.
Weight Capacity​
The Hydrow can handle users who weigh up to 375 pounds. This is a little on the lighter side considering many rowers can take up to 500 pounds and some even 700 pounds, but should be able to manage the bulk of consumers interested in hopping on the rower.
Folding Options and Dimensions
When in use, this rower is 86″L x 25″W x 47″H. When not in use, you can store it vertically on its front wheels. In this position, it only takes up a 33-inch by 25-inch chunk of floor space, which is perfect for squeezing into corners.
Max Resistance​
The drag on this machine is set to 104 which is the closest to feeling like you're rowing on actual water. You can change it, but it's recommended that in order to build muscle, you pull harder instead of increasing the resistance.
Electrical Requirements
This rower simply requires a 120-volt standard home power outlet.
Warranties​
With your purchase, you'll receive an 18-month labor warranty, a 2-year warranty on wear items, screen and other electronics, and a 6-year structural frame warranty.
Noise
Since this machine is an electromagnetic resistance rower, it's super quiet. Also playing into this feature is this machine's industrial-grade webbed belt that doesn't make any added noise on the drive or recovery.
Places to Buy
You can purchase this rower through Hydrow.
Company Information​
Hydrow created the Hydrow rower to bring the virtual experience of rowing into your home. It provides a full-body workout, and you can take classes across the globe with both instructors and professional rowers alike. The founder comes from a long line of rowers, and Hydrow's mission is to show users the positive impact rowing can have on both the body and mind.
FAQs
Is the Hydrow rower worth the money?
If you love taking virtual classes and would enjoy taking them with professional rowers even more, this will be a great investment for you. If you just want to sit down and row it out, you can find cheaper options on the market that don't force you to pay for technology you won't actually use.
Can you use Hydrow without a membership?
You can use the rower, but you cannot take any classes. If you want to take classes, you will have to pay $38 per month for access to the full library from Hydrow.
Should I use my Hydrow every day?
You totally can. Rowing is a great low impact, full-body workout, so unlike running which is high-impact and can cause wear and tear on the joints, rowing is much more conducive to everyday use. If you're looking to expand your fitness routine, you should of course incorporate strength training and stretching (like yoga) into your regimen, as well. But as far as safety is concerned, you are fine to hop on your Hydrow every morning.