Rowing machines — like the Sole SR500 — provide many benefits. Not only do they offer an excellent cardio workout, but since they also involve around 80 to 85 percent of your muscles during any given workout, you'll get stronger at the same time. In addition to that, rowers are also a solid alternative for those who want to save their joints from the impact of running. The belt-driven flywheel on the SR500 combines air resistance with 16 levels of magnetic resistance. The 5.5-inch LCD display tracks your strokes per minute, time, distance, heart rate, wattage, and resistance level. Plus, it also calculates your burned calories.
This rower also offers a foldable design for easy storage and features a 515-pound weight capacity. The handlebar on the SR500 is equipped with resistance adjustment buttons, so you can increase or decrease the difficulty on the fly, and there are 11 programmed workouts available. With a $750 price tag, the Sole SR500 makes for an affordable and reliable rower that we think is worth adding to your home gym.
Main Takeaways
The Sole SR500 has a foldable design to make for easy storage.
A $750 price tag makes for a budget-friendly purchase.
Sole combined air and magnetic resistance on this rower, creating 16 resistance levels.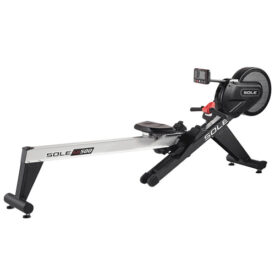 The Sole SR500 is an advanced magnetic air resistance rower with a 5.5" display that tracks all your necessary stats, like heart rate, calories, wattage, strokes per minute and split time. It has a raised seat, making it easy to get in and out of and a high weight capacity of 515 pounds, which is ideal for larger users. 
Sole SR500 Rower Highlights
The Sole SR500 is one of our favorite rowing machines on the market for multiple reasons. The first being it's pretty affordable with a $750 price tag, making it a solid choice for those working with a tight budget who don't want to sacrifice quality. Its steel frame is also foldable, so anyone cramped on available space in their home gym can make room for dumbbell workouts, kettlebell flows, and mobility work. The 5.5-inch LCD display isn't the most immersive in the world, but it gets the job done and allows you to track your metrics while rowing.
The combination of air and magnetic resistance creates a smooth drag similar to what you'd experience on open water, plus it allows for 16 resistance levels. This might lead to a little more noise than a rower that strictly uses magnetic resistance, but it might be quieter than a water rower. The resistance adjustment buttons on the sweat-resistant handlebar also make for a seamless process when you need to adjust the difficulty mid-workout.
Who Should Buy the Sole SR500
Those who want a high-quality rower without spending over $1,000 will appreciate the $750 price tag of the SR500.
Anyone tight on space will find the foldable design a game-changer.
Folks who want a straightforward rower will appreciate the no-frills approach Sole took.
Who Shouldn't Buy the Sole SR500
Tech-loving folks might want to find a rower with more modern conveniences, such as a touchscreen monitor and streamable workouts.
Those who want a quiet rowing experience may be better off with a rower that strictly uses magnetic resistance.
Anyone on a strict budget may want to consider some more budget-friendly rowers.
Price
The Sole SR500 finds itself in the middle of the pack with a $750 price tag. This is a solid deal in our eyes as its steel frame ensures it's built to last. You can definitely find a cheaper option out there, but it will most likely be of lesser quality than the SR500. At the end of the day, this stout rower provides a high stimulus for your rowing machine workouts, and the lifetime warranty doubles down on its longevity.
Overall Build and Quality
The Sole SR500 Rower features a lifetime warranty on the sturdy steel frame and aluminum rail. It's 46 inches tall, 94 inches long, and 18 inches wide — but folding it cuts the footprint down in half. This 115-pound rower also sports a 515-pound weight capacity, so most athletes can hop on it without hesitation.
The oversized foot pedals have six adjustments, so even those with skis for feet can work out comfortably. We also think the air and magnetic resistance mix is nice, as you get the best of both worlds. Similar to an air bike, the harder you row, the more difficult it is to workout, and the 16 levels of magnetic resistance only add to that.
Features
The SR500 may not have a ton of luxury technology, but don't let that take away from the solid features it does have. You can track all your stats conveniently on the 5.5" LCD display, sync your heart rate monitor via Bluetooth, and pick from one of 11 pre-programmed workouts if you want the Sole SR500 to do the session planning for you. Since this is a belt-driven rower, it'll offer a smoother workout than a rower with a chain, and the handlebar offers resistance adjustment buttons so you can make adjustments on the fly.
Stat Tracking and Display
The 5.5-inch LCD display might not be the most modern, but it still serves a solid purpose. You can easily keep track of your heart rate, calories, wattage, resistance level, time, distance, split time, and stroke rate, all on the 5.5-inch LCD display. This rower doesn't have a chest strap, but it has Bluetooth connectivity, so you can sync your own to track your HRV.
Included workouts
There are 11 pre-programmed workouts on the SR500.
Workout Apps, Compatibility and Subscription Options
With your purchase, Sole will toss in a free 90-day trial to their subscription service "Studio," which offers over 3,000 live and on-demand workouts. These workouts range from cardio to strength training, mobility workouts, and even yoga. After your trial is up, you'll automatically enroll in a $20 monthly membership, but you can opt for the $200 yearly plan if you prefer. Aside from that, you can also download the free Sole Fitness app to log your workouts, but there aren't any other apps that are compatible with the SR500.
Feel
Instead of a chain, this rower has a belt drive, making it much smoother than other budget rowers. The combo of air and magnetic resistance also leads to a smooth drag during your workouts and mimics being on a body of water.
Ergonomics and Comfort
Anyone who rows competitively knows that the sport is not designed for comfort. Some rowing machines may sacrifice performance for comfort, but the SR500 is built for those who want to feel as if they're out on the water. The seat sits 20 inches off the ground, which is above average for a rowing machine, but it's also pretty narrow. So those who have wider hips might view that as a downside. It does have six adjustable foot pedal options, though, which means it will fit most, if not all, shoe sizes.
Handlebar
One of the best features of the SR500 is the handlebar. Not only does it offer a spongy texture for a comfortable grip, but it also sports adjustment buttons for your resistance. This is extremely "handy" since you can adjust the resistance without stopping your rowing workout.
Heart Rate Monitoring
While there isn't a built-in method of monitoring your heart rate, the SR500 is compatible with a Bluetooth chest strap, so you can monitor your heart rate on the LCD screen.
Product Specs
Weighing 115 pounds, the Sole SR500 is heavier than some of its competition, but that also leads to a higher weight capacity of 515 pounds. The steel framework is covered with a powder coat to prevent rust from forming, and the aluminum monorail allows the seat to glide smoothly as you're working out. This rower combines air and magnetic resistance, so it's louder than some other options out there. But this also leads to a smooth drag that resembles what it would feel like on the open water.
Rower Type and Resistance
The Sole SR500 is a magnetic air-resistance rower, which means it relies on both air and magnets for its resistance. Because of the inclusion of magnets, you have 16 resistance levels to work with rather than solely relying on how hard you're rowing.
The magnets create resistance by resisting the polarity of the flywheel, creating drag while the blades spin. The closer the magnets are to the flywheel, the harder it is to row. Combining 16 preset levels with an unlimited amount of air resistance is a solid perk in our eyes, making the SR500 pretty unique. In addition to adjusting the resistance on the console, the handlebar also has adjustment buttons, so you don't have to stop your row to adjust the difficulty.
This isn't the quietest rower on the market, but it might be quieter than a water rower or one that only utilizes air for resistance.
Track Length and Height
The seat on the SR500 sits 20 inches off the ground, which is above the average height of 14 inches, making it super easy to get in and out. The 39-inch seat travel length and 81-inch strap travel distance are both long enough for most athletes to row comfortably.
Weight Capacity
The weight capacity is 515 pounds which is higher than most, making it a solid option for heavier athletes.
Folding Options and Dimensions
The Sole SR500 measures 97 inches long, 38 inches tall, and 18 inches wide. This is a pretty long rower, so thankfully, it folds to reduce the footprint. To successfully fold this rower, all you have to do is loosen the knob located under the frame, and you'll be able to fold the rail freely. Once it's upright, tighten the knob again to keep it locked in place.
Electrical Requirements
All you need to power the Sole SR500 is a standard 110v outlet in your home.
Noise
While the belt drive on this rower is fairly smooth and quiet compared to a chain-drive rower, your actual workouts might be a bit noisy since it is partially an air rower.
Warranties
Sole offers two separate warranties. For at-home usage, you'll receive a lifetime warranty on the frame, three years on parts and electronics, and one year on labor. For light commercial usage, Sole offers a one-year warranty on all components.
Places to Buy
You can buy the Sole SR500 through the Sole Fitness website.
Company Information
Sole is known for their robust line of high-quality cardio equipment. You'll receive a 30-day money-back guarantee with your purchase. So if you're unsatisfied with your equipment, you're eligible for a full refund. If you need to reach their support team, you can call them at 877-441-8433.
Final Word
The Sole SR500 is a straightforward rowing machine that is ideal for those who don't care about a bunch of techy features. The resistance on this rower is obtained in two ways — air and magnetically. Thanks to the magnetic resistance, you have 16 preset resistance levels to work with, while the air resistance makes the workout more difficult as you row harder. Just remember, this will likely lead to a louder experience than a rower that only relies on magnetic resistance.
The $750 price tag makes it a solid option for those who don't want to spend over $1,000 on a rower, and the foldability allows you to tuck it away for storage so you can perform additional workouts. The 5.5-inch LCD display tracks all of your metrics, and the handlebar features adjustment buttons for your resistance levels — allowing you to adjust the difficulty of your rows in a matter of seconds. While it might not be the quietest or fanciest option on the market, the SR500 is a high-quality rower that can provide a solid workout for athletes of all sizes.
FAQs
How much does the Sole SR500 Rower cost?
This rower will run you around $750. While some might consider that a lot of money for a rower without many tech-savvy features, we think the overall quality and longevity of the SR500 make it worth its price tag. 
Does the Sole SR500 Rower fold?
Yes, it does. Simply loosen the knob under the frame, and you're free to fold the rail. Just be sure to tighten the knob back up to ensure it stays locked in place.
What type of resistance does the Sole SR500 Rower have?
The SR500 uses a combination of air and magnetic resistance. This is unique as it offers 16 preset resistance levels for you to use in conjunction with the unlimited amount of resistance you can create with the air by rowing harder. Just remember that it will be louder than a rower relying only on magnetic resistance, so it might bug your household members.