It's no secret that rowers make for a great low-impact workout that increases strength and endurance all in one go. The Sole SR500 is unique in that it has 16 resistance levels, so you can easily crank up the drag to build muscle or pull it back down to work on your longer distance rows. It has 12 workout programs built in, all the stat-tracking you could need, and a solid build that will keep you rowing for many years to come.
Main Takeaways
There are 16 levels of resistance to choose from to boost your

at-home workouts

.

You can get in and out of the seat with ease because of its 20" height. 

When the Sole SR500 isn't in use, you can easily fold it up and store it to save space.
Sole SR500 Rower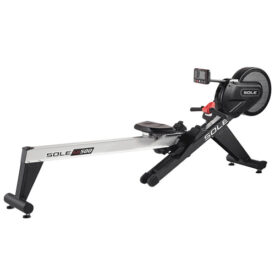 The Sole SR500 is an advanced magnetic air resistance rower with a 5.5" display that tracks all your necessary stats, like heart rate, calories, wattage, strokes per minute and split time. It has a raised seat, making it easy to get in and out of and a high weight capacity of 515 pounds, which is ideal for larger users. 
Sole SR500 Rower Highlights
​
When you're buying an expensive piece of fitness equipment for your home gym, you always want to make sure it's the right choice for your needs. If you're looking for a sturdy rower that has all the necessities to track your stats and increase strength and endurance, the Sole SR500 could be for you. If you need something small and quiet though, you may have to look elsewhere.
Who Should Buy the Sole SR500
Rowers who need a higher seat to help with getting in and out of the saddle.

Anyone looking to challenge their strength with extra levels of resistance.

Athletes dedicated to the basics who don't need a high-tech display during their workout.
Who Shouldn't Buy the Sole SR500
Early risers who need a machine that will keep quiet while the rest of their household is still asleep.

Fitness class aficionados who prefer to stream live or on-demand workouts as they row.

Larger rowers who want a wider seat to feel comfortable on the rower.
Price
​
The Sole SR500 is a mid-priced rower, coming in at $999.99. You're paying for the high-quality build and a rower that is going to stand the test of time. You will find higher price tags on rowers with more tech-features, and a lower price tag on rowing machines with less-sturdy builds and a shorter life span.
Overall Build and Quality
​
When you buy the Sole SR500, you can expect a stable and smooth row, and you won't have to worry about wobbling or a chunky chain bouncing back and forth along the recovery. You'll get your basics when it comes to technology, a sturdy aluminum rail and adjustable foot pedals. However, you won't be getting tons of pre-programmed workout options or high levels of modern technology.
Features
​
You'll be able to track all your stats conveniently on the 5.5" LCD display, sync your heart rate monitor via Bluetooth and pick from one of 12 pre-programmed workouts if you want the Sole SR500 to do the session-planning for you. You may not find much past that when it comes to technology. A perk is that you won't have to deal with a chain drive — the Sole SR500 has a belt drive — and that is key when it comes to a smooth ride.
Stats Tracking and Metrics
​
You can keep track of your heart rate, calories, wattage, resistance level, time, distance, split time and stroke rate all on the display. This rower doesn't come with a chest strap, but it does have Bluetooth connectivity, so you can sync one of your own to track that particular stat.
Display
​
The display screen is a 5.5" backlit LCD display that will keep track of all your stats for you as you row.
Included workouts
​
There are 12 pre-programmed workouts on this machine, including two heart rate programs and one custom program.
Workout Apps, Compatibility
​
and Subscription Options
This machine is Bluetooth compatible for heart rate monitoring, but it doesn't have any speakers, so you can't listen to any third-party workout apps. The rower is pretty loud, but if you want to follow a workout class that you don't need video footage for, you can listen through Bluetooth earbuds or a big speaker of your own as you row.
Feel
Instead of a chain, this rower has a belt drive, making it much smoother than other budget rowers. Its sturdy aluminum rail keeps it stable as you row, as well. So expect a smooth feel and stroke on the Sole SR500
Ergonomics and Comfort
Anyone who rows competitively knows that the sport is not designed for comfort. Some rowing machines may be willing to sacrifice performance for comfort, but the SR500 is built for rowers that want to feel as if they're out on the water. The seat is fairly narrow. It does have six adjustable foot pedal options though, which means it will fit most, if not all, shoe sizes.
Heart Rate Monitoring
​
This rower does have built-in heart rate monitoring, but it doesn't come with a chest strap. If you prefer that method, it is Bluetooth compatible, so you can sync your own chest strap to keep track of that stat throughout your workout.
Product Specs
​
This rower weighs a slightly above average 81 pounds. It's made with high-strength steel and covered with a durable powder-coated paint. The aluminum monorail is sturdy and keeps the machine from wobbling as you up your power on the drive. It is a magnetic air resistance rower though, which means it won't be the quietest piece of equipment in your home gym.
Rower Type
The Sole SR500 is a magnetic air resistance rower, which means it uses a flywheel to create resistance and magnets to resist the polarity of the flywheel and create drag while the blades spin. It tends to make the machine slightly quieter than plain air resistance rowers, but not by much.
Track Length and Height
The seat is 20" from floor, which is almost the height of a chair, making it easy to get in and out compared to other rowers. The seat travel length is 39″ and the strap travel distance is 81″.
Weight Capacity
​
The weight capacity is 515 pounds which is higher than most, making it a solid option for heavier athletes.
Folding Options and Dimensions
The footprint of this machine is 97″ L x 18″ W x 38″ H, which is quite long, but also narrow, so you can still fit it in smaller spaces. Plus, it can fold in half when you aren't using it for easy storage.
Resistance​ Levels
There are 16 resistance levels — more than the average 10 — and you can control them from the adjustment buttons on the center of the handle, making it super easy to change your workout from a casual endurance row to a muscle-building power row without having to lean forward and switch the resistance yourself on the flywheel.
Electrical Requirements
All you need to power the Sole SR500 is a 120 volts, 15 amps outlet — aka your average in-home power outlet.
Warranties
​
With your purchase, you'll get a lifetime warranty on the frame, three years on parts and one year on in-home labor.
Noise
The belt drive is fairly smooth and quiet on this machine since it's not a chain drive like more typical rowers have. However, it is a magnetic air rower, and air rowers are notoriously loud — this is no exception.
Places to Buy
You can buy the Sole SR500 through Sole Fitness.
Company Information
​
At one time, Sole Fitness only sold their equipment to hotels, but they have since branched out to selling to individuals for home use, making them a key manufacturer in the fitness industry. Along with rowers, they also make bikes, treadmills, ellipticals and climbers.
When you buy a piece of Sole Fitness equipment, you'll get a 30-day trial period, and if you aren't happy with your purchase by the end of it, you can get a full refund. You can reach their customer service at 866-780 SOLE (7653) if you need any assistance.
FAQs
Does the Sole SR500 fold?
Yes. This machine hinges at the end of the track where it meets the flywheel. It doesn't make it infinitely smaller, but it does put the long track into a vertical position, meaning it will take up much less floor space, if that's what you're trying to save.
Can I play games on the Sole SR500 display?
No, the display is just meant to track your stats, so you won't find any boat races or competitions included in the Sole SR500.
Will the Sole SR500 fit my feet?
Most likely, yes. Unless you're working with a size 23 like Shaquille O'Neal, these foot pedals have six adjustments that are designed to work with the majority of foot sizes.