We receive free products and receive commissions through our links. See
disclosures page
.
The "workout from home" era has ushered in a surge of virtual fitness platforms and spiked interest from consumers looking to get the most out of their home gyms. Interactive streaming services like iFit offer a way for people to get studio-quality workouts at home, most of the time at a much lower cost than attending classes in person. Classes typically range from beginner to advanced and low impact to high impact, to make sure all users are included.
We found iFit — NordicTrack's full fledged fitness app — to be great not just for use with their NordicTrack equipment, but also all on its own. You can take yoga, HIIT and strength classes along with their running, rowing and cycling classes, which you do need equipment for. All of their instructors are long-time trainers who specialize in the classes they teach, so you know you're in for a good sweat session when you open up this app. Here's our full review of iFit and what it has to offer.
Main Takeaways
[bullets]
$25 Off
iFit Class Subscription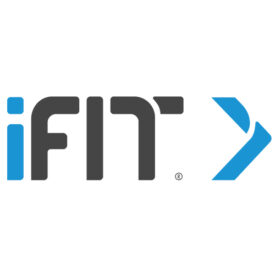 The iFit app features a library of over 16,000 live and on-demand classes that range from mental health and recovery to rowing, running, HIIT and strength classes. You can get the full studio experience virtually through iFit, and is a great boost to any home gym set-up — with or without equipment.
iFit Highlights​
As far as who should and shouldn't use iFit, it really comes down to one thing: If you like coaches guiding you through class, this service is a solid fit for you. If you like to workout on your own and don't want a coach, you probably won't find much value here. iFit takes a strong stand amongst competitors like Peloton and Apple Fitness+, and as far as we can tell, it's equally valuable, and potentially offers more than other services when integrated with products like their popular treadmill and their new home gym mirror, the NordicTrack Vault.
Who Should Use iFit
Athletes who have NordicTrack equipment or any compatible equipment at home.

Anyone who wants to boost their

at-home workouts

with live and on-demand classes, with or without equipment.

Users who enjoy

group classes

and like having guidance from a trainer throughout their workouts.
Who Shouldn't Use iFit
Athletes who don't enjoy listening to coaches as they workout.

Users looking for a more personalized training experience.

Customers looking for the cheapest deal on the market for interactive, virtual fitness — you can find cheaper options out there.
Membership​
For full access to the iFit library, you can pay $396 per year or $30 per month for the family plan, or $180 per year or $15 per month for the individual plan. This is a touch more expensive than Peloton which charges $12.99 per month. It's worth noting that many NordicTrack and ProForm products come with a free 1-year subscription to iFit, so there's a lot of value for people who are also on the hunt for gym equipment.
Overall Components
One of the benefits of iFit is that it works with or without NordicTrack and ProForm equipment. Whether you don't have any machines at all or even have a machine from another brand, you'll find a class for you on this app. Take classes all over the world with different destinations and environments, or opt for the ones taught in-studio if you're focusing more on technique. The library of over 16,000 live and on-demand classes certainly kept us hooked no matter what training modality we chose.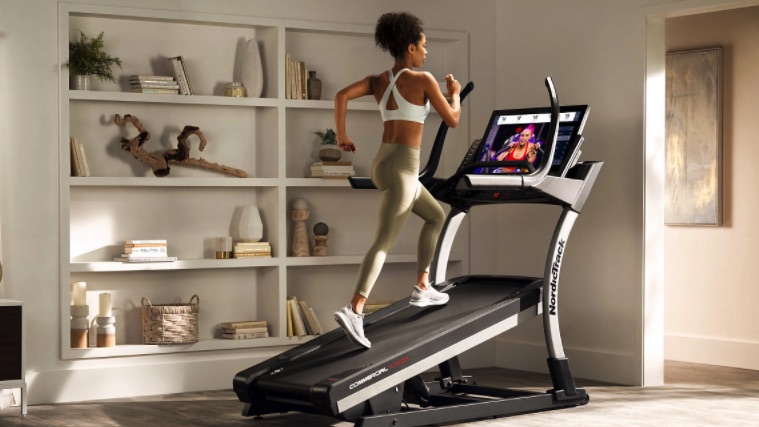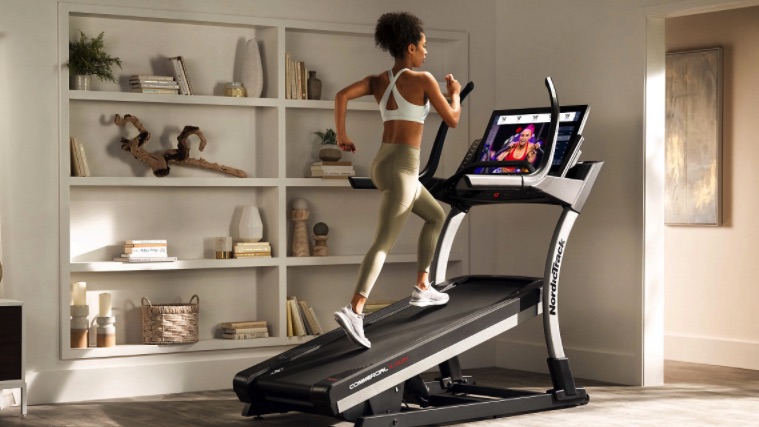 Features​
An iFit membership means you'll have access to thousands of classes that range anywhere from strength to yoga and running to rowing, and all of these classes are taught by professional trainers who specialize in each particular workout. You can opt to use equipment or just grab a yoga mat and hit the floor, but either way iFit has laid out navigation and filters on their app that will help you find exactly what you're looking for.
Included workouts​
You can choose from treadmill, bike, rowing or elliptical workouts if you have the proper equipment necessary. If you don't have an at-home treadmill or rower, you can also choose from iFit's collection of strength, yoga, HIIT, mental health, recovery and barre classes to mix up your routine.
Stats Tracking and Metrics​
Once you've selected your workout, iFit will track your calories burned and time elapsed throughout class. And if you're taking a class with equipment you'll also be able to follow along with stats like distance, speed, incline, stroke rate or other numbers associated with the specific equipment you're using.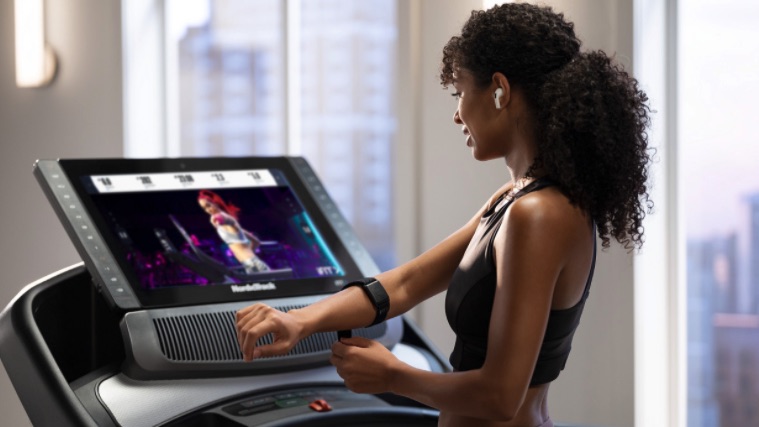 You can sync a SmartBeat heart rate monitor through Bluetooth and your machines will adjust their settings to keep you in the optimal heart rate zone.
Navigation
Once in the app, you'll find new series featured at the top, and at the bottom, you can select the live schedule, or browse option. You can also add classes to your calendar or participate in challenges along the bottom menu. If you're browsing on-demand classes, you can filter by class type, trainer, length, intensity, environment, and more to find your perfect pick.
Class Format
With each workout, iFit tells you the time, estimated calories burned, intensity and estimated effort score (along with distance, elevation gain, and other workout-specific stats) on the preview page, so you know what you're getting into before you start.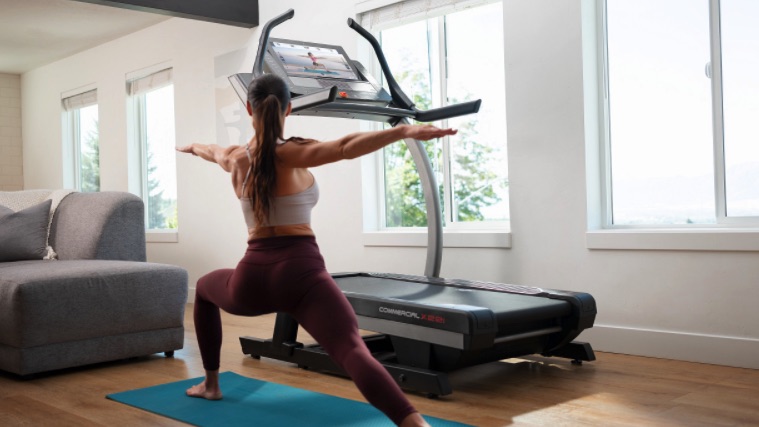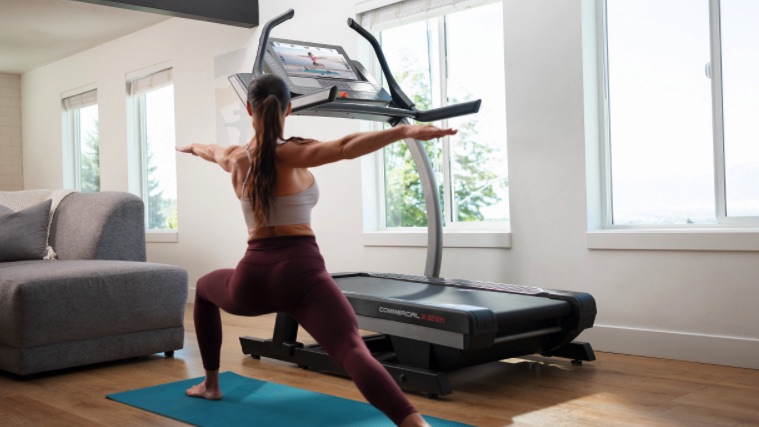 The class starts with an optional warm up that's not included in the time of your workout. So if you choose a 30-minute workout, you can choose to add time if you want to take the warm up. It also ends with an optional cool down, so the same thing goes if you want to take the time for that. You can take classes that are coached from a studio or classes that take place at beautiful locations across the globe, for a welcome distraction from the challenge of the class. If you have the latest NordicTrack or ProForm equipment, the incline and speed will adjust to match the terrain of the location.
Trainers
The iFit trainers have often been instructors for many years and specialize in the different forms of exercise they teach to make sure you're getting the best training you can get. Following them on social media can also help dive a little deeper into workout explanations if you're interested or in need of a little guidance.
Compatibility
You can use the iFit app with NordicTrack equipment, which has built-in compatibility, or you can use the app with any piece of equipment you have if it has a tablet holder or prop for your phone for streaming purposes. Obviously if you don't have any equipment, you can also just use the app on its own and choose from the workouts that don't require equipment, like bodyweight strength, yoga and HIIT.
Heart Rate Monitoring​
You can pair your heart rate monitor through Bluetooth, and iFit will track it and also use it to set proper paces and heart rate zones for some of its workouts — though, this is not a necessity to complete the workout.
Before Joining Consider
Choosing any virtual fitness subscription is a commitment. Before you choose the right one for you or if you even want one at all, you'll want to consider many things about your personal workout style. The monthly or annual payments are only going to be worth it if you use the app consistently.
Usage
You'll definitely want to make sure this is something you're using on a (mostly) daily basis. If you have other studio memberships or just like to workout on your own a lot, it may not be worth the membership fee. However, if you're someone who would prefer to have every workout coached, from the 10-minute stretching classes to the 60-minute runs, the iFit subscription is probably great for you. You can find virtually any workout on this app, so even on a rest day when you're doing some recovery, you can still have a pro walk you through every move.
Workout Style
You're definitely going to want to consider what workouts you like most and if the app offers what you're looking for. If you typically like to take pilates, barre or HIIT classes, there are other apps out there that have a wider variety of those classes than iFit — that's not to say iFit doesn't have any options for these though. However, this is a great option for strength training — the strength classes and series are virtually endless. It's also great for users who have NordicTrack equipment or any piece of equipment since iFit has a huge library of running, cycling, rowing and elliptical classes.
Cost
One of the most important things you'll want to think about is if the cost is worth it to you. iFit offers a free week-long trial, so it's definitely worth it to test out the app first, see how much you use it and see if you like it before you decide to commit to the membership. Overall, you get a lot of options for the cost, so if you end up liking the trial, you should get all the bang for your buck out of it.
Company Information​
NordicTrack is known for their quality exercise equipment. NordicTrack makes rowers, bikes, treadmills and ellipticals. They also offer a 30-day trial period for their equipment and a 7-day free trial for iFit, and if you aren't thrilled with either purchase, you'll receive a full refund or be able to cancel. For more help, you can get in touch with their customer service by calling 1-888-308-9616.
Final Word
iFit is great for people who like coached classes — especially strength, running and mind classes. It includes pretty much every style of class you can think of including mental health classes and recovery classes. Do some digging to see if this iFit has the best options for your personal preferences. iFit takes you all over the world during its classes and gives coaches the ability to control your machine in select workouts — details like this add to the training experience and help iFit stand apart from other interactive training subscriptions.
FAQs
Can I use iFit without NordicTrack equipment?
Yes, you are able to use the iFit app on your tablet or phone, and if the equipment you have has a place to prop up your device, you can stream any class as you go. There are also classes that don't require any equipment at all, making it super easy to use the iFit app on its own. A few  perks to using their equipment are that the iFit feature is already built in and the coaches have the ability to adjust the machines during the workouts.
Is iFit worth the money?
Overall, yes. For just $15 a month for the individual plan, you have access to over 16,000 live and on-demand workouts. For a real individual studio membership, you'll be paying about 10 times that monthly cost and you'll be limited to the class times you can actually attend. However, as it goes with anything, you'll want to make sure you will actually use the app, even if it is just $15 per month.
Is iFit better than other fitness subscription apps?
This depends on your workout class preferences. If you like traveling around the world (virtually) as you workout, iFit is for you. Long story short, each app has its perks, so you just need to find the one that best suits your workout style. When it comes to iFit, it's great for its scenic workouts, ample running and strength classes and motivating series/challenges that integrate with their equipment.