The NordicTrack Commercial 1750 treadmill has consistently made best lists for years, and for good reason. With options to customize your workout to suit your fitness goals, modern technology, and a hydraulic folding system, this mid-priced treadmill packs a punch for a manageable cost.
Main Takeaways
There's a 10" touchscreen for

streaming classes

and tracking your workout session.

Your purchase comes with a yearlong iFit membership (NordicTrack's on-screen personal training), which includes constantly updated live and on-demand classes

You can adjust the cushioning to mimic harder road running or make your workout lower impact.
NordicTrack Commercial 1750 Treadmill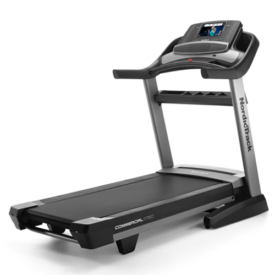 NordicTrack Commercial 1750 Treadmill
The NordicTrack Commercial 1750 has a sturdy, updated build that allows for easy transitions in your interval training and adjustable cushioning to simulate outdoor runs. The 1750 is made for the tech-loving runner, with modern additions like iFit to help make your workout session complete. 
NordicTrack Commercial 1750 Treadmill Highlights
​
Whether you're looking for a live class with your competition front and center on the iFit leaderboard or a solo mission featuring changes in terrain to mimic an outdoor run, the NordicTrack Commercial 1750 will keep your workouts engaging with a customizable workout plan. If you want something smaller, this treadmill may not be for you, but rest assured that you can fold it up, so it's not consistently taking up a large amount of floor space.
Who Should Buy the NordicTrack Commercial 1750
Anyone who loves to take a live running class.

Someone who's obsessed with having all the latest

technology.

Runners looking to simulate their outdoor workout, indoors.
Who Shouldn't Buy the NordicTrack Commercial 1750
Someone who wants a chest strap for

heart rate monitoring.

Buyers looking for something that doesn't take up a lot of space.

People who need to have their phone charging on the treadmill while they workout.
Price
​
The newest model of the NordicTrack Commercial 1750 Treadmill can typically be found for around $1,999 on the NordicTrack website, with older models of the 1750 at prices below that. However, if you're purchasing on Amazon, that price can vary.
While that may be on the higher side of the mid-range prices, this treadmill is definitely of a higher quality to match. You're getting updated technology and a free year of iFit classes ($396 value) with this purchase, while many treadmills of the same quality and price don't offer similar technological value.
Overall Build and Quality
​
Clocking in at a sturdy 339 pounds, this machine isn't for the faint of heart. Its features are designed for the running enthusiast who's looking to build endurance and strength in a variety of ways. With tons of classes, programs and customizations on the tread itself and with iFit, it's safe to say you'll never get bored on the NordicTrack Commercial 1750.
Features
​
With speeds up to 12 mph, fans with three levels of cool, Bluetooth connectivity for earbuds and a whole lot of coaches ready to whoop your butt into shape, the NordicTrack Commercial 1750 will take your endurance, strength, and cardio to new heights. Literally—you can even run three percent downhill on this machine.
Incline range
​
You can take your incline down all the way to -3 percent and all the way up to 15 percent, making this machine clutch for anyone who is working on their road and trail running skills where you come across uneven terrain often. Plus, the Quiet Drive Incline Tech makes transitioning your inclines quiet and seamless.
Speed range
​
With a speed range from zero to 12 mph, the NordicTrack Commercial 1750 can handle interval training. Whether you're just working on your speed walk or you're gearing up for your next sibling rivalry sprint Olympics, this tread will have you prepped and ready to conquer.
Included workouts
​
The NordicTrack Commercial 1750 has 50 pre-programmed workouts in its system that require no membership fees. And as an added perk, this machine comes with a year's iFit membership for free. You can have up to five users, take all the live or on-demand classes you want from their library of over 16,000 classes, and not spend a dime on it for an entire year. That's a $396 value.
Display
​
You can follow along on your workout on this treadmill's 10-inch HD touchscreen. If you're using iFit, your coach will pop up on display here, and you can adjust the angle of the screen by tilting it back and forth until you find your perfect line of sight for class.
Speakers
​
The NordicTrack Commercial 1750 has two three-inch amplified speakers. Sync your music from your phone through Bluetooth, pop on an iFit class, or even stick your tablet on the tablet stand and stream some Netflix to get you through your workout.
Fans
​
This machine has two AutoBreeze Workout Fans with three levels to keep you the perfect amount of cool during a sweaty run.
Heart Rate Monitoring
​
The NordicTrack Commercial 1750 unfortunately does not come with a chest strap to monitor your heart rate, but you can check it periodically by placing your hands on the front bar over the EKG sensors.
HDMI, USB and Other Inputs
​
This treadmill doesn't have any USB ports, so don't expect to be able to charge your phone through the tread as you run. But you can listen to everything you need through Bluetooth, so having your phone across the room charging while you sync your music up to the treadmill isn't an issue.
Bluetooth and Audio Options
​
The Bluetooth audio allows you to connect your music to the speakers and play it out loud through the treadmill. You can also sync your Bluetooth earbuds to the treadmill, and listen to iFit classes that way if you want to keep your early morning workouts a little more hush-hush.
Water Bottle, Cup Holders, Tablet and Phone Holders
​
This tread has a ton of storage. There are two pockets on either side of screen for water, as well as a tablet shelf just below the screen, and a storage tray under the console. It is worth noting though that if you choose to utilize the tablet shelf, the tablet may block the treadmill's HD screen, so you should probably decide on using one or the other for your workouts.
Product Specs
​
You can expect the NordicTrack Commercial 1750 to hold up for many years to come with its powerful 3.75 CHP motor, 2-ply belt, 2.5-inch rollers, and much more that make it a reliable buy. You'll definitely be getting a quality product along with the many great technologies to accompany it.
Motor Size
​
The 3.75 CHP DurX Commercial Plus Motor's power allows for hardly noticeable jumps between speeds for seamless interval workouts.
Running Area
​
The 22 x 60-inch running surface has ample room for runners looking for a little extra space to account for the occasional stumble but still keep you on track.
Weight Capacity
​
The NordicTrack Commercial 1750 can support exercising passengers that weigh up to 300 pounds.
Folding Options and Dimensions
When the NordicTrack Commercial 1750 is in use, it's 81.25 inches long x 39.25 inches wide and 71 inches high. It folds up into a V shape, so it's definitely not a treadmill that's going to save you a lot of space when it's not in use, but the EasyLift Assist hydraulic lift feature and wheels makes stowing it away pretty painless.
Max Speed and Incline Range
​
Run from a -3 percent decline to a 15 percent incline at speeds up to 12 mph. Work on terrain changes, HIIT intervals, or even take a hike on this all-access pass to conditioning and strength building work.
Electrical Requirements
​
This machine requires an outlet that can handle 120 volts AC and 15 amps—which in simpler terms is most basic outlets in your home.
Warranties
​
Your purchase comes with a 10-Year frame warranty, a 2-Year parts warranty, and a 1-Year labor warranty.
Belt Information and Roller Size
​
The 2.5-inch rollers and 2-ply belt are sturdy enough to handle 300-pounds and keep on rolling for many years to come.
Cushioning and Feel
​
The Runners Flex cushioning on this treadmill is adjustable. So if you're looking to ease your joint struggles, you can make your workout lower impact, but if you're training for an outdoor road race and want to build on that skillset, you can also switch to the harder surface option.
Workout Apps and Compatibility
​
A one-year iFit membership is included with your purchase, so you will have access to 16,000 different workouts that are constantly updated—both live and on-demand classes, with strength, running and hiking options. The iFit app allows you to track your stats as you go, but you will need WiFi to run iFit. If you don't want to pay for the iFit membership after your free year is up, you can always use another fitness app of your choosing and play it over Bluetooth on the treadmill using your tablet or phone.
Subscription Options
​
After your free year of iFit is up, you will have to pay $396 a year for the family membership (which can handle up to five different users), or $180 a year for the individual membership. You can also opt for the monthly option, which is $39 a month.
Places to Buy
You can buy the NordicTrack Commercial 1750 on NordicTrack's website or Amazon's marketplace.
Company Information
​
NordicTrack is known for being successful with personal training at home on not only treadmills, but bikes, rowers and ellipticals as well. They offer a 30-day trial period in which you can receive a full refund if you aren't satisfied with your treadmill purchase. You can reach their customer support by calling 1-888-308-9616.
Wrapping Up
The NordicTrack Commercial 1750 treadmill is popular for a reason. It has a quality build, features useful to avid runners and plenty of tech to keep the user engaged and in the zone throughout their workout. While its price may be on the higher end of the mid-range spectrum, we think it's well justified.
FAQs
Does the NordicTrack 1750 fold?
Yes, the treadmill does fold up, but that doesn't mean it won't still take up space. It rests in a V-shape when folded, so though it is smaller than when it's laying flat for use, it will still take up a good portion of whichever room you choose to put it in. We wouldn't recommend it if you're looking for something for a small studio space.
Can you watch TV on NordicTrack 1750?
Though you can't watch TV shows on your treadmill itself, you can use the tablet shelf for a tablet and stream TV shows on there while you sync the sound from your tablet to the treadmill's Bluetooth system.
Can you use NordicTrack without iFit?
In short, yes. Though for the first year, you should totally use iFit since you get the membership for free. But if you choose to skip the membership renewal after your first year, there are 50 pre-programmed classes on the NordicTrack Commercial 1750. Or, you could even use a different fitness app of your choice and sync the audio to the treadmill's Bluetooth while you view the class on your phone or tablet.