Few pieces of home equipment are as iconic as the treadmill. But if you don't have an incline treadmill, the variety of workouts that you can do is going to be limited. An incline treadmill mimics running or walking uphill, a method that can help strengthen your legs, burn more calories, and increase your heart rate in different ways than walking or running on a flat treadmill.
But buying an incline treadmill is a big decision. You'll need to consider things like your budget, how much incline you want or need, and how much space you have available. And with so many incline treadmills on the market, finding the right one can be a daunting task. So we did the legwork (get it?) and found the best incline treadmills for every type of runner.
Best Incline Treadmills
Best Incline Treadmill
If you're looking for an incline treadmill, you likely want one that has a strong, quiet, and durable motor, as well as customizations that allow for varied run intensities. This pick not only covers those bases, but it also adds some fun tech features for mid-workout entertainment.
Sole Fitness F65
This treadmill packs a 3.0 HP motor, allowing it to reach speeds of up to 12mph while boasting an incline range up to 15 percent. The backlit LCD console displays Speed, Incline, Distance, Time Calories, Pulse, and Pace, along with a ¼-mile track feature and a Peak and Valley graph for different programs. At $1,500, it provides a solid design at a reasonable price.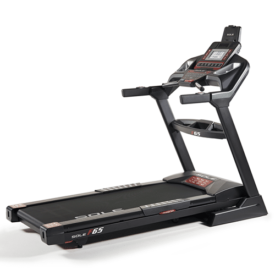 The Sole F65 is a high-quality treadmill that's available for a reasonable price. It features a max incline of 15 percent, a top speed of 12 miles per hour, and 10 programmed workouts. This treadmill can also fold to clear the floor in your personal space after use. 
Onboard speakers and Bluetooth capabilities allow users to connect media devices and play music while working out. And a built-in device holder provides a secure place for phones and tablets to rest for those who enjoy watching shows or movies while running. Plus, the built-in charging port ensures that your phone's battery life won't be an issue while working out.
Specs
Incline Range: 0 to 15 percent
Top Speed: 12mph
Weight Capacity: 330lbs
Price: $1,499.99
Pros
The spacious 22" x 60" deck accommodates most running strides but also folds up to save space.
The console offers stat tracking for calories burned, pace, and workout time.
You can hit inclines of up to 15 percent, and choose from pre-set workouts or utilize the tablet holder to keep entertained throughout your session.
Cons
This tread doesn't allow users to program their own workouts.
If you want an onboard touchscreen display, you'll have to find another treadmill.
While this incline treadmill lacks some of the flashier features included in other models, it provides excellent basic functionality and a high incline of up to 15 percent.
Best Incline Treadmill for Streaming
This high-performing treadmill is powerful enough to handle strenuous workouts and includes a gorgeous 22-inch screen that is capable of streaming thousands of on-demand and live workouts from iFit.
ProForm Pro 9000
Athletes who want an immersive training experience from their homes will be hard-pressed to find a better incline treadmill than the ProForm Pro 9000. The 22-inch screen allows you to stream thousands of live and on-demand workouts, as well as immersive scenic runs. And while it features a powerful 3.6 CHP Mach Z Commercial Plus motor, noise won't distract from the user experience, as the motor compartment is well-insulated.
ProForm Pro 9000 Treadmill
ProForm Pro 9000 Treadmill
If you're looking for a high-tech tread for your home that can fold up when not in use, the ProForm Pro 9000 is a great option with a 22-inch touchscreen display and automatic incline and speed adjustments. The 60-inch running deck ca incline from -3 to 12 percent for a variety of running and hiking workouts.
The treadmill also features ProForm's ReBound Pro™ cushioning, which makes for a quieter run while reducing foot, ankle, knee, and hip impact stress. Quick touch and speed adjustments are smooth enough to eliminate jerkiness when changing speeds, and Bluetooth audio integration allows you to pair your device with the treadmill for a custom workout soundtrack. It also includes a fan with four power settings that sits just below the console to provide improved airflow.
Specs
Incline Range: -3 percent to 12 percent
Top Speed: 12mph
Weight Capacity: 300lbs
Price: $2,299
Pros
This tread comes with a vibrant LCD touchscreen display for streaming content from iFit.
The all-steel frame is sturdy and well-constructed.
The self-cooling feature allows the motor to handle back-to-back workouts.
Cons
You'll need an iFit subscription to make full use of streaming capabilities.
It doesn't come with a heart rate monitor, so you'll have to buy one separately.
If you're looking to stream entertainment or coaching content while you use your treadmill, this is a great choice. The 22-inch touchscreen allows you to take full advantage of iFit's extensive live and on-demand workout library.
Best Folding Incline Treadmill
Want an incline treadmill but don't have much space? You're in luck — one of the more affordable incline treadmills also happens to be one of the easiest to fold for storage while not in use.
Sole Fitness F63
This treadmill has little in the way of flash, but it delivers on multiple levels. It includes basic features like pulse grips, a 3.0 HP motor, a 20"x60" belt, a sturdy build, and a relatively light total weight of 254lbs. Plus, the ability to fold the deck up cuts the floor space it consumes in half. Not only does it get the job done, but Sole stands behind its product to ensure it will do so with a generous warranty that covers the frame and motor for the lifetime of the machine, the rest of the components for three years, and labor for the first year that you own the machine.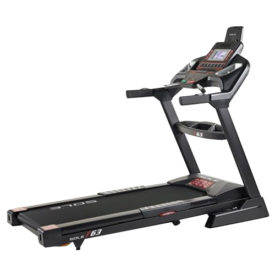 The Sole F63 is a high-quality, no-frills treadmill. The 3.0 HP motor can support up to 325 pounds, and the foldability is ideal for those tight on space. 
Those not interested in treadmills that push the limits of technology will find the 6.5" backlit LCD display easy to navigate. It offers a handful of simple pre-programmed options like Manual, Hill, Fat Burn, Cardio, Strength, and HIIT. If multiple people plan on using this treadmill, they can toggle between two different user profiles for quicker setup.
Specs
Incline Range: 0 percent to 15 percent
Top Speed: 12mph
Weight Capacity: 325lbs
Price: $1,199.99
Pros
This treadmill can be easily rolled into a corner or closet when folded up.
A robust warranty can help alleviate longevity concerns.
Cushion Flex Whisper Deck is said to reduce impact on joints by up to 40 percent.
Cons
It doesn't offer much in the way of guided programming.
The treadmill shakes when in use more than most other incline treadmills.
The ability to fold up makes this incline treadmill ideal for those who have limited space, and its simplistic design makes it a good option for people who aren't looking to spend more for a treadmill that's loaded with technological bells and whistles.
Best Incline Treadmill For Walking
Most walking treadmills are limited in their incline and decline settings, but this one has a much more expansive inline/decline than most, making it a great option for people who prefer walking.
NordicTrack Commercial X22i
People who prefer a slower-paced workout also tend to be more open to steeper inclines that help increase the intensity of a walking workout. This treadmill delivers in that regard, with the ability to elevate to an incline of 40 percent. A powerful 4.25 HP motor allows it to work well even when at max incline, and sled grips provide an upper body component to any workout by simulating the feeling of pushing a weighted sled.
NordicTrack X22i Treadmill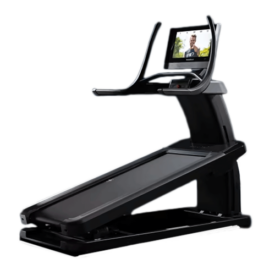 NordicTrack X22i Treadmill
The NordicTrack Commercial X22i is built for those who want to climb. The machine inclines up to 40 percent and declines down to -6 percent. It features a Sled Push option where you can power the belt with your own leg drive, and it has a 22-inch touchscreen display where you can follow your workout and take iFit classes.
While the X22i lacks a tablet holder, it does have multiple storage areas and a vibrant 22-inch color screen. Three adjustable fans provide customizable airflow options, and a decline setting of up to -6 percent provides unique recovery, conditioning, and downhill training functionality. And this treadmill makes all of its adjustments sound easy with a remarkably quiet incline drive that can adjust the deck to incline from 0 to level 40 in just 20 seconds.
Specs
Incline Range: -6 percent to 40 percent
Top Speed: 12mph
Weight Capacity: 300lbs
Price: $3,499
Pros
The commercial-grade tread belt is durable, gently textured, and designed to provide a stable foot surface.
The incline goes up to a whopping 40 percent.
2.5" balanced rollers are larger than other treadmills, reducing tension on the tread belt.
Cons
This is a very heavy treadmill, so don't expect to move it around much.
The treadmill doesn't fold, so if you're tight on space, this may not be the one.
If you're looking for an incline treadmill, this one's 40 percent incline should keep even the pickiest walkers satisfied. Plus, if you ever feel like going for a run, the 4.5 HP motor can easily accommodate that.
Best Incline Treadmill for Small Spaces
If you're working out in a small space, you'll need a treadmill with a small footprint. Those with compact quarters will find this treadmill has one of the smallest footprints available, plus it can fold up when not in use.
ProForm Carbon T10
Treadmills can be convenient, but they can also occupy a ton of space. Fortunately, ProForm was able to make a full-featured incline treadmill that also happens to have a modest footprint. Though smaller than comparable treadmills, it can hit a max speed of 12 miles per hour and also ramp up to an incline of 12 percent. Plus, when you're not working out, you can fold up the treadmill to open up even more floor space.
ProForm Carbon T10 Treadmill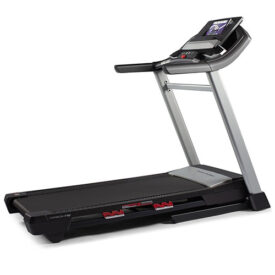 ProForm Carbon T10 Treadmill
This treadmill offers a 10-inch touchscreen display, and comes with a free month of iFit. You'll also find incline up to 12 percent, speed up to 12mph, solid shock absorption, and foldability.
The Proform Carbon T10 also includes features to make tech-forward runners happy. The 10-inch HD display pops, and it includes Bluetooth audio capability as well as a 30-Day iFIT Trial for streaming live events, on-demand Global Workouts, and Studio Classes.
Specs
Incline Range: 0 percent to 12 percent
Top Speed: 12mph
Weight Capacity: 300lbs
Price: $1,299
Pros
The construction is backed with a 10-year frame warranty.
It has a smaller footprint than most incline treadmills and folds up easily for storage, making it great for small spaces.
The 12mph top speed makes it a great incline treadmill for both walking and jogging.
Cons
Its 2.75 HP motor saves space, stays cool, and remains quiet, but is less powerful than many other incline treadmills.
The deck dimensions (20" wide and 55" long) may be too small for some users.
Good things can come in small packages. The ProForm Carbon T10 packs a lot of features into a small, foldable treadmill, so you can have your workout without sacrificing too much space in your home.
Best Incline Treadmill for Running
This absolute workhorse of a treadmill includes some modern technology that makes it a great choice for runners.
Sole Fitness F85
While the Fitness F85 weighs in at a whopping 308lbs, the added weight isn't just superfluous bulk. The Sole Fitness F85 has one of the highest weight capacities on the market at 375lbs, and the treadmill has a solid build that Sole stands behind with a lifetime frame and motor warranty, 5-year electronics and parts coverage, and a 2-year labor warranty.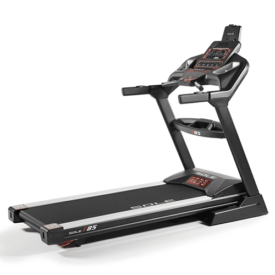 With a 4.0 horsepower motor and an all-steel frame, this treadmill brings the quality expected from many commercial gyms into your home. It provides runners plenty of running space and is still foldable.
The F85 also includes some great technology features. A wireless charging pad, Bluetooth capability, and screen mirroring to a 15.6″ TFT touch panel ensures phones and tablets can remain untethered. And while users can subscribe to Sole's STUDIO interactive programming service, the touch panel has a handful of apps, including YouTube and Netflix, that you can use without paying for a STUDIO subscription.
Specs
Incline Range: -6 percent to 15 percent
Top Speed: 12mph
Weight Capacity: 375lbs
Price: $2,399.99
Pros
It offers a powerful 4.0 CHP motor for fast speed and incline changes.
The ability to sync a smart device to the treadmill lets you track stats like incline, speed, power, and heart rate to your fitness apps.
This treadmill comes with a chest strap and pulse grips for heart monitoring.
Cons
The eight-inch step-up height is much higher than most treadmills.
It weighs over 300 pounds, making it very difficult to set up and move.
The Sole Fitness 85 incline treadmill packs in a ton of value-added features. While some features go beyond what most people might find necessary in a treadmill, if you're a serious runner, you won't have much to complain about with this treadmill.
Best Budget Incline Treadmill
This treadmill comes at a reasonable price without sacrificing much in the way of durability and functionality.
Horizon 7.0 AT
At just under $1,000, the Horizon 7.0AT is on the lower end of the price spectrum, but it's tough to figure out how Horizon managed to shave costs. It certainly wasn't in the powerful 3.0 HP motor that manages to run quietly. With a max speed of 12mph and an inline upper limit of 15 percent, this incline treadmill also provides a challenging workout for a broad range of fitness levels.
The Horizon 7.0 AT Treadmill is a durable, low-cost option for anyone looking for a quality treadmill without overspending. It features a strong motor, a wide range of speed and incline settings, and a unique three-zone cushion system. 
The Horizon 7.0 AT's 7-inch LCD screen can connect to Bluetooth-enabled devices to pump music through-built in speakers or connect to different fitness apps, including the free AFG PRO app. And a grip pulse heart rate monitor is convenient for quickly checking vitals.
Specs
Incline Range: 0 to 15 percent
Top Speed: 12mph
Weight Capacity: 325lbs
Price: $999.99
Pros
The deck length of 60" makes it a good choice for taller runners.
It has impressive Bluetooth capabilities for a budget incline treadmill.
Horizon offers a lifetime frame and motor warranty on this treadmill.
Cons
It has a thinner deck than other incline treadmills, which means there's less room for weaving.
The display lacks touchscreen capabilities, so if you're looking for more tech, look elsewhere.
The Horizon 7.0 AT treadmill is a value-buy that provides an abundance of necessary features and even a handful of upgrades. It's a great option for those who don't want to break the bank on a treadmill but still want some solid features and capabilities.
How We Chose the Best Incline Treadmills
Treadmills vary greatly in terms of quality, features, and price. And every year, it seems like treadmills are offering more features, which makes it hard to decide which ones are worth the extra cost and which ones aren't. So we kept things fairly basic when we considered the best incline treadmills. Among the considerations we made were price, power, deck size, what warranties were offered, and technological features.
Price
When considering lower-priced treadmills, we look for durability and better-than-average basic functionality. As treadmills get more expensive, we consider whether or not the purported upgrades are really worth the additional cost. Sometimes they are, but other times, the value-added ratio is questionable.
Power
A high quality incline treadmill will have a motor with at least 2.5 HP, but stronger models can push up to 4.0 HP. Power isn't the only consideration, however. How quietly the motor operates and how durable it proves to be are also important factors.
Deck
Adequate surface area will decrease missteps for runners and walkers. Models with longer decks are preferable for taller runners or those with a longer stride. And comfort is also a factor, as the cumulative effect of repeated foot strike impact can have long standing ramifications.
Warranty
When making a big purchase like an incline treadmill, a strong standard warranty provides peace of mind. Manufacturers will typically have different warranty lengths for the frame, motor, technology, and labor. It's not uncommon to find standard warranties that cover the motor and frame for the lifetime of the machine.
Technology and Connectivity
Electronic devices are a prominent component of at-home workouts. Some treadmills provide device stands and USB outlets to make using your own device more convenient, while others offer built-in LCD screens that have screen-sharing capabilities or the ability to run apps like Youtube, Netflix, and various fitness apps.
The Benefits of Incline Treadmills
Incline treadmills provide the opportunity to get a good workout in without leaving home. And an incline treadmill provides a workout variable beyond speed, allowing users to tailor walks or runs to their preferences.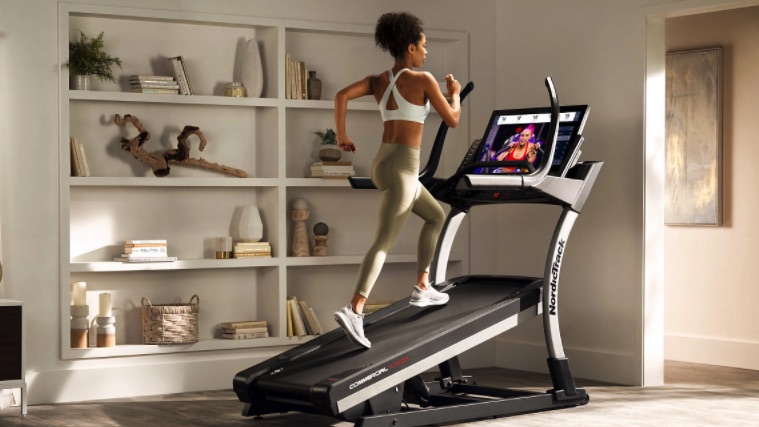 And anyone who lives in an area without hills can experience the benefits of working out at different incline levels to focus on different muscle groups or intensify workouts.
Increased Leg Muscle Activation
Changing from a flat surface to an incline helps target calves, glutes and quadriceps, which helps increase lower body stability. These inclines can also prepare hikers for steep inclines they may experience on their journeys.
More Calorie Burn
Research indicates that walking or running on an incline can increase energy expenditure. (1) During studies, calorie burn was shown to increase by 52 percent when running at a five percent incline and a whopping 100 percent at a 10 percent incline.
Reduction of Joint Impact
While it might be counterintuitive that running at an incline could be better for the joints, running at an incline of just one percent to three percent can reduce impact by causing the foot to strike the ground at a more gradual angle.
How Much Do Incline Treadmills Cost?
A high quality entry-level incline treadmill can be found for right around $1,000. Models that are packed with more features and that are more advanced technologically will run about double that and may even hit $3,500.
| | | |
| --- | --- | --- |
| Best Incline Treadmill Overall | Sole Fitness F65 | $1,499.99 |
| Best Incline Treadmill for Streaming | ProForm Pro 9000 | $2,299.99 |
| Best Folding Incline Treadmill | Sole Fitness F63 | $1,199.99 |
| Best Incline Treadmill for Walking | NordicTrack Commercial X22i | $3,499.99 |
| Best Incline Treadmill for Small Spaces | ProForm Carbon T10 | $1,299.99 |
| Best Incline Treadmill for Running | Sole Fitness F85 | $2,399.99 |
| Best Budget Incline Treadmill | Horizon 7.0 AT | $999.99 |
The major differences tend to be in tech features like a touch screen and streaming services, as well as motor power. If you're looking for something that allows you to watch streaming video you you need a higher top speed or steeper incline than most, you can expect to pay a bit more.
What to Consider Before Buying An Incline Treadmill
While treadmills all have a similar form factor, they can vary greatly in quality, features, size, and price, among other things. If you're thinking about buying an incline treadmill for your home gym, the first things you should consider are the amount you're willing to spend, the space you have available, and how much of an incline you need.
Price
The first thing you'll want to know is how much you're willing to spend. Treadmills can cost anywhere from a few hundred dollars to $3,000 or more, so when you narrow down your price range, you should be able to eliminate a good number of treadmills from consideration.
Space Available
Plan on an incline treadmill taking up a footprint of about 76" x 36" when fully unfurled. That being said, most incline treadmills can be folded to reduce their footprint while not in use. But this isn't true of every incline treadmill, and the ease with which they fold up varies by model.
Make sure to measure (and remeasure) the space you have available, so you can be sure you have enough room for the one you want.
Amount of Incline
Incline treadmills tend to be adjustable from inclines of 0 percent to 12 percent, which is a solid range for most users. Some can adjust to decline positions of up to -6 percent, while the treadmills with the steepest incline settings can reach 40 percent, which can be ideal for people who are training for hiking or for walkers who want to burn as many calories as possible.
Final Word
Buying an incline treadmill is a commitment, both of price and of space. Even if you're going with a cost-effective treadmill, you'll likely have it for a long time, so you want to make sure that it has everything you need both now and later as you get fitter.
Finding a treadmill that has all the features you need for your current experience level as well as one that can keep up with you as you progress is no easy task, however. Before starting your search, make a list of the features that you absolutely need (or really want), then consider the space available and how much you're willing to spend. When you have those factors dialed in, take a look at this list and see which treadmill here checks all those boxes for you.
FAQs
How much does an incline treadmill cost?
A high-quality entry-level incline treadmill goes for around $1,000, while more full-featured models can approach $4,000.
What is the best incline treadmill? 
There are a lot of great options out there, but for our money, the best incline treadmill is the Sole Fitness F65. It combines plenty of power and a load of great features with a price that is well within reason.
Can you use an incline treadmill for walking?
Incline treadmills can be great for people who prefer walking to running, as they all have low-speed settings. The ability to set a custom incline level allows walkers to increase the intensity of their workout without increasing the speed at which they walk.
Do incline treadmills provide a better workout?
Incline treadmills can provide a more intense workout, and they can also activate different muscle groups than walking on a flat surface allows. The ability to vary intensity without adjusting speed also makes them a good option for low-impact HIIT workouts.
References
Amy Silder, Thor Besier, Scott L. Delp. Predicting the Metabolic Cost of Incline Walking from Muscle Activity and Walking Mechanics J Biomech. 2012 Jun 26; 45(10): 1842–1849. Published online 2012 May 11. doi: 10.1016/j.jbiomech.2012.03.032