The Sole F63 treadmill isn't trying to make a spectacle. It's a high quality tread and includes all the basics with no extra frills. You won't be getting a high-tech, super modern buy when you purchase this treadmill, but you'll get a lasting piece of equipment that will leave you feeling accomplished after your session.
Main Takeaways
The Sole F63's Cushion Flex Whisper Deck provides extra cushioning to your joints.

The Sole Fitness mobile app allows you to track the stats from all your workouts on your mobile device. 

The spacious running deck provides extra room for runners who crave a little more space.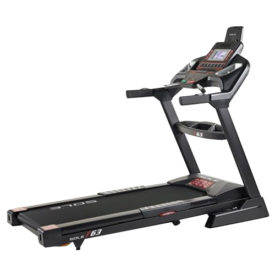 The Sole F63 is a high quality, no frills treadmill. If you're looking for a piece of equipment that tracks your stats, folds up when you're not using it, cushions your joints and just gets the job done, then it could be the treadmill for you.
Sole F63 Treadmill Highlights
​
This treadmill has a lot to offer quality-wise, but not a whole lot technology-wise. If you're looking for a sturdy, lasting machine that has everything you need for a basic run or walk, the Sole F63 checks all your boxes. But if you're looking for something that comes with all sorts of streaming options and virtual coaching, this tread may not be the right pick.
Who Should Buy the Sole F63
Anyone looking for a sturdy, affordable treadmill.

Someone who doesn't want to be bothered by extra technology during their workout.

The one who needs a little extra cushioning for their joints.
Who Shouldn't Buy the Sole F63
Anyone who's looking for fancy high-tech features.

Runners who want a super powerful motor.

Shoppers who want a big display screen to track their workouts.
Price
​
The Sole F63 is definitely one of the more affordable options on the market. It's only $999.99, and provides all the basics you need for a solid run or walk. It may not have live classes or streaming options that come along with it like some of the treadmills, but that's reflected in its lower cost.
Overall Build and Quality
​
The Sole F63 has a sturdy steel frame making for a quality piece of fitness equipment that checks most of the boxes you need for a workout. With typical incline and speed ranges, speakers, fans, and Bluetooth pairing, this tread has all your basic necessities and none of the technological confusion that comes with some of the more expensive treadmills.
Features
​
You can expect most of the basic features to come with the F63—up to 15 percent incline, all the way to 12 mph in speed, stat-tracking, some pre-programmed workouts, and a solid breeze from the console fans to keep you cool. If you want to get any fancier than that, you may be a little disappointed with the Sole F63. But in our opinion, it's got everything you need to crush any long or short run.
Incline range
​
The incline range goes from zero percent all the way up to 15 percent. It's pretty quiet as far as inclines go, and you can climb up or down using both the console and handlebar controls.
Speed range
​
You can take your speeds all the way up to 12 mph. No need to bother reaching for the console if you're in that upper range where things can get a little dicey—just adjust your speed on the handlebars instead.
Included workouts
​
The Sole F63 has 10 preset workout programs that you can use to increase endurance, burn fat, or build strength depending on your goals. You can also use this tread with a pal because it allows you to set up two separate user profiles.
Display
​
The 6.5-inch LCD may not be the biggest display on the market, but it still tracks stats like calories burned, speed, time and heart rate. All those stats can also sync to the Sole Fitness mobile app, so you can keep track of them even after your sweat session ends.
Speakers
​
You can sync your phone or tablet to the Sole F63's Bluetooth audio speakers making the possibilities for workout entertainment virtually endless—listen to your favorite pump up jam or project a running class out loud to keep you in the zone.
Fans
​
Personal cooling fans on the console will keep you cool even when things heat up on the tread. At this price point, the cooling fan is certainly a welcome addition.
Heart Rate Monitoring
​
The Sole F63 comes with wireless chest straps to track your heart rate throughout your session, as well as built-in pulse monitors for easy occasional tracking.
HDMI, USB and Other Inputs
​
There's a built-in USB charging port, so you can keep all your gadgets charged up throughout your workout.
Bluetooth and Audio Options
​
You can sync up your phone or tablet to the Bluetooth audio speakers and play music, stream Netflix shows, listen to motivational speeches or take in whatever you need to get you through your run or walk.
Water Bottle, Cup Holders, Tablet and Phone Holders
​
The Sole F63 comes equipped with two water bottle holders, an accessory tray, and a tablet holder. The tablet holder is especially handy for that Netflix streaming—once you're synced to the Bluetooth audio, just prop your tablet on the shelf and binge away.
Product Specs
​
This quality treadmill comes with a solid running area, a 2-ply deck, a folding option and extra cushioning for anyone looking to pad their joints a bit while they run. It ranks in right in the middle when it comes to size—it's not the biggest you'll find on the market, but it's also not the smallest. Either way, it manages to shove all the necessary qualities for a good run into its 254-pound build.
Motor Size
​
The Sole F63's 3.0 CHP motor may not be the strongest out there, but it gets you to all the same speeds and inclines as even more powerful motors do. Plus, the tread's heavy-duty flywheels ensure that the motor stays cool as you continue to work it.
Running Area
​
The Sole F63's running area is solid—a good 60 x 20 inches for anyone looking to try out a side shuffle and may need a little added room for error.
Weight Capacity
​
This treadmill can hold up to 325 pounds, which is considered pretty mid-range as far as capacities go.
Folding Options and Dimensions
The Sole F63 folds up quite easily with the hydraulic shock assist soft drop system—it basically does the folding for you. And unlike some foldable treadmills, this one doesn't wobble while it's in use. It does fold up into a V-shape, so it takes up less room than it does when it's laying flat at 82″ L x 35″ W x 57″ H, but it isn't super easily stored.
Max Speed and Incline Range
​
The Sole F63's powder coated steel frame is built for those 12 mph runs and 15 percent incline treks. Rest assured that it can handle your workouts even at the top speed and incline ranges.
Electrical Requirements
​
All you need for this treadmill as far as plugs go is your typical 120-volt, 15-amp grounded outlet—which most homes have in every room.
Warranties
​
You'll get lifetime coverage on the frame and motor, three years of coverage on the parts, deck and electronics, and one year of coverage on labor.
Belt Information and Roller Size
​
The 2.5-inch rollers keep the Sole F63's 2-ply deck rolling and steady whether you're walking at 3 mph or running at 12 mph.
Cushioning and Feel
​
The Sole F63's Cushion Flex Whisper Deck reduces impact on your joints by 35 to 45 percent compared to pavement running. This is a great feature for anyone with previous knee injuries who still wants to incorporate running into their workouts, but also wants to take it easy on the impact-front.
Workout Apps and Compatibility
​
You can sync all your workouts with the Sole Fitness Mobile app which will keep track of all your stats both during and after your workouts. You can also sync the mobile app to FitBit, MyFitnessPal and many other fitness apps for those who have a particular preference when it comes to stat-tracking.
Subscription Options
​
One of the downfalls of the Sole F63 is that it doesn't have any built-in streaming options like more expensive treadmills do. However, you are still able to utilize the tablet holder and Bluetooth audio to stream classes from other fitness apps.
Places to Buy
You can buy the Sole F63 on Amazon Marketplace, or through Sole Fitness directly.
Company Information
​
Sole Fitness previously sold their products exclusively to hotels, but has since become a reputability manufacturer for people of all fitness needs.
They offer a 30-day trial period in which you can receive a full refund if you aren't satisfied with your treadmill purchase. You can call 866-780 SOLE (7653) to get in touch with their office.
FAQs
When did the Sole F63 come out?
The Sole F63 was first released in 2009, but like most treadmills, it does receive some small annual tweaks.
Is the Sole F63 a good treadmill?
In short, yes. It's of a high quality for its price point. There are other treadmills that accomplish all of the same tasks and have all the same specs as the Sole F63 but still cost $200 to $300 more. You're not going to get anything groundbreaking when it comes to modernizations or technology with this purchase, but it is still a solid treadmill.
Does Sole F63 have Bluetooth?
Yes. You can sync your phone or tablet to the Sole F63's Bluetooth audio speakers, which will project the audio of your choosing throughout your workout.