Buying high-quality fitness equipment doesn't have to be an expensive endeavor. An affordable treadmill can deliver the same quality and features as its more expensive counterparts. While The Sole F65 might not have the latest high-tech features, its build delivers club-quality training and longevity at an affordable price.
If this sounds like what you're looking for, keep reading as we take a closer look in our Sole F65 treadmill review.
Main Takeaways
This treadmill is integrated with Bluetooth connectivity so users can listen to their music on the console's speakers and track and store their progress on compatible fitness apps.

It's 3.25 horsepower motor is stronger than some other treadmills on the market and provides high speed and incline ranges.

The Sole F65 is foldable and gives its users some space-saving options for their

home gym

.
Sole F65 Treadmill Highlights
The Sole F65 is a treadmill that has something for everyone. Its 3.25 hp motor can help runners hit sprinting speeds and its hand-welded steel frame can support users of all builds. Its Bluetooth compatibility makes it easy for users to use their smart devices to play their music through the console's speakers and to monitor and save their metrics. Also, anyone who buys the Sole F65 will get a chest strap heart rate monitor included with their purchase.
Sole F65
Sole F65 Folding Treadmill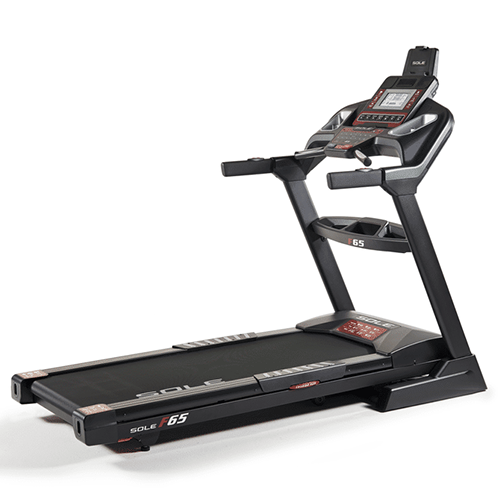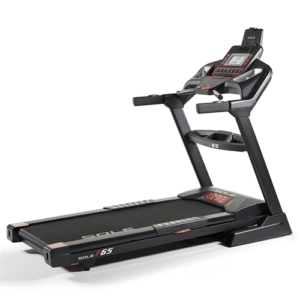 Sole F65 Folding Treadmill
Although this treadmill is currently unavailable on Amazon, it is available on Sole's website. Shoppers looking for an affordable treadmill might also be interested in the F63 available to purchase on Amazon.
Who Should Buy the Sole F65 Treadmill
Buyers who don't want to break the bank to purchase a treadmill.

Weightlifters who want to

incorporate cardio into their training

.

Homeowners looking to add their treadmill to a multi-use room. This treadmill's foldable feature can help users to store it away and save some floor space whenever it's not in use.
Who Shouldn't Buy the Sole F65 Treadmill
Price
This treadmill can be found on Sole's website at around $1,399.99 depending on the deals of the day. That's a pretty good deal when its MSRP is $2,399.99.
Overall Build and Quality
The Sole F65 is mostly steel and built to sustain heavy impact. It's hand-welded to create a tougher frame that's not going to fall apart with normal wear and tear. This treadmill is paneled with a plastic foot rail which can offer a softer footstrike when runners step on to start their sessions.
Features
The Sole F65 provides runners with some essential features that are anything but basic. Its strong motor offers high speeds and inclines, while it's four customizable programs allow runners to create workouts that best fit their goals.
Incline range
This treadmill has 30 settings for inclines. Runners can increase their angles from zero percent to 15% for very steep runs. This will benefit those adding runs to their training as a way to strengthen their legs. Users can easily adjust their inclines with the quick select buttons on the console or the handrails in half increments.
Speed range
The Sole F65 treadmill's speed can be controlled with the quick select buttons on the running hood and armrests. With a strong motor, this treadmill can reach speeds of up to 12mph. Some treadmills around the same price range will only run up to ten miles per hour.
Included workouts
This treadmill offers ten pre-installed workouts for their runners. Five of these programs are some of the more classic treadmill routines. Some runners might be familiar with programs such as cardio, calorie-burning, hill, interval, and strength training. It also offers a manual mode setting so runners can create their own workout.
The Sole F65 allows its user to customize their running workouts even further. Two users can store their customized programs into the console, making it convenient for runners to get right into their runs. Every second counts when you're trying to beat your best running time, and not having to spend it entering your weight and height every single time before you start your workout is convenient.
There are also two customizable programs to use with the heart rate monitor. Once runners choose the heart rate monitor they prefer, the Sole F65 will generate a plan to accommodate their goals.
Display
The Sole F65 display is straightforward and easy to read. This 7.5-inch screen might be smaller than some other treadmill monitors, but its blue LCD backlight illuminates the screen so that it's vibrant and so you can easily read your metrics. Such information includes speed, incline, time, distance, calories, pulse, and pace.
This treadmill also displays a 1/4 mile track feature and a peak and valley graph for different programs. Sole also integrated a message board system that guides runners throughout their workouts.
Fans
For those who sweat more but want to stay cool as they run, this treadmill features a fan. Located right above the display, this cooling fan sits around eye level (depending on your height) and can be angled to suit anyone who might be a little taller or shorter.
Heart Rate Monitoring
The Sole F65 offers its runners two options to monitor their heart rate. Users can grab hold of the contact pulse monitor on the rails or strap on the chest monitor included with the treadmill. With its Bluetooth compatibility, runners can upload their pulse metrics to the console or their handheld device.
HDMI, USB, and Other Inputs
Sole has upgraded some of its features in comparison to their older models. For instance, the F65 now has a USB port. This new feature is beneficial for runners who want to use their tablet or phones to watch videos or listen to music while running but still have a fully charged device at the end of their workout.
Bluetooth and Audio Options
Another upgrade the Sole F65 sports is its Bluetooth compatibility. This treadmill allows users to listen to music playing on their smart devices through the built-in speakers. This feature is a nice bonus for anyone who is building a home gym and wants to listen to their music aloud rather than through headphones.
Water Bottle, Cup Holders, Tablet and Phone Holders
The Sole F65 offers a ton of storing space. It has two cup holders on each side of the console suitable for both your bottle of water and electrolytes to keep you hydrated during your long runs. If you prefer not to have any of your belongings in your view, there's a convenient utility tray below the console for you to store even more items. Sole Fitness also added a removable tablet holder above the display monitor.
Product Specs
The Sole F65 has a powerful motor that can withstand a higher weight capacity and a cushioned belt that can help reduce impact while running. Qualities such as these can determine how a treadmill runs and if it's the right pick for you.
Motor Size
The Sole F65 might not have the latest technology in features, but its motor makes it a viable contender for an affordable but powerful treadmill. Its 3.25 hp motor provides more horsepower than some other treadmills whose motors clock in at 3.0 hp or 2.75 hp. This motor can manage top sprinting speeds without being overworked or pushed far beyond what it can handle.
It's also worth mentioning that this motor is a DC type. A direct current motor is much quieter than an alternating current motor. This will interest those looking to put a treadmill in their home, especially if they live with their family or roommates who they don't want to disturb while running.
Running Area
The Sole F65 gives its users plenty of space to run comfortably. With a 22"x60" running area, this treadmill is bigger and broader than its previous model that measured 20"x58".
Weight Capacity
This treadmill is durable enough for a wide range of users. With its steel frame and powerful motor, the Sole F65 can support runners of up to 350 pounds. Even if the runner is big and tall, the treadmill's rollers will help the belt run quietly and smoothly.
Folding Options
Even with its wide running area and plenty of storage options, this treadmill still makes it convenient for users to save space in their home gyms. When not in use, runners can fold this treadmill easily with its assisted folding feature. This hydraulic arm allows the treadmill to fold and unfold itself. After the user lifts the deck or pulls the release lever, all they have to do is step back and watch the treadmill do the rest of the work.
Footprint While In Use vs. Folded
This Sole's treadmill has a footprint that is pretty standard in size. Its 82″x 35″x 57″ dimensions will take up some space but not anything out of the ordinary. Good thing it's footprint when folded is 50"x34"x70".
Electrical Requirements
The Sole F65 can be plugged into a 120-volt and 15-amp grounded outlet. While this type of voltage is standard for most home wall outlets, it is recommended not to use the same one for other devices or pieces of equipment.
Warranties
Sole Fitness is known not just for its dependable treadmills but also for its reliable warranties. Buyers can feel good purchasing the Sole F65 knowing that its frame and motor are fully covered under their lifetime manufacturing warranties.
Sole Fitness also offers three-year warranties on the treadmill's deck and parts. They also give customers one year of coverage on labor.
Belt Information and Roller Size
The Sole F65 has four layers that make up its belt. It's composed of two heavy-duty rubber layers and a PVC sheet that helps the belt remain firm. It also has a nylon layer to provide runners with a smooth and static-free surface.
Sole Fitness equips most of their treadmills with large rollers. This treadmill's 2.5" rollers allow the belt to have more contact surface to roll through and can help the belt last longer by preventing the amount of normal wear it undergoes.
Cushioning and Feel
With its four-layered belt, the Sole F65 provides runners with advanced shock absorption. Along with its CushionFlex Whisper Deck, the Sole F65 can lessen a runner's foot strike impact by up to 40% even if it's time to replace your worn-out running sneakers. The Sole F65 gives its users a quiet but very cushioned running foundation.
Workout Apps and Compatibility
Runners can choose from a variety of workout apps to use with the Sole F65. They can download the free Sole Fitness app if they just want to track some basic data or they have the option to use some other compatible apps such as Sole fitness app, Fitbit, iHealth, and My Fitness Pal. With Bluetooth connectivity, users can use their smart devices to track and save their workout data.
Subscription Options
While Sole Fitness doesn't provide a subscription for workouts and tutorials, runners can still use some of their favorite streaming platforms while working out on the treadmill. Its tablet holder above the display makes it easy for runners to stay engaged with their workout videos.
Places to Buy
The Sole F65 can be found on the Sole Fitness website. It can also be purchased from Amazon.
Company Information
Sole Fitness is known for its dependable and robust line of treadmills. They produce easy to use and durable fitness equipment for both commercial and home use.
Return Policy
All of Sole's treadmills are sold with a 30-day money-back guarantee. If the buyer is not satisfied with their treadmill, buyers can submit a Return Merchandise Authorization form on Sole's website within 30 days of delivery for a complete refund.
Buyers can also request their treadmill to be picked by Sole Fitness for their return. The customer can email Sole Fitness at [email protected] to notify them that the treadmill has been picked up. Sole Fitness should then process the refund within 48 hours.
Contact
Sole Fitness makes it easy for customers to reach them. They can be called at 866-780 SOLE (7653) and emailed at [email protected]. Customers can also contact Sole Fitness by submitting a form on their website.
Final Word
While it might not be known for its techy features, the Sole F65 treadmill meets the high expectations set for treadmills. It's built to last and provides runners the standard features they'll need to have successful runs. Buyers can purchase this treadmill confidently knowing they're getting good quality at an affordable price.
FAQs
Is the F65 affordable?
It's affordable considering the features and the product specs you're getting. Standard treadmills range within $1,000 to $2,000. Although you can find a treadmill a few hundred dollars cheaper than the F65, it probably won't have such a powerful motor, a wide running area, or a weight capacity that is as high as the F65. It also probably won't have the same top speed and incline percentage as the F65.
What is the difference between the Sole F65 and the Sole F63?
There are a few differences between these two treadmills. First one is their motor size. The F65 has a 3.25 horse powered motor while the F63 has a 3.0 horsepower motor. They will both provide the same speed and incline ranges but the difference in motor size allows the F65 to withstand more weight as its weight capacity is 350 lb and the F63 can only hold 325 lb. The F65 also provides a wider running area. The treadmill is 22" wide while the F63 is 20". 
Is the F65 heavy?
The F65 is one of the lighter treadmills in the Sole collection. It weighs 262 lb which is about 40lbs lighter than the F85. It should only take one person to move the F65 once it's folded and the transport wheels are engaged.