Shopping for a water bottle it can be packed with decisions: Do you think about finding the perfect one to bring to the gym? Or maybe for the office? You may prefer drinking cold water, but are worried that after an hour or more the water will be overheated. And while it may be easier to sometimes just grab a water out of a vending machine, getting a reusable water bottle that you love will save money and time. 
It can be a headache trying to choose the right one, but thankfully there are a few makers in the water bottle game right now that have separated themselves from the rest. It's about finding a water bottle that is easy to drink, durable, and something you are proud to have on top of your desk, attached to your backpack, or at the gym. So, what water bottle can be all of these things? Check out some of our favorites below!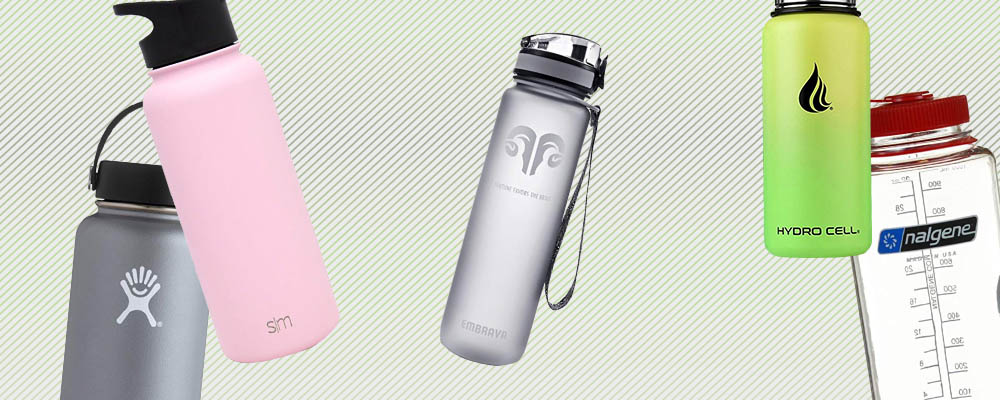 Editor's Choice: Hydro Flask 32 oz Water Bottle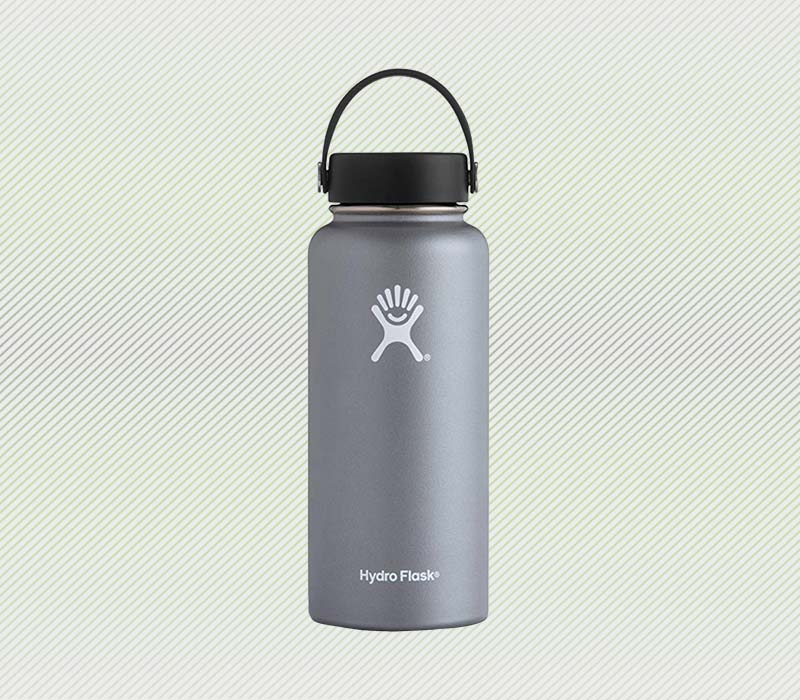 Easy to drink, durable, and also non-toxic BPA-free, the Hydro Flask is a water bottle you can enjoy drinking and won't break in a bag. It has a wide-mouth entry which makes it a breeze to drink from. 
Pros: 
My favorite thing about the Hydro Flask 32 oz water bottle is that it has top-tier insulation that ensures your beverage stays chilled for 24 hours. This water bottle also accounts for hot beverages and keeps them warm for up to six hours, however I love that if I want cold water all day I can count on it's double-walled, vacuum insulation. 

It is enjoyable to drink from. It has a wide mouth entry which makes it easy and effortless to drink out of. It is also encouraging to know that this product isn't toxic, BPA-free, and stainless steel.

This water bottle is appropriate for all occasions. It has a sleek look and comes in several different colors, which means there are plenty of options if it's something you want to make a statement with, or go the classic and lowkey route. 
Cons
It is not the cheapest water bottle on the market, so if pricing is an issue, perhaps opting for a cheaper option is a better call..

It does require a hand wash only, so if you are someone that can't be bothered with hand washing this could be more work.
Best for Sports: Embrava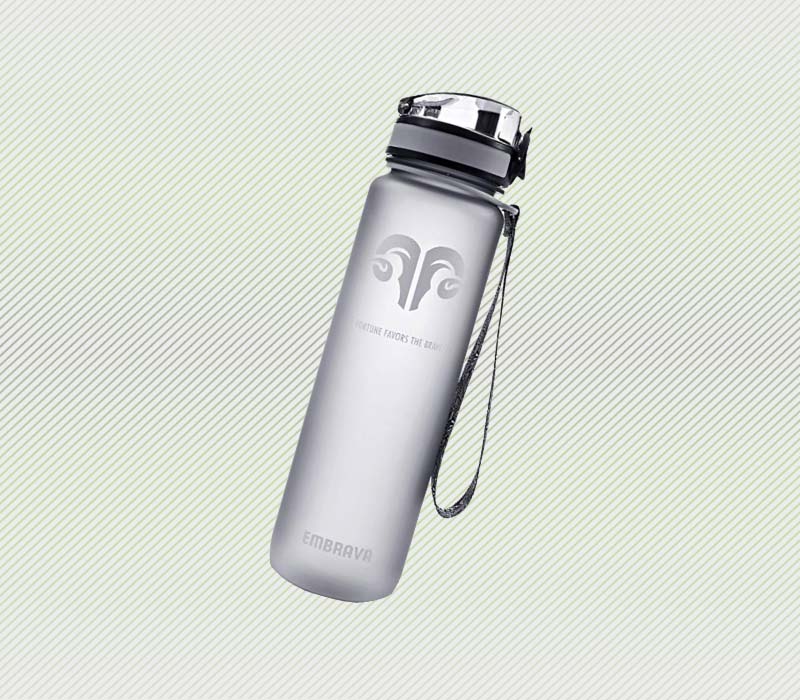 The Embrava water bottle is designed for the active type, and includes a leak-proof and dust-proof lid to make sure that your water stays fresh even if it's been rolling around a gym bag all day.
Pros:
Customizable! Sometimes you want options when it comes to holding your water bottle, and with Embrava, they have that in mind with an adjustable carry-strap. Sling it around or easily pull out of your bag on the go!

Don't worry about spilling. For the active person, having a water bottle that won't drench your work clothes in your gym bag is key. That's why it's spill proof lid is a great second barrier to ensure zero spillage can happen. 

It is so easy to drink from! Just flip the top off with one-hand and let the water come out easy. 
Cons:
It won't keep water cold for 24-hours. This water bottle might not be for you if drinking cold water is a non-negotiable. It prioritizes accessibility for someone running between workout sessions, not making sure you're drinking perfectly chilled water.

It has a narrow mouth piece, which means it isn't an ideal pick for gulping or chugging water. 
Best Value: Nalgene Tritan 32 oz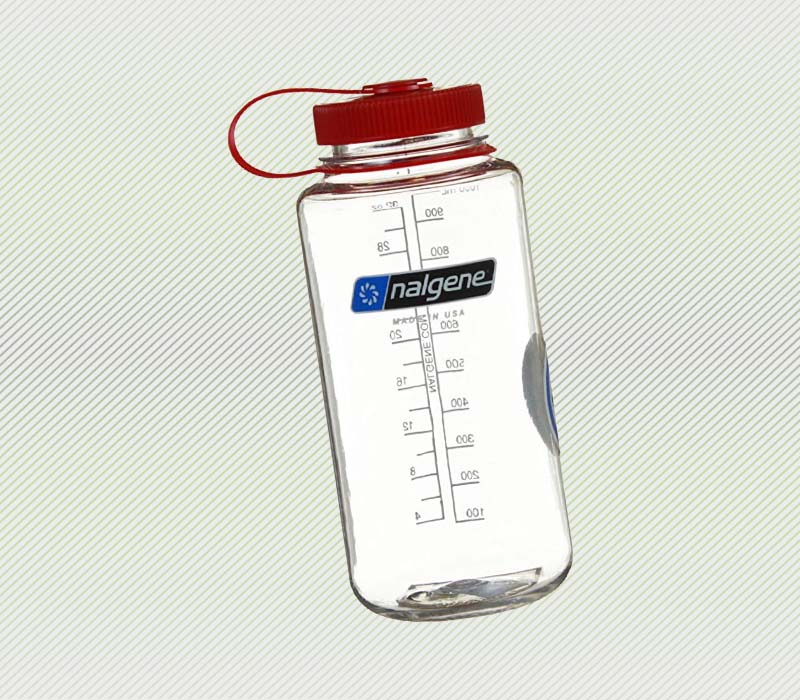 The Nalgene Tritan 32 oz water bottle is a no fuss, multi-purposed water bottle that is affordable and designed for outdoor and indoor activity. Its wide mouth design is easy to drink from, and effortless to wash out.
Pros:
It says it on the water bottle itself: Everyday. It has a simple design that doesn't draw too much attention. It's a solid, basic water bottle that you can drink from at your desk, or take out on a hike.

Easy to carry. The top of it has a loop design which means you can easily attach it to your backpack or slip it onto your finger when you're on the go. 

It has one of the lowest price tags that we've seen, and hasn't changed its model nor price tag in decades. 
Cons:
It is decently sized (3.5 x 3.5 x 10.4 inches), so if you are carrying a small bag with you and don't want to either harness it on, or toss it in your bag, you may be stuck holding it. 

It does have "everyday" written on some of the versions, so be aware that this water bottle does have prominent font on it. 
Most Fashionable: Simple Modern Summit Water Bottle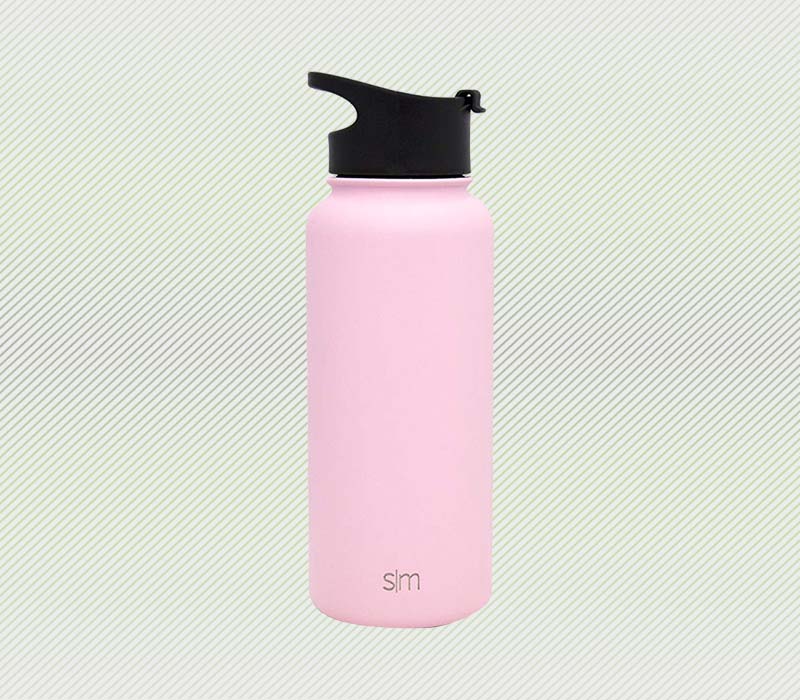 The Simple Modern Summit water bottle is well insulated and comes in over 50 colors/designs this water bottle can be as simple or as funky as you want making it fun and useful accessory. 
Pros: 
It has a matte coating in addition to the base of the water bottle being made out of stainless steel. All this means is that the water bottle is not only sturdy, but it also has an extra durable (and fancy) finish. 

Two lids for the price of one! There is a stainless steel lid for cold beverages and a spill-proof flip lid for hot beverages. Both are provided with the purchase and give solid options.

Endless colors and designs! Who needs a cute handbag or stellar pair of trainers when you can have an equally cool water bottle? All of the options from engraved pyramids to vibrant colors make shopping for a unique water bottle personal and enjoyable. 
Cons:
If you do want to step your water bottle game up and get some engraved design, it's going to cost you. The price can vary from $13.99 to $40.99.

The lids are all black, and that goes for the stainless steel lid and spill-proof lid.
Best for Everyday Use: HYDRO CELL Stainless Steel Water Bottle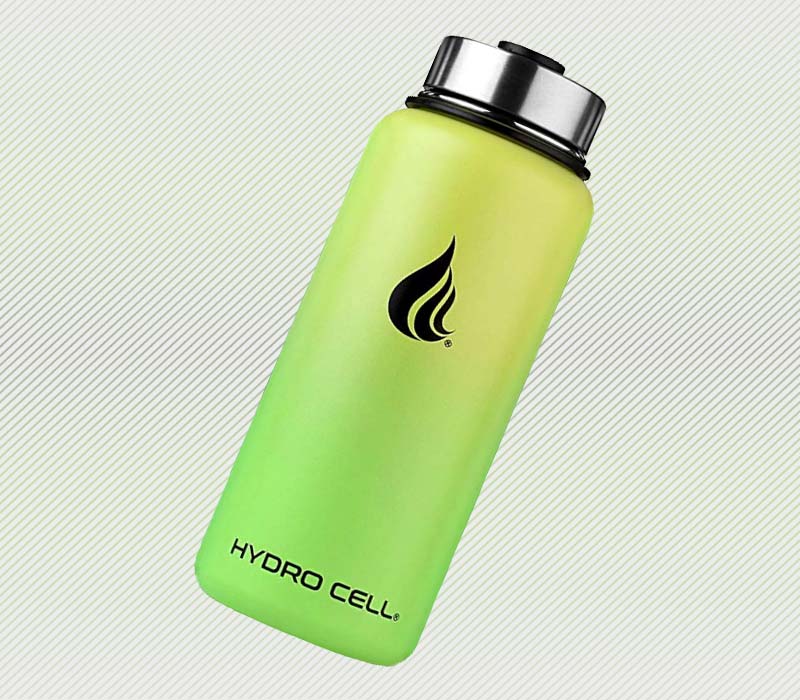 This water bottle includes two lids (for hot and cold beverages), a bonus sports cap, and comes double walled and vacuum sealed. The double-walling and vacuum seal ensures that no matter the weather or adventure you're tackling for the day, your beverage is in good hands. 
Pros: 
It has an anti-slip layer of coating that prepares you for the sweatiest of situations. Sometimes it's hard to predict what situation or activity you're going to get into, but the anti-slip layer of powder coating on it makes it easy to hold on to your bottle even if the weather conditions take a turn. 

Customizable. There are lots of colors to choose from, and it comes with three lids. I liked that I could change up which lid I was using per my activity that day. 

My water was cold all day. This water bottle went above and beyond with its insulation, and I was pleased that my beverage stayed chilled all day.
Cons:
If you decide to get the 40 oz bottle, it may be too big for certain cup holders. If this is your everyday water bottle, just be aware that if you get a bigger size it may not be easy to fit in certain holders. Luckily, there are smaller sizes that you can purchase.

With so many lid options, you may actually only want a water bottle for cold water which could mean this water bottle just has too much going on.
How We Picked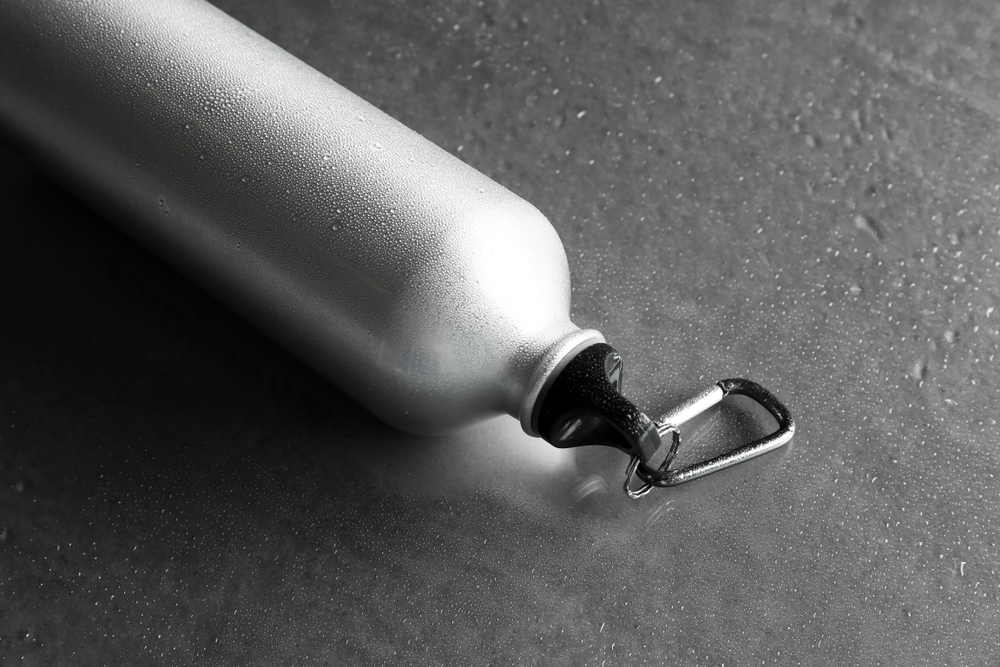 Now that we've gone over all my selections, let's take a minute to explore the methodology behind my picks. While shopping for a water bottle is going to be personal experience, here are a few things to consider while shopping.
Durability 
If you're going to invest in a water bottle, and make a commitment to stop feeding dollars to the vending machine for a plastic one, then you want to know that it will last. The key here is getting a water bottle that isn't going to break if it's tossed around a bag, won't leak, and can handle all the curveballs on any given day. Look for a water bottle that is made from stainless steel or constructed with Tritan plastic. 
Purpose
Not all water bottles are created equal. Some are better for hiking adventures, others are great for sitting on top of a desk, either way it's important to look at your activity level and lifestyle before just picking any water bottle. If you know you're into hot yoga, then look for a water bottle that with a good grip in hot, sweaty conditions. And on the contrary, if you're just throwing your water bottle in your work bag, you want to make sure that it doesn't spill or break during your commute. 
Drinking Experience 
Drinking enough water during the day can be hard enough, so it's important to actually enjoy drinking from the water bottle. Is a narrow mouthpiece something you prefer? Or maybe a wide mouthpiece? 
Some people prefer chugging their water, vs. others may like to sip. Either way, it's about finding a water bottle that whether sipping or chugging, the drinking process is enjoyable.
Price
A water bottle is an accessory of everyday life, which means it can be something you spend some money on, or very little. Either way, you're going to spend money on drinking at some point, so perhaps something that is reusable is worth the investment. 
Some water bottles come with special features and are made with expensive materials which can spike the price up, but for the most part they are around the same range.
Appearance 
It doesn't have to be fancy, but you want a water bottle that you're not going to hate to look at every day. Pick something simple, or spice it up depending on preference. I paid close attention to the design details, material, and if there are color options. 
BarBend Tips 
Now that you've got an idea of  what kind of water bottles are out there, let's go over a few suggestions for an active person looking for a water bottle to bring to the gym, or off on any fitness adventure. 
Quality is key. You are going to want a water bottle that is durable, won't leak or break, and can handle being knocked around in a gym. Look for stainless steel water bottles and ones that have lids to protect sweat, blood, you name it from trickling in!

If you are training, the purpose of your water bottle is probably to keep water cool vs. sip on hot chocolate throughout the day. With that in mind, opt for water bottles that are more specific for the active person and prioritize being

leak-proof and dust-proof, and don't need to be for hot and cold beverages. 

Keep it simple. The last thing you want in between sets is to be trying to figure out how to open your water bottle. Look for an easy flip off top or a twist off.
Wrapping up 
Gulp. There can be a lot that goes into selecting a water bottle, but if you've come this far you're already on the way to saving money and the environment. Hopefully all of these tips, selections, and recommendations will make it just a little bit easier for you to remember to drink lots of water!