If you're looking for a versatile, mid-priced treadmill, the Sole F80 checks all the boxes. It's easy on the joints, updated with all the modern tools the voracious exerciser could need, and can easily fold up, saving you room when it's not in use.
Sole F80 Main Takeaways
  The Sole F80's Cushion Flex Whisper Deck provides great shock absorption. 

 A built-in tablet/phone holder will keep your

streaming devices

steady and visible during your workout.

 Its reversible deck allows you to flip the deck over once it's worn on one side, giving you double the usage.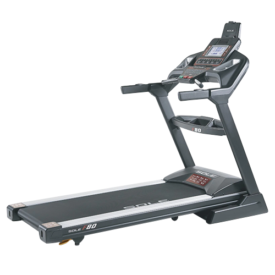 The Sole F80 treadmill is full of modern touches. It can withstand long runs, offers an incline range up to 15 percent and speed range up to 12 mph, and has a cushioned deck that makes running 40 percent less impactful on your joints than the outdoors.
Sole F80 Treadmill Highlights
​
Often times, when you're looking to buy an expensive piece of fitness equipment, you have list of items and features you want to see included, and the Sole F80 comes with a lot of bells and whistles. The treadmill's shock absorption is made for long distancers and its mobile app is everything the tech-savvy runner could want when it comes to stat-tracking. We've scoured all its buying points and gathered them here in our Sole F80 treadmill review to help you decide if it's worth buying.
Who Should Buy the Sole F80 Treadmill
Heavier athletes or long-distance runners

The dedicated mobile app stat-tracker

Anyone who's looking for long-lasting deck
Who Shouldn't Buy the Sole F80 Treadmill
Someone who wants a variety of preset workout programs

Anyone who's looking for a little more stability or safety in the form of long side rails

The space-saver who needs a treadmill to fold up straight and fit in a small area for storage purposes
Price
​
Coming in at $1599.99, the Sole F80 runs in the mid-range price group. It's definitely an investment, but you're getting a pretty versatile tread that has the majority of the same features of other much more expensive treadmills—like class streaming options, shock absorption, and a large LCD screen.
Overall Build and Quality
​
The Sole F80 is not a flimsy, fold-up treadmill you can shove under your couch after a workout. This treadmill definitely takes up space, but its 3.5 HP motor and spacious running deck make its hefty 278-pound build a great addition to any home gym that has the capacity for it.
Features
​
From zero to 15 percent incline and 0.5 to 12 mph speeds, you'll be hard-pressed to find a running or walking workout you can't complete on this machine. Though, if you are looking for a treadmill that has a load of these workouts built into its system, the Sole F80 isn't as good of a fit. Rest assured though, there's still a nice spot for your tablet to sit if you want to stream other workouts from separate providers.
Incline range
​
You can climb all the way from 0 percent up to 15 percent in incline. If you've been on a tread before, you know that after 10 percent incline, things get rough, so this tread is definitely built for anyone looking to up their heart rate and challenge their leg strength.
Speed range
​
Take your workout from a casual 0.5 mph to a speedy 12 mph. The Sole F80's motor can withstand walks of the most casual type all the way up to sprint runs. Unless you're clocking 22.6 mph 100-yard sprints like DK Metcalf, this tread should do the trick for you.
Included workouts
​
There are 10 preset programs on the Sole F80 (including fat burn, cardio, strength, hill, interval, etc.). You can store two users' separate data and view the workouts on the display screen, or on your phone or tablet.
Display
​
With a nine-inch LCD display front and center, you can easily see how far you've come during your workout session. You'll find stats like your speed, pace, distance, incline, and calories burned staring you down and nudging you along as you go.
Speakers
​
Listen to your choice of workout jams through the treadmill itself with its built-in Bluetooth speakers. If you're in an apartment with thin walls, your neighbors may not be too keen on this feature.
Fans
​
The Sole F80 has cooling fans to keep you cool even when the training gets hot. Especially in the summer months, this feature will come in handy, especially if you're training in a garage gym.
Heart Rate Monitoring
​
Check your heart rate by grabbing the pulse monitors on the handrails or using the wireless chest strap that comes with your treadmill purchase.
HDMI, USB and Other Inputs
​
Keep your phone alive throughout your session with the Sole F80's built-in USB charging ports.
Bluetooth and Audio Options
​
The Bluetooth Sole Fitness mobile app will record all fitness data as you workout, even if you are using your device to listen to or watch something else during your session. You can also connect your phone to the Bluetooth speakers and listen to your choice of fitness classes, TV shows, or music through your treadmill instead of earbuds.
Water Bottle, Cup Holders, Tablet and Phone Holders
​
With a built-in tablet holder and accessory tray, you'll be able to store all the goods you need for a successful run or walk without worrying about them falling onto your feet.
Product Specs
​
For the running enthusiast looking to dive deeper into the specs of the the Sole F80, read on for more details.
Motor Size
​
The commercial 3.5 HP motor provides great, long-lasting support for distance runs and heavier users.
Running Area
​
The 22×60-inch running surface has enough space for anyone whose gait requires a little extra breathing room.
Weight Capacity
​
The Sole F80 can support up to 375 pounds of weight and will comfortably support most people while running.
Folding Options and Dimensions
The Sole F80 does fold up to save space when it's not in use. The exact dimensions when it's unfolded are 82″ L x 37″ W x 57″ H., but because the treadmill folds up into a vertical position in a V-position, the exact dimensions don't quite tell the whole story. Needless to say, when the treadmill is folded, it'll only take about a third of the floorspace versus when it's in the unfolded position.
Max Speed and Incline Range
​
You can run up to 12 MPH and climb as high as 15 percent in incline. Thanks to the Sole F80's motor, this tread can take a whole lot of training.
Electrical Requirements
​
You'll have to plug this tread into the wall so make sure you have an outlet that can handle 15-amp, 110-volt—most normal wall outlets will do.
Warranties
​
Sole Fitness offers users a warranty with lifelong coverage on the frame, motor, and deck, 5-year coverage on the electronics and parts, and 2-year coverage on labor.
Belt Information and Roller Size
​
The tread has a 2.5-inch roller and two-ply belt, but arguably, its best quality is the reversible deck—once one side has taken enough wear and tear, you can flip it over and use the other.
Cushioning and Feel
​
The Cushion Flex Whisper Deck keeps your joints from taking too much impact, with 40% less joint impact than road running.
Workout Apps and Compatibility
​
You can use the Sole Fitness App to track all your workout stats, or you can transfer your workout data from the Sole F80 to a fitness app of your choice (FitBit, Apple Health, etc.).
Subscription Options
​
Though Sole Fitness doesn't have any fitness subscriptions, the tread itself does include 10 preset programs to target specific health and fitness goals you may have, like fat loss or strength building.
Places to Buy
You can buy the tread directly through the website or on Amazon.
Company Information
​
Sole Fitness previously sold their products solely to hotels, but has since become a reputability manufacturer for people of all fitness needs.
They offer a 30-day trial period in which you can receive a full refund if you aren't satisfied with your treadmill purchase. You can call 866-780 SOLE (7653) to get in touch with their office.
Wrapping Up
If you're looking for a treadmill that's fairly priced in the middle of the market, then the F80 is a solid treadmill to buy. It's compatible with fitness apps, has a strong motor, and the deck can even be flipped once you've worn the first side down. All-in-all, there's a reason why it's one of the most popular treadmills on the market.
FAQs
How expensive is the Sole F80?
The Sole F80 is a mid-priced treadmill at $1,599.99. You're not paying (or getting) what you would for the studio-grade Woodway treadmills, but you're also not throwing a few hundred dollars down the drain on something that will only last you a year or two. The Sole F80 is a solid, lasting purchase, and you'll get good usage out of the money you put down for it.
Is the Sole F80 a heavy treadmill?
It depends on what you consider heavy. It weighs 278 pounds, so for some, you'll need some assistance getting it where you want it to go in your home. For others, you could probably do it on your own. But it definitely won't fit in a coat closet, so don't hurt yourself trying.
How well is the Sole F80 built?
It's solid and versatile. It has a lot of the modern technologies you would get with much more expensive brands, its deck is long lasting, and its motor can withstand a lot of work and weight, but it may not be as sturdy as some of the heavier treadmills that come to mind, which can weigh up to 3,000 pounds.