Treadmills are invaluable tools for those who are interested in improving their running and cardiovascular fitness, and being able to train no matter the weather is crucial if you live in an area where it's not sunny out all the time. With a treadmill, you can run in rain, sleet, or snow, all from a comfortable corner inside your home.
Selecting the best treadmill can be a difficult task with so many different yet similar options available. Once you've figured out what you're looking for in a treadmill, this list can help you refine your search to find the right one. Whether you want high-tech, foldable, budget, or something else, we've compiled the best treadmills for running on the market, so just about any runner can find a match.
Best Treadmills for Running
Best Treadmill for Running Overall
There are so many treadmills on the market, so selecting the best one overall requires careful consideration. This one is durable, takes up little space, and has many great features. Plus, it also has trainer-led classes.
NordicTrack Commercial 1750
This treadmill is designed from the ground up for runners, especially those who like to push themselves with streaming programs. It features advanced cushioning for your joints and automatic adjustments when streaming classes through the optional iFit subscription. It can go as fast as 12 miles per hour, work up to a 15 percent incline, and can go down to a three percent decline.
NordicTrack Commercial 1750 Treadmill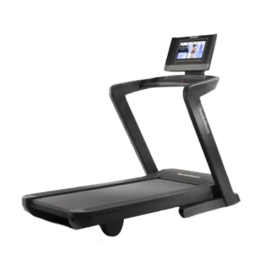 NordicTrack Commercial 1750 Treadmill
The NordicTrack Commercial 1750 is made for the tech-loving runner. This high-tech treadmill features a touchscreen monitor that can tilt and rotate, and offers automatic incline, decline, and speed adjustments based on the workout you choose. 
If you like to balance strength training and running, the 1750 could be a great fit because you can rotate and tilt the 14-inch touchscreen to follow along with iFit workouts. There are options that focus on strength, yoga, stretching, and more for a complete full-body workout. The 1750 stores easily, too, with a hydraulic lift assist that allows you to utilize the space when not in use.
We should note that this isn't the cheapest treadmill out there, with a price tag of around $2,299 before the iFit subscription and optional assembly. If the price upfront is too much, NordicTrack does offer financing depending on credit, which can be pretty affordable — as low as $59 per month.
Who Should Buy The NordicTrack Commercial 1750
Runners who like to incorporate other types of workouts into their fitness routine. You can perform yoga, strength training, and more for workouts on and off the treadmill.
Athletes who like to mimic outdoor terrain will appreciate the automatic adjustments on this treadmill.
Anyone who wants a solid range in both incline and decline will enjoy the -3 percent decline and up to 15 percent incline.
Who Shouldn't Buy The NordicTrack Commercial 1750
People who don't care about technology on their treadmill can find ones with a simpler design.
Even though the 1750 folds up, it still has a rather large footprint, so if you're really limited on space you might want to find a smaller option.
This isn't the cheapest treadmill on the market or this list, so if you're on a budget, you may want to check out more cost-effective options.
This treadmill can pretty much do it all and doesn't have any glaring weak points. The 1750 packs in plenty of technology, has a solid incline and decline range, and even a cushioning system to keep your joints happy. No matter your running goals, this treadmill is a great tool to help achieve them.
Read our full review of the NordicTrack Commercial 1750 Treadmill.
Best Foldable Treadmill for Running
Not everyone has enough room to have a bulky treadmill sitting out all the time. If you don't want your tread to turn into a coat rack or pinky-toe stubbing nightmare, you might want to opt for a foldable one. The Sole F63 folds up for easy storage and comes with a host of features.
Sole F63
Foldable treads, much like foldable squat racks are meant to save space. While the Sole F63 may not have some of the high-visibility features of some other treadmills, like a large touchscreen to stream workouts on, it does pack in quite a few quality-of-life features. When in use, the treadmill measures 66 inches tall, 82 inches long, and 35 inches wide but only 46 inches long and 70 inches tall with the same width when folded. What sets the F63 apart from many other foldable treads is the sturdy build.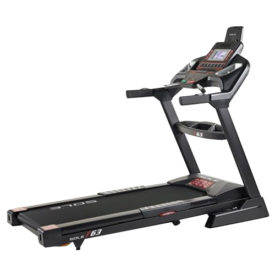 The Sole F63 is a high-quality, no-frills treadmill. The 3.0 HP motor can support up to 325 pounds, and the foldability is ideal for those tight on space. 
While many other foldable treadmills are wobbly when running, the F63 remains stable thanks to the steel frame construction. To power the tread, you have a stout 3.0 CHP motor for smooth adjustments. If you want to change the incline up to 15 degrees or speed up to 12 miles per hour, there are controls on both the console and the armrests.
While there is no screen to stream on, Sole does provide a tablet holder so you can watch or listen to whatever you like during your workouts. This space-saving treadmill costs around $999, with monthly payments as low as $54 per month, pending credit approval.
Who Should Buy the Sole F63
Anyone looking to save space when their treadmill isn't in use will appreciate the F63's foldability.
Folks who don't need or want a bunch of technology built into their tread. With this one, you can simply hop on and run.
If you've found foldable treadmills to be wobbly or unstable in the past then this one should put that thought to bed. The F63 is rock-solid.
Who Shouldn't Buy the Sole F63
Those who put a premium on having technology in their workout equipment may want to check out more tech-heavy options on this list.
Those who want to train on a decline may be disappointed that this only inclines.
People who like to stream workouts may find it tedious to have to bring out the tablet every time rather than having a screen built into their treadmill.
What the Sole F63 lacks in tech, it makes up for in practicality. This might not be the flashiest treadmill on the market, but it still has some great features. Not only can you fold it to almost half the length of its unfolded size, but the strong motor can keep chugging along with even the toughest workouts.
Read our full review of the Sole F63.
Best High-Tech Treadmill for Running
Treadmills don't have to be boring. These days, they have a ton of technology built into them, like screens, speakers, and WiFi capabilities. Some are better than others, though, and the NordicTrack Commercial 2450 is the best of the bunch.
NordicTrack Commercial 2450
Would you like to run the Boston Marathon? How about taking in the sights while running intervals in Pakistan? With the new NordicTrack Commercial 2450, a 22-inch pivoting and tilting touchscreen coupled with a 30-watt sound array allows you to do so from the comfort of your own home. The display on this treadmill is designed for complete immersion with the integrated iFit technology, which automatically adapts and adjusts the speed and incline for you. The 2450 also features Google Maps workout technology, so you can run anywhere in the world — the only limit is your imagination.
NordicTrack Commercial 2450 Treadmill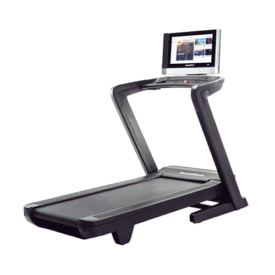 NordicTrack Commercial 2450 Treadmill
The NordicTrack 2450 is one of the most high-tech treadmills on the market. It features a 22-inch touchscreen display that can tilt to your comfort level, and rotate 360 degrees. Your purchase includes a free month of iFit, and all of your trainer-led classes offer automatic adjustments to the incline, decline, and speed settings.
On the technical side of things, this treadmill is a standout. You can adjust from a three percent decline up to a 12 percent incline with a speed of up to 12 miles per hour. Though the 2450 does fold, it still has a pretty large footprint of 78.5 inches long, 36 inches wide, and 65 inches tall, so make sure you measure your space first. As you can imagine, all of this technology does come at a cost.
The treadmill itself is priced around $2,999, while the iFit membership is about $39 per month. While the iFit streaming service is technically optional, nearly all of the great tech features are accessed through iFit, so for all intents and purposes, it is required.
Who Should Buy the NordicTrack Commercial 2450
Anyone who puts a premium on having the latest tech in their treadmill will like all that the 2450 has to offer.
If you want to run all over the world without ever stepping on a plane, then the immersive 22-inch touchscreen features here might be for you.
Those who want some extra motivation will appreciate the world-class trainers from iFit pushing you to dig deeper each session.
Who Shouldn't Buy the NordicTrack Commercial 2450
People who don't want to have to pay a monthly subscription to access all of their treadmill's features.
Those who are on a budget may balk at the hefty price tag.
If you need a space-saving design, there are better options on this list for that.
You're unlikely to become bored with the thousands of workouts and numerous locations that you can virtually travel to for your workouts. The NordicTrack Commercial 2450 is brimming with technology to keep you entertained, allowing you to push harder and reach your goals.
Read our full review of the NordicTrack Commercial 2450.
Best Basic Treadmill for Running
Some folks just want to hop onto the treadmill and get down to business. If you're one of those people who doesn't need a big screen or a million settings on your treadmill to enjoy your workout, the ProForm Carbon T7 is a great option.
ProForm Carbon T7
Just because a treadmill is basic doesn't mean it can't have great features, and the ProForm Carbon T7 is a great example. This tread features built-in fans, speakers, heart rate monitors, a seven-inch touchscreen display, and Bluetooth connectivity for your devices. Perhaps most impressively, a free three-year family membership to iFit ($1,188 value) is included with your purchase. The iFit membership gives you access to thousands of workout classes, interactive training sessions, and fitness tracking.
ProForm Carbon T7 Treadmill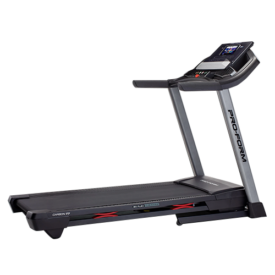 ProForm Carbon T7 Treadmill
The ProForm Carbon T7 treadmill is affordable, solid and comes with a free one-year membership to iFit, making it a great value for those looking to buy an entry-level treadmill that will last. 
The speed and incline are where some of the more basic features come into play, but the Carbon T7 is still no slouch. You can run up to 10 miles per hour and incline up to 10 percent as well. If those adjustment capabilities are sufficient for you, then you can pick this tread up for a fair price since it doesn't have some of the more flashy tech that others do. A one-time payment of around $1,403 or a monthly pay of as low as about $39 per month (depending on credit) can score you this treadmill.
Who Should Buy the ProForm Carbon T7
If you're looking for a more basic and budget-friendly treadmill that still offers some great features, this is a great choice.
The free three-year iFit family membership is a huge value if you want to stream workout classes.
People who don't need crazy amounts of incline or speed will be happy with the 10 mph speed and 10 percent incline.
Who Shouldn't Buy the ProForm Carbon T7
Runners who want to sprint faster than 10 miles per hour or climb higher than a 10 percent incline will want to check out other options on this list.
Despite the tech options on this treadmill, there are others with exceptional amounts of high-tech features included — they usually come at a more expensive price, though.
Folks who want a larger screen than the Carbon T7's seven-inch screen will want to look elsewhere.
If you don't need all the bells and whistles but still want some creature comforts, the ProForm Carbon T7 is a solid option. It has the basic tech that people expect from a treadmill today without pumping the price up too much. The included three-year iFit membership is also an incredible value, and the tread itself is priced fairly too.
Read our full review of the ProForm Carbon T7.
Best Budget Treadmill for Running
We get it. Treadmills can be expensive and represent a significant investment in your health. Anybody looking for the most return on that investment may want to look at our favorite budget treadmill for running — the Horizon 7.0 AT.
Horizon 7.0 AT
Horizon built this treadmill to still have many features and creature comforts without letting the price go through the roof. At a budget-friendly price of about $999 or monthly financing for as little as around $28 per month pending credit approval, this tread is one of the most affordable options out there. The budget doesn't mean it's cheap, though, as the Horizon 7.0 AT includes advanced features like a cushioned deck for softer footfalls, hydraulic folding, and Bluetooth connectivity.
The Horizon 7.0 AT Treadmill is a durable, low-cost option for anyone looking for a quality treadmill without overspending. It features a strong motor, a wide range of speed and incline settings, and a unique three-zone cushion system. 
You can select from a handful of pre-programmed workouts on the seven-inch display or even stream your favorite shows from popular workout apps. The intensity range available is no slouch either, with a speed of up to 12 miles per hour and inline up to 15 percent. We also really like the lifetime warranty that comes on the frame and motor — parts are covered for three years, and labor is covered in the first year from purchase.
Who Should Buy the Horizon 7.0 AT
If you're looking for a treadmill that will cushion your footfalls, you'll likely enjoy the three-zone cushion system here.
Folks on a budget can receive a great return on their investment with the Horizon 7.0 AT.
People who don't need a ton of high-tech features to have a solid workout will find that this is more than capable of delivering what you want.
Who Shouldn't Buy the Horizon 7.0 AT
Those that are on the hunt for the most high-tech treadmill will want to look at other options.
If you're into hiking and looking for a decline option you sadly won't find it here. This only inclines.
Folks who are interested in an integrated workout streaming service with their treadmill may want to check our other picks.
Anyone looking to snag a solid treadmill for running without selling their soul will find that this tread is rather well-priced — especially for the features and tech included. If you're on a budget but still want a high-quality treadmill then this is a great option to choose.
Read our full review of the Horizon 7.0 AT.
Best Incline Treadmill for Running
Running on an incline can be a great way to up the intensity of your workouts and make you appreciate flat ground more than ever before. If you want a treadmill that has won awards for being able to incline so high, then we suggest checking out the NordicTrack Commercial X22i.
NordicTrack Commercial X22i
So you're struggling to find new calf exercises that will keep you sore for weeks but can't find any, huh? Well, this treadmill can incline all the way up to 40 percent to help you reach new levels of DOMS you never thought possible. If you want to go the other way, you can decline down as far as six percent, which is great if you're looking to train for hiking. The deck is cushioned for maximum support, too, which may protect your joints when you're pushing hard at up to 12 miles per hour.
NordicTrack X22i Treadmill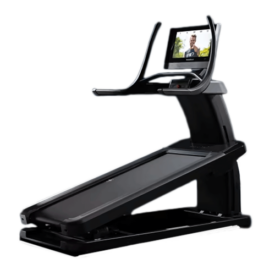 NordicTrack X22i Treadmill
The NordicTrack Commercial X22i is built for those who want to climb. The machine inclines up to 40 percent and declines down to -6 percent. It features a Sled Push option where you can power the belt with your own leg drive, and it has a 22-inch touchscreen display where you can follow your workout and take iFit classes.
If you want to climb up some of the most iconic locations around the world, you can connect with iFit's expert trainers on the included 22-inch touchscreen with a monthly subscription. They have workouts at locations worldwide like Egypt, Machu Picchu, and New Zealand, and with the large incline range, you can achieve a realistic experience. All of these features do come at a cost, though, with the X22i costing around $3,499 and an iFit membership running about $39 per month. You can finance the treadmill for as low as $90 per month, depending on credit, if the upfront price is too steep.
Who Should Buy the NordicTrack Commercial X22i
Those looking to train on the highest incline that they can. Most other treadmills can only incline a fraction as high as the X22i.
If you want a high-tech treadmill, this one will fit the bill with a large touchscreen, digital speakers, hands-free adjustments, and more.
Hikers who need to practice not only summiting mountains but also treading back down them will appreciate the six percent decline here.
Who Shouldn't Buy the NordicTrack Commercial X22i
Anyone on a budget will want to check out other options. Even with the option for monthly payments, there are cheaper options on this list.
People who don't want to have a monthly subscription to make the most of their treadmill. There are treadmills on this list that don't require a subscription to utilize all the features and benefits the product offers.
If you don't need to train on a steep incline or decline then you can likely opt for a treadmill that has a more modest range to save some money.
The NordicTrack Commercial X22i is a great fit for avid hikers and people who want to seriously strengthen their posterior chain with a seriously steep incline of up to 40 percent and decline down to negative six percent. This treadmill may be on the higher end of the price continuum, but you likely won't be able to find such a robust range of training anywhere else.
Read our full review of the NordicTrack Commercial X22i.
Best Durable Treadmill for Running
When you spend money on an expensive piece of fitness equipment, you want it to work for a long time. This treadmill is in it for the long haul and is made from high-quality, commercial-grade materials. If you're still apprehensive, then maybe the lifetime limited warranty can convince you. Let us introduce the Life Fitness Platinum Club Series Treadmill.
Life Fitness Platinum Club Series Treadmill
Hardcore runners know how important having a durable and powerful treadmill is, and this one can keep up with whatever you throw at it. It has oversized three-and-a-half-inch rollers designed to accommodate long-distance runs, while the powerful 4.0 CHP motor is great for interval work. The construction features a substantial steel frame with a max user weight of 400 pounds, which is nearly 100 pounds more than most treadmills can support.
Life Fitness Platinum Club Series Treadmill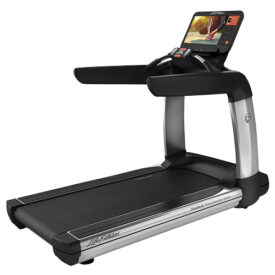 Life Fitness Platinum Club Series Treadmill
The Platinum Club is the treadmill for you if you want a powerful motor, smart compatibility, easy stat tracking using an array of apps, cushioning for your joints, and more.
If you want to focus on longevity, then you'll like the FlexDeck® shock absorption system, which is designed to reduce the impact that your joints endure when running. Life Fitness doesn't skip the tech features either, with a 21.5-inch touchscreen display to stream your favorite shows or music. You are also granted access to Life Fitness's on-demand library of workouts free of charge with purchase.
The one major roadblock is the price at around $11,659 or about $324 per month, pending credit approval. Running enthusiasts will know that this treadmill is worth every penny if you can swing it, but that cost could be a hard pill to swallow.
Who Should Buy the Life Fitness Platinum Club Series Treadmill
Those who want an ultra-durable treadmill made from the best materials will appreciate the steel body construction and overbuilt motor.
Heavier users who may not fit within the weight limit of other treadmills will like the 400-pound max user weight here.
Anyone who likes to switch between intervals, long distance, and other types of running. This treadmill can handle it all thanks to the large rollers and motor.
Who Shouldn't Buy the Life Fitness Platinum Club Series Treadmill
Anyone who's looking for a cost-effective treadmill. This one will blow your budget out of the water.
Those who are limited in space will want to look for a treadmill that can fold away into a compact size.
If you're not interested in high-tech features there are other options out there with fewer frills that won't blow a hole in your savings account.
Dedicated lifelong runners and strength enthusiasts will appreciate this extremely rugged and durable treadmill for all the resilience Life Fitness has built into it. From the steel frame to the 4.0 CHP motor and oversized rollers, the Platinum Club Series treadmill is the real deal and is made to last a lifetime.
Read our full review of the Life Fitness Platinum Club Series Treadmill.
Benefits of Treadmills for Running
Treadmills have gotten the short end of the stick regarding their reputation — they have a relatively low entry point to use them, and they have a host of benefits for runners. Whether you're just starting out and want to get into running for the potential cardiovascular benefits or are an experienced runner, treadmills may be a useful tool for you. (1)
They can be great for when it may be unsafe or unpleasant to run outside, such as during inclement weather or extreme heat. Having a high-quality running treadmill in your home like those on this list is also way more convenient than driving to the gym and messing around with settings to get everything right before starting your workout. Certain treadmills also have a wide range of incline and decline options, so you can mimic different terrains you may not have where you live.
How We Chose the Best Treadmills for Running
When selecting the treadmills on this list, we took care to think about what sets apart treadmills that excel in supporting runners' needs. We put a premium on special features, price point, build, and incline range.
Price
Treadmills for runners are admittedly more expensive than treadmills oriented toward walking in general just like power racks for powerlifting are usually more expensive and beefy than general fitness squat racks. They feature larger motors, more cushion, and a wider range of inclines. All of these improvements add up and cost more money.
That doesn't mean we threw value out the window, though, as we prioritized treadmills that were priced fairly and accurately according to their features. While some treadmills on this list are rather expensive, we ensured that the price is justified with special features like heavy-duty construction and exceptional motors or incline.
Special Features
Many people are interested in having treadmills with special features like a large touchscreen display so you can stream workouts or your favorite shows. Most of the treadmills on this list include a screen of some sort, while those that don't have great features in their own regard.
Some treadmills have unique features like a massive incline ability of up to 40 percent, and some others fold up well to maximize space. We have also included treadmills on the list with fewer bells and whistles that are simpler to use — simply hop on and get running without any complicated tech.
Build and Durability
You're going to want your piece of equipment to last a long time when you drop a bunch of coin on a shiny new toy. We put a premium on brands and treadmills with a reputation for durability and for being well-built. All of the treadmills built for running on this list have high-quality construction, and many have cushioning systems to add to their durability.
The treads here are designed to stand the test of time with daily use. If there are common problems with any treadmill that we're aware of, we wouldn't include them on our list unless they're exceptional for another reason. Even then, we would put it on your radar so you know to keep an eye out and can make an informed purchase decision.
Incline Range
When you're training to run, it can be difficult to accurately mimic the terrain, but having a treadmill with a wide incline and decline range can help. We ranked treadmills that can achieve more of an incline and decline higher than those with less range. There are even some with incline ranges up to 40 percent and declines down to negative six percent, though most top out at around 15 degrees of incline.
How Much Do Treadmills for Running Cost?
As we alluded to before, treadmills that are designed with runners' needs in mind do generally cost more than the average treadmill. This is likely due largely to the larger motor to power long, fast-paced runs, the oversized rollers to better grip the belt, and the extra cushion to absorb impact.
| | | |
| --- | --- | --- |
| Best Treadmill for Running Overall | NordicTrack Commercial 1750 | $2,299 |
| Best Folding Treadmill for Running | Sole F63 | $999 |
| Best High-Tech Treadmill for Running | NordicTrack Commercial 2450 | $2,999 |
| Best Basic Treadmill for Running | ProForm Carbon T7 | $1,403 |
| Best Budget Treadmill for Running | Horizon 7.0 AT | $999 |
| Best Incline Treadmill for Running | NordicTrack Commercial X22i | $3,499 |
| Best Durable Treadmill for Running | Life Fitness Platinum Club Series Treadmill | $11,659 |
Though treadmills for running can be a bit more costly, that doesn't mean you can't grab one for a reasonable price. Some can be purchased for as little as about $999 outright though more expensive models can be as much as around $3,500, while commercial-grade treads might cost upwards of nearly $12,000.
What to Consider Before Buying a Treadmill for Running
There are some important things to consider before taking the plunge and finalizing your purchase for a new treadmill to help you reach your running goals. You may want to think about the size of the machine, the streaming platforms it supports, and overall performance capabilities in your search.
Size
When you're building out a home gym or even looking to set up a single piece of equipment like a treadmill, size is almost always an important factor. Consider the area you're going to use for the treadmill and measure it twice to make sure you've got the right size. Few things are as disappointing as getting your new treadmill and having it not fit right in the space you envisioned. We like to put some boxes or laundry baskets in the space for a day or two to see how everything would fit and flow around the potential new treadmill before placing the order.
Streaming Platforms
Most of the treadmills on this list come with a screen and streaming services that you can subscribe to for on-demand or live workouts. We'd recommend checking them out and maybe even signing up for a trial before you order your treadmill to ensure you're purchasing the right one. One of the most popular streaming systems is iFit, with thousands of workouts at scenic locations.
It's also a good idea to think about how you'll stream your workout or entertainment if the treadmill you're interested in doesn't have a screen. Are you willing to use your phone or tablet? If so, is the holder secure enough to not have it bounce around when you're running? Maybe you don't want to stream anything and just want to hop on and go. In that case, maybe you can look for a treadmill with more basic tech features.
Performance
All of the treadmills on this list are suitable for runners, but some are more oriented toward long-distance running, and some have high-output motors for sprint intervals. Looking at the motor and roller size will usually help you determine the possible performance output you can expect from a treadmill.
Motors that are 3.0 CHP (continuous horsepower) or more are great for both long-distance and sprinting because they have the power to reach sprint speeds more quickly without as much strain over the long term as smaller motors. Smaller motors are perfectly capable of supporting long-distance running, though you may want to take a little more time to achieve your top speed.
The rollers which turn the tread belt are also worth considering. Generally speaking, the larger the roller, the better since that decreases the force applied to the running surface itself. In turn, this allows your belt to continue to turn at the proper speed without having to slow down and catch up, which stresses the motor. A good roller size is around two and a half inches, while higher-end treadmills for runners can have sizes up to three and a half inches.
Final Word
Regardless of which treadmill you select, you're going to be spending a good chunk of change, so it's worth taking some extra time and care to consider all of the factors that make a treadmill good for running. It can help to create a list of features and performance specifications that you want in a treadmill. Most importantly, sticking to your budget and space needs will ensure you don't overextend yourself or purchase a tread that doesn't fit where you want it to go.
Once you have sorted out your priorities and budget, then you can use this list as a way to take some stress out of your search since all the products here are top-notch. No matter if you're hunting for a steal of a deal, tons of tech, or a phenomenal foldable, we've got great options for you to choose from.
FAQs
What's the difference between treadmills for running and treadmills for walking?
Generally speaking, treadmills that are designed for running have larger and more powerful engines, extra cushioning shocks, and larger belt rollers to accommodate higher speeds and more rapid acceleration. You can certainly walk on a treadmill meant for running, but the opposite may not be true if you want to extend the lifespan of your treadmill.
How much do treadmills for running cost?
Treadmills that are made to accommodate runners have about as wide of a price range as any piece of equipment we've seen. You can stay on the cost-effective side and spend somewhere around $999, or you can opt for an ultra high-end treadmill for upwards of about $12,000 with more treadmills everywhere in between.
There are also usually options to finance the machines depending on credit, so don't let the outright price scare you away if you think an option is perfect for your needs but somewhat out of your price range.
What is the best treadmill for running?
With so many options on the market, it's rather challenging to select just one treadmill as our favorite. We've become big fans of the NordicTrack Commercial 1750, though, thanks to its large and versatile screen that tilts and rotates. We also really like the solid range of adjustments from negative three degrees of decline to 15 degrees of incline and speed capabilities of up to 12 miles per hour.
References
Lee, D. C., Pate, R. R., Lavie, C. J., Sui, X., Church, T. S., & Blair, S. N. (2014). Leisure-time running reduces all-cause and cardiovascular mortality risk. Journal of the American College of Cardiology, 64(5), 472–481. https://doi.org/10.1016/j.jacc.2014.04.058