We receive free products and receive commissions through our links. See
disclosures page
.
The Assault AirRunner is a little different than most treadmills on the market. Instead of plugging it into a wall outlet, you power the AirRunner yourself. In other words, this is a motorless machine, so your run—speed, stride, power, strength, etc.—pushes this tread to move. Its curved deck makes it easier to propel the belt, but this training technique is really meant to help you perfect your running form, with less emphasis on the technology available in the tread and more on a natural feel while running.
Main Takeaways
This treadmill is not electric, meaning you propel the belt using the power of your own stride.

It has a sturdy steel frame and a heavy-duty belt to keep you stabilized throughout your

workout

.

The design helps

improve your overall running performance

, aiding your form and decreasing the risk of injury.
Assault AirRunner Treadmill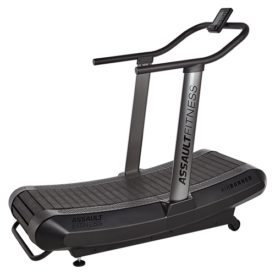 Assault AirRunner Treadmill
This Assault AirRunner is built for those looking to perfect their stride, zero in on their form and improve their overall running performance. With no fancy frills, this curved-deck machine will have you sweating and striding properly in no time.
Assault AirRunner Treadmill Highlights​
The Assault AirRunner is ideal for anyone looking to up their running game. It helps you perfect your stride and strengthen your performance through the technique it takes to make the belt move. But if you aren't already good at setting your own pace, this tread may not be for you. It doesn't have set-it-and-forget-it speed controls, so you have to pace yourself on your own. But for what it lacks in features, it will make up for in quality and build.
Who Should Buy the Assault AirRunner
Runners who want to be able to run as fast as they physically can with no limitations.
Athletes looking to burn a few extra calories than they do on regular treadmills.
Anyone who needs an extra long running surface.
Who Shouldn't Buy the Assault AirRunner
Someone who wants a wide running surface.
Runners looking for a water bottle holder to use throughout their workouts.
Athletes who prefer an electric treadmill with lots of high-tech features.
Price​
This machine goes for $3,699, which to some may sound like a hefty price tag. However, what you're paying for is a powerful training tool. You won't be getting tons of technology with this buy, but you will get a machine that will push your limits and take your performance to a higher level — not to mention it leaves your electric bill unscathed.
Overall Build and Quality​
The Assault AirRunner has a sturdy steel frame that's built to withstand heavy training. Though nothing is holding less experienced runners back from purchasing this treadmill to build up their skill level, it's better for more advanced runners who can hold their own pace without a motor and speed controls doing it for them.
Features​
One of the most unique features of this treadmill is its curved deck and motorless build. In order to move the track, you move your legs. To go faster, you move them faster. To go slower, you move them slower. There's no incline option, but you will truly feel the change in your form, strength and technique just by having to control the machine with your own power.
Incline range​
This machine doesn't have incline controls. However, if you want to feel a touch of incline, you can run a little closer to the top curve of the deck.
Speed range​
The speed range on this machine is truly DIY—there are no limits, but you will have to push hard to get to those higher speeds because you are moving the track yourself.
Included workouts​
There are just a few pre-programmed workouts in this small console, which include interval programs (both HIIT and Tabata), target workouts (like time and distance) and heart rate programs (target heart rate and zone).
Display​
This LCD display is pretty small but can surprisingly still track all your metrics, including time, calories, distance, speed and watts.
Speakers and Fans​
This treadmill doesn't include speakers or fans. Rather, Assault Fitness puts the focus into the performance aspects of their treadmills, rather than added accessories.
Heart Rate Monitoring​
Your tread will come with a chest strap monitor. The console is also bluetooth and ANT+ compatible, so if you want to connect your own heart rate monitor, that is possible as well.
HDMI, USB and Other Inputs​
There are no USB plugs on this machine, so make sure you charge up before hopping on if you want to track any part of your workout on your phone.
Bluetooth and Audio Options​
The console is Bluetooth compatible, so you can connect your heart rate monitor via Bluetooth to track your workout in its entirety.
Water Bottle, Cup Holders, Tablet and Phone Holders​
Try not to bring anything with you on this tread—there's nowhere to store water bottles, keys, tablets or phones.
Product Specs​
This machine runs on the lighter side at 280 pounds, but that doesn't mean it isn't well-built. Its steel frame and heavy-duty belt are meant to withstand heavy training. The running area lacks a little in width but makes up for it in length, which will help guide your stride as you power this machine manually.
Motor Size​
The Assault AirRunner doesn't have a motor—you are the motor of this machine, so each stride you take decides how fast the belt will move.
Running Area​
The running track is 62 inches long by 17 inches wide, which is definitely on the longer side of most treadmills, but lacks in width—you'll find other machines measuring around 20 inches wide.
Weight Capacity​
The weight capacity for users runs around average at 350 pounds.
Folding Options and Dimensions
Once assembled, this machine sits at 70" long x 33" wide x 64" high, and it stays that way because there is no folding option.
Max Speed and Incline Range​
Since this machine is manually powered, its range is what you make it when it comes to speed. The curvature of the deck helps you get there a little easier, but it still takes greater effort than a regular tread to hit those higher numbers.
Electrical Requirements
Since this is a motorless treadmill, it does not require an electrical outlet.
Warranties​
The warranties on this machine are a little short—five years on the frame, three years on non-wear parts and one year on labor.
Curved Belt​
The Assault AirRunner's belt is a heavy-duty, slatted belt that's made for intense training. Its curved deck makes propelling the belt easier for runners but still harder than running on electric treadmills where the speed is set for you. If you want a little more incline, run closer to the front of the belt. For less incline, stay more toward the middle.
Cushioning and Feel​
This particular machine puts an emphasis on natural feel. As runners power this machine with their stride, the curved deck and slatted-belt immediately force them into a more natural form. Once you adapt to this feel, the idea is that you will be able to replicate it anywhere and anytime you run, whether it be on a different machine or even outdoors on the trails.
Workout Apps, Compatibility​ and Subscription Options
There are no workout apps that come with this machine, but that doesn't mean you can't listen to a third-party workout class over some earbuds as you run.
Places to Buy
You can buy the Assault AirRunner via Assault Fitness or Amazon Marketplace.
Company Information​
Assault Fitness produces an elite line of fitness products, including bikes, rowers and treadmills. They may be most famous for the Assault AirBike, which is considered one of the most difficult fan bikes in the world as it uses air to produce the resistance you work against throughout your workout. Their products aren't for the faint of heart, but they do focus on upping users' overall form and performance.
FAQs
How do I change my speed on the Assault AirRunner?
The speed on the Assault AirRunner is the definition of DIY. If you want to go faster, you move your legs faster; if you want to slow down, you simply slow your stride. Your speed will appear on the display screen, but any changes you want to make to that number, you'll be the power behind that.
Is the Assault AirRunner good for all levels?
Yes and no. This machine is built better for runners who already know how to control their speed and pace themselves, since you decide and stick to your own pace on this motorless tread. However, that doesn't mean that lower-level runners can't learn and adapt. In fact, if you're looking to gain some technique, this is the perfect machine to nail down your running form.
Can you walk on the Assault AirRunner?
Yes. You can go any speed you want on this machine—you do you. Just note, no matter which speed you decide to go, it will feel harder than it does on an electric treadmill because your legs are the motor behind the belt.