We receive free products and receive commissions through our links. See
disclosures page
.
Treadmills can be a great way to boost your cardio from the comforts of your own home, but more often than not, you need a spare outlet available to power it up. The Assault Runner Elite, on the other hand, uses you as its power source, eliminating the need for a built-in motor and other electrical hardware. Similar to the Assault Runner Pro, this can be a great cardio machine for athletes wanting to be in full control of their training. Where this machine differs from its predecessor, though, is in its revamped warranty program and added conveniences.
Our tester has personally owned the Assault Runner Elite Treadmill for over two years now and uses it regularly as a part of his training routine. This treadmill showcases a similar build to its Pro sibling with its heavy shock-absorbent belt, solid steel frame, and impressive drivetrain composed of 100 precision ball bearings and 12 roller guides. Where it differs, aside from the $1,000 price increase, is in the inclusion of two water bottle holders, a multifunctional center storage compartment, and a more comprehensive warranty program. In our eyes, these upgrades aren't worth the extra coin (for most people), but looking at the Elite individually, it's still a worthwhile addition to any home gym setup.
Assault Runner Elite Treadmill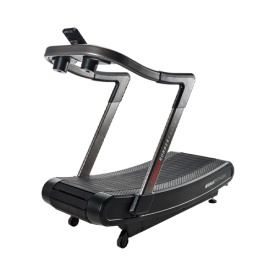 Assault Runner Elite Treadmill
The Assault Runner Elite is a top-tier motorless treadmill thanks to its heavy shock-absorbent belt that utilizes inertia to reach and maintain optimal speeds in training. We also appreciate the added conveniences of built-in water bottle holders and a center storage compartment. 
Main Takeaways
The heavier shock-absorbent belt creates more inertia during training, making it easier to reach and maintain faster paces.
The upgraded conveniences including water bottle holders, a center storage compartment, and a better warranty package are convenient but not necessarily worth a $1,000 price hike from previous Assault Fitness treadmills.
The motorless design allows you to set this treadmill wherever possible for workouts, even outside during ideal weather conditions.
Assault Runner Elite Treadmill Review Specs
Price: $3,999
Max Speed: Depends on your fitness level
Weight Capacity: 400lbs
DriveTrain System: 100 Precision Ball Bearings with 12 Roller Guides
Pre-Programmed Training Modules: Quick Start, Intervals, Targets, Competition Mode
Dimensions: 69.9" L x 31.7" W x 64.4" H
From a performance perspective, the Assault Runner Elite shares a lot in common with its predecessor, the Assault Runner Pro. It's still built with a durable solid steel frame, as well as an efficient drivetrain composed of 100 precision ball bearings and 12 roller guides. We appreciated this sturdy build in testing and found no hiccups when getting the belt up to speed.
Speaking of the belt, our tester enjoyed the overall weight of this component, as it allowed inertia to take over during workouts and supported a higher training intensity. Granted, it takes a little effort to bring the belt back down to a static, paused state, but it's nice to experience that faster movement underfoot when upping the ante.
Aesthetically, the Assault Runner Elite differs from the Pro with more curvature along the frame, as well as updated plastic covers at the edge of the handrails. While this revamped aesthetic is generally appealing, we do wish that further attention was given to these plastic handrail covers. Our tester noted that getting them to sit flush with one another takes some work, with some seams never closing entirely. It's not the biggest concern and doesn't affect performance, but if you're shelling out nearly $4,000 for a high-quality treadmill, you'd expect it to come together properly.
The Assault Runner Elite also sets itself apart from other Assault Fitness treadmills thanks to an updated front console. This updated component boasts not one, but two convenient cup holders, as well as a multifunctional center storage compartment that can fit smaller essentials like your smartphone. Previous Assault Fitness treadmills, like the Pro, required you to have your must-haves close by rather than right in front of you during training. It's not a major convenience upgrade, but an upgrade nonetheless.
Finally, the Assault Runner Elite has a footprint of 15.39 square feet. Additionally, the Assault Runner Elite is not a folding treadmill, so be sure that you can comfortably sacrifice this amount of space at all times. That said, the lack of a power source means you can store and operate this treadmill practically anywhere you please. The built-in wheels, self-leveling feet, and UV-resistant center display even allow for outdoor training when the weather is right — an uncommon scenario not often associated with running on a treadmill.
Pros
It comes with an impressive warranty package that covers the belt, frame, non-wear parts, and labor.
The built-in display console delivers easy-to-read metrics without much fluff or frill.
You can reach your training speed more efficiently thanks to the inertia created through the heavier shock-absorbent belt.
Cons
Those wanting a more immersive, app-supported display console may want to look elsewhere.
While maneuverable thanks to wheels at the front and a back handle, the Assault Runner Elite is still a hefty piece of machinery at 289.2 pounds.
The Assault Runner Elite is not the most expensive treadmill, but it's close to the top at nearly $4,000.
Training With the Assault Runner Elite Treadmill
Working out with the Assault Runner Elite can be a unique experience for newcomers, especially since there are no speed or incline settings to hone in prior to training. That said, there's still plenty of potential for optimal performance across this simple yet well-built rig. The belt moves smoothly across the drivetrain, allowing you to reach and maintain desired speeds with ease.
Plus, the built-in UV-resistant display console delivers all your desired metrics without any unnecessary data. We also appreciate the tactile buttons and toggles of this unit, since managing a touchscreen with sweaty fingertips can be somewhat of a chore from time to time.
In reality, though, the on-unit experience with the Assault Runner Elite was nearly identical to that of the Assault Runner Pro, according to our tester. After all, both treadmills utilize the same drivetrain, and there's no difference in the motor. Two minor differences between the models: the Elite's water bottle holders allow for quick refreshment when powering through a workout, and the center storage compartment is nice for holding your keys or smartphone.
Belt Weight
Having a sturdy, heavier belt underfoot when training with the Assault Runner Elite is a huge perk, as reaching and maintaining speed is more achievable given the immense amount of inertia created when the belt begins to rotate. Once you get that heavier belt moving, it can be easier to maintain a speed throughout your workout, so you don't need to worry about putting in a constant max effort in order to keep the same rotational speed throughout your workout.
We could easily determine that Assault Fitness built this treadmill with intent, and having that security almost acts as a motivating factor with less fear of pushing ourselves in the throes of a workout. Even if you somehow manage to wear through the thick rubber, Assault Fitness backs up this key component with a lifetime warranty — a major upgrade over its Assault Runner Pro brethren.
It should be noted, though, that while the belt does a fine job of maintaining speeds, it does take a little for it to come back down to a halt. So, once you've completed your workout, we recommend shifting your feet toward the side rails as the belt comes to a stop. If you simply grab hold of the side handrails and keep your feet in a static position, they can easily be flung toward the back of the profile, which may leave you off-kilter and in a compromised, unsafe body position.
UV-Resistant Display Console
The lack of a motor and power cord may have you thinking that the Assault Runner Elite is nothing more than a glorified hamster wheel, but the included UV-resistant display immediately throws that thought out the window. Our tester praised this console's readability and clarity, even when training under direct sunlight.
The main metrics like calories, speed, wattage, pace, and time elapsed are plenty legible during training, and the tactile, utilitarian buttons make it easy to toggle between programs and data points. We appreciate this button layout, as it makes it easier to access key settings and readouts without having to worry about sweat-riddled fingertips.
The Assault Runner Elite also comes equipped with four pre-programmed training modules — Quick Start, Intervals, Targets, and Competition Mode. These are different from other programs you'd find baked into standard treadmills, as there are no incline or speed variations, but they can be nice for keeping your pace in check as you work through a given session. You don't get the same immersive experience as you would with, say, the iFit platform of trainer-led fitness classes, but it's still a nice touch to an otherwise simple treadmill design.
Convenient Add-Ons
As stated before, the driving factors separating the Assault Runner Elite from the Assault Runner Pro are key design upgrades including added water bottle holders and a center storage compartment. In training, these perks proved worthwhile, as grabbing a quick sip of our favorite sports drink was less involved than in previous sessions with older Assault Fitness treadmills. Plus, having all of our essentials (read, our smartphone) closer to our frame for the entire duration of a workout gave little opportunity for broken Bluetooth connectivity between our phone and wireless earbuds.
As beneficial as these design upgrades are, however, it's hard to justify them when thinking of the associated price hike. Yes, grabbing a sip of water or ensuring uninterrupted tunes is nice, but are these perks worth $1,000 more than the experience we previously examined in other Assault Fitness models? For our money, the scale is off, but that doesn't mean that we should devalue the Elite treadmill as a whole.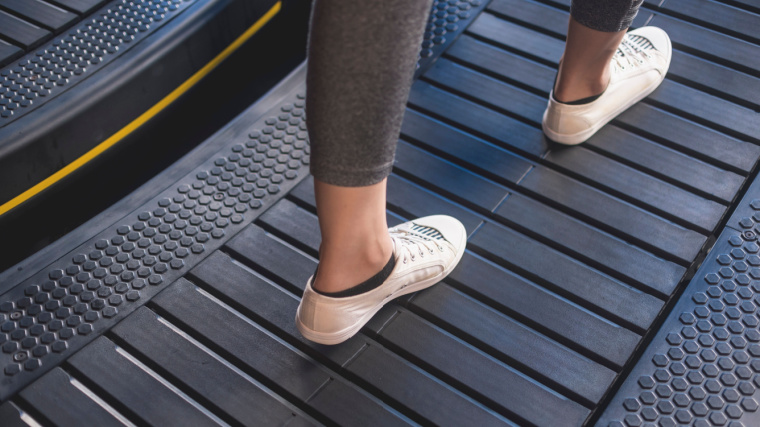 What to Consider Before Buying the Assault Runner Elite Treadmill
As impressive as the Assault Runner Elite is, in our opinion, we understand that not every athlete shares the same sentiment about a motorless treadmill — and an expensive one at that. If you're curious about adding a treadmill to your home gym and considering the Assault Runner Elite as an option, be sure to think through these key factors.
Price
With a price tag of $3,999, the Assault Runner Elite is by no means a cheap treadmill. For example, you could purchase our favorite budget treadmill, the Sole F63, three times over and still have money in your pocket before hitting the same cost. That said, this Assault Fitness profile is not reliant on electricity for operation and use, and there's a hefty warranty to back its performance throughout your fitness journey. In the end, you need to make sure that your equipment desires match your budget.
Available Space
This impressive treadmill carries a footprint of 15.39 square feet, so be sure you have the available space before going with this profile. Additionally, the Assault Runner Elite has no storage-friendly features, meaning it cannot fold up for added convenience. If you're tight on space and cannot give up any additional room in your home gym, it may be best to look elsewhere for your at-home cardio needs.
While the makeup of this Assault Fitness treadmill does frame itself as an immediate negative, it's also worth noting that you can place that 15.39 square foot footprint anywhere you'd prefer thanks to the Runner Elite's lack of an electrical power source. You don't need to curate your training space around your outlets, meaning this machine can live directly in the center of your room without compromise, if you so choose. Plus, the convenient wheels and handle allow for improved portability. However, we recommend having an assistant ready for longer moves around the house to help you transport this 289.2-pound beast.
Motorized Vs. Motorless Design
The motorless design of the Assault Runner Elite puts the (literal) power in your hands during training. There's no motor to facilitate faster or slower speeds, so your workout intensity is at the mercy of your effort. While some athletes might clamor for this sense of control, others may want a less involved training experience, especially when following along with trainer-led workouts. Be sure to take your preferences into consideration before signing yourself up for the added challenge.
Additionally, no motor means there's no chance for pitch changes mid-workout. You cannot adjust the incline or decline of your run through a simple toggle. Rather, you'd need to jog toward the front or back of the curved belt to facilitate a similar underfoot sensation. If you're an athlete who prefers to train through ascents and descents, we recommend opting for a motorized treadmill to facilitate such training environments.
Display Console
The Assault Runner Elite, according to our tester, boasts one of the best display consoles in the treadmill space. Every metric and readout is clear and legible, and there are no frills or fluff when it comes to analyzing your performance in a given workout.
You can even pair a handy heart rate monitor without issues for the sake of more informed data mid-workout. However, we understand that the basic numerals and data-focused information aren't for every athlete, especially when other treadmills showcase HD touchscreen consoles capable of giving you movie-quality visuals. These profiles can be excellent for those wanting to follow along with trainer-led sessions and other workout types. Be sure to think about how you'd like to exercise before considering the Assault Runner Elite for your home gym.
Also, it's worth noting that the Assault Runner Elite's display console is UV resistant, which can allow for outdoor training scenarios under ideal weather conditions. Granted, we don't expect every athlete to wheel their treadmill out into the driveway for training when the forecasts align. Still, it is an added perk nonetheless — especially when you consider the fact that the Assault Runner Elite requires no power for optimal operation.
App Integration
Today's fitness realm is more digital than ever. There's a plethora of online workout programs available to help guide you through your fitness journey, and many offer trainer-led videos or classes for extra assistance. Assault Fitness has an app as well that can sync with its lineup of impressive equipment, including the Runner Elite.
That said, the library of workouts is not as vast as other programs out there, and training courses cannot be streamed to the machine itself since the display console cannot support video. You can still use your Assault Runner Elite with another training service, but the matchup will be less streamlined than others.
Assault Runner Elite Treadmill Vs. The Competition
With so many treadmills available today, it can be difficult to choose between one profile and the next even when specifying your search for solely motorless options. To help you compare and contrast some of the top-performing motorless treadmills on the market, we've composed this helpful chart below.
| | | | | |
| --- | --- | --- | --- | --- |
| | Assault Runner Elite Treadmill | Trueform Runner | Xebex Runner Smart Connect | Assault Runner Pro Treadmill |
| Price | $3,999 | $6,899 | $4,299 | $2,999 |
| Weight Capacity | 400lbs | 450lbs | 350lbs | 350lbs |
| DriveTrain System | 100 Precision Ball Bearings with 12 Roller Guides | 106 SealedSteel Ball Bearings | 4x Pillow Block Bearings | 100 Precision Ball Bearings with 12 Roller Guides |
| Pre-Programmed Training Modules | 4 | 0 | N/A | 4 |
| Dimensions | 69.9" L x 31.7" W x 64.4" H | 64" L x 36" W x 57" H | 71″ x L 35″ x W 60″ H | 69.7" L x 33.1" W x 64" H |
Compared to the Trueform Runner, the Assault Runner Elite is less capable when it comes to weight capacity. With that said, though, the Assault Fitness option does win the head-to-head regarding its price tag and pre-programmed training modules. Additionally, we've found that the running deck of the Assault Runner Elite is longer than that of the Trueform Runner silhouette — 62.2 inches with the Assault Runner Elite compared to 54 inches with the Trueform Runner.
This can be more accommodating to longer-striding athletes, as there's less of a chance of stepping off the running platform during training, leading to a more natural gait. As far as comparisons go with the Xebex Runner Smart Connect, you gain a more expansive library of pre-programmed courses — although we're unsure of the true numbers here — but you sacrifice weight capacity and price point in the process.
The closest comparison to the Assault Runner Elite is cut from the same branded cloth — the Assault Runner Pro. Both treadmills boast identical drivetrains and integrated workouts. With the Assault Runner Elite, however, you get an improved warranty package, beefier weight capacity, as well as the aforementioned water bottle holders and center storage compartment. The Assault Runner Pro is cheaper, however, by $1,000, meaning you'll need to consider how valuable those upgrades are before pulling the trigger.
Places to Buy the Assault Runner Elite Treadmill
The Assault Runner Elite Treadmill is available online directly from Assault Fitness. You can also find this impressive motorless treadmill at other online retailers such as Torque Fitness.
Warranties
When it comes to equipment coverage, the Assault Runner Elite treadmill is tough to beat. The belt itself is backed by a lifetime warranty, and the frame is covered for 10 years. Non-wear parts and labor are also supported, with coverage of three years and one year, respectively.
Customer Experience
In terms of shipping, the Assault Runner Elite comes in one singular box. Our tester said that the cardboard box arrived damaged with a hole near one of the corners, which resulted in a self-leveling foot disappearing from the treadmill, but we called Assault Fitness and they sent a new one rather quickly. As for assembly, the process is easy enough — you'll attach the feet (if needed), arms, and monitor to the treadmill. You'll also need to route the monitor's cable down through the arm to the belt, but our tester didn't find this difficult.
Company Information
Assault Fitness manufactures some of the most elite fitness equipment in the category, including exercise bikes, rowing machines, and (of course) treadmills. Highlighted by the brand's Assault AirBike, these rigs are known for being some of the toughest challenges in training, relying on human output to drive resistance over electrical power. Assault Fitness products aren't for every athlete, but they can be a thrill to use if you're up for the heightened intensity. The brand's customer service is top notch, too, and can be reached at 1(888)-815-5559 ext. 4252 during normal business hours throughout the week.
In Conclusion
If you're looking for a top-of-the-line motorless treadmill, the Assault Runner Elite can be a great pick. The brand has made a number of aesthetically pleasing upgrades to the silhouette over its predecessor, and the boosted warranty package is enough to put even the most cautious fitness enthusiast at ease. That said, we don't feel the revamped design and boosted product services warrant a $1,000 price hike. If you have the option of going with the older Assault Runner Pro, we'd recommend going with the cheaper model.
Still, it's hard to deny the Assault Runner Elite a place at the table when it comes to its in-training performance. The heavy belt can easily reach top speed and maintain said tempo throughout training, and the convenient water bottle holders are a nice touch when trying to quench your thirst mid-workout. Above all else, if you're looking for a motorless treadmill to add to your seyup, know that Assault Fitness has you covered with multiple worthwhile options.
FAQs
Can you walk on an Assault Runner treadmill?
Yes, you can walk on an Assault Runner Elite treadmill. You serve as the power source when it comes to rotating the belt, so the speed of operation is completely dependent on your effort. Getting the belt started may take some effort, but maintaining a walking speed can be simple given the heightened inertia at play across the heavier belt.
How do you run on an Assault Runner Elite treadmill?
You can essentially run in your normal fashion when atop the Assault Runner Elite, but according to the brand, there are a few key factors to consider. For one, you don't need to stretch and grab the belt with your foot for optimal rotation.
Instead, look to have your foot strikes land slightly in front of the upright beams, lifting your knees at the toe-off rather than pushing the belt backward. Additionally, Assault Fitness recommends keeping your torso and trunk upright throughout your strides when maintaining a specific pace, and leaning slightly forward when looking to speed up. For a more detailed instruction, be sure to check out Assault Fitness' How-To Video.
Is The Assault Runner Elite quiet?
How silent a treadmill is can be a subjective factor, but in our testing, we found no egregious audio output from the Assault Runner Elite. The slight gaps between the belt tracks can go a long way in facilitating this quiet operation, along with the lack of an internal motor.