We receive free products and receive commissions through our links. See
disclosures page
.
Ideal for anyone who wants to feel like they're trekking up a steep mountain during their daily at-home workout routine, the NordicTrack X32i treadmill will challenge your incline endurance and keep you hooked on fitness classes while you go. With a free year of iFit classes, some of the highest inclines and lowest declines on the market, and an extra large display screen, this treadmill is definitely one of the most modern options you can add to your home gym.
Main Takeaways
The running area is extra long and extra wide, coming in at 22" x 65".

There's a large 32" touchscreen display that can play iFit classes and track your stats as you run.

This tread inclines up to 40 percent and declines down to -6 percent.
NordicTrack X32i Incline Treadmill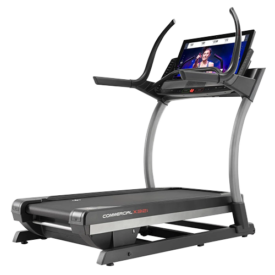 NordicTrack X32i Incline Treadmill
The NordicTrack X32i is built for the mountain climber. It inclines all the way up to 40 percent and declines down to -6 percent. You can use the 32" display screen to stream iFit classes from your iFit subscription, which you receive for free for one year. And with an extra large running area, you'll have extra space to enjoy each run you take.
NordicTrack X32i Treadmill Highlights​
There are definitely two types of people when it comes to buying treadmills: those who want all the modern technologies, and those who opt away from that kind of distraction. If you've put yourself into the former category (in which the NordicTrack X32i falls), you'll want to look at all the other features the NordicTrack X32i has or doesn't have, like incline, cushioning, folding capabilities, and more.
Who Should Buy the NordicTrack X32i
Walkers who want inclines higher than your average 15 percent.
Runners who want cushioning that can both protect their joints and replicate outdoor trail runs.
Athletes who like to incorporate streamed fitness classes into their workout routine.
Who Shouldn't Buy the NordicTrack X32i
Larger runners who need a spacious running area.
Sprinters looking for a treadmill that can move faster than 12mph.
Anyone who needs a higher weight capacity.
Price​
The X32i runs for $3,799, which is on the higher end for treadmills on the market. But considering that this treadmill performs well beyond what others can do with regards to incline range, tech features, and a free year of iFit — which is a $468 value — we think the price could be well worth it.
Overall Build and Quality​
You can expect lots of modern technological boosts when it comes to the NordicTrack X32i. Not only does it reach a 40 percent incline and a -6 decline, but it has a 32" touchscreen display (that's huge on a treadmill) for iFit classes that will help you climb to the top of that intimidating incline. It's worth noting that because of the large display, there's no tablet holder like many other machines feature, so you'll have to rely on the iFit classes you can stream through the tread instead of streaming a third party app on your tablet.
Features​
The NordicTrack X32i comes equipped with your average features when it comes to heart rate monitoring, Bluetooth connectivity and speed ranges. But, it goes above and beyond when it comes to class streaming, display size and incline range. If modern is what you crave, this treadmill might win you over.
Incline range​
The NordicTrack X32i is unique in that it inclines all the way up to 40 percent and declines down to -6 percent — a true incline trainer. To help with the incline, you can assemble your handrails in three different ways: reaching up, straight in front of you, or out to the sides. If you're using the 40 percent incline often, the high handrails are the way to go—you can reach up for a stretch and some stability to get you through your climb.
Speed range​
The speed range is about average, ranging from 0.5mph to 12mph. What's a little more unique is the Sled Push mode, where you can use the power of your own leg drive to move the tread's belt instead of setting a particular speed, which is great for increasing strength.
Included workouts​
There are over 50 iFit coached classes in this tread's library in addition to a free year of access to the full iFit library of over 16,000 on-demand and live fitness classes.
Display​
The touchscreen display on the NordicTrack X32i is extra large, measuring 32 inches. What's cool is that if you use the Google Maps feature to take your workouts around the world, you'll feel like you're actually in the destinations you choose.
Speakers​
This tread features two 3" speakers you can use to blast your iFit coach's inspirational speeches however loud it takes to get you through your workout.
Fans​
The cooling fans on the NordicTrack X32i will keep a nice breeze blowing throughout your entire session.
Heart Rate Monitoring​
Your purchase comes with a Bluetooth chest strap heart rate monitor that tracks your heart rate while you run. You can track these stats on the easily visible 32" display screen.
HDMI, USB and Other Inputs​
Unfortunately, this treadmill does not come with any USB or HDMI plugs, but the good news is, you won't need your phone because everything can be tracked through Bluetooth on the display. Plus, if you want to stream a workout, you have over 16,000 iFit classes available to choose from in your console.
Bluetooth and Audio Options​
This tread features Bluetooth connectivity, so you can sync your phone and headphones through the tread to play music or listen to iFit classes.
Water Bottle, Cup Holders, Tablet and Phone Holders​
This treadmill doesn't have a media shelf, though it does have a water bottle holder. Unfortunately, the water bottle holder is a little inconvenient as it's located in the back of the console, but the design is undoubtedly factoring in the possibility of a steep incline. It's still accessible, just not quite the grab-on-the-go level that other water bottle holders typically are.
Product Specs​
The NordicTrack X32i has an extra large running area that you won't find on most other machines. The motor is about as powerful as they get and the cushioning will keep your joints safe from injury as you go. However, due to the high inclines, this treadmill can't handle heavier users as well as others can.
Motor Size​
This 4.25 CHP motor is definitely of above average strength, which is needed to power those incline and decline extremes.
Running Area​
The running area measures 22" W x 65" L. Many average running areas are only 20" W x 55" L, so taller runners, this pick is for you.
Weight Capacity​
This treadmill can only handle a user weight of 300 pounds — which is a little on the low side — in order to accommodate the higher inclines.
Folding Options and Dimensions
After assembly, the NordicTrack X32i is 76.5" L x 40" W x 73" H, and it doesn't fold, so once it's on display, that's where it will stay.
Max Speed and Incline Range​
This treadmill is self-cooling, so when you're hitting that max of 40 percent incline and speed of 12mph, your machine won't overheat. And with the quiet drive incline tech, you can change all those speeds and inclines quietly without waking any late risers in your household.
Electrical Requirements
All it takes to power this machine is your average in-home power outlet, which is 120 volts, 15 amps.
Warranties​
With your purchase, you'll get a 10-year warranty on the frame, 2 years on parts and one year on labor, which is about what we expect as far as warranties go.
Belt Information and Roller Size​
The 2.5" precision, balanced, non-flex rollers will keep this durable belt running smoothly as it transitions into those higher inclines and speeds.
Cushioning and Feel​
The Reflex cushioning system absorbs impact to protect your joints. It can also mimic the feeling of outdoor runs if the trails are what your body is truly craving.
Workout Apps, Compatibility​ and Subscription Options
With your purchase, you'll get one year of free iFit fitness classes. NordicTrack's studio class subscription features over 16,000 live and on-demand classes to choose from, and the subscription amounts to a $468 value.
Places to Buy
You can buy the NordicTrack X32i through NordicTrack's website.
Company Information​
NordicTrack is known for its personal training with its iFit subscription. The company makes treadmills, along with bikes, rowers and ellipticals. There's a 30-day trial period, and if you're not satisfied one month after your purchase, you'll receive a full refund. You can reach their customer service at 1-888-308-9616.
FAQs
How big is the NordicTrack X32i?
The NordicTrack X32i is 76.5" L x 40" W x 73" H once assembled, which is about average when it comes to treadmill sizing. This tread in particular does not fold though, so the catch is that you can't make it smaller when it's not in use like you can with some other treadmills.
Can you use the NordicTrack X32i without iFit?
Technically, yes, but you get a whole year of it for free, so why would you not take advantage of these perks while they last? After your year is up, if you choose not to continue your subscription, you can still use the 50 iFit classes pre-programmed in the console library or just do your own thing—you don't have to stream a class if you don't want to in order to use your treadmill.
Can you watch TV on the NordicTrack X32i?
No, the display does not play TV or stream Netflix shows—it's there for you to stream iFit fitness classes and track your stats throughout your workout. Unlike other treadmills, this machine doesn't have a tablet holder either, so you can't set up your own Netflix stream on the console while you run.