When you start your search for the perfect rower for your home gym, you're going to want to consider its noise level, resistance levels, technological features and comfort. With the ProForm 750R, you'll get a basic build that also allows for fitness class streaming. This rower is a super quiet piece of equipment and comes with a bonus of one month of iFit classes. The ProForm 750R is great for tall users, but not so great for heavier users. Let's make sure it hits your standards before you click "add to cart."
Main Takeaways
Since the ProForm 750R is a magnetic resistance rower, it's very quiet, emitting only a soft whirring sound. 

With your purchase, you'll receive one month of iFit fitness classes to supplement your

at-home workouts

.

There are 24 levels of resistance on this machine, so you can always push your limits.
ProForm 750R Rowing Machine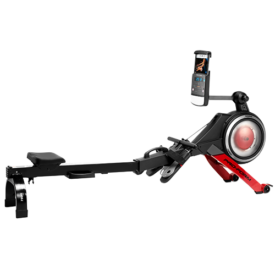 ProForm 750R Rowing Machine
The ProForm 750R is a sturdy 116-pound magnetic resistance rower. It's practically silent and offers 24 levels of resistance to challenge your strength and endurance throughout your workout. Plus, you'll get three free years of iFit with it, so you can stream virtual rowing classes across the globe.
ProForm 750R Rower Highlights​
The ProForm 750R is great for fitness class streaming. It's got high levels of resistance to build your strength, and it's designed for performance versus comfort. It folds up to save you room, but it still consumes a good chunk of space when it's on the ground. With one free month of iFit and its reasonable price point, there'a a lot to like about this rowing machine.
Who Should Buy the ProForm 750R
Athletes who want a tablet holder for streaming classes during their workouts.
Users who need a machine that folds up and stores away when it's not in use.
Class streamers who will utilize the one free month of iFit classes that comes with their purchase.
Who Shouldn't Buy the ProForm 750R
Rowers who want a seat a little higher off the ground — this one is positioned fairly low making it a little more difficult to get in and out of.
Users who want fans to cool them off throughout their row.
Athletes who like heart rate monitoring incorporated into their workouts.
Price​
The ProForm 750R goes for $999. This is a little on the pricier side, but you can pay it off at $26 per month for 39 months, making it the equivalent of a gym membership. Plus the value of the one-month iFit membership makes it an appealing option for those who want to row with others (digitally of course).
Overall Build and Quality​
This is a sturdy magnetic resistance rower. It's made for those who crave a few extra features than what basic rowers offer, but it's also not the most high-tech option on the market. You'll find accommodations for streaming, but no built-in streaming touchscreen. And you'll be able to track most of your basic stats, but you won't find any heart rate monitoring included with the ProForm 750R.
Features​
The ProForm 750R is a great option for fitness class streamers — it has a tablet holder for you to position your tablet perfectly for iFit class viewing. And those iFit classes are free for one month with your purchase. On top of that, you'll find all your basic stat tracking, a smooth drive and 20 built-in classes to choose from.
Stats Tracking and Metrics​
The ProForm 750R will track your strokes, time, distance, calories burned and resistance on its 5" display screen.
Display​
The 5" high-contrast display is vertically adjustable so both tall and short athletes can have the same viewing angle.
Included workouts​
There are 20 pre-programmed workouts on this machine, which include 10 watts-based workouts and 10 calorie-based workouts.
Workout Apps, Compatibility​ and Subscription Options
Your ProForm 750R purchase comes with one month of iFit streaming for free. An iFit subscription includes over 16,000 live and on-demand classes that range from strength to rowing, running, biking and more. If you're paying for the subscription on your own, it costs $39 per month, so this is a great bonus.
Feel
The flywheel on the ProForm 750R is inertia-enhanced, which gives it a smooth drive. When you up your resistance, the tension holds the nylon belt steady to keep the recovery just as smooth as the drive.
Ergonomics and Comfort
The seat has light padding to keep you comfortable as you row, and the soft touch handlebars make the grip easier, lessening fatigue. The large pivoting foot pedals can fit pretty much every shoe size, as well. The 90" nylon belt allows taller users plenty of room to pull back, but the seat isn't very large, so larger users may be more comfortable finding a rower with a seat that's a little wider. It's worth noting that the seat is fairly low to the ground, so it may be difficult for some users to get in and out of the saddle.
Heart Rate Monitoring​
This machine does not come with any sort of heart rate monitor, so you will have to do this using your own devices.
Tablet Holder
This machine has a tablet holder, so you can prop up your tablet and stream iFit classes until your heart's content.
Product Specs​
This rower weights 116 pounds — this is pretty heavy compared to other rowing machines, which means it's one of the sturdier options you'll find on the market. It has a steel rail, but a lower weight capacity of only 250 pounds. Its best feature may be its magnetic resistance, which makes it next to silent and great for household use.
Rower Type
This is a magnetic resistance rower, which means it's practically silent. All you'll hear as you row is a soft whirring sound, making it great for early risers living in a house full of late sleepers.
Track and Belt Length
This machine has a 90" pull strap and a lengthy track that allows enough room for taller users to row without having to stop short.
Weight Capacity​
The weight capacity is only 250 pounds, which is about half of the average weight capacity for rowers. If you're looking for something that can handle more weight, don't worry, there are plenty of options out there for that.
Folding Options and Dimensions
The ProForm 750R's SpaceSaver Design allows it to fold up into something much smaller than its 22" x 86.5" x 45.5" footprint. If you lift the handle, the machine will simply collapse into itself, and you'll be saving loads of floor space.
Max Resistance​
There are 24 digitally-controlled magnetic resistance levels, which is much higher than the 10 you'll get with more basic rowers. The higher you crank it up, the more leg muscle you'll build. If you decide to lower it down, those resistance levels are best for working on long endurance rows.
Electrical Requirements
This rower is powered by batteries, so you don't need an electrical outlet.
Warranties​
With your purchase, you'll get 10 years of coverage on the frame, two years on parts and one year on labor.
Noise
This is a magnetic resistance rower, which means it's one of the quietest machines on the market — all you'll hear is a soft whirring sound. On top of that, it has a nylon belt instead of a chain, so you won't have to worry about the chain hitting the track along the recovery.
Places to Buy
You can buy the ProForm 750R through ProForm's website.
Company Information​
ProForm is owned by Icon Health & Fitness, the largest manufacturer of exercise equipment in the world. ProForm makes rowers, treadmills, bikes, ellipticals, HIIT trainers, strength equipment and a fitness mirror. The products all work in partnership with iFit, so you'll never run out of fitness classes to stream.
FAQs
Is the ProForm 750R quiet?
Yes. It's a magnetic resistance rower, so instead of the loud fan sound you hear coming from the more common air resistance rowers, all you'll hear is a subtle whirr coming from the ProForm 750R. It's a great option for anyone trying not to disturb the rest of their house.
How hard is it to assemble the ProForm 750R?
You'll want two people to assemble it just because of its size and weight, but the assembly itself is not difficult — the rower comes with clear instructions for assembly.
Can I return the ProForm 750R?
You can make a return within the first 30 days if you aren't satisfied with your purchase. You'll have to pay a return shipping fee of $250 plus a 10 percent restocking fee, but outside of those costs, you will receive your money back.