The Ergatta rower might be the most appealing rowing machine for athletes who don't find motivation from — what they consider to be — overzealous fitness instructors. For anyone who still wants interesting workouts without coaches yelling motivational quotes at them over their display screen, the Ergatta will have you coming back for more on-screen competitions that don't involve these trainers.
This is a water rower, so it's also great for rowersrowing enthusiasts who want to mimic outdoor rowing in their home gyms. But despite the water resistance, there is some fancy technology involved with the touchscreen display and stat tracking. Make sure you read on for the full scoop before you pull the plug on this "erg."
Main Takeaways
You can choose from push, interval, race or open row workouts on the Ergatta rower.

There is a 17.3" touchscreen display that shows all your workout stats. 

The Ergatta is a water resistance rower, so it uses a tank of water to create resistance when you pull.
$200 Off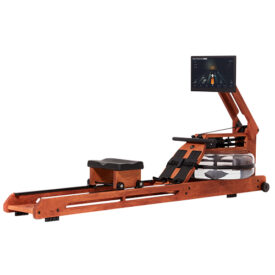 The Ergatta rower is ideal for athletes who want an elevated home workout experience. You can choose from pre-programmed workouts, games, and competitions to make your row more interesting, or you can select an open row to simply push your limits. This machine will adjust as your strength and stamina increase to challenge you even further.
Ergatta Rower Highlights​
Before you check yes on the Ergatta, you'll want to make sure you're getting all the features you desire. Whether you're a beginning or advanced rower, this machine has workouts and live competitions to keep you hooked on indoor rowing. You won't have to deal with instructors, but if you're a person who wants the occasional mid-workout inspirational quote, that feature isn't available on this machine — yet. The Ergatta is pricey, but it will definitely make a quality add to any gym space and adds an element of competition that isn't present in most other rowing machines.
Who Should Buy the Ergatta
Anyone who wants workouts and races personalized to your fitness level — the Ergatta improves with you, so as you get faster and increase your strength, it sets your goals higher.
Rowers who want the whoosh of water with each stroke to make them feel like they are rowing in an actual shell on the bay.
Athletes who don't like fitness instructors yelling at them as they row, but still want an interactive experience.
Who Shouldn't Buy the Ergatta
Anyone who likes instructor-led rows or additional strength workouts included in their console.
Customers shopping on a tight budget — this machine has a higher price tag than other options on the market.
Rowers looking for a quiet machine to supplement their at-home workouts.
Price​
This rower retails for $2,199, or if you prefer, $107 per month for 24 months. Either way, this is a pricey piece of equipment, and you're definitely paying for the quality build and unique technological experience on board this water rower.
Overall Build and Quality​
The Ergatta rower was created for home gym athletes who want to keep their interest in working out without adding any over-excited instructors into the mix. This rower has workouts and games that do just that, but the machine itself still provides a solid base to keep you coming back daily. And if you do come back daily, this personalized rower will adjust your limits to challenge you even more, building muscle and working on your conditioning as you go.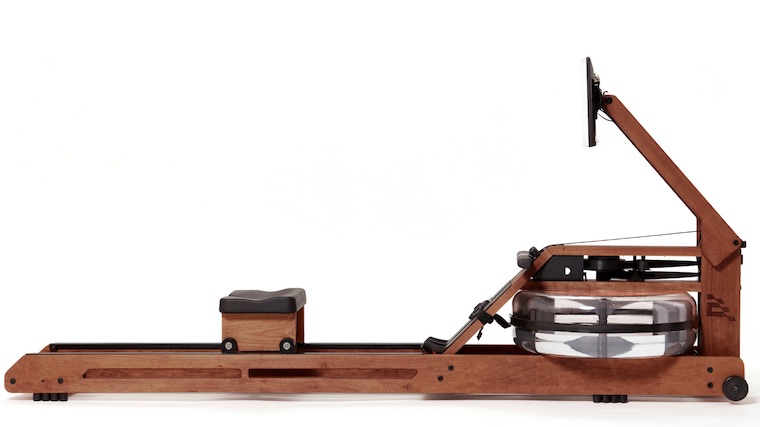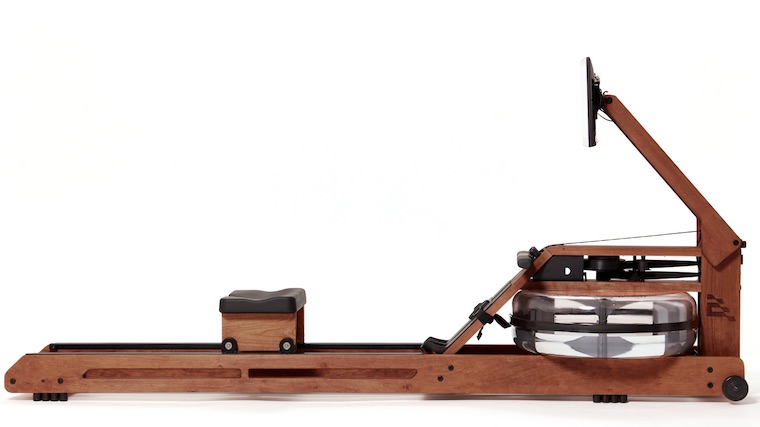 Features​
The Ergatta is made from USA-sourced cherry wood and features a clear water tank, so you can see your power in action, swirling the water around the tank. It tracks all your necessary stats on its 17.3-inch touchscreen display and features a load of competitions and games to keep you hooked on rowing.
Stats Tracking and Metrics​
The first workout you do on the Ergatta will be a 2k (2,000-meter) calibration row. Based on that, Ergatta will set personalized intensity zones for speed and endurance at four different levels for you (paddle, steady, race, and sprint). Paddle will be the easiest and sprint will be the most difficult. As you continue working out with Ergatta, the machine will adapt to your fitness levels as you get faster. You can see your improvement in action on-screen as the Ergatta shows you time elapsed and remaining, intervals in the workout, calories burned, distance rowed, watts, heart rate, current split and average split.
Display​
The 17.3" android-powered touchscreen with an HD resolution of 1920 by 1080 shows all of your stats and allows you to browse through the different workouts available or select games to play as you row.
Included workouts​
Unfortunately, there are no virtually coached workouts available on this machine, but you can choose from pre-programmed competitions, training programs and monthly challenges. Some of the programs to choose from include push programs, interval workouts, race workouts, and open rows.
Bluetooth and Speakers
This rower is Bluetooth-enabled for heart-rate monitors and audio Wifi. It has built-in speakers, and also supports Bluetooth headphones.
Workout Apps, Compatibility​ and Subscription Options
Ergatta is a game-based fitness platform, so the library is focused on hundreds of workouts, goal-based programs, competitions and challenges to keep you interested and motivated to workout daily. You can connect your Ergatta account with Strava in the integrations section to upload workout information automatically. However, this isn't a machine for those looking for virtual coaches or group fitness classes.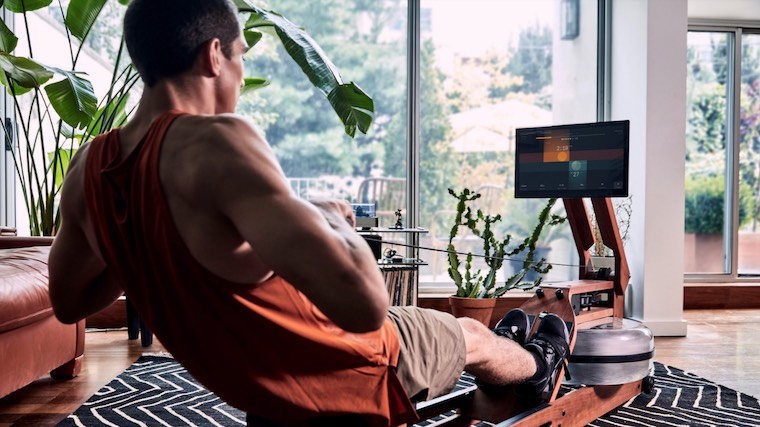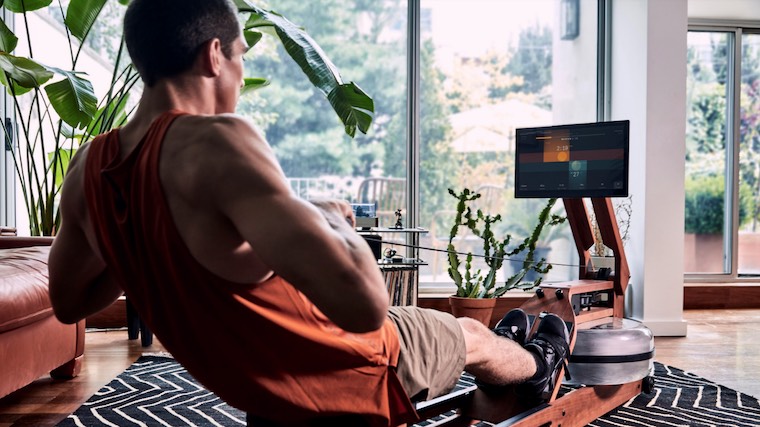 Feel
Since Ergatta is a water rower, its resistance feature (made by the company, WaterRower), simulates the feeling of rowing out on the water. Instead of the air resistance whirr, it has a calming whoosh and feels more like you are gliding on the water than hitting the gym.
Ergonomics and Comfort
The contoured seat and adjustable foot straps will ensure that you are comfortable, locked in and ready to row no matter your shape or shoe size.
Heart Rate Monitoring​
This machine is compatible with heart rate monitors, but it does not come with one, so you will have to sync your own fitness tracker via Bluetooth.
Product Specs​
This 103-pound piece of equipment may be a little heavy, but remove the water from the tank and it's a feathery 76.5 pounds. Speaking of the water, since it is a water resistance rower, it's quite loud, but some find the whoosh to be calming, considering you hear something similar when you are rowing in a shell. Its frame is made of a solid cherry wood, and it's durable enough to withstand daily usage if you're looking to make rowing your main form of exercise.
Rower Type
The Ergatta is a water resistance rower meaning it uses a tank of water to create drag. It feels more like you are on the water, sounds like you are on the water, and if you look close enough, you can even see the paddle in the tank pushing through the water just like it does out on a river or bay. You can adjust water levels from 13 to 19 with the included siphon. Increasing the water level feels like a larger boat (lower resistance) and decreasing it feels like a smaller boat (higher resistance).
Max Height
This rower supports a 40" inseam, which is the equivalent of 6'8" in height.
Weight Capacity​
This rower can handle up to 700 pounds, which is high enough for any person to hop on and start paddling.
Folding Options and Dimensions
When in use, the Ergatta is 86" x 23" x 40", but it can be stored vertically using its back wheels, which significantly reduces its footprint.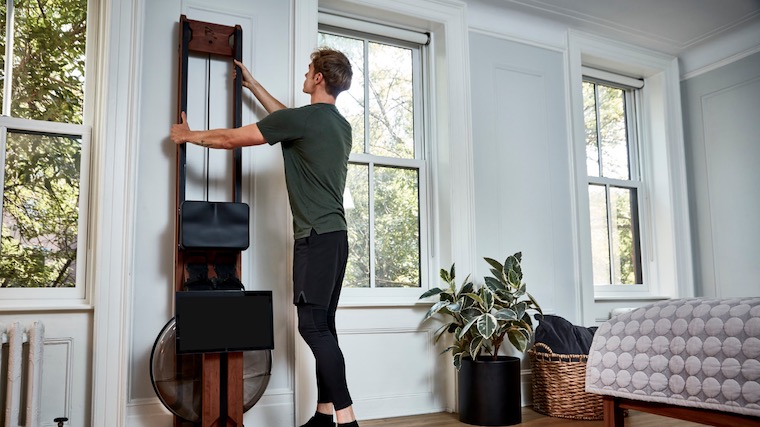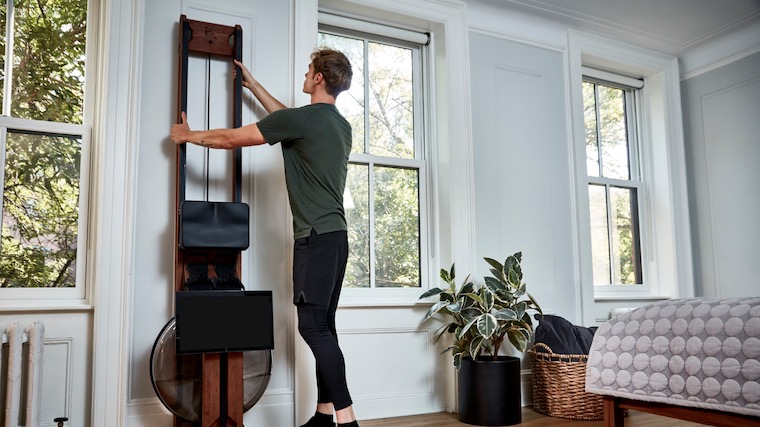 Max Resistance​
Since this is a water rower, the resistance increases as you pull harder and decreases as you paddle lighter, just as it does when you're rowing out on the water.
Electrical Requirements
This rower is battery powered, meaning it does not require an outlet.
Warranties​
With your purchase, you'll get a 5-year warranty on the structural frame, a 3-year warranty on parts and a 1-year warranty on the tablet.
Noise
This is a water rower, so the sound of the water whooshing around in the tank is pretty loud — just be aware of this if you have a household that needs you to keep it down during your home workouts.
Places to Buy
You can purchase this rower through Ergatta.
Company Information​
Ergatta was formed from the idea that it doesn't take classes or instructors to have a solid workout. This rower is utilitarian and provides the opportunity for you to compete with yourself through its challenge programs. Ergatta provides a great full-body workout and makes a solid addition to a home gym without adding any fancy technology or overzealous instructors into the mix.
FAQs
Can you use the Ergatta rower without a membership?
Yes, all the workouts are permanently programmed into the Ergatta, so there's no membership fee.
Is the Ergatta worth the money?
If you like to compete or play games and want to incorporate that enthusiasm into your workouts, then the Ergatta is certainly worth the spend in our opinion. It features challenges and courses that are built in, like an arcade game you have to play physically. You're also getting a very well-built rower. However, if you're just looking for a supplemental machine for cardio, you may want a simpler machine.
What does the Ergatta feel like?
The Ergatta feels as close to on-the-water training as you can get. The resistance is water-based, just like the feel of rowing in a shell.