We receive free products and receive commissions through our links. See
disclosures page
.
We're all likely familiar with cardio workouts like running on a treadmill or using an elliptical, but you shouldn't overlook a cardio burnout session on a rower. The NordicTrack RW900 is one of the more high-tech rowers on the market. It features a 22-inch touchscreen display that gains you access to a seemingly endless number of iFit workouts. It also features 26 levels of magnetic resistance that can adjust automatically during your trainer-led classes.
First-time NordicTrack buyers will receive a free month of iFit, but once that runs out, you will either have to pay $40 a month for this membership or commit to one of the three yearly plans. NordicTrack also provides a 10-year warranty on the frame to ease any concerns about durability. If you're looking for a technologically advanced rower to spice up your cardio sessions in your home gym, we think the NordicTrack RW900 is one of the best options available thanks to its automatic adjustments, trainer-led classes, and 26 levels of magnetic resistance.
The NordicTrack RW900 is a durable  machine that features a 22" touchscreen display, a quiet belt drive and large pivoting pedals to fit pretty much any shoe size. You'll also get a free month of iFit classes with your purchase, which you can view on your tilting display as you row virtually across the globe. 
Main Takeaways
The RW900 features a 22-inch touchscreen monitor that tilts and rotates 360 degrees.
The inertia-enhanced flywheel is designed to maintain a smooth rotation throughout your rowing sessions.
First-time NordicTrack buyers will receive a 30-day trial of iFit.
NordicTrack RW900 Video Review
Our Reviews Writer, Jake, took the RW900 for a spin during his detailed video review. Tag along as he breaks down everything there is to know about this high-tech rowing machine.
NordicTrack RW900 Highlights
Price: $2,000
Resistance: Magnetic (26 levels)
Weight Capacity: 250 pounds
Dimensions: 54" H x 82" L x 22" W
While the $2,000 price tag for the RW900 may be out of some folks' budget, this is pretty standard for high-tech rowers like this one. Plus, you receive virtual training with your iFit membership and will experience automatic adjustments to your resistance during your rowing sessions.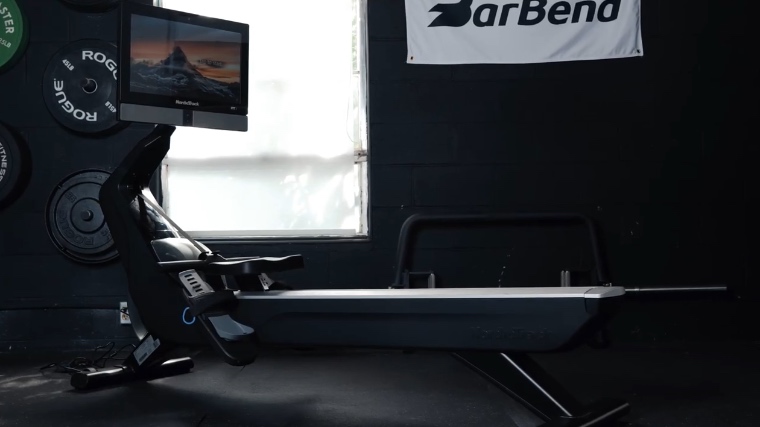 The 26 levels of magnetic resistance offer variety during your training, but if you're an experienced rower, you might not notice much difference as you increase the difficulty. The RW900 offers a 250-pound weight capacity, and while the dimensions are pretty average compared to the rest of the market, you still need to clear out a designated spot since this rower cannot fold or be stored vertically. It might not be the best rower for everyone, but the RW900 can offer solid value to those new to rowing and those who thrive off virtual coaching.
Pros
The magnetic resistance is quiet and will automatically adjust during your trainer-led workouts.
The 22-inch touchscreen monitor can rotate 360 degrees for floor workouts.
The padded seat is comfortable, and the oversized foot pedals can adjust to accommodate most feet.
Cons
The $2,000 price tag may be too expensive for some folks, and you must pay for an iFit membership to get the most out of this rower.
The RW900 will demand a good amount of space, and it doesn't fold, nor can it be stored vertically.
The resistance might not be enough for an experienced rower.
Training With the NordicTrack RW900
Overall, we were pleased with the RW900 during our time with it. The seat is comfortable to sit on, the length of the rail will work for most people, and while the handle is a bit slippery at times, it still stacks up well with the competition.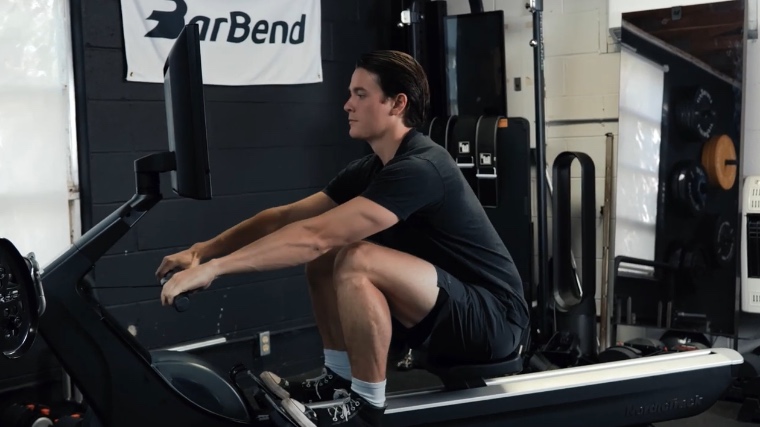 Even though not everyone cares about virtual training, we really enjoy what iFit offers and think it could be a great tool for athletes of all experience levels. Our biggest gripe with this rower, though, is the magnetic resistance. While it's virtually silent, we feel there isn't much difference across all the levels. Let's dig into the details below.
Resistance
This rower utilizes silent magnetic resistance. The magnets on either side of the flywheel squeeze closer to one another as you go up in resistance, ultimately making it harder to row.
While the RW900 has 26 levels of magnetic resistance, we were a bit disappointed that we couldn't tell much of a difference across the levels. Typically, rowers like this one will increase (or decrease) the difficulty based on how hard you pull the bar, but we didn't find that to be the case here. So, if you're an experienced rower, this might not be your best option. But on the bright side, the noise is kept to a minimum.
Track Length and Height
The monorail on the RW900 is 53 inches long, and the seat sits 15 inches from the floor. This length will suit most athletes fine, so you probably won't have to worry about your range of motion being limited. We also really enjoyed the seat height, as it allowed us to have a good view of the monitor without hurting our neck.
Ergonomics and Comfort
This rower has adjustable nylon foot straps and an ergonomic molded seat that fits your form, making it secure and comfortable even as you crank up the stroke rate. In addition, the 13-inch pedals will fit most shoe sizes and can be adjusted for those with longer feet.
The handlebar has an oval shape, and while it does have a bit of a rubber texture, it's a bit slick. So, if you tend to have sweaty palms, you might want to target a rower with a grippier handle (or chalk up).
iFit Membership
First-time buyers will get a free month of iFit classes with your purchase. The iFit membership includes access to over 16,000 coached workout classes across all types of fitness. Each workout will sync with your rower, and the resistance will change automatically as the instructor calls for it in the workout. On top of that, you have the option to row on all sorts of virtual waterways around the world. However, this is limited to instructor-led classes. While the RW900 is integrated with Google Maps™, you can't select a random body of water and row on it as you can with NordicTrack's bikes and treadmills.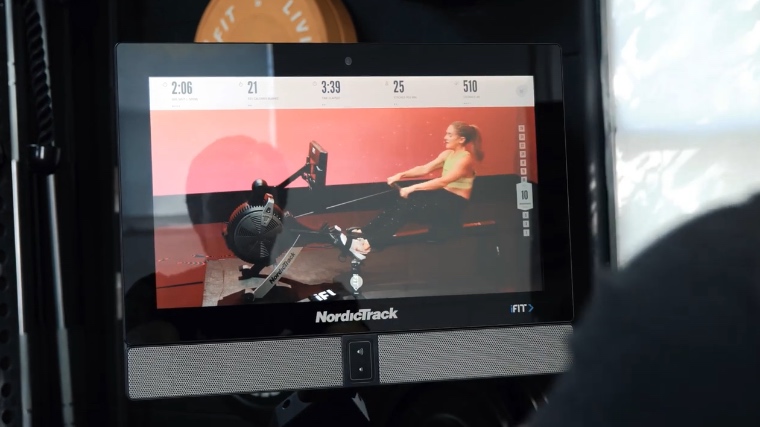 One of our favorite things about the RW900 is that you can rotate the monitor to follow along to additional workouts, like strength training, from the floor — eliminating the need to stream these classes from your phone or tablet.
What to Consider Before Buying the NordicTrack RW900
Like all home gym essentials, there are some important factors you should consider before making this purchase. In addition to working within your budget, you should also decide whether or not you want to pay for iFit, if the resistance is enough for you, and if you have enough room for it in your personal space.
Price
The RW900 has a starting price tag of $2,000, but the final price tag is determined by three additional variables — the type of iFit membership you want, any additional warranty plans, and whether or not you want white glove assembly. While those iFit plans will cost you more upfront ($400 for one year, $700 for two years, $900 for three years), they will save you money compared to paying $40 a month.
While this price tag might be too steep for those who want a basic rower to help burn some calories, it might be worth it for those who want virtual coaching. So it ultimately depends on your specific needs.
The good news is that you can finance this purchase if you don't want to spend all that money upfront. NordicTrack does a great job of laying this out for you and details what you'll be paying monthly over 39 months.
iFit Membership
We already discussed the pricing for iFit, but whether or not it's worth it is ultimately up to you. Since this rower is meant to be used in tandem with iFit, we think you'd be doing yourself a disservice by only using the manual mode. Plus, with this membership, you have access to thousands of workout classes to increase your overall fitness level.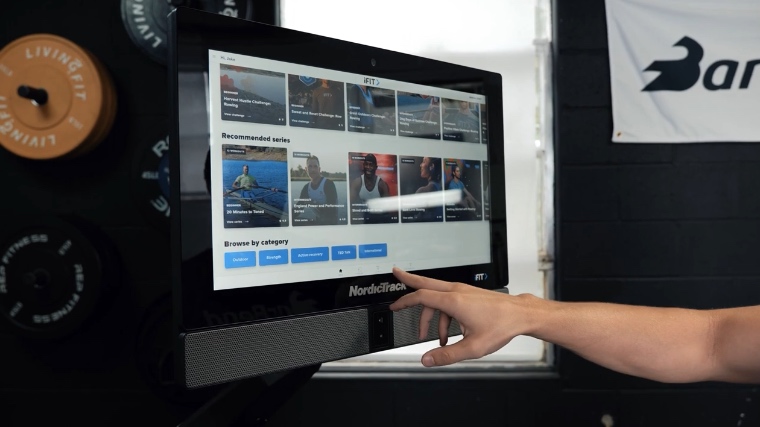 So, if you're someone who thrives off coaching and want that in the comfort of your home, then we think you'll be impressed with iFit. However, if you don't want to pay the cost or you just don't care about virtual coaching, you can find a more basic rower to help you reach your goals.
Resistance
Remember, the RW900 features 26 levels of magnetic resistance. While it is one of the quieter rowers we've tested lately, we couldn't tell much difference between the resistance levels. So seasoned vets will likely want to target a beefier rower, but newbies may find this to work well for them.
Dimensions
The NordicTrack RW900 is 82 inches long, 54 inches tall, and 22 inches wide. Unlike the older model, this rower does not fold in the middle to make it shorter, and it cannot be stored vertically. So if you're tight on space in your home gym, you might be better off targeting a different option.
NordicTrack RW900 Vs. The Competition
We always like to see how products stack up against each other, so we figured we'd compare the RW900 to some of our other favorite rowers on the market.
| | | | | |
| --- | --- | --- | --- | --- |
| | NordicTrack RW900 | Hydrow Wave | Sole SR500 | LIT Method Strength Machine |
| Price | $2,000 | $1,900 | $750 | $2,000 |
| Resistance Type | Magnetic | Magnetic | Magnetic | Water |
| Programmed workouts? | No | No | Yes | No |
| Vertical Storage? | No | Yes | No (folds) | Yes |
| Electrical Requirements | 110v outlet | 110v outlet | Wireless | Wireless |
We decided to compare these rowers to provide a similar model and two others that vary. If your only concern is money, it's a bit of a no-brainer to go for the Sole SR500, as it's the cheapest one available. Plus, it might work the best for those tight on space due to its foldability. You also don't have to plug it into an outlet, so you can take your workout outside if you want. Another awesome feature of the SR500 is its programmed workouts on the console that you can utilize.
If you aren't keen on magnetic resistance and want to switch it up, the water resistance on the LIT Method Strength Machine might be better for you. This rower also doesn't need an outlet and has vertical storage, which means you can use it just about anywhere. While it's more than double the price of the SR500, it's also more versatile and acts as a full home gym, as you'll receive a resistance band package with d-handles that can be used for resistance workouts. One thing worth noting is that if you store your gear in a non-climate-controlled room, the water may freeze during winter.
Now, if you want or need virtual coaching, then your options are the RW900 and the Hydrow Wave Rower. However, you can store the Wave vertically with the optional wall mount, and we've found the resistance more challenging. So, if you're also a more experienced rower, it might be your best option.
At the end of the day, we're pretty high on all of these rowers, and don't think you can go wrong with any of them. That said, not everyone has the same needs. Just be sure to do your homework, and you'll find the best possible fit.
Places to Buy
You can buy the NordicTrack RW900 directly through the NordicTrack website.
Warranties
NordicTrack includes a 10-year warranty on the frame, a two-year warranty on parts, and a one-year labor warranty. You can also add an extended warranty plan when you check out.
Company Information
From rowers to bikes, ellipticals, and treadmills, NordicTrack is one of the leaders in cardio equipment. They offer a 30-day trial period; if you aren't thrilled with your purchase after a month, you'll receive a full refund. You can reach their customer service by calling 1-888-308-9616.
In Conclusion
The NordicTrack RW900 is one of the most high-tech rowers on the market today. It features a 22-inch touchscreen monitor that can tilt to your comfort level when rowing, but it can also rotate 360 degrees for any iFit workout that doesn't require the rower. The inertia-enhanced flywheel offers a smooth feel paired with the magnetic resistance, leading to a relatively quiet workout overall. And during your iFit workouts, your trainer will automatically adjust your resistance.
Even though the price tag may be steep for some, and the resistance may not be enough for experienced rowers, the RW900 offers solid value to intermediate rowers who thrive off virtual coaching.
FAQs
How much does the NordicTrack RW900 cost?
The RW900 is priced around $2,000, which is a competitive price tag compared to similar high-tech rowers. You can always opt for a cheaper option, but this rower is sturdy, has a quiet drive, multiple resistance levels, and pre-programmed classes.
Can I use the NordicTrack RW900 without iFit?
Yes, you can always opt for the manual workout mode. But since this rower is meant to be used in tandem with iFit, we think you'd be doing a disservice by not having a membership. Not only do you receive virtual coaching and automatic adjustments, but you'll also have access to a full catalog of classes covering all aspects of fitness.
What type of resistance does the NordicTrack RW900 use?
This rower utilizes 26 levels of magnetic resistance. We love how quiet it is during workouts, but we can't tell much of a difference between the levels. So, if you're a seasoned vet, you might need to find a rower with more resistance capabilities.