We receive free products and receive commissions through our links. See
disclosures page
.
The humble soybean provides an extremely high quality protein and while anybody can pick up tofu or tempeh from the supermarket, many find it cheaper and more convenient to seek out soy protein powder. But with so many different versions on the market, it can be hard to decide on the best one for your needs. That's why we've put together the best soy concentrate, isolate, the best soy for the money, and more.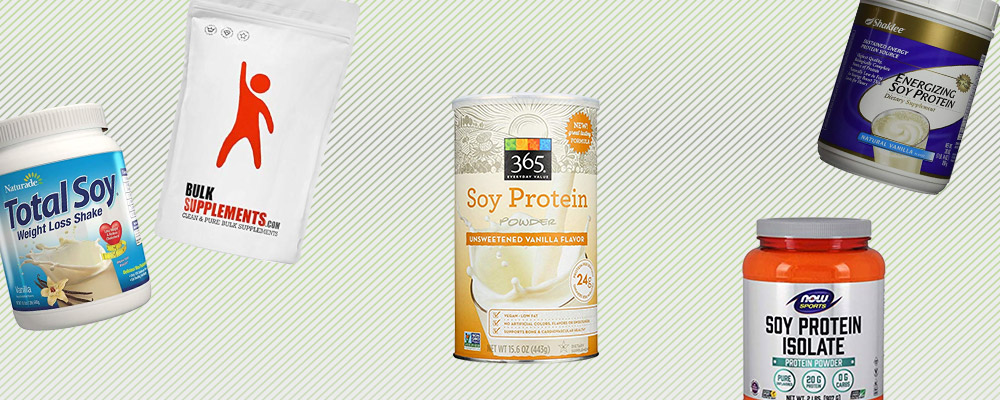 Editor's Pick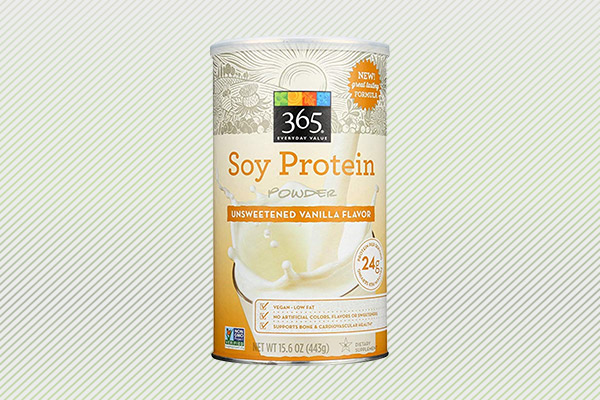 365 Everyday Value Soy Protein Powder
The majority of soy protein powders are unflavored, a small minority are sweetened, but very few are naturally flavored without containing sweeteners. 365 Everyday Value contains nothing but soy protein isolate and natural vanilla flavor, so it has under a gram of carbs per serving while tasting a lot better than most competitors.
Pros
For every 24 grams of protein there's just one gram of fat and under a gram of carbohydrate.
This product contains natural vanilla flavor, but no sweeteners.
As the name suggests, this is a very well priced product.
Cons
It's made in a facility that also processes milk, eggs, shellfish, and fish, so it may not meet certain consumers' standards for a vegan product.
There are no sweeteners, so some may still find it to be a little bland.
365 Everyday Value Soy Protein Powder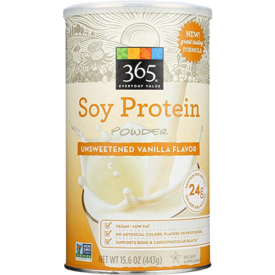 365 Everyday Value Soy Protein Powder
Low in carbs, low in fat, free from sweeteners and with a nice hint of vanilla, this is a great all-rounder.
Also Consider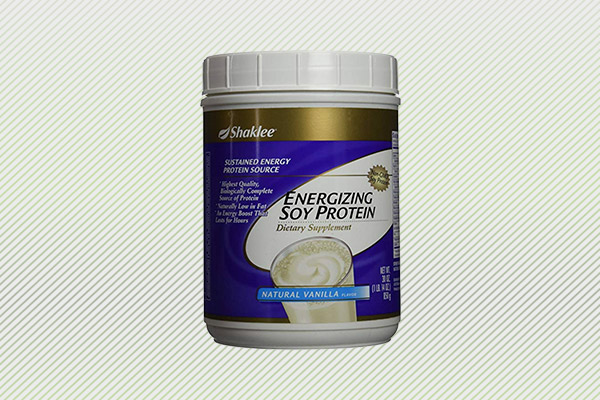 Shaklee Energizing Soy Protein
It's on the pricier side, but given this soy protein contains soy lecithin, it mixes a lot better than many of its competitors. There's also a little guar gum for helping to thicken and stabilize the product, plus it also contains no artificial sweeteners.
Pros
This has some added natural carbohydrates, which makes the taste better than many of its competitors.
The nutrition label shows that it contains a variety of B-vitamins.
Cons
This has 9 grams of added sugars from fructose and dextrose, which some users may prefer to limit.
Shaklee's product is notably more expensive than many of its competitors.
Shaklee Energizing Soy Protein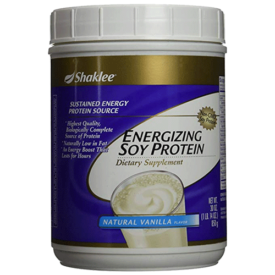 Shaklee Energizing Soy Protein
An all natural soy protein that's a little higher in carbs, so it's tastier than many competitors.
Most Nutritious
Naturade Total Soy Weight Loss Shake
This is a protein powder that's also a meal replacement: two scoops delivers 130 calories with 13 grams of protein, 17 grams of carbs, 3 grams of fat, no cholesterol, and perhaps most importantly, a third of the daily intake of about two dozen vitamins and minerals.
Pros
This product is available in Chocolate and Vanilla flavors.
Naturade's soy is non-GMO and the shake is gluten free as well.
It's very nutritious, containing about 35 percent of the daily intake of dozens of vitamins and minerals.
Cons
With eight grams per serving, it might not be ideal for people trying to limit sugar intake.
The product contains artificial flavors and sweeteners.
The protein all comes from soy, but the label states that it contains ingredients derived from milk — so it's not vegan.
Naturade Total Soy Weight Loss Shake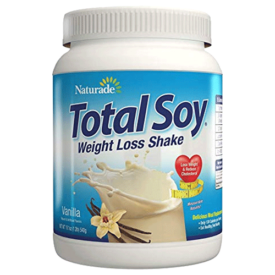 Naturade Total Soy Weight Loss Shake
A soy-based meal replacement that's jam-packed with vitamins and minerals.
Best for Athletes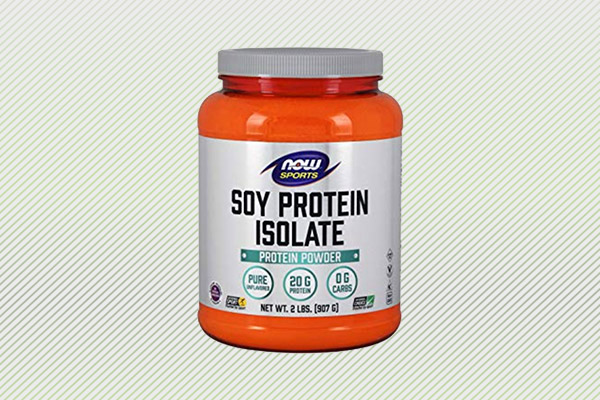 NOW Sports Soy Protein Isolate Powder
NOW Sports has a solid reputation for their protein powder, and this one manages to contain no carbohydrates at all and just half a gram of fat per serving. It's also kosher and non-GMO, but what makes it great for athletes is that it's certified by Informed Sport and Informed Choice, which means it's batch tested for banned substances and impurities.
Pros
With no carbs at all, this product can fit into a variety of diets.
It's tested for banned substances and impurities by Informed Sport and Informed Choice.
NOW Foods' soy is non-GMO and kosher.
Cons
As is often the case with zero-carb protein powders, the taste leaves something to be desired. Consider adding some stevia or vanilla essence.
This product tends to "foam up" a lot when mixed.
NOW Sports Soy Protein Isolate Powder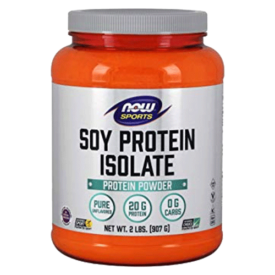 NOW Sports Soy Protein Isolate Powder
A zero-carb protein powder that's ideal for athletes, as it has multiple certifications showing that it's free from banned substances.
Best Value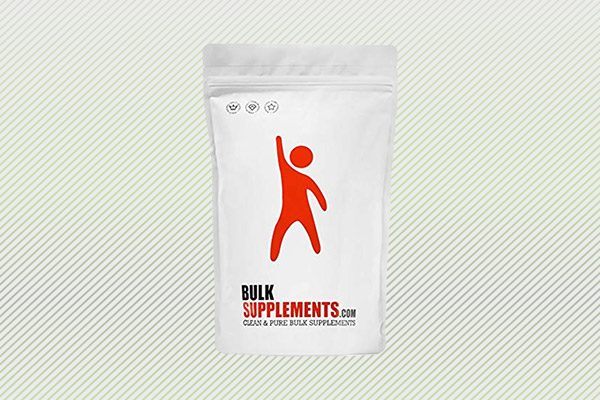 Bulksupplements Soy Protein Isolate Powder
This company, as the name suggests, sells their supplements in bulk. That means the more that's purchased, the cheaper it gets, but no matter what amount one purchases — it's a good deal. The company's so protein also contains less than a gram of carbs and fat per scoop and it's lab tested for label accuracy.
Pros
Bulksupplements makes some of the cheapest supplements in the market.
The product is lab tested for label accuracy.
There are no other ingredients besides the soy protein isolate.
Cons
As an unflavored soy powder, it's not the tastiest on the market.
Bulksupplements Soy Protein Isolate Powder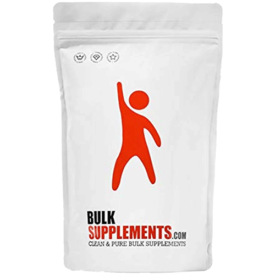 Bulksupplements Soy Protein Isolate Powder
A very inexpensive soy protein with no added flavors, sweeteners, gums, or preservatives.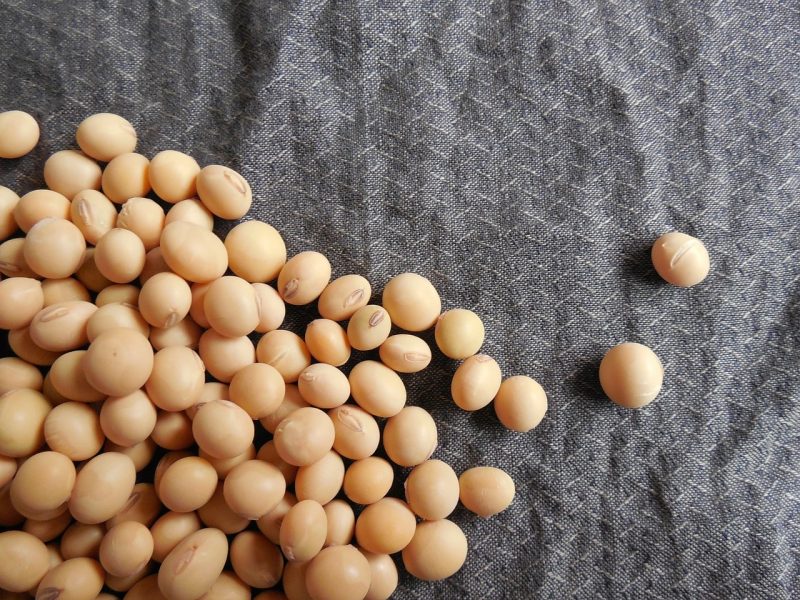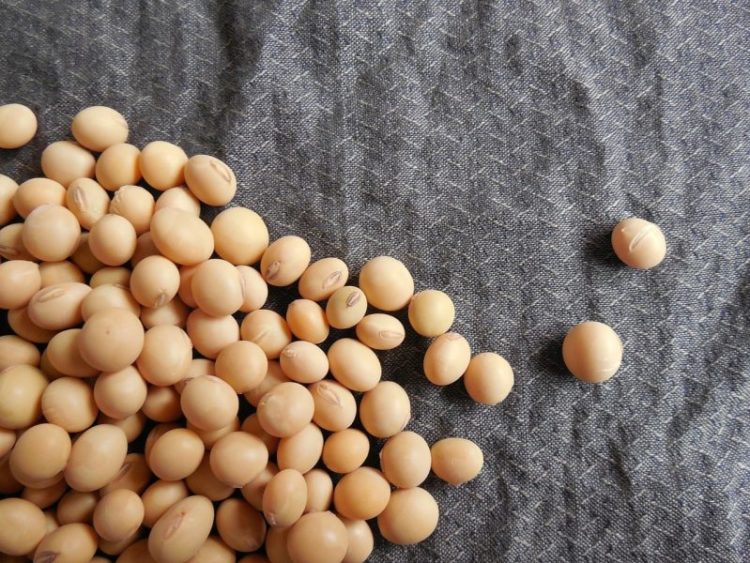 Doesn't Soy Make It Harder to Gain Muscle?
Soy is a really high quality protein, but there's a persistent belief that it negatively affects our sex hormones, namely estrogen and testosterone. The idea is that because soy contains phytoestrogen — plant estrogen — that it will cause human estrogen levels to rise and testosterone to fall.
It's true that soy contains phytoestrogen, but there are a few things important things to note:
Lots of foods contain phytoestrogen, including apples, oats, rice, and coffee. Those who refuse to tough anything containing soy because of the estrogen should be avoiding a lot of other foods as well.(1)
Phytoestrogens have been linked to a wide variety of health benefits, possessing antioxidant, anti-viral, and possibly even anti-cancer properties.(2)(3)(4)(5)
Most pertinently, there's a lot of high quality research showing that soy doesn't affect testosterone or estrogen in humans. A meta-analysis of 47 studies concluded as such, even when people were eating up to 70 grams of soy protein a day.(6) Other research saw men taking 50 grams of soy protein powder over a 12-week strength training program, and their testosterone levels were no different to men taking whey.(7)It's not that there are no studies at all showing negative effects on people, but it's typically on outliers, like the one about a 60-year-old man growing breasts after drinking three liters of soy milk per day for decades.(8) Most data (again, there are almost 50 studies cited above) show it's fine to have 70 grams of soy protein a day.
With all that said, people with concerns about their hormonal health should see their physician.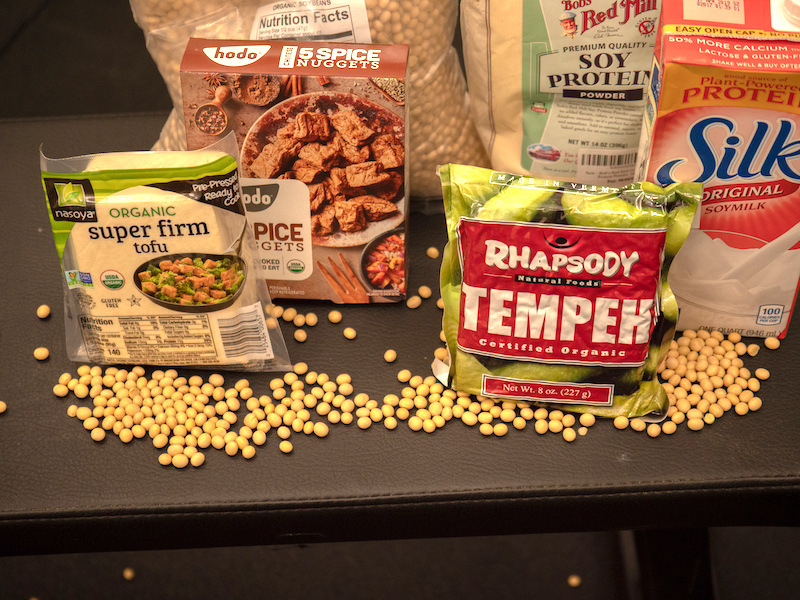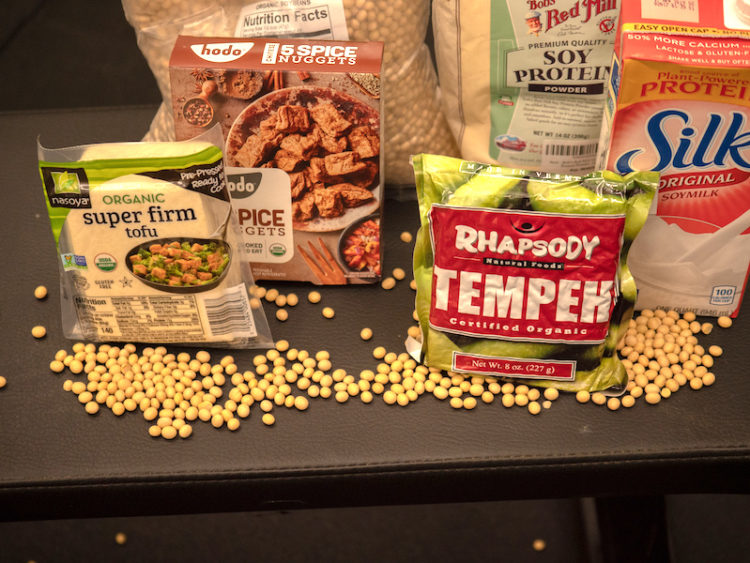 BarBend Tips
Soy is a high quality protein, meaning it contains all essential amino acids in roughly equal amounts. So do animal proteins, but this isn't the case for rice, pea, and some other vegan proteins.
Although the vast majority of evidence suggests that soy isn't deleterious to one's health, it doesn't mean that it's a good idea for it to be one's primary source of protein. Humans are meant to have diverse diets; avoid eating the same thing at every meal.
The difference between soy concentrate and soy isolate is similar to whey concentrate and isolate, in that concentrate is a bit less processed and contains more fat and carbohydrates, whereas soy isolate has much of the carbohydrates removed. Because of this, soy isolate may produce less flatulence and it's far more common on the market.
Wrapping Up
Soy remains a phenomenally inexpensive, high quality protein that can help anybody to meat their desired protein intake, whether they're vegan or omnivore. Whatever your budget and whatever your preference, the right soy protein is on this list. Enjoy the results!
References
Kuhnle GG, et al. Phytoestrogen content of beverages, nuts, seeds, and oils. J Agric Food Chem. 2008 Aug 27;56(16):7311-5.
Yan L, et al. Soy consumption and prostate cancer risk in men: a revisit of a meta-analysis. Am J Clin Nutr. 2009 Apr;89(4):1155-63.
Andres S, et al. Risks and benefits of dietary isoflavones for cancer. Crit Rev Toxicol. 2011 Jul;41(6):463-506.
Bouker KB, et al. Genistein: does it prevent or promote breast cancer? Environ Health Perspect. 2000 Aug;108(8):701-8.
Pavese JM, et al. Genistein inhibits human prostate cancer cell detachment, invasion, and metastasis. Am J Clin Nutr. 2014 Jul;100 Suppl 1:431S-6S.
Hamilton-Reeves JM, et al. Clinical studies show no effects of soy protein or isoflavones on reproductive hormones in men: results of a meta-analysis. Fertil Steril. 2010 Aug;94(3):997-1007.
Kalman D, et al. Effect of protein source and resistance training on body composition and sex hormones. J Int Soc Sports Nutr. 2007 Jul 23;4:4.
Martinez J, et al. An unusual case of gynecomastia associated with soy product consumption. Endocr Pract. 2008 May-Jun;14(4):415-8.