Cable machines are a frequent site at most public gyms. These machines utilize cables and pulleys to allow lifters to focus on specific body groups during training. Ankle straps are crucial in allowing users to isolate different lower body muscles. These straps wrap around an ankle, are secured (usually with velcro), and have hooks that the cables can attach to.
The diversity of exercises possible with an ankle strap and cable machine is wide; this all depends on the height of the apparatus, the weight selected, and positioning of the machine with regard to the user's legs. For those looking to tone their glutes, hamstrings, calves, and other lower leg muscles or increase flexibility with their hips and other joints, ankle straps can be a key addition to a workout regimen. Most ankle straps take a similar form, but there are subtle differences that can make one more appropriate for certain users. Here is what we found out when comparing some of the more popular straps side-by-side: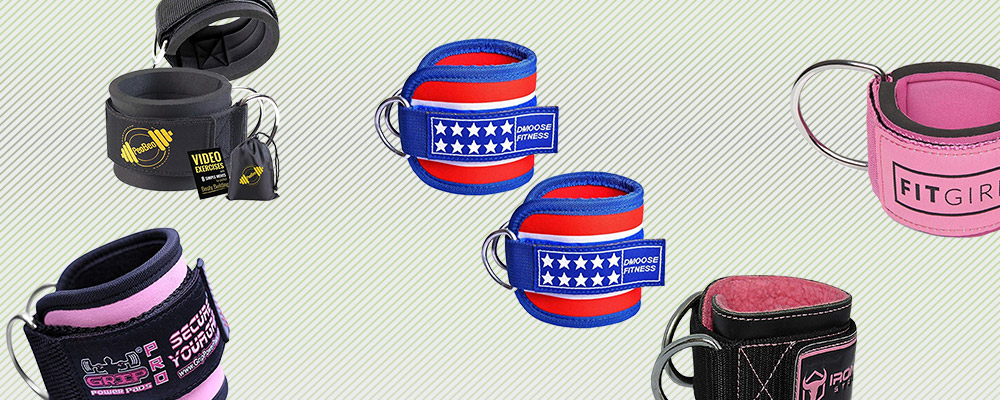 Editor's Choice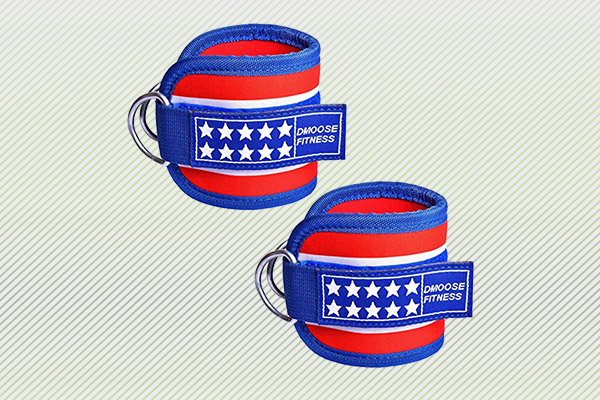 DMoose Fitness Ankle Straps
Pros: 
4" width. This ankle strap from DMoose has a width of four inches, softening the impact and stress of the exercises being performed by spreading it out over a larger surface area. This increases comfort and reduces the chances of friction against the skin.

Double-stitch nylon. While some ankle straps only have a single line of stitching to keep the padded interior and exterior secure, this product has double-stitching along the perimeter of the strap. This increases the durability of the product by reducing the stress put upon the threading of the material.

Lifetime guarantee. DMoose has a policy offering a full refund or replacement for any product that suffers malfunction or failure. This guarantee has no time limits, while many competitors have a certain number of years they will offer their warranty for.
Cons: 
Stitching can be uncomfortable. Though the outer perimeter of stitching is intended to make the product more durable, the stitching itself can feel irritating against the skin depending on how tightly it is secured. Some users may prefer wearing socks underneath their ankle straps to avoid this discomfort.

Material can be rigid. Some users may find the strap to be a bit rigid upon first training with it. While this may soften over time, this can make wearing the strap more uncomfortable for first-time users than customers may be expecting.
The Contender
Grip Power Pads Ankle Straps
Pros:
14 different varieties. This ankle strap comes in one of the most diverse collections of colors and patterns amongst its competitors. The stand-out varieties are the American-themed, British-themed, and green camo.

220 pound weight limit. With its double D-ring design, sporting clips at either end of the strap, this product can withstand more weight during training than other ankle straps with only one loop. 

Velcro along entire length. The Grip Power Pads ankle straps have a velcro "loop" landing pad across the entire length of the strap, allowing for more contact with the "hook" side of the velcro. This makes for a more secure hold during training.
Cons:
Interior could be softer. Some customers may find the interior material not as comfortable as offerings from other brands. This product has no padding on the exterior layer.

Stiff. Similar to the DMoose ankle strap, this line of ankle straps tends to be stiff and rigid upon first use. It needs to be broken in and may need to have socks worn underneath the first few uses.
Best Bargain
PeoBeo Ankle Straps
Pros: 
Carry bag. These ankle straps are accompanied by a drawstring bag. This bag can be utilized not only for transporting these ankle straps to the gym, but for carrying other small pieces of gym equipment like gloves and resistance bands.

Resistance bands. This product not only comes in 3 different colors, but customers can also purchase a set that comes with three resistance bands of increasing intensity. This will help provide a versatile workout regimen.

Cost. This product is offered at a price point usually reserved for single ankle straps, but with PeoBeo, customers will be receiving two matching straps.
Cons: 
Length of padding only 9". Some users may find these straps to be shorter than they need to be. At only 9" inches long (for the padded portion), it is an inch or two shorter than many other straps on the marketplace.

Black and yellow doesn't come with resistance bands.

Those looking for ankle straps that don't have the color pink in their design won't be able to purchase the additional resistance band option. The resistance bands only come with the pink and pink/black offerings.
Best for Female Beginners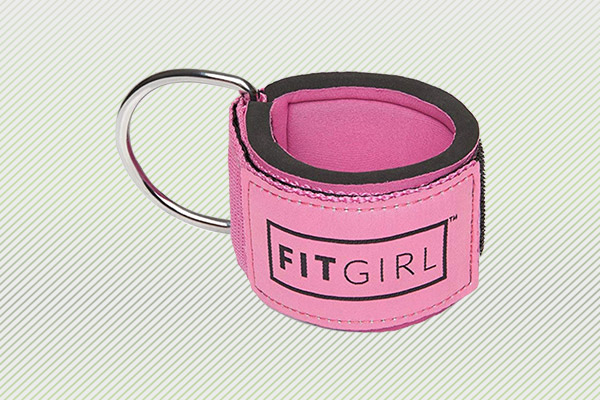 FITGIRL Padded Ankle Strap
Pros: 
Thick foam padding. This line of ankle straps from FITGIRL has an interior lined with foam padding that is several millimeters thick. This volume of foam lining helps ensure that less stress is put on the skin and muscle tissue when training and prevents components from digging into exposed skin. It also helps keep the strap in place.

Geared towards women. This product is made by women and marketed specifically towards women. The company proudly makes a product that women will want to wear and feel comfortable wearing in a gym.

Lightweight. This ankle strap is designed to feel lightweight and soft during fitness training. At only a bit over 3.5 ounces, users will perhaps barely notice they have an ankle strap on.
Cons: 
Only one D-ring. This product only has one D-ring, meaning it can sustain a lower total amount of weight bearing during training. This strap is best for beginners or those using a low weight total.

Doesn't come in pairs. These can only be bought as a singular item. Those looking for an easy pair purchase or even a discount will be disappointed.
Best for Heavier Weights (Women's)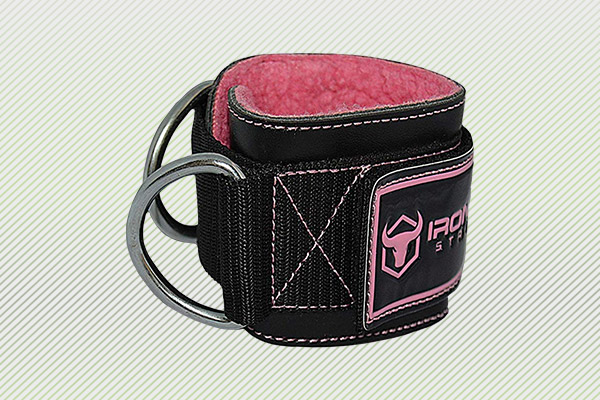 Iron Bull Strength Premium Ankle Strap
Pros: 
Shearling padding. The interior padding of the ankle straps from Iron Bull feature dyed shearling padding, meaning it is real wool. This padding can help absorb moisture and provide a soft surface against the skin.

Leather. The exterior of these straps are made of leather. Leather is not only a durable and non-stretchy material, but it provides a trendy and soft-to-touch exterior that can be easily wiped clean.

11.5" long. This ankle strap measures 11 and a half inches long, an inch or two longer than many competitors. This allows legs with a larger circumference to comfortably fit.
Cons:
No pair discount. These have to be bought individually, so unfortunately there are no discounts for buying two in a pair as is commonly found with competitor's ankle straps.

Only one color option. While it is nice that this ankle strap is geared towards women in its design outlook, some may be disappointed that it only comes in one variety, black and pink.
How We Picked
A great addition to any leg workout are ankle straps made to utilize a cable machine. The ankle straps can let people isolate certain muscle groups and work on toning or building strength in those areas. Depending on the level of intensity of the planned training, different ankle straps might be more appropriate. There are a few different factors that play a part in evaluating the various leading lines of ankle straps. Here is what we used to make our determinations:
Padding
Most ankle straps will have some sort of padding running the length of their entity. As these straps will be secured tightly around the ankles and then subjected to some amount of strain, padding is instrumental in keeping the leg skin protected and brunting the force of the weights being lifted by the cable. The major distinction between different ankle straps is the way in which the padding is furnished.
For softer fits, some manufacturers locate the padding on the exterior layer of the strap, so that as the strap wraps around a user's leg, the skin will be in direct contact with foam or other soft material, like wool. Ankle straps can also have padding sewn into the interior of the strap, with an outer layer of nylon or polyester. These may provide less comfort than the former, but will probably be more durable.
Durability
The most frequently seen styles of ankle braces usually have a strap that wraps around the circumference of the ankle. This is secured with two matching velcro components, the hook and the loop. Where the two ends connect around the ankle, there is a strong metal ring. This is what connects to the cable machine. This is where the majority of the strain of the exercise will be experienced.
The ankle straps with two rings rather than one can withstand higher weight capacity and might have a longer shelf-life. The sewing that attaches the rings can also be under distress when subjected to heavy weight loads. The thicker this component is weaved, the more support the rings are sharing with the strap. The sewing of the exterior and interior material can be affected and degrade by repeated use. Double stitching patterns and stronger materials like leather can help products last longer as well.
Tips
Not sure which ankle strap is right for you? Take a look at the suggestions below to help make your decision an easier process:
How much weight are you expecting to lift?

Ankle straps can be geared towards heavy lifters and those who are less experienced. The double-ring is a sign of more weight-bearing capacity, but the material of the strap can be a big determinant as well. Leather and double-stitched fabric with interior padding can typically hold bigger loads than fabric that has padding on the exterior.
The width of the ankle strap often times can determine how much of a load the ankle straps can handle. The thicker and wider the ankle straps, the more weight they typically are graded for. Thinner ankle straps may be more comfortable for those not lifting heavy weights as there is less material that can cause discomfort.

What size ankle do you have?

Most ankle straps do not come in multiple sizes. They are designed for "one-size-fits-all", but oftentimes they do not indeed fit all types of user. Take a look at the length of the ankle strap and then compare that to your own ankle's circumference. This can be done with a measuring tape.
As some exercises may use the strap around the calf or other part of the leg above the ankle, it may be useful to measure those circumferences as well. The straps can sometimes be extended beyond the padded length, but doing so risks the rings and other components digging into the user's skin when training.