The best fitness gear will generally stay out of your way and allow you an easier, distraction-free workout. Sweat headbands can be a simple and functional accessory to help you do exactly that by fulfilling one main goal: ensuring that beads of sweat and stray strands of hair are kept out of your face. If done right, they can also serve as a trendy fashion accessory.
We've looked at a range of unisex products on the market and have granted the best ones a spot on our list.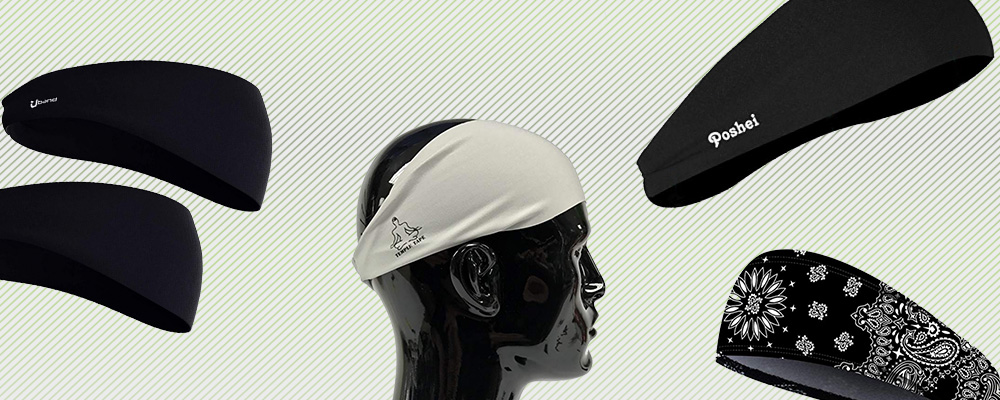 Editor's pick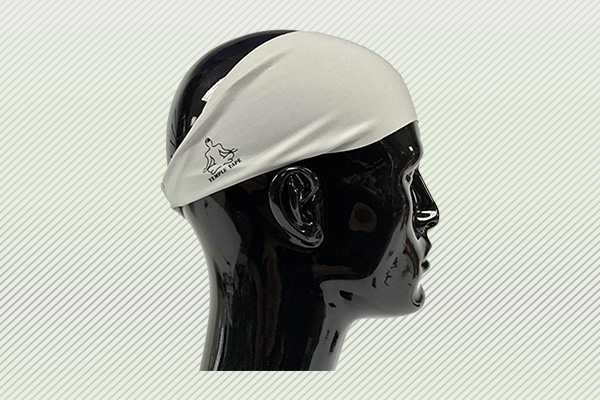 Headband by Temple Tape
Pros:
It absorbs and dries sweat quickly. 

Once you put it on, it does a good job of staying in place without feeling restrictive. 

The material is both light and thin—but not at the expense of absorbency. 

There is enough material for you to get fuller head coverage or, if you prefer, to fold or roll the band. 

It washes well and keeps its form over time.

It comes in a range of colors and patterns. 
Cons:
As we noted above, this product absorbs well. But it's also thin, and folks who are prone to more profuse sweating may want to consider a more heavy-duty alternative. 

The universal size may not work for everyone, especially for bigger head sizes.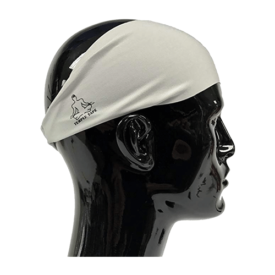 Made out of lycaspandex, this is a one size fits all headband that offers extended forehead coverage. It's thin, it's sleek, and it can be worn comfortably under virtually any type of headgear without adding unnecessary bulk.
Best for long hair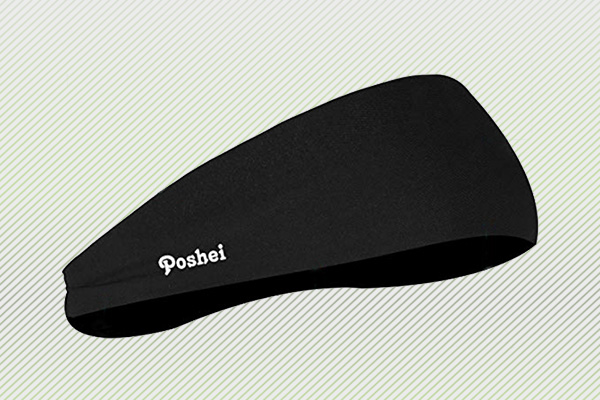 Headband by Poshei
Pros:
They are well made and sturdy, but still fit comfortably on your head.

The material is soft enough to not leave marks in your hair, and the cut will accommodate a range of hairstyles. 

They also offer UV protection. 

They are fully reversible.
Cons: 
Some folks found that the fit loosens over time.

Since they are mostly made up of polyester, these headbands have a tendency to retrain odor. 

Though the band can be washed on a cool and gentle cycle, it must be air dried. 

You don't have much choice when it comes to color and design.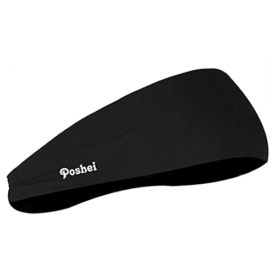 These headbands come as a 3 or 4 pack and are made from a breathable and stretchy blend of polyester and spandex.
Best for short hair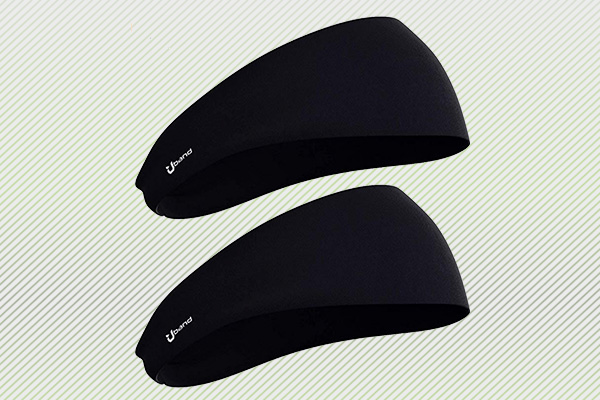 Headband by Self Pro
Pros:
The fabric is light and breathable. 

The material absorbs heavy sweat with relative ease. 

When you break it down to price per band, this is one of the more cost-effective items that we looked at. 

They are machine washable. 
Cons:
Some folks found that these bands have a flimsy feel to them, especially when it came to the stitching on the edges.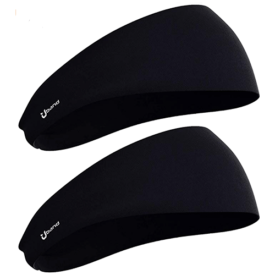 If you have shorter hair, you may find it a bit harder to keep a headband in place. This polyester and spandex combo should do the trick.These bands are easy to wash and quick to dry, and will be especially accommodating if you have a larger-than-average head size.
Most versatile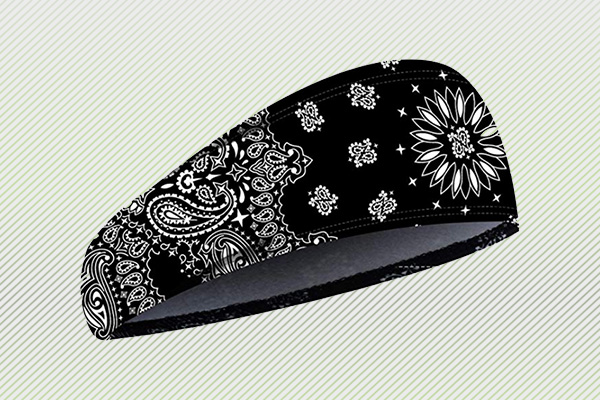 Headband by Tough Headwear
Pros:
It is absorbent and will keep you relatively cool during your workout. 

You can choose from a variety of colors, designs, and patterns. 

Tough Headwear offers a lifetime warranty on this product (we should note though, we haven't had to test that out). 
Cons: 
Some folks found that the headband loses its shape and structure after extensive wear-and-tear.

The back of the headband may bunch up, which may be especially unaccommodating for certain hairstyles.
Headband by Tough Headwear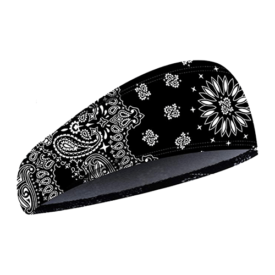 Headband by Tough Headwear
This product is one size fits most, and offers a wide range of patterns and colors to choose from. It's designed to be thicker in the front and thinner in the back.
How we picked
We tried to look for a range of headbands that could perform their function and free you up to focus on your workout. Here are a few criteria we looked at.
Absorbency
This is a big one, since absorbing moisture is probably the main function that sweat headbands set out to fulfill. We looked for products that are moisture-wicking, breathable, and quick to air-dry.
Comfort
We also looked for headbands that will sit comfortably on your head without pinching, scrunching, or pulling on your hair. We tried to find bands that will stay put during a rigorous workout without putting pressure on your head. Basically, the idea is that the more quickly you can forget you're wearing one, the better the band.
Durability
You'll likely be wearing these bands in the course of rigorous activity, which means they'll have to be washed more frequently than other items of clothing. We looked for products that will keep their structure and elasticity, and lend themselves to easy wash-and-wear in the long term.
Style
If you don't like how it looks, you're much less likely to wear it. In our search, we looked for products that provide a wide range of coverage, patterns, colors, and cuts. Whether you're looking for a classic headband look or something a bit different, you'll find a product that suits your style.
Buying tips
What's it made out of? Whether you're a modest sweat-er or find yourself soaked after a workout, you'll want to make sure that your sweat headband will accommodate your needs. Look for products that are moist-wicking and breathable, and react well to your skin. As you do this, you'll want to bear in mind that thicker doesn't always mean more absorbent—some of the most effective bands on our list are actually quite thin, and will retain more moisture than you'd think just by looking at them.
What's my head size? Most headbands, including the ones on our list, will come as one size fits all. But that doesn't mean they're all made equal. Most products will indicate the range of head circumferences that they accommodate, and before buying you'll want to make sure that the headband will be appropriate for your size.
Do I want to make a fashion statement? Headbands can be as simple or as ornate as you want them to be. Make sure you buy one that fits your aesthetic and suits your hairstyle.