There are many reasons to want a home gym: They never close, they're private, they're cost-efficient (in the long run), and you can customize it to fit your specific training needs. But before you commit — because building a home gym is a commitment — there are a few factors worth considering.
There's a seemingly never-ending selection of equipment to consider — barbells, benches, tall racks, short racks, racks that fold, and the list goes on. You also need to think about where you're building your gym, and what type of gym you need.
Home Gym Considerations
Below is a breakdown of each component to help simplify the decisions required for outfitting a home gym specific to your goals and the research behind why each is vital for training success.
Force USA MyRack Folding Power Rack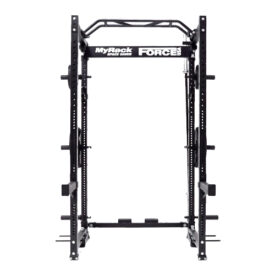 Force USA MyRack Folding Power Rack
This modular base rack with 10 attachments to choose from, including J-hooks, band pegs, and safeties, has a 2,000-pound weight rating, Westside spacing, and hundreds of possible configurations. The heavy-duty, 12-gauge steel uprights can fold inward saving valuable space in a home or garage gym.
Space Availability & Environment
One of the most significant advantages of having a home gym is that if you have one, you're likely to train more often at a higher intensity regardless of what season it is. The likelihood of increasing activity levels is even more favorable for those who are considered obese. (1)(2)
So if allocating space for a home gym is beneficial, where in your domain would be the best place for it?
Pick a Suitable Environment
First, consider the most significant piece of equipment you'll purchase — a power rack or all-in-one trainer — and figure out what rooms in your home can accommodate it with at least a little extra room to spare.
You'll also want to consider factors like flooring and wall strength. If you want to deadlift, it's probably not a great idea to build your gym on wood or tile flooring (this may seem obvious, we know). And if you want a wall-mounted rack or barbell holder, you need to make sure your walls can support the equipment plus any added weight.
Consider Your Atmosphere
Assuming there is some flexibility in where your gym could go, you'd be wise to pair your gym with some greenery, as the environment around your home gym could also factor into how often you use it.
According to a three-year study following 31,049 individuals in Health & Place, there is "a positive association between green space and overall physical activity" for suburban and urban environments. That means it could be beneficial to leave your garage door open or position your gym near windows where visuals of the outdoors are prominent. Furthermore, outdoor natural environments may lower levels of perceived exertion and improve mood. (3)(4)
If you don't have a lot of physical space near the sights of greenery, acquiring a power rack designed to save space could be the best option to fit it in the desired location. Force USA's MyRack Space Saver Folding Power Rack can be stationed against a wall with its uprights folded upon itself as though you were closing the doors of a closet. When folded, the MyRack only reaches 20 inches from the wall and 41 inches when pulled out for a training session.
Elite Athletes Own Home Gyms, Too
Science is not the only supporting evidence of the environment's role in training frequency and efficacy. Some of the top functional fitness athletes on the planet also design their training facilities with access to the outdoors.
Five-time Fittest Man on Earth® — the title given to those who win the CrossFit Games — Mat Fraser trained in his garage gym during his tenure at the top of the sport. Since his retirement from competitive CrossFit, he became a coach. In his renovated home gym, he trains several elite CrossFitters, including 2021 CrossFit Rookie of the Year Mal O'Brien.
Five-time Fittest Woman on Earth® Tia-Clair Toomey trains with her husband and owner of PRVN Fitness, Shane Orr, in Nashville, TN, in a garage gym that maximizes space with program-specific equipment. And yes, it maintains access to the outdoors.
The 2021 Fittest Man on Earth®, Justin Medeiros, trained to become the CrossFit Games champion in his garage gym in Boise, ID. His gym extends into his driveway, allowing him to train outdoors more often.
Josh Bridges is a former CrossFit Games runner-up turned boxer who still trains in his garage gym with two garage doors to let the sunlight and greenery peer into it.
A home gym with outdoor access is effective not only for functional fitness athletes but also for heavy strength athletes. Before 2018 World's Strongest Man (WSM) champion Hafthor Julius Björnsson, known for playing the role of Gregor "The Mountain" Clegane in the HBO series Game of Thrones, retired from the sport of strongman, he trained in his garage gym due to its convenience.
Fitness Goals
A home gym might be a pivotal first step if your goal is dropping weight and keeping it off. Per the Journal of American Medical Association, having home exercise equipment "can facilitate the maintenance of short-bout exercise, which may improve long-term weight loss." After 18 months, those with home gym access maintained a higher level of exercise than their counterparts who did not. (7)
Again, if your goal is hypertrophy and/or strength, a home gym could help get you there. Full body resistance training consistently for just four weeks in a home gym could provide significant increases in muscle mass, muscle strength, and muscle function. (8)
Your training style will inform your equipment choices (see below), but a home gym can facilitate any fitness goals you have.
Exercise Variance
Regardless of your training goals or strength sport of choice, you'll probably want the ability to perform at least some exercises. When training for any sport or goal, many coaches suggest training the seven fundamental movement patterns. Those are:
Horizontal Push: Barbell bench press, dumbbell bench press, push-up
Horizontal Pull: Bent-over row, single-arm dumbbell row
Vertical Push: Overhead barbell press, single-arm overhead press, Z press
Vertical Pull: Pull-up, chin-up, lat pulldown
Squat: barbell back squat, barbell front squat, goblet squat, Zercher squat
Hinge: Romanian deadlift, barbell deadlift (conventional or sumo), kettlebell swing
Rotation: Pallof press, Pallof press with rotation, Russian twist
Generally speaking, the more tools you have, the more options you have. A bench allows you to lay down (on your stomach or back) to perform a variety of movements with a more extended range of motion. A set of dumbbells enables unilateral training. And a power rack can serve as your training HQ, handling multiple accessories for even more training options.
For example, when Force USA's MyRack is paired with accessories, such as its corresponding MyBench (weight bench) or Gunnar Barbell, users can train exercises within five fundamental movement patterns — push, pull, squat, lunge, and hip hinge — as they would in a commercial gym.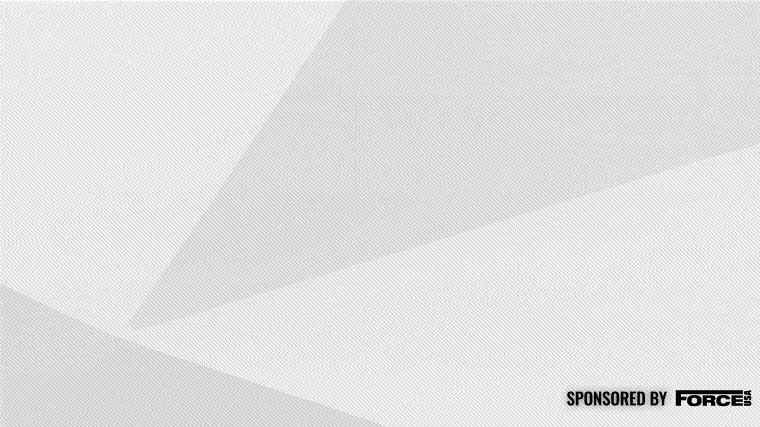 The MyRack is designed to allow users to perform 45 different exercises. That kind of exercise variety is likely to entice you to train. As a 2019 study in PLOS One found, varying exercise selection had a positive effect on enhancing motivation to train. In contrast, a fixed exercise selection did not offer significant training motivation. (5)
Furthermore, exercise variety is a potentially effective method for reinforcing behavior for exercise adherence. Training could feel less of a chore and more like something one would look forward to practicing. As the saying goes: variety is the spice of life (and fitness). (6)
Home is Where the Gym Is
Installing a home gym can make training consistently more convenient. The benefits of that are substantial. Transforming part of your home into an iron paradise offers potential weight loss, muscle gain, an overall reduction in stress, and an increase in self-esteem.
Force USA MyRack Folding Power Rack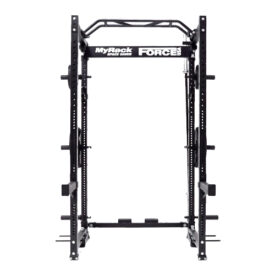 Force USA MyRack Folding Power Rack
This modular base rack with 10 attachments to choose from, including J-hooks, band pegs, and safeties, has a 2,000-pound weight rating, Westside spacing, and hundreds of possible configurations. The heavy-duty, 12-gauge steel uprights can fold inward saving valuable space in a home or garage gym.
References
Eriksson U, Arvidsson D, Sundquist K. Availability of exercise facilities and physical activity in 2,037 adults: cross-sectional results from the Swedish neighborhood and physical activity (SNAP) study. BMC Public Health. 2012 Aug 3;12:607. doi: 10.1186/1471-2458-12-607. PMID: 22863215; PMCID: PMC3490859.
Michelle C. Kegler, Regine Haardörfer, Iris Alcantara, Julie A. Gazmararian, Alexandra Gemma, Pam Reynolds & Cecillia Morris (2017) Home environments, physical activity, and energy expenditure among low-income overweight and obese women, Women & Health, 57:8, 990-1006, DOI: 10.1080/03630242.2016.1235072
Mytton OT, Townsend N, Rutter H, Foster C. Green space and physical activity: an observational study using Health Survey for England data. Health Place. 2012 Sep;18(5):1034-41. doi: 10.1016/j.healthplace.2012.06.003. Epub 2012 Jun 17. PMID: 22795498; PMCID: PMC3444752.
Gladwell VF, Brown DK, Wood C, Sandercock GR, Barton JL. The great outdoors: how a green exercise environment can benefit all. Extrem Physiol Med. 2013 Jan 3;2(1):3. doi: 10.1186/2046-7648-2-3. PMID: 23849478; PMCID: PMC3710158.
Baz-Valle, E., Schoenfeld, B. J., Torres-Unda, J., Santos-Concejero, J., & Balsalobre-Fernández, C. (2019). The effects of exercise variation in muscle thickness, maximal strength and motivation in resistance trained men. PloS one, 14(12), e0226989. https://doi.org/10.1371/journal.pone.0226989
Sylvester, B. D., Standage, M., McEwan, D., Wolf, S. A., Lubans, D. R., Eather, N., Kaulius, M., Ruissen, G. R., Crocker, P. R., Zumbo, B. D., & Beauchamp, M. R. (2016). Variety support and exercise adherence behavior: experimental and mediating effects. Journal of behavioral medicine, 39(2), 214–224. https://doi.org/10.1007/s10865-015-9688-4
Jakicic, J. M., Winters, C., Lang, W., & Wing, R. R. (1999). Effects of intermittent exercise and use of home exercise equipment on adherence, weight loss, and fitness in overweight women: a randomized trial. JAMA, 282(16), 1554–1560. https://doi.org/10.1001/jama.282.16.1554
Cegielski J, Brook MS, Quinlan JI, Wilkinson DJ, Smith K, Atherton PJ, Phillips BE. A 4-week, lifestyle-integrated, home-based exercise training programme elicits improvements in physical function and lean mass in older men and women: a pilot study. F1000Res. 2017 Jul 26;6:1235. doi: 10.12688/f1000research.11894.2. PMID: 29167733; PMCID: PMC5680536.