We receive free products and receive commissions through our links. See
disclosures page
.
The Force USA MyRack offers an adaptable modular design that allows you to adjust it to your needs as they change. In the ever-expanding world of strength equipment, it can be incredibly tough to find the perfect gear, especially when building out a home or garage gym. One of the biggest decisions when outfitting a home gym is deciding what type of power or squat rack will be best for your needs because this often ends up being the most dynamic and focal piece of the gym. The Force USA MyRack is incredibly versatile and can satisfy the needs of most people while still being cost-effective.
This rack is compatible with over 20 attachments from ForceUSA. It comes with a 12-gauge steel base and has the ability to be customized to suit multiple types of lifting disciplines. If you're in the market for an affordable rack that you can accessorize with different add-ons as your interests change over time, then this may be the rack you've been searching for.
Main Takeaways
Solid 12-gauge steel base and laser welding give this rack a 2,000-pound static capacity, which is higher than most other racks.
This rack is fairly compact at 87 inches wide by 47 inches wide and 55 inches deep, offering more space savings than many other racks with larger footprints.
Multiple add-ons (like a cable crossover, lat pulldown, landmine, dip handles, and more) make this a great option for versatile workouts. You can choose to add on over time, or as your interests evolve.
Force USA MyRack Modular Power Rack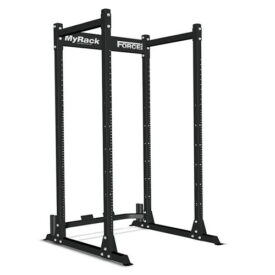 Force USA MyRack Modular Power Rack
This power rack is sturdy, can support 2,000 pounds, and can hold various accessories such as band pegs and dip bars. You can also add a cable pulley system and lat pulldown machine to really get the most out of your gym. 
Force USA MyRack Highlights
The Force USA MyRack Modular Power Rack has a couple key construction aspects worth noting. First, the base and uprights are made of an extra-sturdy steel construction that has a laser cut design, which means the edges, holes, and structure all have clean cut edges. Steel is standard across the industry for racks and Force USA offers a structural warranty on the steel used in this rack.
Second, the uprights are made with 12-gauge steel. The gauge tells you the thickness of the steel, and a 12-gauge thickness tends to be pretty normal in power and squat racks, but the massive 2,000-pound weight capacity is certainly above average. The uprights themselves are 2.4 inches by 2.4 inches — most high-end racks are three inches by three inches while budget racks tend to be two inches by two inches — which makes the size used by Force USA a nice compromise for strength and price.
The MyRack also features Westside spacing through the bench press zone, which means there is less space between holes so you can have better placement for your J-hooks while bench pressing to reach the optimal height. In total (on the front and back), there are 54 adjustment points, so you can find the right spot every time.
The MyRack Modular Power Rack comes with a width of a 47", a height of 87″, a depth 55″, and an interior depth of 29″. The base of the rack comes with the option to bolt the rack to the ground or let it free stand. That's a big perk for anyone who wants to keep their floors clean, and not every power rack has this option.
Outside of the power rack itself, there are a couple of cool and helpful customization features for this rack. Force offers the ability to add on different pull-up bars, J-hooks, and safeties — they sell safety slings, monolift J-hooks, four different pull-up bars, and more. The four different types of pull-up bars generally range between $99.99 to $169.99. For the J-hook options, they're usually between $49.99 to $79.99, and there's also the monolift option that costs about $199.99. Then for safeties, the three options are all about $99.99. One downside is that you'll likely have to use the add-ons from Force USA. Because of the unusual 2.4-inch upright sizing, most other manufacturers' attachments won't fit the MyRack.
Who Should Buy the Force USA MyRack
Those who are looking for a centerpiece for their gym. With all the add-ons and the solid build of this rack, it can easily become the central component of any gym.
People who want a rack that they can grow and evolve with over time. The long list of over 20 different accessories available for this rack mean that no matter how your lifting needs change, this rack can adapt with them.
Athletes who lift some serious weight. The MyRack is a tank and can support up to 2,000 pounds, which is a weight even the strongest in the world don't touch yet. Better to be prepared.
Who Shouldn't Buy the Force USA MyRack
If you're simply looking for a straightforward squat rack, you'll want to look elsewhere. Yes, this is a power rack, but it's supposed to be added onto and customized to get the most out of it. You may be better off checking out other more basic options.
Despite the space-friendly dimension this rack still may be too large for those who are very limited on space. You may be better off with a folding rack.
Those who want a complete home gym solution that already comes with all the extras without having to take the time and effort to decide which ones to add. Something like the ForceUSA X20 Pro may be better for you.
Price
The price of the Force USA MyRack Modular Power Rack starts at around $499.99 for the base. If you were to compare this rack with other power racks with similar construction specs across the strength industry, then you'll notice that this rack is on the more cost-efficient side. The add-on elements are decently priced, and you can build a fully equipped power rack with a pull-up bar, j-hooks, and safeties for about $750.00.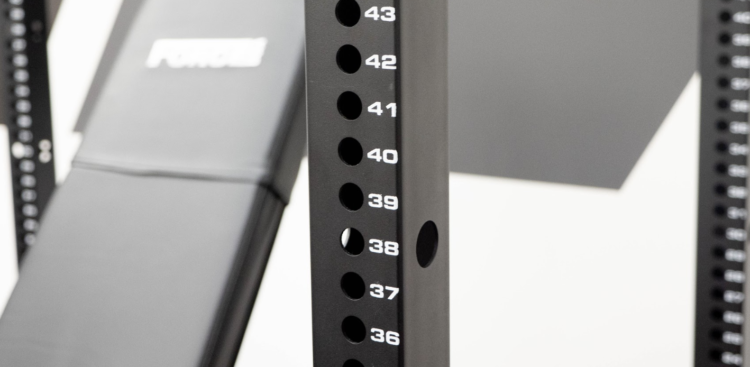 If we compare this power rack with others when it's fully equipped, it's quickly apparent that this is one of the better priced racks on the market. A lot of power racks don't come with j-hooks or safeties for that matter — some do, but not all of them. For this reason, we think this rack is one of the better options for price efficiency when fully equipping a power rack. Similarly equipped racks can run anywhere from $1,000 to several thousands depending on the manufacturer.
Overall Build and Quality
The ForceUSA MyRack is built to be tough and versatile, and that's evident throughout the rack's construction. From the laser and robotic cut welds to the precision modular design, you can see that Force USA intended on developing a power rack that can stand up to daily heavy use and last a lifetime. They stand behind the rack with a lifetime structural warranty to prove that point. If you have any doubt regarding the toughness of this rack, look no further than the weight rating of 2,000 pounds. Most other racks top out at around 1,000 pounds. Once you bolt this to the ground, it's likely to still be standing decades from now.
Features
One of the most prominent features of the MyRack is the modular design, which allows you to add, remove, and swap equipment at will to accommodate nearly any lifting discipline. If you're a power athlete, adding the jammer arms might be a good idea. Prepping for a powerlifting meet? The monolift attachment and band pegs can help with that. Avid bodybuilders will like the cable crossover and lat pulldown attachments too.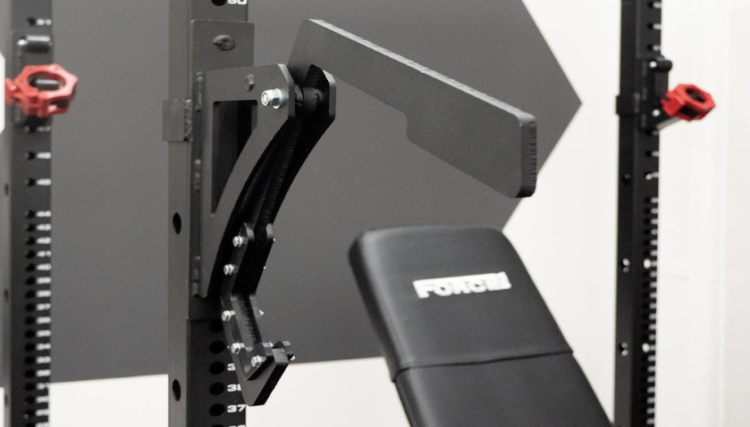 Another aspect that may not seem like a true feature, but is incredibly helpful nonetheless is the lower overall height (87 inches, or seven feet and three inches) of this rack, which can accommodate lower ceilings (like those found in garages or basements where many people set up their home gyms).
Weight Accommodation
In respects to versatility, we think the Force USA MyRack Modular Power Rack does an adequate job at satisfying the needs of both the recreational and the series athlete. The power rack base is structurally well-built with a high quality steel and Force USA writes on their site that the base rack weight ratings comes out to about 2,000 pounds, which is more than enough for even the strongest of athletes.
Attachments
The adjustments and finite construction features are what make this rack so versatile — it's compatible with over 20 attachments. With the ability to add various pull-up bars, safeties, and J-hooks/monolift, an athlete can build this rack completely catered to their sport and needs. This is a serious benefit for athletes who like to compete in one sport such as powerlifting and need a specific type of setup for training to competition carryover.
Spacing and Storage
The power rack itself is a simple rack, so it's not the most versatile in its base state, but it does offer Westside hole spacing. This type of spacing makes the rack slightly more accessible for various heights, and that bumps up the bare-bones versatility of the rack for this review. Also, there are barbell holding holes in the back, which make this is good rack for holding various barbells that might be used for different sports. You can even add weight storage horns for extra plate storage, and that's always needed.
Assembly
While this rack does require assembly upon delivery, we'd be remiss to not admit that the assembly needed will depend heavily on the attachments and add-ons you decide to purchase. If you simply purchase the rack and add other pieces on later, you can expect setup to take about two hours by yourself, though we recommend having a friend help for safety reasons. On the other hand, if you order the cable crossovers and other accessories, you may be looking at an all-day affair which we'll say can count as your workout for the day. Force USA does nicely include all the tools you'll need and pretty clear instructions.
Product Specs
This rack was designed with the home gym environment in mind with space-saving dimensions of 87 inches tall by 47 inches wide and 55 inches deep. The Force USA MyRack also offers cost savings, but still has a very solid 12-gauge steel build. The 2,000-pound weight capacity is higher than anyone will likely ever need too, which should give you great confidence when lifting at home.
Materials
The Force USA MyRack is made from high-quality, 12-gauge steel and features precision-made robotic welds. The upright tubing is a compromise between cost-savings and structural strength with 2.4-inch tubing. You'll find 2×2-inch tubing used in the uprights of budget racks because it's cheaper, but not as strong as 3×3-inch tubing, which you'll find on more expensive and high-end racks.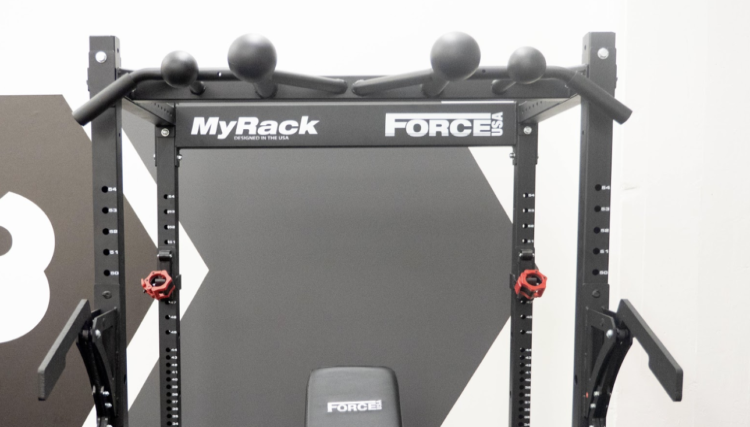 Force USA uses 2.4-inch tubing to still be strong, but cost-effective. It's worth noting though that because of the in-between size, many other brands' attachments will not work with this build — you'll have to buy compatible attachments through ForceUSA.
Dimensions
The dimensions of the MyRack are meant to be friendly for home gym owners and not take up as much space as many other power racks. That said, this rack does still have a pretty decent sized footprint measuring 87 inches tall by 47 inches wide and 55 inches deep. Many other racks on the market are over 90 inches tall and can be over 60 inches wide with double the depth.
Weight Capacity
The weight capacity that Force USA offers here might be the highest we've seen at a whopping 2,000 pounds. Even if you're "The Beast" Eddie Hall himself or as strong as Ray Williams, you're not going to exceed the static capacity of this rack.
Warranty
One thing Force USA excels at is their warranty options for their racks. Force USA covers the MyRack with a lifetime structural warranty. Cables and pulleys on attachments are covered for two years and all other rack accessories have a 90-day wear and tear warranty.
A great warranty is important for anyone worried about their investment lasting the test of time. Obviously, no one wants their power rack to break down fast, so a lifetime structural warranty is a good bid of confidence that Force USA has in their equipment.
Places to Buy
You can buy the Force USA MyRack by clicking the link above or directly through the Force USA website.
Company Information
Force USA has been manufacturing gym equipment for home gym enthusiasts since 2000, and has seen their operations grow to over 25 countries. If you want to find out more about their operations, you can reach out to their USA operations team at (385) 557-2554, their Canada team at (778) 800-950, or fill out a request form on their website to have someone from their team email you.
Final Word
The Force USA MyRack Modular Power Rack is a solid option for anyone looking to build out their garage or home gym. This piece of equipment comes with a ton of construction-related positives like robotic welds and heavy-duty steel. In addition, this is a good option for anyone who needs a fully equipped power rack that has multiple add-ons, like a pull-up bar or even a monolift, and doesn't have a ton of cash to burn.
Regardless of your fitness goals, the MyRack can accommodate them with over 20 diverse, high-quality attachments and add-ons they offer. At its core, this is a solid power rack that won't blow your budget, so even if you're just looking for that, this can fit the bill. Buying a power rack is likely one of the largest purchases you'll make for your gym. For those with a desire to furnish their gym with a centerpiece that's both functional and versatile then the Force USA MyRack is a great option.
FAQs
What configuration of the Force USA MyRack is best?
The MyRack is one of the most versatile power racks on the market, and because of that, there's not an easy answer to this question. Those who compete in powerlifting may want to opt for the monolift attachments and bang pegs while bodybuilders will likely want the cable crossovers. Strongman competitors will like the safety slings to practice log press without clanging on metal safeties. It all depends on the sport and your goals.
What attachments are compatible with the MyRack?
Force USA makes a ton of attachments for the MyRack — over 20 in total. That said, you'll want to be aware that very few other manufacturers use upright tubing of 2.4 inches by 2.4 inches. This means that you'll likely have to use attachments that are strictly from the Force USA ecosystem rather than being able to purchase other manufacturers' add-ons. That's not necessarily a bad thing since there are so many available from Force USA, it's just something to keep in mind when making a decision.
What makes the Force USA MyRack different from other power racks?
There are a host of features that make it different, though they all perform the same function. The weight capacity is a large difference because the MyRack can hold practically double the amount of weight other similar racks can with a 2,000-pound static capacity. Another major difference is the modular nature, which allows you to add, remove, or swap out attachments with ease. The often overlooked feature that really sets the MyRack apart is the cost-effectiveness. You can purchase this rack well-equipped for the same price as other bare-bones racks with no add-ons or customization options.