We receive free products and receive commissions through our links. See
disclosures page
.
Storage is almost always an issue with gym equipment. Whether you're working out in your garage or in a gym, being able to keep everything neat and tidy is one thing, but making sure that it doesn't take you 3 hours to get everything out to actually train is another. There's nothing worse than finishing your warm up and then realizing that getting the rest of the equipment you need is miles away, or worse, buried under a bunch of other heavy equipment.
The racks we're talking about today are just that kind of storage solution. They help you keep everything organized and, in the long run, save you time and energy so that you can focus on what matters — getting stronger. We're covering all the bases here, with racks for barbells, dumbbells and plates, to help you keep your training area ready for action.
Best Weight Racks
Best Weight Rack Overall
If you've ever been to a gym, odds are you'll have seen a plate tree rack. They are nearly universal because of how effective they are despite the simplicity of the design. Nothing much has changed with plate tree designs over the years, and to us that's a sign that this storage solution has proven itself time and time again.
Rogue Vertical Plate Tree 2.0
While the outline remains the same, Rogue has made a few small innovations that compelled us to name it as our favorite rack. The easy to assemble parts save space (and thus cost) when shipping. Each post can hold full size IWF standard plates from any manufacturer and the optional wheels allow you to keep it mobile if you so wish.
Rogue Vertical Plate Tree 2.0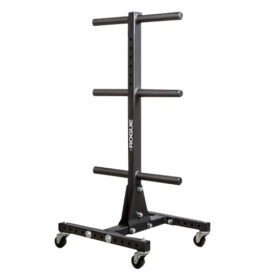 Rogue Vertical Plate Tree 2.0
The Rogue Vertical Plate Tree 2.0 is a perfect all-around storage option for weight plates. It's reliably built by a company that prides itself on durable products, accommodates nearly any weight plate, and comes with wheels to make it mobile and easy to access. 
Who Should Buy the Rogue Vertical Plate Tree 2.0
Buyers who want a simple, reliable rack for their plates.
Lifters who want the option of a movable rack.
Athletes looking for a tried and tested design that has a lot of storage space for weight plates.
Who Shouldn't Buy the Rogue Vertical Plate Tree 2.0
Consumers who need storage for equipment other than plates.
Lifters who prefer a horizontal plate storage solution.
Buyers with a tight budget and may train with other weights more often.
Excellent manufacturing quality, a time tested design and all on wheels, this rack is a perennial favorite and the optional extra wheels are perfect if you need the mobility.
Best Weight Rack for Dumbbells
Out of all the storage options, having a weight rack for dumbbell storage is top of mind. With so many separate weights, it's easy for them to get mixed up and moved to the wrong place. Most people have been to the gym one day and had the frustrating experience of searching for the other dumbbell they need.
Rogue 3-Tier Dumbbell Rack
This rack from Rogue is an ideal option for dumbbell storage. With space for 15 pairs of dumbbells, it is compatible with most Pro style and Hex dumbbells. The laser-cut steel end plates mean it is incredibly sturdy, and there are some lovely touches like the rubber covered saddles keep dumbbells from sliding off, while also reducing abrasion.
Rogue 3-Tier Dumbbell Rack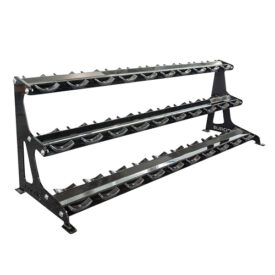 Rogue 3-Tier Dumbbell Rack
The Rogue 3-Tier Dumbbell Rack is the best weight storage option for multiple dumbbells or dumbbell sets. It's super sturdy, and can safely and effectively store up to 30 dumbbells without issue. 
Who Should Buy the Rogue 3-Tier Dumbbell Rack
Consumers who need to organize a set — or sets — of dumbbells.
Anyone looking for a very sturdy dumbbell storage solution.
Trainees with a mix of different types of dumbbell that need a storage option for them.
Who Shouldn't Buy the Rogue 3-Tier Dumbbell Rack
Lifters who only have a few pairs of dumbbells or a set of adjustable dumbbells and don't need such a large rack.
Buyers looking for storage for equipment other than dumbbells.
Athletes in need of a dumbbell storage solution with a small footprint.
If you have a large set of dumbbells, this is the storage option you want. Strong, smartly designed and trusted by gyms across the country, this 3-tier rack from Rogue won't let you down.
Best Weight Rack for Barbells
If we're being honest, we have a long list of barbells we'd love to own, and we empathize with athletes who lack the storage options to grow their collection. But with this Gun Rack from Rogue on the market, those looking to acquire a few more bars should find their storage needs met.
Rogue V2 Gun Rack
Made from laser cut steel and with room for 5 barbells, this rack is seriously good looking when fully stacked with bars. There's also the option of adding plastic inserts to ensure your bars stay in pristine condition. The one downside is the space requirement. This rack is going to take up a substantial part of a wall, but if you're building out a home gym and prioritize barbell training, we think this storage rack is well worth the wall space.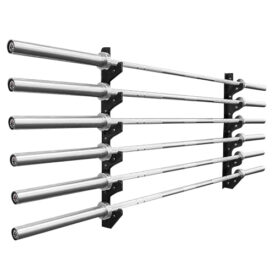 The Rogue V2 Gun Rack might look like a trophy stand for your barbells, but it's also an incredibly effective storage option for them as well. Keeping barbells out of the way when not in use, the horizontal storage also helps keep the bearings from being compressed and potentially damaged. 
Who Should Buy the Rogue V2 Gun Rack
Lifters who want a great looking barbell storage rack.
Buyers who prefer to store their barbells horizontally to avoid pressure on the bearings.
Consumers who have the wall space to put this rack up.
Who Shouldn't Buy the Rogue V2 Gun Rack
Athletes who need a movable barbell rack.
Lifters with a tighter budget — there are cheaper barbell racks available.
Consumers who don't have the wall space for a fixed rack.
This is one of the best ways to showcase your beautiful barbells, all the while keeping them in great condition, which makes it a no-brainer as our top pick for barbell storage on this list.
Best Weight Rack for Weight Plates
Many times with storage, a simple option is all you need. For weight plates, we love this horizontal rack. It is utterly foolproof, as it is compatible with nearly every set of plates out there. The eight separate dividers have plenty of space to store a full set of olympic plates along with space at the end for the smaller plates.
Horizontal Weight Plate Storage with Wheels
Lightweight, coming in at only 44lbs and with a convenient set of wheels, it is also very easy to move around. Because the design is so straightforward, this rack is incredibly durable and its steel construction will last you a lifetime.
Titan Horizontal Weight Plate Storage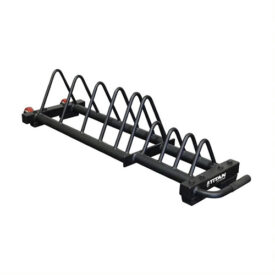 Titan Horizontal Weight Plate Storage
If you're searching for a simple and cost-effective storage option for weight plates, the Horizontal Weight Plate Storage with Wheels from Titan Fitness can hold nearly any plate type, easily holding a full set of Olympic Plates. The included wheels make it easily moveable as well. 
Who Should Buy Horizontal Weight Plate Storage with Wheels
Consumers who want a dead simple way to store their plates.
Athletes looking for an easily movable storage option.
Lifters after a storage solution that is incredibly durable.
Who Shouldn't Buy Horizontal Weight Plate Storage with Wheels
Buyers looking for storage for multiple types of equipment.
Consumers who prefer a vertical plate storage solution.
Anyone who prefers the security of a fixed storage option.
Simple, mobile and works with every plate you can think of. This rack specializes in one area of storage, but does so extremely well.
Best Barbell and Plate Weight Rack
For most people, a mixed storage option is an elegant solution without taking up more space that a storage rack needs to. It should save you money and space, which are ultimately atop everyone's wish lists. This Olympic Plate Tree has space for both plates and bars, making it a solid choice for home and commercial gyms alike.
American Barbell Olympic Plate Tree
There are 6 chrome plated posts on which to store plates, with a rubber stopper at the base to protect the plates from damage. Add to this the spaces for two barbells that are equally spaced, this rack is very well balanced and unlikely to fall. Finally, a black matte powder coating makes it resistant to wear and tear.
American Barbell Olympic Plate Tree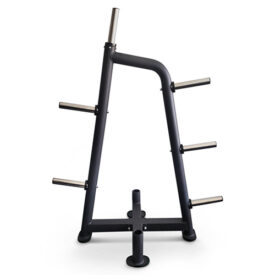 American Barbell Olympic Plate Tree
The American Barbell Olympic Plate Tree makes storing your weight plates and barbells a breeze. It's a perfect all-in-one solution for home gym owners with one set of plates and a couple of barbells they'd like to store neatly. 
Who Should Buy the American Barbell Olympic Plate Tree
Buyers looking for storage for both bars and plates.
Trainees who need a durable plate storage system.
Consumers who need a storage option with a small footprint.
Who Shouldn't Buy the American Barbell Olympic Plate Tree
Lifters who need a more comprehensive solution that can store dumbbells or other equipment too.
Those who prefer a horizontal storage option.
Athletes looking for a more mobile storage solution.
With space for 2 barbells and plenty of plates, this is a great solution for a home gym. Durable and easy access, it should last a long while and offer easy access to your weights as you train.
Best Barbell Holder Weight Rack
If space is at a premium, but you have a decent collection of barbells, a vertical storage solution is the way forward. They allow you to store multiple barbells whilst occupying minimal real estate; literally just over a square foot.
Rogue 9-Bar Holder (Vertical)
Rogue isn't a company to rest on its laurels. An upgrade on the previous version, this design features DOM (drawn over mandrel) steel tubing that helps protect your barbell sleeves from damage, laser cut 7 gauge steel, and the aforementioned tiny footprint. Top this all off with an affordable price point and it's easy to justify its spot on our list.
Rogue 9-Bar Barbell Holder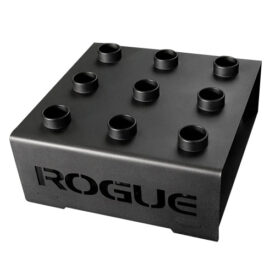 Rogue 9-Bar Barbell Holder
If you've got a lot of barbells and not a lot of space, then this vertical barbell holder from Rogue is a great solution to help you tuck them away neatly. With the ability to store up to 9 barbells, it should offer plenty of storage for the average gym owner for an affordable price. 
Who Should Buy the Rogue 9-Bar Holder (Vertical)
Trainees who want a great value barbell rack.
Lifters looking for an easily movable rack.
Anyone who need a place to store barbells that takes up minimal space.
Who Shouldn't Buy the Rogue 9-Bar Holder (Vertical)
Buyers who would prefer not to store their barbells vertically.
Consumers who need storage for multiple types of equipment.
Lifters who only need storage for one or two barbells.
If you don't want to give up a wall to store your barbells, a vertical storage option like this one is the way to go. It looks great and holds 9 bars while taking up very little floor space.
Best Weight Rack Weight Rack On Amazon
Amazon can be overwhelming with the amount of brands and products listed on the platform. We narrowed down our favorite option for weight storage on Amazon to this Olympic Weight Tree from Fitness Reality. Able to support up to 1000lbs of plates and with space for a couple of bars to boot, this rack is superbly positioned for home gym use.
Fitness Reality Olympic Weight Tree
The steel frame is powder coated and the storage posts are chrome plated, meaning that both should handle wear and tear no problem. At the end of the day, the low price coupled with Amazon Prime shipping is an incredible deal. If nothing else tempts you, that certainly will.
Fitness Reality Olympic Weight Tree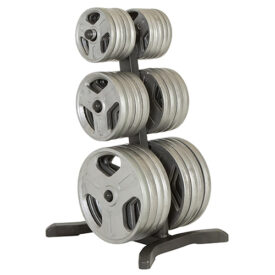 Fitness Reality Olympic Weight Tree
If you're looking for an affordable weight tree on Amazon with plenty of storage for plates and a pair of barbells, look no further than this weight tree from Fitness Reality. It's well built and has a relatively small footprint for a weight tree. 
Who Should Buy the Fitness Reality Olympic Weight Tree
Consumers who need storage for plates and barbells.
Lifters looking for a battle tested design that has proven itself solid.
Trainees who want storage with a very heavy weight capacity and a respectable warranty.
Who Shouldn't Buy the Fitness Reality Olympic Weight Tree
Athletes looking for a more easily movable storage option.
Anyone who needs storage for other types of gym equipment like kettlebells.
With hard to beat value for money, this rack is ideal for a home gym with space for bars and plates. Add in the ability to ship with Prime and you're going to struggle to find a better option on Amazon.
What to Consider Before Buying a Weight Rack
While weight racks aren't going to impact your training quite as directly as if you purchase a poor quality set of dumbbells, there are still a few things you should think about before you buy.
Your Equipment and Weight Sets
You're going to want to think about the equipment you currently have, and what equipment you want to get in future. The more you can future proof your storage, the better. Be realistic about this; we all know we'd love to have a gym with every speciality bar under the sun, but are likely to end up in that position?
Available Space
There are equipment storage options that come in all shapes and sizes, but it's important to make sure that you measure your planned area before you buy. None of these racks are super light, and disassembling, then shipping back to the manufacturer just because you bought something too big is going to be very annoying.
Your Budget
As with everything, price is a huge factor in which storage solution you get. The good news is there are some eminently affordable options out there for all types of equipment. If you're looking for a storage solution to hold a few barbells and a set of plates, then one rack may be all you need and you may be able to save some money. If you have more equipment and are looking to organize your kettlebells and dumbbells in addition to other weights, you may need to expand your storage, and therefore your budget.
Durability
Unless you're doing something very wrong, we doubt that any of these racks will have issues with durability. We'd still recommend giving the racks a clean every now and then to ensure that they stay in good condition. Outside of that, don't chuck your dumbbells or plates at them and you should be fine.
Fixed or Movable
For every storage solution that is bolted down, there is an alternative that is movable. If you know you're going to need to regularly move stuff around, make sure you purchase accordingly. Alternatively, if you want something more secure, then look for fixed options.
Final Word
Storage is something that is frequently overlooked, yet it can have a huge impact on your training experience. Though it may only save a couple of minutes and a couple of feet of movement in any one session, over time the effect is compounded and you'll save yourself a surprising amount of time and effort. The one thing that we all know for certain is consistency in training is the key to progress in both the short and long term. Removing obstacles to training by storing your equipment efficiently is one great path to enabling consistency, and it'll keep your equipment in much better condition, saving you even more time and money.
FAQs
What's the best storage rack for weights?
There isn't really a one-size-fits-all solution. There are some systems that work with dumbbells, kettlebells and a few other free weights. Some are specific to weight plates, some specific to barbells. But really, there isn't much outside of commercial equipment that really unifies all the weight types and can store the full selection of equipment you'll use regularly. 
Whether you're looking for a weight tree, barbell storage, or dumbbell storage, there are picks on this list that we think are the best storage solution for that specific type of weight.
How much weight can a weight rack support?
It varies from rack to rack, but rest assured, they will almost certainly be much more sturdy than anything makeshift you might currently have at home. The recommendations on this list can hold up to 1000 lbs on a single rack.
Why wouldn't I just store my equipment on the floor?
The downside to storing your equipment on the floor is that your equipment will take up more space and may, in certain cases, be more difficult to access when you need it for your workout. Weight plates (especially powerlifting plates) are notorious for being difficult to get off the floor. And if your barbell is shoved behind a few barbells and a rower, you may be wishing you had it racked in a weight tree or on the wall instead.