We receive free products and receive commissions through our links. See
disclosures page
.
Kettlebells are a great tool for strengthening and conditioning the body in multiple ways. Often times, strength athletes will reach for kettlebells when working the body unilaterally, working on movement progressions, or increasing their conditioning. Rep Fitness is a strength equipment company that designs multiple products like kettlebels.
In our review, we'll be looking at the Rep Kettlebell, which is Rep Fitness' main bell model. We'll assess how this kettlebell performs compared to other popular options on the market and take a deep dive look at the features. For our review, we'll assess this kettlebell's construction, performance, who could benefit, durability, and price.
Construction
Design & Finish
The design of this kettlebell is a single-cast gravity casting, which is a casting method that involves the use of gravity to create an even mold. Companies will often use this method because it produces higher quality bells with even molds across the board compared to kettlebells that use sand casting methods.
Single-cast means they use one type of iron, as opposed to bells that have inserts, plugs, or multiple types of metals. This single-cast gravity casting method also creates a flat bottom, which will promote the kettlebell's ability to sit flat on multiple surfaces. This is a nice feature for anyone working out on rubber surfaces, or other surfaces with some give to promote the kettlebell's stability.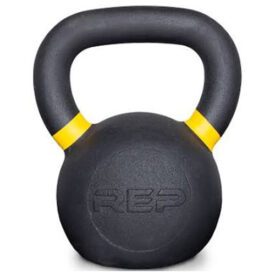 Rep Fitness makes a fully cast iron kettlebell that has a chip resistant coating and a handle that will fit a variety of user's hand sizes. We also appreciate that they list weights in both kilograms and pounds on every bell. Color coded handle markings make it easy to differentiate between weights.
The finish of this kettlebell is a matte black texture. Iron kettlebells like this will often use this form of finish because it's slightly more rigid and provides a coat that is resilient to premature rust. In my opinion, I like this finish because it adds a nice extra layer of rigidity to the kettlebell. There's a Rep Fitness engraving on the front of the bell, then a 24kg (53 lb) engraving on the back.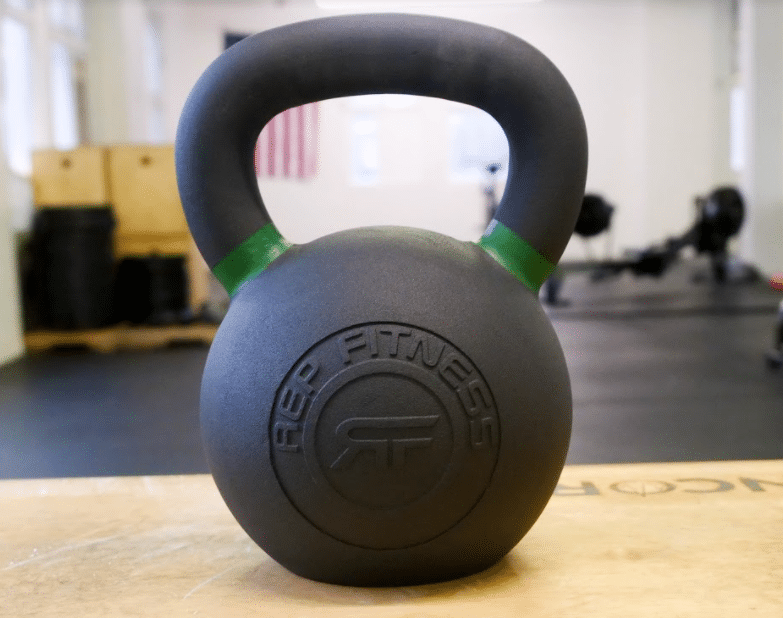 Handle
This kettlebell's handle is both similar and slightly different to other's on the market at similar weights. It's similar to other single-cast iron kettlebells because it uses the matte black finish, which is a nice touch for performance and grip. If you're new to kettlebells, then you can expect this texture providing something like a very very light sandpaper feeling that promotes grip with or without chalk.
[Is this the most affordable powder coated kettlebell on the market? Check out the other options in our full kettlebell round-up!]
Personally, I'm a fan of matte black finishes because it keeps the kettlebell a bit more "locked in" when performing multiple types of workouts. This handle also has color-coated rings to signal what weight it is, which is a nice touch for quickly finding a bell's specific weight in a workout or class.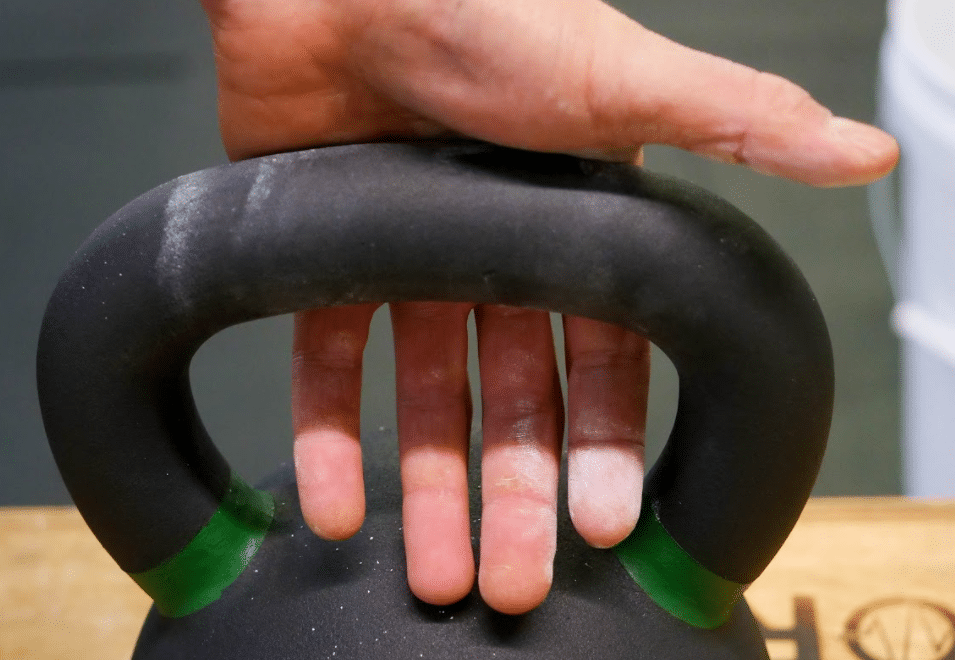 The difference of this kettlebell's handle comes down to its sizing. This handle's diameter is 39mm, and that's a tad bigger than others at similar weight, or competition kettlebell's that use a diameter of 33mm. If you have smaller hands and have trouble gripping kettlebells, then you may want to consider this.
Performance
For our review's performance test, we always use Russian Kettlebell Swings to provide an objective test across kettlebells. We like these for review consistency because everyone can perform them and they test a kettlebell's handle in a dynamic swinging movement. We use chalk and then test without chalk to assess a bell's performance.
Without Chalk
I liked how this kettlebell performed without chalk. It was mentioned above, but this kettlebell utilizes a matte black texture for its finish, so it's slightly more rigid. This being said, it provides a fair amount of grip compared to something like a smoother steel kettlebell in swinging movements. I didn't notice any slippage or grip loss in our tests, and think it's a solid choice for many athletes.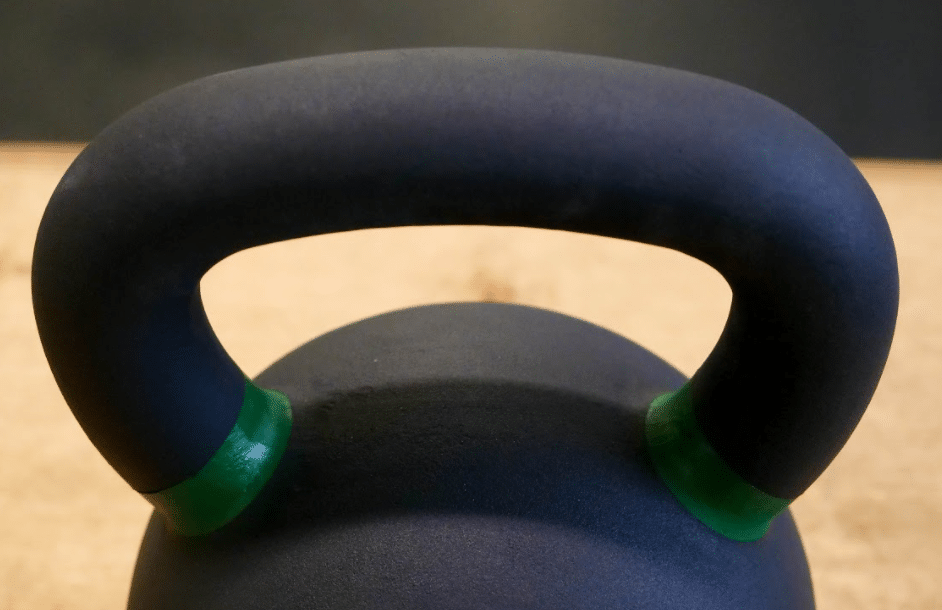 With Chalk
Similar to the without chalk performance, I thought this kettlebell held its own in our test. When you apply chalk to matte black finishes, then you're typically left with an even firmer grip than without, like with most strength equipment. I often compare it to using new barbell's with a strong knurling when describing the feeling to others. If you use chalk in your workouts, you'll like how this kettlebell performs.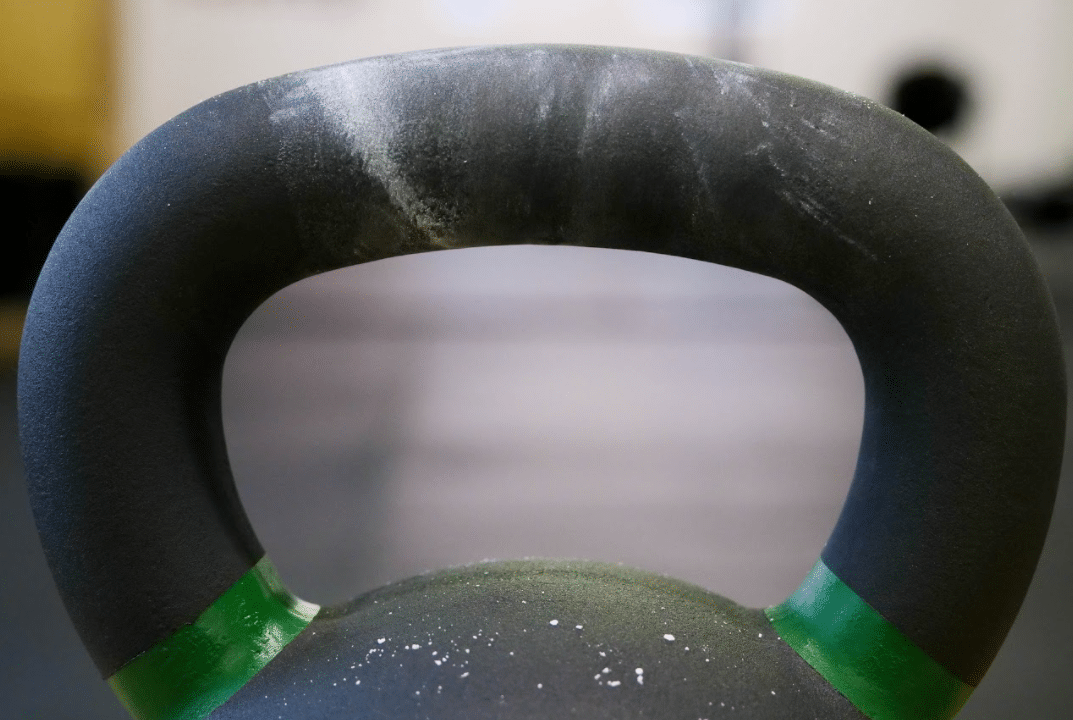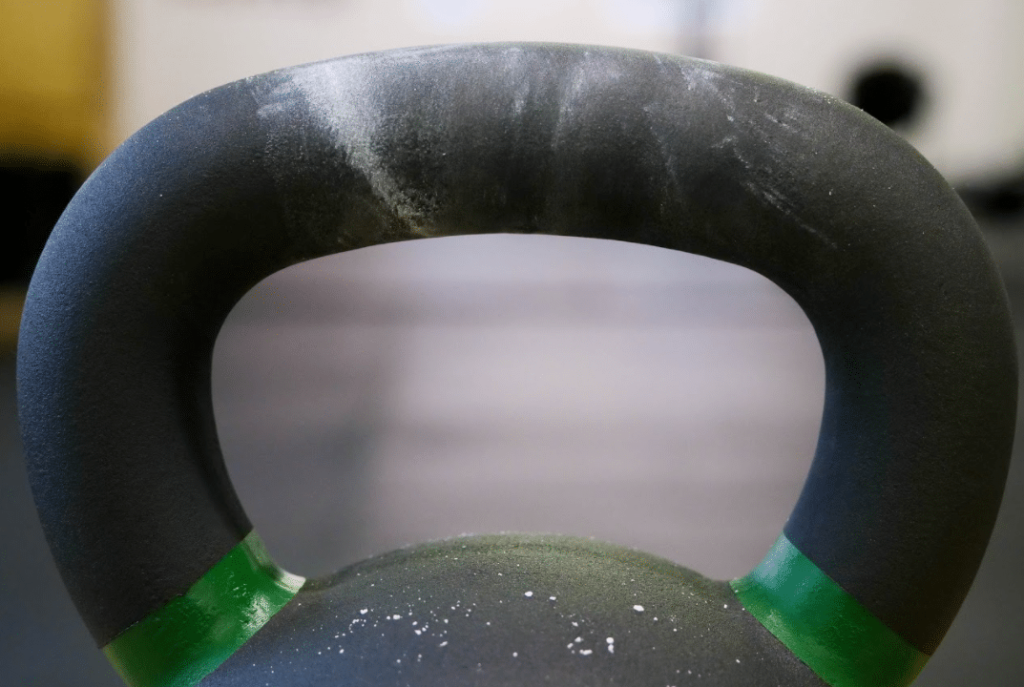 Who Could Benefit
It's no secret that kettlebells can benefit every type of strength athlete. They have so many functions and can benefit almost any goal you're aiming to achieve with them, and their use it often only limited to your creativity in programming. Although, who could benefit with this specific kettlebell? I think two populations could fair best reaching for this bell compared to others.
First, the general fitness enthusiast, or even beginner kettlebell user. This is what I'd call a "no frills" kettlebell and is simple in design and nature. It's a nice bell to start with and doesn't have things like competition dimensions, which can increase the price.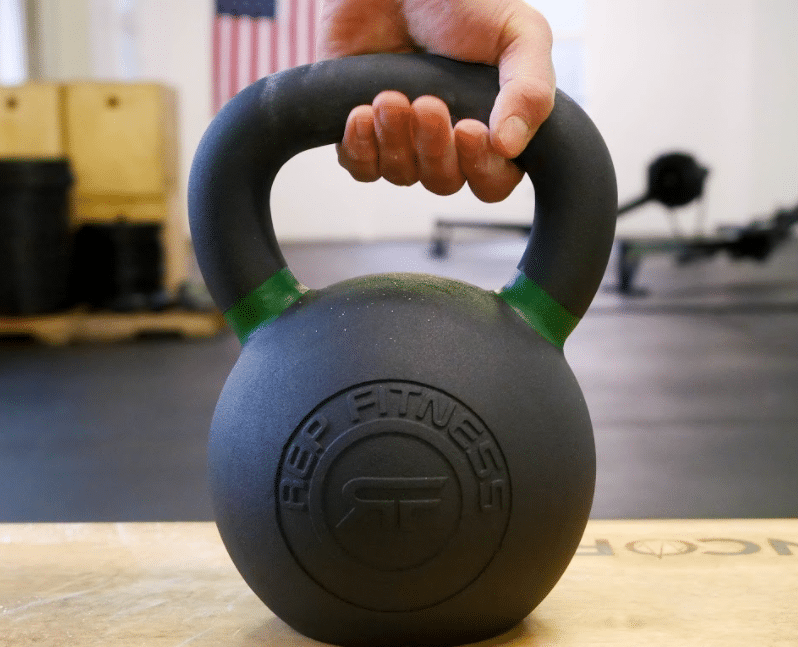 Second, home gym or gym owners. This kettlebell is one of the most affordable we've seen on the market at this weight (we'll dive into price below), so it won't break the bank and can be bought with ease in bulk.
| | |
| --- | --- |
| Benefit to Whom | Rationale |
| General Fitness & Beginner | No Frills Design and Durable |
| Gym Owner | Very Affordable & Durable |
Durability
When it came to durability, we didn't notice any immediate signs of premature wear and tear. Single-cast iron kettlebells will typically fair better in the terms of longevity compared to some of their cheaper multi-composition counterparts. This kettlebell feels solid and doesn't give off the impression that it would breakdown quickly upon purchasing. In addition, the matte black finish is a nice sign for resilience to early rust.
The only thing worth noting about this kettlebell's durability is the long-term usage in humid climates. At the end of the day, this kettlebell is iron, so there's always the chance of rust over long periods of time. If you own a home gym and you're setting this kettlebell on the ground, or using it in damp climates (sweaty/humid gyms, damp garage floors, etc), then you may want to keep an eye on rusting over time.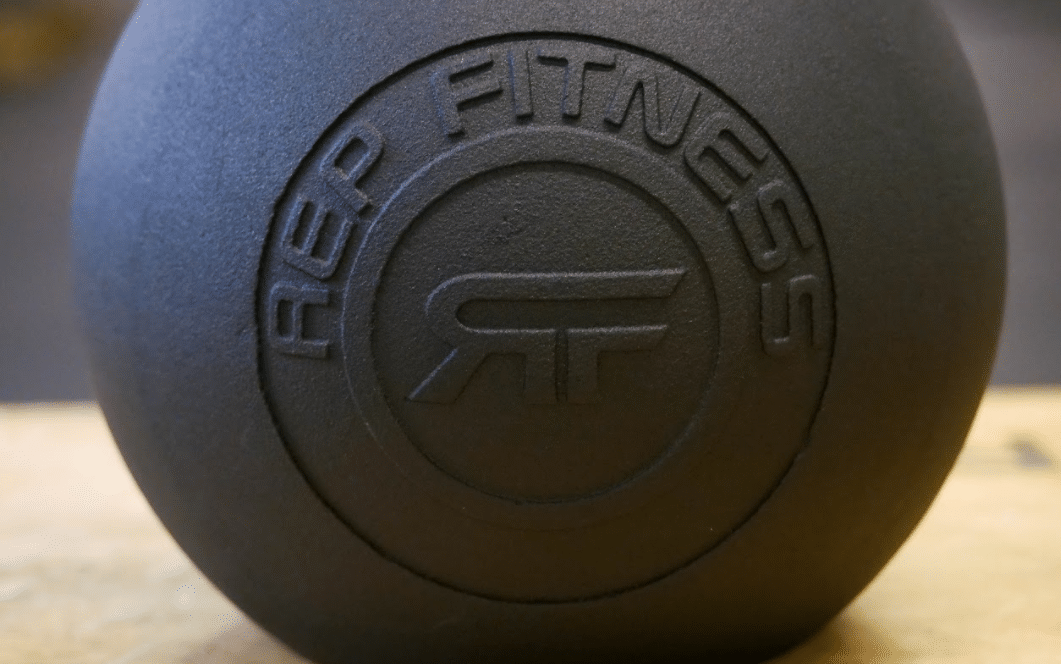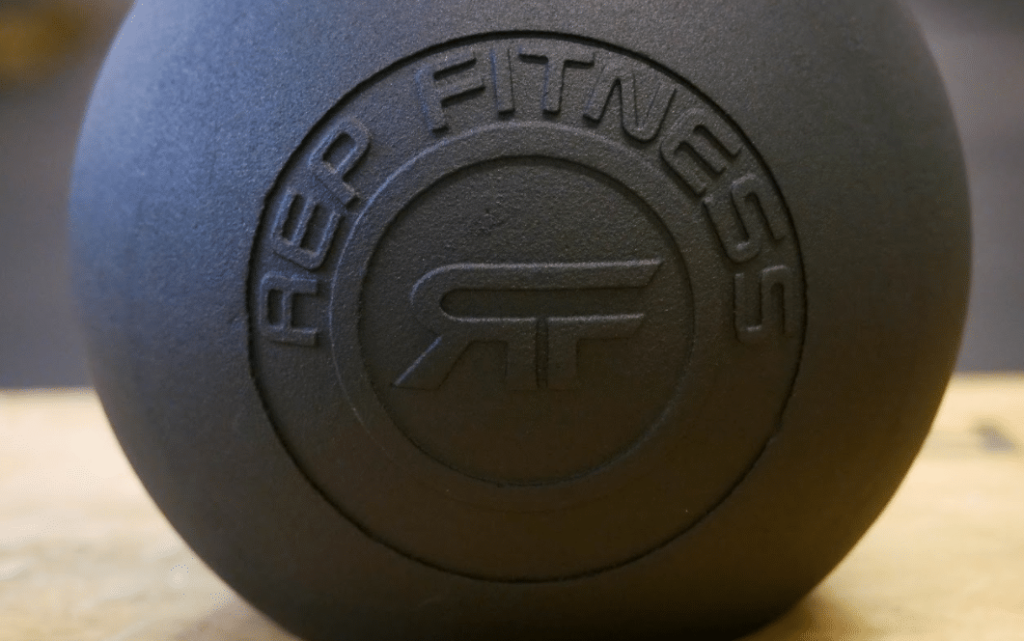 Price
We mentioned it above in the "Who Could Benefit" section, but the price of this kettlebell comes in around $55.00 depending on the outlet and any sales. This is one of the most affordable kettlebell's we've seen on the market at this weight. Personally, I feel that this price is fair for what this kettlebell offers. It has a single-cast iron, which is durable and a matte black finish for performance. If you want a standard 24kg (53 lb) cast iron kettlebell, then this is a good option for the price.
Wrapping Up
All-in-all, I thought the Rep Fitness Kettlebell performed well across the board. I like the durability it promises with the single-cast gravity casting and the matte black finish that covers the bell. In addition, it tested consistently well in our performance tests, which is possibly the biggest consideration for strength athletes. The one potential downfall that comes with this kettlebell is the slightly larger 39mm handle. It could be a turn off for athletes with smaller hands and grip issues.
If you're interested in an affordable and standard cast iron kettlebell, then the Rep Kettlebell from Rep Fitness could be a good option.