Kettlebell Kings is a company based in Austin, Texas, and they focus on providing a plethora of equipment with the kettlebell user in mind, along with training content. In this review, we assessed the Kettlebell Kings Powder Coated Kettlebell on a variety of criteria. We looked at the construction, performance, durability, who could benefit, and price.
When looking at niche companies like Kettlebell Kings, we keep a close eye on how their product compares to others on the market. Most often, these companies invest more time and effort into making their products a step above the rest, so when we review things similar to this bell, we keep that thought in mind.
Shop Kettlebell Kings direct from the company HERE. Enter code "barbend" at checkout and receive 10% off your first order.
Construction
Finish & Design
Kettlebell Kings construct this kettlebell with gravity casting and a single-cast iron. This is a positive because gravity casting ensures that a kettlebell will be evenly constructed all the way through and it increases the accuracy of the set weight. In addition, the single-cast iron means they use one piece of metal, so there are no additional molds, metals, plugs, and inserts.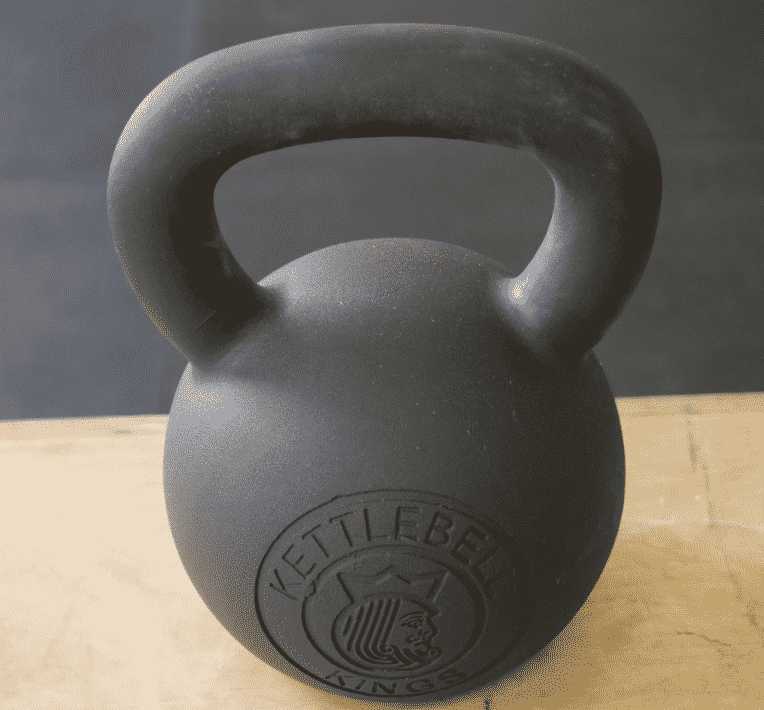 The bottom of the bell has a machine bottom finish, which is also a nice perk that not every bell includes. Basically, a machine bottom finish ensures that a bell will sit flat, and the possibility of the mold offsetting the bell at the bottom is minimized. On the front and back of the kettlebell, there are weight engravings and the Kettlebell Kings' logo.
On the outside of the bell, Kettlebell Kings use a powder coat, which I always think is a nice perk for two main reasons.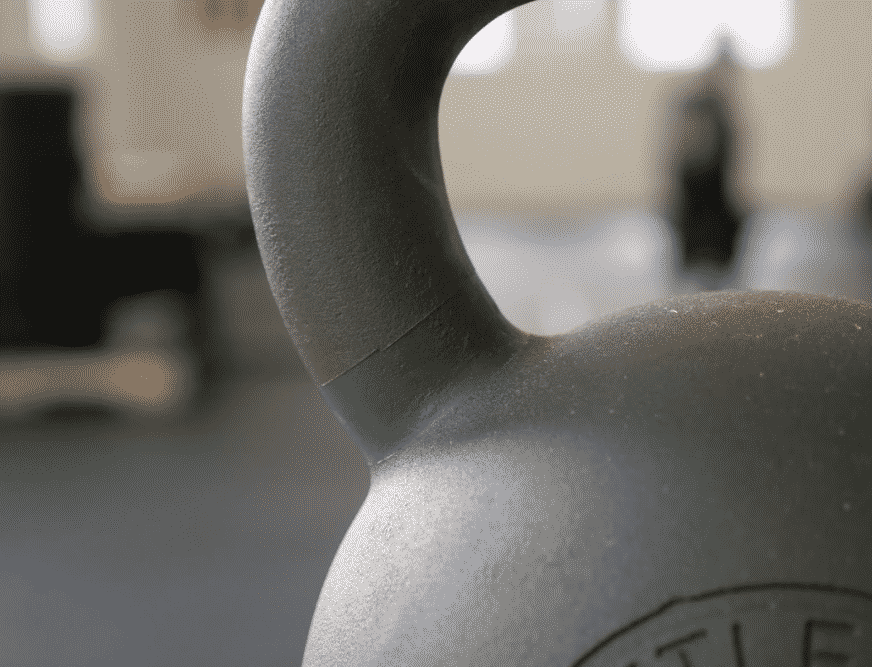 First, powder coating tends to be a little more resilient to rust and scratching, so the bell's aesthetics will often last longer. Second, powder coat is great for performance because it maintains a solid grip with and without chalk.
Handle
The handle is slightly thicker in diameter compared to a competition kettlebell, which has a 33mm diameter handle. Although, it wasn't incredibly thick like some of the more generic big box gym bells, and I think multiple types of athlete's hand sizes would find the bell to be a fine diameter.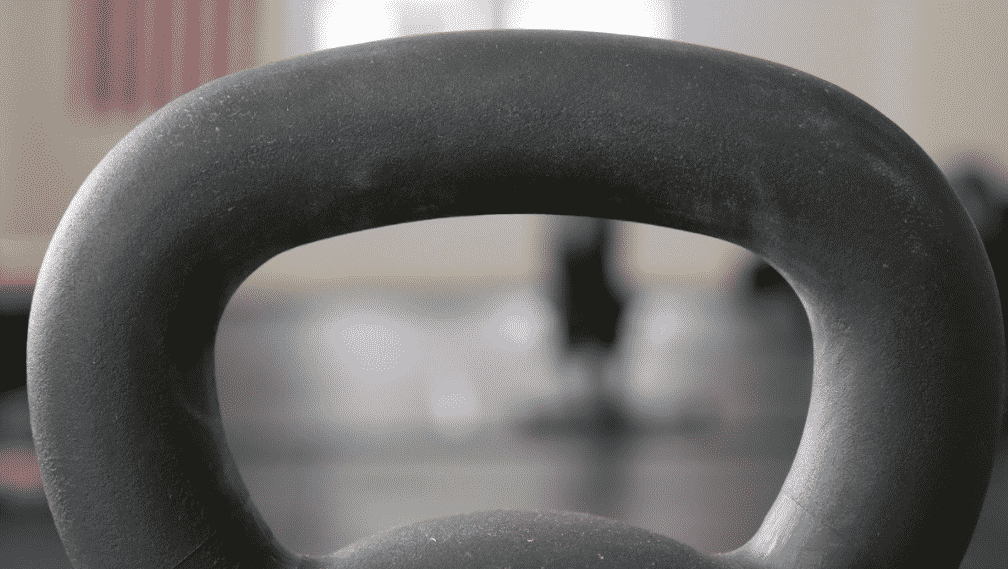 There's a green ring towards the bottom of the handle that identifies what weight this kettlebell is. This is a nice perk for any class setting or scenario when you need to quickly find the 24kg (53 lb) kettlebell. Lastly, my favorite part of the handle was the powder coat. I'm a big fan of powder coats because they provide you with the kettlebell comparable knurling-esque feeling, as in, they're the kettlebell gripping equivalent of using a fresh barbell.
Performance
To test this kettlebell's performance in this review, we used Russian Kettlebell Swings. I like this movement for video tests because it's dynamic and can be performed by a wide variety of kettlebell users. In addition, it helps me accurately gauge the handle with and without chalk by allowing me to perform multiple reps in a row.
[Curious about what other warranties top kettlebells on the market offer? Check out our in-depth list for other options!]
Without Chalk
Similar to other powder coat kettlebells I've tried, I thought this bell's grip performed well without chalk. I mentioned it above, but a fresh powder coat gives me the same feeling on a kettlebell that knurling does on a barbell. This powder coat was slightly rigid and gave me a "locked in" feeling when swinging the bell. If you're new to powder coats, then beware, this bell may be a little rough on your hand at first.
With Chalk
If you've ever used chalk on a fresh knurling, then imagine this kettlebell's grip as the same. Obviously, to lesser degree, but the "no slide" feeling is similar. I thought the chalk responded very well with the powder coat and increased the performance of this kettelbell's handle. For athletes who use calk during workouts, I think you'll be impressed by how this bell's powder coat responds to it. 
Who Could Benefit
In reality, every strength athlete could benefit with some form of kettlebell training if it's programmed correctly accordingly for one's goals. Although, if you asked me to pick specific populations that could benefit most with this bell, then I have two ideas come to mind.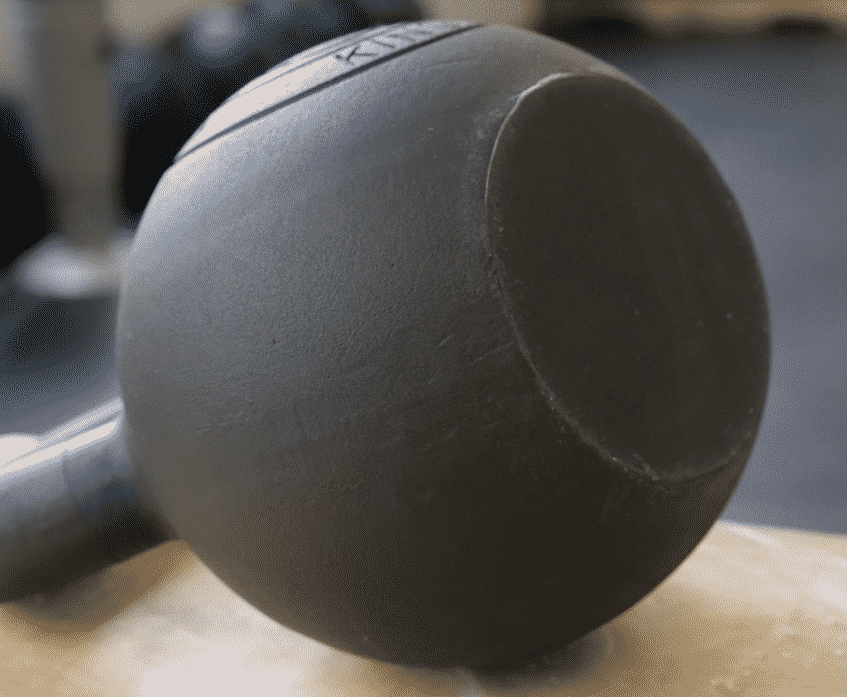 First, someone who's investing in a kettlebell for personal use. This kettlebell is a bit more expensive than others at this weight, but it comes with a lifetime warranty. That's a huge perk for getting the most out of your investment. Second, gym owners or home gym owners. This bell sits flat and has a solid construction, so it can perform well in a variety of settings. And as mentioned above, the lifetime warranty is a huge perk.
| | |
| --- | --- |
| Benefit to Whom | Rationale |
| Functional Fitness Athlete | Lifetime warranty |
| Home & Public Gym Owner | Easily identified weight & lifetime warranty |
Durability
In all of our tests, I never had any impression that this kettlebell would break down prematurely. For starters, the powder coat is a nice sign for rust resilience if the bell is stored in a damp setting. The single-cast iron is a nice sign for ensuring the bell is built solid without chances of a welded handle breaking early. In all honesty, the best perk of this bell's durability is the lifetime warranty that comes along with it. This is a cool perk for someone worried about investing their hard earned money into fitness equipment.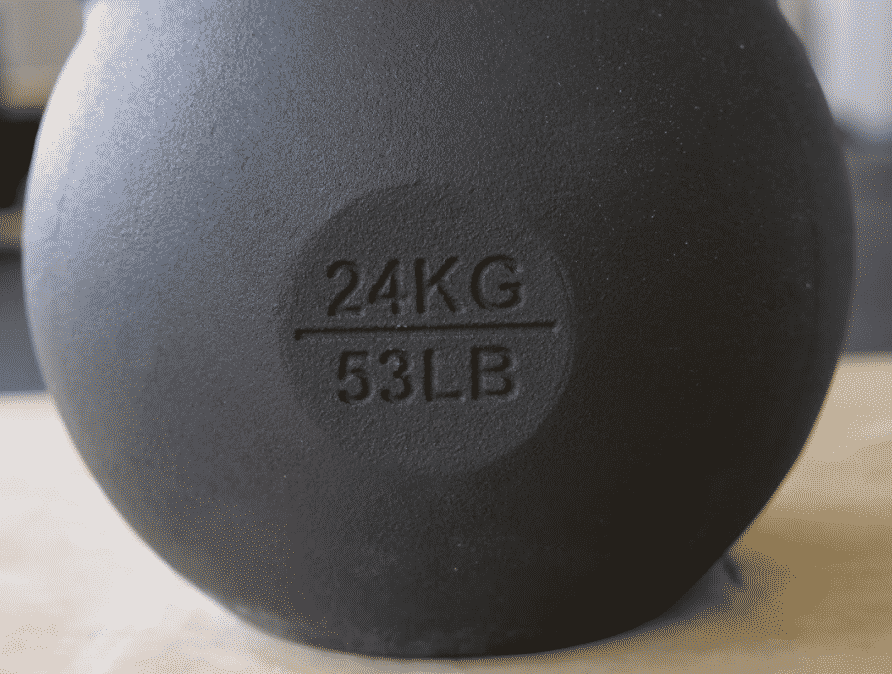 Price
In terms of price, you can expect to pay around $105.00 – $125.00 for this kettlebell. If we compare this to others on the market at this weight, it's a bit more expensive. Although, I personally feel like the price is justified with the lifetime warranty. Yet, if price is your main concern, then you can find a less expensive bell, but you may have to sacrifice some quality.
Shop Kettlebell Kings direct from the company HERE. Enter code "barbend" at checkout and receive 10% off your first order.
Wrapping Up
Before starting this review, I wanted to hold this kettlebell to a high standard. All-in-all, I was happy with how this kettlebell performed in all of our tests. It rose to the occasion and performed slightly better than I envisioned in the physical test, which is a huge perk. In addition, the lifetime warranty is a big deal in my eyes.
If you need a kettlebell that's constructed well and performs to the same degree, then the Kettlebell Kings Powder Coat Kettlebell could be a good option for you.