If you're looking to invest in some of the best kettlebells in the game, Rogue Fitness offers solid iron ore kettlebells that range from nine pounds to 203 pounds in weight. With excellent equipment options for home gyms across the market, it can be all too easy to get swept up in the thrill of buying the latest and greatest new gym accessories. While kettlebells aren't necessarily the latest new weight on the market and are generally pretty basic pieces of equipment, their benefits are far from simple. These particular Rogue Fitness Kettlebells can help you get stronger, improve your cardio fitness, smooth out muscle imbalances, and much more.
Whether you're on the market for a single kettlebell or a whole array of different weights, Rogue Fitness kettlebells can likely provide what you need. Whether you're looking for lighter weights to support mobility-oriented lifts, like kettlebell windmills, or heavier weights that can make for intense suitcase deadlifts, there's a weight option for you in this series. Even the biggest bells will save you a ton of space when you're setting up your home gym — and these kettlebells are built to avoid wobbling on your floor, or scratching up the surface. If you're looking for a high-quality kettlebell constructed from iron ore with single-piece casting, Rogue Kettlebells are a solid choice for you.
Main Takeaways
These kettlebells are made from iron ore with single-piece casting, which can save you from having to deal with the handle and bell coming loose mid-swing.
Whether you're looking for a light Rogue Kettlebell or a heavier Rogue Monster Kettlebell, you can choose from 18 weight increments here, ranging from nine pounds to 203 pounds.
These bells have a matte black powder coat finish, which is both attractive and means that the handles can hold chalk for extra intense sessions.
Featuring high-quality materials and smart construction, Rogue Fitness Kettlebells offer a wide selection of weights — from nine to 203 pounds. With a sleek design and color-coded handles, these can be an excellent, space-saving addition to your home gym.
Rogue Fitness Kettlebell Video Review
Follow along as our Reviews Writer, Jake, shows you all the features of the Rogue Kettlebell and walks you through its durable construction during his in-depth video review.
Rogue Fitness Kettlebell Highlights
Rogue Kettlebells can be a game-changing choice for strength athletes looking to up the quality of their conditioning, strength training, and recovery. By nature of their off-balanced shape, these tools can help force you to focus more heavily on form, and encourage symmetrical strength, muscle growth, and full-body coordination.
This particular Rogue series offers a kettlebell that is forged as a single piece in a proprietary casting process. In other words, these bells are free from the plastic caps and patches that many competitors use to weld their handle and bell together. There's no scrap metal in these bells, which might be a relief for those looking for the highest-quality materials — but scrap metal might be more desirable for eco-conscious athletes looking to purchase equipment that uses recycled parts.
And if you're taking advantage of the 18 different weight increments Rogue offers and purchasing multiple kettlebell sizes, you don't have to worry about slowing down your circuit to select the right weight. The bells up to 88 pounds even have color-coded handles so you can lift the right weight with confidence at just a glance. That said, each of the 18 bells has a different size, getting larger as the bells get heavier. This means that if you're looking for uniform sizes for competition, preference, or the needs of your body, you might be best served looking elsewhere.
Who Should Buy the Rogue Fitness Kettlebell
Anyone who wants a wide array of weight increments to choose from will love that you can get Rogue Fitness Kettlebells in 18 different weights between nine and 203 pounds.
Athletes who care about high-quality construction will want to get on board with the single-piece casting of these kettlebells, which are made of iron ore.
If you're looking for a kettlebell that is tough enough to hold your grip during long, sweaty sessions without chalk and textured enough to handle a chalked-up workout, the Rogue Fitness Kettlebell has a matte black powder coat finish.
Who Shouldn't Buy the Rogue Fitness Kettlebell
Athletes who prefer or need bells with a consistent size regardless of the weight might not like that these bells get larger as they get heavier.
If you need a relatively quiet kettlebell, you might want to invest in a rubber-coated kettlebell — these have a matte black powder coat finish.
People who are on a tight budget and want to invest in more than one kettlebell might want to look for a cheaper alternative, as these bells can really add up. You could always look for an adjustable kettlebell, or a kettle grip attachment for any existing dumbbells you may have.
Price
Rogue Fitness Kettlebells range in price from less than two dollars per pound to over three dollars per pound. One nine-pound kettlebell costs $35, and the price goes up to $60 for a 26-pound bell, $80 for a 40-pound bell, $125 for a 70-pound bell, $240 for a 150-pound bell, and $320 for a 203-pound bell. Currently, these bells aren't available in kettlebell-only packages — meaning the price can rack up very quickly if you're buying more than one.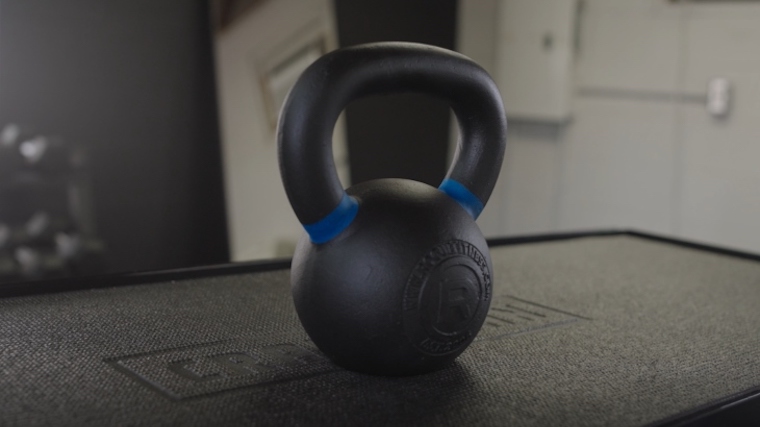 If you find that these kettlebells fall out of your price range, you could always look for an adjustable kettlebell system. Rogue also offers a kettle grip attachment that will essentially transform your existing dumbbells into a kettlebell. Simply attach the grip to the handle of your dumbbell, and you are able to use it in the same ways. But since the dimensions aren't going to be the same as a regular kettlebell, it may not be as good as the real thing.
Overall Build and Quality
Each Rogue Fitness Kettlebell is constructed from iron ore, without the use of any plastic to attach the handle to the bell. Rogue uses a proprietary casting process that forges each kettlebell from a single piece of iron. Because the bells aren't welded together, you can rest assured that there won't be any difficulties or looseness in keeping the bell steady.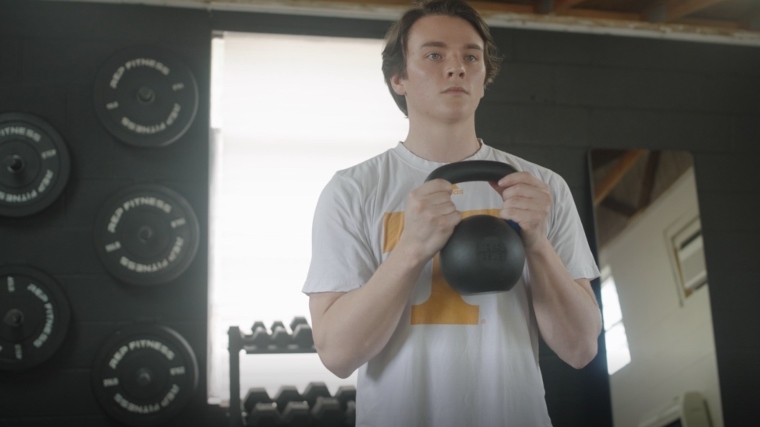 The bottom of each bell is machined flat instead of an exposed raw casting. This means that these kettlebells can sit on the floor without wobbling — which is very significant whether you're performing dead-stop swings, or letting the bell touch down between each clean & press. But, since they are not coated in rubber, you do increase the chances of damaging your floors.
Features
Rogue Fitness Kettlebells each prioritize high-quality construction that focuses on stability during swings and other explosive moves. With 18 different weights, solid grip, a sleek matte black look, and a machined flat base, there's a lot to like here — we dig deeper into these features below.
Weight Options
The regular Rogue Fitness Kettlebells run from nine to 88 pounds, and they all come with a color-coded handle, so you can quickly select the right weight during your workouts. The Monster Bell Series runs from 97 to 203 pounds, and while these bells don't offer color-coding, their handle thickness grows with the size of the bell, giving you superior grip security while also upping the challenge for your grip strength.
Handle Grip and Comfort
The grip of a Rogue Fitness Kettlebell is well-textured. Each bell has a powder coat finish, which can be less slippery than rubber coats, and potentially less sharp than bells with raw casting. This finish gives you the option to chalk up for particularly long or heavy sessions, but also provides enough natural grip to support you through a whole session without chalk if you prefer.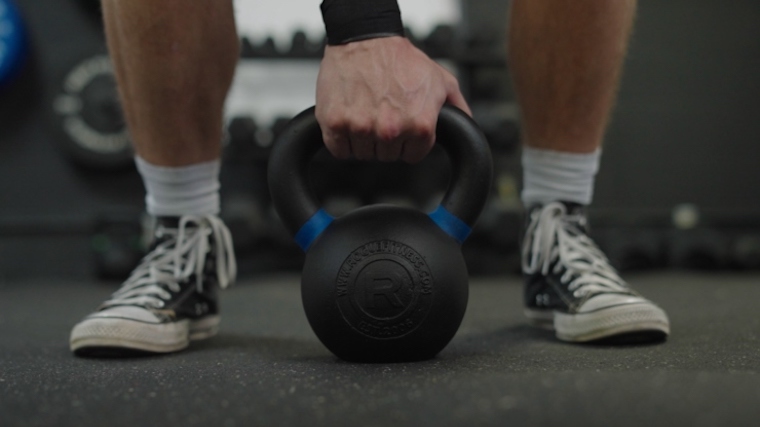 Since these aren't competition kettlebells with one standard size regardless of weight, the handle size also changes as the weights increase. The nine- to 18-pound kettlebells have a 1.2-inch handle diameter. The 26-pound bell has a 1.4-inch handle diameter. Bells between 35 and 88 pounds have a 1.5-inch handle diameter, while bells ranging from 97 to 203 pounds have a 1.58-inch handle diameter.
Overall Appearance
Much as you may not want to admit that it matters to you what your kettlebells look like, it probably does. The matte black powder coat finish of these bells gives them a sleek, professional look. That aesthetic is bolstered by the Rogue Fitness logo on one side of the bell, with a kilogram and pound indicator on the other side.
It's not all just aesthetics, either. Streamlining your training is very important, especially when you're working in circuits or other high-intensity conditioning workouts. Rogue offers color-coded handles on their kettlebells weighing 88 pounds and below, which means you can move through intense circuits and supersets without having to tip the bell over to make sure you're getting the right weight.
Surface Finish
Each Rogue Kettlebell is made with a machined flat base to avoid any floor or skin-damaging scraping when the bottom of the bell comes into contact with your shoulder (for front racking) or the ground. That also helps prevent these bells from wobbling when you put them down, which is great news for anyone looking for a crisp, precise lifting experience.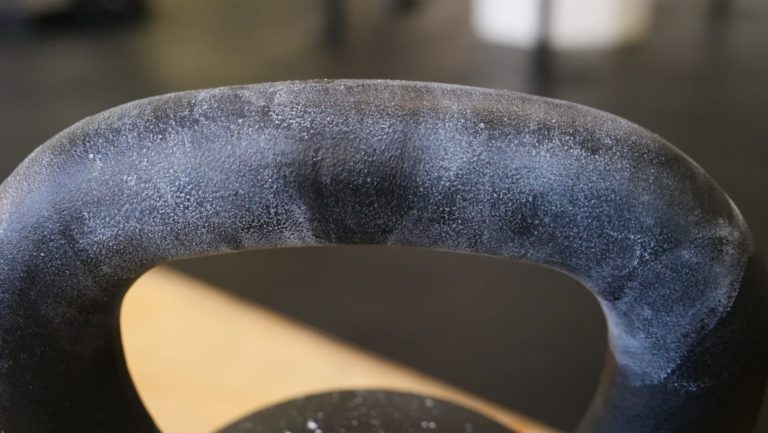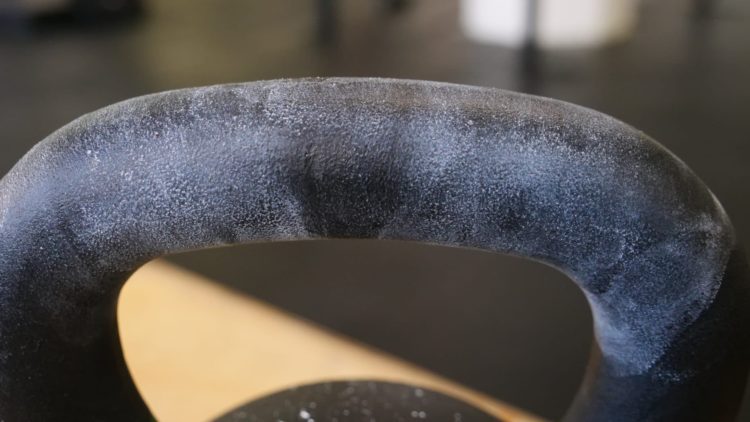 The entire kettlebell is finished with a black matte powder coat, which distinguishes itself from rubber and raw finishes. Rubber finishes are great for home gyms where you can't risk damaging the floor with an errant bump from your bell, but they may not necessarily be the aesthetic iron-loving athletes desire when they want to feel like they're in a professional gym. Rubber-coated bells also may not hold chalk well. These powder coats, on the other hand, promote both an iron aesthetic and can hold chalk. This texture is also gritty enough to support your grip without chalk.
Product Specs
Classic Rogue Fitness Kettlebells can be distinguished from other bells on the market by their construction, materials, and wide array of size availability. Their 18 weight increments range in size, and all of the bells are made from iron ore. Plus, their flat base allows for easy storage in the corner of your office, or on a rack.
Size and Dimensions
These are not competition kettlebells — so, if you're looking for bells with universal sizing that won't change as the weight goes up or down, these might not be the implements for you. However, if you don't mind a wide range of size availability, you'll get a uniquely-sized bell at each of the 18 weight increments available between nine and 203 pounds. The handle diameters range from 1.2 inches on the smaller end to 1.58 inches on the larger end.
Handle and Body Material
Unlike several other kettlebell options out there, every Rogue Fitness Kettlebell handle and body are made from the same piece of iron ore. This means that the handle and bell are forged in the same single-piece casting process, which eliminates the need for potentially unstable plastic plugs holding the handle and body together. That alone can offer a lot of psychological comfort and security, especially while performing the types of dynamic, explosive lifts that are common during kettlebell training. These bells are also finished with a matte black powder coat that offers solid grip with or without chalk.
Storage
These bells don't automatically come equipped with a place for storage. While Rogue Fitness does offer several options for storing your kettlebells and dumbbells (sold separately), it's important to note that the machined flat base of these bells makes storing them on the carpeted corner of your home office, or on a rack both safe options.
Production Practices
Rogue Fitness uses first run iron ore to manufacture their kettlebells, not scrap, which means that these bells are likely to not come from recycled iron. If you're looking for a bell that's using high-quality metal, you'll likely feel good about this. But if you'd prefer a more eco-conscious approach to your gym equipment, you might prefer kettlebells that are made from scrap metal.
Who Could Benefit
In reality, almost everyone could find a use for a kettlebell in their workout program. They're great for accessory movements, muscular endurance training, and can replace dumbbells in a lot of scenarios. For this kettlebell specifically, we could see two populations finding benefit with this bell over others on the market.
First, the functional fitness athlete. Yes, it seems like a cop out to say it's great for this population, but this bell matches all of the asks we could ask for these workouts and athletes. The grip fits the bill, and the matte finish seems reliable in sweaty and fast-paced workouts. Second, someone building their own garage/home gym, or equipping a gym for others. The colored rings give this bell an advantage for seamlessly finding a specific weight in a timely manner.
| | |
| --- | --- |
| Benefit to Whom | Rationale |
| Functional Fitness Athlete | Great grip and durable construction |
| Home & Public Gym Owner | Easily identified weight and durable |
Places to Buy
You can buy the Rogue Fitness Kettlebells through the Rogue Fitness website.
Company Information
Rogue Fitness sells all kinds of fitness equipment, ranging from little items like lifting chalk and knee sleeves to bigger ticket items like barbells, squat racks, and weight plates. Many of these items are available for Rogue's "Three Ships Free" deal, which means that when you buy three or more eligible items, you receive free shipping. Each order you place will run through the Rogue Shipping System, which allows you to track the process of your equipment until it comes to your door.
Final Word
Rogue Fitness Kettlebells offer a wide range of weights for all of your lifting needs. If you're looking for a stable set of iron ore kettlebells with a machined flat base, you may have just found your match. And because each Rogue Fitness Kettlebell is produced in a single-piece casting process, you won't have to worry about the connection between your handle and bell shaking loose during an intense training session.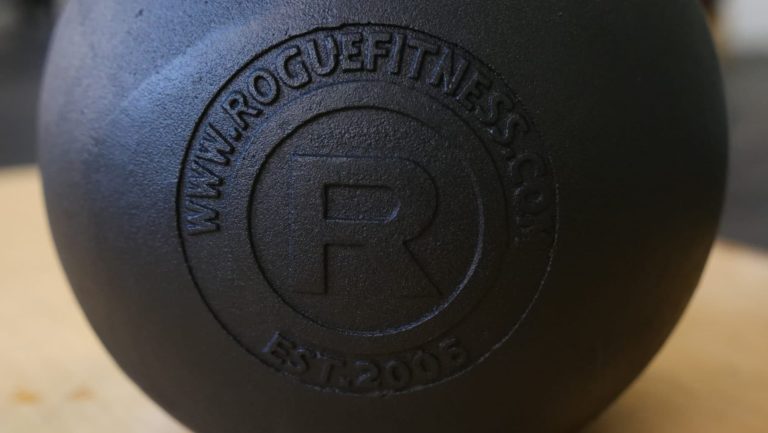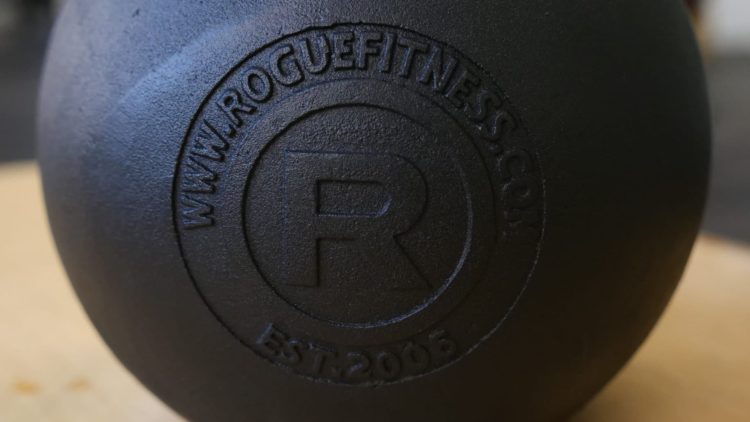 These kettlebells offer a nice balance between function and good-looks. With color-coded handles to help you quickly identify which weight you're picking up and a matte black powder coat finish, these bells marry functional grip options with aesthetics. And — like most kettlebells — these Rogue Fitness Kettlebells won't take up all that much room in your home gym, so you can be confident knowing that you can get the best workout possible even in the smallest of spaces.
FAQs
Are Rogue Fitness Kettlebells durable?
As long as you're treating them right, yes. You shouldn't have a problem with the connection between the handle and bell, since they're forged from the same piece of iron. And, the powder coat finish is designed to hold up under both chalk and bare-handed lifting sessions. But remember, leaving them out in the yard to face the elements on their own won't help any piece of gym equipment.
What Rogue Fitness Kettlebell weight should I buy?
This is going to vary based on your size, fitness level, and training goals. If you have access to trying out your gym's kettlebells before buying one of your own, it might be a good idea to get a sense of what different weights feel like for you. In general, think about the move you want to perform that you'll need the least amount of weight for — often, this move may be the overhead press. You might want to choose a weight that you can perform a heavy overhead press with, then use variations on lower body moves to up the challenge for the other movements.
What kinds of exercises can I do with Rogue Fitness Kettlebells?
As with most kettlebells, Rogue Fitness Kettlebells can help you accomplish a variation of almost any movement. From Turkish get-ups and Romanian deadlifts to kettlebell snatches and thrusters, you can even get creative by integrating kettlebell exercises into flows and circuits that can make you stronger and an overall better athlete.