Kettlebells are useful tools in the world of strength for multiple reasons, but most notably it's for their versatility. These are pieces of equipment that are relatively simple in design and can assist almost every type of strength athlete in multiple settings. Today, we're going to take an in-depth look at the Rogue Fitness Kettlebell.
The Rogue Fitness Kettlebell comes in 17 weight increments, and for this review we're looking at the 24kg (53 lb) bell. This kettlebell is built from first run iron ore, and it's single cast, so it's a solid piece of iron without plugs, metals, or multiple types of iron. We'll look at this kettlebell's design features, how it feels with/without chalk, who it could be good for, durability, and price.
Shop the Rogue Fitness Kettlebell and see weight options HERE.
Rogue Kettlebell Construction
Design & Finish
Kettlebells are generally pretty standard in construction, but when you take a closer look, then you'll usually find subtle differences each company offers. The biggest positive in construction about the Rogue Kettlebell is that it's composed of first run iron ore and is single cast. This means it's made of one type of iron and is cast once, so there's no additional metals or iron, along with plastic or rubber plugs. It's one solid piece of iron.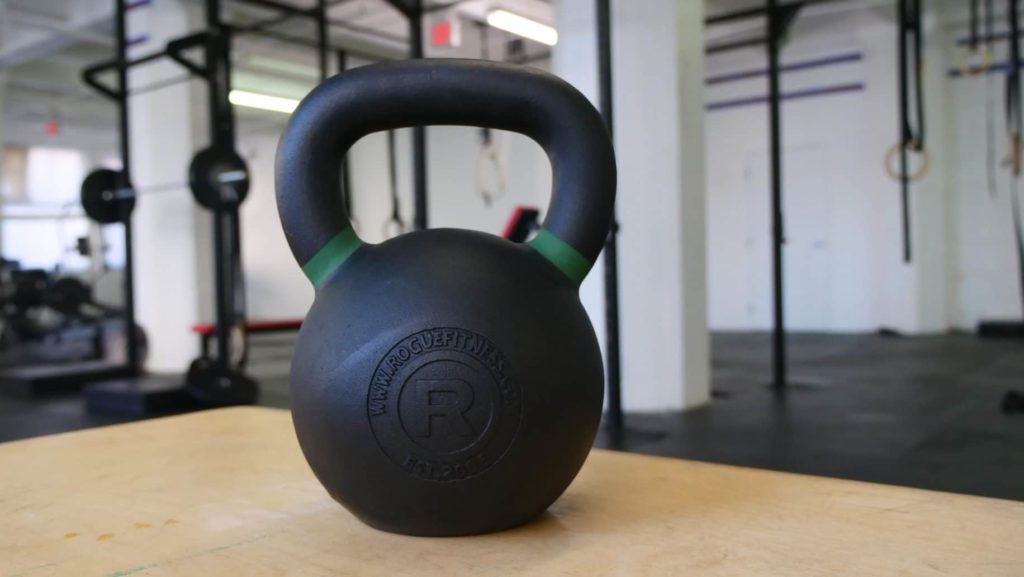 In addition to this kettlebell's composition, it's finished with a matte black powder coat. This coating is good for two reasons. First, it helps avoid premature rusting, which can occur over prolonged periods of use, especially if this kettlebell is going to sit in a garage, or home on the floor. Second, it provides a soft, yet somewhat rough exterior. This is to provide additional grip around the handle, while also giving it a somewhat smooth finish. The bottom of this bell is machine machined, so it sits fully flat, you're not going to experience any rocking from this bell having an uneven bottom surface area.
[Is the Rogue Fitness Kettlebell one of the best bells on the market? Check out our full kettlebell round-up to see more!]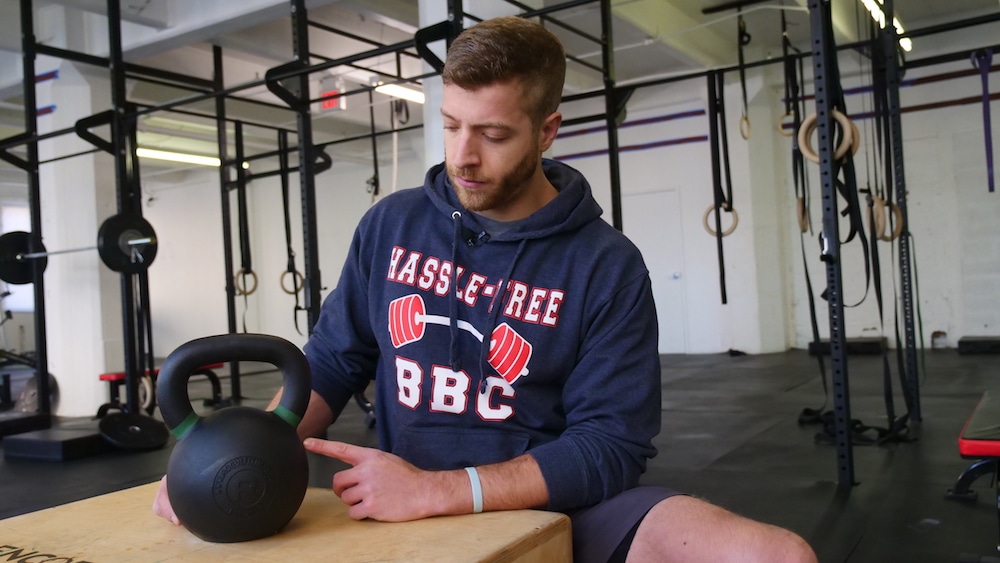 Handle
The two handle features I'll bring to your attention in the construction portion for the Rogue Kettlebell are the diameter and color rings. The handle's diameter is 1.5″, which isn't incredibly large, so even someone with a smaller hand will find this kettlebell easy to grip. I have an 8″ hand, and I thought it was exceptionally easy to grip. Another feature I liked about this kettlebell is the color rings that sit near the bottom of the handle.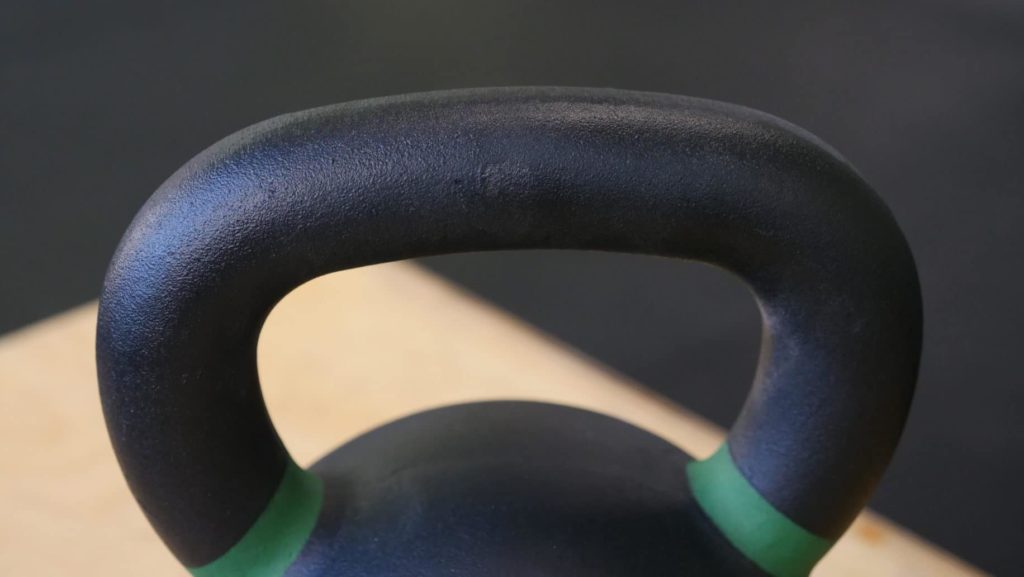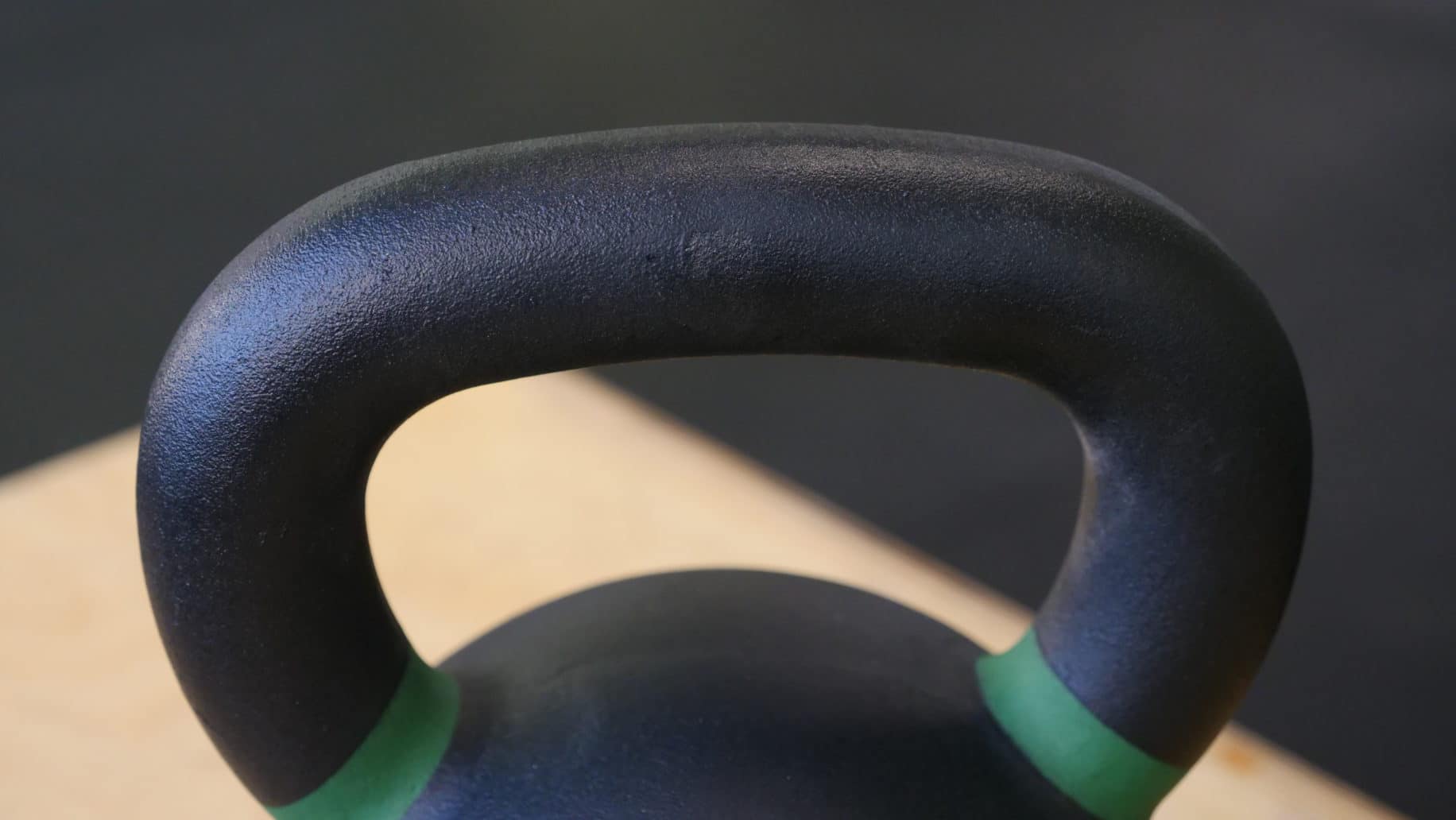 This kettlebell weighs 24kg (53 lbs) and the green rings are indicators of that. I really like this because it makes it easy to find the weight for this kettlebell if you're mid-workout and have to use this exact weight. I can also see this being useful for someone building out a gym with clients who may have classes that need certain weighted kettlebells. This takes the pain out of everyone turning over every kettlebell searching for a weight. There's also an engraving of the weight on the side in both pounds and kilograms.
Need a weight that's lighter or heavier than 24kg (53 lbs)? Check out the other 17 Rogue Fitness Kettlebell weight increments here!
Performance
One of our biggest concerns with kettlebell testing is how they perform with and without chalk. Some handles that have a very smooth finish can actually be tough to use when an athlete is sweaty or has chalk on their hands (think: big box generic rubber/plastic coated kettlebells). We performed a series of Russian kettlebell swings to analyze how this bell felt with and without chalk.
Without Chalk
Without chalk, I liked how this bell felt. The mattle black powder coat provided a slightly rigid grip, and I liked that. One of my concerns with kettlebells, especially in functional fitness style workouts is how they perform when someone might be tired, or slightly lacking in form, so things like grip are begin to slip. This kettlebell felt locked in to the hand, and I never experienced any slippage.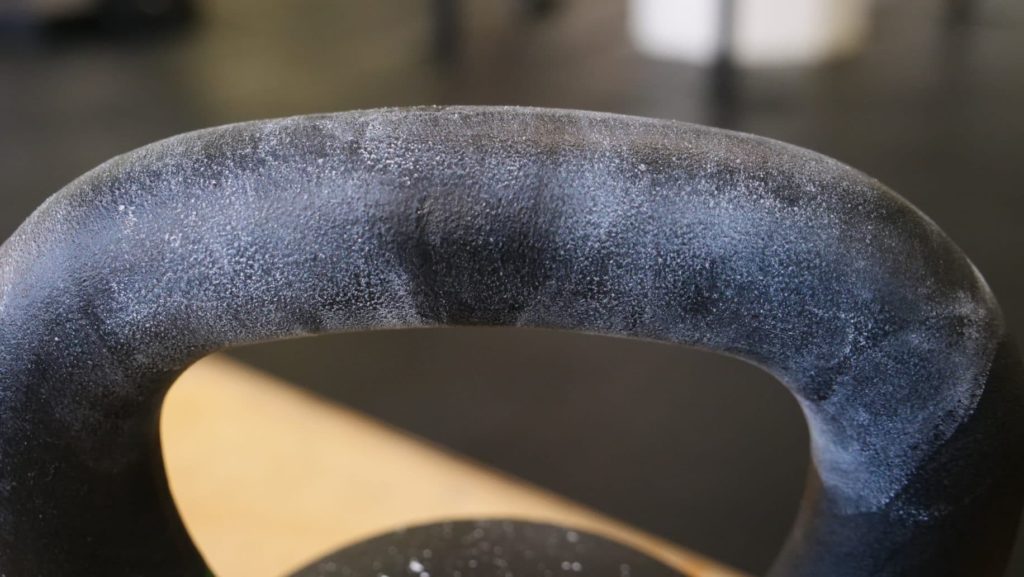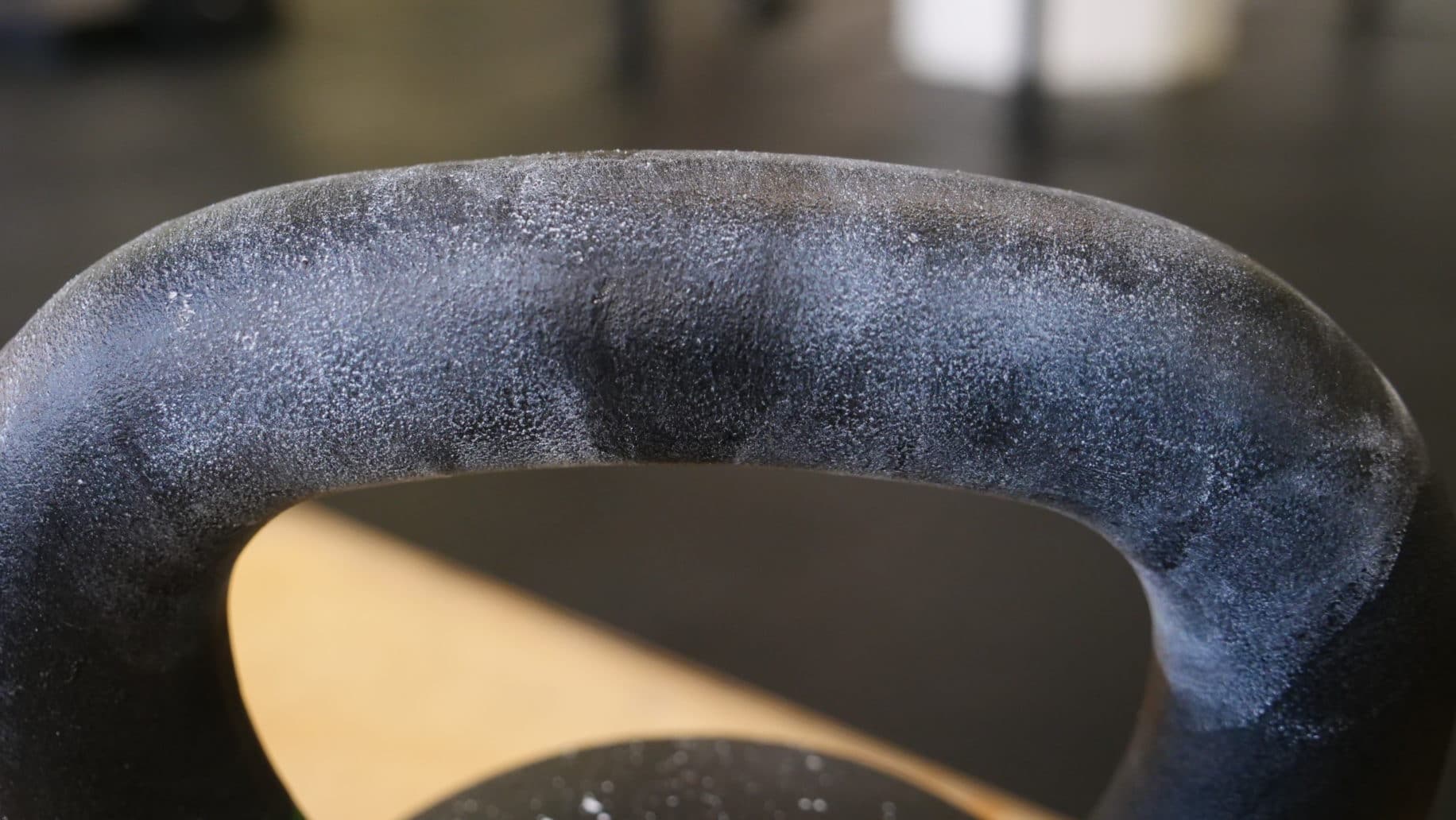 With Chalk
If you like to chalk up in workouts, then I think you'll love this kettlebell's grip. When I applied chalk and went through my workout the kettlebell felt almost glued to my hand. In my head, I compared it to how a new barbell feels when gripped with a slightly chalked up hand. It felt tight, and even in swings the kettlebell moved very little, if at all.
Who Could Benefit
In reality, almost everyone could find a use for a kettlebell in their workout program. They're great for accessory movements, muscular endurance training, and can replace dumbbells in a lot of scenarios. For this kettlebell specifically, I could see two populations finding benefit with this bell over others on the market.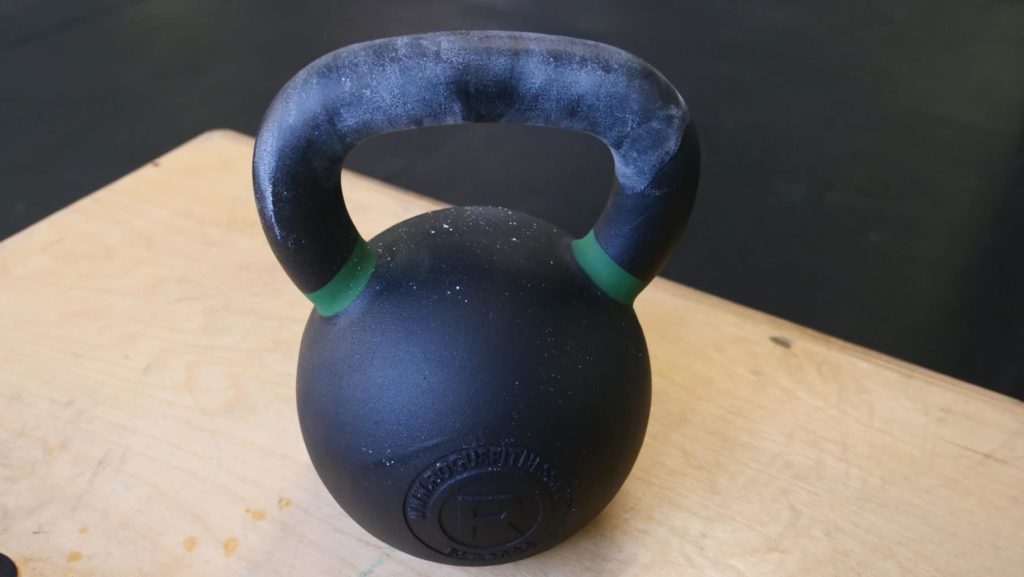 First, the functional fitness athlete. Yes, it seems like a cop out to say it's great for this population, but this bell matches all of the asks I could ask for these workouts and athletes. The grip fits the bill, and the matte finish seems reliable in sweaty and fast-paced workouts. Second, someone building their own garage/home gym, or equipping a gym for others. I mentioned it above, but the color coated rings give this bell an advantage for seamlessly finding a specific weight in a timely manner.
| | |
| --- | --- |
| Benefit to Whom | Rationale |
| Functional Fitness Athlete | Great grip and durable construction |
| Home & Public Gym Owner | Easily identified weight and durable |
Durability
I was also a pretty big fan of the durability this kettlebell offers. Since it's single cast iron, then you don't have to fret the bell being made from multiple outsourced materials breaking down easily. Obviously, you may experience some chips if you're using it on hard surfaces, but the bell itself is solid and will be resilient to cracking.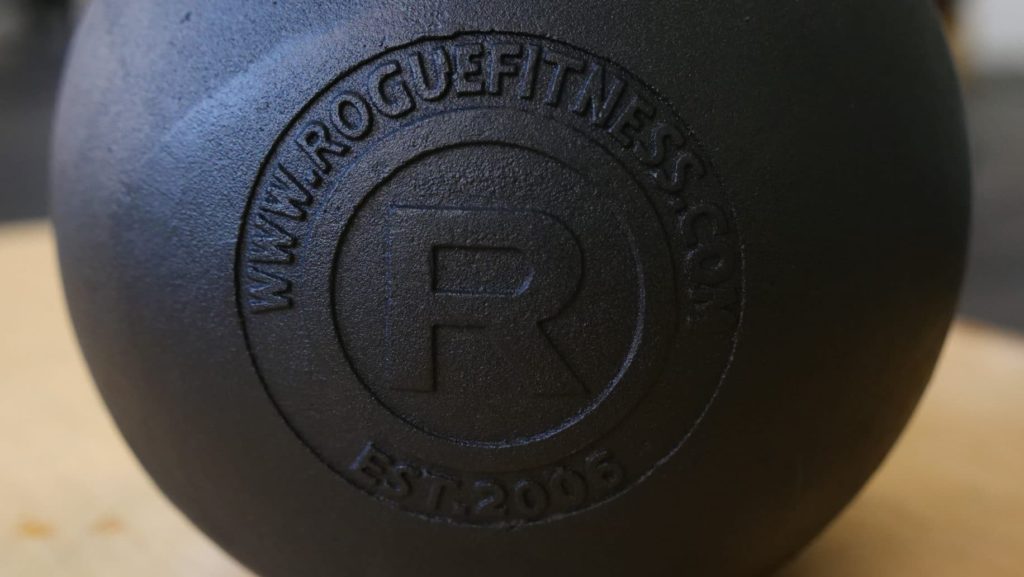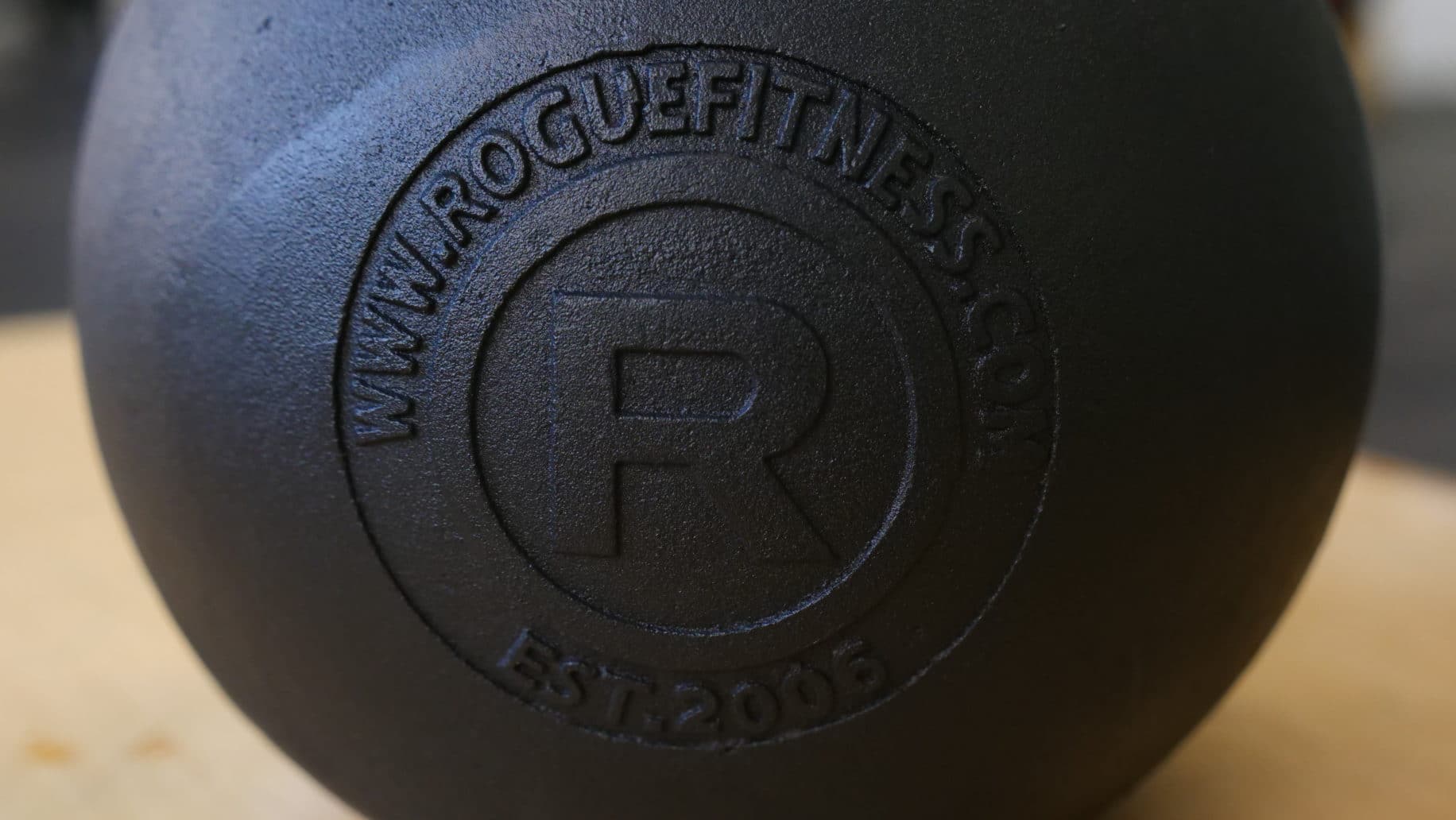 Also, I like the matte black powder coat finish and how it's designed to protect against immediate rust, and early wear and tear. The machine finished bottom is also a perk because it supports a flat sitting bell. Someone in a rush putting down the bell between exercises will have less of a chance to ding up the side of the bell from a lopsided surface. I'd feel confident letting others use this kettlebell without fear of it breaking it down quickly.
Price
The price of this kettlebell comes in at $62.50. This price is slightly higher than other kettlbells on the market at this weight, which may be a turn off for someone trying to find the cheapest kettlebell. Although, if price isn't a huge concern, then I think this kettlebell has a couple things going for it that make up for the slightly worth the extra money. The durability and versatility of the matte black powder coat finish are two of my top reasons for the price justification.
Final Word
The Rogue Fitness Kettlebell seems like your standard bell until diving a little deeper into this product's specs. I liked the first run iron ore and how it's single cast, which made this kettlebell feel durable and dense. There's no extra fills or plugs, so there's less chance of this bell breaking down easily, and durability should be one's concern since this kettlebell is priced a little higher than some others.
If you're looking for a kettlebell that's durable and made to last, then I think the Rogue Fitness Kettlebell could be a good option for you.