Barbell grips aim to improve a lifter's grip strength. Barbell grips are thick cylindrical covers, usually made of rubber, that wrap around a barbell. The grips add diameter to the barbell which compels the lifter to apply more force to their grip during a lift. Improving your grip can translate to improvements across multiple exercises from pull-ups to deadlifts.
Most barbell grips are going to look and function similarly. However, there are some differences worth taking into account before shelling out for this helpful new piece of equipment. So let's get a grip and find the right option for you.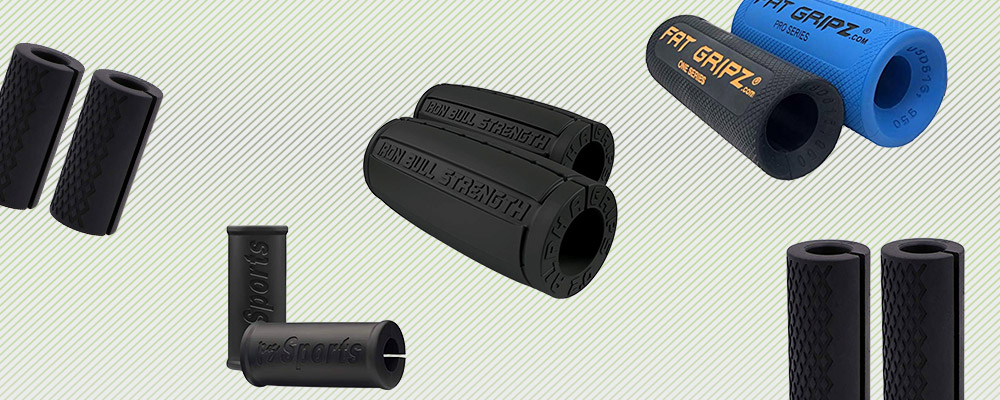 Editor's Pick: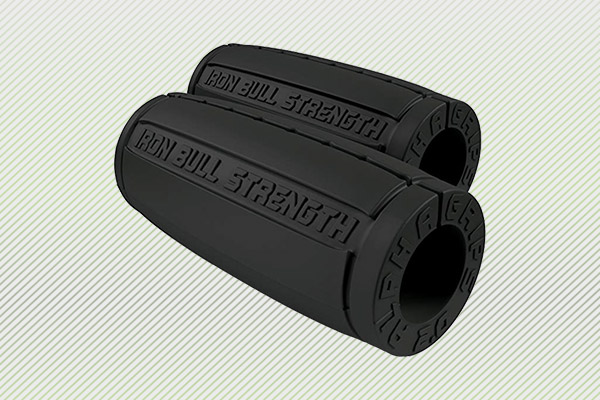 Iron Bull Strength Alpha Grips 2.0
Pros:
Non-slip rubber compound doesn't change shape under pressure.

More advanced thicker options available when lifters get stronger over time.

Indentations in the grips guide hand position, making up for covering the barbell's knurling. 
Cons:
The logo print, which is imprinted on the front of the grips, may cause some discomfort when lifting.

More expensive than other options.
Iron Bull Strength Alpha Grips 2.0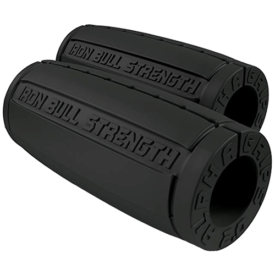 Iron Bull Strength Alpha Grips 2.0
Iron Bull's Alpha Grips 2.0 are 2 inch barbell grips made of a non-slip rubber compound that doesn't compress under pressure. Great for intermediate lifters.
Contender: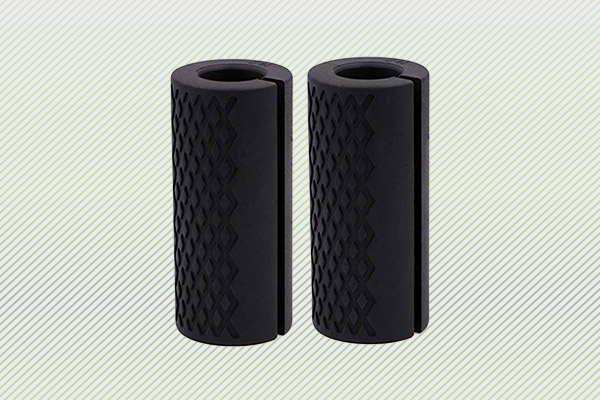 Barbell Grips-Thick Bar Fat Grips
Pros:
Recommended these for beginners.

More affordable than other top options.

The barbell knurling pattern can help maintain the feel of the barbell.
Cons:
A couple of customer reviews mentioned some sliding movement when on the bar.
Barbell Grips-Thick Bar Fat Grips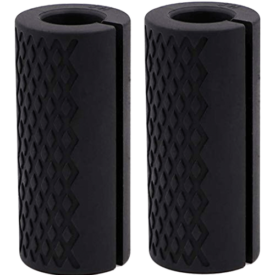 Barbell Grips-Thick Bar Fat Grips
These barbell grips are a high pick for lifters who intend to use 1 inch barbells. They are made of a silicone rubber focused on being soft on hands and come in six different color options. The outer texture is a small diamond pattern that emulates barbell knurling.
Also Consider: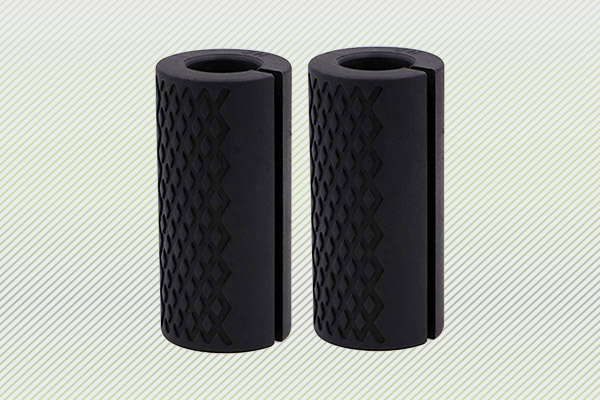 Strainho Pair of Barbell Grips
Pros:
The cross hatching texture might help with grip friction.

Affordable compared to similar options available.
Cons:
The thickness of these grips may make them more difficult to use for lifters with smaller hands.
Strainho Pair of Barbell Grips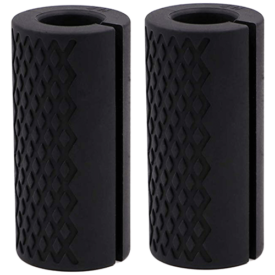 Strainho Pair of Barbell Grips
These high density silicone rubber barbell grips have a cross hatching texture to prevent grip from slipping. Offered in five different colors, Strainho's barbell grips are on the more affordable end of the market.
Most Popular: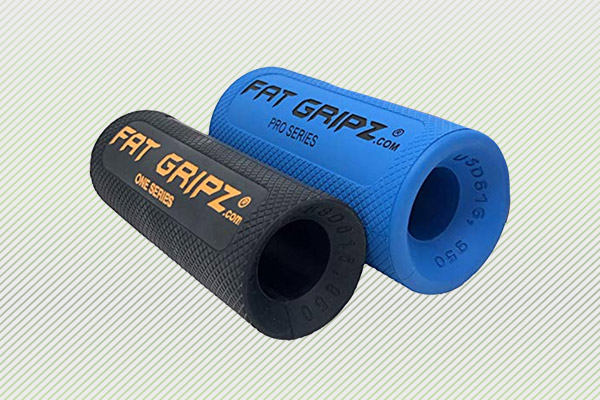 Fat Gripz
Pros:
Durable. Military grade compound rubber is unlikely to tear.

Size options scale in ½ inch increments of diameter.

Well known brand recognition.
Cons:
One of the most expensive options on the market.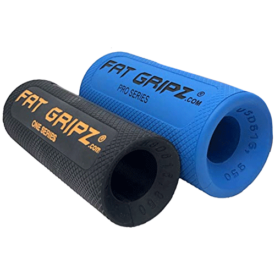 Fat Gripz are likely the most well known brand specifically when it comes to barbell grips. They're blue and black best selling barbell grips have a 2 and a ¼ inch diameter but have smaller and larger options of 1 and ¾ inch and 2 and ¾ respectively as well. Made with a military grade rubber compound to maintain shape under intense pressure, the outer texture is solely the logo. 
Best for Dumbbells: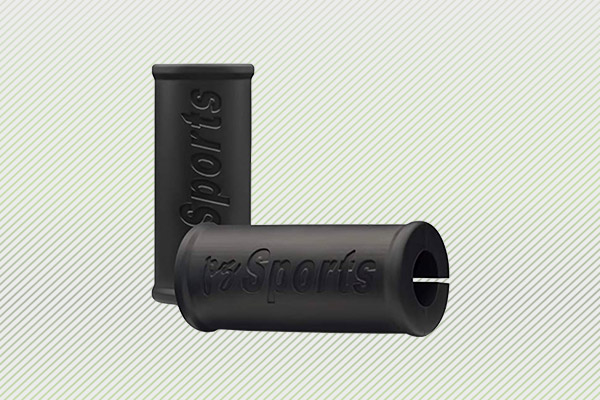 PZ SPORTS Bar Grips
Pros:
The smoother texture might lend to an easier grip on dumbbells where it is more difficult for them to slip.

Access to the e-book can help lifters looking for different exercise ideas.
Cons:
Might not fully wrap around dumbbells with oblong handles.

Only color option is black.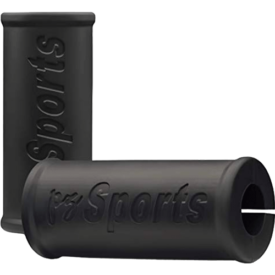 PZSports bar grips are made of silicone and are accompanied with access to an e-book guide for exercises to perform. The texture is smooth aside from the logo and the slight outward curves at the ends.
Methodology:
Thickness:
The thickness of the barbell grip indicates the level of difficulty that it adds to a lift. The thicker the grip, the more difficult the lift. Most barbell grips start at 2 inches and scale from there. Beginners should likely start with the standard 2 inches and get a feel for the increased muscle activation needed during their workouts before jumping to thicker grips.
Texture:
Texture is one of the biggest variations to look for between barbell grip options. Some barbell grips keep it simple with just their logo imprinted and are otherwise smooth. Others add textures or patterns to help fix your hand position or add friction to your grip. If you're not opposed to a textured pattern on your palm when squeezing the barbell, that extra anti-slip protection is nice added utility to have. Many barbell grips attempt to imitate the knurling of a barbell, so if there is a kind of knurling you prefer, there is likely a barbell grip to match.
Wrapping Up:
Grip strength can often be overlooked as a means to strengthen or improve certain lifts. Whether you're trying to improve on deadlifts, pull-ups, or simply strengthen your forearms, barbells grips adding diameter to the barbell can be a great way to do so.