We receive free products and receive commissions through our links. See
disclosures page
.
No matter what type of lifting you prefer, a kettlebell can be useful in your training. They're a great tool for strengthening and conditioning the body, along with training both unilaterally and bilaterally. Rogue Fitness is a US based company that makes a plethora of strength equipment, and one their areas of specialization is in kettlebells.
In this review, we're going to take a deep dive look at the Rogue Fitness Competition Kettlebell. Compared to other competition kettlebells, this bell has a few unique construction features. For this review, we'll look at this kettlebell's construction, performance, dimensions, durability, and price.
Browse Rogue Fitness kettlebells HERE.
Construction
Finish & Design
The Rogue Fitness Competition Kettlebell is similar to other kettlebells Rogue Fitness produces, but is designed slightly differently. It's similar in the respects that it's created with single cast iron, which means it's one solid piece of iron. That being said, this kettlebell doesn't have additional plugs, inserts, or metals composed into one, so it feels pretty solid and durable.
Another similarity is the machine bottom finish. In other words, the bottom of this kettlebell is made flat by a machine, so it's not molded unevenly in any way. Lastly, this kettlebell offers a similar powdercoat finish as their other cast iron bells. This makes the outside slightly rougher than your smooth steel bells, which can be both a good or bad thing depending on one's personal preference.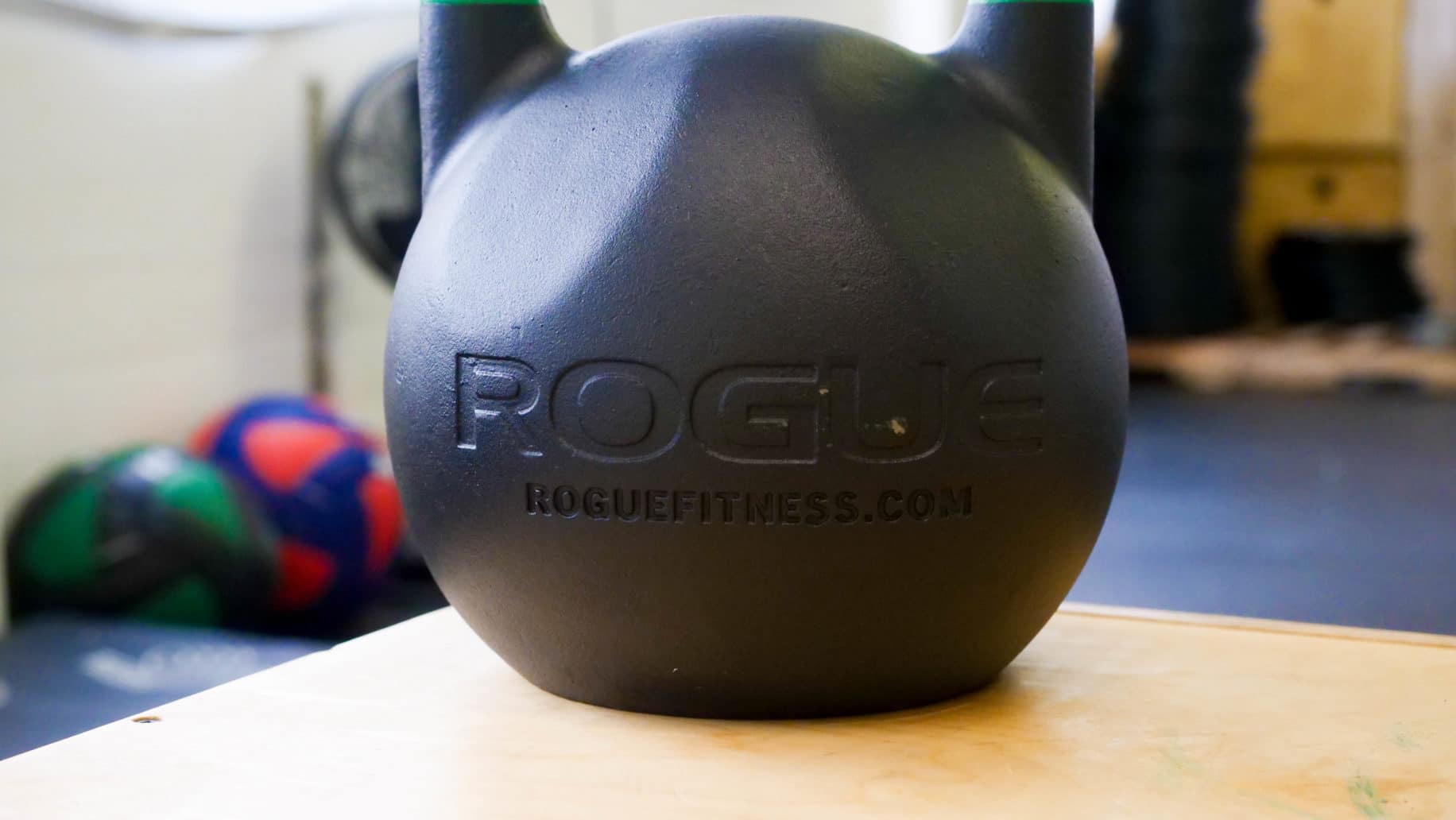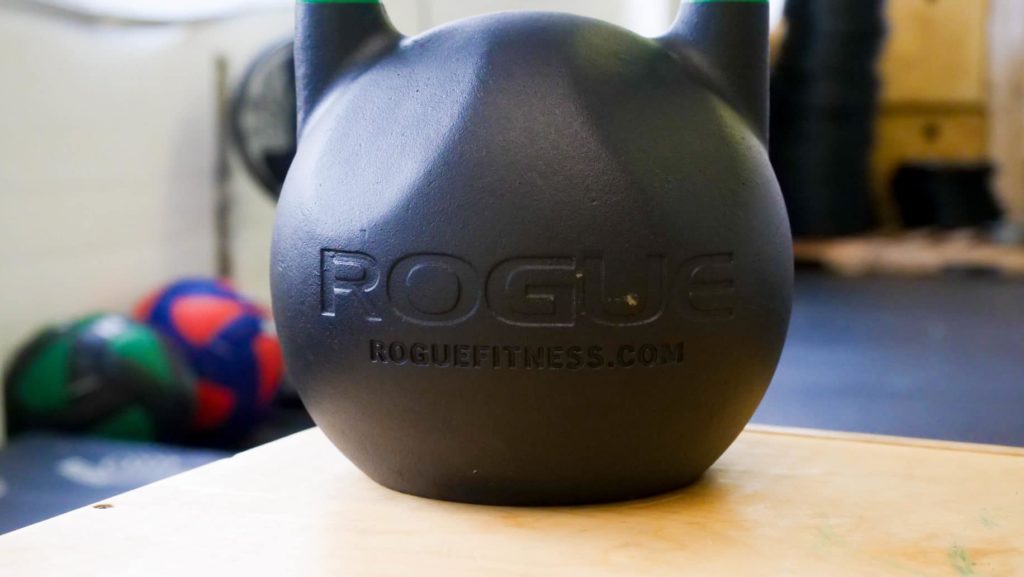 The differences about this kettlebell involve the dimensions and outer body construction. This kettlebell has slightly different dimensions compared to other Rogue Fitness cast iron bells, and that's a design feature that permits this bell to be used in competition, but we'll talk dimensions below. Possibly the biggest change in construction feature is the four tapered sides. Rogue Fitness flattened areas below the handle to create a form fitting surface on the arm, so an athlete can focus on technique and remain comfortable.
Handle
The handle is designed similar to other Rogue Fitness kettlebells. There's a powdercoat finish, which in my opinion, is always a nice touch. This material will be a little more resistant to rust and offer a slightly rougher surface, so it feels good with and without chalk. Also, there are green rings towards the bottom of the handle to indicate what weight this bell is 24kg or 53 lb in this case.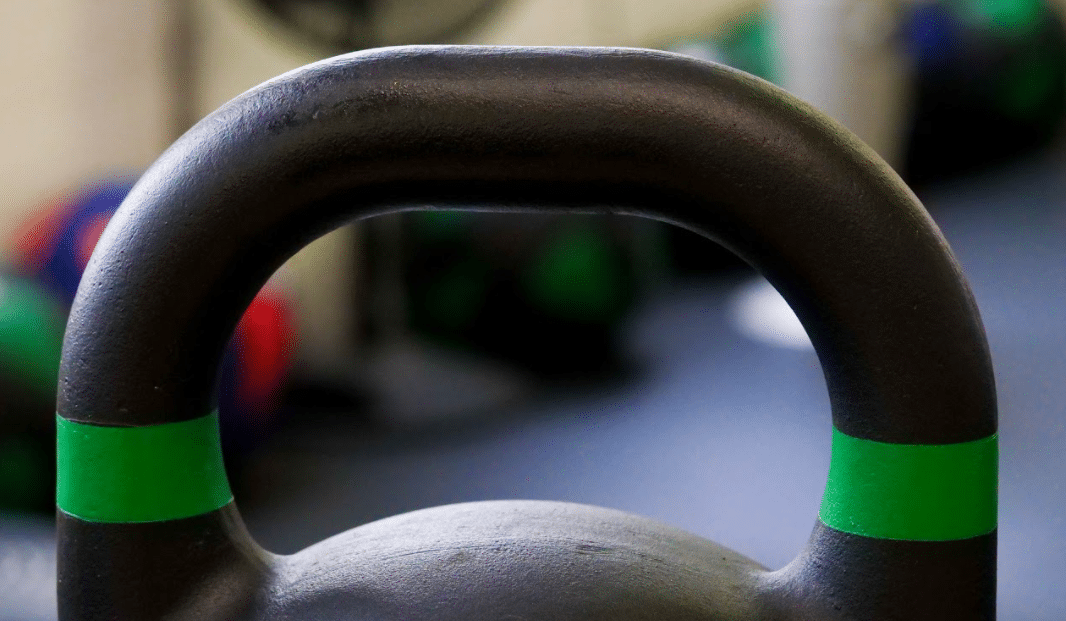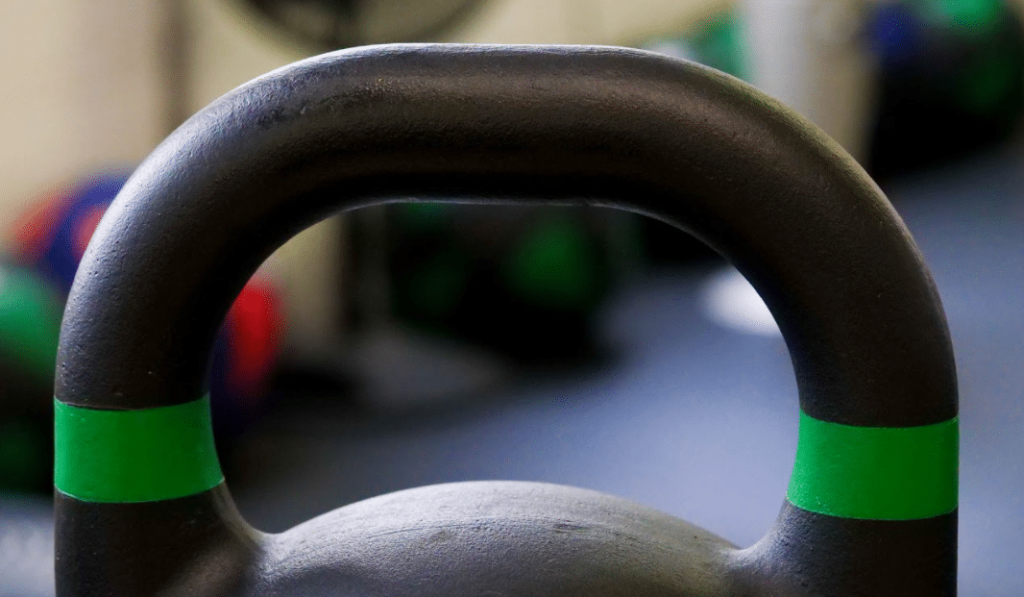 For dimensions, the handle's diameter comes in at 33m, which shouldn't be a surprise for the competitive kettlebell athlete. These dimensions will fit a variety of hand sizes and are used to permit this bell's use in competition.
[How does this competition kettlebell differ from others on the market? Check out our full competition kettlebell list!]
Dimensions
A competition kettlebell will have consistent dimensions for two reasons. First, it permits a kettlebell to be used in competition, which is for consistency among federation purposes. This creates a fairness across the board for all athletes, as the weight will be distributed evenly per every kettlebell. Second, the handle, bell size, width, and height will all be similar no matter the weight. For competition, this is beneficial because it allows athletes to focus on technique. The dimensions for this kettlebell can be found below.
Handle Diameter: 33mm
Distance Between Handle: 123mm
Diameter of Bottom: 140mm
Width: 208mm
Height: 283mm 
Keep in mind, competition kettlebells can typically vary from 1-2mm between different companies and still be eligible for competition.
Performance
For performance, we perform a variety of movements, but possibly our favorite to test consistency of the handle is with the Russian Kettlebell Swing. It's a good movement because almost any athlete can perform them and they require dynamic movement. This means the kettlebell will be moving with decent speed, so we can get a decent feel on the handle when we assess performance with and without chalk.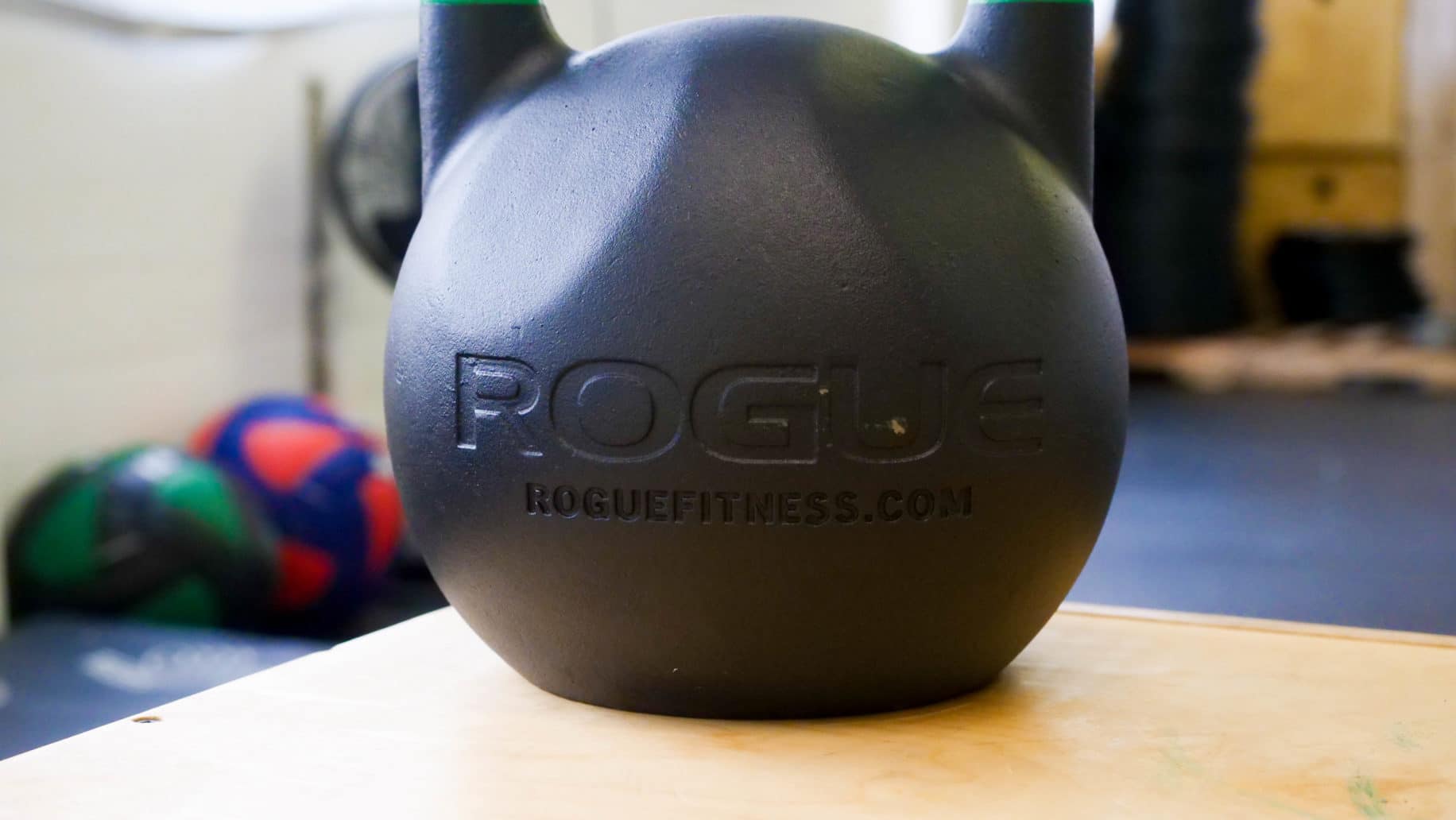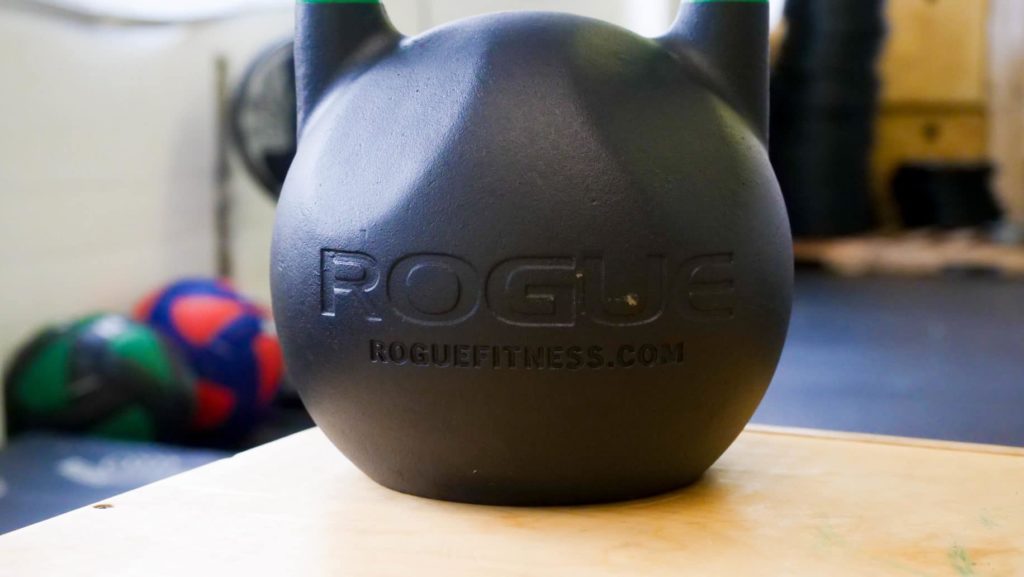 Without Chalk
This kettlebell performed similar to other Rogue Fitness Kettlebells that have powdercoat finishes. I'm personally a fan of the slightly rougher texture, and think it does a good job at reducing friction on the hand compared to smooth handles. Although, if you have sensitive hands, then I'd recommend giving yourself time to acclimate before performing long bouts if you're worried about hand wear and tear.
With Chalk
Powdercoat finished kettlebells tend to perform a bit better with chalk when it comes to pure grip. It provides you with a pretty good "locked in" feeling, and I often compare it to using a barbell with solid knurling. Similar to the "with chalk" section, I could see this being problematic for some athletes. For example, if an athlete wants the kettlebell to be a bit looser in the hand, so it can rotate easily, then they may not like the "locked in" feeling.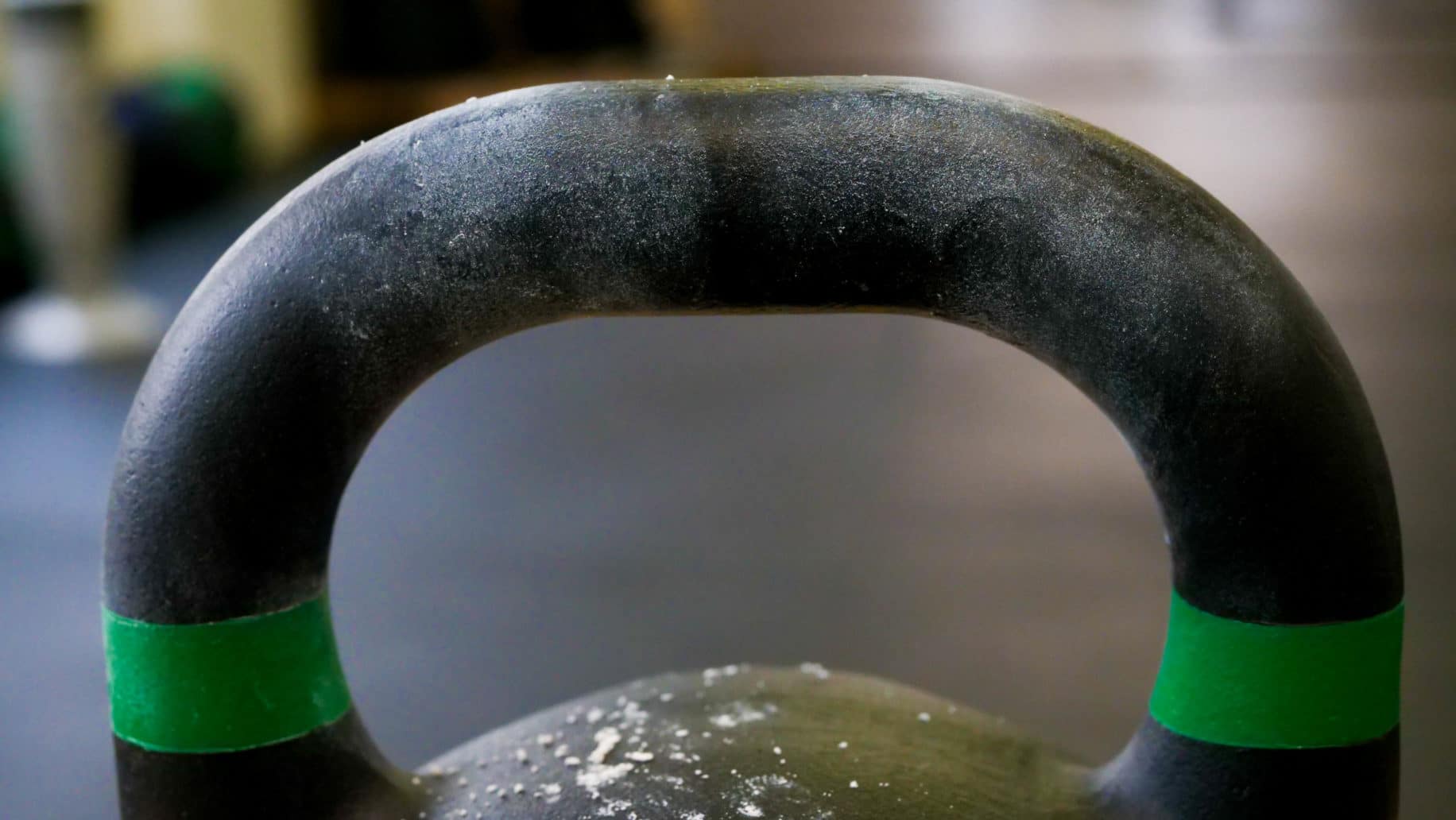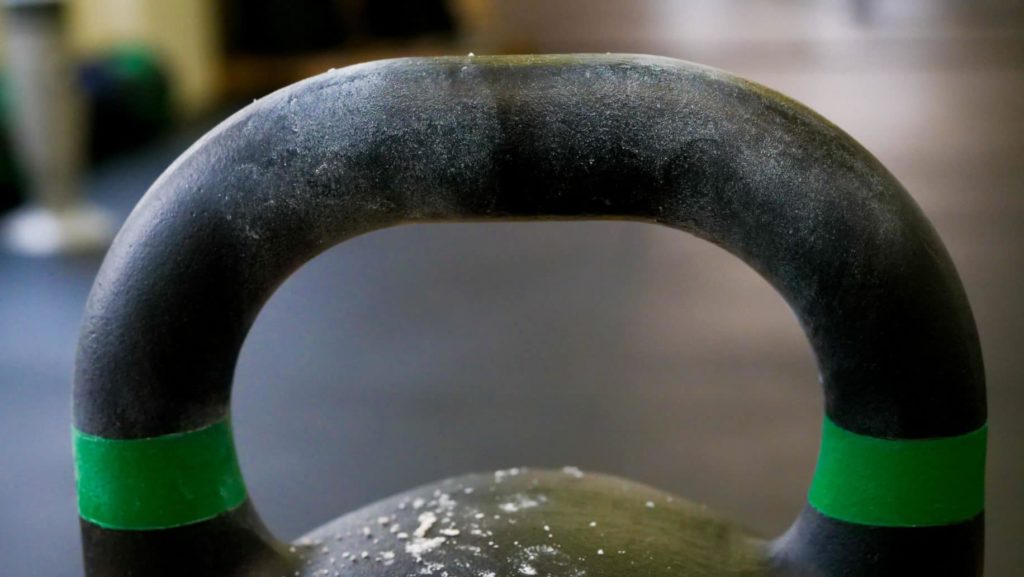 Who Could Benefit
I say this in every kettlebell review, but I think every strength athlete could benefit with some kettlebell use in the workout programs. They're versatile and can be useful for performing conditioning, strengthening, and active recovery work (when programmed correctly). If you asked me to single out populations that could benefit specifically with this kettlebell, then I'd provide you with two populations.
First, the competitive kettlebell athlete. This is a no brainer, as this kettlebell is designed with competition dimensions, so obviously this demographic would benefit. Although, keep in mind, this kettlebell does have four tapered sides, so it may have a different feeling for the weathered athlete.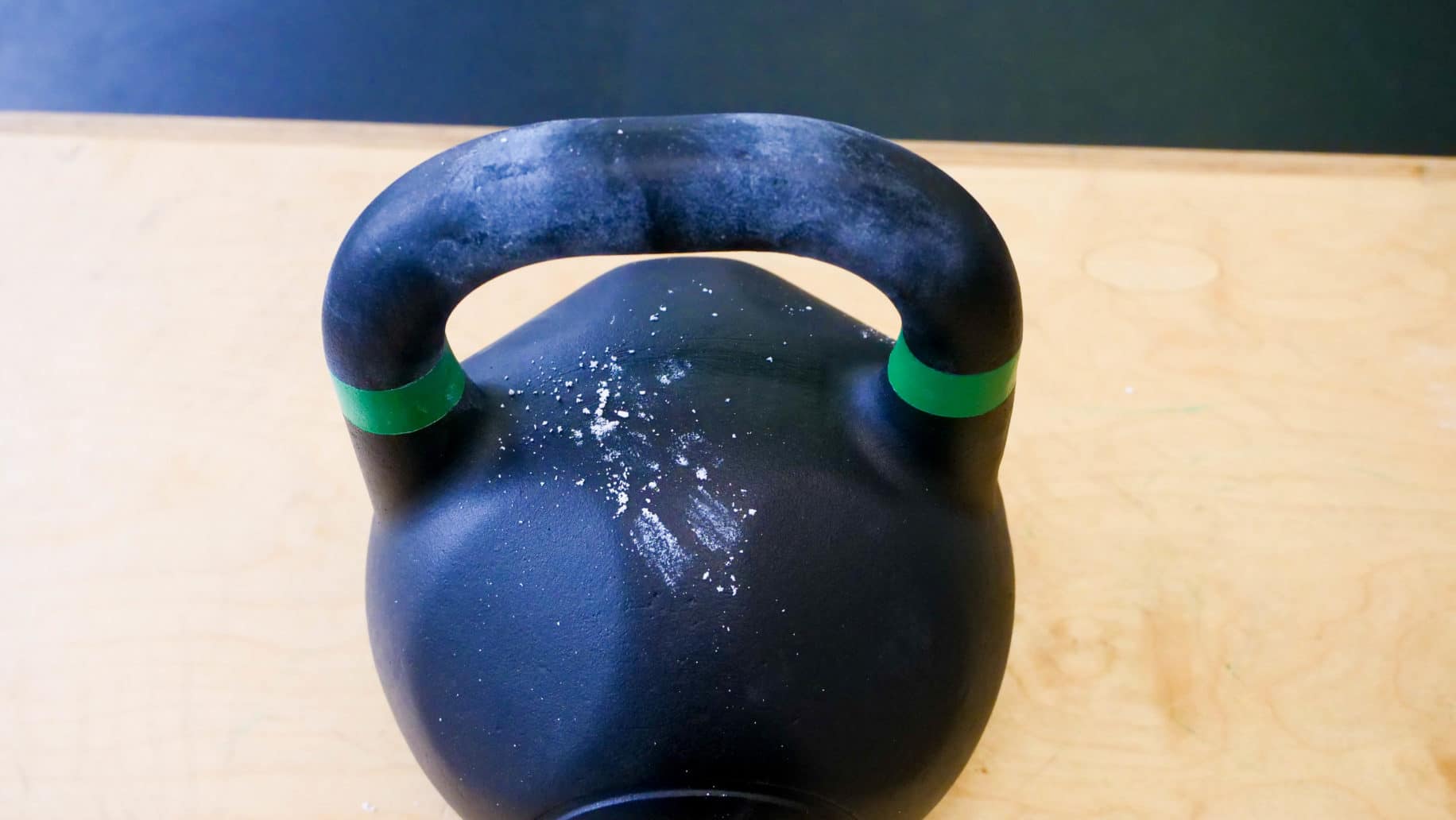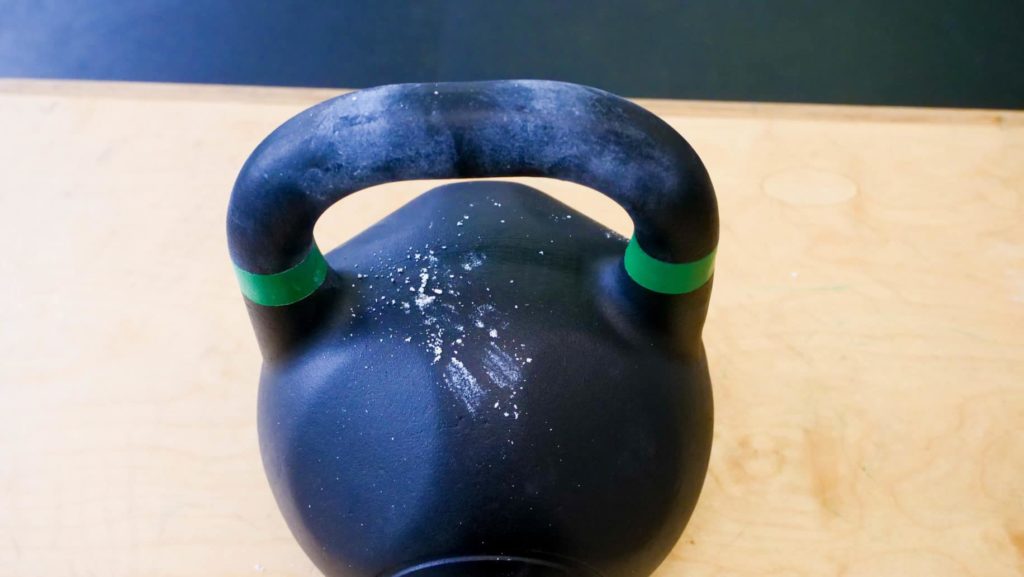 Second, the kettlebell beginner. Since this kettlebell's dimensions are consistent, then it will have a similar feeling across multiple weights. For this reason, I think it could be a good bell for a newer lifter to learn on. Plus, there's a sizable handle, so there's a bit wider range of error if grip is an issue.
| | |
| --- | --- |
| Benefit to Whom | Rationale |
| Competitive Kettlebell Athlete | Competition Dimensions |
| Beginner Athlete | Consistent Size, Big Handle |
Durability
In terms of pure durability, I didn't sense any immediate signs of alarm. I'm a fan of single cast iron because it suggests a longer kettlbell lifespan compared to bells composed of multiple materials. Additionally, I like the powdercoat finish because it adds a little resilience to the coat and can be beneficial at prolonging rates of rust or chips.
The only issue that I'd recommend keeping an eye on are for those storing or using this kettlebell is a humid or damp environment. At the end of the day, this kettlebell is still cast iron, so there's a chance it could rust over time, especially on the bottom where chips may be more prevalent.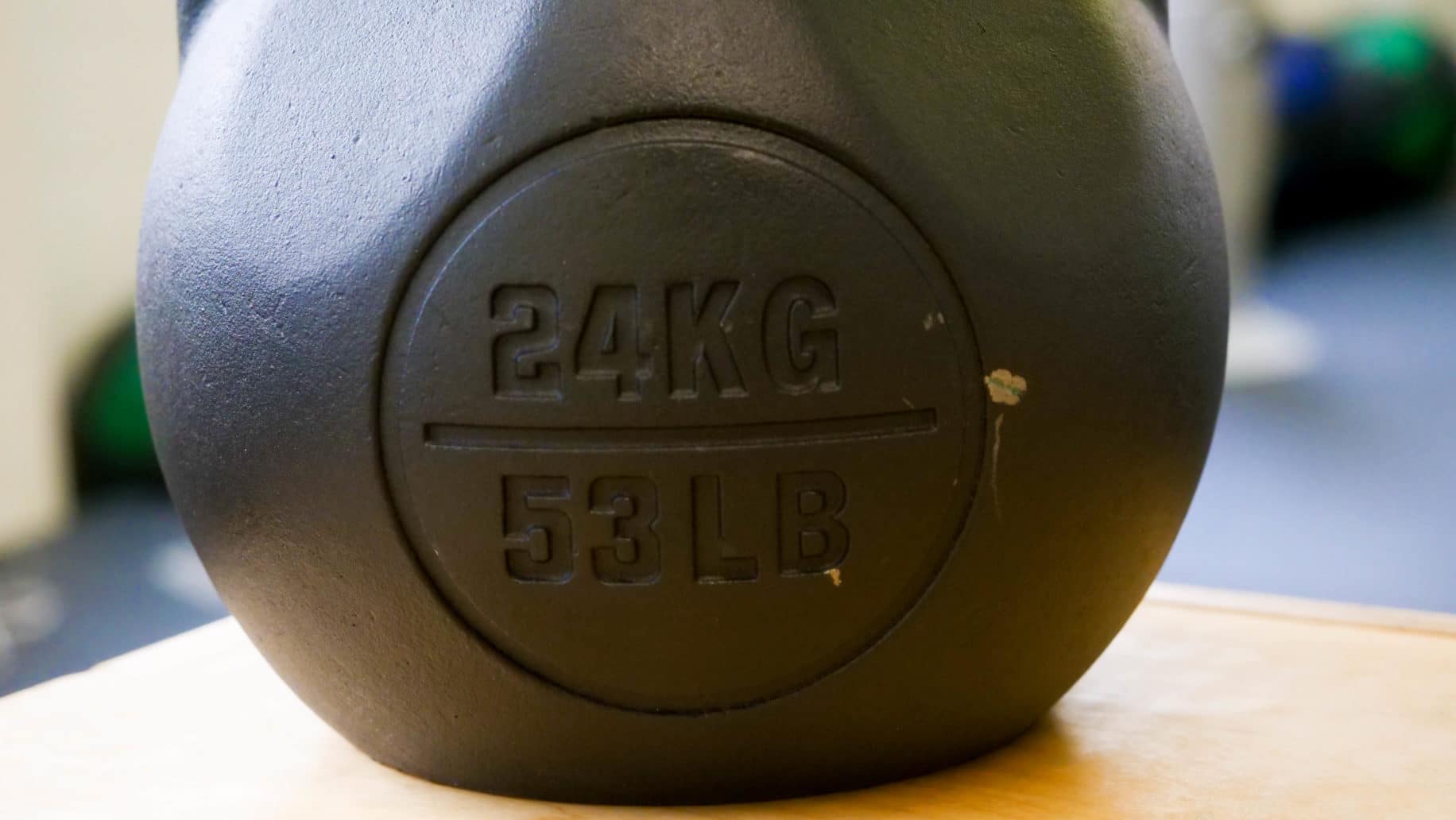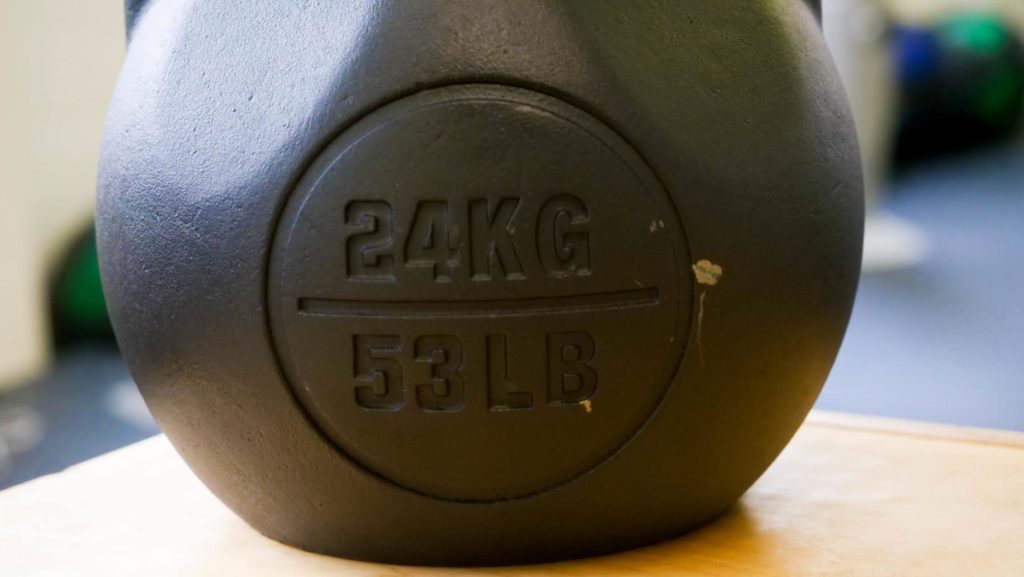 Price
The expected price you'll pay for the Rogue Fitness Competition Kettlebell is around $97.50. This price is tad higher than other kettlebells at this weight, but you have to remember it's a competition kettlebell. For this reason, I feel like the price is a bit on the money because this is a niche kettlebell, and it's slightly lower than competitors. Although, if you're someone simply needing a 24kg kettlebell, then there are cheaper options out there.
Wrapping Up
In conclusion, I thought this kettlebell was a solid option for multiple reasons. The single cast iron gave off the impression on long-term durability and it felt solid throughout the workouts. In addition, I was a fan of the four tapered sides, which provided a different feeling when this kettlebell was in contact with my wrist. Conversely, I could see a long-time kettlebell user having issue with this type of design.
If you're in need of a durable, decently priced competition kettlebell, then I think the Rogue Fitness Competition Kettlebell is a good choice for you.