There are many reasons to own a home gym — convenience, cleanliness, and affordability all come to mind. Of course, that's always been the case.
The desire to stay at home for a workout is even stronger with the advent of new equipment. For example, companies such as Tempo have introduced smart gyms that provide tried-and-true equipment, AI trainers, and real-time workout feedback.
The result is an at-home experience that not only mimics the gym but offers top-of-the-line personal training in a comfortable environment. So, why would you go back to your gym?
Why Training at Home Is Sticking Around
According to Fortune, a survey says that nine out of 10 Americans would continue to work out at home even after they're comfortable going back to their gym.
Americans feel that training from home is more private, affordable, and convenient. Barring competitive athletes who need access to specialized strength equipment (such as a strongman who needs a log or circus dumbbell), most folks can get great workouts with minimal equipment. And the time they save commuting to and from the gym can be put toward their pre- and post-workout meals and spending time with loved ones.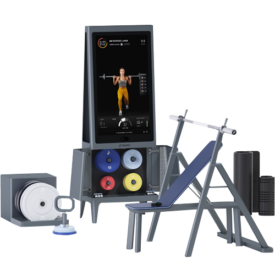 Tempo offers a variety of home gyms — which offer weight plates, a barbell, a dumbbell, a foam roller, and more — plus hundreds of classes led by AI trainers.
Privacy is another important factor. Many folks, especially those new to the gym, may feel self-conscious about working out in public. "Gymtimidation" is a real thing, and many folks shudder at the idea of working out in front of others. That problem doesn't exist in your own home.
Cost is another factor. Buying a few pieces of equipment that will last costs far less than paying a monthly gym fee for years. It may be more upfront, but over time, you'll save considerable time.
The New Home Gym
You could invest in a power rack and a barbell, but some companies strive to bring you a complete workout experience. Take Tempo: this new brand now offers three versions of their at-home training system — which scale up in terms of weights and tools — along with workouts led by expert coaches. It's like having a trainer in your living room.
Tempo, which has the appearance of a standing vanity but with a large screen and storage on both the back and front, is also equipped with technology that can detect poor form and correct it. Here are more benefits.
The Benefits of Tempo
A home gym like Tempo offers more than just convenience (though that's certainly a benefit). Here's how Tempo stands out as one of the best home gyms on the market.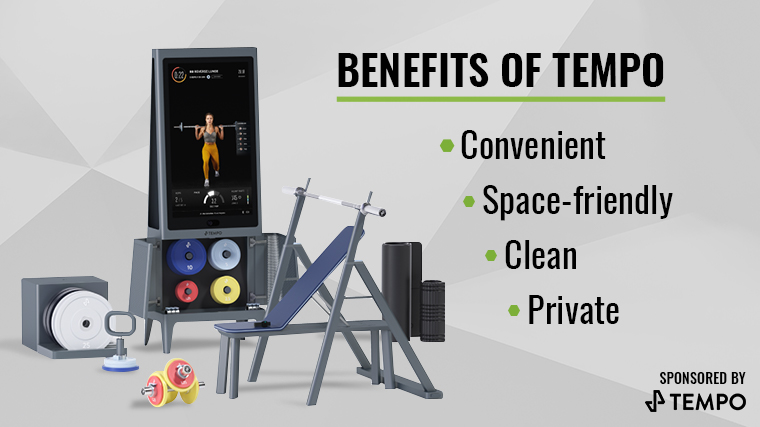 Innovative Features
By far, the two most remarkable features of Tempo are its 3D mapping and ability to coax progression, so you're consistently making gains.
For the 3D mapping, Tempo uses infrared light and its camera to monitor the user mid-exercise. This feature allows Tempo to analyze how the user performs each movement and then give live feedback on their form.
Say you're performing a set of squats and your knees are caving in. Well, you may not notice this error during a challenging set, but Tempo will flash a cue on the screen to alert you. Then, you can fix your form in real-time. It's like having a trainer instruct you in person.
Another revolutionary feature of Tempo is its ability to ensure you're progressing each workout. For a training program to be effective in the long run, the lifter needs to perform either more reps or lift more weight each workout. Otherwise, the muscles will adapt and then sit stagnantly.
Progressive overload isn't necessarily common knowledge. It's also sometimes hard to push yourself to do more when you're alone. And this is why Tempo automatically ensures the user is doing more. Tempo counts your reps — along with depth and reps per minute — and remembers how much weight someone lifts, and then lets them know when it's time to up the load you're using.
Convenience at its Finest
As for the workouts, Tempo has hundreds of classes that appeal to a variety of training styles. You can filter your workout by goals — such as strength, cardio, HIIT, mobility, and recovery. From there, you're able to narrow it down by choosing a class that focuses on a specific body part, time, or set and rep scheme. (Yes, Tempo offers a 5×5 program, which strength athletes will love)
Expert Coaching
Tempo relies on a roster of six coaches who offer "expert guidance," along with words of encouragement to help motivate and train you. They are:
Melissa Boyd
Natalie Roberts
Bryan Fobbs
Colby Landry
Cole Charlton
Clarence Hairston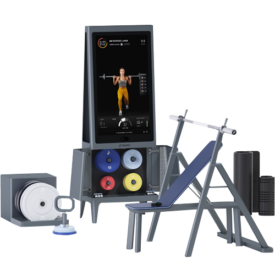 Tempo uses 3D mapping technology to ensure the user is lifting with perfect form. It also tracks the trainee's sets, reps, calories burned, and progression.
Tempo's Bundles
Here's the thing, though: A lot of lifters have different goals — to build more muscle, to compete in CrossFit, to lose fat, and to bolster their strength. What one person needs to succeed may not be what another person wants.
Starting on March 23, 2021, Tempo expanded its existing products to feature more weights and tools. Now, lifters will be able to invest in a complete gym that's more in line with their training goals and program.
Their new packages will include options to add a workout bench and a squat rack. That's a pretty big deal for strength athletes who, in the past, have felt like they've needed to choose between new tech or lots of weight. Tempo's Pro package (more on that below) offers 215-pounds of weight, not including the weight of the barbell and dumbbell handles.
For a beginner or intermediate lifter, that's a decent amount of weight to work up to. There's also now a kettlebell handle (which functional fitness and kettlebell sport athletes will appreciate),
Tempo is also launching an improved version of their app through a service called My Plan, which will provide custom, weekly workouts to members.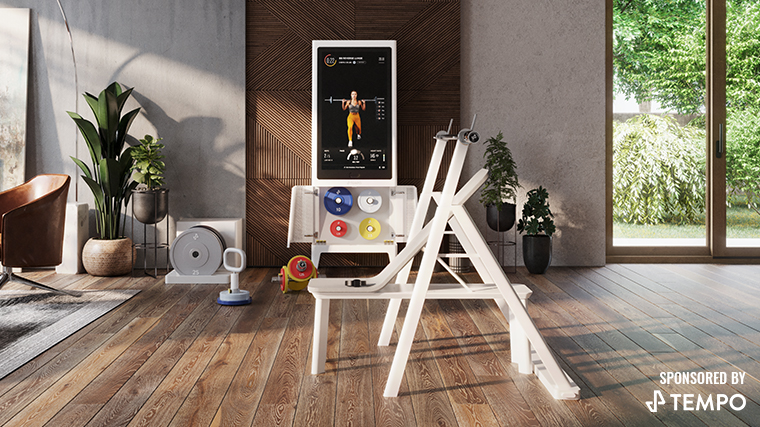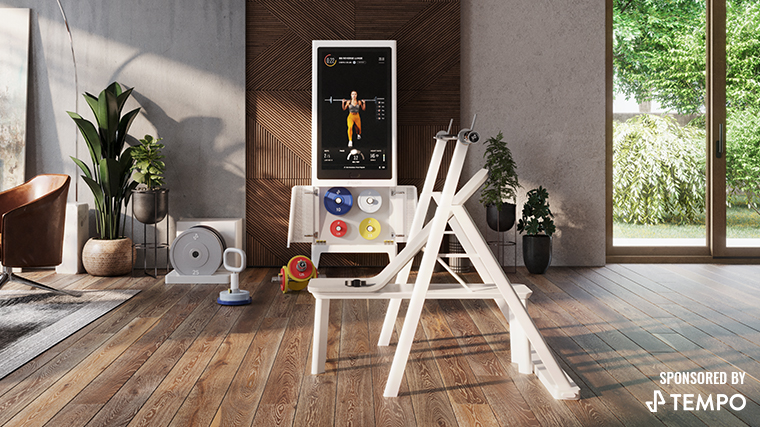 Here's a breakdown of the three bundles Tempo now offers:
Tempo Starter
Tempo's original model caters to the casual gym-goer who enjoys high-intensity workouts over one-rep max sessions.
What it includes:
Dumbbells
Weight collars
Four 1.25-pound weight plates
Four 2.5-pound weight plates
Four 10-pound weight plates
How much it costs: $2,495 ($2,745 with delivery and installation)
Tempo Plus
With 125 pounds in weight plates, a bench, a barbell, and a foam roller, Tempo Plus is perfect for anyone looking to gain muscle and burn fat.
What it includes:
Dumbbells
Weight collars
Four 1.25-pound weight plates
Four 2.5-pound weight plates
Four 10-pound weight plates
Two 25-pound weight plates
Barbell (with collars)
Bench
Recovery roller
Heart rate monitor
How much it costs: $3,245 ($3,495 with delivery and installation)
Tempo Pro
By far, this is Tempo's most complete package. It notably includes a squat rack and 215 pounds in plates, which is plenty for most lifters. The squat rack and bench allow for many exercises to be performed, and the kettlebell and dumbbell offer versatility.
What it includes:
Dumbbells
Weight collars
Four 1.25-pound weight plates
Four 2.5-pound weight plates
Four 10-pound weight plates
Two 25-pound weight plates
Two 45-pound plates
Barbell (with collars)
Bench
Recovery roller
Heart rate monitor
Weight storage
Squat rack
Kettlebell
How much it costs: $3,995 ($4,245 with delivery and installation)
5 Ways to Conquer Your At-Home Workouts
For some people, transitioning out of a lively gym and taking their workouts home — where you also eat, sleep, and hang out — can be challenging. It's not always as motivating, and skipping a workout seems easier when your kitchen and bed are just feet away.
Here are some tips for getting the most out of your at-home workouts.
Create a Training Space
If you're able to, dedicating a space for your workouts will help you separate work from play, so to speak. It can be harder for some people to get in the zone when their TV is right there, or the couch is calling their name.
By having a dedicated set-up, you can set foot into your training space and feel like you're at the gym. It also makes it easier to plan your workouts.
For example, a garage gym, typically, is more spacious. So, if you're looking to lift weights, you'll be better off where there's more room. The same is true for power-based workouts that require lots of jumping and lateral movement.
On the other hand, mobility or certain HIIT workouts don't require as much space, so you don't need much room to get a good training session in.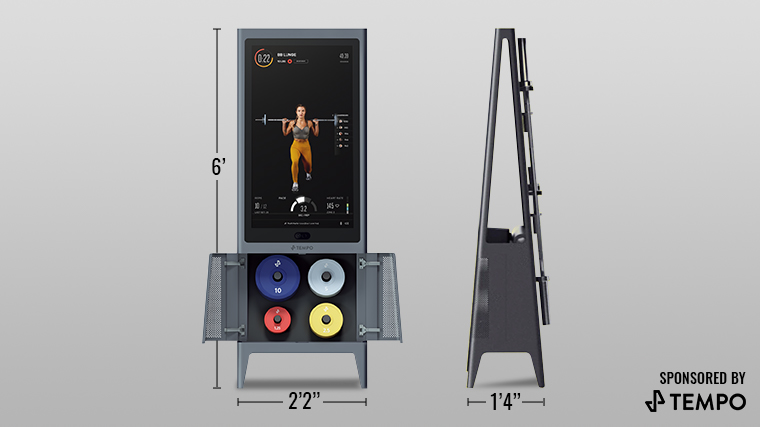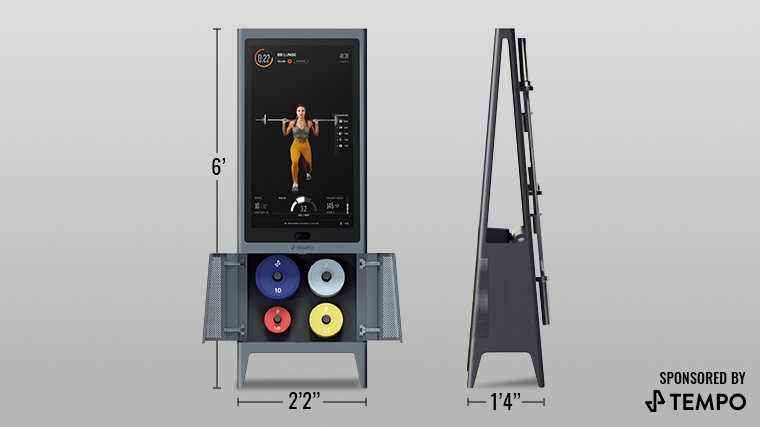 Pick a Time to Exercise
In a study conducted by the journal Obesity, participants worked out during the same time window — early/late morning, afternoon, or evening — to see if the established routine affected their results.
In the end, the researchers concluded that consistent workout times led to a greater MVPA (moderate-to-vigorous-intensity physical activity). It didn't matter which time slot the participants chose as long as they stuck with it. (1)
Wear Workout Clothes
You may have the urge to wear whatever you want to work out at home, but you should replicate your in-gym outfit. According to a study in the Journal of Experimental Social Psychology, what you wear alters your behavior.
The researchers coined the term "enclothed cognition" based on their results. In one test, they had participants don a lab coat or nothing special while performing attention-related tasks. The lab coat group performed far better than the control group.
The researchers also concluded that "the influence of clothes thus depends on wearing them and their symbolic meaning." (2)
So, it's safe to assume that throwing on a tank top and athletic shorts will help you feel more ready for the task at hand compared to flannel pants and a pajama top.
Listen to Music
Music improves performance by optimizing one's arousal pre-training and reducing ratings of perceived exertion. Simply put: listening to music can make your workout feel easier. (3)
This is a training tip that will help you in any environment, but it's imperative when training at home since you may not feel as motivated. (3)
Have a Goal
The difference between training and working out is having a goal. Whether you want to run a 5K, add 10 pounds to your bench press, or lose 20 pounds — it's vital to have a vision. Once you have a goal in place, you can reverse engineer your plan.
Say you want to lose weight. Well, now you know to eat fewer calories, sleep a little more, and to pick workouts geared toward fat loss over strength-building. Establish a goal, pick a plan, and then execute.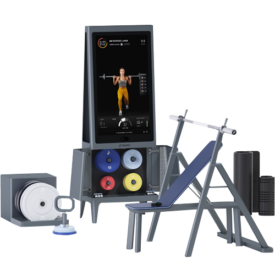 Tempo offers a variety of home gyms — which offer weight plates, a barbell, a dumbbell, a foam roller, and more — plus hundreds of classes led by AI trainers.
References
Leah M. Schumacher, J. Graham Thomas, Hollie A. Raynor, Ryan E. Rhodes, Dale S. Bond, Consistent Morning Exercise May Be Beneficial for Individuals With Obesity, Exercise and Sport Sciences Reviews, 10.1249/JES.0000000000000226, 48, 4, (201), (2020).
Adam, H., & Galinsky, A. D. (2012). Enclothed cognition. Journal of Experimental Social Psychology, 48(4), 918-925. doi:10.1016/j.jesp.2012.02.008
Karageorghis CI, Priest DL. Music in the exercise domain: a review and synthesis (Part II). Int Rev Sport Exerc Psychol. 2012;5(1):67-84. doi:10.1080/1750984X.2011.631027