We receive free products and receive commissions through our links. See
disclosures page
.
Home gym and garage gym come in all shapes and forms, and one of the popular staples found in both are kettlebells. Chances are you've used kettlebells before, but if not, then a kettlebell is a piece of training equipment known for its versatility across all strength sports. In this article, we're going to take an in-depth look at the Rogue Fitness Rubber Coated Kettlebell.
This kettlebell entails all of the signature construction specs of Rogue Fitness' standard kettlebell, but with an additional rubber coating. For this review, we look at how this kettlebell is made, some of its standout features, and who it would be best for.
Shop the Rogue Fitness Rubber Coated Kettlebell and see weight options HERE on Rogue Fitness.
Construction
Design & Construction
Rogue Fitness creates multiple types of kettlebells and the rubber coated kettlebell is slightly different compared to their other models. When it comes to construction this kettlebell is similar to the standard Rogue Fitness Kettlebell. It's made of single-run iron ore, which is void of any plastic or rubber plugs, and additional pieces of metal and iron. In addition, it's single cast, so it's one solid piece of iron, and provides a solid and durable feeling.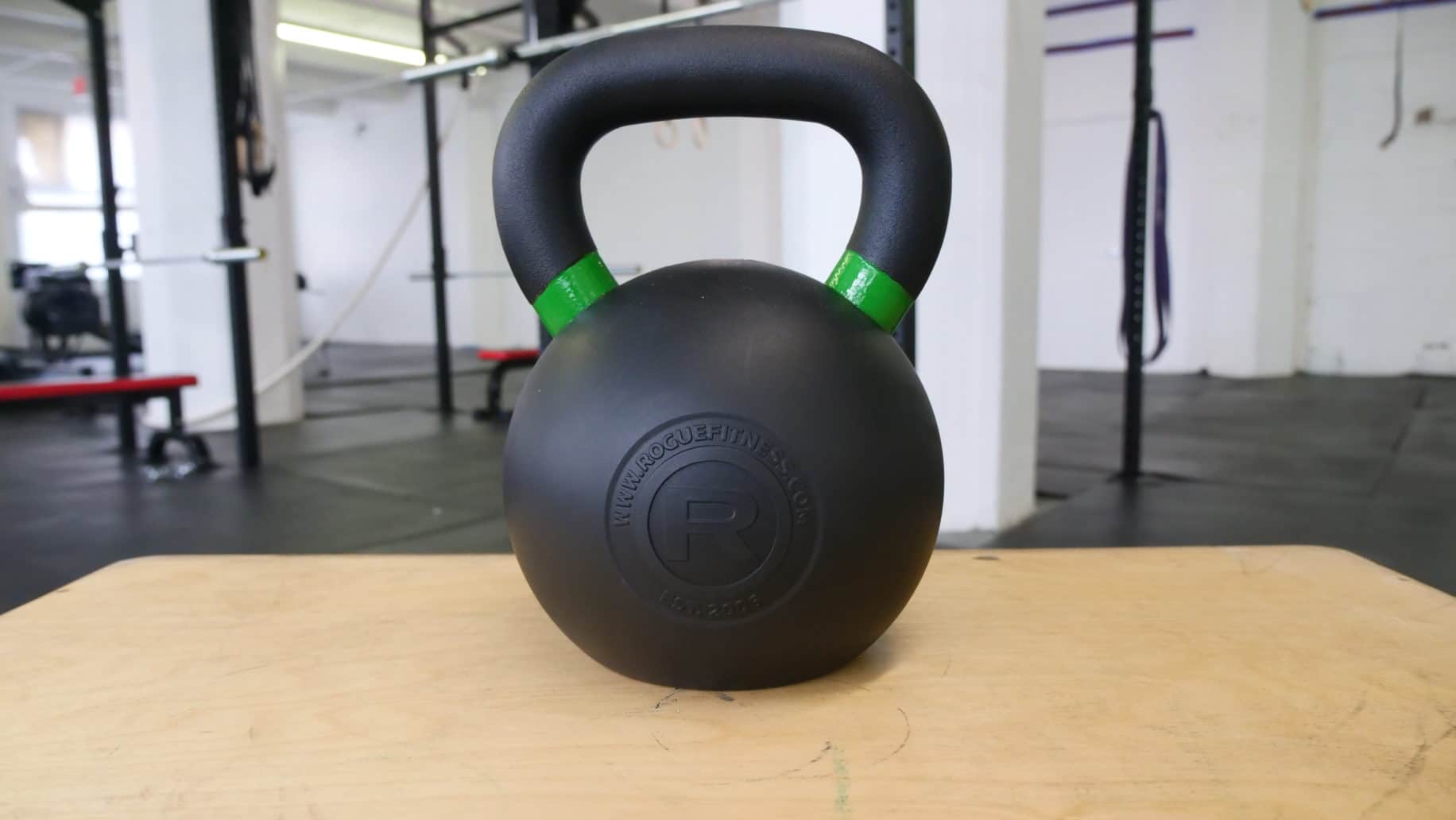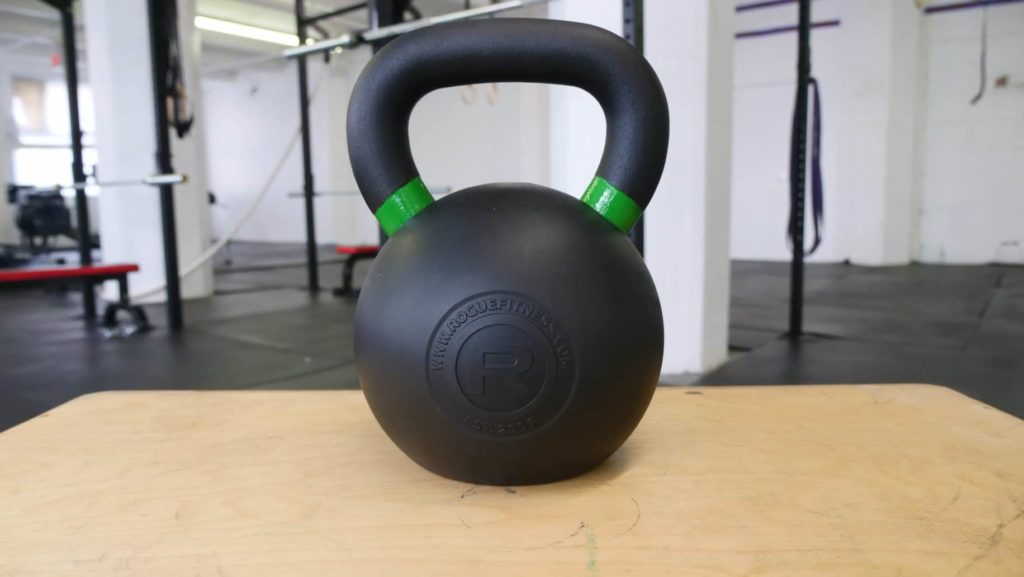 Some kettlebells are composed of multiple types of iron and metal, which can create a kettlebell that prematurely break down. On top of the single-run iron ore, this kettlebell has a polyurathane rubber coat on the outside of the bell. This rubber coat covers the iron, so the bell feels slightly smoother and softer compared to other models. Another design feature is the bottom of the kettlebell. The bottom is machine finished, and that's a nice touch for giving the kettlebell a completely flat surface to sit on.
Handle
The handle of this kettlebell isn't rubber coated like the body of the bell. It has a powder coat finish, so it's slightly more rough compared to your big box commercial rubber or plastic kettlebells. This is a nice touch for anyone in humid, cold, or chalk bearing settings. The handle's diameter comes in at 1.5″, which will be sufficient for multiple types of hand sizes. For context, my hand is 8″ and this bell was a good size to get an adequate grip.
[Is this rubber coating better than others on the market? Check out our comprehensive kettlebell round-up to find out!]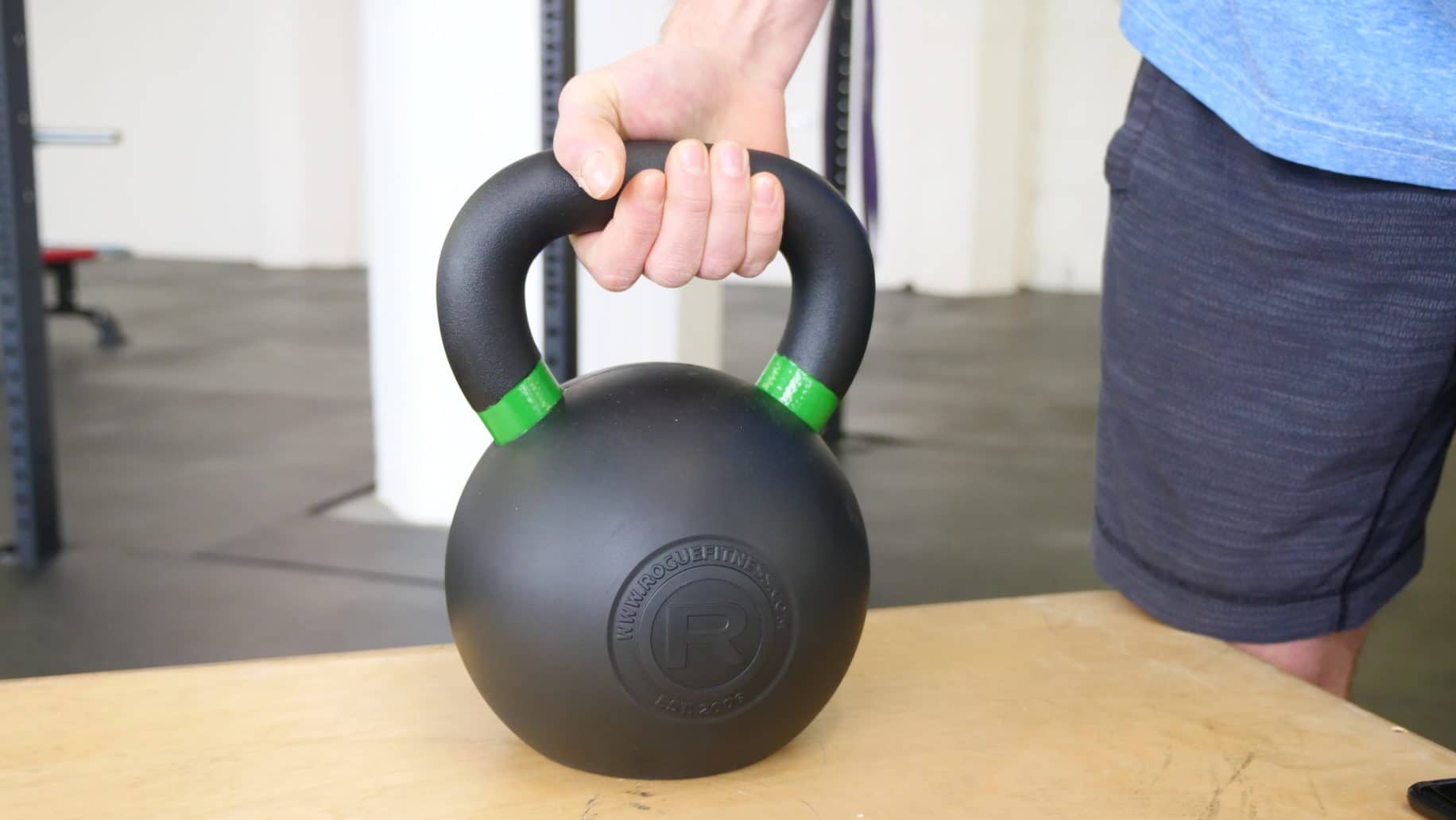 There are green rings around the bottom of the handle. These green rings are indicative of the kettlebell's weight, which in this case mean that the kettlebell is 24kg (53 lb) kettlebell. I like this because it provides you with the kettlebell's weight without having to turn it over and look for an engraving, or faded paint. This color handle could be a good feature for gym owners, or home gym owners with multiple weights of kettlebells strewn across the floor.
Performance Test
To test a kettlebell's ability to provide grip for chalk and non-chalk scenarios, we performed multiple Russian kettlebell swings. We like testing a kettlebell's grip with Russian kettlebell swings for three reasons. First, they're a grip demanding exercise. Second, a variety of athletes perform them across all strength sports. Third, they entail the bell swinging in one's hand, so it's more dynamic compared to something static like a row or goblet squat.
[Need a heavier or lighter kettlebell? The Rogue Fitness Rubber Coated Kettlebell comes in five different weight increments!]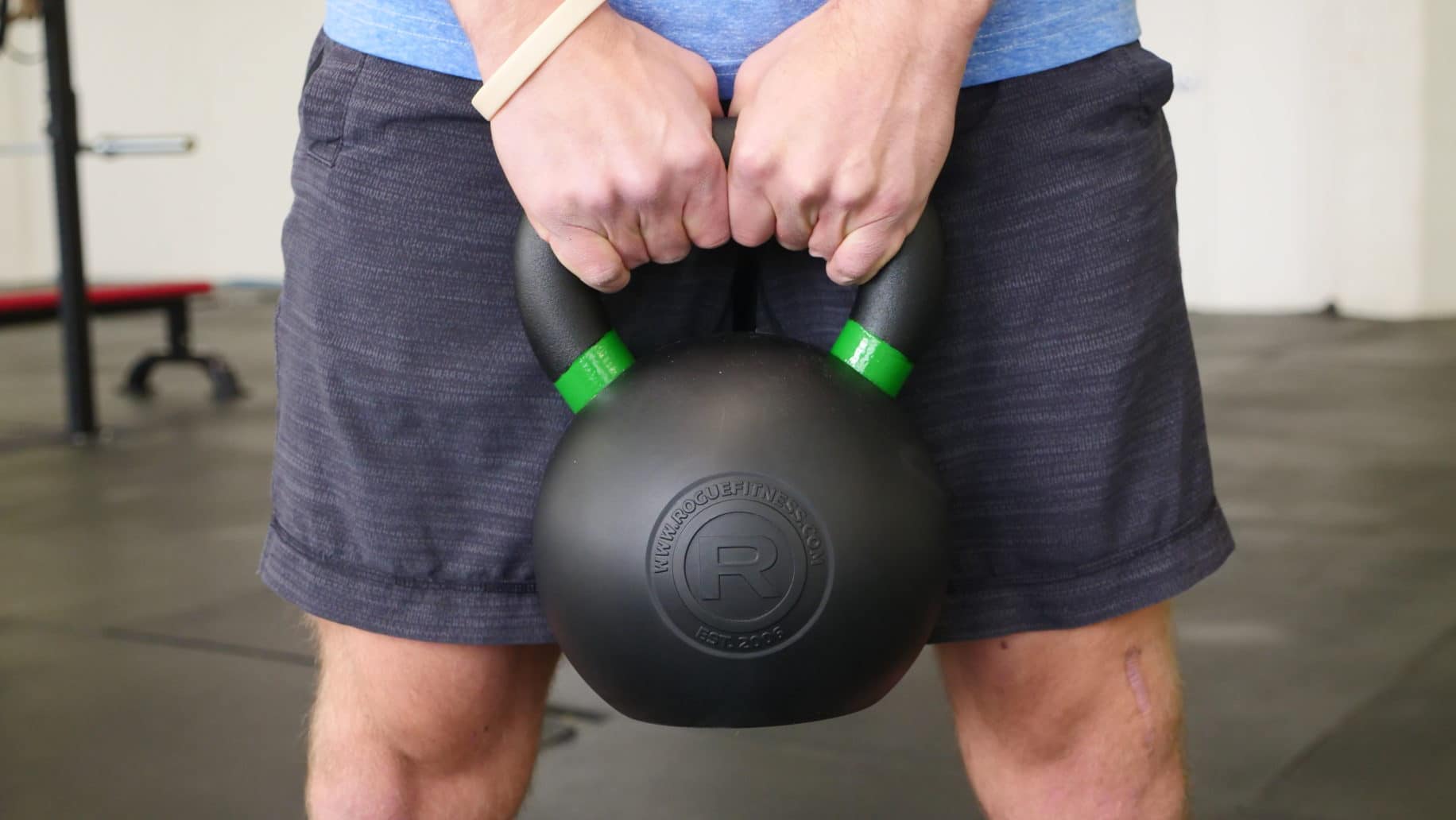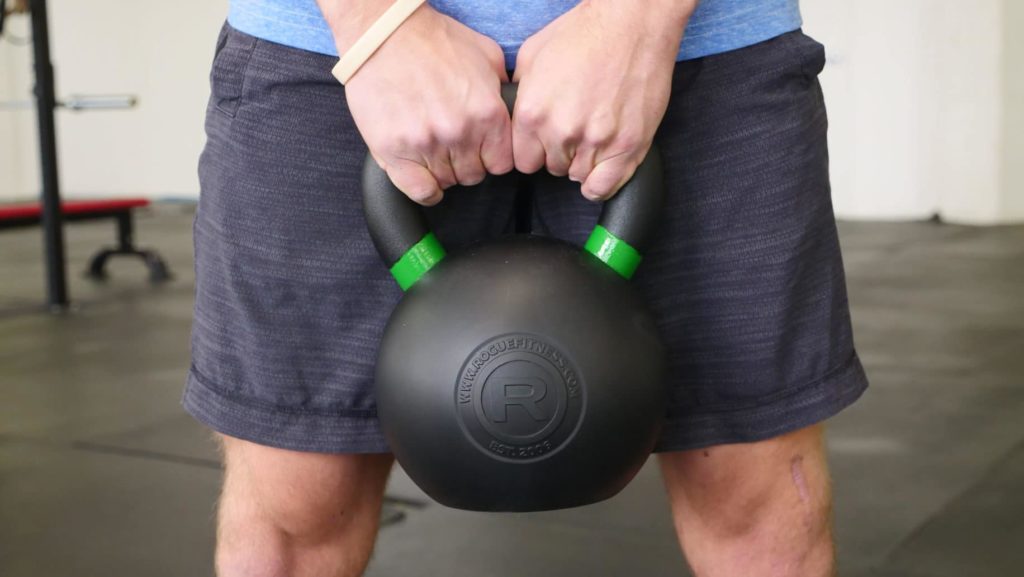 Without Chalk
This kettlebell has a powder coat finish on the handle, which makes it a bit more rough than your commercial gym plastic or rubber kettlebell. Personally, I'm a fan of this material because it creates a "locked in" feeling with the hand. Basically, the rougher finish of the bell creates a little bit more friction between your hand and the handle. If you want a visual comparison, think about how a new barbell's knurling feels.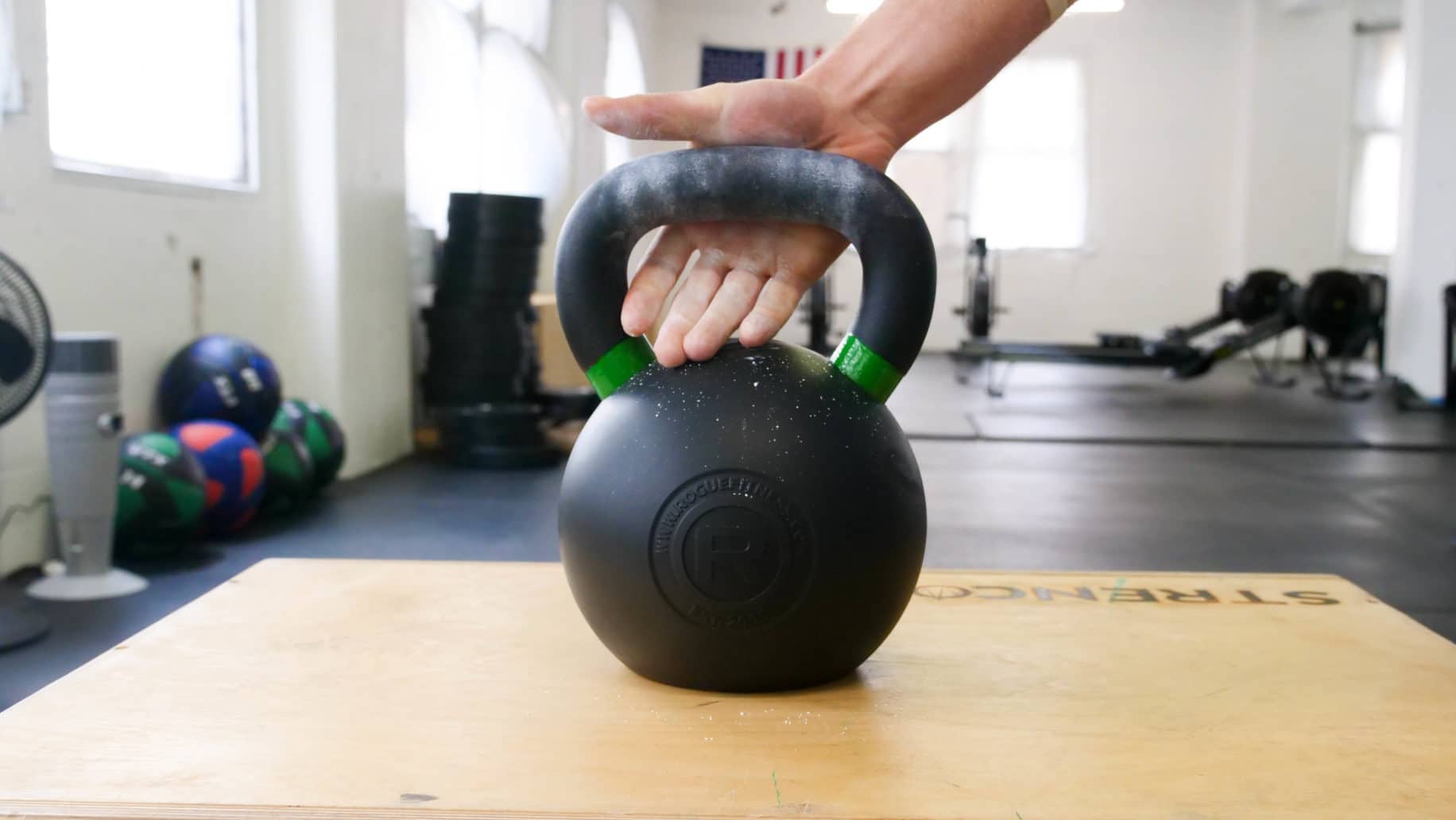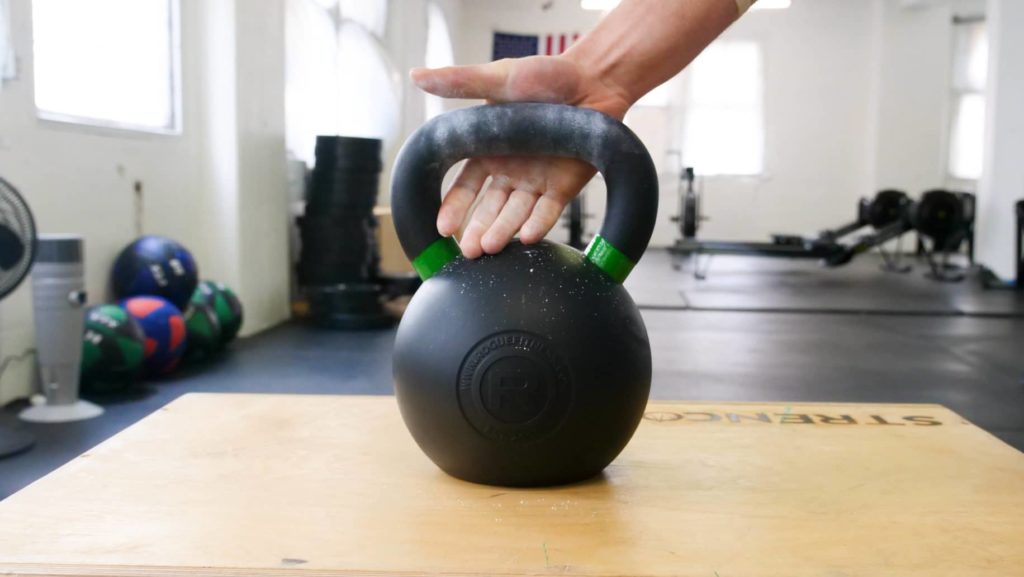 With Chalk
I was a big fan of how this kettlebell felt with chalk. The standard Rogue Fitness Kettlebell performed well under this circumstance, and I thought this bell was very similar in how it felt. The powder coat allows you to really get a grasp on the bell, especially in swinging movements. This is always a nice feature because some kettlebells handles don't actually mesh well with chalk, so it's comforting finding a kettlebell that has its grip improve.
Who Could Benefit
I mention this in the video, but kettlebells can benefit every type of strength athlete. They're great for conditioning and functional fitness style workouts, along with being useful progressive tools for teaching compound movements like the deadlift and squat.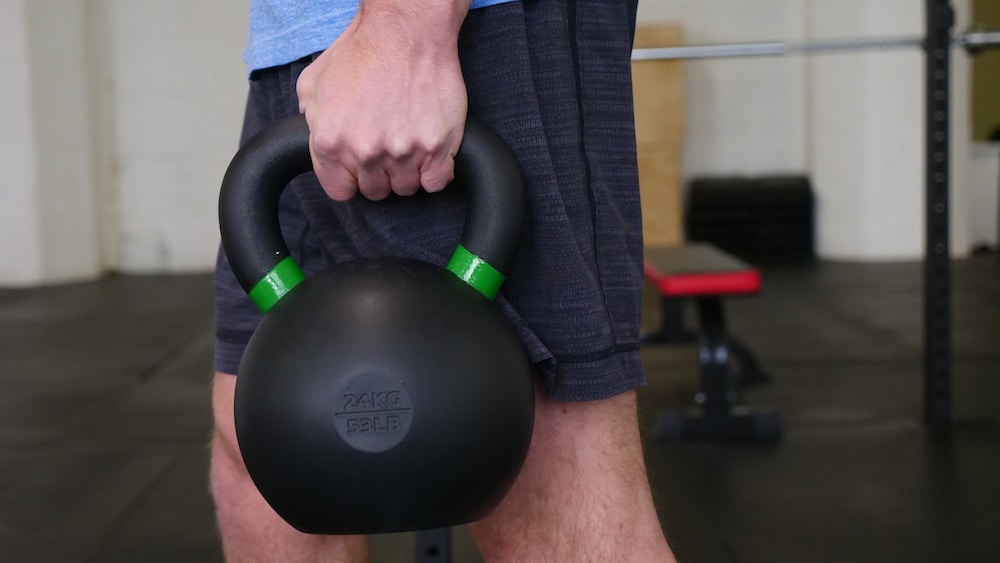 Although, I think this kettlebell specifically will benefit two types of people. First, the folks who own their own home or garage gym. I like this rubber coating and the single casting of the bell. In my opinion, these two factors are big deals. This demographic of consumer is going to want something that lasts and is durable for their money, and both of those characteristics suggest a long life span for this bell.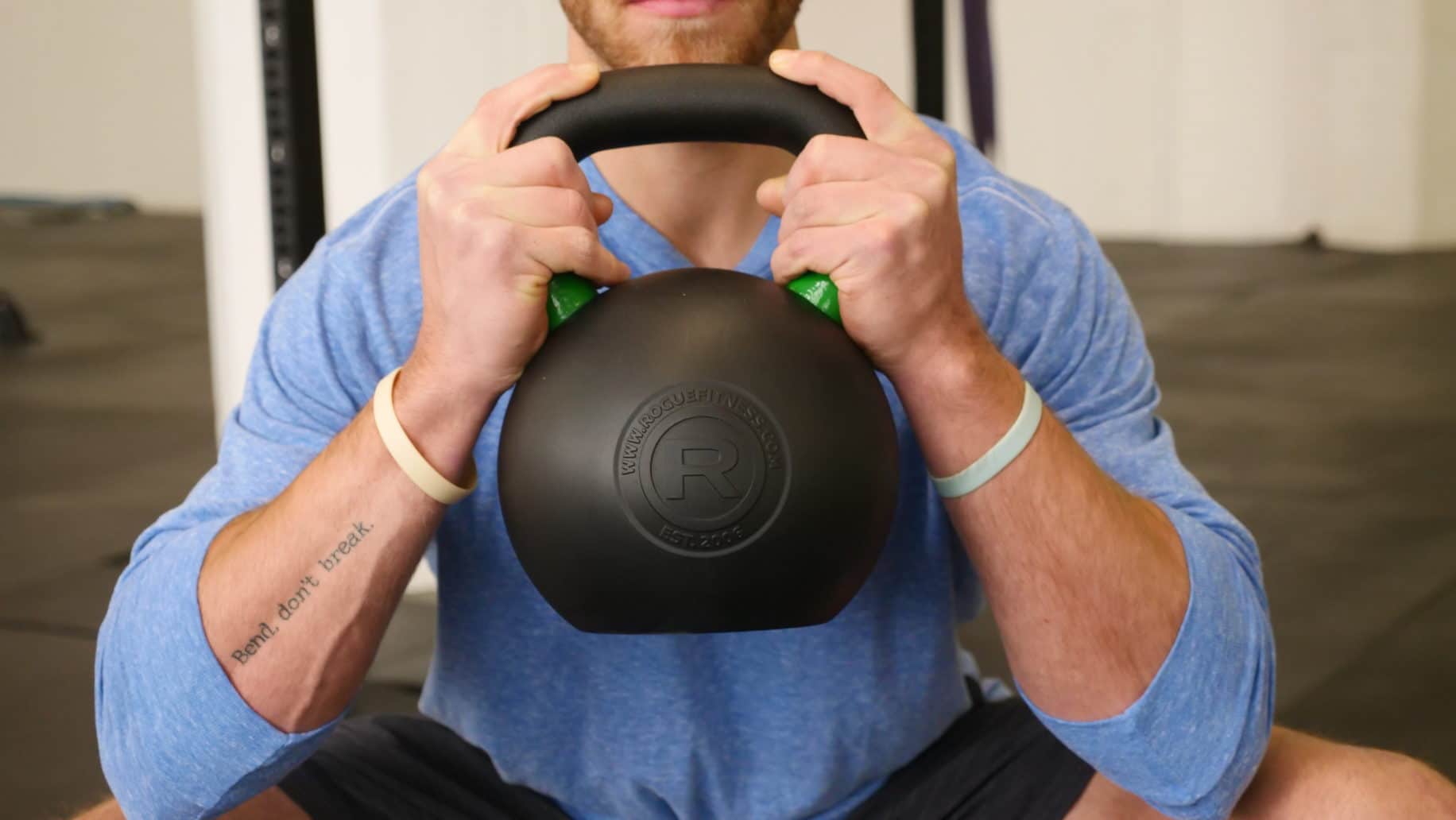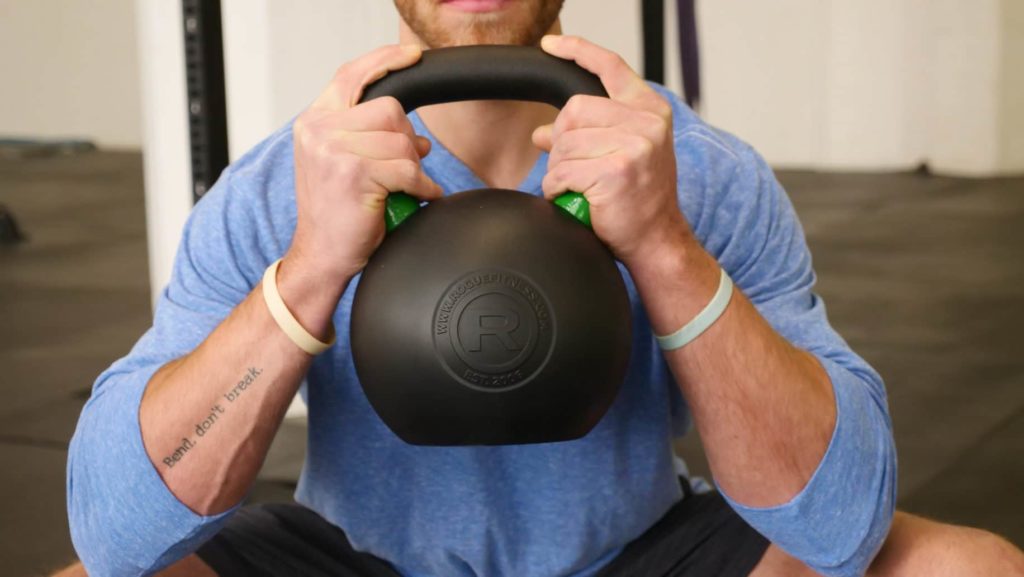 The second demographic that could benefit from this kettlebell is gym owners. This kettlebell is slightly more expensive than others on the market, so it may not be the best to buy in mass quantities, but I really like the rubber coating in the scenario of the less-experienced individual using it. A rubber coated bell will take impact and dropping a bit better than a standard iron kettlebell, so it could be beneficial for coaching newer lifters.
| | |
| --- | --- |
| Benefit to Whom | Rationale |
| Garage Gym Owner | Durable construction |
| Home & Public Gym Owner | Safe to drop and durable construction |
Durability
We didn't see any immediate durability issues with this kettlebell, and I would feel confident saying that it's going to last. It's single cast iron, which is going to make it more durable that other options that use plugs, metals, or other types of iron all combined into one kettlebell. In addition, the rubber coating will help protect from chips you could experience from setting or dropping the bell on harder surfaces.
In addition to the single-run iron ore, I like the powder coat finish that covers the handle. It's a little more tough than smooth kettlebell handles, and to me that's a good sign for long-term grip longevity. The powder coat will be a little more resilient to smoothing out and any forms of premature rust.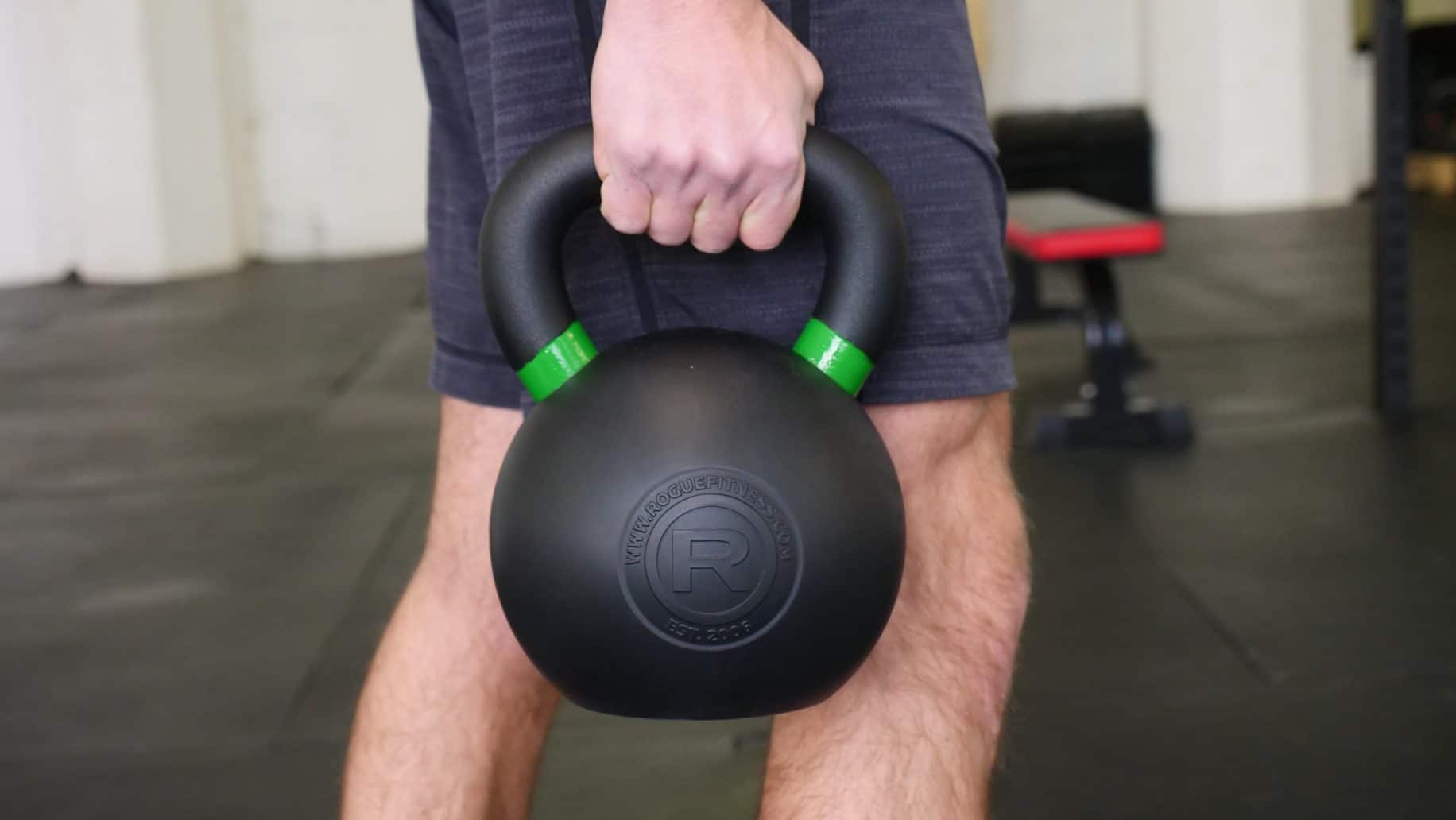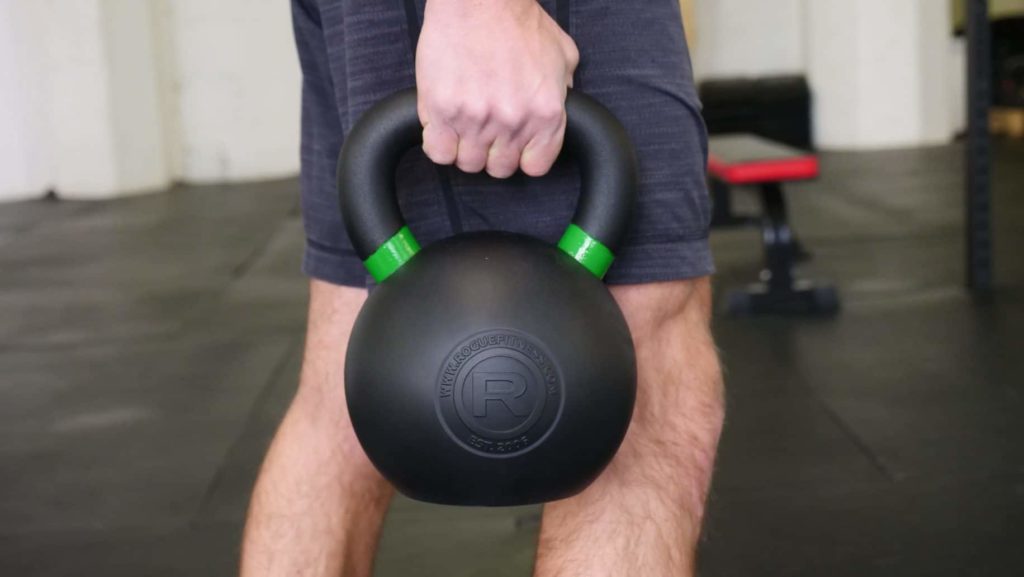 Price
Possibly the biggest potential downside to this kettlebell is its price. The price of this kettlebell comes in at $108.00 for a 24kg model, which is on the pricier end of kettlebells for this weight. If price is your main concern, then you could definitely shop around for a cheaper option. Conversely, if price doesn't bother you, then I think this kettlebell could be a good pick. The rubber coating will provide additional durability, so you shouldn't have to issues with longevity for your money.
Final Word
All in all, if you invest in the Rogue Fitness Rubber Coated Kettlebell, I think you'll be happy with your purchase. This kettlebell has multiple things going for it, which include its construction, versatility, and durability. The single-run iron ore and rubber coat protects this kettlebell's lifespan when compared to others on the market, and that's big for me. The only real downfall to this kettlebell is the slightly more expensive price.
If you're in need of a long-lasting kettlebell, then I confident recommending you to look into the Rogue Fitness Rubber Coated Kettlebell (Rogue Fitness).