One of the most overlooked, yet incredibly important pieces of equipment in every home gym are the floor mats. Most home gyms have floor mats to protect the floor from weight and equipment. On top of protecting floors, gym floor mats are also great because they often facilitate movement slightly better due to their reactive and supportive construction.
Whether you're equipping your home gym or a small public facing space, it's important to find the perfect gym floor mats that match your needs. In this article, we cover some of the market's top home gym floor mats and assess who they'd be best for.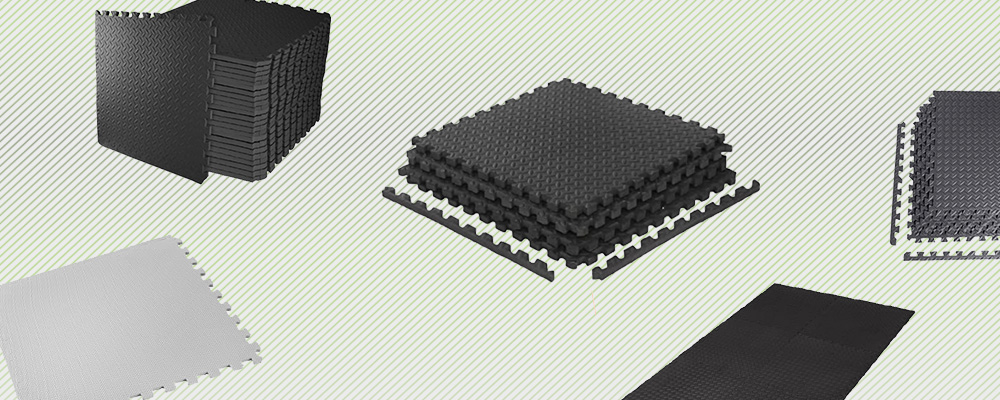 Easiest to Clean
Easy to Clean and Assemble
Pros
These EVA foam floor tiles are waterproof, making them easy to wipe down after a sweaty workout.
The tiles reduce shock and noise from clanging weights.
Each order comes with a remarkable twelve pieces.
The product is available in black or grey (or both for a more contrasting look).
Cons
At under half an inch thick, these are on the thinner side.
Best Phthalate-Free
No Questionable Components
Pros
The foam is free from phthalates, chemicals used to make plastics more flexible and durable, though they may not be beneficial for health. 
The product is made from durable and high-density EVA foam, which is great for absorbing shock.
These tiles have a pattern that helps to prevent skidding even when sweaty.
Each order comes with six square tiles and 12 border end pieces.
Cons
Some find the foam to create static electricity.
The pieces may stretch over time, affecting the flatness.
Best Overall
Easy to Lay
Pros
Interlocking sides make this flooring easy to lay
Lightweight and shock absorbant
Ample square footage is great for a variety of uses
Cons
Not ideal for super heavy weight
Best for Apartments
Durable, High Density
Pros
Lightweight and accommodating for apartments
Interlocking sides provide security
Decently durable high density foam construction
Cons
Not ideal for serious weight training
Best for Larger Gyms
Good Packaging Options
Pros
Durable high density foam construction
Well-cut edges and interlocking sides for security
Good package options for precise amount of square feet
Cons
May not be the best for serious lifters and heavy weight
Best for Small Gyms
Won't Slip
Pros
Easy to use interlocking sides
Durable high-density foam construction
Rigid surface for additional grip
Cons
Not ideal for heavy weight
Limited mats per package
Also Consider
Easy to Transport
Pros
Fairly durable high density foam construction
Easy to place interlocking sides
Lightweight and easy to transport
Cons
Not ideal for heavy barbell training
How We Picked
Home gym floor mats are not all created equal and that's something we keep in mind when assessing different products. The mats in this article are designed to support home gyms and lighter equipment use, so if you need heavy duty gym floor mats (stable mats), then it might be wise to look elsewhere.
To help us decide on our favorite picks we considered a couple key characteristics when training at home. First, can the mats support different types of equipment? If so, what types of equipment? Second, how easy is the flooring to install and does it look aesthetic?
Durability and Best Uses
Great home gym floor mats should be able to protect floors, support workout needs, and also be durable. This is why we considered home gym floor mats that were at least .5″ thick and made with high density foam. Construction is key for durability and longevity and high density foam is a good bet for ensuring both.
Floor mats made with high density foam are supportive, but are also fairly great at resisting drops with lighter weights, so they do a decent job at protecting the floor. To provide context, high density foal is also a material that is widely used in shoes' midsoles.
By understanding the construction of the home gym floor mat in question, a better selection can be made based on home gym needs. Thicker gym floor mats will be better for supporting heavier dumbbells, kettlebells, equipment, etc.
Ease of Use
Another aspect to consider when looking for home gym floor mats is their ease of use, as this can be huge for those that want flooring that installs easily and also looks good. Lopsided gym floors, especially in homes, don't exactly look great.
For this aspect, we assessed each home gym floor mat's outer construction and analyzed how they interlocked with one another to see if they remain stable and secure. Gym floor mats that interlock well together will look more aesthetic, as they'll lay flat and not have air bubbles or bumps.
Wrapping Up
Home gym floor mats come in all shapes and sizes. The most important aspect to consider when shopping around for new home gym floor mats is to consider the equipment you have and then compare that to a mat's construction.
Heavier weights and equipment will require more stable gym floor mats and the mats in this article will not be the choice for this scenario.