Arm training, specifically biceps training, may find itself taking a backseat to main movements like squats, presses, and pulls (rightfully so). That said, the barbell curl and other bicep specific movements can and do serve a purpose for strength, power, fitness, and general training (not to mention that a well developed set of arms LOOKS great too).
In this barbell curl exercise guide, we'll cover multiple topics including:
Barbell Curl Form and Technique
Benefits of the Barbell Curl
Muscles Worked by the Barbell Curl
Who Should Do the Barbell Curl?
Barbell Curl Sets, Reps, and Programming Recommendations
Barbell Curl Variations and Alternatives
and more…
How to Perform the Barbell Curl: Step-By-Step Guide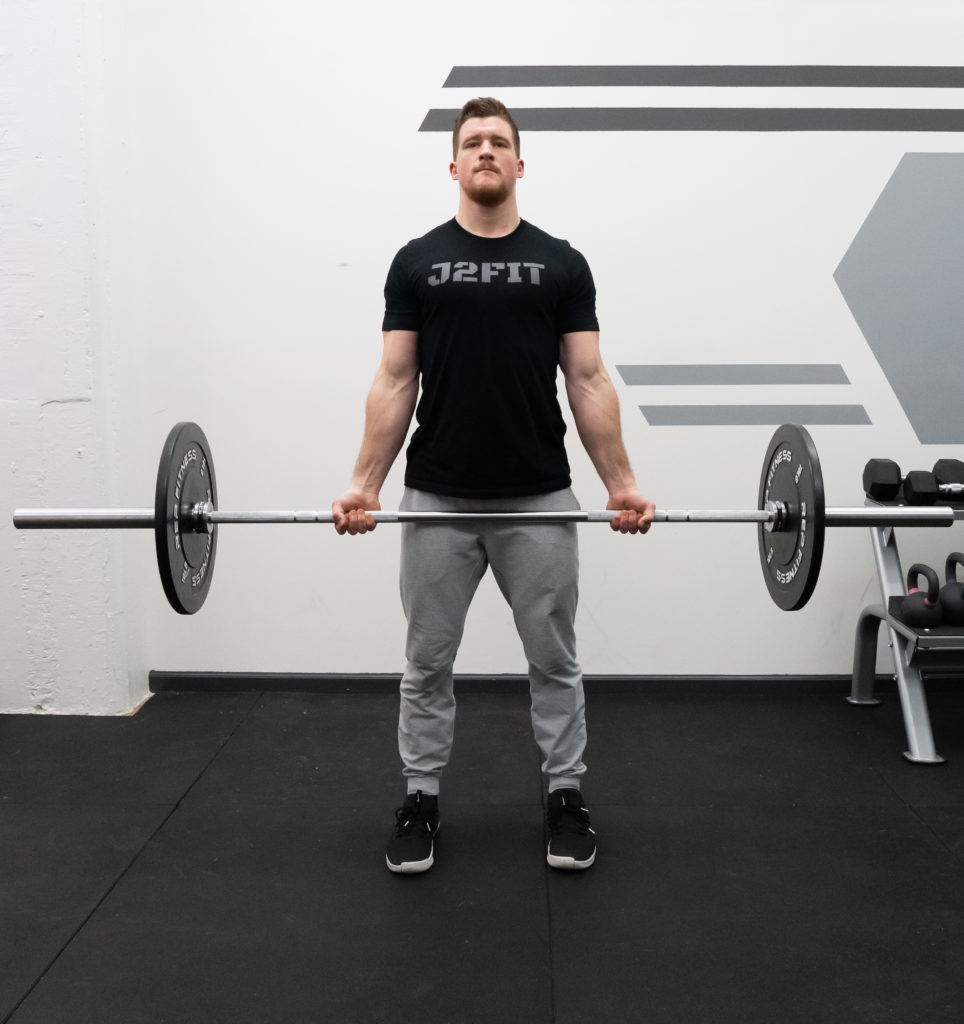 Stand erect with the shoulder blades down the back, chest up, and shoulder pulled back.
The grip should be slightly wider than hip width (can vary), with the palms facing away from the body.
Coach's Tip: A lot of lifters will let the shoulder get pulled forward, almost hunching forward. Be sure to pull the chest up high and keep the shoulders back to expose the full bicep to the load.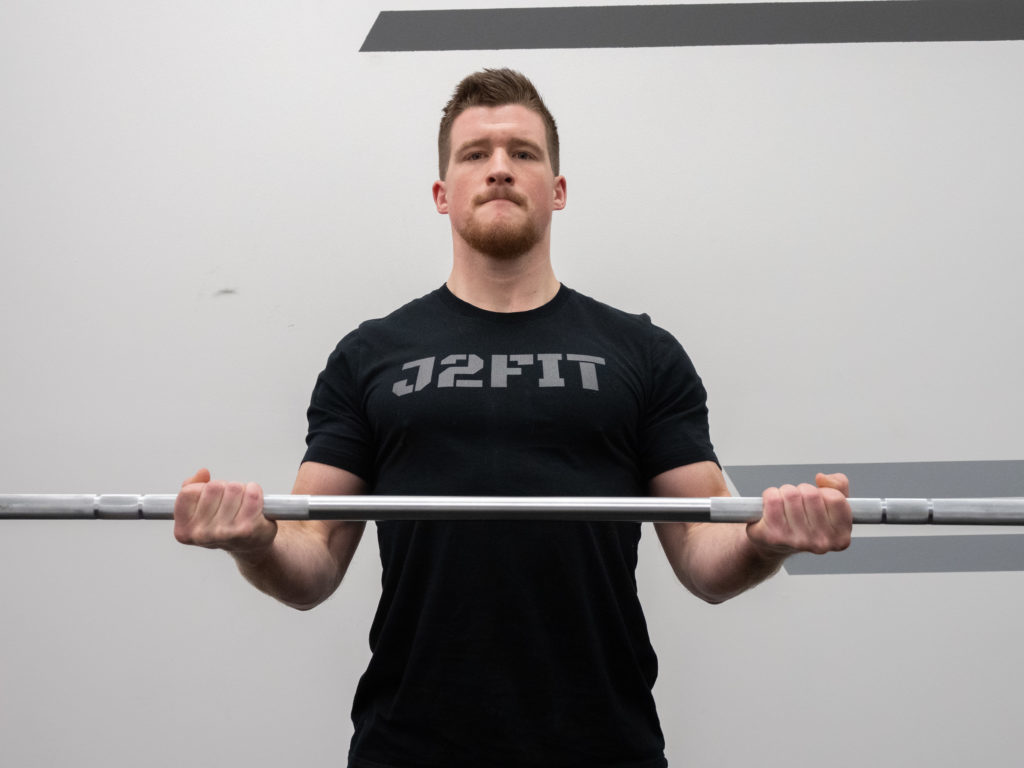 This is something so few barbell curlers do, and often ends up with the elbows flaring out, the chest collapsing, and the biceps lacking width and fullness.
This will allow the hand to stay supinated, and minimize the elbows flaring out which then turns the movement into a more shoulder involved exercise (not what we want).
Coach's Tip: Squeeze the pinkies on the barbell, like you are going to snap the bar.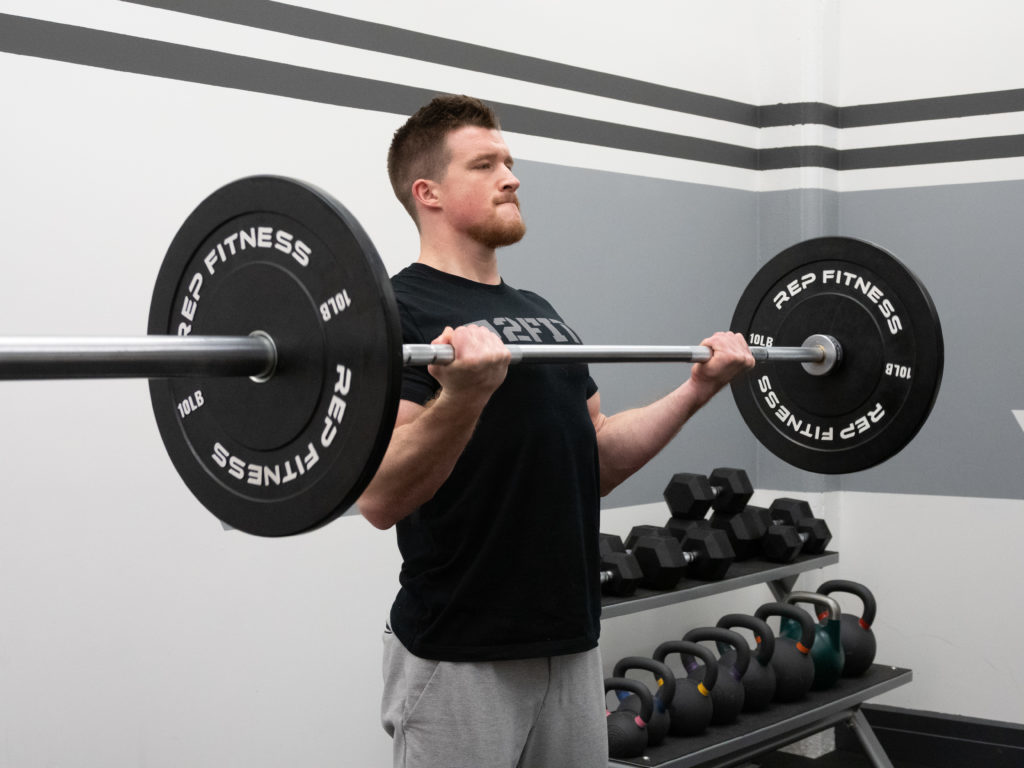 3.
Curl Up and Slightly Out
Instead of dragging the bar up the body (which is called a drag curl, which can also be effective), think about keeping the elbows slightly in front of the body at all times (from the side view the elbows should be slightly in front of the shoulders, especially since the shoulders are pulled back).
Continue to curl up, focusing on not letting the shoulders come forwards. You may even have a slightly lean back to increase the range of motion the barbell must travel.
Coach's Tip: Chest up, shoulders back, and elbows slightly forward.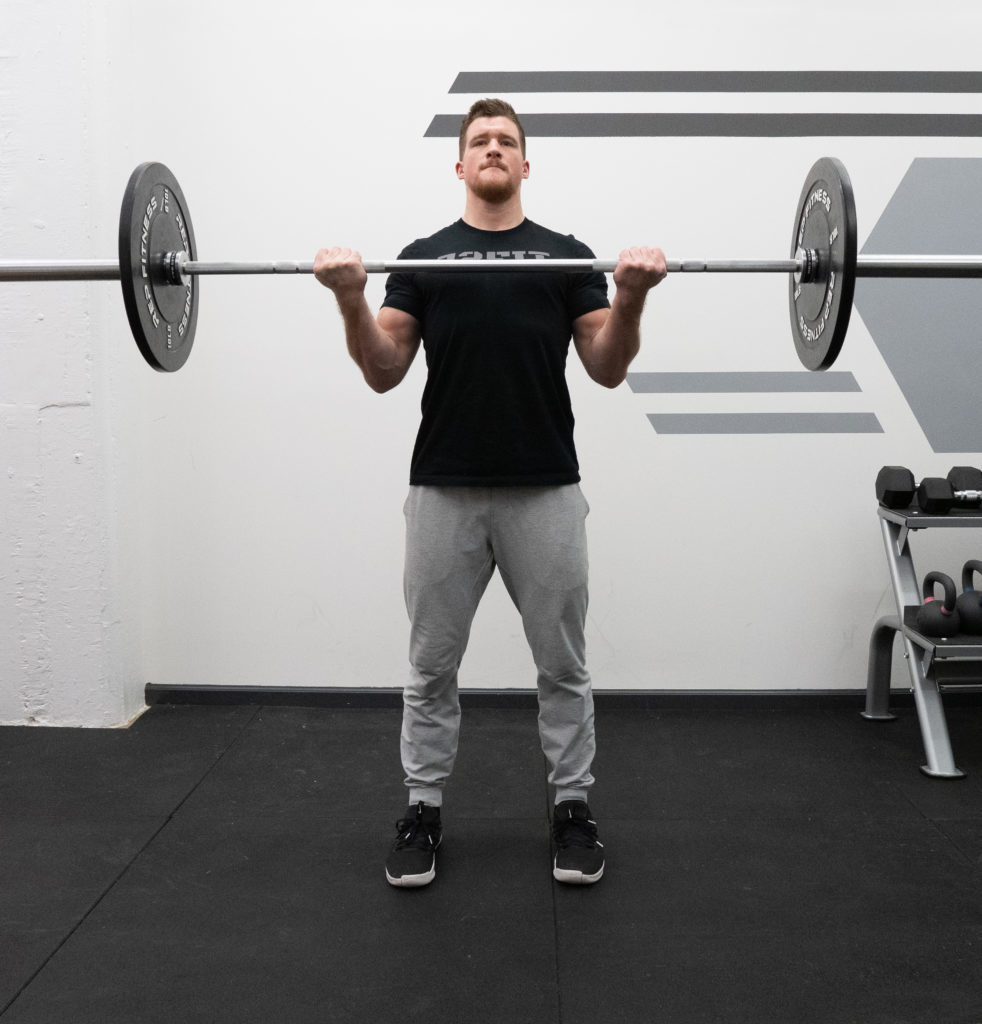 Bring the barbell to about chest level, because if you go too high you will notice the biceps will relax and the shoulders will contract. Keep tension on the biceps at all times.
If you curl too high up (to your chin or face) you will relax the biceps and employ the anterior shoulder. This is NOT what we want, so stop just before that point.
Coach's Tip: Flex your biceps at the top, never relax.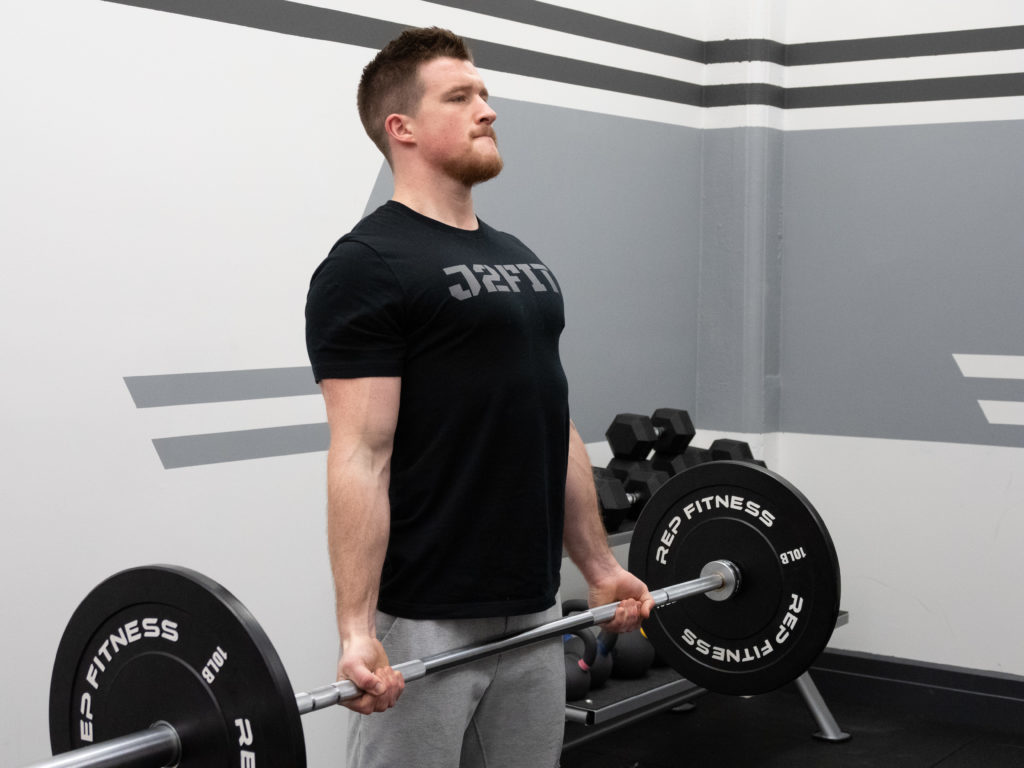 5.
Control the Eccentric (and go all the way down)!
Control the load in the same down and out patterning.
At the bottom of the curl, KEEP tension. A lot of lifters will relax, start squirming, and lose tension. Time under tension is a key aspect of build serious pipes.
Coach's Tip: Think about having you hands finish slightly in front of the body, like you are giving inconspicuous low hanging high fives.
4 Benefits of the Barbell Curl
Below are four (4) benefits of the barbell curl that strength, power, and fitness athletes can benefit from.
1. Improved Grip Strength
The barbell curl can be done to help improve grip and arm strength, both of which can impact pulling strength and performance in movie lines like deadlifts, carries, hanging and gymnastic work, and even weightlifting. While the forearms are a secondary muscle group used to support the barbell curl, the increase wrist strength and stability can be transferred to other movements as well.
2. Injury Prevention (to the elbows/arms)
The biceps are responsible for elbow flexion as well as supporting the grip muscles in pulls and carries. Weak and underdeveloped biceps can cause grip issues, muscle tears and strain to the biceps, and decrease performance in high loading or high-rep based workouts. Training the biceps can be done using pull ups, rows, etc; however there is a time and place for arm specific training as well.
3. Increased Upper Body Mass
The barbell curl, along with presses, rows, and dips for example, are all effective accessory exercises to increase general strength and muscle mass for lifters who are (1) looking to gain lean muscle mass, such as to move up a weight class or aesthetic purposes, (2) improve general development in lifters who lack upper body strength, (3) improve grip and/or joint health by improving development of smaller muscles groups like the biceps.
4. Bigger Biceps (nuff said…)
While this may seem pretty self explanatory, the barbell curl is one of, if not the most foundational arm training exercise out there (ranking up there with hammer curls and chin ups) to build serious biceps and forearms. Bigger biceps not only have a performance enhancing aspect to them, but some lifters can actually draw a little extra strength from having slabs or beef hanging from their shoulder sockets.
Muscles Worked – Barbell Curl
The barbell curl is a single-joint accessory/hypertrophy exercise that can be (when done correctly, see above) highly effective at targeting the arms, specifically:
Who Should Perform Barbell Curls?
The barbell curl can help increase overall arm and grip strength and upper body mass for strength, power and fitness athletes. In addition, the barbell curl can be done to offer added injury resilience and performance training for lifters who may be susceptible to bicep and elbow injuries.
Strength and Power Athletes
Strength and power athletes can use the barbell curl to improve arm and grip strength, enhance eccentric loading potentials (injury prevention from strains and tears) during heavy deadlift and pulling training, and increase overall size and development of the biceps, a key assistance muscle to the back during many pulling movements (rows, pull/chin ups, pulls, rope pulls, carries, etc).
Powerlifters: Like strongman athletes, strong biceps can impact pulling strength and performance, especially helping to resist bicep strains and tears.
Strongman Athletes: Strong and health biceps can play a big role in injury prevention and grip strength during heavy pulls, farmers carries, truck poles, and more.
Olympic Weightlifters: While arm pulling isn't something we want in most lifts, stronger arms in general can increase pulling and grip strength. Having strong arms can also help during the pull under phase as well.
General and Functional Fitness
Increased arm strength and muscle can have an impact on overall upper body strength and size, grip strength, and improved body confidence (believe it or not, increased arm size and strength has been a huge goal and reward for many of my clients). That said, it can also help lifters who may struggle doing more "functional" movements like deadlifts and carries as it can improve grip and arm strength and resistance to fatigue.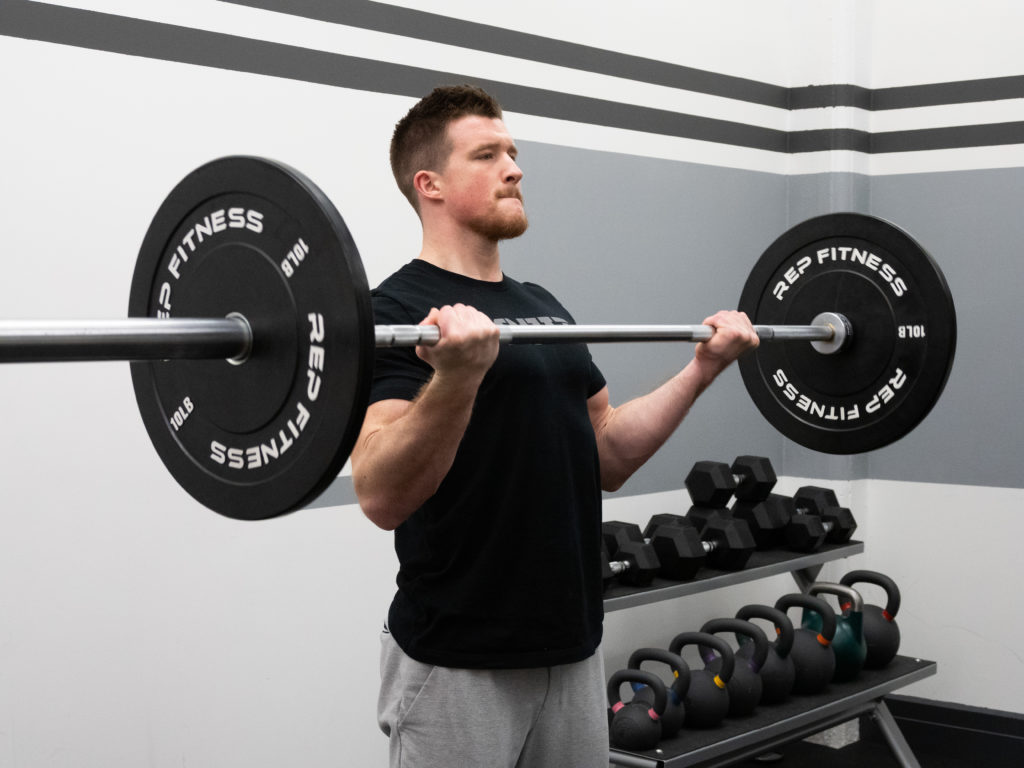 Barbell Curl Sets, Reps, and Programming Recommendations
Below are two (2) primary training goals and programming recommendations when programming barbell curls into training programs.
Strength – Reps and Sets
Below are recommendations on how to program barbell curls to develop arm strength.
4-6 sets of 3-8 repetitions
While there are no exact guidelines as how to strengthen the biceps, using an array of heavier curls, chin ups, and bicep exercises can increase strength.
Hypertrophy – Reps and Sets
Below are recommendations on how to program and train for biceps hypertrophy using the barbell curl.
5-10 sets of 8-15 repetitions
Once again, there is a wide array of loading, sets, and rep schemes available to coaches to train the biceps for size and strength. The key here is to focus on the muscle contractions and "pump", rather than just mindlessly moving weights. Additionally, the loads themselves do not need to be heavy to have an effect.
Barbell Curl Variations
Below are three (3) barbell curl variations that can be done to improve strength, size, and overall muscle growth
1. Eccentric Barbell Curls
The eccentric curl is a way to overload the biceps and create massive amounts of eccentric damage to the tissues. Eccentric training and the eccentric aspect of the muscle contraction (lengthening under load) has been shown to result in high amounts of DOMs and muscle growth. To do this, curl the weight up (you can have a partner help you) and slowly lower the load under control, and on a tempo (such as 3-5 seconds down).
2. Tempo Barbell Curls
The tempo curl is similar to the eccentric barbell curl, however with tempo can also involved a controlled concentric phase as well. For example while keeping the 3-5 eccentric lowering of the barbell, the lifter could curl the barbell up at a tempo of 5 seconds, greatly increasing overall time under tension (which has also been shown to increase muscle growth).
3. Seated Barbell Curls
The seated curl is a partial range of motion barbell curl, as it often omits that bottom segment of the range of motion. This exerciser can be effective at increasing the loading on the bicep as well as isolating the upper aspects of the biceps.
Barbell Curl Alternatives
Below are three (3) barbell curl alternatives that can be done to vary programming, challenge lifters, and more.
1. Hammer Curl
The hammer curl is a curl variation that targets the biceps and the forearms in a slightly different angle, adding another dimension to your arm training and development. Often, this is done with dumbbells, so that the wrists can be turned curled in a neutral position.
2. Preacher Curl
The preacher curl is a bicep curl variation that can be done with the barbell, dumbbells, EZ bar, or machine (just to name a few). This exercise has the lifter place the arm at an angle, with the arm and shoulder supported on a pad (to minimize movement), to help isolate the bicep completely.
3. ChinuUp
The chin-up is still one of the best exercise to build overall biceps strength and size. If a lifter is lacking size and strength of the biceps and cannot do chin ups (for volume), there's a good chance that's exactly why they don't have large and strong arms…so start here.
Let's Talk Arm Training!
Here are some of our top biceps and triceps articles!
Featured Image: Mike Dewar