There are more arm workouts out there than you could possibly know what to do with. Workouts that swear up and down that you'll move up a shirt size before you know it, or that you'll soon have biceps that would make Arnold Schwarzenegger blush.
Biceps workouts are all the rage, but many arm training plans rely on gimmicks to get the job done: Excessive supersets, ultra-high repetitions, or awkward movements meant to "unlock" your muscle-building potential.
When it comes to gaining muscle and getting stronger, particularly in your arms, simple and effective are synonymous. Dumbbells get the job done, no muss and no fuss. The right dumbbell biceps workout is all you need to load up those guns, and luckily, the best workout you can do for muscle growth is right at your fingertips.
Best Biceps Workout With Dumbbells
Don't get it twisted. You can train your biceps adequately — and in most cases, effectively — with just about any type of equipment. Certain tools tend to get the job done a bit better than others, and dumbbells are a prime example when it comes to the biceps.
The Workout
Over the course of three exercises — eight sets in total — you can seal the deal on bigger, stronger biceps. This workout covers every aspect of proper arm training. You'll need an assortment of different dumbbells (or one adjustable pair), and you can expect this regimen to take 15 to 20 minutes to complete.
How It Works
You don't need to do six different biceps curl variations to thoroughly train your arms. Three movements in total, one of which you'll perform as a superset, is more than enough to torch every single fiber in your biceps and give you the pump of your life to boot.
You'll start off with standing dumbbell hammer curls; go heavy and for low repetitions. Research shows that you're strongest and have the most mental fortitude at the start of your workouts, (1) so you should kickstart any session with a hard-and-heavy exercise. Heavy hammers will engage both your biceps brachii and brachialis.
Afterward, hit up a gnarly superset; incline dumbbell curls and spider curls. Each of these movements are meant to emphasize a different head of your biceps. Some literature shows that you should curl with your arm behind your torso if you want to build up the long head (which contributes to your biceps peak). (2)(3) Don't underestimate this pairing.
You'll finish off your session with a somewhat niche movement — the Zottman curl. With your biceps operating under substantial fatigue and thus unable to produce significant force, your best bet is to cap off your session with an exercise that gets your forearm muscles in the game as well.
How to Modify
This workout may be pretty cut and dry, but you may find yourself in a position where you need to adjust things on the fly. Here are a couple of different ways you can modify this dumbbell biceps workout and keep the gain train rolling.
To Save Time: Add the Zottman curls to the previous superset and perform all three exercises as a circuit.
For More Muscle: Add a drop set at the end of the hammer curls and the Zottman curls.
If You Don't Have a Bench: You can stand about a foot away from a wall and lean your upper back against it. Your arms will hang behind your torso.
How to Progress
Progressing your biceps training isn't as straightforward as adding another five pounds every week. Your biceps are small muscles, relatively speaking, and all curls are isolation movements. This means you have to get creative about progressively overloading them.
Follow this hierarchy to drive continuous progress — if you can't hit one of these marks on a weekly basis, move down the list.
Try to add weight to at least one exercise on a weekly basis.
Add reps to one or more sets each week; once you're more than five reps above your initial count, it's time to add weight.
Perform an additional set each week on one exercise.
Reduce your rest between sets; start with roughly 90 seconds of rest and trim five to 10 seconds each week.
Biceps Training Tips
Biceps training may appear simplistic on the surface — you're just bending your elbow, after all — but there are plenty of different ways to elevate your gains on a workout-to-workout basis. Here are a few actionable tips to try out the next time you pick up a pair of dumbbells.
Go (a Bit) Heavier Than You Think
Biceps curls are often considered "pump work." Many gymgoers, even those with years of weight room experience under their belts, foolishly measure the efficacy of their arm workouts by how pumped they are when they leave the gym.
A skin-tearing pump may feel great, but it isn't necessarily the marker of a productive training session. In fairness, research does show that lifting lighter weights can produce muscular hypertrophy, particularly if you ratchet up your overall training volume. (4)
However, anatomy-focused literature actually reveals that the biceps brachii has a slight majority of type-II, fast-twitch muscle fibers. (5) These fibers are well attuned to muscle growth, but are — and here's the important part — better suited for heavier, more explosive contractions.
All that to say, don't be afraid to hit your biceps hard and heavy and eschew the pump in the process, particularly towards the beginning of your workout. Sets of as few as five repetitions with challenging weights should produce substantial biceps gains.
Hit Both Heads
Your biceps muscle has two distinct heads (hence, bi-ceps) that originate from different points on your shoulder blade and attach all the way down onto your forearm. This makes them a biarticular muscle; the tissue articulates, or crosses, more than one joint.
While that may be fascinating for anatomy students, you do have a practical takeaway here; you can put a little more stress on one head over another by adjusting the position or angle of the joints that the biceps cross. In particular, your shoulder.
Your biceps training should include a mix of movements that place your arm both behind and in front of your torso. This creates flexion and extension at the shoulder, which has been shown in the research to emphasize certain regions of your biceps over others. (2)(3)
Emphasize the Eccentric
All resistance training exercises have two distinct components. There's the concentric, or lifting, phase, in which you contract your muscles against gravity, and the eccentric phase, during which you resist the forces of gravity and lengthen the tissues in question.
You need both to create optimal muscle growth. In fact, some emergent data makes a strong case for the importance of mechanical tension at long muscle lengths being the de-facto ingredient for muscular hypertrophy. (6)
So, when you perform biceps curls, really take your time with the lowering phase — resist the weight for two to three full seconds on each repetition. In some cases, you may even want to pause at the bottom on your last few reps to really let the dumbbells stretch out your biceps. Try that out on exercises like the incline dumbbell curl, which take your biceps through their full range of motion by design.
Concentrate and Focus
Biceps training may not be as "hard" as pulling on a heavy deadlift or pushing out of the bottom of a 1-rep-max back squat, but there are gains to be mined from paying mind to your curls. "Attentional focus" strategies, which is to say, simply focusing intently on the action you perform, have been shown to have a demonstrable impact on the efficacy of resistance training movements. (7)
Scientific jargon aside, this is just a fancy way of explaining that the mind-muscle connection has scientific merit. When you perform biceps exercises, take care and make each repetition count. Focus hard on contracting your arms, not just swinging the weights or nebulously working hard.
Benefits of Dumbbells for Muscle Growth
Dumbbells rank second to none as resistance training tools, perhaps only falling behind the barbell in terms of accessibility, versatility, and overall value. That said, you can't get everything done with the barbell.
Dumbbells open up a wide array of possibilities for exercise selection and stimulation. For building your biceps, they're basically the ideal implement.
They Help You Find Your Weaknesses
Dumbbells enable you to train unilaterally — each limb works with its own resistance. Your dominant arm can't pick up the slack left behind by your non-dominant side when you curl a pair of dumbbells. If a discrepancy in strength exists, you may not notice it if you only do barbell curls.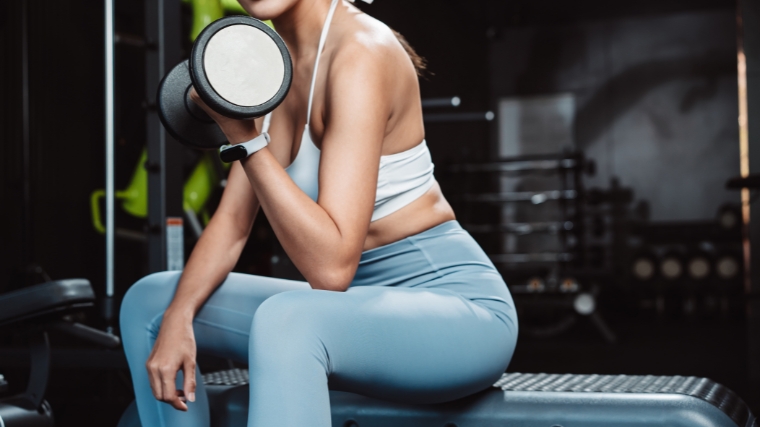 This allows you to identify and attack any side-to-side issues before they become serious. You can maintain balanced strength in both your arms or, if you're focused on your physique, help even out your biceps development by using dumbbells.
More Exercise Options
Certain muscles are simply trained better with dumbbells than with other pieces of equipment, such as a barbell. There isn't necessarily any rhyme or reason on a physiological level; your exercise selections are mostly logistical.
If optimal biceps training involves putting your arm behind your torso, you're out of luck if all you have is a barbell, since your body would get in the way of the curling motion. Dumbbells give you more freedom and creativity with your setup, allowing you to utilize a wide array of exercises to make gains.
More Range of Motion
Similarly, you can generally access more overall range of motion with dumbbells. The barbell can't pass through your torso; exercise machines have a fixed path of movement that may not suit your body.
Dumbbells can go wherever you need them to, for the most part. This means you won't leave gains on the table because you can't fully flex and extend your elbow.
Anatomy of the Biceps
The elbow may be a simplistic hinge joint, but your biceps are surprisingly nuanced. Your biceps brachii sits on the front of your upper arm and contributes to (but is not the sole engine responsible for) bending your arm.
The tissue originates on your scapula and travels all the way down to your forearm. As such, the angle of your shoulder will impact how much leverage your biceps have. Your biceps insert onto the radius bone, one of two major bones in your forearm.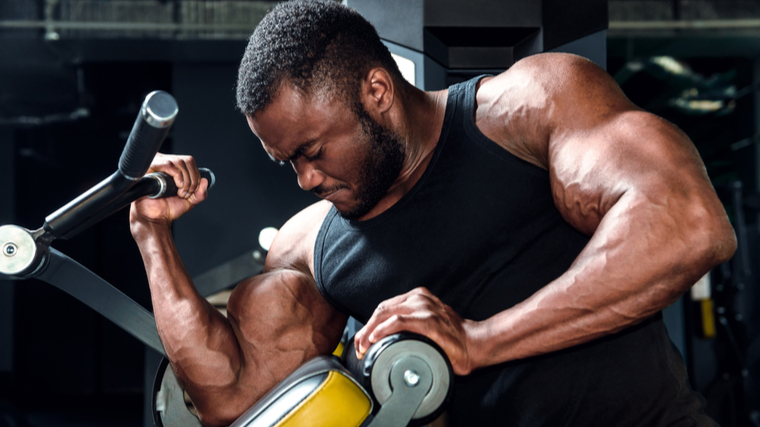 This bone twists to turn your wrist, affecting biceps activation in the process. You'll notice this phenomenon when you perform dumbbell curls, but you can test it for yourself at home.
Hold your arm at your side with your elbow bent and your wrist in a neutral position, palm facing your midline. Then, simply turn your wrist so your palm faces the ceiling. You'll notice your biceps contract. This is exactly why an exercise like the barbell curl, which forces your wrist into a supinated position, crushes your biceps more than a palms-down curl might.
Dumbbells for Smart Gains
The humble dumbbell is timeless. It never fails out of fashion or falters in its purpose. You can find dumbbells in just about any weight room out there, which also happens to mean you have no excuse to slack off on your arm training.
Big biceps drop jaws and turn heads. Sure, other muscles matter, but a good old-fashioned biceps workout hits the spot like nothing else. Try out this workout for yourself and enjoy the gains that follow.
References
Simão, R., de Salles, B. F., Figueiredo, T., Dias, I., & Willardson, J. M. (2012). Exercise order in resistance training. Sports medicine (Auckland, N.Z.), 42(3), 251–265.
Brown, J. M., Solomon, C., & Paton, M. (1993). Further evidence of functional differentiation within biceps brachii. Electromyography and clinical neurophysiology, 33(5), 301–309.
Oliveira, L. F., Matta, T. T., Alves, D. S., Garcia, M. A., & Vieira, T. M. (2009). Effect of the shoulder position on the biceps brachii emg in different dumbbell curls. Journal of sports science & medicine, 8(1), 24–29.
Schoenfeld, B. J., Grgic, J., Ogborn, D., & Krieger, J. W. (2017). Strength and Hypertrophy Adaptations Between Low- vs. High-Load Resistance Training: A Systematic Review and Meta-analysis. Journal of strength and conditioning research, 31(12), 3508–3523.
Klein, C. S., Marsh, G. D., Petrella, R. J., & Rice, C. L. (2003). Muscle fiber number in the biceps brachii muscle of young and old men. Muscle & nerve, 28(1), 62–68.
Pedrosa, G. F., Lima, F. V., Schoenfeld, B. J., Lacerda, L. T., Simões, M. G., Pereira, M. R., Diniz, R. C. R., & Chagas, M. H. (2022). Partial range of motion training elicits favorable improvements in muscular adaptations when carried out at long muscle lengths. European journal of sport science, 22(8), 1250–1260.
Schoenfeld, B. J., Vigotsky, A., Contreras, B., Golden, S., Alto, A., Larson, R., Winkelman, N., & Paoli, A. (2018). Differential effects of attentional focus strategies during long-term resistance training. European journal of sport science, 18(5), 705–712.
Featured Image: Prostock-studio / Shutterstock