Out of all possible pieces of gym equipment, dumbbells are some of the most versatile, compact, and affordable. You can buy individual pairs of dumbbells, as well as sets of dumbbells. Buying a full set can be a convenient and less expensive way to build out your home gym, as many brands sell packages of dumbbells at a lower rate than it would cost to buy an equal number of pairs individually.
With such a wide variety of dumbbell sets out there (hex-shaped, round, rubber-coated, adjustable, etc.), it can be hard to decide which set is right for you. If you are on the hunt for a great set of dumbbells, but have no idea where to start, we've got you covered. We've scoured the market for some of the best sets for homes, value, and even heavy lifters. For the full breakdown of each of our picks, follow along below.
Best Dumbbell Sets
Best Dumbbell Set Overall
The best dumbbell set should be affordable yet still made from high-quality materials. It's also important to have a wide selection of weight increments and comfortable handles, so you actually enjoy using them. This dumbbell set from Living Fit covers all these factors and more.
Living Fit Dumbbell Set
Living Fit made these dumbbells for both comfort and function with ergonomic, moderately knurled handles for a better feel in hand than you would have with non-textured dumbbells. The rubber coating on the bells helps to protect your floor and improve the longevity of the product. Living Fit guarantees these dumbbells to be within three percent of their advertised weight, so you know you'll be lifting with accuracy. The hexagonal shape can help prevent rolling and even give an advantage in certain exercises like the hex press.
These hex-shaped dumbbells from Living Fit are available in a variety of weight increments, each priced affordably. The dumbbells all come in pairs and increase in five pound increments. You'll have set options of five to 55 pounds, which costs around $1,099, or five to 75 pounds, which is around $2,279. If you opt for the complete set (from five pounds to 100 pounds) Living Fit charges around $3,599. They also offer only high weight sets that range from 55 pounds to 75 pounds for about $1,299, and 80 pounds to 100 pounds for about $1,549. Living Fit also boasts free shipping on their dumbbell sets for an added cost savings (on top of an already reasonable price).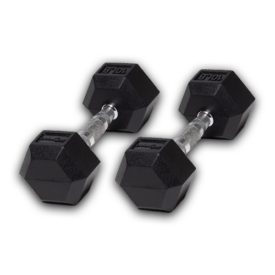 These hex dumbbells from Living Fit come with an etched, knurled, grip, and durable rubber cap to help you hold them and protect your floors. Available in weights from 5lb up to 100lb, they've got what you need to progress along your fitness journey.
Who Should Buy the Living Fit Dumbbell Set
Customers who want rubber-coated dumbbells will appreciate the durable rubber coating on these — and their floors will appreciate it too.
Anyone who prioritizes a comfortable and secure grip. The handles here are ergonomically shaped and feature knurling.
Athletes who could benefit from increased exercise selection and rolling prevention thanks to the hex shape of these bells.
Who Shouldn't Buy the Living Fit Dumbbell Set
Customers looking for round dumbbells will want to look elsewhere.
Anyone who is short on space may want to look for a pair of adjustable dumbbells instead of this set.
This pick would make just as great an addition to a garage gym as it would a commercial gym. Given the overall quality, budget-friendly price, and range of weight options, these sets take our top slot.
Best Dumbbell Set (Runner Up)
The NÜOBELL Adjustable Dumbbell Set is one of our favorites for its sleek form, easily adjustable plates, and wide weight range.
NÜOBELL Adjustable Dumbbell Set
This product definitely ranks high for its convenience. Sold in a set of two dumbbells that can adjust in five pound increments from five pounds up to 80 pounds, this adjustable dumbbell set is easy to store, and takes up very little space. The two dumbbells also come with portable cradles to secure them for storage or easy replacement during a workout. It should be noted that these dumbbells are made of steel and plastic, so there is a greater risk of damage compared to purely steel or rubber-coated dumbbells.
However, this product also comes with a two-year manufacturer warranty to help give you peace of mind in case anything happens to your dumbbells. But if minimal storage and convenience are top priorities, then this might be the best dumbbell set option for you.
SMRTFT NÜOBELL Adjustable Dumbbells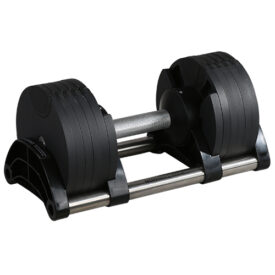 SMRTFT NÜOBELL Adjustable Dumbbells
This Swedish-designed "smart" dumbbell adjusts from 5 pounds up to 80 pounds — all you have to do is twist the handlebar. Its sleek, modern design will make a great addition to any home gym. 
Who Should Buy the NÜOBELL Adjustable Dumbbell Set
Customers who need convenient access to a wide range of weights will benefit from the five to 80 pound range using just two dumbbells.
Anyone who wants easy and minimal storage could find this pick the best on our list.
Customers who are apprehensive about damaging the product will find the included two-year warranty reassuring.
Who Shouldn't Buy the NÜOBELL Adjustable Dumbbell Set
Athletes who are looking for a more durable set of dumbbells that may be less prone to damage.
Customers who want a full set of dumbbells with separate dumbbells for weight increments probably won't like this adjustable product.
Anyone looking for a set of hex dumbbells should look elsewhere. The plates here are round.
Combining the ease of storage and convenient access to a wide range of weights, the NÜOBELL Adjustable Dumbbell Set could be the perfect fit for your home workout needs. Plus, they come at just $745 per set, which is less than many full sets of separate dumbbells.
Best Dumbbell Set for the Money
For those who are tight on finances and can only expend so much for a dumbbell set, this is the set for you. The wide range of weight sets available for the price here is a great value that puts this pick above the rest, in our opinion.
Living Fit Dumbbell Set
Finding a dumbbell set on a budget can be quite challenging, especially if you want a high quality set. Thankfully, Living Fit made a variety of sets in different weight ranges that are both well-made and affordable. They feature a durable rubber coating that surrounds the bells on either end to improve longevity, reduce noise from clanging, and help protect your floors. The handles are ergonomic yet still feature a moderate knurling for improved grip. You'll find that these dumbbells increase in increments of five pounds and have a weight tolerance of three percent within their advertised weight.
The most basic weight increment, and the one that will work for most situations, ranges from five pounds to 50 pounds and costs around $1,099. For comparison, similar sets from some other companies can cost several hundred dollars more.
If you want to acquire a more complete set, Living Fit offers one from five pounds through 75 pounds for around $2,279. For those who have the basic set and want to expand to cover 55 through 75 pounds, that set will run you around $1,299. If you're a beast and really moving some weight, the 80 through 100 pound set is for you and will cost around $1,549. And if you prefer to purchase everything all at once, the five to 100 pound set is available for about $3,599. All of these prices are before taxes, but Living Fit offers free shipping to save you a good bit of money there.
Living Fit Hex Dumbbells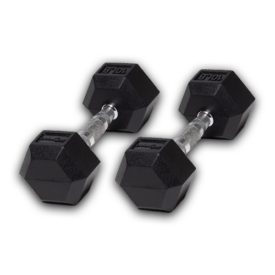 These hex dumbbells from Living Fit come with an etched, knurled, grip, and durable rubber cap to help you hold them and protect your floors. Available in weights from 5lb up to 100lb, they've got what you need to progress along your fitness journey.
Who Should Buy the Living Fit Dumbbell Set
Customers who are on a budget will appreciate that you can expand these sets as you go, rather than buying the largest set at once.

Anyone who wants to protect their floors. The durable rubber coating here is a great way to improve longevity and keep your floors safe at the same time.

Anyone who wants knurling on their dumbbell handles will appreciate the moderate knurling here.
Who Shouldn't Buy the Living Fit Dumbbell Set
Customers who don't have a lot of room for storage may find adjustable or loadable dumbbells better for their space.

Athletes with smaller hands or those who prefer a non-ergonomic handle may find these grips a bit large.

Anyone who prefers more flashy or brightly colored equipment. These only come in black.
These dumbbell sets from Living Fit are a great value for the durability you'll receive. Sure, there are more flashy dumbbells out there, but for those who regard price as a big deciding factor, you can't beat these. Plus, you can expand your set over time with the many set size options, which means you'll have to spend even less money up front.
Best Dumbbell Set for Homes
Along with the versatility that dumbbells provide for unilateral work and accessory movements, they also serve as an accessible means of resistance training at home. These rubber coated dumbbells are especially great for home as their rubber coat can help protect your home's surfaces.
REP Rubber Coated Dumbbell Set
This product features low-odor rubber that coats the entire dumbbell, including the handle. This extra coating of rubber on the knurled handle helps prevent rust or chipping of the metal over time. These dumbbells are also fairly compact with smaller weight heads and a 30 to 34-millimeter handle diameter (depending on weight), which allows for easier storage for a greater number of dumbbells. And if they sit in your garage gym in the middle of a blizzard, the rubber insulates the handle, so it won't feel like grabbing an icicle during your warm-up sets.
But for customers who want to feel the iron during their workout, the purely rubber exterior may be a turn off. These dumbbells come in five pound increments and are sold in four sets: five to 50 pounds, five to 100 pounds, 55 to 75 pounds, and 80 to 100 pounds. You have the freedom to select a set with an appropriate weight range depending on your training needs.
REP Fitness Rubber Grip Hex Dumbbells
REP Fitness Rubber Grip Hex Dumbbells
These weights range from five pounds to 50 pounds. Plus, they're coated with heavy duty, low odor rubber for durability and to protect the flooring in your home gym.
Who Should Buy the REP Rubber Coated Dumbbell Set
Customers who want a dumbbell set suitable for a home gym setting that can protect their floors could find the rubber coating feature here appealing.
Athletes who prioritize at-home training may find the smaller size of the dumbbells appropriate for keeping a large set at home.
Anyone who values a dumbbell set that can last might find the rubber-coated handle as a plus to eliminate rusting and metal damage.
Who Shouldn't Buy the REP Rubber Coated Dumbbell Set
Folks who want a dumbbell set with iron knurling for their home gym will want to look somewhere else.
This product does not come with a dumbbell rack — although, REP Fitness does sell them separately.
Athletes who are looking for round dumbbells will not find that feature with this product.
If you're beefing up your home gym with a full set of dumbbells, the REP Fitness Rubber Coated Dumbbell Set could be a great choice for you. Their compact design and rubber-coated exterior makes them perfect for home gym use. That way, you may not need to worry about taking up your garage space, busting up your floor, or accumulating rust on your new dumbbells.
Best Dumbbell Set for Serious Lifters
For dedicated lifters who are looking for the best of the best, look no further. Rogue has put together a top-of-the-line product perfectly suited for strength sport athletes. These calibrated dumbbells are made of highly durable materials, such as chrome and urethane plating, to provide greater longevity and years of use.
Rogue Premium Urethane Dumbbells
Unlike other dumbbells that use rubber coating, these dumbbells are fully welded with solid steel heads that are urethane plated. So you can still protect your floor, but the coating will last longer than rubber. The handles are made of six inches of hardened chrome to provide excellent grip for exercises like heavy rows. Another feature that distinguishes this pick from all others on our list is the weight calibration, which is guaranteed within +/- three percent of the stated weight.
While that kind of a difference may not be a huge deal for most consumers, it can make a significant difference for the dedicated athlete. However, it should be noted that they are only sold in pairs at five pound increments, and are at a much higher price point compared to many of our other picks on this list.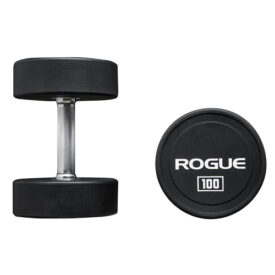 It doesn't get much more high quality than the Rogue urethane coated dumbbells. From the welded steel to precision knurling, these dumbbells are a premium option for those who want the best dumbbells in their gym. 
Who Should Buy the Rogue Premium Urethane Dumbbells
Athletes who prioritize a durable build will appreciate the fully welded chrome handle with steel heads and urethane plating.
Folks for whom weight calibration is important will like the guaranteed +/- three percent accuracy.
Anyone who wants their dumbbells to last will see the benefit of the urethane plating compared to rubber coating.
Athletes who need a very wide spectrum of weight selection will appreciate the range of five pounds to 150 pounds.
Who Shouldn't Buy the Rogue Premium Urethane Dumbbells
These dumbbells are only for sale in pairs by weight, which may not be the most convenient for consumers.
Anyone who is looking for a more affordable choice may want to look elsewhere as these dumbbells go for $45 per pair of five-pound dumbbells to $1,015 for the 150s.
Customers who want hex dumbbells that won't roll around during use will want to refer to other picks on our list.
If gym is life, then you might want to invest in a top tier product like this. The hardened chrome, steel heads, and urethane plating is unmatched; you could well be using these dumbbells for years to come.
Best Loadable Dumbbell Set
While most dumbbells on the market come in large sets of different weight increments, many are adjustable to provide a variety of different weights while requiring only a small amount of equipment.
Yes4All Adjustable Dumbbell Set
You can load the Yes4All Adjustable Dumbbells with plates, just like you would a barbell. The handles can be loaded to weigh all the way up to 200 pounds (depending on the package you choose), and you can secure the plates with collars on either end. As long as you have a place to keep the handles and plates, storage is easy. To set it apart from other adjustable dumbbells, this product features a connector which attaches two dumbbells together to simulate a regular barbell. So for those who want greater versatility to include other exercises that basic dumbbells may not work for, this is a great choice.
It should be noted that these are sold as single units with plate sets that come in two and a half pounds increments — you can buy sets that total 40 pounds, all the way up to 200 pounds total. The connector is also extra, so the convenience of purchase is not as great as the other products on this list — but with all of these pieces, these dumbbells can be more versatile than many others on the market.
Yes4All Adjustable Dumbbell Set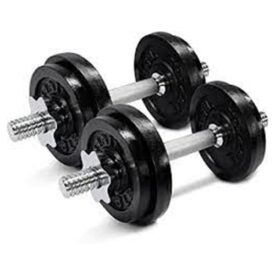 Yes4All Adjustable Dumbbell Set
You can load the Yes4All Adjustable Dumbbells with plates, similar to how you would with a barbell. You can buy 40 pounds in plates all the way up to 200 pounds, and you can secure the plates with collars on either end of the handle.
Who Should Buy the Yes4All Adjustable Dumbbell Set
Athletes who want a versatile and convenient way to resistance train may like the loadable plate feature.
Anyone who wants the ability to incorporate movements usually done with a straight barbell may find the usefulness of the connector appealing.
Customers who want dumbbells without external coatings of rubber or similar materials.
Who Shouldn't Buy the Yes4All Adjustable Dumbbell Set
Customers who prioritize convenience may not want to load the handles manually.
Anyone who wants to purchase dumbbells sold in full sets may find other picks on our list more appropriate.
Folks who want to protect their floors may want a dumbbell set with a protective coating around the dumbbells.
As far as adjustable dumbbells go, this product is very versatile and stands out among its competitors. The plate loading function and dumbbell connector is great for those who want to use their weights as two separate dumbbells, or as one full barbell.
Best Dumbbell Rack
If you're looking to purchase a full set of dumbbells, you may also be looking for a rack to store them properly. This is one of the best ones we've used.
REP Fitness Dumbbell Rack
The REP Fitness Dumbbell Rack is best paired with the REP Fitness Hex Dumbbells, Rubber Coated Dumbbell Set, or any other REP Fitness dumbbell set. However, it can serve as good storage for other dumbbell sets of similar dimensions, as well. This rack is 34.6 inches tall, 48 inches long, and 21.7 inches deep with a three tier design for easy storage. The 11-gauge steel that the rack is made of provides a heavy duty build to securely hold your dumbbells. The rack also includes a one-inch lip that prevents dumbbells from sliding off the rack.
Priced at only $209.99, this rack can save you a lot of storage space. It's worth noting though that if you have multiple sets of dumbbells, you may need multiple racks, so be sure to take proper measurements before purchasing.
REP Fitness Dumbbell Storage Rack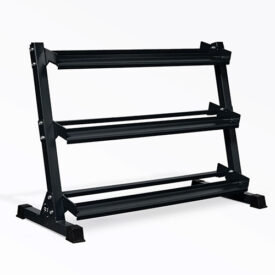 REP Fitness Dumbbell Storage Rack
This rack can support a max weight of 1,000 pounds. It's made of 11-gauge steel, and its one-inch lip on each shelf secures the dumbbells in place. Plus, the three-tier design still allows easy access to your weights.
Who Should Buy the REP Fitness Dumbbell Rack
Athletes who desire compact storage of their dumbbells will like the three-tier design.
Anyone who needs to store larger and heavier dumbbells may appreciate the rack's depth of 21.7 inches.
Customers who purchase REP Fitness dumbbells will like that they are compatible with this rack.
Who Shouldn't Buy the REP Fitness Dumbbell Rack
Customers who purchase dumbbells from another company and want a rack made to fit their dumbbells.
Anyone who needs to store heavy dumbbells that will exceed the total 1,000-pound weight limit should look elsewhere.
Those who have an extensive set of dumbbells or multiple sets of dumbbells may benefit from a larger rack (so they don't have to purchase multiple of these racks).
This rack is a great choice for customers who want a space-efficient way to store their dumbbells of a broad size and weight range. The high weight limit, dimensions, and durable build could make this rack a great counterpart to your dumbbells.
How We Chose the Best Dumbbell Sets
Just like any other product, there are a few things that we look for when making our recommendations. We've laid out some of the most important qualities in a dumbbell set as you peruse the market.
Durability
When it comes to equipment, longevity is what will make the investment of your purchase worth it in the long term. When you're investigating the specs of a product, the first thing you should notice is the material used. Many dumbbell sets use stainless steel, have a rubber coating, and come fully welded together. Depending on the setting in which you are training, each of these qualities will sway the outcome of your purchase.
For example, steel is a durable material that can withstand being repeatedly dropped while a rubber coating can protect your dumbbells (and floor) from drops, and protect the metal from the elements such as moisture or heat. If you are only using five-pound dumbbells for shoulder PT, then you may not be as worried about dropping them. On the other hand, if you're benching the 100s over your face and drop them on the cement garage floor, then urethane plating might be the move. We've included a variety of picks with different materials that cater to different needs — but rest assured that all of the builds on this list offer great longevity.
Versatility
Many consumers are just looking for a simple set of dumbbells with no extra bells and whistles. However, additional features can really diversify your training options especially if dumbbells are your primary source of weight training. Many dumbbells have a hexagonal shape which can provide extra usefulness for different exercises and keep the heavy ones from rolling over your bunions, like they did in Nacho Libre. Others can be attached together to simulate fixed barbell movements. Whatever your training needs are, we have compiled a wide selection of dumbbell sets to suit your needs.
Storage
While it would be nice to have a fully-outfitted warehouse gym in your backyard like Jujimufu, most people don't have the space for that. A storable set of dumbbells might be the best that you can do, and that can be one perk of dumbbells in particular. Certain products may enhance this feature, such as adjustable dumbbells that don't require the same space as a full set. Regardless of your storage situation, you can be sure to find a dumbbell set that makes sense for your training and available space on this list.
Price
In one way or another, it all comes back to money. This list features a very broad selection of prices depending on what you value, and what you're willing to pay. Most of the time, price should be dictated by the other three parameters listed here, so it may not be a bad thing to spend thousands of dollars on a dumbbell set if you're a seasoned athlete that needs the best. But if you're just a recreational lifter who wants to occasionally pump some iron at home, there's no need to feel left out. The picks on our list were selected in order to give you a broad range of prices, so that you can still get a great set of dumbbells even at a lower price point.
The Benefits of Dumbbell Sets
A great dumbbell set can serve many different purposes in an exercise routine. For your convenience, we've narrowed in on the top two for you to consider.
Exercise Selection
From a training standpoint, there is a lot you can do with dumbbells. While there are only so many movements you can do with a barbell, dumbbells can be used for variations of compound movements, such as a dumbbell bench press or isolation movements, like a biceps curl or single-arm dumbbell row. While barbells reign supreme for compound movements like the squat, bench press, or deadlift, a full set of dumbbells can be used for a greater variety of exercises.
Convenience
While there is no doubt that many customers would be willing to buy a squat rack with a full set of plates and different types of bars, none of that is quite as accessible for most people as a simple rack of dumbbells. Not only are dumbbells more compatible in a home gym setting as far as space is concerned, but they are usually safer for your floors and can be used anywhere beyond your garage. With a full set of dumbbells, you can still have the benefits of weight increments without the need of a whole setup involving a barbell and plates.
How Much Do Dumbell Sets Cost?
This totally depends on why you want to purchase dumbbells in the first place. If you don't need a huge set of them, and just want to have some options for weight training at home, a small, single pair of dumbbells could cost you as low as $10 to $20. But if you want to get the best of the best with tons of weight options, you could be looking at spending $4,000 for a full set. While such a wide price range might seem confusing for the average consumer, as long as you know what you're looking for, this large selection you have to choose from shouldn't be too daunting.
Adjustable dumbbells also tend to be on the lower end of the price range. This is because they often come in pairs instead of sets, and are designed to load weight in increments. That way, you can have the accessibility of a wide weight range without needing to purchase a more expensive full set of dumbbells.
What to Consider Before Buying Dumbbell Sets
Now that we've laid out our top choices, it's time to buy. But as you're narrowing down on a purchase, here are a few things to keep in mind.
Durability
While not every consumer needs the most heavy duty dumbbells on the market, your needs for a dumbbell set will determine how important durability is for you. More serious lifters who are pretty strong might want a heavy duty set with higher quality materials (like hardened chrome or urethane plating) in the case of dropping heavy weights on the ground. If you plan on training with more tame usage, a set of dumbbells with steel handles and rubber coating could be a great fit.
Price
If you want your dumbbells to last and know you will be using them daily, you'll likely be more willing to dish out a little extra cash. The more durable materials will lead to a higher price tag. But a handy adjustable dumbbell set will also place you lower on the price range compared to most full sets of dumbbells. Decide on your budget first, and that will help you lead you to the right options on this list.
Type of Dumbbell Set
Dumbbell sets come in a variety of different styles. You'll find sets that range from traditional round dumbbells or hexagonal dumbbells, to even adjustable dumbbell sets or loadable dumbbells. If you are looking for a full rack of dumbbells to complete your home gym setup, we've laid out some great choices. And if you appreciate the convenience of a set of adjustable dumbbells, we've also included some high-quality options for you to consider on this list.
But before you start your search, be sure you decide which of these types will best suit your workout style. For example, if you want dumbbells that are over 80 pounds, you're better off getting a full set, as adjustable dumbbells often don't range that high in weight. However, if you're a novice lifter and are working on a budget, an adjustable set of dumbbells may be just the right fit.
Space
Let's face it, gym equipment takes up space. But if that's not a huge concern for you, then by all means, go all in on a full set of dumbbells. But if your home gym setup needs to be more compact, then a small set, or some adjustable dumbbells might work better for you. Be sure to take proper measurements, and consider how many weight racks you may need before settling on your purchase.
Final Word
A great dumbbell set can be one of the most useful tools you have in your training arsenal. They provide you the opportunity to conquer a versatile selection of exercises while still giving you the ability to progressively overload with convenient weight increments. We've labored hard to provide you with a swath of different products that can suit pretty much anybody's consumer needs.
You'll want to weigh the amount of space you have and the budget you're working with against the different types of dumbbell sets that are available to you. Once you've settled on a price range and set type, you'll be ready to hit the market. Go ahead and let this list guide you to the perfect dumbbell set for your space and fitness goals.
FAQs
What are the benefits of using dumbbell sets over barbells?
You could do nothing but lift with dumbbells or barbells, and live a long and complete life. However, one potential benefit that a dumbbell set can provide is greater exercise selection. Dumbbells can be used for isolation movements to focus on building muscle in certain body parts. In addition, dumbbell movements can be helpful supplemental exercises for athletes in powerlifting, strongman, and Olympic Weightlifting.
If I'm starting a home gym, should I buy a dumbbell set first?
This is totally up to you. If you are a competitive powerlifter who plans on only training at home, then you might want to consider a squat rack and a decent barbell. However, if you just want a convenient and affordable way to work out from home, dumbbells can be a great way to start your home gym.
Do any of these dumbbell sets come with a rack?
No, you will need to purchase a rack separately. However, racks are not that expensive, and are really helpful in storing your dumbbells in a compact way to minimize usage of space. It is worth noting though that most adjustable dumbbells do come with cradles for storage, which can be used in place of racks since they require much less space.