A solid pair of dumbbells can be one of the best pieces of equipment to add to your home gym, and the NÜOBELL Adjustable Dumbbells are one of the most popular options out there. Dumbbells are quite versatile as you can perform hundreds of exercises with them — from bicep curls to dumbbell bench presses, and even lower body movements, such as a lunge or split squats. However, the problem a lot of people face when looking to add a pair of trusty dumbbells to their arsenal is they tend to need multiple pairs — and those multiple pairs dominate space. The good news is that you can replace a full set of dumbbells with a pair of adjustable ones, like the NÜOBELLs.
These adjustable dumbbells are available in two different options, ranging from five to 50 pounds, or five to 80 pounds. The footprint of these adjustable dumbbells is a fraction of what you will find from a full set of dumbbells, and while you may feel they feature a hefty price tag, you might actually be saving money in the long run — plus, adjusting the weight is as easy as 1, 2, 3. Whether you're tight on space in your home, or you want to clear up some room in your home gym for a new power rack, the NÜOBELLs might be a good option for you to consider.
Main Takeaways
NÜOBELL Adjustable Dumbbells have an impressive weight selection range. They can be set to weigh as little as five pounds each, and users can add weight in increments of five pounds all the way up to either 50 or 80 pounds per dumbbell, depending on the set you choose to purchase.
One pair of these adjustable dumbbells replaces up to 16 pairs of weights (if you chose the 80-pound option), which saves serious space and money.
The dumbbells adjust to heavier or lighter weight with an easy twist of the handle, and they are secure and mostly rattle-free while in use.
SMRTFT NÜOBELL Adjustable Dumbbells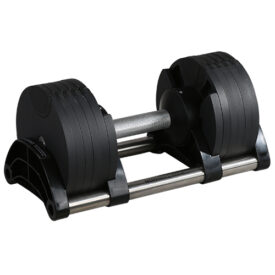 SMRTFT NÜOBELL Adjustable Dumbbells
This Swedish-designed "smart" dumbbell adjusts from 5 pounds up to 80 pounds — all you have to do is twist the handlebar. Its sleek, modern design will make a great addition to any home gym. 
NÜOBELL Adjustable Dumbbells Video Review
Our reviews writer, Jake, tested the NÜOBELL dumbbells for himself. In this video review, he walks you through the pros and cons, overall build, and price of these sought-after adjustable bells.
NÜOBELL Adjustable Dumbbells Highlights
Taking up a fraction of the space that 32 separate dumbbells would consume, the NÜOBELL Adjustable Dumbbells only require the space of a single 50- or 80-pound dumbbell pair (depending on the model you buy). Aside from their spatial practicality, these dumbbells' dial function has been finely engineered for ease of use. Unlike some other adjustable dumbbells, which are equipped with inefficient mechanisms that make it difficult to change the weight, we found these incredibly easy to remove and nestle back into their home.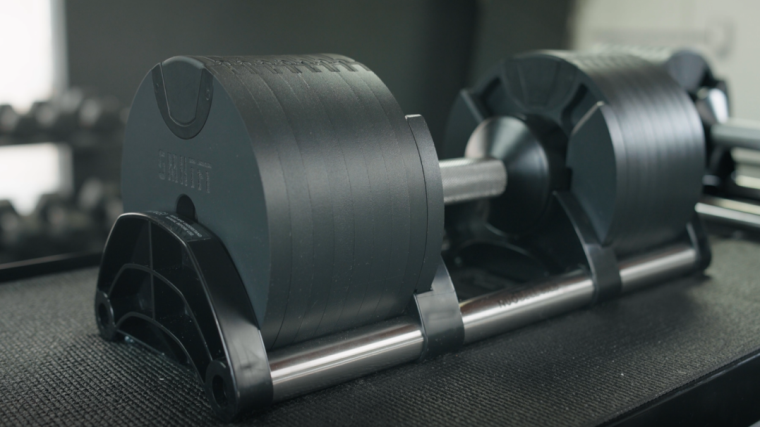 One downside for those who may be working with light weight for higher repetitions is that the weights may feel a bit clunkier than your average 10- or 15-pound dumbbell. The weights at the end of the dumbbell are quite wide in diameter, even at five pounds — but we didn't find that to affect us during our workout sessions with these dumbbells. And while the price may seem steep, buying all of your dumbbells at once could save you money in the long run.
Who Should Buy the NÜOBELL Adjustable Dumbbells
Anyone who wants a gym's worth of dumbbells that can be stored in a small space for a decent price.
People looking to build and maintain muscle through popular free weight exercises, like curls, military press, and bent rows.
Anyone looking for a pair of durable adjustable dumbells will appreciate the steel build and minimal plastic used here.
Who Shouldn't Buy the NÜOBELL Adjustable Dumbbells
Those who are on a tight budget can find cheaper adjustable dumbbells.
Anyone who prefers an ergonomic handle on their dumbbells may not be too thrilled about the uniform diameter found on these dumbbells' handles.
The NÜOBELLs cap out at 80 pounds, so anyone who needs heavier weights will need to get some traditional dumbbells that will accommodate their strength. This is an above-average max weight for adjustable dumbbells though.
Price
The 50-pound pair of NÜOBELLs costs around $600, while the 80-pound set is going to cost you about $750. While you'll receive some complimentary cradles to house each individual dumbbell, the storage rack is not included in your purchase. You have two different options to choose from — the gray stand is going to cost you around $185, while the black is around $195. The stands may not be "essential", but they're more durable than the plastic cradles, and could be helpful when storing your bells and adjusting the weight since they stand 21 inches off the floor.
Once you factor in shipping, which is going to cost you another $100 or so, you're looking at a spend of around $1,000. Yes, it's a lot of money, but you may save money in the long run compared to purchasing individual pairs of dumbbells over time. This is also the case when comparing the price that some companies charge for their full sets that offer the same weight range — not to mention the price of a storage rack to house those.
Overall Build and Quality
While some adjustable dumbbells can be difficult to maneuver and not the most sturdy, the NÜOBELL Adjustable Dumbbells are impressively solid. Their knurled stainless steel handles and steel weight plates are stable, and changing the weight setting is as easy as a twist of the wrist. Adjusting the weight on these dumbbells feels smooth, and the click at each weight interval is satisfying.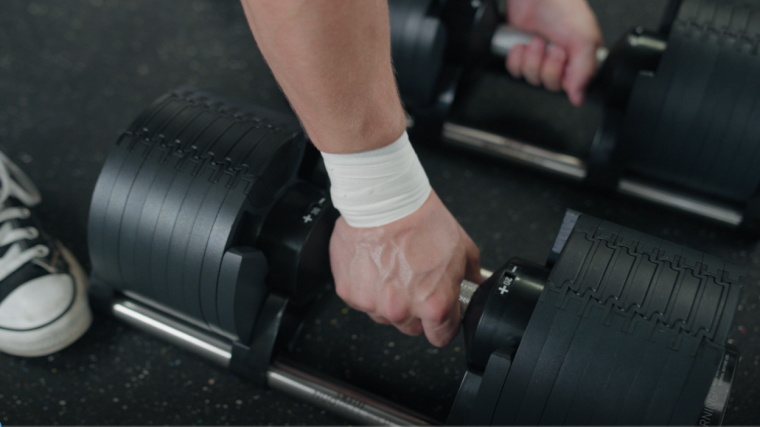 Overall, this is a really solid product with very little plastic built into the design of the actual bells (only used to hold the plates and handles together). The cradles do use a good amount of plastic though, so you'll want to be careful when going to store these, or else you'll run the risk of cracking or breaking that plastic.
Features
These dumbbells feature five-pound increments, can be set to as low as five pounds, and depending on which ones you choose, as heavy as 50 or 80 pounds. They nestle securely into the included cradle when not in use, and they slide out and back into it for easy adjustment. Adjusting the weight only requires you to twist your wrist to the right or left to increase or decrease the weight, and the stainless steel handles feature a pretty impressive knurling, so you can always have a solid grip while working out. The overall size of these dumbbells is going to be in correlation to the weight you select, and even though they might be slightly larger than some traditional dumbbells, we don't think they'll negatively impact your lifts.
Adjustability
Adjusting the weight on the NÜOBELLs only requires you to twist your wrist toward the plus to add weight, or toward the minus to reduce it. You can switch from the heaviest to the lightest weight and anywhere in between in a matter of seconds. While it may be really easy to adjust the weight when the bells are stored, once you remove them from storage, the handle is locked and it won't move on you during your workout. This might be the most impressive aspect of these dumbbells as it cuts down on the time needed to adjust for each specific exercise compared to the majority of rival brands.
Weight Options
Regardless of whether you choose the 50 or 80-pound weight option, the lowest weight to which you can set these dumbbells is five pounds, and they adjust up in five-pound increments from there. So twist the handle a click toward the "+" sign and you have a 10-pound weight. Another twist gives you a 15, then a 20, and so on.
While 80 pounds may not be enough for some people who feature elite strength levels, it's worth mentioning that a large portion of adjustable dumbbells max out around 50 to 55 pounds. So you may be hard-pressed to find a pair of adjustable bells that can be as heavy as these.
Handle Grip and Comfort
The handles on the NÜOBELLs feature a uniform diameter of about 28 millimeters. They're also stainless steel and fully knurled from end to end so that's easy to grip — even as you sweat throughout a hard workout.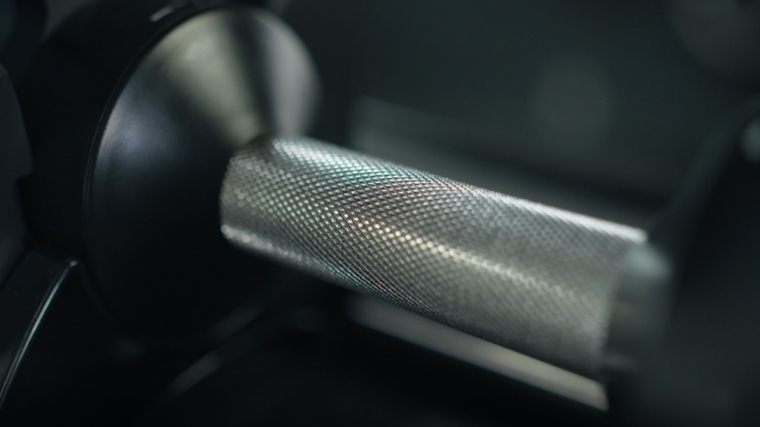 This is a bit of a rarity as knurled handles are more common on fixed, traditional dumbbells than they are on adjustable ones.
Weight Plate Design
The incremental weight plates these dumbbells use are engineered to stay snug to one another as you lift. Plus, they're made of a highly durable matte black steel that will not only last, but may also add a sleek look to your space.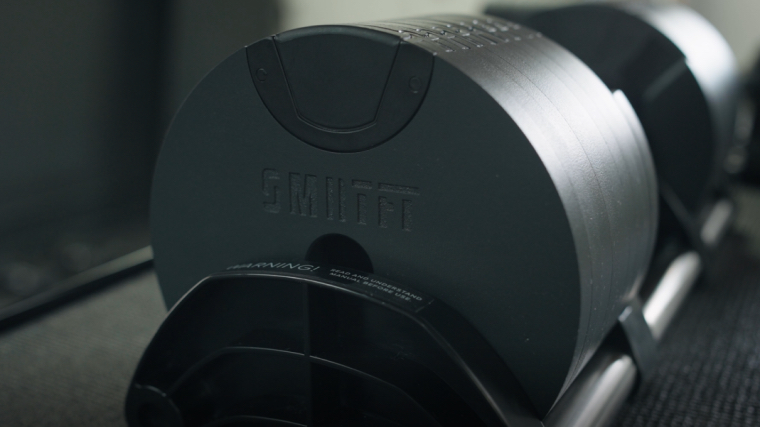 While the design of these weight plates is secure, we found them to rattle ever-so-slightly while in use. They're one of the most secure adjustable dumbbell sets we've exercised with, but they are not 100% rattle-free.
Product Specs
Adjustable dumbbells can save both space and money, and the NÜOBELL Adjustable Dumbbells are one of the most modern options on the market. They're easy to adjust and each one only takes up about 19" x 8" of floor space individually. Plus, if you want to move them, you need only pick up and maneuver two adjustable dumbbells and their cradle, rather than 16 separate pairs (if you went for the 5 to 80-pound set).
Dumbbell Type
Since these are in fact adjustable dumbbells, you can easily switch the weight to your liking for each specific workout. Simply twist the handle in the direction you desire to either increase or decrease the weight. Oftentimes adjustable dumbbells can be a little difficult to change the weight, but we felt as if it was a breeze with the NÜOBELLs.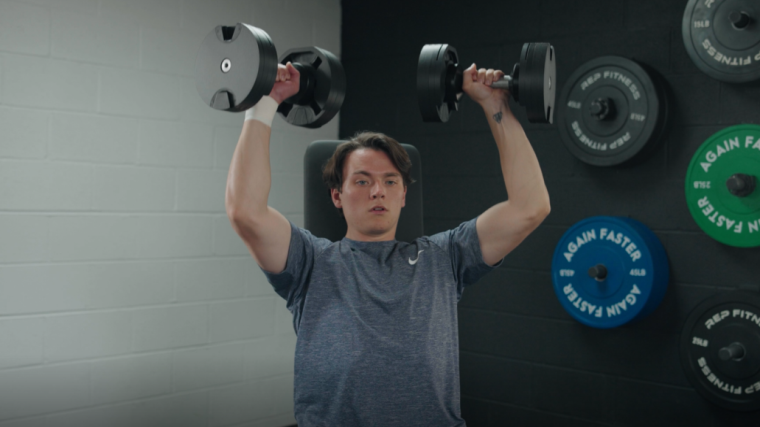 While these bells may be a little larger when set at a lighter weight (such as 10 pounds) than your traditional dumbbell, you likely won't need to adjust your movement too much to accommodate for that size.
Size and Dimensions
While stored, the NÜOBELLs only take up a little more space than a shoe box for a pair of sneakers would. We measured it out, and they're right around 19 inches long and eight inches wide individually. Which is still a significantly smaller footprint when side by side than a couple of pairs of dumbbells require, especially a full set.
Portability
Sure, these weights are quite heavy to maneuver when you're on the highest weight adjustment. With that being said, they're still far easier to transport than 16 separate pairs of dumbbells — at least with these, you need only make one or two trips to move them.
Warranties
This product comes with a two-year manufacturer's warranty, and you can buy an extended warranty — adding an additional one to three years of coverage.
Places to Buy
You can buy NÜOBELL Adjustable Dumbbells directly through the SMRTFT website, as well as through some other fitness companies like Rogue, and even through Amazon.
Company Information
SMRTFT, the brand behind these dumbbells, states on their website that they are committed to "ethical manufacturing, impeccable quality, innovative developments and timeless design" in products made for the "professional athlete, weekend warrior or a stay at home parent" who wants to get and stay fit.
Final Word
With so many dumbbells on the market, the NÜOBELL Adjustable Dumbbells stand out for their seamless adjustments, sleek look, and solid grip. On top of that, they have a wide range in weight that goes all the way from five pounds up to 80 pounds. One pair of these weights can replace 16 pairs of dumbbells, freeing up a good amount of space in your home gym for you to add more equipment — like a squat rack. All-in-all, if you're serious about investing in a pair of adjustable dumbbells, this may be a solid option for you to consider purchasing.
Before you buy, you'll want to make sure you lift heavy enough to make use of all of the weight options provided — otherwise, you may be better off opting to buy a few lighter pairs of dumbbells to save money — and the same goes for anyone who needs some heavier dumbbells for their workouts. However, if you're often using dumbbells in the 60- to 80-pound range, these dumbbells could make a solid addition to your space.
FAQs
How much do the NÜOBELL Adjustable Dumbbells cost?
This depends on which option you decided to buy. If you opt for the five- to 50-pound NÜOBELLs, you'll be spending around $600, and the five- to 80-pound option will run you around $750. If you're interested in the optional stands, you have two different choices as well — the gray stand is about $185 while the black one is roughly $195. Even though you'll be spending nearly $1,000 on these when all is said and done, they're still cheaper than purchasing a full set of dumbbells with a storage rack. Plus, they'll save you some space in your gym.
How easy is it to adjust the weight of these dumbbells?
Very easy. If you can turn on a faucet or twist a doorknob, you have the wrist control and strength to switch from one weight to another with these dumbbells — all you need to do is twist the handle.
Are adjustable dumbbells durable enough to last for years?
They are indeed. That's why the company is comfortable offering an automatic two-year manufacturer's warranty with the purchase, and the option to buy an extended warranty in either one-year or three-year increments.