If there's one unifying fact among strength athletes from different sports, it's that they all appreciate (or at least have) a large pair of arms. Though different athletes train for different feats of strength, bigger and stronger arms help them in their pursuits.
The hammer curl offers a simple twist on the traditional dumbbell curl, fortifying an athlete's grip strength and allowing for heavier weight to be lifted for more overall volume. Here's how to do it. We can't promise you'll be an elite-level anything after learning how to do hammer curls, but we can almost guarantee some serious biceps gains.
How To Do the Hammer Curl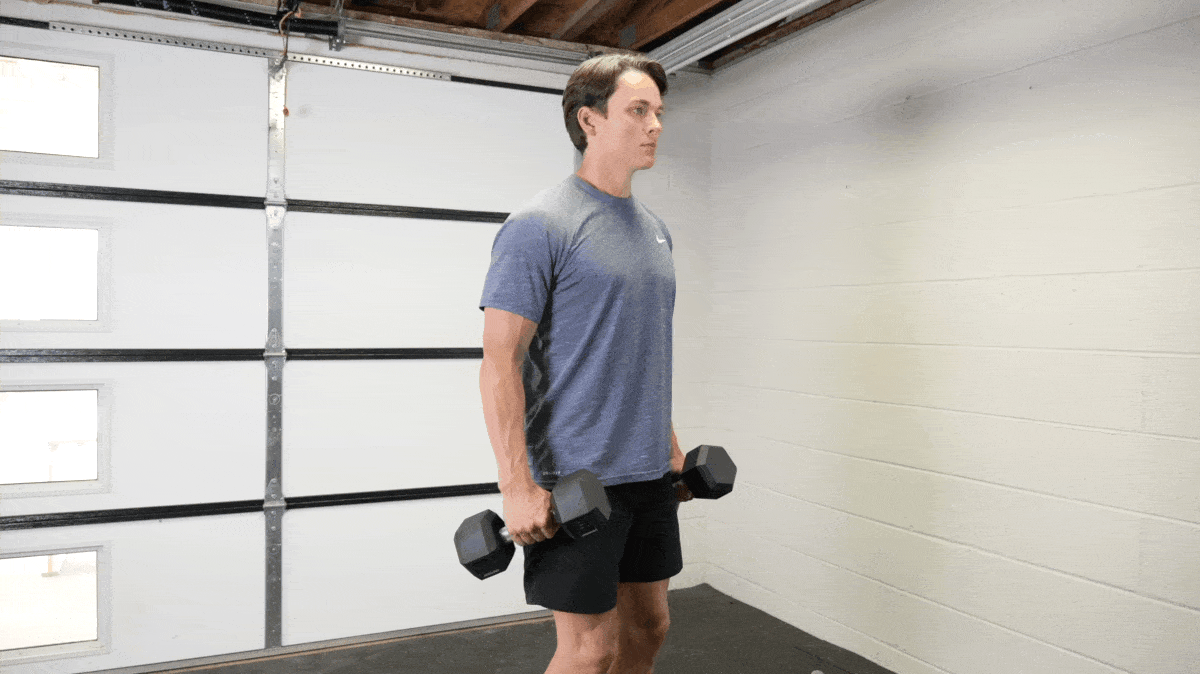 [Read More: Try This Biceps Workout With Dumbbells for Superior Muscle Growth]
Step 1: Stand tall while holding a dumbbell in each hand. Keep your wrists straight and squeeze your shoulder blades together.
Step 2: With the shoulders set, squeeze the handles and maintain rigidity in the wrist.
Step 3: Bend at the elbow to curl the weights up toward your chest without rotating your wrists.
Step 4: Pause for a moment at the top, squeezing your arms and ensuring your knuckles are pointed forward.
Coach's Tip: If your goal is to strengthen your grip, increasing the overall grip diameter of the dumbbell — by using something like Fat Gripz or even a small towel — can help increase the muscular activity of your forearm muscles. (1)
Why Do It: The hammer curl is one of the biceps curl variations that targets the brachialis, brachioradialis, and biceps brachii. Most people perform hammer curls to strengthen their elbows and wrists, or to give their arms a thicker appearance when viewed from the front.
Equipment Needed: You'll need a pair of dumbbells to perform the standard hammer curl exercise. That said, it has many variations that utilize different pieces of equipment.
Muscles Worked: Brachialis, brachioradialis, biceps brachii.
Hammer Curl Variations
As a single-joint isolation exercise, there isn't too much you can do to your hammer curl form. Most common hammer curl variations are utilized for more comfort or to focus on one arm at a time. Here are a couple of popular options:
Single-Arm Hammer Curl
[Read More: Hammer Curls Vs. Biceps Curls — Which is Better for Building Bigger Arms?]
Step 1: Stand upright while holding a dumbbell in your working arm. Place your non-working arm on your hip or hold it loosely at your side.
Step 2: Tuck your upper arm into your torso and brace your core.
Step 3: Bend your working elbow to curl the weight up until your arm forms a 90-degree angle with your wrist in a neutral position.
Why Do It: The single-arm dumbbell hammer curl allows you to line up the working arm with resistance, increasing tension in the arms and reducing the risk of injury to the elbow and shoulder.
Equipment Needed: All you'll need for this one is a singular dumbbell or kettlebell.
Rope Hammer Curl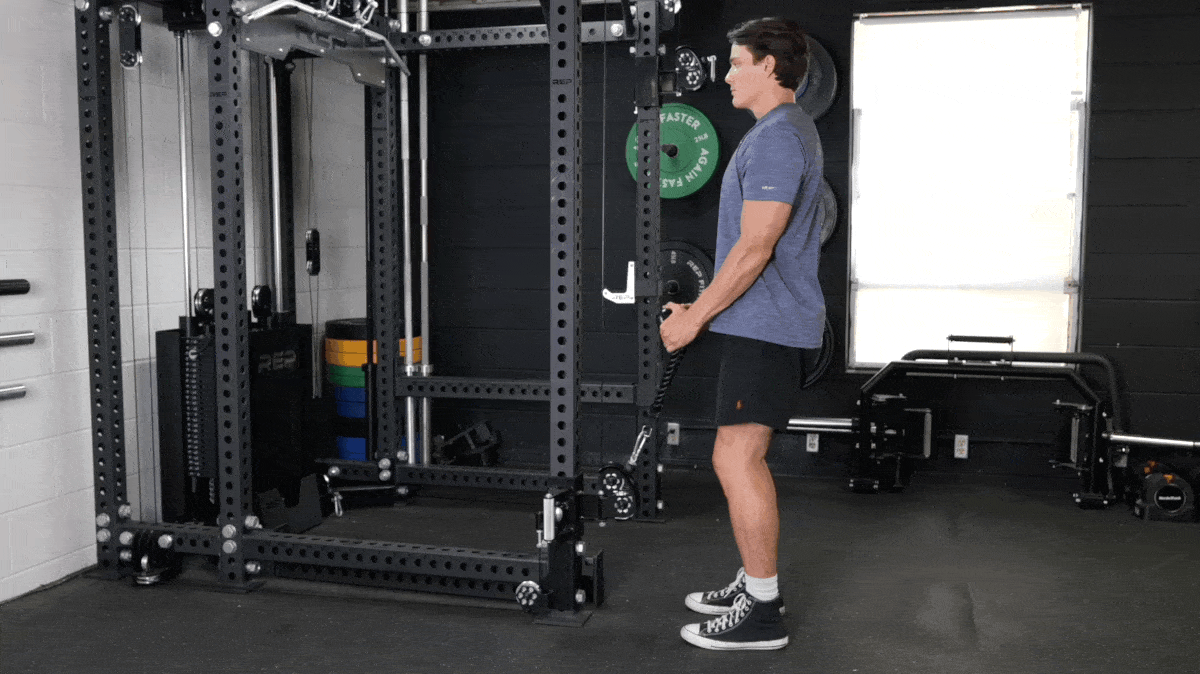 [Read More: 5 of the Best Dumbbell Arm Workouts]
Step 1: Set an adjustable cable pulley to its lowest height and fix a rope attachment to the carabiner.
Step 2: Stand about a foot away from the cable and clasp each end of the rope in your hands. Your arms should be hung loose and in front of your body.
Step 3: Brace your core and bend at the elbow to pull the heads of the rope up toward your chest.
Why Do It: Cable machines offer consistent mechanical tension, which is great for establishing a mind-muscle connection and encouraging muscle growth.
Equipment Needed: You'll need an adjustable cable station and a rope attachment to do this hammer curl variation.
Preacher Hammer Curl
[Read More: The 15 Best Dumbbell Exercises You Need for Muscle and Strength]
Step 1: Sit into the preacher curl bench and wedge your armpits into the edge of the pad.
Step 2: The dumbbells should be held pointing upward with your wrists in a neutral position.
Step 3: From here, slowly lower the weights down and open your elbow until it is nearly fully straight at the bottom.
Step 4: Reverse the motion and curl back up, maintaining a straight wrist the entire way.
Why Do It: The preacher bench allows for the back of the arm to remain stable against the pad. This automatically prevents you from swinging your arm, removing any extra momentum and allowing you to focus entirely on contracting the working muscles.
Equipment Needed: You will need a pair of dumbbells and either a preacher station or an adjustable weight bench.
Hammer Curl Alternatives
If the hammer curl doesn't tickle your fancy, you're in luck — there are plenty of viable alternatives you can perform instead to target similar muscles. Here's a short rundown of a few hammer curl alternatives for you to try out:
Seated Cable Row
[Read More: How Often Should You Train Arms?]
Step 1: Sit down on the row station and affix either a pair of D-handles or a parallel handle bar to the carabiner.
Step 2: Straighten your legs and scoot backward while holding the handles to pull the plates off the stack.
Step 3: With your arms tucked against your sides and your hands in neutral, pull the cables toward your body by driving your elbows backward.
Why Do It: The neutral-grip seated cable row closely mimics the elbow movement of the hammer curl, but allows you to train your back muscles as well. You can perform this compound exercise if you're short on time and need to get more bang for your muscle-building buck.
Equipment Needed: You'll need a seated cable row station or an adjustable cable pulley. If you sit on the floor for this move, a yoga mat might be useful as well.
Towel Pull-Up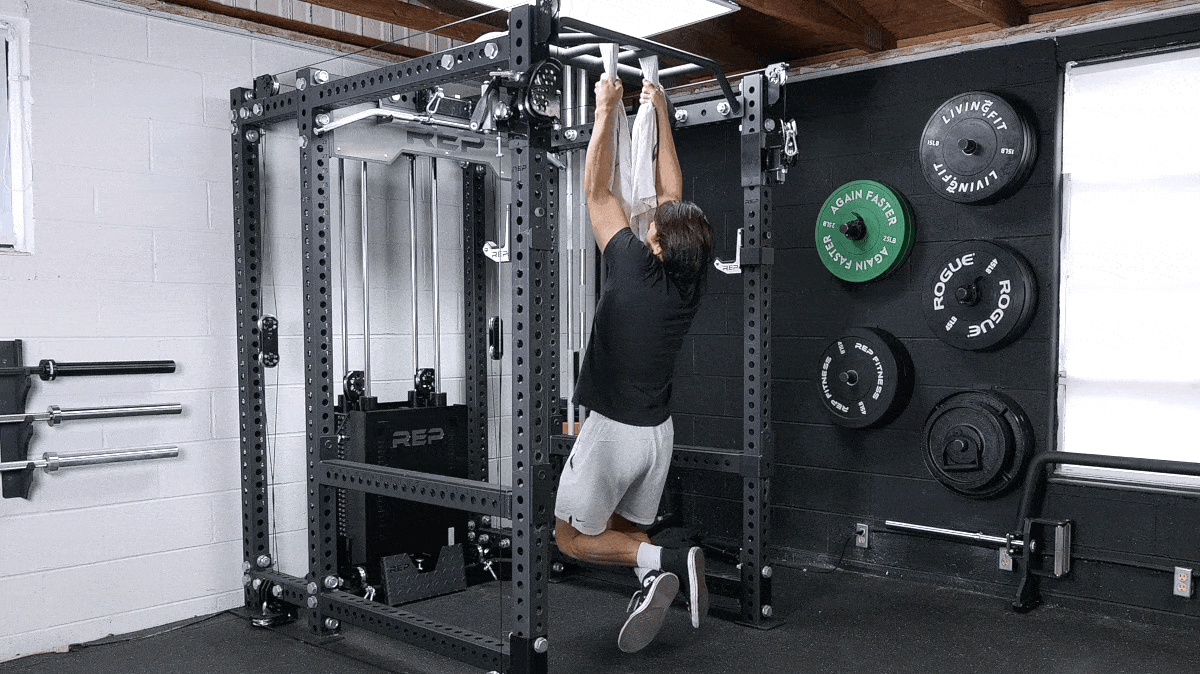 [Read More: How to Do the Cable Biceps Curl for the Best Arm Pump You've Ever Had]
Step 1: Drape a long, dry towel over a pull-up bar and ensure that it hangs equally on both ends.
Step 2: Grip the ends of the towel firmly in your hands and hang freely from it. If your legs touch the ground, bend your knees and lock your ankles over one another.
Step 3: Perform a pull-up, keeping your elbows tucked tightly to your sides and squeezing the towel as hard as you can.
Why Do It: If you're looking for a serious challenge, the towel pull-up is exponentially harder to perform (and taxes your forearms that much more) than a standard pull-up or chin-up, since you don't have a stable surface to grip.
Equipment Needed: You'll need a stable pull-up bar and a thick towel to grasp onto.
Who Should Do the Hammer Curl
Below are some reasons why strength, power, and fitness athletes can benefit from performing the hammer curl.
Strength and Power Athletes
Powerlifters and Strongman Athletes: Strongmen and powerlifters need a firm grip to carry various implements (stones, frames, and cars) and pull heavy deadlifts. These athletes also strain their biceps during stone lifts, deadlifts, and carries, so it's important to fortify the muscle by making it stronger. The hammer curl achieves both of these goals.
Olympic Weightlifters: Although there isn't much direct biceps involvement during Olympic lifts, the overall strength of the biceps, brachialis, and brachioradialis play an integral role in the safety of the elbow and shoulder joint — helping athletes stave off injuries that could keep them out of training or competition.
Functional Fitness Athletes
Hammer curls can improve pulling performance, grip strength, and wrist and elbow stability. If you are an athlete who struggles with upper body strength, grip performance during workouts, or are not stoked about your arm aesthetics, try adding some hammer curls into your accessory training.
Bodybuilders
The hammer curl is a single-joint movement that can increase biceps and forearm hypertrophy and grip development. Bodybuilders should use the hammer curl in their training programs to increase arm size — addressing any weak points on their physique that may be lacking on stage.
Hammer Curl Sets & Reps
Below are three primary training goals and programming recommendations when utilizing the hammer curl into specific workout programs. These are general guidelines for effectively training this movement and by no means should be used as the only way to program hammer curls.
For More Strength: Do four to six sets of five to eight reps with moderate to heavyweight, resting two minutes between sets.
For More Muscle: Do three to five sets of eight to 12 reps with moderate weight. You can also manipulate training tempos — like slowing down the eccentric or pausing at the top — to increase time under tension.
For More Endurance: To increase the biceps endurance — or metabolic demand — you can do three to five sets of 12-20 reps with a light to moderate amount of weight.
Benefits of the Hammer Curl
Whether you're a bodybuilder wanting to grow your arms, or a strength athlete wanting to increase your upper body strength and resistance to injury, the hammer curl affords many benefits to supplement your arm workout.
Increased Bicep Size
The hammer curl has you curl with a neutral wrist, which is a sturdier position since it aligns with your elbow more naturally. This slight angle change increases activation of muscles like the brachialis, brachioradialis, and short head of the biceps brachii, further enhancing grip performance and muscle building potential of the arms. (2)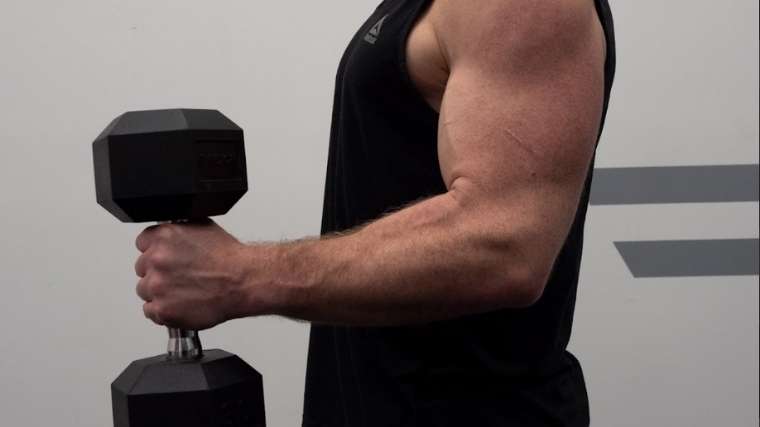 [Read More: Do the Incline Dumbbell Curl to Double Down on Your Arm Gains]
The gains in arm size come from the multiple muscle groups involved: brachialis, brachioradialis, and biceps brachii (most notably the short head). All three muscles span across the lower and upper arm and act as strong elbow flexor muscles, helping bring the arm from a resting extended position to fully flexed at the elbow. (2)(3)(4) When performed properly, hammer curls add bulk to the forearms and help add inches onto your biceps — making it a top pick for bodybuilders wanting to round out their physiques on stage.
Improved Grip Strength
Most people think of hammer curls as a biceps exercise — because it mainly is — but it can help create crushing grip strength, too. The neutral-grip position that you hold the dumbbell in recruits more of the elbow flexor muscles in your forearms along with muscles like the flexor carpi radialis and extensor carpi ulnaris. Because you're generally stronger in a neutral-grip position, you can also use heavier weight, overloading the forearms and biceps more than using exercises like concentration curls.
Wrist Stability
The hammer curl is done with the wrist in a neutral position (palms facing each other), rather than being supinated (palms facing your face) and/or pronated (palms facing the floor). Neutral-grip movements may increase the stability and strength of the muscles surrounding the wrist, enhancing overall injury resilience of the wrist joint and surrounding tissues.
Muscles Worked by the Hammer Curl
The hammer curl targets the upper and lower arm muscles — most notably the brachialis and brachioradialis — and can reinforce a stronger grip for deadlifts, pulling, and other strength and power movements.
The biceps flex the elbow — which is what allows you to sling a backpack over your shoulder or lift a beer to your lips (though save the beer for post-workout). Most strength-focused athletes, train the biceps during more complex lifts (such as deadlifts, cleans, pull-ups, tire flips, and loaded carry workouts).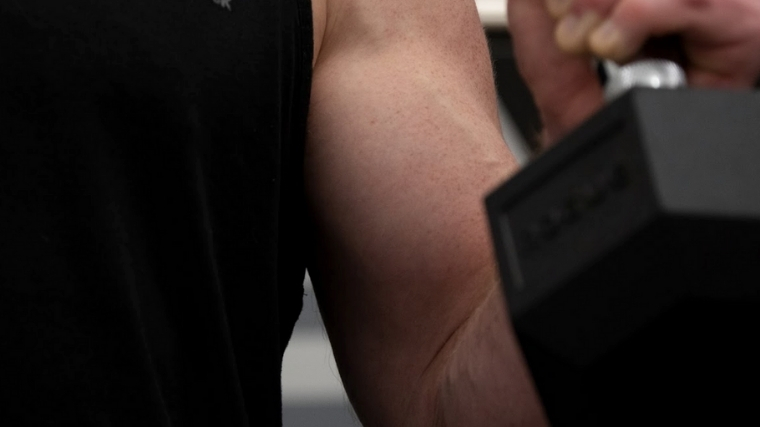 [Read More: How to Do the Barbell Curl for Biceps Size and Strength]
Increasing biceps strength and size and overall development can improve not only the aesthetics of this muscle group, but also help minimize strain on the elbow and surrounding tissues during times of heavy training or overuse.
Brachialis
This upper arm muscle is responsible for pure elbow flexion and is the strongest flexor of the elbow when the grip is in a neutral position (without supination). (3) Increasing this muscle's strength can improve grip performance in heavy lifts, prolong grip time to fatigue, and help to support greater wrist and elbow stability.
Brachioradialis
This forearm muscle is responsible for assisting the brachialis in elbow flexion and is responsible for supination and pronation of the forearm. (4) Developing this muscle (in addition to the brachialis) can improve grip strength and often enhance wrist stability and health.
Common Hammer Curl Mistakes
The hammer curl may be a straightforward movement with only a few moving parts, but there's still a learning curve at play. Steer clear of these common errors if you want to maximize your results from the hammer curl:
Swinging Your Upper Arm
The hammer curl works the muscles that articulate the elbow, not the shoulder. It can be tempting to utilize momentum and cheat your form when doing the hammer curl by swinging your upper arm. Fight to ensure that you only move your elbow when you perform the hammer curl to get the best bang for your buck.
Turning Your Wrist
The hallmark of the hammer curl is the wrist position. Keeping your wrist in "neutral" limits the engagement of your biceps brachii, which is both an elbow flexor and a wrist supinator. With a straight wrist, the burden falls upon the brachialis and brachioradialis to move the weight. Twisting your wrist as you do the hammer curl defeats the exercise's intended purpose.
FAQs
Still wondering if the hammer curl is right for you? Check out these common questions:
Do hammer curls increase grip strength?
Yes, hammer curls help place tension on the muscles responsible for grip strength and elbow flexion.
Can beginners perform hammer curls?
Yes, absolutely. Beginners can certainly perform the hammer curl and accompanying variations. Due to the straightforward nature of this exercise, beginners should be able to pick it right up and start increasing the size and strength of their arms in no time.
What muscles does the hammer curl work?
The hammer curl works multiple muscle groups in the arms. Some of the major muscle groups include:
Biceps
Brachialis
Brachioradialis
What is the difference between normal biceps curls and hammer curls?
Your grip position will change the focus of the arm curl exercise. More supinated variations (like the normal biceps curl) utilize more biceps brachii, whereas the more neutral wrist position (used in hammer curls) will utilize more of the brachialis and brachioradialis.
Are dumbbells better than using cables for hammer curls?
One is no better than the other. Like most things found in training, the purpose will help inform the best tool for the job. Dumbbells and cables have different ways of applying resistance to our bodies. Dumbbells utilize gravity (a natural force driving things down toward the ground). Cables provide the evenest form of resistive tension, applying the resistance directly in line with the cable itself. To maximize your training, you should utilize a multitude of training methods which will include free weights, cables, and machines.
References
Krings, B. M., Shepherd, B. D., Swain, J. C., Turner, A. J., Chander, H., Waldman, H. S., … Smith, J. W. (2019). Impact of Fat Grip Attachments on Muscular Strength and Neuromuscular Activation During Resistance Exercise. Journal of Strength and Conditioning Research, 1. doi:10.1519/jsc.0000000000002954
Jarrett, C. D., Weir, D. M., Stuffmann, E. S., Jain, S., Miller, M. C., & Schmidt, C. C. (2012). Anatomic and biomechanical analysis of the short and long head components of the distal biceps tendon. Journal of Shoulder and Elbow Surgery, 21(7), 942–948. doi:10.1016/j.jse.2011.04.030
Plantz MA, Bordoni B. Anatomy, Shoulder and Upper Limb, Brachialis Muscle. [Updated 2020 Sep 18] StatPearls Publishing; 2021 Jan.
Lung BE, Ekblad J, Bisogno M. Anatomy, Shoulder and Upper Limb, Forearm Brachioradialis Muscle. [Updated 2020 Aug 10]. StatPearls Publishing; 2021 Jan.